Each year I get to come up with fun ideas for a new Christmas tablescape for our church Christmas party. And this year, a DIY Christmas balloon centerpiece fit the bill perfectly.
Because, like almost everyone, I'm on a budget. So I have two criteria for my Christmas table centerpieces: They need to be inexpensive and they need to be easy enough that I can make 40 of them without losing my mind.
Every year when the Christmas season begins to take over stores, I begin brainstorming Christmas decorations for this party (if I haven't already).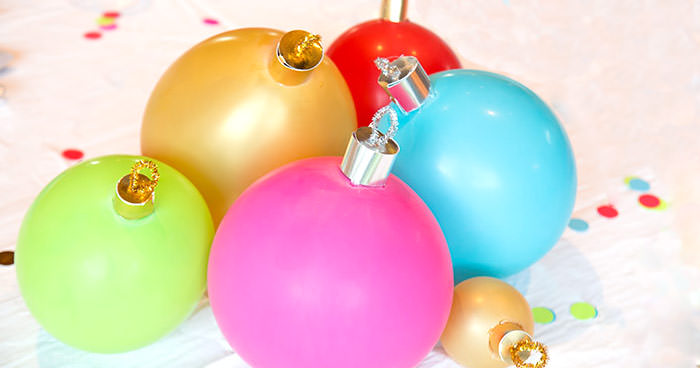 This post may contain affiliate links.
I really wanted actual large ornaments on the table but they were just out of my price range. Yes, I know, the Dollar Store has large ornaments. But I wanted 7 ornaments per table. So when you multiply $7×40 I've blown my budget right out of the water.
But hey, balloons are cheap, and I was sure I could design a topper that looks just like an ornament, hides that funny-looking balloon knot, and helps emphasize the round shape of each "ornament." Thus began my first endeavor with festive balloon decorations. (Check out the magical tablescape I came up with the following year with LED bobo balloons.)
The original creative ideas for this Christmas balloon centerpiece came from Oh Happy Days. But I didn't like the way they made the ornament toppers. So I decided to design my own and make it reproducible.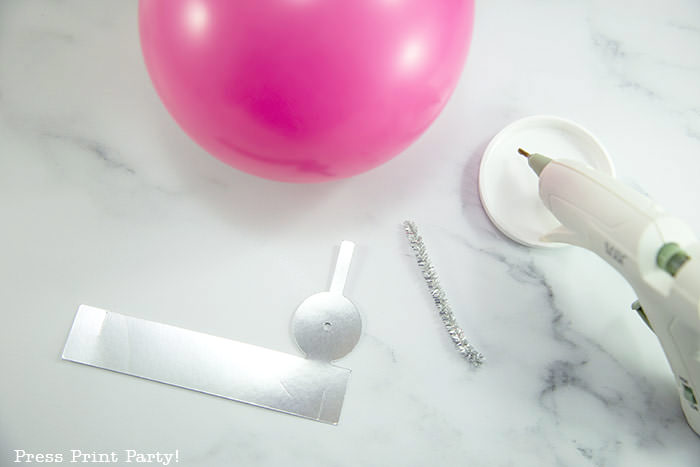 I went through a whole lot of trial and error before I made one that was easy to put together and would stay closed. The template is available for free and personal use only as an SVG file or a PDF file at the bottom of this post.
How this fun Christmas color palette came to be
It's okay to deviate from traditional Christmas color scheme options. For this Christmas tablescape, I wanted something very bright and full of Christmas cheer. So red and dark green balloons weren't going to cut it.
I went to the party store for my balloon supplies and picked up vibrant balloons. Then, I blew them up and tried to come up with a color combination I was happy with.
I was also limited by the color availability of the plastic plates I wanted to use. It all needed to match.
In the end, I ended up with a bright pink, a light green, a bright blue, gold, and some reds.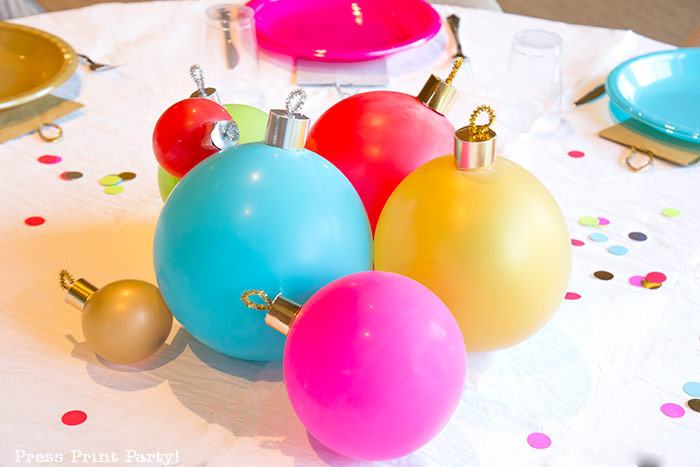 The toppers were made in both silver and gold. So I also got silver and gold napkins to match.
How to make the balloon ornaments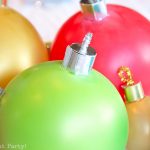 Christmas Balloon Ornaments DIY
Ingredients
Balloons in various colors and sizes

Pipe cleaners in gold and/or silver

Shiny cardstock in gold and /or silver

Hot glue gun

Balloon pump

not necessary but I'd recommend it

Balloon dots to secure the balloons to the table
Instructions
How to blow up round balloons
To make the balloon ornaments, you will blow up all the balloons only enough to make them round. I used mostly 2 sizes of balloons, 12in, and 5in for the small balloons.

When you fill them, don't blow them up all the way. Then, you can shape them in a round shape with your hands. Less is more here.

The advantage of getting a large balloon and not blowing it all the way is that it won't lose air very easily (there's very little pressure).

Make sure your knot is tight and these balloons will stay in the same shape for days! (Yes! Weeks even).

You'll make large and regular-sized Christmas balloon ornaments.

We blew up all of our balloon centerpieces 3 days before the event and we had no leakage.
How to make the balloon ornament top
First cut the gold and silver pipe cleaners in 3" sections.

If you have a cutting machine, go ahead and download the SVG file at the bottom of this post. You will find two sizes of balloon ornament toppers.

Cut them on shiny gold and silver cardstock.

If you don't have a cutting machine I do provide a free PDF that you can print on the backside of your shiny cardstock and cut with scissors. You will need a small hole punch for the very top.

Once your topper is cut, fold the pipe cleaner in half and insert the two tag ends into the topper hole. Then, bend the tag ends flat against the cardstock.

Using the slits, fold the cardstock to create a cylinder. Then, fold the circular top with the long tab down, being sure to tuck the tab on the inside. Then, tape it closed from the inside.
Finishing up
Use your hot glue gun to put hot glue on the rim.

Glue the topper to the balloon hiding the balloon knot.

I encourage you to watch the video to visualize the process.
Make your fun Christmas tablescape
Place your balloon ornaments in the center
Make lots and lots of balloon ornaments for fun Christmas balloon centerpieces. I used 7 balloon ornaments in different sizes on each table. Balloon dots were used to secure them to the tablecloth and to each other. That way they would stay in place.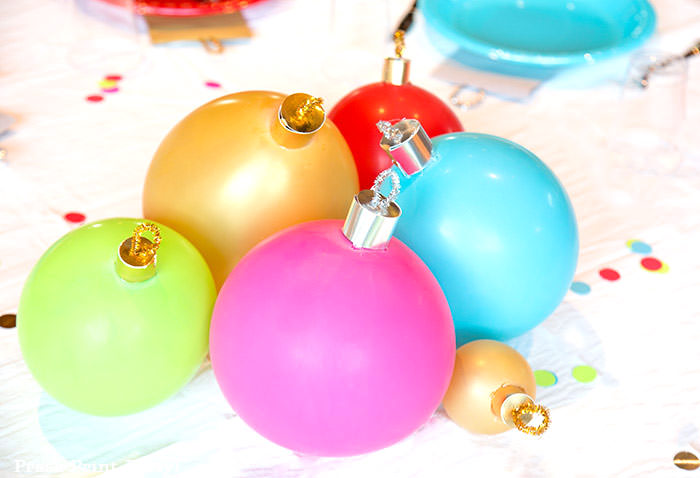 Turn your plates into ornaments too
The rest of the table was quite simple. I chose 5 colors of plates that matched the colors of the balloons and set them randomly around the table making sure I had at least one of each color on each table. As with the balloons, I had less red than any other color.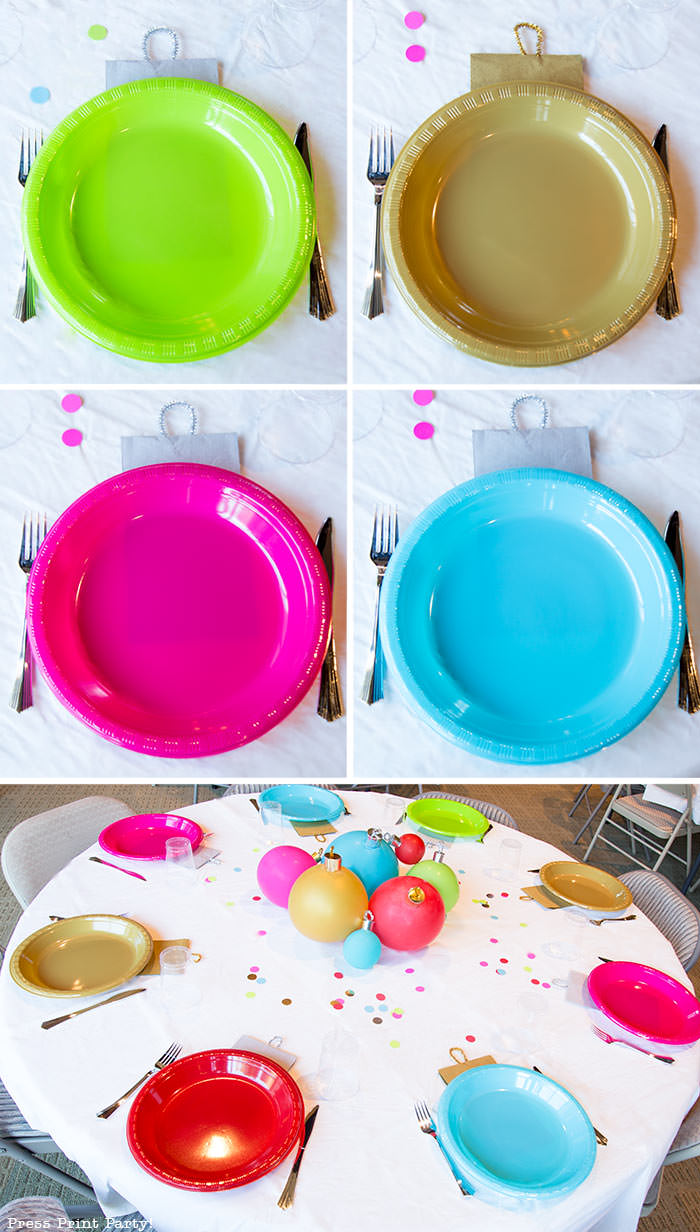 The plates were made to look like they are also ornaments. I used the same pipe cleaner segments I had used for the balloon toppers with the colorful paper napkins to make them look like ornament toppers too.
I just inserted the pipe cleaner at the top of the napkins and then set the napkin down and the plate on top of it so you could see the top of the napkin.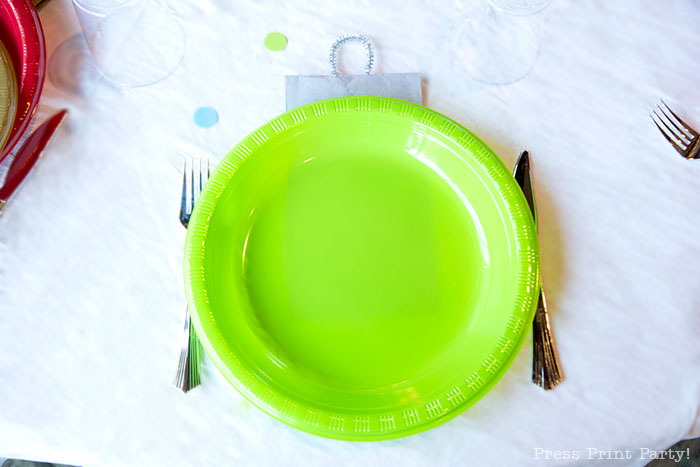 It was a simple and fun detail.
The forks and knives were plastic silver.


Finish it off with confetti
For the confetti, I found paper in those same five colors and had my kids cut a bunch of confetti with a three-quarter inch round punch.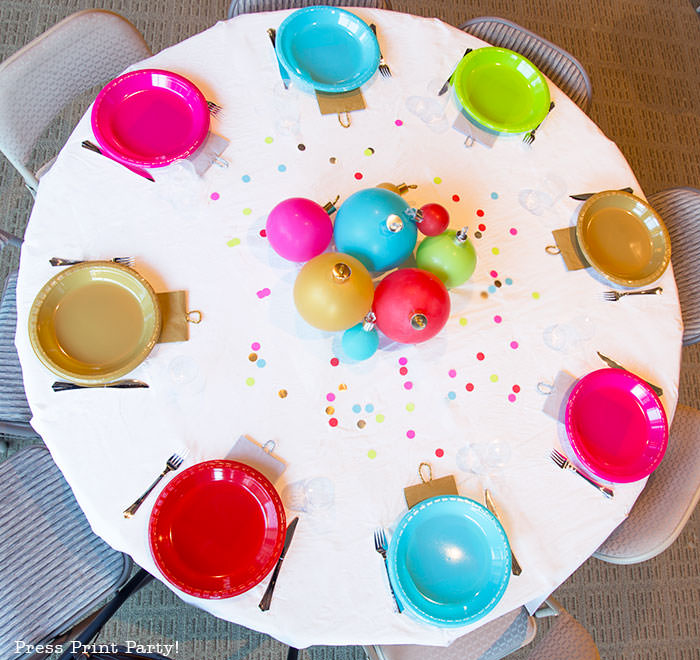 Table numbers
The ornament table numbers were designed just for this event in the same colors. They're available in the shop.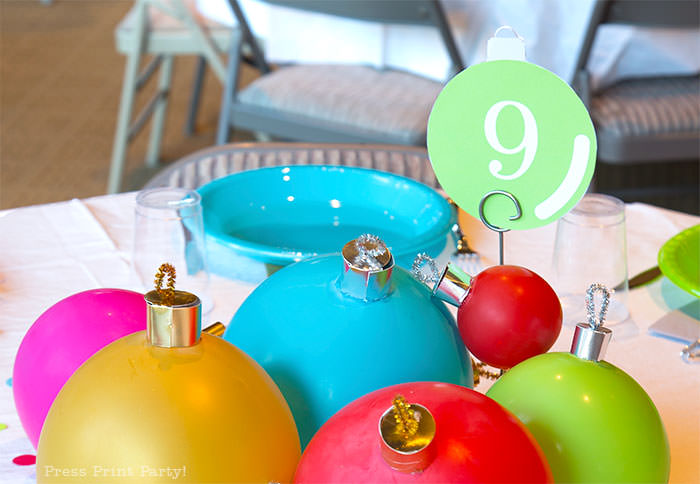 It all made for a very cheery looking room.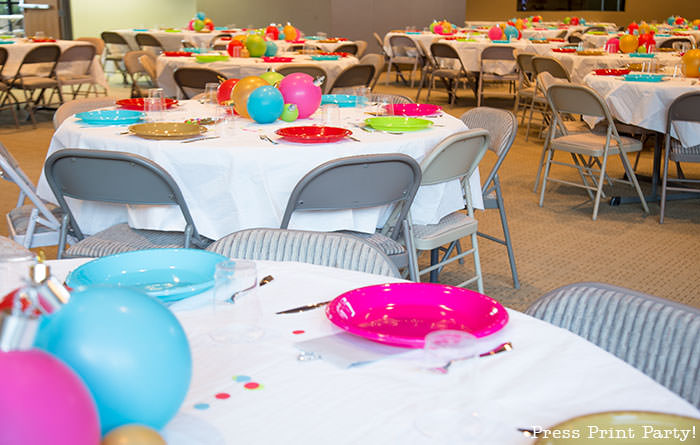 After the event, a lot of people took the balloon ornaments with them as fun holiday decorations for their homes. I came home with quite a few and hung them up in the trees in my front yard. They don't last as long outside as they do inside, but they're fun while they last.
You could hang them like garlands too. They're way cheaper than regular ornaments and easier to store later.
Keep the tops and blow more balloons next year.
I hope I've inspired you to DIY your Christmas table decor and create a fun Christmas balloon centerpiece this year.
I also have lots more creative holiday season table settings that I've made through the years. Check out my super cool snowman tablescape, my rustic Christmas tablescape or the all white, blue, and silver winter wonderland.
Don't forget to pin it: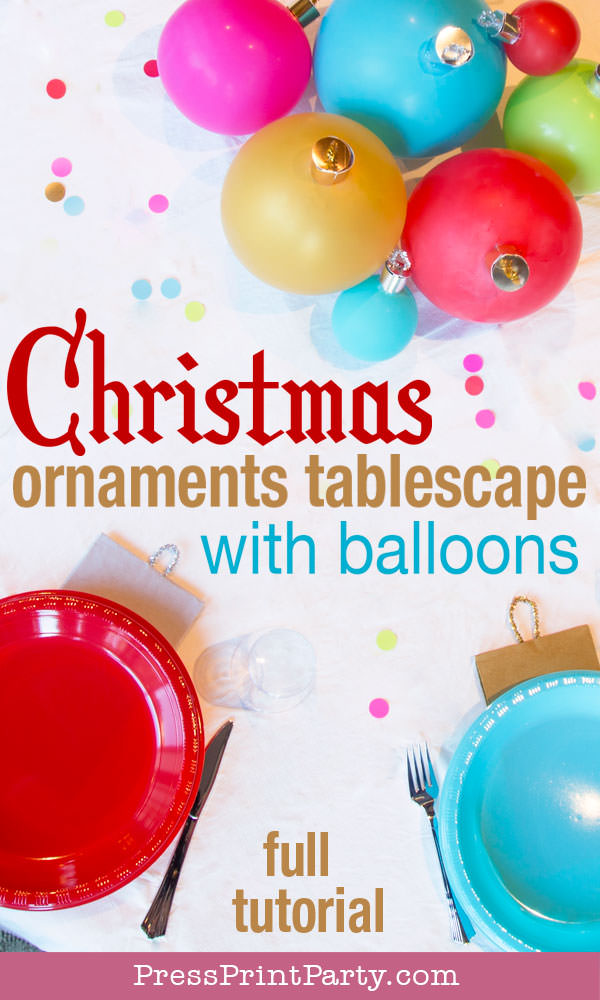 Get your Freebie:
If you've already subscribed, you can get the password from the bottom of any email I send and go directly to the Free Downloads Library.
Check out our Christmas printables