The colored version is perfect for those who prefer a ready-made design, while the ready-for-coloring version allows for more personalization and creativity. Both options feature the same cute, festive, little turkey.
Not only is the thankful turkey printable a great opportunity to teach kids about gratitude, but it's also a fun craft.
And with the option to add a stand, these little turkeys can be set up upright! Making this simple craft into potential Thanksgiving decor.
This easy Thanksgiving craft is a great option for kids of all ages. It's a fun way to express gratitude and add a touch of Thanksgiving spirit to your home or classroom.
---
The Benefits of the thankful turkey activity with kids
Thanksgiving is a time when family members come together to celebrate and give thanks for the blessings in their lives.
But, in the hustle and bustle of the holiday preparations, it's easy for children and adults, to overlook the reason for the festivities.
That's where the thankful turkey printable comes in. It's a gentle reminder for kids to pause and reflect on what they are truly thankful for in a fun and creative way.
One of the best ways to teach children the importance of gratitude is through hands-on activities. This colorful and adorable printable turkey allows kids to actively engage in expressing their gratitude.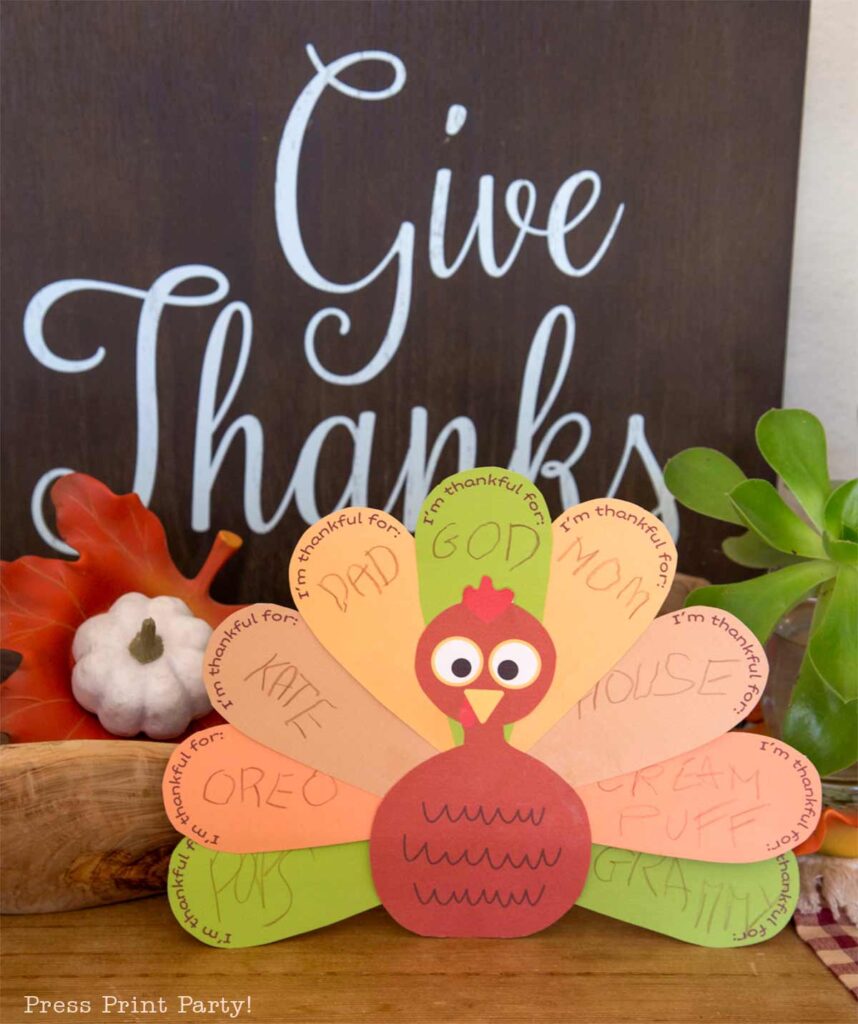 This hands-on activity is more than just a fun Thanksgiving craft. It's a tool to stimulate meaningful conversations about gratitude. As children gather around the craft table, parents and teachers can guide them in considering their blessings.
It is a great way to engage younger kids in conversations about the things that truly matter, such as family, friends, health, and the little joys in life (like pets or a favorite food). This activity brings the whole family closer together as they share their thoughts and feelings, fostering a sense of love and appreciation.
Whether you're a parent, teacher, or caregiver, this printable thankful turkey craft is a fantastic resource to incorporate into your Thanksgiving celebration.
It can be used as a standalone craft activity or as part of a larger gratitude-focused lesson. It's a versatile and easy craft that can be enjoyed by children of all ages and abilities.
---
Materials needed to make this cute turkey craft
No need to look for paper plates, googly eyes, or construction paper for this easy activity.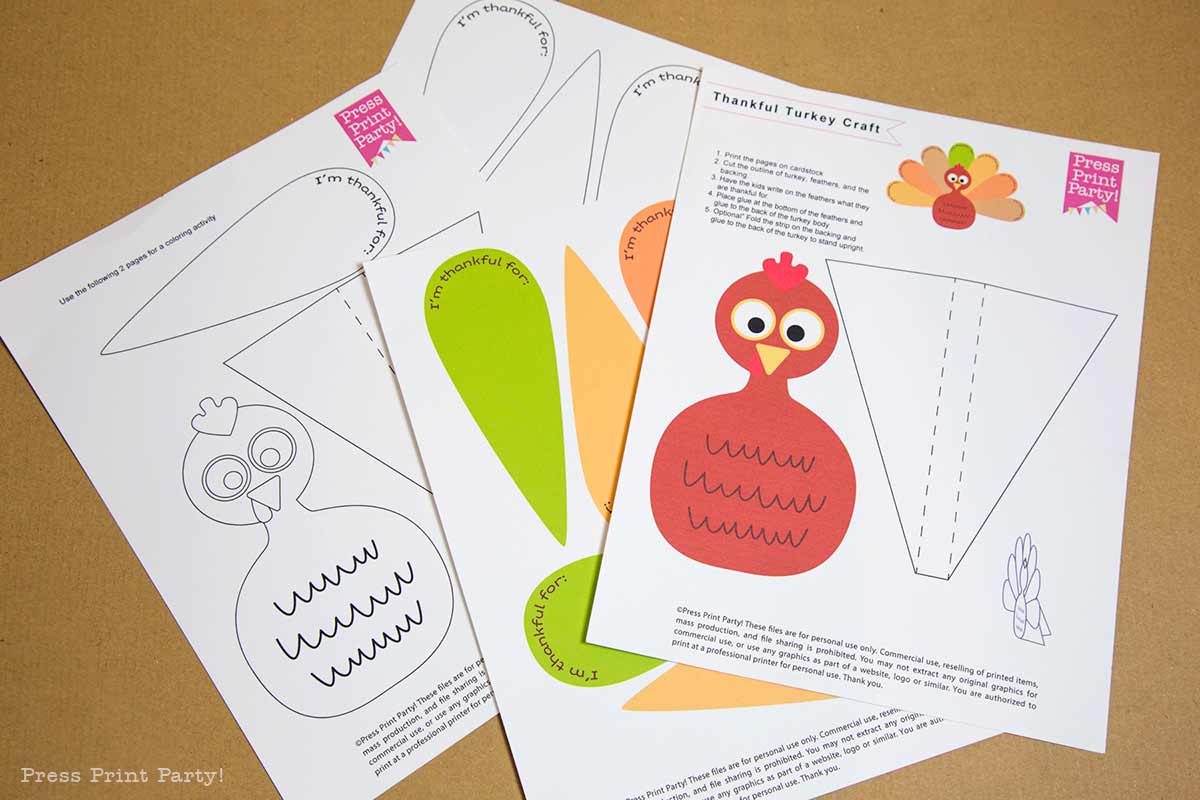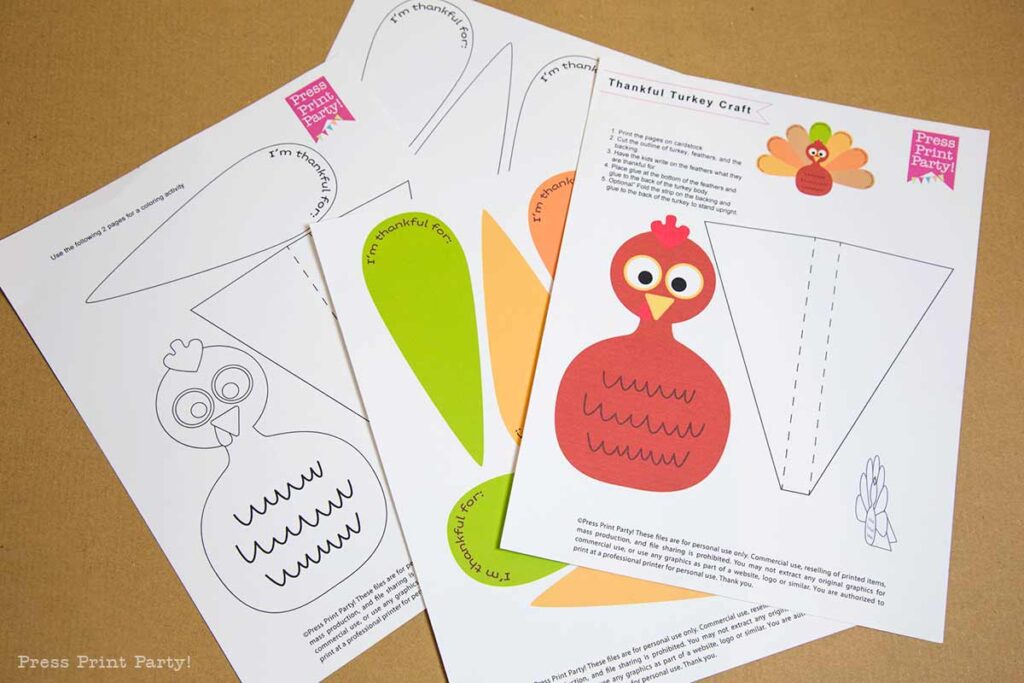 Scissors. If you're going to let the kids cut their own turkey and tail feathers, use kids' scissors.
Glue stick
White cardstock. 80-110lbs
Markers or crayons
---
How to use the free turkey template
The free thankful turkey template printable PDF in my free download library is available for all my newsletter subscribers (Sign up at the bottom of the post).
Simply download and print the desired version on white cardstock and cut out the turkey body and turkey feathers. The feathers were created to be simple and easily cut by little hands and kids of all skill levels.
The turkey's feathers also come in 4 different colors to mix and match as you wish.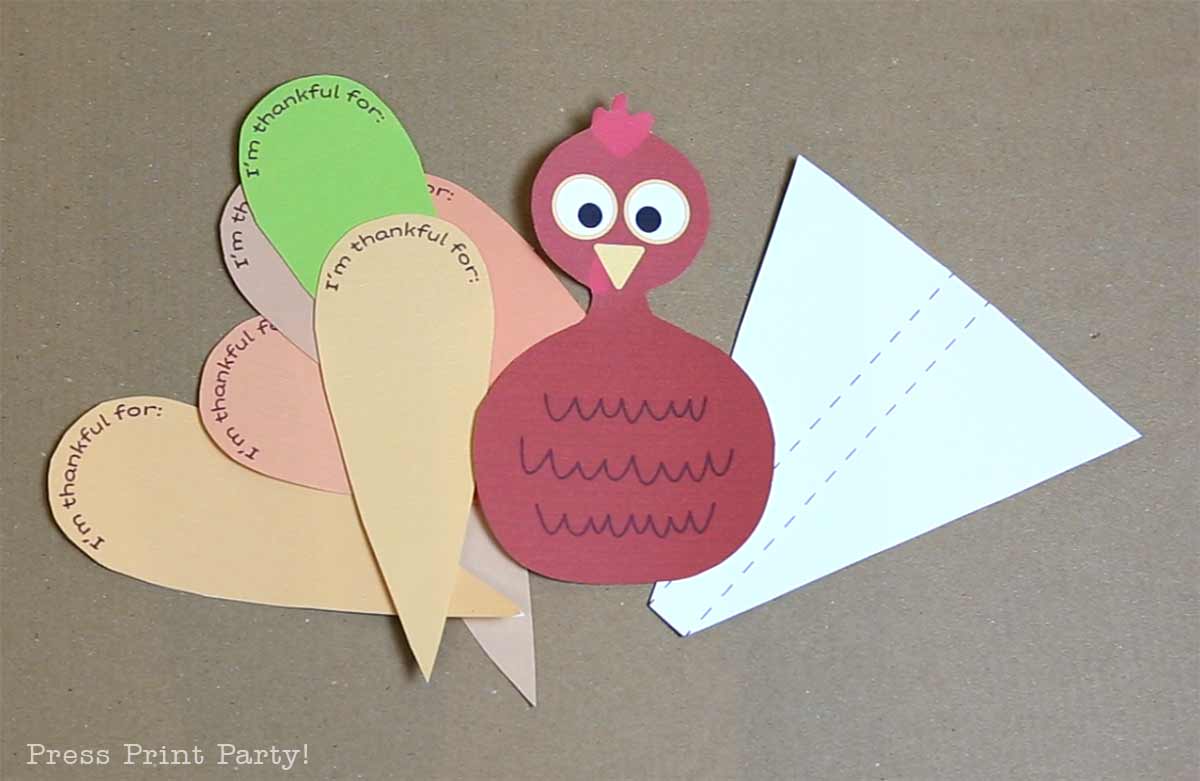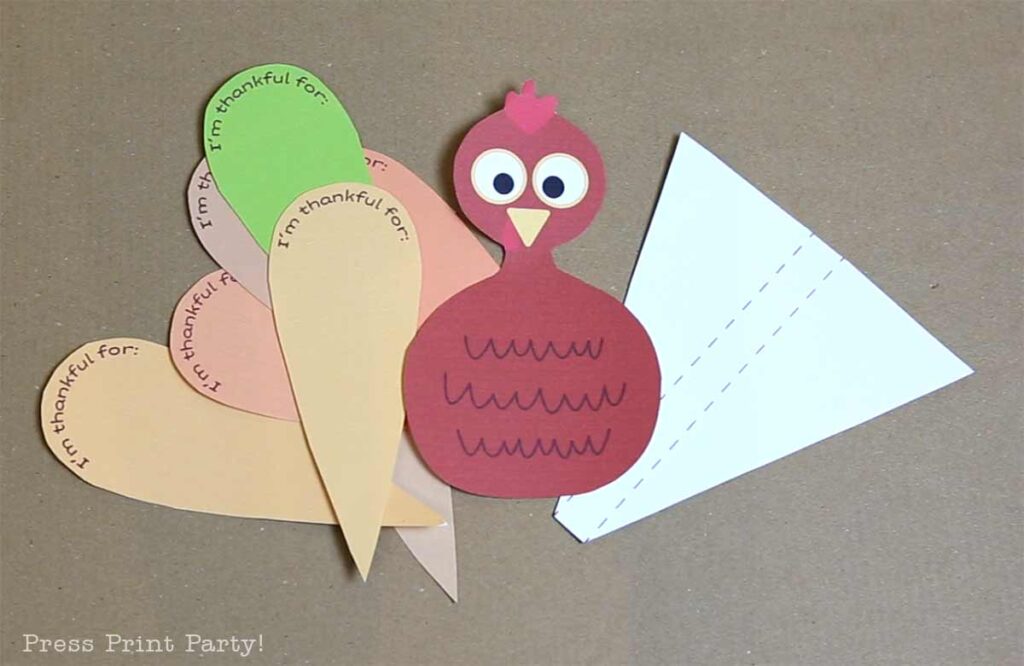 All my free printables are for personal use only, but I allow classroom use too. They'd make the perfect activity for a kindergarten, 1st grade, or 2nd grade class,
If you've chosen the coloring version, have the kids color the Turkey and the feathers first. Kids will love personalizing their turkey, adding colors, patterns, and even unique decorations.
Encourage everyone to write or color in the things they are thankful for on the turkey feathers.
It's a lovely opportunity to reflect on the blessings in our lives and share them with others.
You can use about 7-9 feathers to make a nice turkey tail.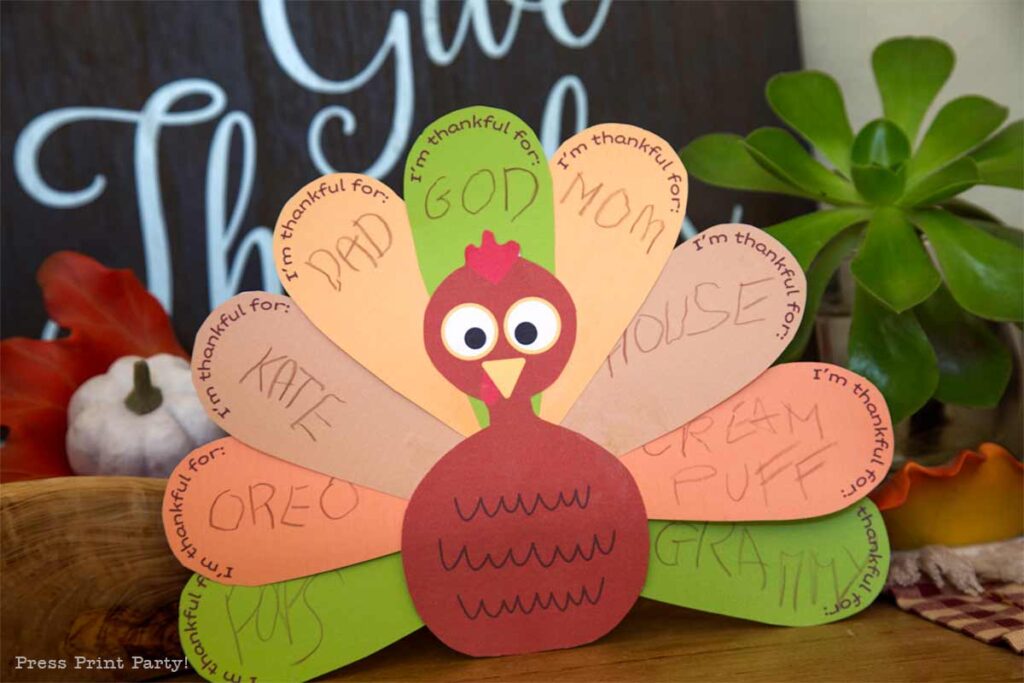 Place some glue at the back of your turkey's body and at the bottom of the front side of the feathers. Glue the feathers to the back of the turkey placing them in a fan fashion.
If you want the turkey to stand up at the end, make sure you also get some glue on the back of the turkey's head.
You can leave your turkey as is and glue it on construction paper, display it on a bulletin board, or hang it on a wall.
But if you'd like your turkey craft to stand up, fold the post of the cardstock stand and glue it to the back of your turkey.
Isn't he just adorable?
If you make a bunch of adorable turkeys, you could use them as a centerpiece for the kids' Thanksgiving table.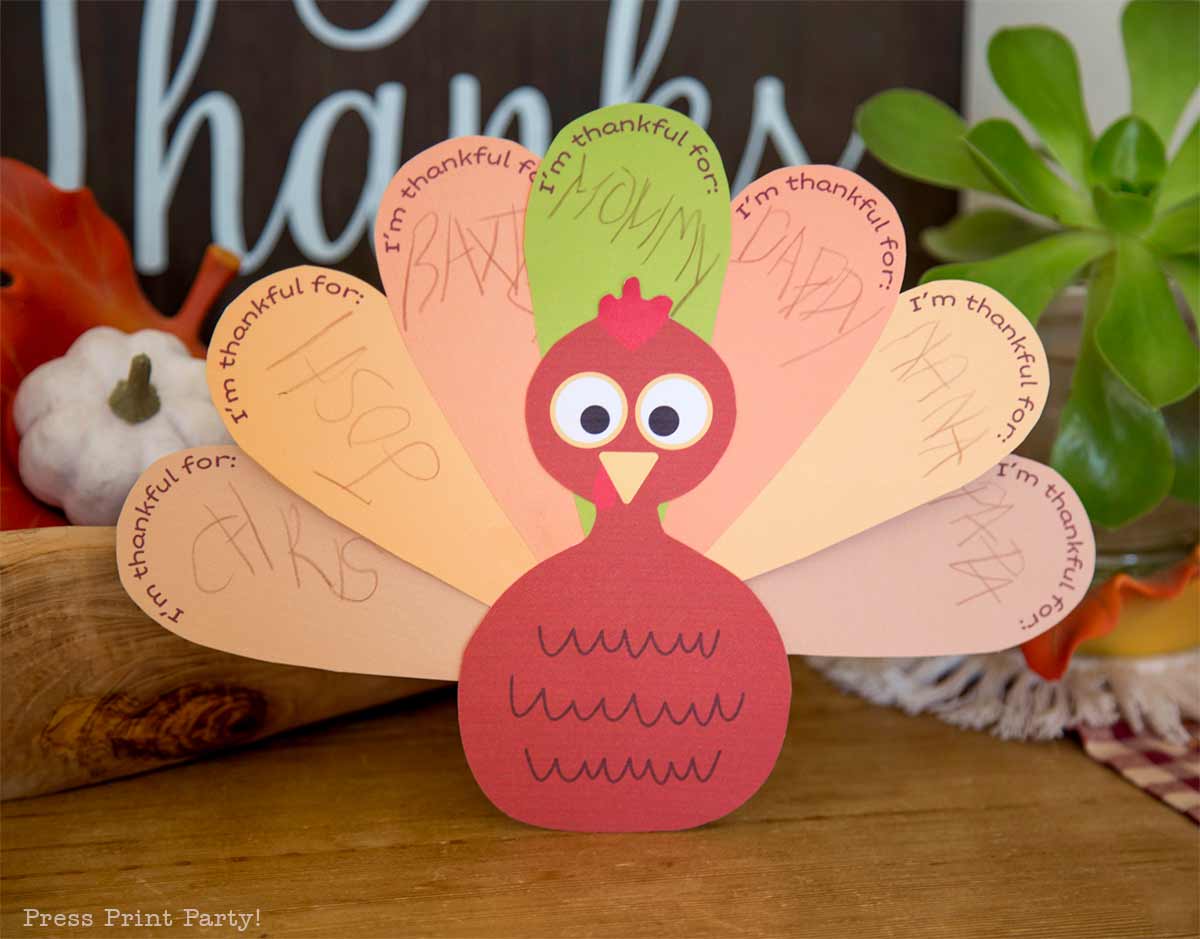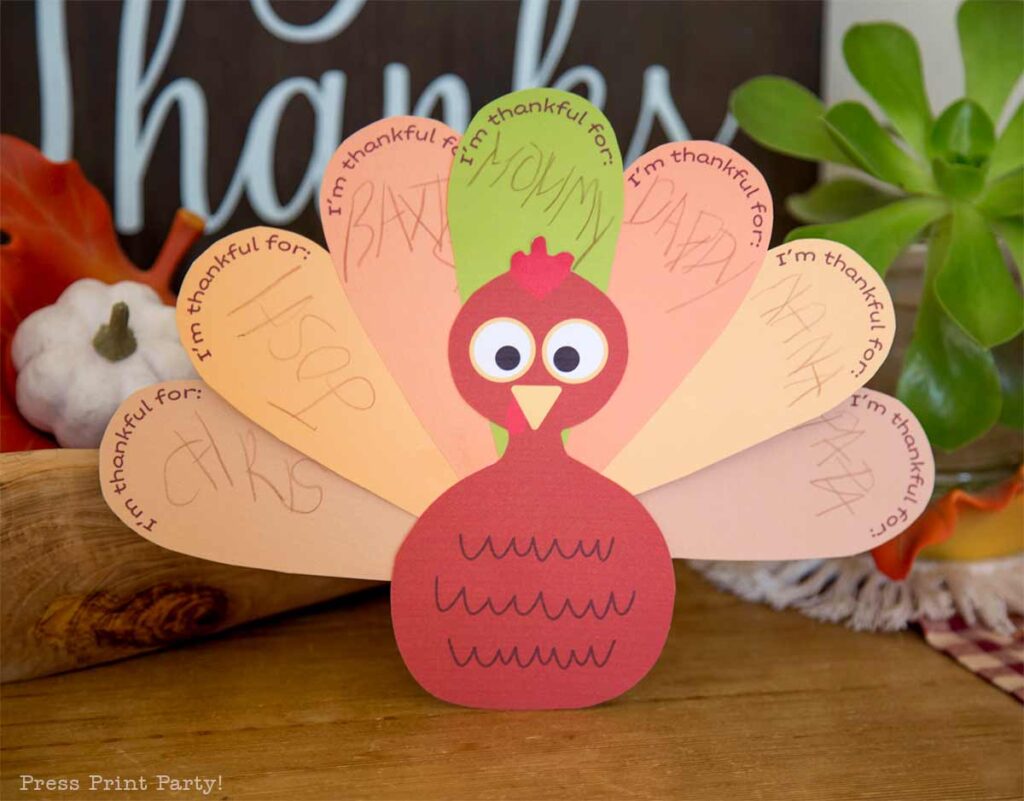 ---
Whether you choose the colored or coloring version, this thankful turkey printable is sure to be a fun activity. So grab your markers, crayons, or colored pencils, and let the creativity begin!
This fun craft will not only nurture their artistic abilities but also offer a sense of pride as they create something beautiful that represents their own gratitude. It's also an adorable piece to display during the holiday season. And to look back on once those tiny, little ones aren't so tiny.
If you're looking for more Thanksgiving season crafts to keep the little ones entertained, I have fun Thanksgiving coloring placemats, as well as a 10 fun pumpkin coloring pages.
And for a great activity at the Thanksgiving dinner table, don't miss my free conversation starter cards. They're a fun tradition in our house and will surely be a hit in yours.
Don't forget to pin these free thankful turkey printables for a cute Thanksgiving craft.