If you're expecting a ton of kids for Thanksgiving dinner, or if you've just got a couple who might feel a bit left out, give these Thanksgiving coloring placemats a try.
Sitting at the kid's Thanksgiving table can be boring.
I wasn't originally aware of this. But my kiddos, when they were younger and there weren't too many kids at Thanksgiving, said that the kid's table was sometimes dull and they kind of felt left out and alone.
The opposite can also be true. You may have a big group with a ton of kids and the kid's table is going to be a shrieking vortex of chaos.
Either way, it can take what is supposed to be a sweet, loving time for the whole family and turn it into something else.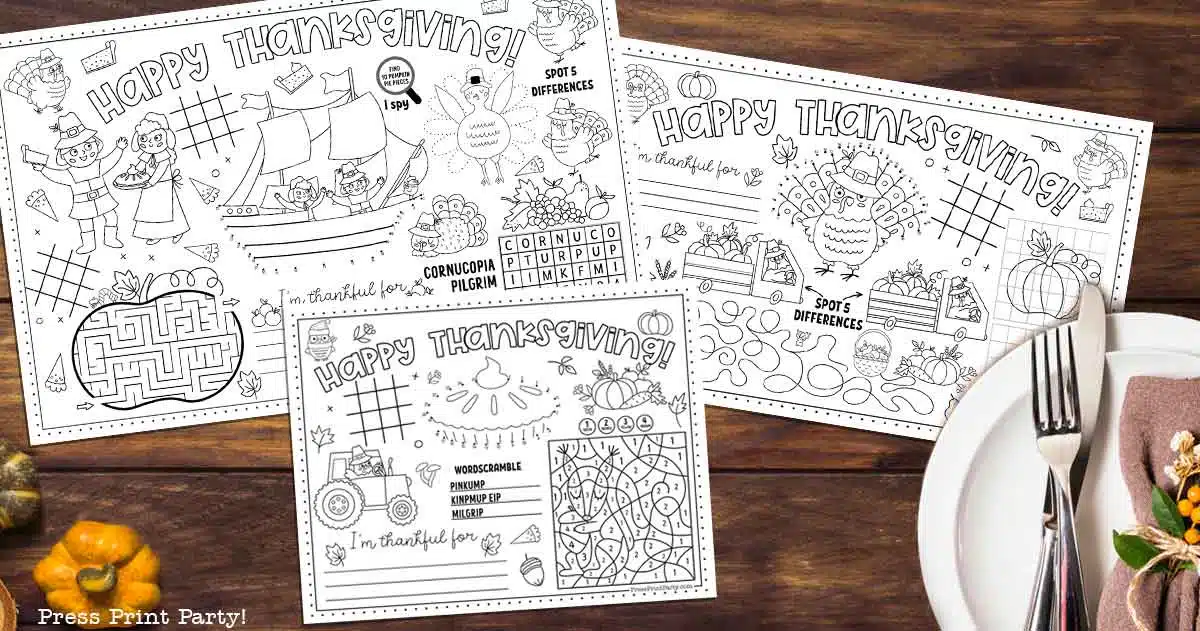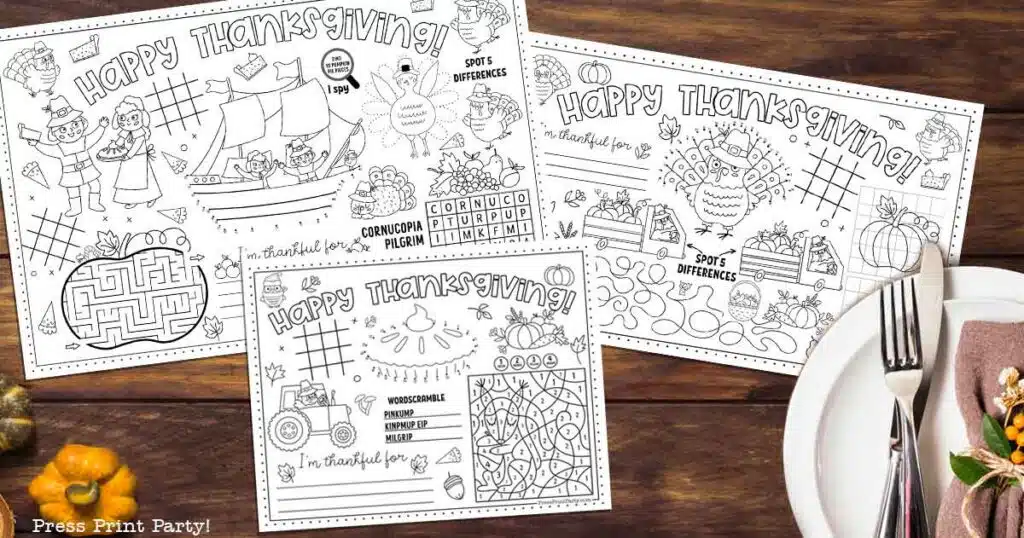 This post may contain affiliate links.
Well, this activity page just might help! These fun Thanksgiving coloring pages are a great way to keep the little ones occupied and maybe even quiet for part of the day.
They're engaging and packed full of activities, just waiting to be colored.
No matter what, it's better than your Uncle Earl's suggestion to give all the kids a generous swig of NyQuil when they first walk in!
These fun printable placemats will keep the munchkins busy for at least a little while.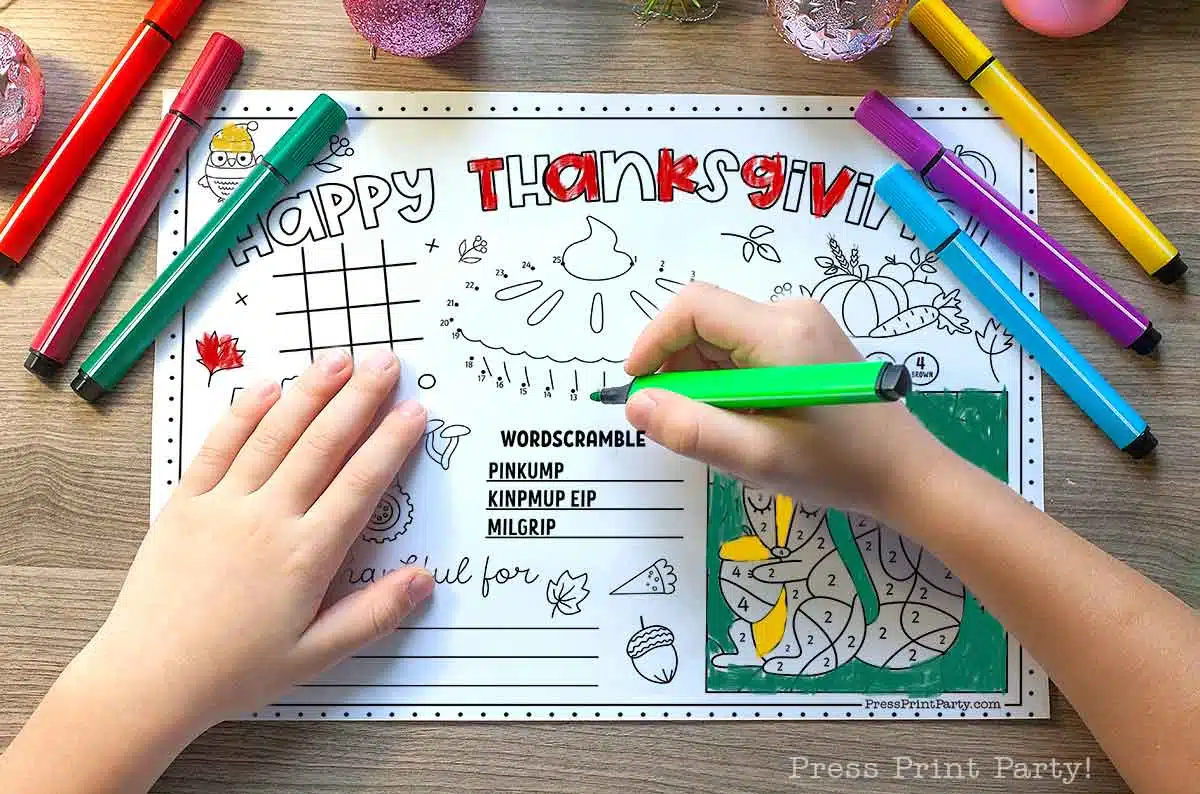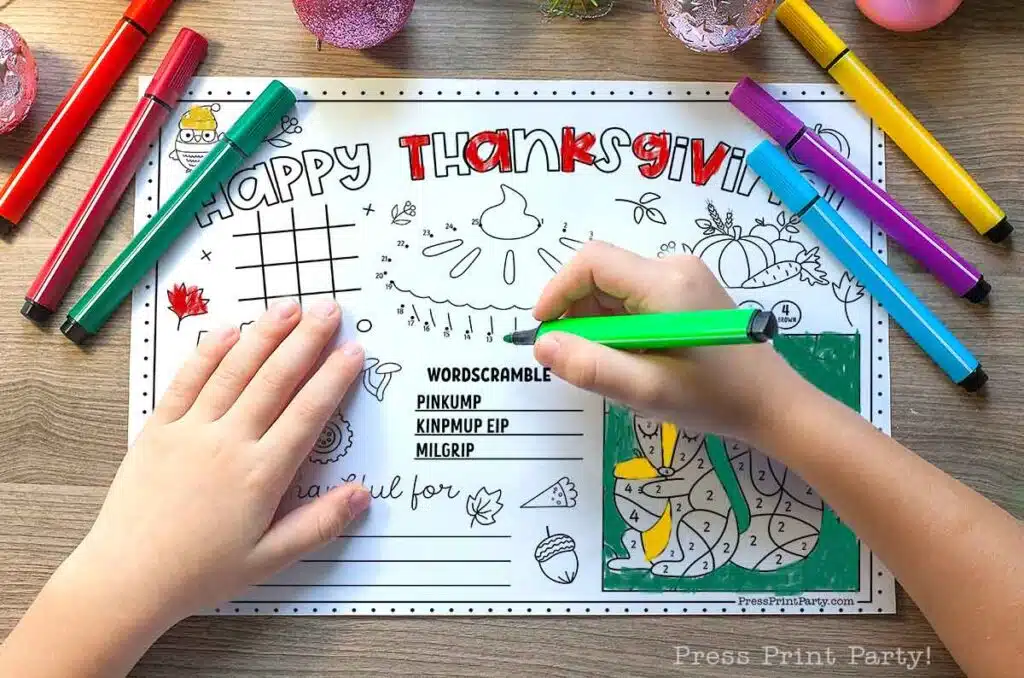 You'll find a variety of fun activities for older kids like paint by numbers, Tic Tac Toe, word scramble, and spot the differences, while the littlest guests can just color to their heart's content.
Thanksgiving Coloring Placemats
The free printable thanksgiving placemats are available in the free library for all my newsletter subscribers and are for personal use only. (Go to the bottom of this post to sign up and get the link).
I wanted to give you some options for your Thanksgiving celebration, so I made 3 different placemat designs, each in a different size.
| | |
| --- | --- |
| | Print this Happy Thanksgiving placemat on tabloid paper. (11″x17″) |
| | |
| --- | --- |
| | You'll need some legal sized paper for this little turkey. (8.5″x14″) |
| | |
| --- | --- |
| | You'll just need regular letter-sized paper or white cardstock to print this fun activity page. (8.5″x11″) |
My printer can handle tabloid-sized paper, but that's pretty unusual. So, you may want to get your placemats printed at your local office store.
Legal size paper is a good compromise. It will fit in regular home printers but is longer than regular printer paper and will act more as a placemat under a plate.
For my European readers (American transplants I would guess), you can print your Thanksgiving coloring placemats on A sized papers but you may want to adjust the printing to "fit to page".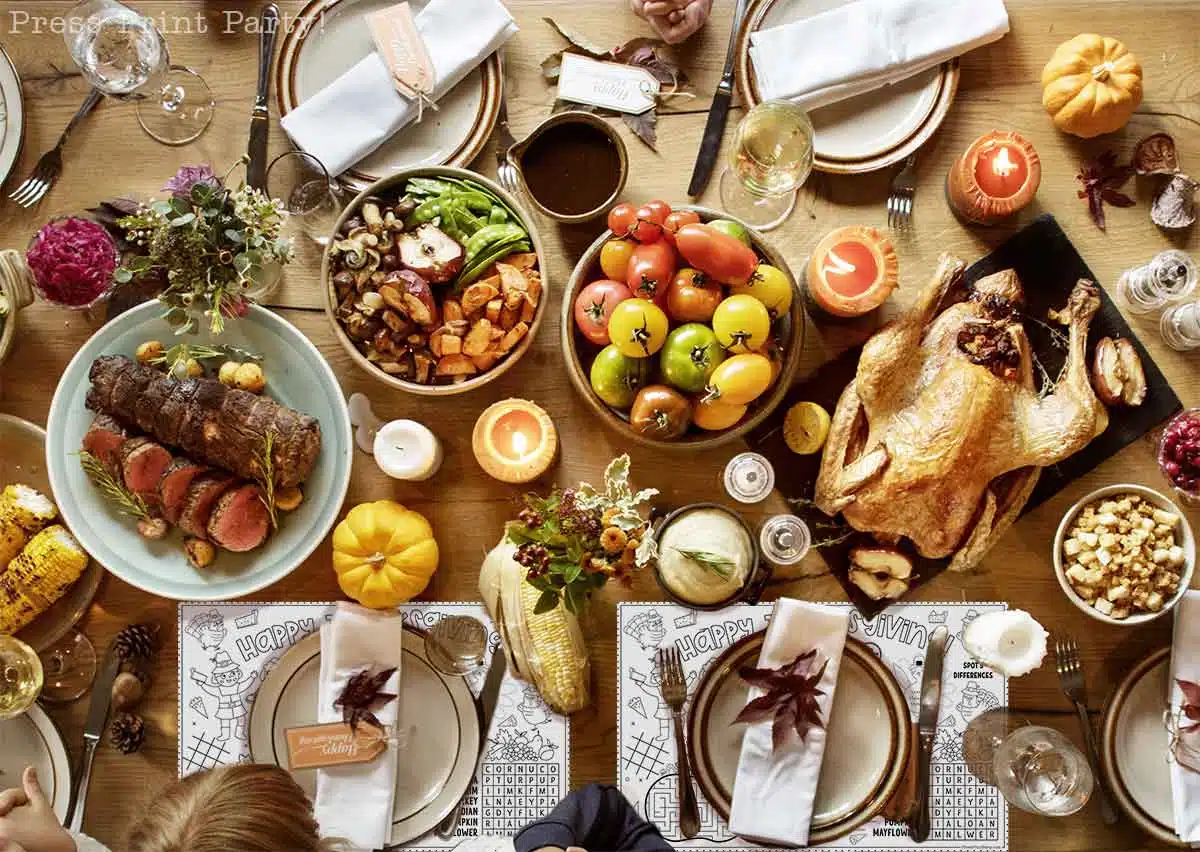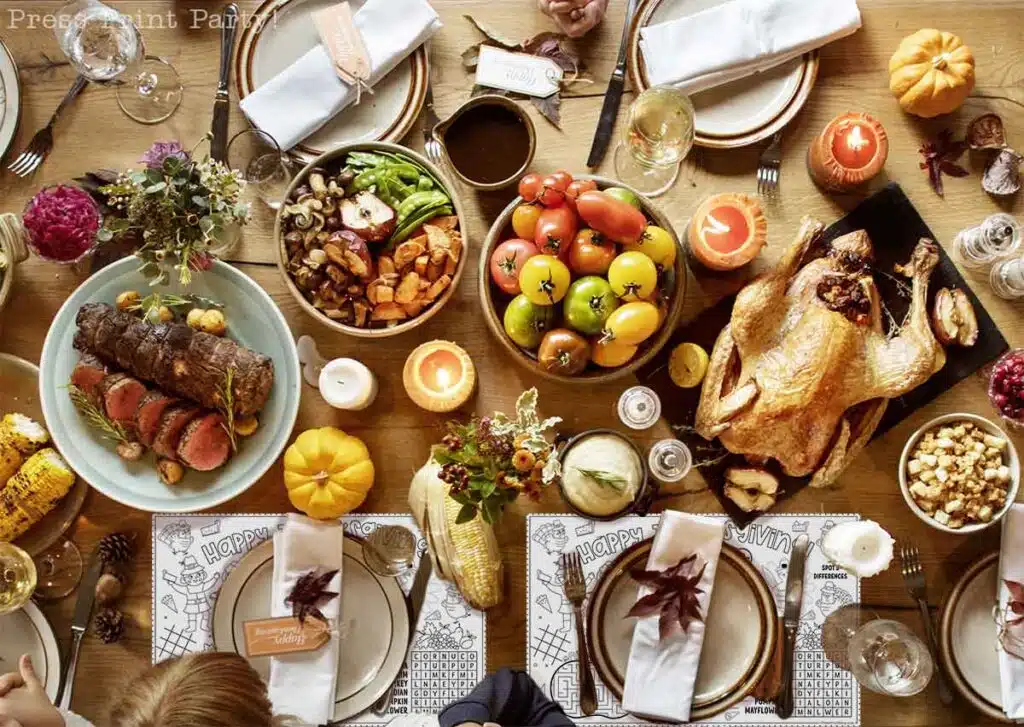 Ok, I badly Photoshopped this image but you get the idea.
These free Thanksgiving placemats are also a great way to mark the kids' places if everyone's sitting at the same dinner table.
Add some coloring supplies like a box of crayons, washable markers, or colored pencils on the table and make this fun activity a yearly tradition.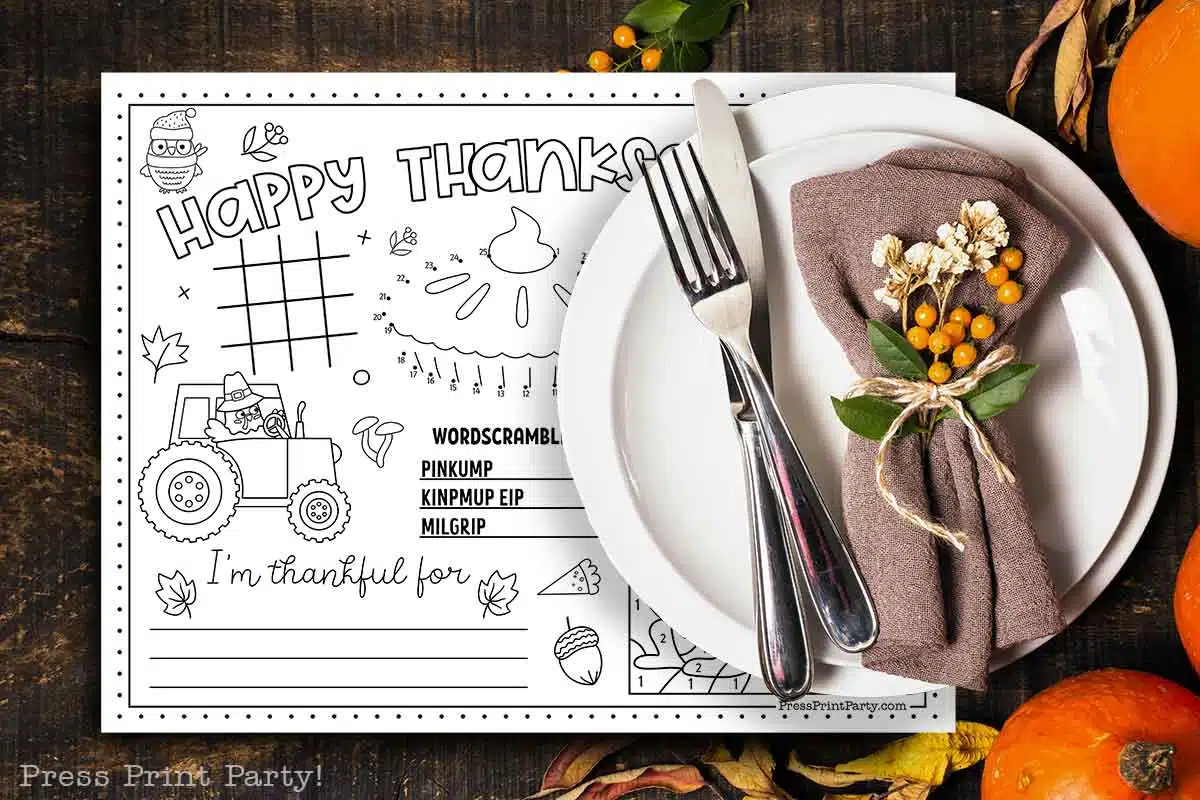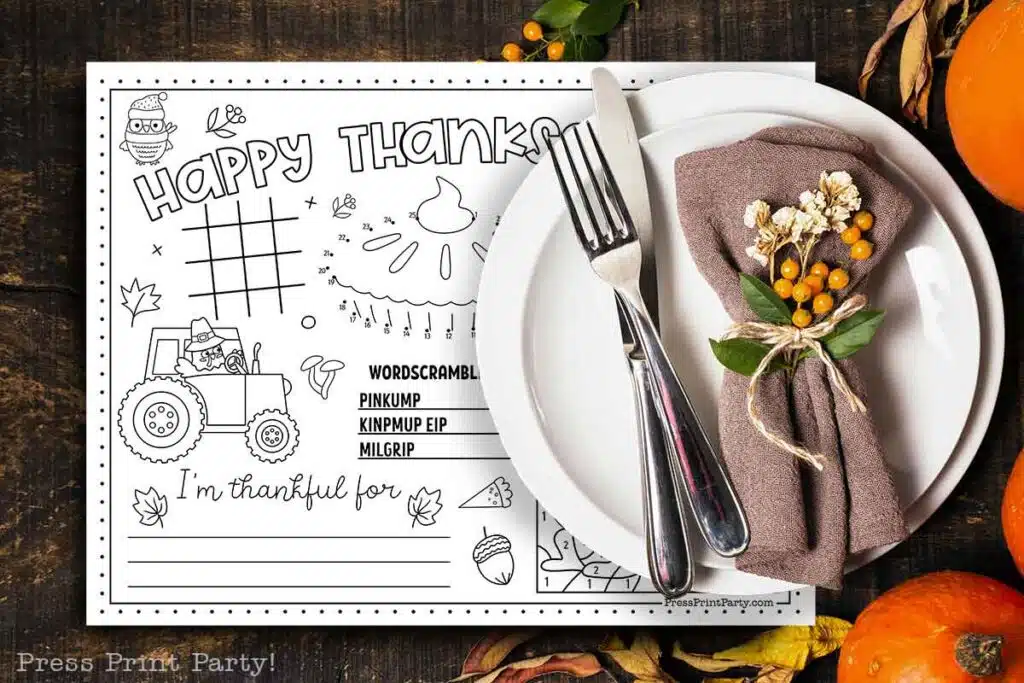 ---
If you're looking for more Thanksgiving coloring pages or fun printable Thanksgiving Crafts you'll find them in my long list of great websites with free Thanksgiving coloring sheets.
But adults also love activities. Download my free printable thanksgiving conversation cards to keep the conversations positive all day long.
I also have plenty of Thanksgiving place card ideas and fun fall-themed place card printables in the shop just for you.
Don't forget to pin these Thanksgiving coloring placemats: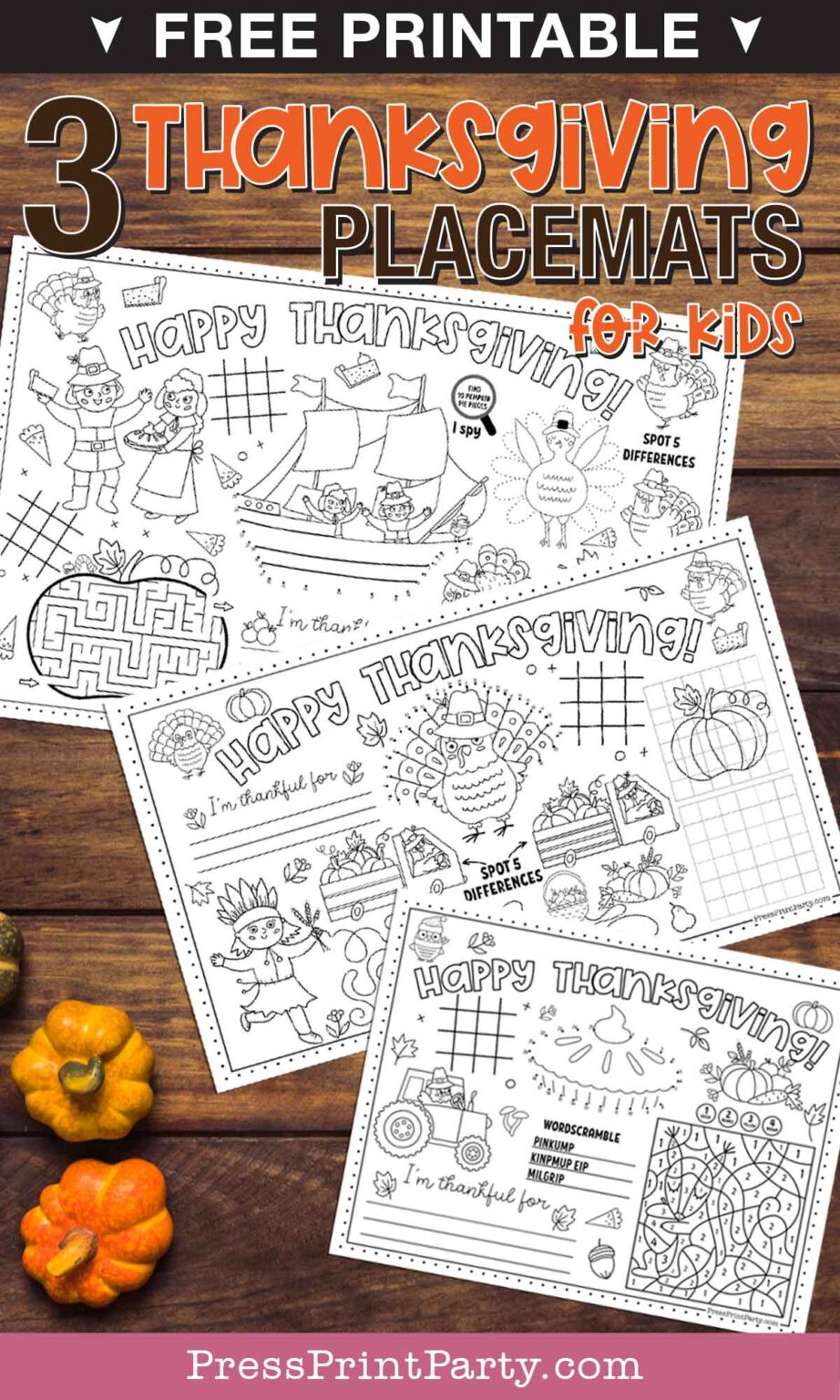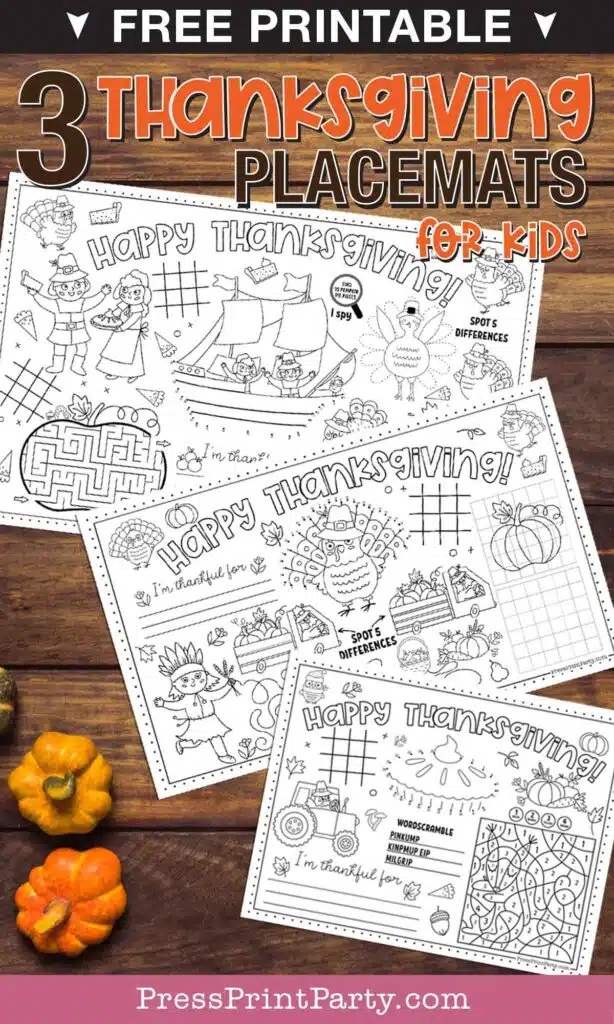 ---
Get Your Free Thanksgiving coloring placemats:
If you've already subscribed, you can get the password from the bottom of any email I send and go directly to the Free Downloads Library.
Check out our thanksgiving printables