As far as science experiments go, these DIY stomp rockets won the grand prize for the most fun at our science-based Vacation Bible School.
After we made slime, the kids had a blast (pun intended) building their own stomp rockets and launching them into the galaxy target backdrop we created. It was a very engaging and fun VBS activity. And how could it fail? The kids get to stomp something that shoots something. For young kids, especially boys, that's tough to beat
We had them make and decorate their rockets one day, and the next we had a stomp rocket competition. We even kept score and offered a prize to the winner! (Candy, of course).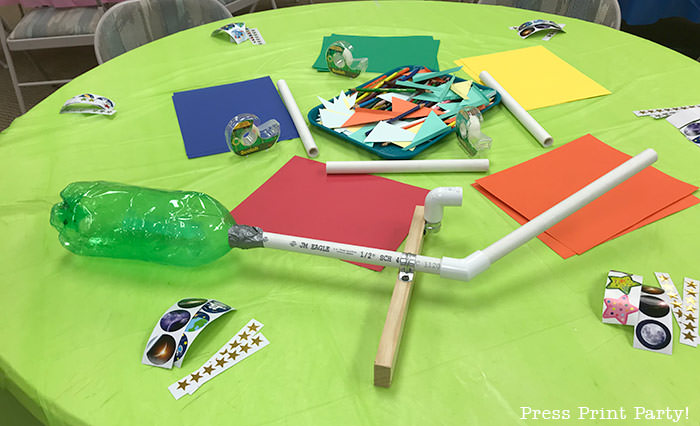 This post may contain affiliate links.
Think how much fun this craft and competition would be for a birthday party! It would also work great for a science party as well as a space themed birthday party! Both boys and girls had a great time jumping on the rocket blaster and launching their creations.
We had children of all ages, from kindergarten to middle school, and they all rocked their rockets.
Check out the instructions on how to make this out of this world project:
How to Make a Stomp Rocket and a Rocket Launcher
DIY Stomp Rockets:
1 – 12″ length of 1/2″ PVC pipe to use a template
2 – 8.5″x11″ sheets of colored card stock
Tape
Stickers (optional)
Make 3 or 4 right triangles out of one sheet of colored cardstock to make the fins. Fold the longest side of the right angle about 1/4 inch.
Roll the full sheet of cardstock snugly long ways around the pipe then tape it in place. Fold one end of your cylinder closed and tape it shut.
Remove the PVC pipe from the cylinder.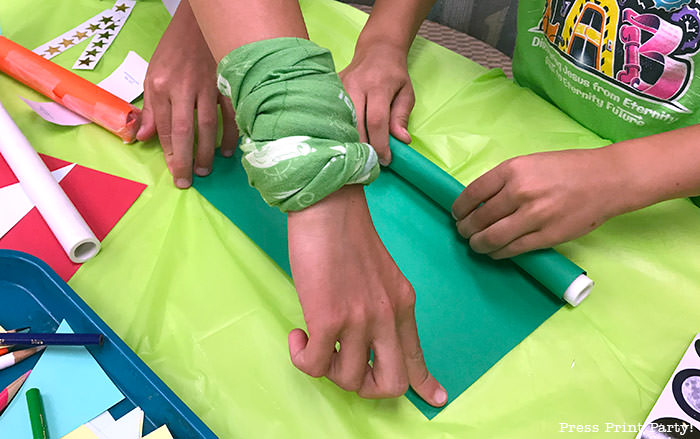 Tape the fins to the bottom of the rocket. Decorate with stickers, markers or glitter if you want.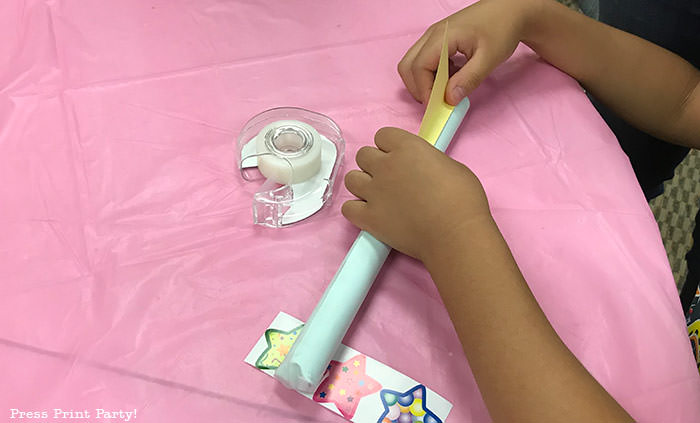 DIY Stomp Rocket Launchers:
We built 2 rocket launchers. For one you will need:
Several empty 2-liter bottles (You'll need at least 2 so you have a replacement when all that energetic stomping pops the first one.)
2 – roughly 2 foot sections of 1/2″ PVC pipe
1 – roughly 2-3 inch section of 1/2″ PVC pipe.
Wood for a support base (around 1 foot long–a 1″x2″, 2″×4″, or 2″×2″ works well)
2- 2 hole conduit straps (from the electrical area of the hardware store)
Screws for the straps
Duct tape (just enough to tape the bottle to the pipe)
1- 90 degree PVC elbow
1- 45 degree PVC elbow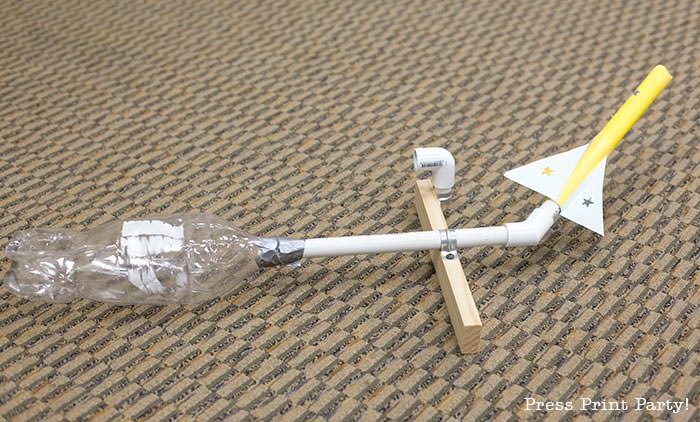 Use the duct tape to secure the 2-liter bottle to the end of the 2 foot section of PVC pipe.
Use the conduit strap and screws to connect the pipe and bottle to the middle of the wooden base.
Slip one of the elbow joints into the end of the 2 foot PVC pipe and insert the second 2 foot PVC pipe.
Use the second conduit strap and screws to attach the short PVC pipe to the side of the wooden frame. It will hold the extra elbow joint,
Scroll further down to check out the full video from Stocked About Science on how to make the blaster.
How to Use your Stomp Rocket
First, make sure your 2-little bottle is inflated. You will need to blow in the pipe to re-inflate it every time you use it. The bottle will eventually crack after so much energetic use. Just replace it.
Slip the cardstock rocket on to the end of the PVC pipe.
Aim.
Stomp on the 2-litter bottle to launch your rocket.
You have 2 types of elbows to help you aim your rocket perfectly. You can also launch your rocket straight up with the 90 degrees elbow.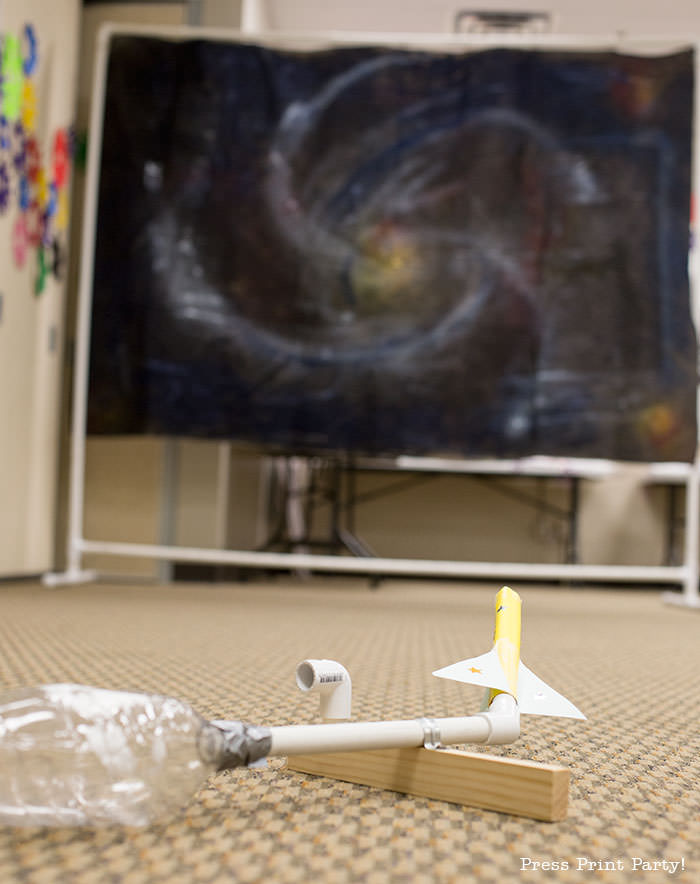 We created a galaxy backdrop with quadrants and we assigned points for each quadrant as well as the center. It's just a painted dropcloth over a PVC frame.
We got the idea and the instructions on how to make the stomp rockets from Stocked About Science. They have a great video on how to build the blaster and rocket (see below). You can check out their stomp rocket post here.

And of course, you can learn more about our Science VBS, including all the projects and decorations.
Once VBS is done what do you do then? How 'bout a game of Catch the Stomp Rocket. Or Stomp Rocket Bingo. See if you can launch a rocket over your house? Write a note on the cardstock and this could be your new parents-will-never-figure-it-out-super-secret message delivery system. Or load the PVC pipe with confetti or glitter or a few mini-marshmallows.
This could get interesting!
Don't forget to pin it: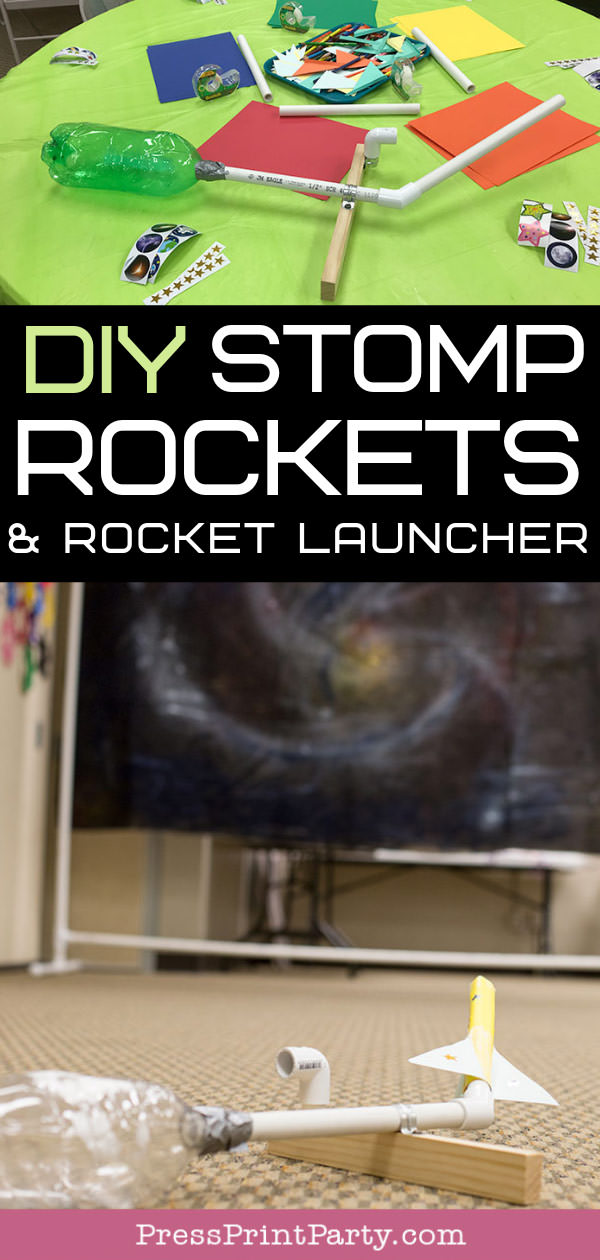 Check out our birthday printables