With the weather outside as hot as it's been this year, we decided to host an outdoor backyard movie night for the girls' birthday party. That way we could beat the heat and instead enjoy the warm summer evening.
The girls decided to show the Peanuts movie and I thought I'd give a vintage look to all the decorations. The decorations matched the movie beautifully and we had a wonderful time.
We learned a lot and I've put together all these backyard movie night ideas so you can plan a wonderful outdoor theater in your own backyard and make it a memorable night for all your guests.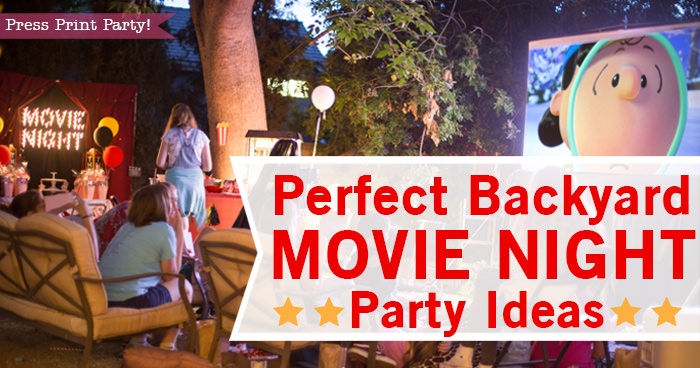 This post may contain affiliate links.
But I couldn't have put together this complete movie night themed party without the help of my Ultimate Birthday Party Planner. It's the best tool to plan any party without stress.
You too can use this wonderful resource for all your future parties by downloading it just once! I designed it after many years of researching how to plan the best party ever and much trial and error!
From invitation, decoration, crafts, games, party favors, and even how to set up outdoor screens, I hope this post will guide you to plan your own epic movie night birthday celebration:
---
Movie Night Ticket Invitations
We sent out giant vintage-style movie ticket invitations to the delight of all the girls' friends. Also included with the invitation is a standard-sized replica ticket that your little doorman can collect on the day of the party. Here's a link to the ticket template. It's now available in 3 colors (Vintage Red, Teal, and Pink). Your guests will be super excited to receive such a fun invite.
---
Movie Night Decorations
I really had a blast with these decorations.
As the guests arrived, the girls were greeted with our handy-dandy lightbox showing them the way to all the festivities in the backyard.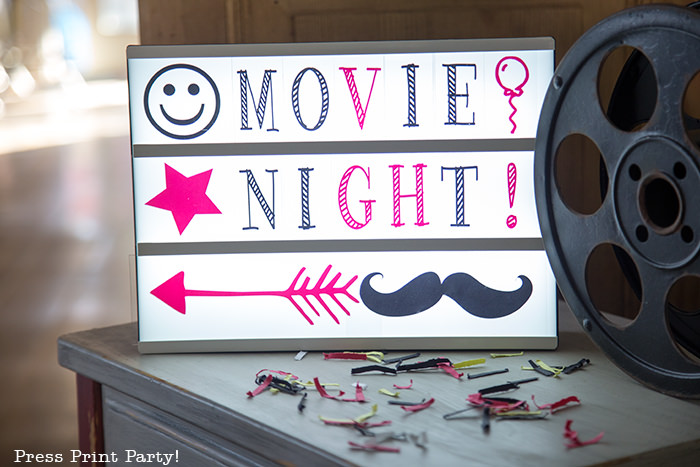 This is what they first saw in the backyard, a dessert table and a concession stand complete with a movie popcorn bar.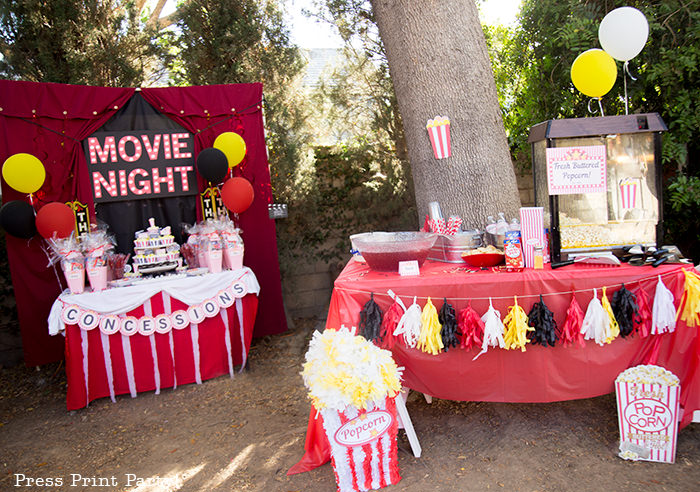 I decorated the dessert table with a lit "movie night" marquee and a concessions banner. I made a quick PVC frame and hung two red curtains that I usually use at Christmas time, then attached a black cloth to the back with safety pins. The marquee looked fantastic at night with the little twinkly lights. Even my husband thought it was adorable.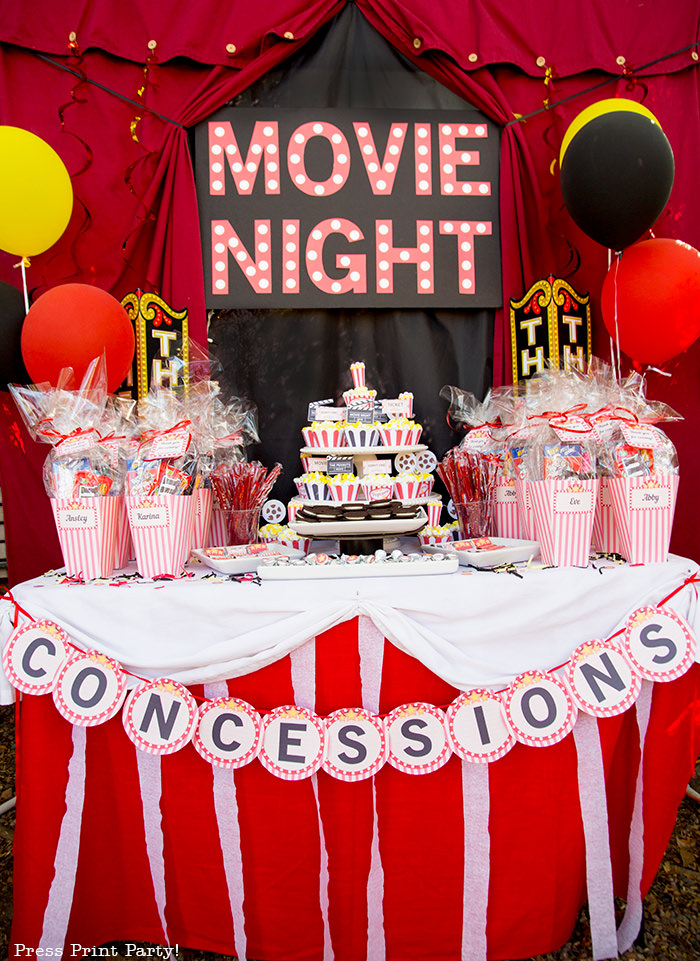 I posted the instructions on how to make the movie night marquee sign illuminated with string lights. It also includes the frustratingly dumb mistake I made in the hopes that you don't recreate it. The letters for the marquee are part of the movie night printable bundle but are also available on their own.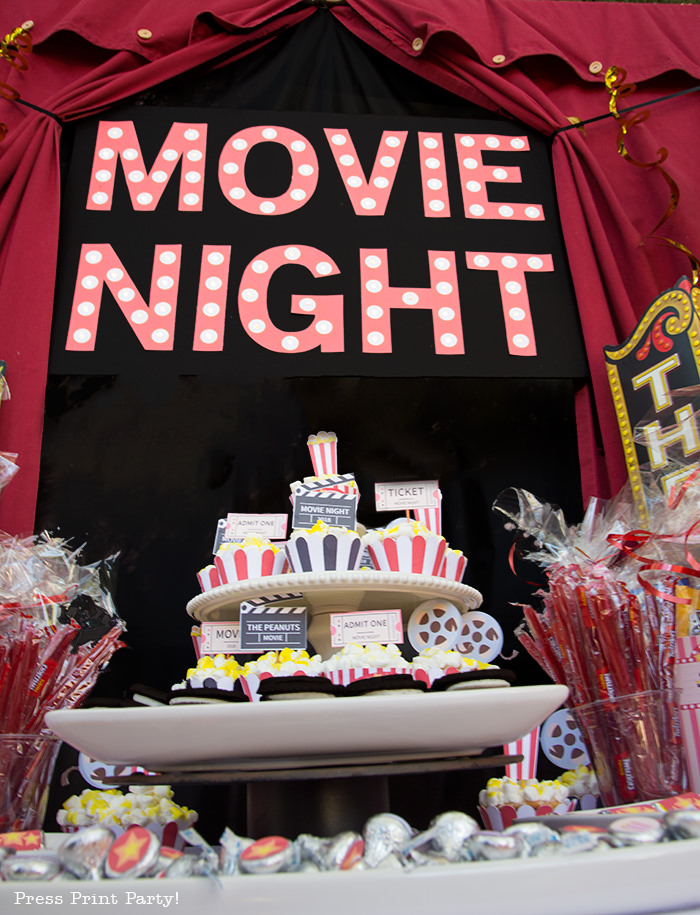 The table held the birthday popcorn cupcakes, Red Vines, chocolates, cookies, and all the favor boxes with personalized tags for the girls.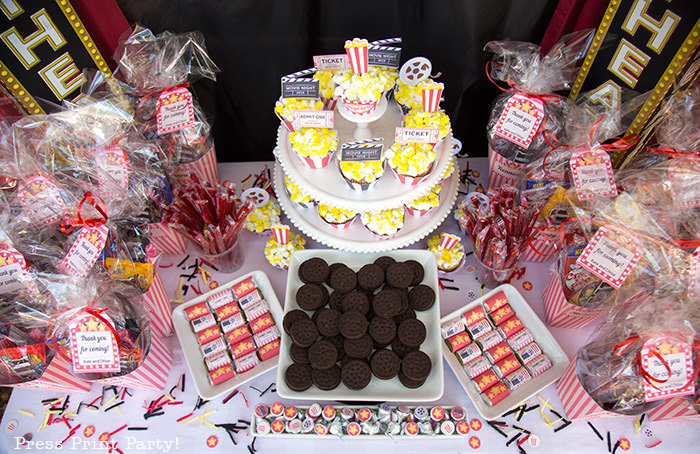 The second concessions table had more treats, the popcorn, and my not-so-secret, super popular fruity punch. We borrowed the popcorn machine from church and stuck a "fresh buttered popcorn – self-serve" sign to it. You could simply serve a big bowl of microwave popcorn too.
All the diy popcorn boxes were printed and assembled at home so I didn't have to buy a huge box of 100 for just 20 girls. All of the paper decorations came from my new movie night printable set so they all fit the theme perfectly.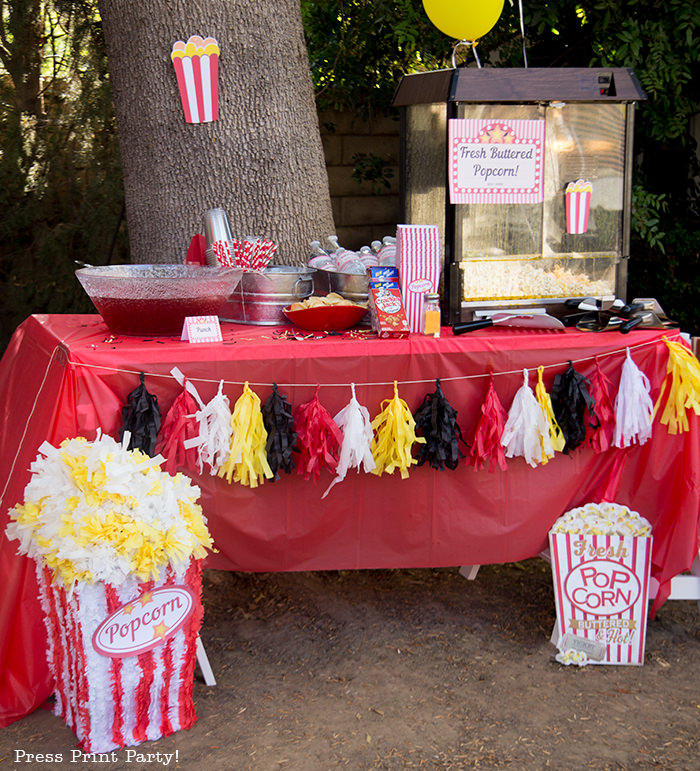 I love tassels, I think they're so festive, so I added them as a garland to one of the tables. Find out how to make them for pennies in my tassel DIY post.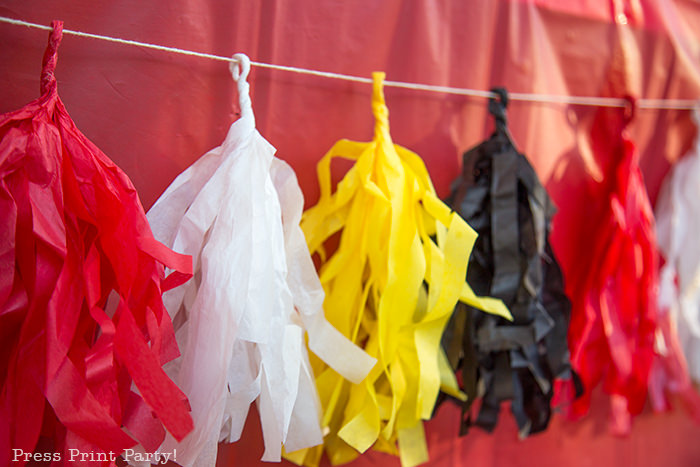 I also used some decorations I found at Hobby Lobby like the popcorn sign, and the movie reel. The homemade popcorn box pinata turned out so awesome that I used it as decoration until we broke it into pieces.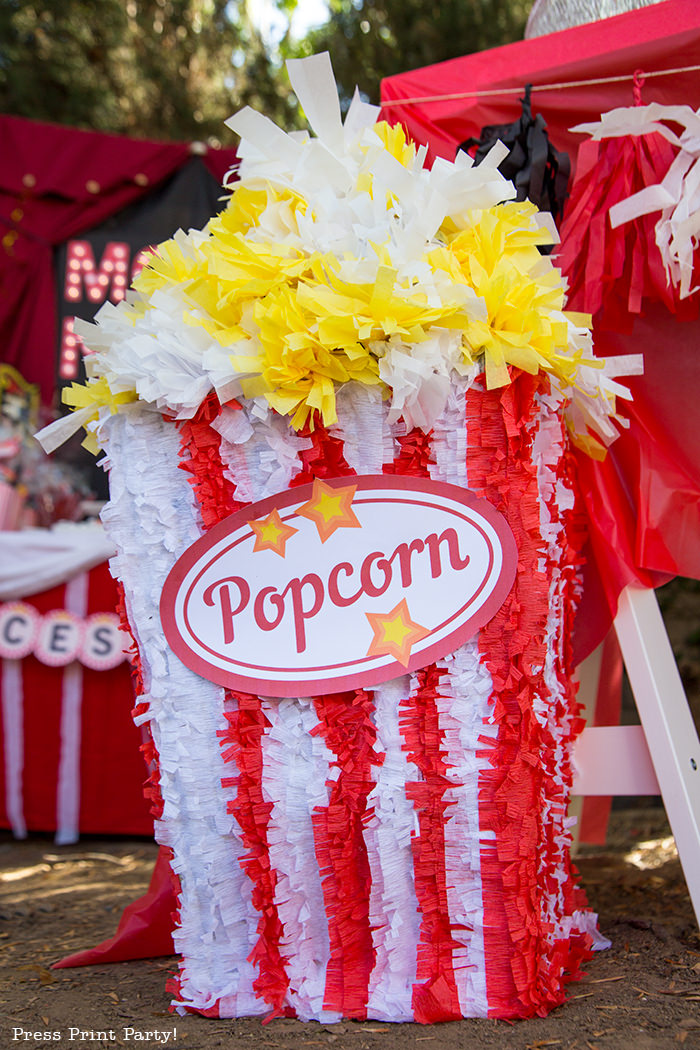 ---
Outdoor Movie Theater Equipment
We live in SoCal where a lot of people are in the movie industry and we were fortunate to have a friend who had the whole outdoor movie set up that he could loan to us. It came with an outdoor movie projector with a DVD player, an outdoor movie screen, and speakers.
But I did a little digging and found that you can buy it as a kit on Amazon with a portable projector. You can even use your amazon fire tv stick as an easy way to stream your favorite movie. Or buy a simple projector, Blue Ray player, speakers, and projector screen separately. Which would be good if you already had some of the pieces.
A lot of people seem to like this reasonably priced Viewsonic projector and I even found an inflatable movie screen if you don't have a flat surface. Of course, you could just use a canvas drop cloth on a garage door, a white sheet with a pvc frame, or a white wall as a DIY movie screen to create your backyard movie theater.
As you can see in the picture below, our projector and Blue Ray player sat on top of a step ladder to give it the height it needed. And I covered the bottom of the projector screen with a black plastic tablecloth.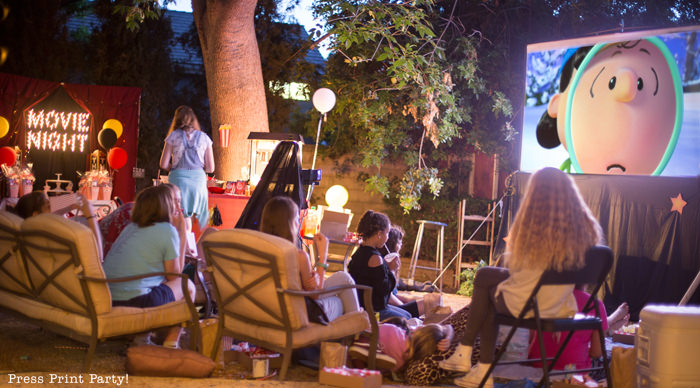 We tried to make the best use of our outdoor space as we set up a seating area with outdoor rugs with pillows, plenty of lawn chairs, and the backyard furniture in front of the screen but close to the concession stand. Those teenage girls sure can eat a lot.
---
Outdoor Activities and Games for a Movie Night Party
Ice Breaker Movie Game
The girls and I decided to start the party with a movie game icebreaker. I wrote several movie titles on a sheet of labels, and as the guests entered, I stuck one of the movie titles onto their back. The idea was that each girl asks yes or no questions of the other girls to figure out the movie title stuck to her back. You could only ask one question per girl so they had to go around and meet everyone. Not all the girls knew each other and we wanted to encourage fun interaction and this game worked great.
Be a Star Photo Booth
Before the sun went down, we took lots of silly pictures at the photo booth, using the myriad of props I had designed and collected. The girls had a great time!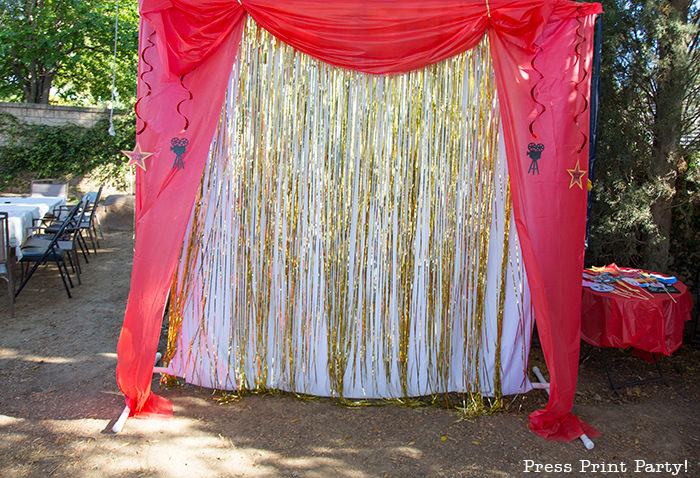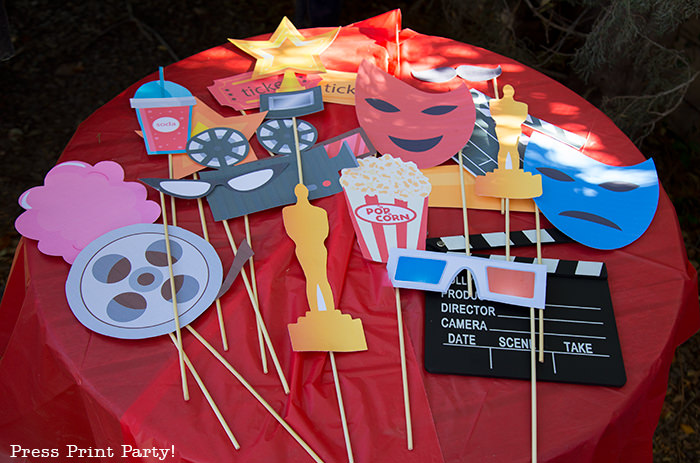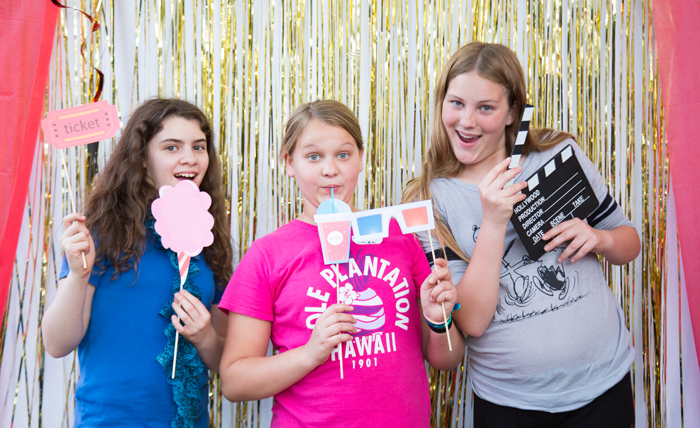 The photo booth is a simple PVC frame on which I hung a white curtain, gold fringes, and a red plastic tablecloth for the red curtains on the edges. We learned a little bit about the strength of various sizes of PVC with this party too. We made one frame with 1/2 inch PVC. It worked, but it was wobbly and it sagged and generally fought with us the entire time. We made the second frame with 1 inch PVC and it was much more rigid and rugged and much less inclined to need frantic reassembly five minutes before the party. If you want to build your own, it would be a good idea to check out my full diy post on how to make a sturdy PVC Frame for a Photo booth.
Popcorn Box Pinata fun
The popcorn box pinata was homemade and this time we were smart and didn't wait until the night before to start to build it. It had just the perfect amount of strength. It lasted until all the girls had had a turn to clobber it, but just barely. Considering the trouble we had last year with the nearly indestructible disaster of a pinata we were much happier with this one. I have all the instructions in another post. My husband is beginning to think that maybe he could have a career as a pinata maker, an official pinatero.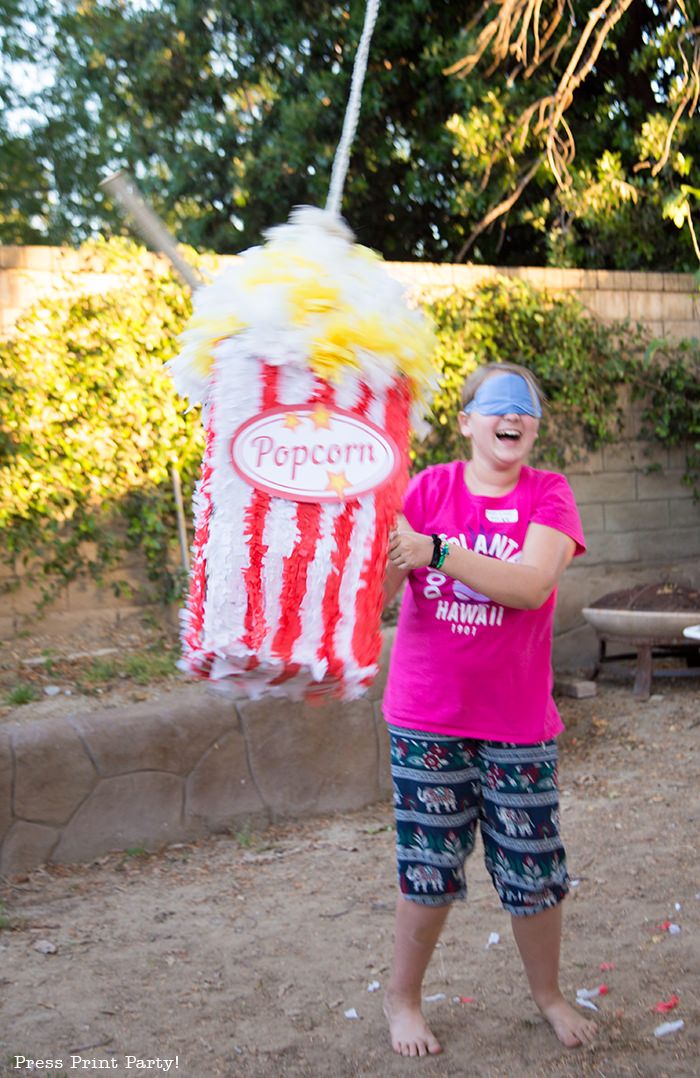 ---
Movie Party Treats
We, of course, served plenty of fresh popcorn. Figuring out how to use the popcorn machine without instructions was a bit of a challenge but after making a spectacular, oily mess my husband and I finally got the hang of it. Those machines are difficult to clean though. A big bowl of microwave popcorn would also be a great alternative.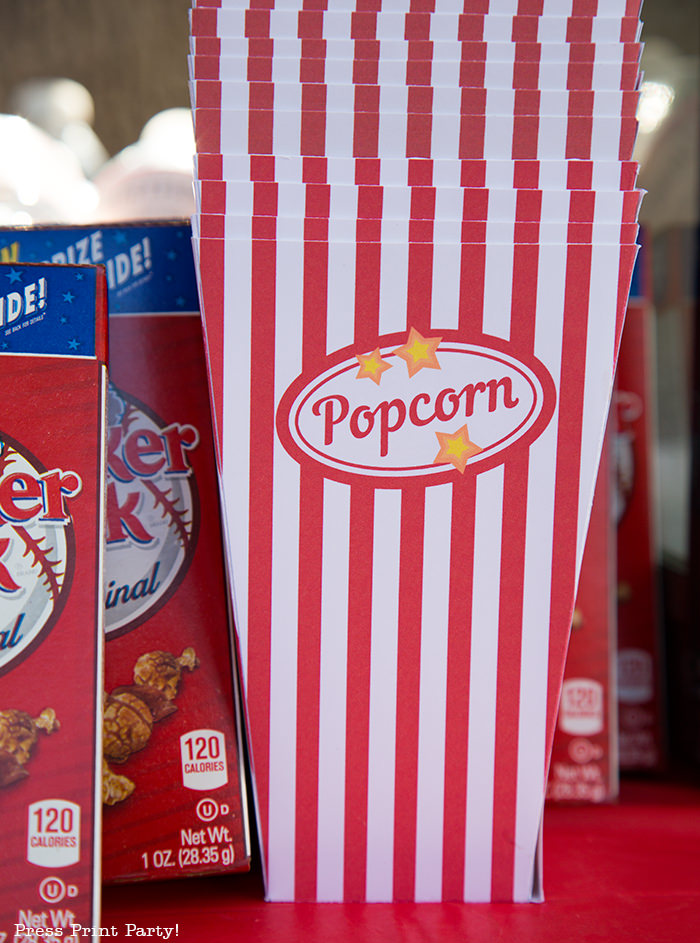 And here's the point where I look conspiratorially from side to side and offer you my super-secret, never before been revealed, positively amazing party punch recipe.
SHHHH…
It's a combination of two bottles of Canada Dry, a bottle of a good fruit juice punch (NOT the cheap sugary watered-down kind), and a quart of vanilla ice cream. That's it. It's delicious and the kids rushed to it and immediately drank up a whole bowl.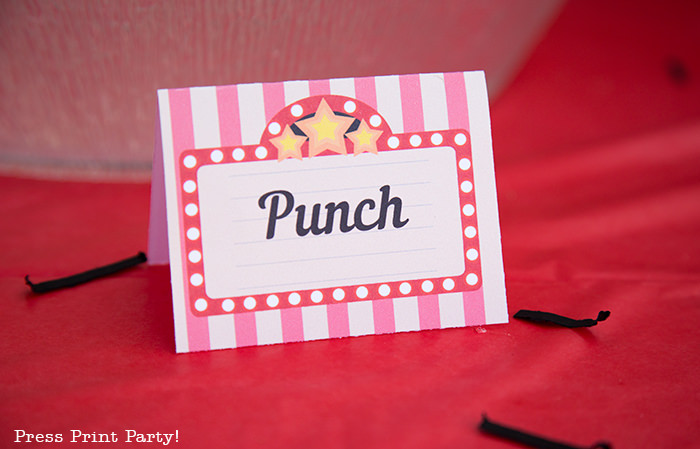 I decided to serve the punch in cups with a lid and a straw, which was a lifesaver for all the blankets and pillows we had on the ground when the girls watched the movie. There would have been a lot more spills and a bunch of sticky legs and backsides without them.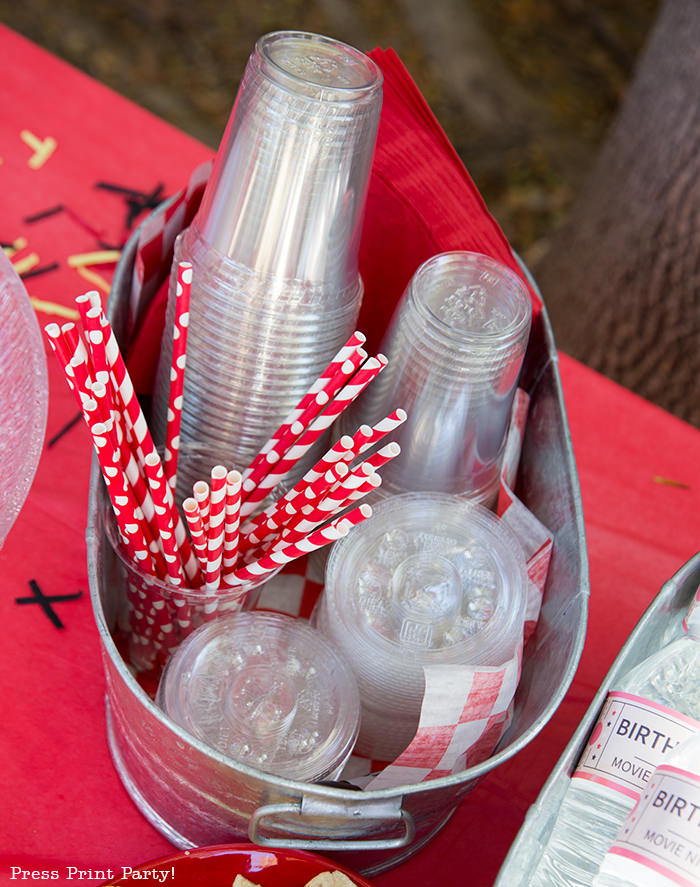 We also served good old American hot dogs in rectangular cardboard concession boxes with red and white checkerboard liners, both of which I found on Amazon.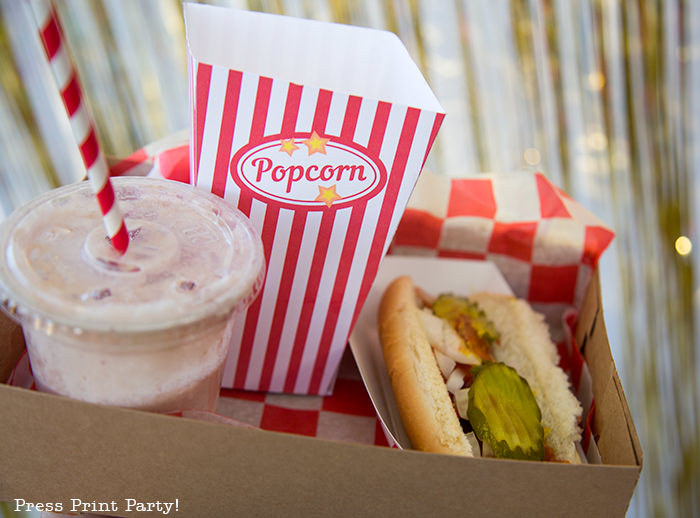 We made the popcorn cupcakes and didn't even bother with a regular cake this time. If you've followed me for any length of time you know how much I love the convenience and portability of cupcakes. Cupcakes and cakes made of cupcakes are also a whole lot easier to make than a specialty cake. You can read all about the popcorn cupcakes in another post.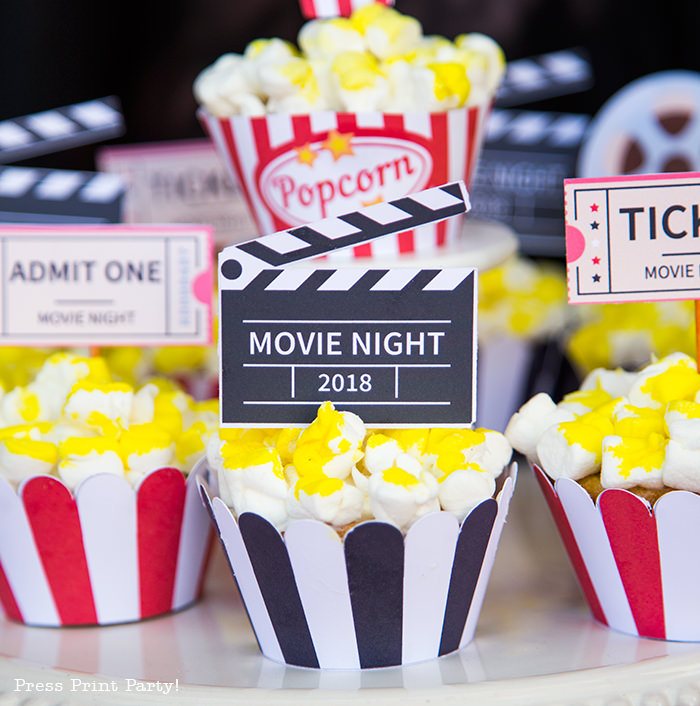 ---
Movie Night Craft
A girl's birthday party doesn't seem like a party without a craft. At least that's what my girls cried after I had the audacity to suggest that maybe this year we could skip a craft.
I thought long and hard about a good craft idea for a movie party.
I wanted something simple and useful. So since I had used hair tie favors before from the awesome Plum Polka Dot store for my unicorn party, I decided that this time I would just buy a bunch of elastic ribbons and have the girls cut and tie them themselves.
The girls each wrote their names in silver Sharpie on a black piece of card stock then cut a roughly 9″ length of UNSTRETCHED elastic band and tied them off. Each girl went home with 3 or 4 brand new, handmade hair ties.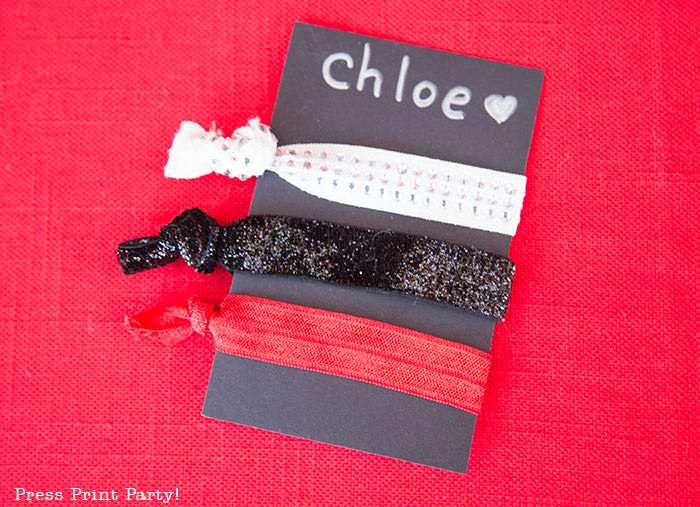 ---
Movie Night Party Favors
I had so much fun putting the favors together! I used the vintage-style printable popcorn boxes from my movie night set and typed each girl's name on them. Each box contained glow sticks, a box of Cracker Jacks, a bag of M&M's, individually wrapped Red Vines, a microwavable popcorn bag, and a lollipop. Tied together with clear cellophane in a fun way with a pretty red ribbon and a thank you tag, they looked pretty impressive.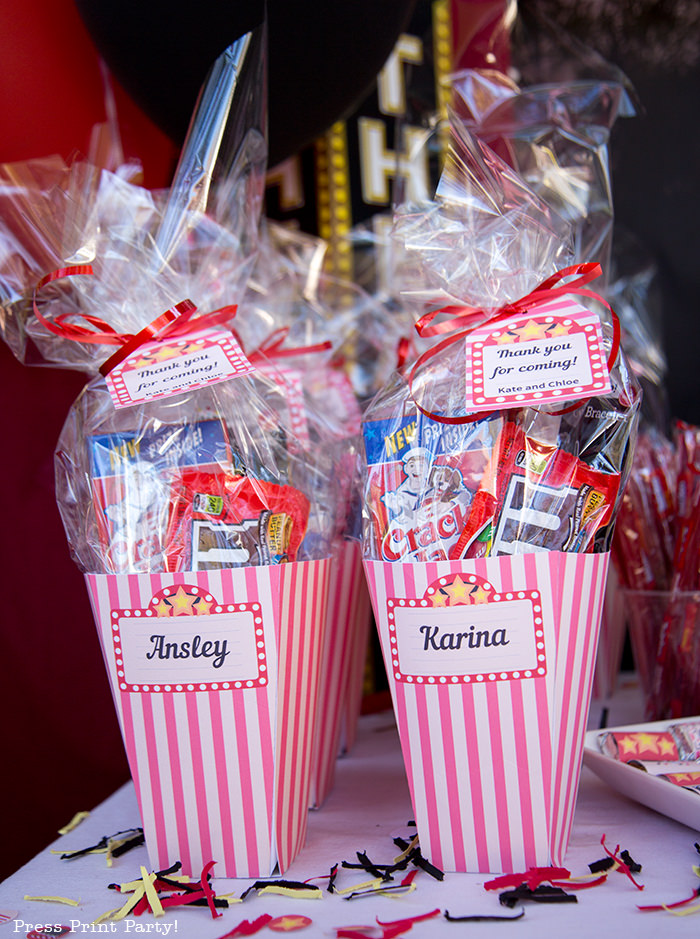 The air was warm and the night was amazing. The movie was funny and everyone enjoyed it.
Another successful birthday party in the bag. And like we say every year, this birthday was the best one ever.
I have lots more fun ideas and good ways to plan your own outdoor cinema theme party. Don't forget to check out all the other backyard movie night ideas posts:
If you've enjoyed this party, go check out the complete guides to our Donut Party, Amazing Race Party, and our Pineapple Party too.
Pin it for later: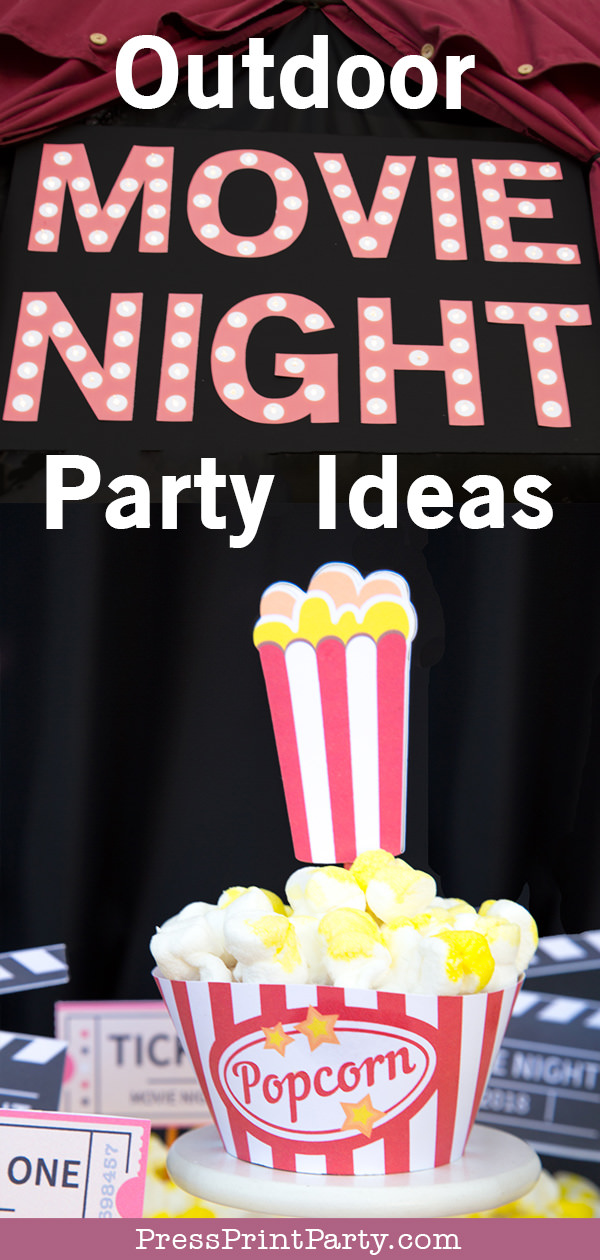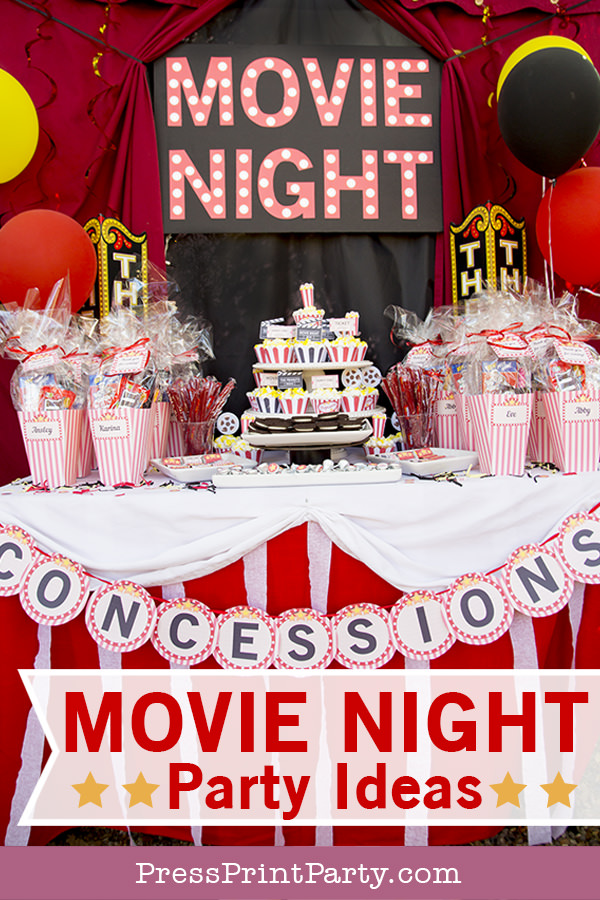 Check out our movie night printables