These 10 free cute dragon coloring sheets are perfect for hours of fun coloring for your kids.
These legendary creatures are loved by kids of all ages so I tried to include all kinds of different types of dragons and unique designs from simple and cute to more intricate ones.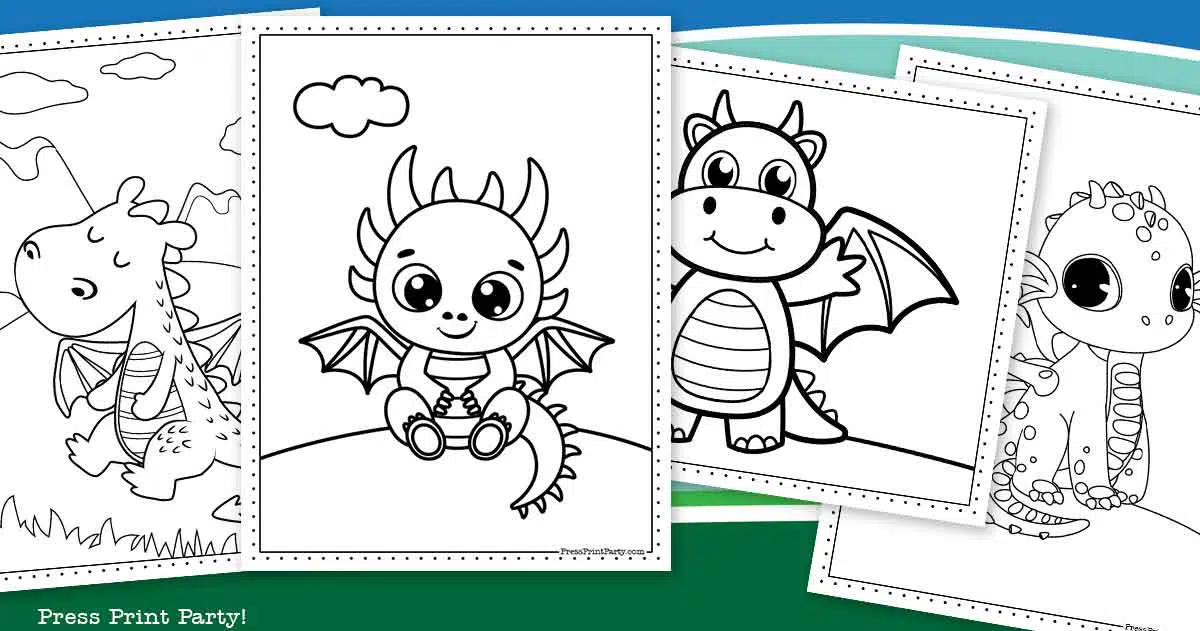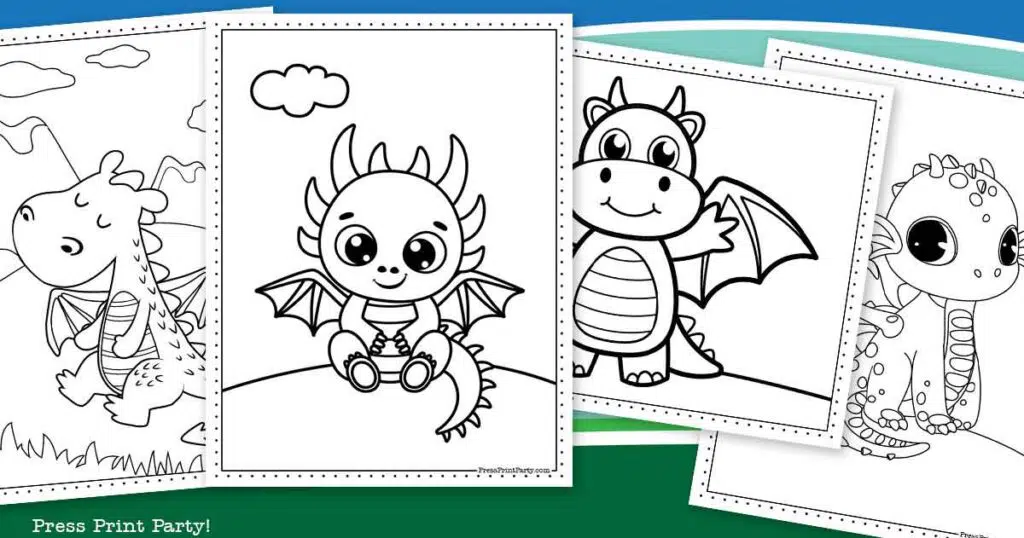 This post may contain affiliate links.
Dragons are super popular with kids. I know mine love each movie in the "How to Train Your Dragon" franchise.
In this free printable coloring book, you'll find mostly friendly dragons that are easy to color, as well as cute baby dragons, dragons in fantasy land settings with castles, and a Chinese dragon coloring page. No scary dragons, or evil creatures.
All 10 free printable dragon coloring pages are black and white line art in a pdf file available for instant download in the free library.
---
Dragons fun facts:
In Greece the word drakon, from which the English word was derived, was used originally for any large serpent.
Animals like crocodiles and bearded dragons may well be the original inspiration for the dragons of folklore.
The fire-breathing characteristics of dragons may come from accounts of spitting cobras.
Not all dragons breathe fire. Dragons from Norse legends are said to blow ice.
Tales of dragons appear in numerous cultures around the world. You can find tales of dragons from Korea to Scotland.
Western legend dragons are mostly described with a tail, wings, horns, scales, and spikes. However, dragons in Eastern folklore are mostly described as serpent-like creatures who are wingless and can have feathers, hair, and beards.
Also, Western dragons are mostly depicted as evil creatures and monsters who wreak havoc and devastation, as Oriental dragons are revered for their beauty, magic, and the luck they bring.
Dragons are mentioned by name in the King James Bible 35 times. 22 of these times are derived from the Hebrew word tanniyn (which can be translated as dinosaur), and 13 from the Greek word drakon.
The largest described dragon from the fictional world appears in Lord of the Rings and is a black dragon called Ancalagon who is described to be as tall as a mountain.
---
Dragon Coloring Sheets
Here are all the different dragon coloring sheets that you'll find in the dragons coloring book pdf.
| | |
| --- | --- |
| | This plump dragon is having fun just chilling in front of a fairy tale castle. |
| | |
| --- | --- |
| | This coloring page has an adorable baby dragon with big puppy eyes and would be fun to see in different colors. |
| | |
| --- | --- |
| | This more realistic dragon coloring page is reminiscent of an Asian dragon and features more detailed patterns |
| | |
| --- | --- |
| | This friendly dragon has big wings and a super fun personality with his arms open wide. |
| | |
| --- | --- |
| | Older kids will love this fire dragon in mid-flight. Who knows what evil creature he's fighting. |
| | |
| --- | --- |
| | Another cute baby dragon with big eyes and small wings hanging out in the clouds. |
| | |
| --- | --- |
| | This little dragon will be fun to color on a rainy day for any age group. |
| | |
| --- | --- |
| | This sleeping dragon is not looking very ferocious. Perfect dragon coloring pages for little kids. |
| | |
| --- | --- |
| | Since dragons are mythical creatures, this fun coloring page features a comic-book style dragon in front of a castle tower. Maybe he's guarding a beautiful princess. |
| | |
| --- | --- |
| | This last dragon coloring sheet features another castle from an unknown fantasy land and a fun dragon showing his ability to spitfire. |
---
If you enjoyed these cute pictures of dragons and would like more free printable coloring pages, go check out these posts for more:
All these free printable coloring pages of dragons are for personal use or classroom use only.
Don't forget to pin these free dragon coloring sheets: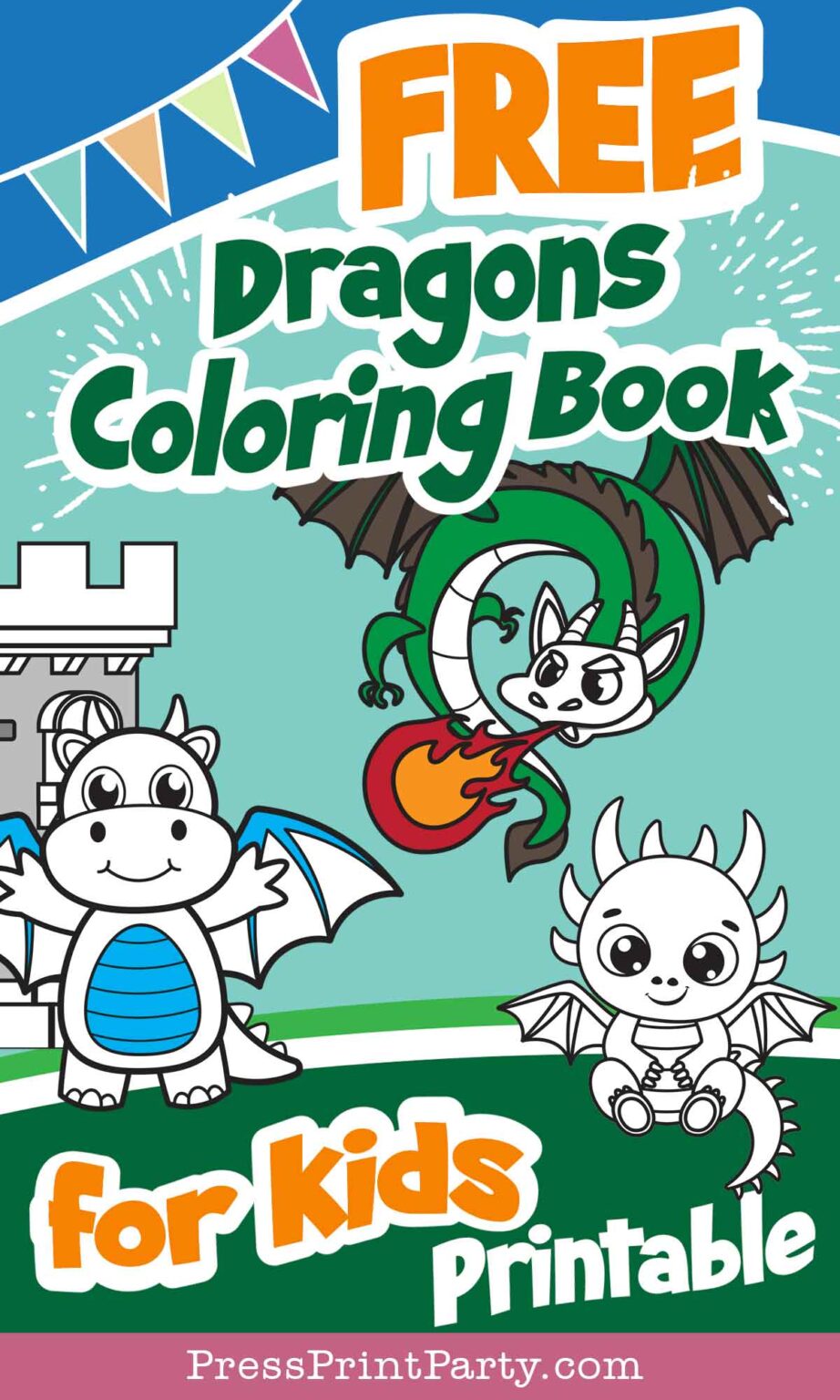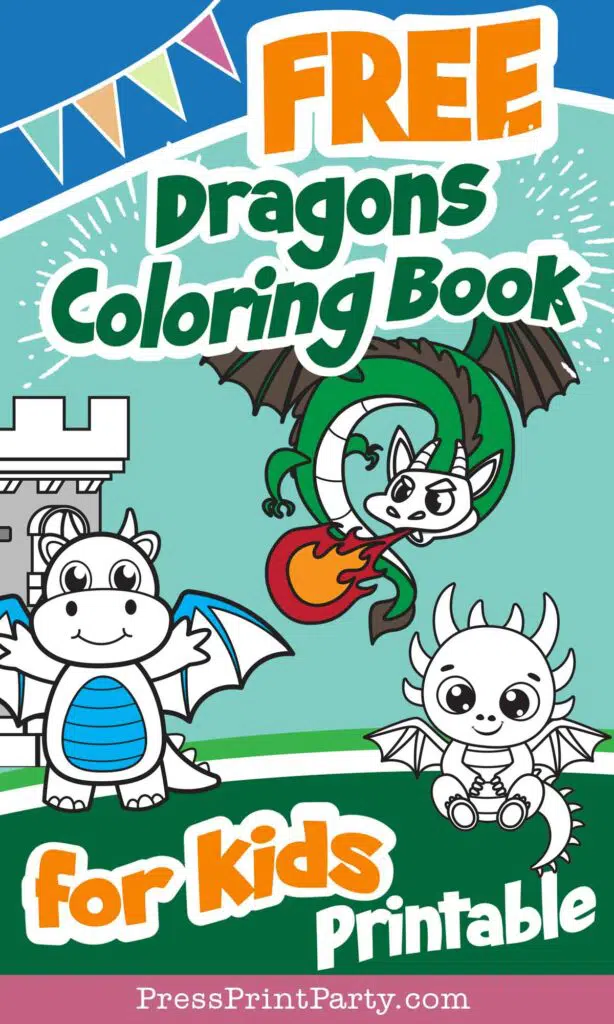 ---
Get Your Freebie:
If you've already subscribed, you can get the password from the bottom of any email I send and go directly to the Free Downloads Library.
Check out our birthday printables