The kids are home and you'd love to watch something as a family. You'd like a family TV show that's clean and wholesome but you don't know exactly what's out there. And you were really hoping for something that the kids AND the adults will enjoy.
We've all been there, aimlessly scrolling through our Netflix feeds looking for a good wholesome TV show for the family to watch.
This post may contain affiliate links.
You almost never know what you're getting into. Most "family friendly" TV shows nowadays are full of sarcasm, innuendoes, spineless or absent parents, and social agendas. On top of that TV ratings are not super reliable. A TV-14 rating is more like an R movie rating than a PG-13. Movies ratings tend to safer and more accurate to me. But watching a full 2-hour movie is not an option most nights.
Having a 1-hour family TV show that we all enjoy before going to bed is just about perfect. Although it can be tricky to find one everyone will enjoy, we've found a few through the years nearly all of us have liked and that we can watch without reservation.
My girls are now in their teens so with their help, I was able to go back and make a list of shows that we've liked watching with the whole family. A few are from when they were younger and a few are more current, somewhat more mature shows.
Most of these family TV shows you'll find available on one of the common streaming channels like Netflix, Hulu, Amazon, or Disney Plus. But I've really enjoyed the free selections on the BYU TV app also on our smart TV.
I hope this list provides some more options for good family time. An if you're looking for more ideas for nighttime activities to do with the kids check out my list of family board games that adults love to play too.
NOTE: Keep in mind, you know your kids best and for some of these shows I've waited until my kids were pre-teens before we began to watch them. You can always check Common Sense Media for very detailed explanations of the ratings of each show. I also have 2 girls, so some of these shows will appeal more to gals than the guys. But many of them my husband will sit and watch with us, giving them the adult male thumbs up.
---
Great Family TV Shows with Older Kids
Merlin – TV-PG Netflix/Amazon Prime – Teens/Preteens/Younger kids who are not easily scared
Our #1 absolute favorite show! I've watched through it twice and it was even better the second time around. The first time, I watched it when it first came on TV with my young niece and nephew (9 and 11 at the time) and later with my kids (11 and 13 at the time). The first episode can be a bit scary with an ugly witch casting spells and a room full of spider webs. My youngest was a bit impressionable and almost didn't want to watch the second episode but she was so thankful she kept going and is now the biggest Merlin fan.
The relationship between the young Merlin and King Arthur is one of the sweetest friendships you'll see on TV. The writing is one of the best I've seen for a family show. It's funny, very clever, and wholesome. I can only remember one bad word in the first episode when Merlin realizes the young man who was giving him a hard time is Prince Arthur: "Look, I've told you you're an a**. I just didn't realize you were a royal one." Come on, that's funny, admit it.
Merlin is so good and perfect for binge-watching with a cliffhanger moment at the end of every episode. If you're ok with your kids watching the Harry Potter movies, especially the later darker ones, you'll be just fine having your young kids watch this show.
The Mandalorian – TV 14 Disney + – Teens/Preteens/Younger kids could be ok especially if they like Star Wars
This Star Wars offshoot is a joy to watch. The rating is only because of all the fight scenes and killings but even those are mostly Star Wars style and not too gory. Although the Mandalorian (a bounty hunter) names the show, Baby Yoda really is the star. He's a hoot to watch and my kids can't believe how cute he is.
You don't have to be a Star Wars fan to love the show (I'm more of a Star Trek girl myself), either way, you'll find yourself enthralled by the storyline and the characters. A must-watch with the whole family.
Robin Hood – TV-14 Amazon Prime – Teens/Preteens/Younger kids could be ok.
This BBC Robin Hood series is fun, full of action, adventure, and twists and turns. You'll love to hate the sheriff and rout for Robin and Marian to finally get engaged. There are lots of very interesting characters and plot lines that will keep you engaged. We laugh at the fact that the castle guards seem a bit like stormtroopers, in that they get beat and fall down easily.
There are lots of good sword fights and people die but there's no gore. Robin does kiss a maiden in the first episode but it's not indicative of the rest of the series. All in all, an enjoyable remake of a good classic tale.
The Chosen – no rating – (on BYU TV or thechosen.tv) – Teens/Preteens
This incredible series follows the life of Jesus through his disciples' eyes. The makers of the show have done an exceptional job at setting a very realistic scene of the time period. They created a whole back story for Simon and other well-known New Testament characters while keeping true to the Bible. You'll get a whole new appreciation for the day-to-day life in Jesus' time. Jesus doesn't even really show up until later and his character portrayal feels very real and human. If you want your younger kids to see it, I'd suggest watching it first to see if you feel it's appropriate as some scenes can get intense.
But one of my kids said it best: "I've always seen Jesus with a white robe and a halo on his head, now I see he was a real person."
The Dark Crystal – Age of Resistance – TV-PG – Netflix – Teens/Preteens/Younger kids who are not easily scared
The girls and I recently watched the first season of Jim Henson's Dark Crystal Age of Resistance on Netflix and loved it. It's the prequel to the 1982 movie that I know I saw when I was a child but I must admit that I have no recollection of the plotline.
The Skeksis who come from another world, have conned the keeper of Thra into giving them the guard of the Crystal that powers their planet. But since then, the Skeksis have drained the crystal as a source of immortality and made themselves Lords of Thra. The Crystal is now spent and sending darkness throughout Thra. The Skeksis start to kill and drain the Gelflings race of their "essence" to stay immortal. The Dark Crystal is the beginning of the rebellion of the Gelflings of Thra against the Skeksis.
The show is not for the faint of heart as it also can get a bit dark as the Gelflings are beings drained of their essence.
But it's a show that will transport you to a beautiful fantasy world filled with such strange creatures and such interesting landscapes that you'll soon forget you're watching puppets.
---
Made for Kids TV Series that Adults Will Love too
Gortimer Gibbons, Life on Normal Street – TV-G – Amazon – The whole family
Life on Normal Street is nothing normal for Gortimer and his two best friends, Ranger and Mel. They'll navigate some amazing magical adventures as they investigate several mysteries in their town.
The whole family thoroughly enjoyed all 3 seasons of Gortimer Gibbons and we were sad when they stopped making them. The stories are engaging, the actors are marvelous and I want to know where they got Mel's wardrobe. Her shirts were stunning.
Dwight in Shining Armor – BYU TV – The whole family
If you like Gortimer Gibbons, or time travel, or stories about people totally out of their element trying to figure things out and fit in, then this show is for you. It has become one of our family night favorites and we literally cheer every time a new season comes out.

Dwight, a kind, responsible, low-key teenager falls down a hole and accidentally awakens a sleeping princess, her magician, and all the mysterious, medieval times baddies that were out to get her. Dwight is immediately declared the princess' champion and is now in charge of protecting her and guiding her through all the hazards of a modern-day world. It all makes for some truly hilarious situations.

The main character is played by the same actor that played Gortimer Gibbons and this show has the same fun, G-rated quirkiness that that show had too. BYU-TV is a free App on your TV so go check it out.
Just Add Magic – TV-G – Amazon – The whole family
3 middle school friends find a mysterious, magic cookbook and become its "protector". The 3 girls need to use the magic recipes to release Kelly's grandmother from a powerful curse.
Just Add Magic is a truly fun show with lots of mystery, mishaps, growing pains, and young people rising to the occasion.
It's so refreshing to watch a great show with teen girls that have no attitude, dress appropriately, and respect their parents.
The Penguins of Madagascar – TVY7- Hulu – The whole family
If you've liked the Madagascar movies, you'll love this TV series. The penguins and King Julien were the best things in the movies and here they shine as the stars of their own show.
Set in the NY zoo, the penguins have many crazy adventures along with King Julien and many other zoo animals.
Those penguins are hilarious. One of those cartoons that the whole family can enjoy without worry and without being bored. And it's one of those rare comedies where you'll actually laugh. Not smile, not chuckle, you'll laugh.
The Worst Witch – TV-G Netflix – The whole family
The Worst Witch follows Mildred as she attends a witch school. It's a much lighter girl version of Harry Potter. A fun, somewhat campy show, that doesn't get dark at all. My hubby wasn't into it, but I rather enjoyed it, and the girls loved it.
On a side note, you might recognize Raquel Cassidy, who played Ms. Baxter on Downton Abbey. She does an amazing job playing one of the teachers you love to hate. She so totally commits to the character that I barely realized it was her.
Malory Towers – TV-G BYU TV – The whole family
Malory Towers is a British children's show based on the book series by Enid Blyton. It follows the adventures of a group of pre-teen girls in boarding school after WWII. It's a really sweet show with good role models and that treats adults with respect. I've truly enjoyed watching it with the girls.

---
Good Wholesome TV Drama Series
Granite Flats – BYU TV (search for the app on your smart TV) – The whole family
We truly enjoyed watching this period mystery show when it was available on Netflix but you can now watch it on BYU-TV for free online (we have the Roku app). It's a really good, clean mystery set in a small Colorado town around the Cold War in the early '60s and follows several of the town's citizens as mysterious and potentially dangerous circumstances arise.
Part of the plot includes the MK Ultra program. It was a real US military program but this was the first time anyone in our family had ever heard of it. If you're interested in some truly bizarre Cold War history read up on MK Ultra.
MK Ultra, definitely NOT wholesome, kid-friendly entertainment. Granite Flats definitely is.
When Calls the Heart – TV-PG Netflix – The whole family, younger kids may be bored.
Totally wholesome (and awesome) this period family TV series from the Hallmark Channel is fun and safe to watch on all levels. Yes, it's definitely a romantic show, but even my husband watches it with us.
Set in the late 1800s in the Canadian Frontier, Elizabeth is a young woman from a big city who moves to the frontier to pursue her dream to be a teacher. She meets a handsome Mountie named Jack and is thrown into situations she's never had to deal with in the city.
The fact that one of the main actresses got into serious trouble for behaving, in real life, very differently than her character does in the show gives you a chance to talk to kids about honesty and truth and the consequences of actions both for the individual and for the people around them.
Give When Calls the Heart a chance, you won't regret it.
The Good Witch – TV-PG Netflix – The whole family, younger kids may be bored.
I know what you're thinking, "One more show about witches?"
But it's actually not, this is another sweet, Hallmark channel show on Netflix that the girls and I have enjoyed a lot. Not as good as When Calls the Heart, and my hubby didn't watch it, but you can be assured of no weird issues popping up.
When a new doctor and his son move next door in their small town, Cassie and her daughter Grace try to make them feel welcome.
There is no actual witchcraft in this series, but Cassie has some kind of sixth sense where she knows what's going to happen and arranges people's life for the better.
---
Reality/Competition Shows
The Amazing Race – TV-PG Hulu/Amazon – The whole family, but it depends on the season
We've enjoyed watching the Amazing Race as a family for years. Eleven teams of 2 race around the world for 1 million dollars.
When the kids were younger, usually my hubby and I would watch the first episode to see how the teams are behaving and then decide if it would be a good season to watch with our girls.
If you've never seen it before, I'd recommend watching season 8 with the kids, even young ones. That was the only season where they made family teams, some with some fairly young kids. They mostly stayed in the U.S. that season but got to run an exciting race. You see some great relationships within some of the families and a few others that display exactly how not to treat one another. A few of the young kids really rose up to the occasion in this season. It was terrific.
In some seasons the fights between team members have gotten pretty ugly but we've used those occasions as teaching opportunities about what not to do. In others you'll get so attached to some teams it's nearly heartbreaking to see them go (Check the seasons with Mark and Bopper or Jet and Cord).
There are 29 seasons available streaming right now, you're sure to find one you'll enjoy.
It also makes a great party theme. Check out the Amazing Race Party we did for our teens.
The Great British Baking Show – TV-14 Netflix/ The whole family (Season 1-5 are safe, Season 6 has some bad language)
When so many U.S. competition shows are cutthroat and irreverent, here comes a British version where the competitors remain polite and encouraging, where they lift one another up and help each other when they can. It's a breath of fresh air in the food challenge genre and a true family TV show.
We've learned so much about baking and have made many recipes from the show. Our favorite being Mary Berry's Lemon Cherry Cake. It's awesome.
Don't forget to check out the Holiday version of the show too.
But be warned. The food on this show will drive you crazy. There are so many talented bakers and so much astounding looking food being presented that by the end of each episode you'll be ravenous no matter how much you had to eat before the show!
Nailed It! – TV-PG – Netflix – The whole family
Bad amateur bakers are asked to make lavish creations in an unreasonably short amount of time, resulting in hilarious disasters.
If you're feeling down and want a big laugh, give "Nailed it!" a try. The bakes are hilarious, the hosts are hilarious, the little quotes they put on the screen are hilarious. Am I saying "hilarious" enough times? The whole thing is guaranteed to make you laugh.
And when you're done, watch Nailed It Holiday, Nailed It France, Nailed It Spain, and Nailed It Mexico.
They're all….you guessed it……hilarious.
AFV – TV-PG – Hulu – The whole family
Yes, we still love to watch America's Funniest Home Videos. The concept is so simple and so timeless that it doesn't get old. In this age of 24-hour webcams and instant downloads, it's funny to realize that this show came to be only because camcorders and VHS tapes had gotten just inexpensive enough that you might be recording when something funny happened. And that $10,000 prize was incentive enough to get you to record the funny section of video on to another VHS tape and pay for postage to snail mail it to the studio.
Boy, have times changed!
But AFV always makes us laugh and it's a great family TV show to turn on when you need a little pick me up. Laughter is the best medicine. And remember, pets or babies almost always win.
Mythbusters – TV-PG – Hulu – The whole family
If somehow you were living in Siberia for the last 15 years and missed them, the MythBusters are special effects experts who methodically set out to bust urban legends. There are 296 episodes of major explosions, big tools, dropping things from cranes, super slow-mo crashes and lots, and lots of fun.
Adam and Jamie were a hilarious pair partly because they seemed like such very different people. But it was remarkable to see what they and Tory, Carrie and Grant could come up with. From welding to sculpting to precision molds to pyrotechnics these guys had a shockingly broad range of skills and the bloopers, mistakes and occasional injuries only made a funny show funnier.
And after the show was officially canceled several spin-offs were created including MythBusters: The Search, Headrush, MythBusters Jr. The White Rabbit Project, and Savage Builds. Just in case you hadn't yet gotten enough.
---
Worthy Youtube Channels
Dude Perfect – Dude Perfect is one of our favorite, wholesome, go to Youtube channels. They became famous for their impossible trick shots but have expanded the channel to include funny stereotypes videos, silly battles, and a goofy catch-all show they call Overtime. It's always high energy and loud and fun and the trick shots are truly astounding.
Mark Rober – Ex-JPL engineer turned Youtube star Mark Rober blends science and fun at its best. He focuses on quality, not quantity, usually posting a single video per month. His approach is a bit more rigorous and less comedic than MythBusters but he's attacked some really fun projects. He's filled a pool with jello, built a rock skipping robot, built a snowball canon, and made the world's largest Nerf gun.
His humble, aw shucks attitude makes the science seem less daunting and more approachable and his videos are a joy to watch.
Studio C – The BYU TV team puts on very clean and hilarious skits with their cast of comedians on Studio C. Most are short but all very entertaining.
After laughing ourselves nearly horse over the Lume videos we were delighted to discover that the star of those videos, Whitney Call, has been a Studio C cast member for years.
JK! Studios – The old cast of Studio C opened up their own channel and keep us supplied with more fun comedy skits.
NAS Daily – Do you or your kids love to travel? Do you love to see unusual people from around the world? Then Nas Daily is for you. Most videos are one to five minutes long and will feature a person or a place from all over the world. Nas's energy is catching and you'll find yourself deep into his incredible videos and learn fascinating facts about other cultures and traditions you never knew existed.
I'll make sure to add any new series we love as we find them. Let me know if you have a favorite we can try in the comments below.
Don't forget to pin it: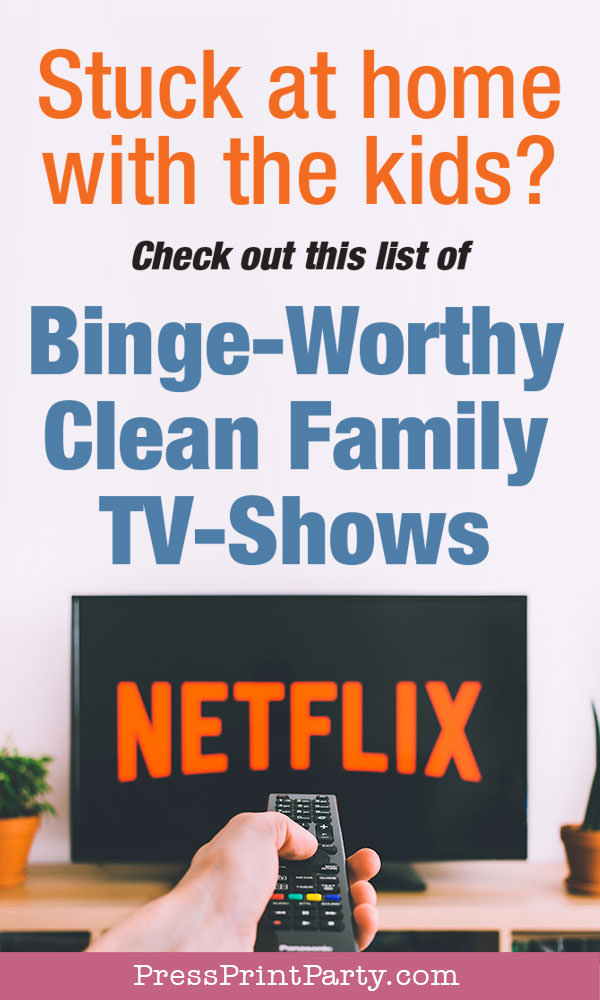 Check out our birthday printables