A Greenery theme is also fast and easy to pull together at the last minute. Especially if you have some eucalyptus or olive trees nearby.
Faux Greenery is of course widely available and relatively inexpensive as well.
I put this baby shower together with a group of friends for our good friend Amber and used one of my baby shower decoration kits as the primary inspiration for all the other party decorations.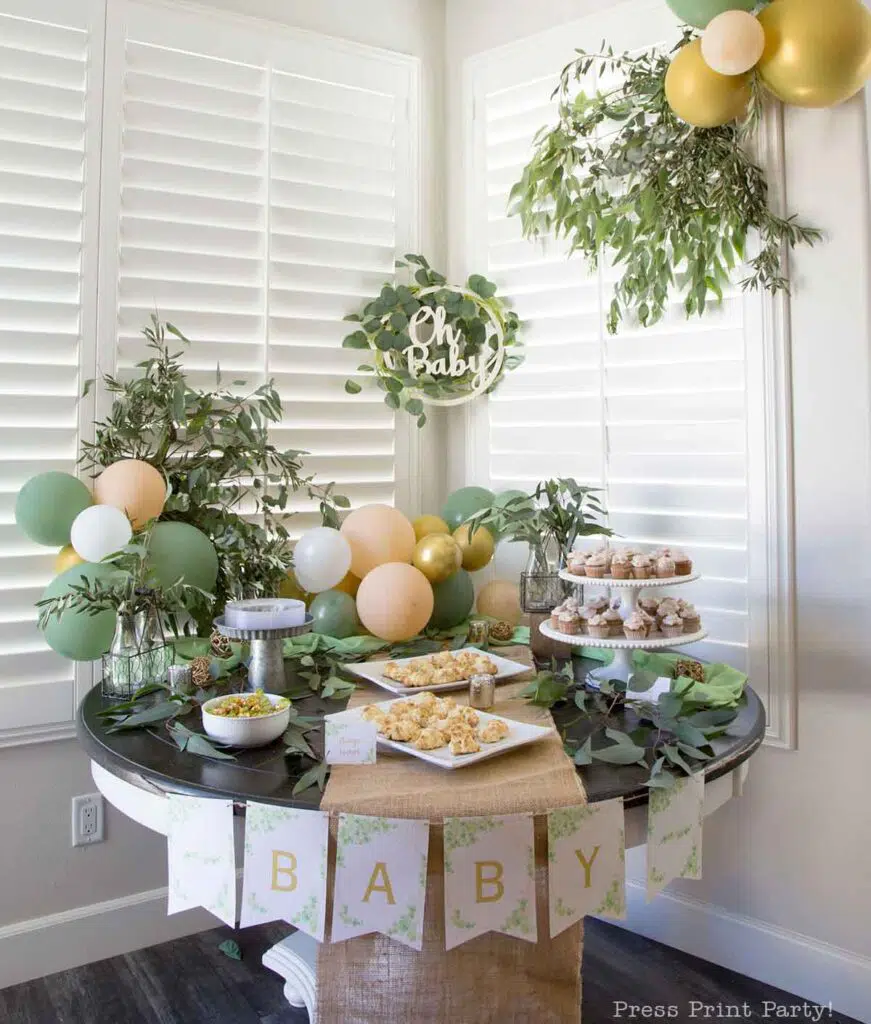 ---
Greenery Baby Shower Invitations
I filled out the invitation from the eucalyptus baby shower printable bundle, converted into a JPEG according to the instructions, and we texted it out to everyone.
It was easy and fast, and we received lots of great compliments on how beautiful it was.
This is what it looked like (with our info of course).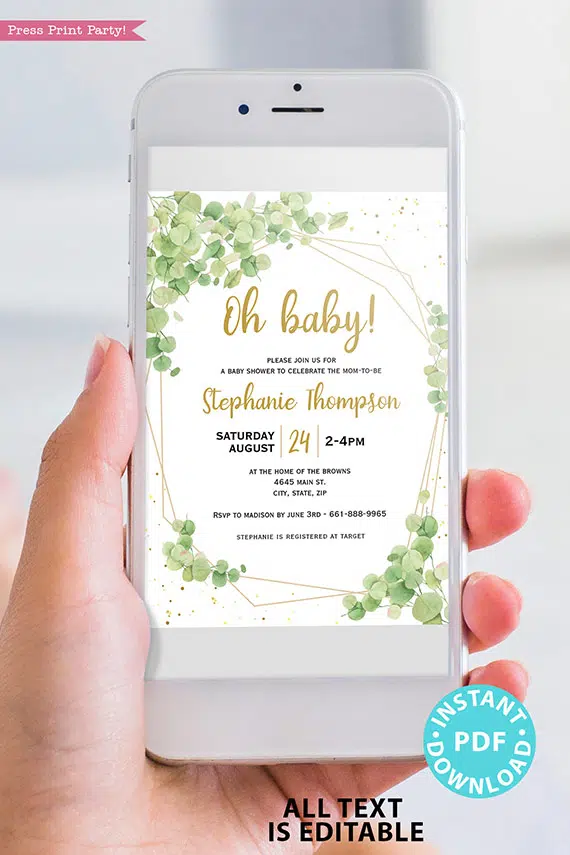 I have 4 baby shower kits available in the shop right now in different styles as an instant download in the shop.
Each includes:
Baby shower invitation to print or send digitally
Envelope labels
Extra card to add more details about the shower
2 Thank you Notes
Thank you note envelope
Place cards
Custom Banner (Type and print any letter or number)
Thank you tags
Water bottle labels
Welcome sign
Editable sign
Start with one of these sets or my woodland baby shower or tea party set, add some color coordinated accents and you'll look like a decorating pro.
---
Greenery Baby Shower Decor
I didn't need to buy a lot of baby shower party supplies for this party.
I basically just used 4 things:
Baby shower guests were greeted by the door with a framed welcome sign on a small table decorated with green fabric and leaves.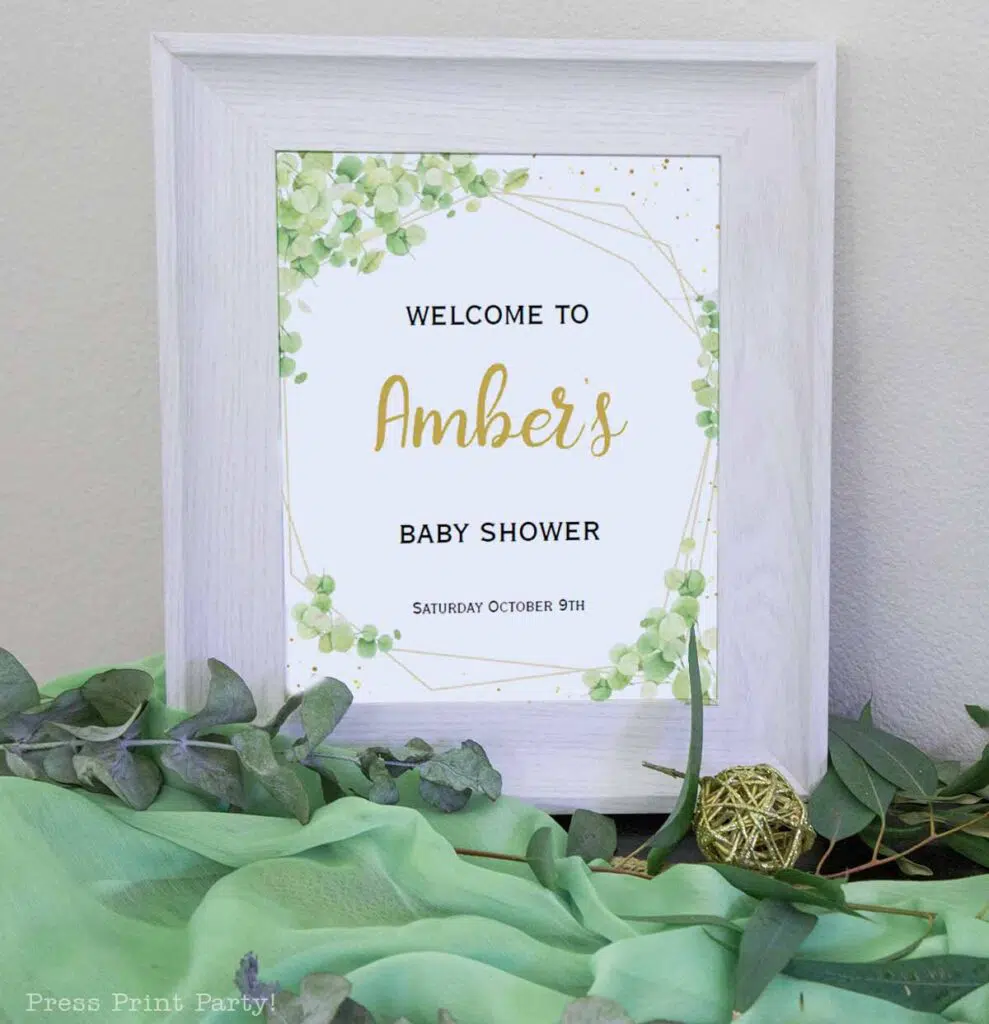 Then we set up a gift station where guests could drop off their gifts right before entering the main area.
If you're unfamiliar with the idea of stations for a party, I encourage you to read my How to Throw an Amazing Party post for some practical tips on how to plan a great party.
A prominent gift station for baby showers is a must. It should be one of the first things your guests see. That way they can greet people unencumbered with their gift bags.
Here, we simply used an unused corner of the room, set some big boxes of various sizes on the ground, and covered them with a white tablecloth.
I printed a "Gift" banner from the baby shower printable bundle and added some balloons.
We "seeded" the gift area with our own gifts and soon watched a mountain of presents form.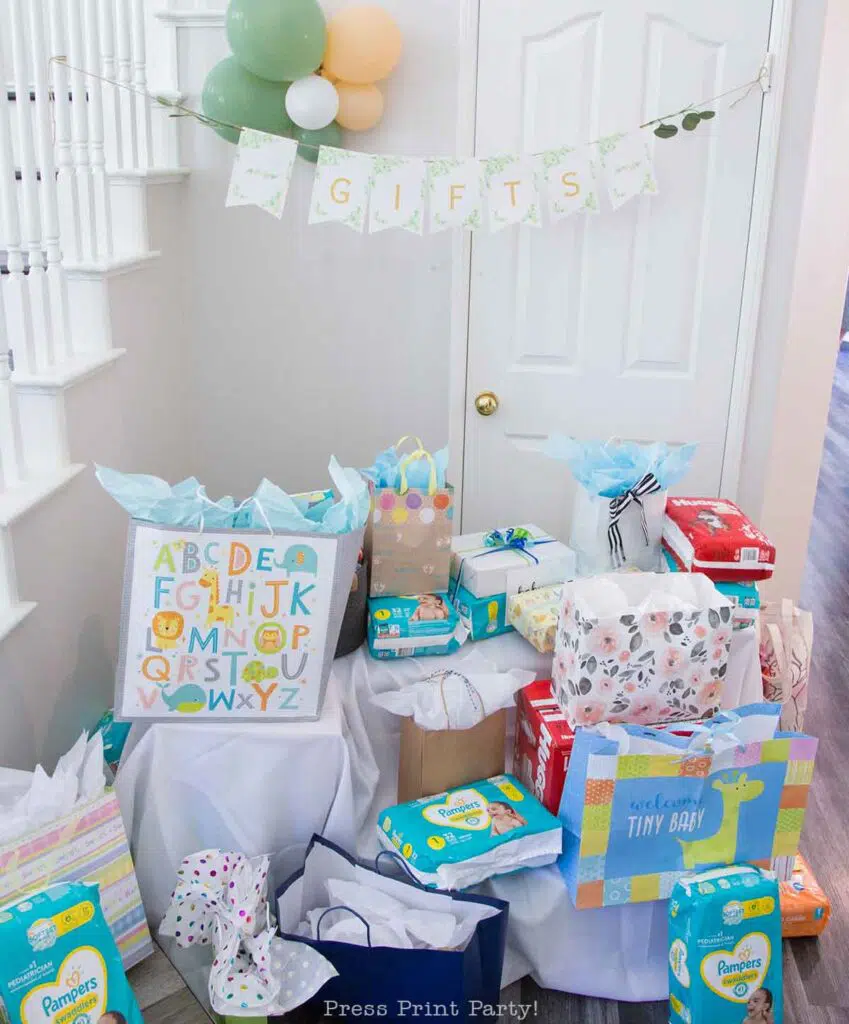 The dessert table station became the main decoration focus of the room.
I used plenty of fresh eucalyptus and olive tree branches that I got from a neighbor and attached them to a couple of small balloon clusters.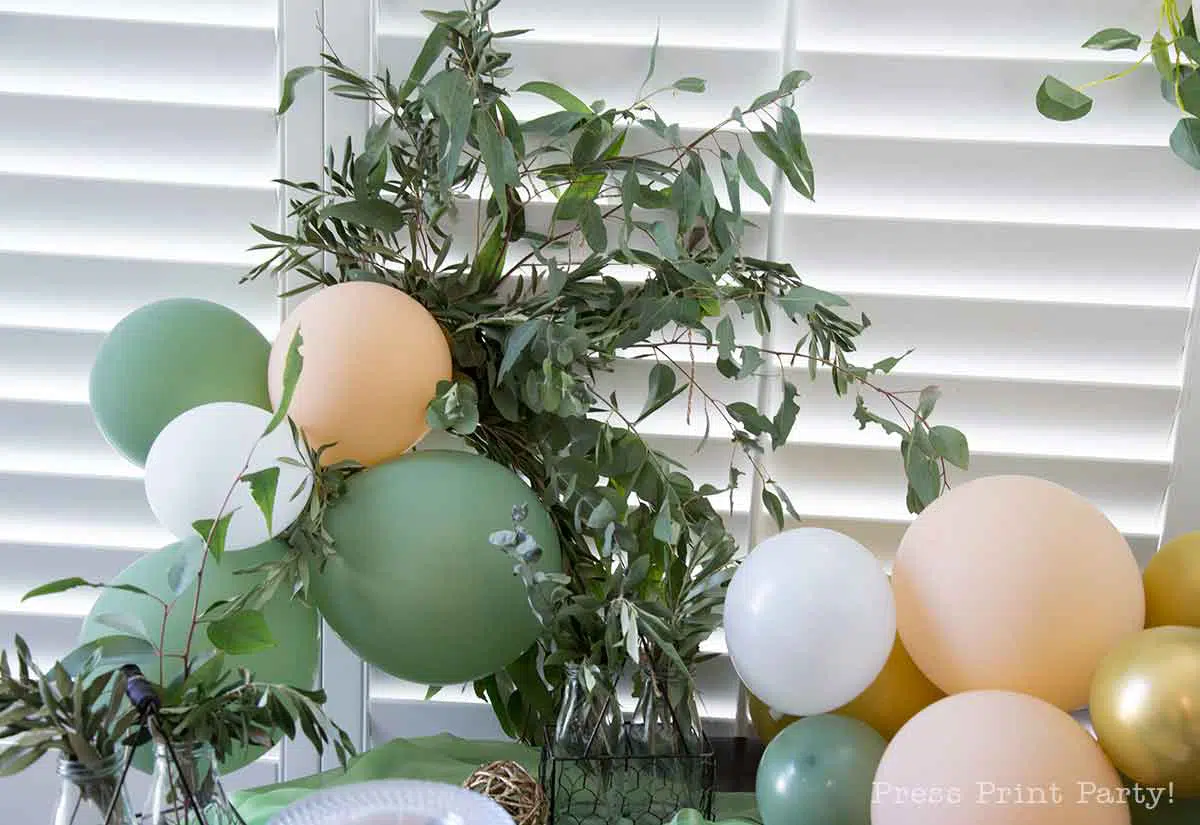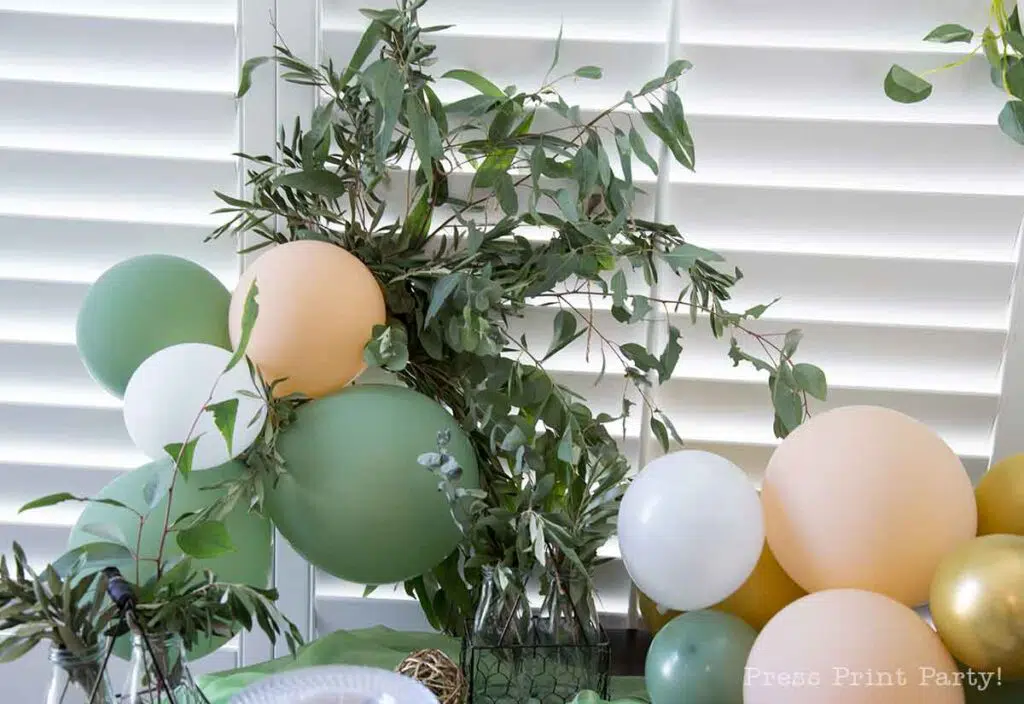 There are lots of options for greenery, just use any pretty leaves you can find near you. Palm leaves, for example, would work great too.
I actually had bought a whole balloon garland set and used it to make balloon clusters. I put one at the back of the round table too to fill in the space.
A simple burlap runner with more fresh greenery on the top of the table worked well for this rustic baby shower theme.
My friend "shopped" her house and we added some simple rustic elements as table decorations, as well as a cute "baby" banner on the front.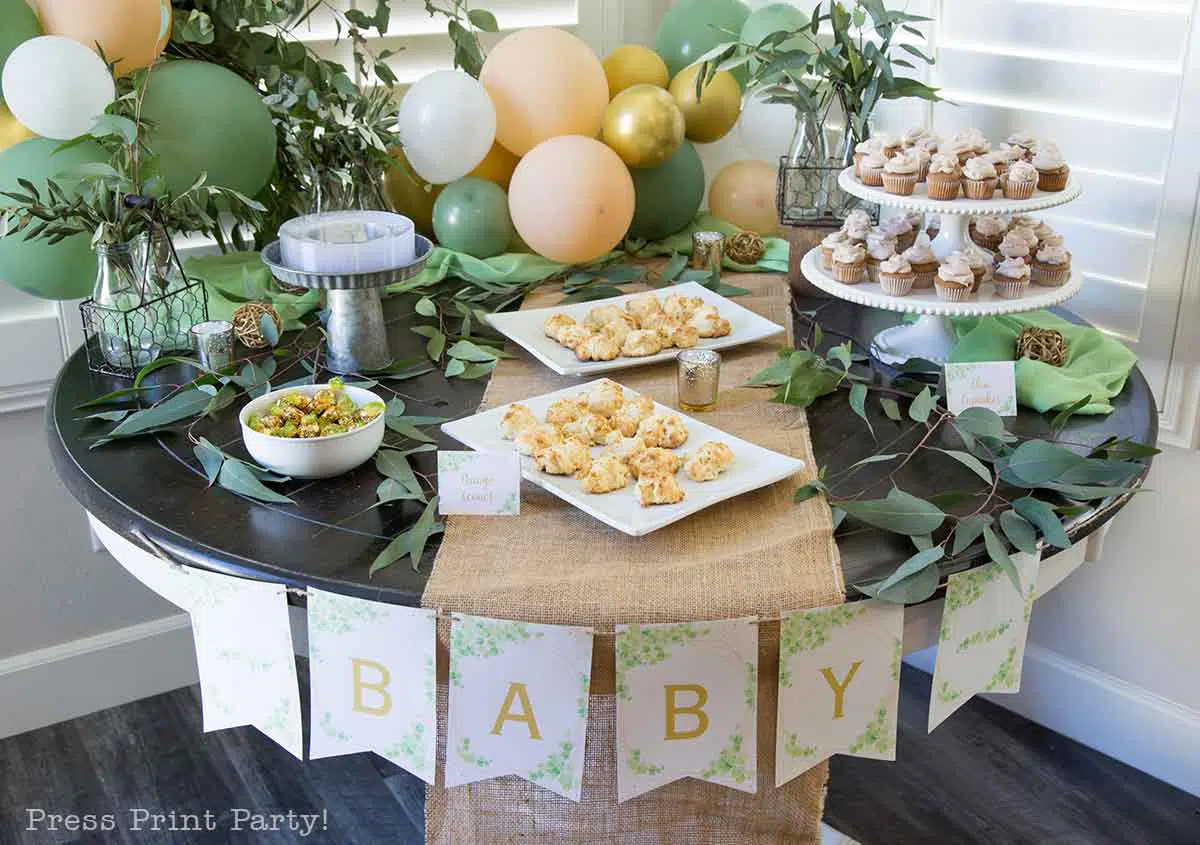 I purchased this nice wooden Oh Baby sign and wrapped it in some faux greenery for a beautiful backdrop accent.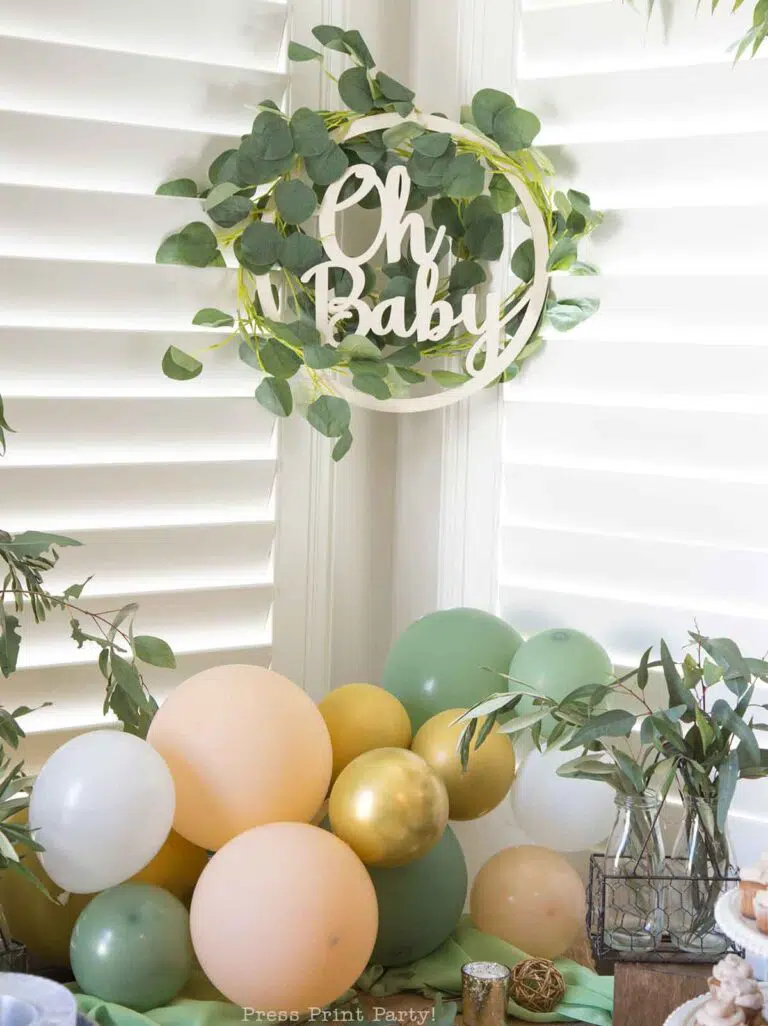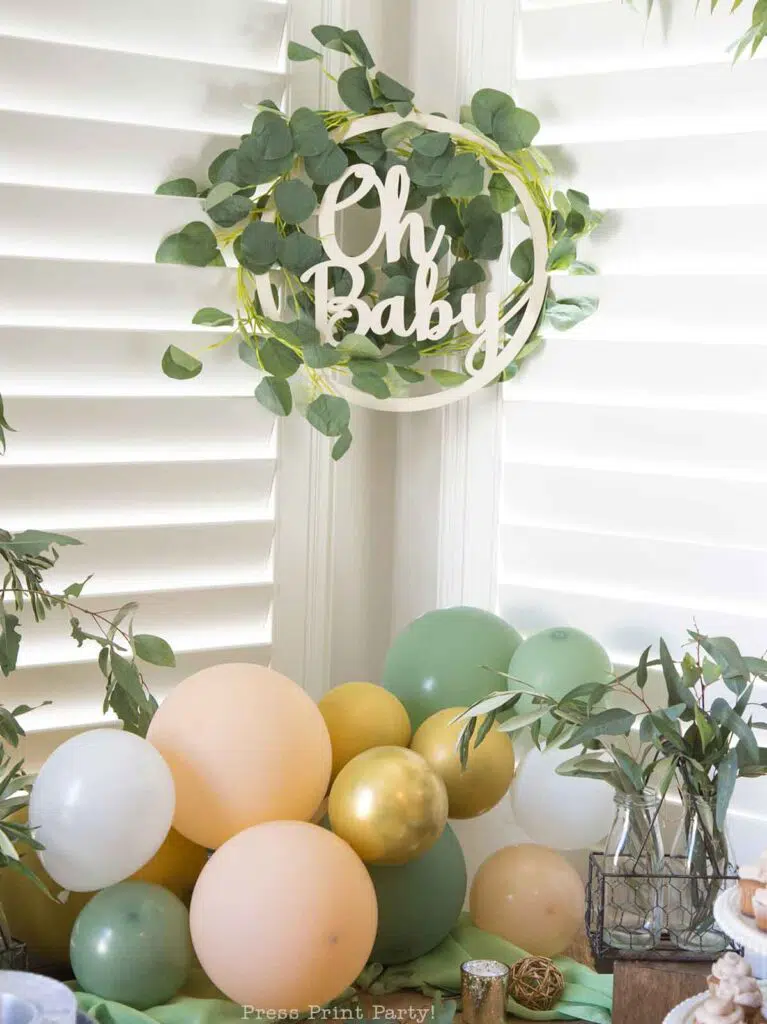 I printed place cards and used them to label all the different desserts.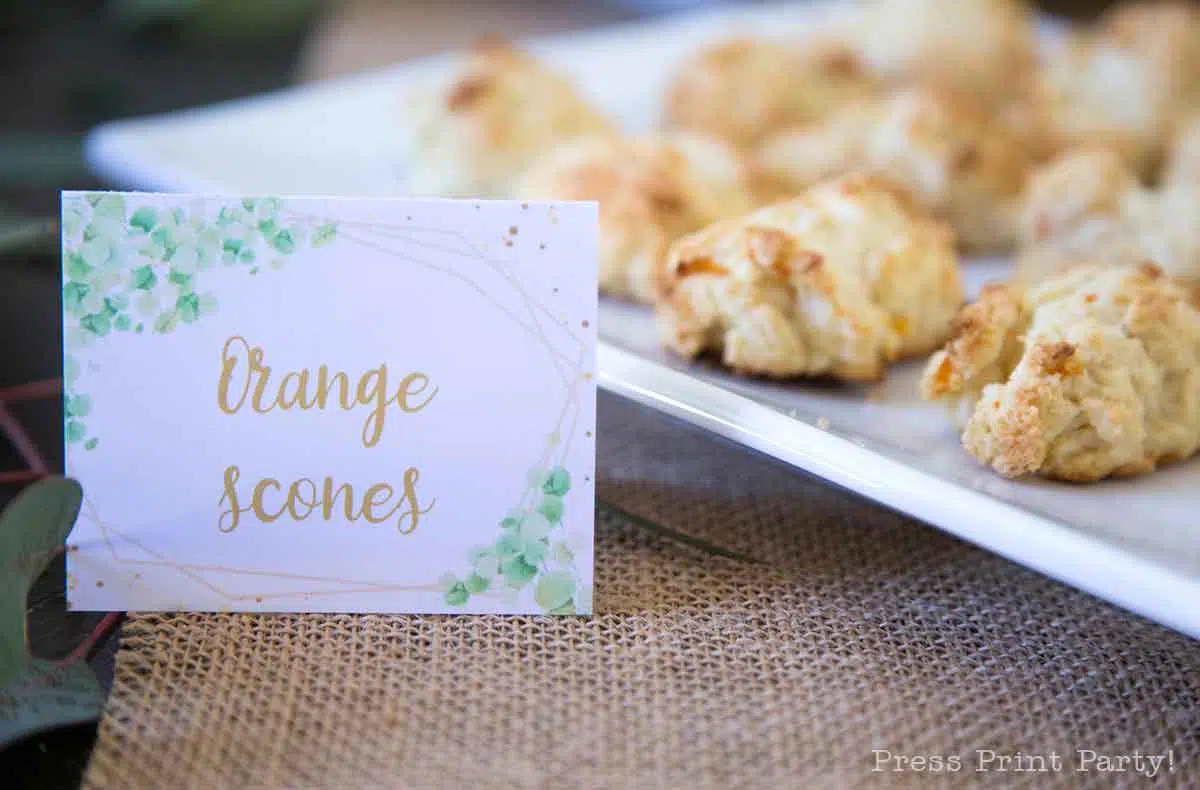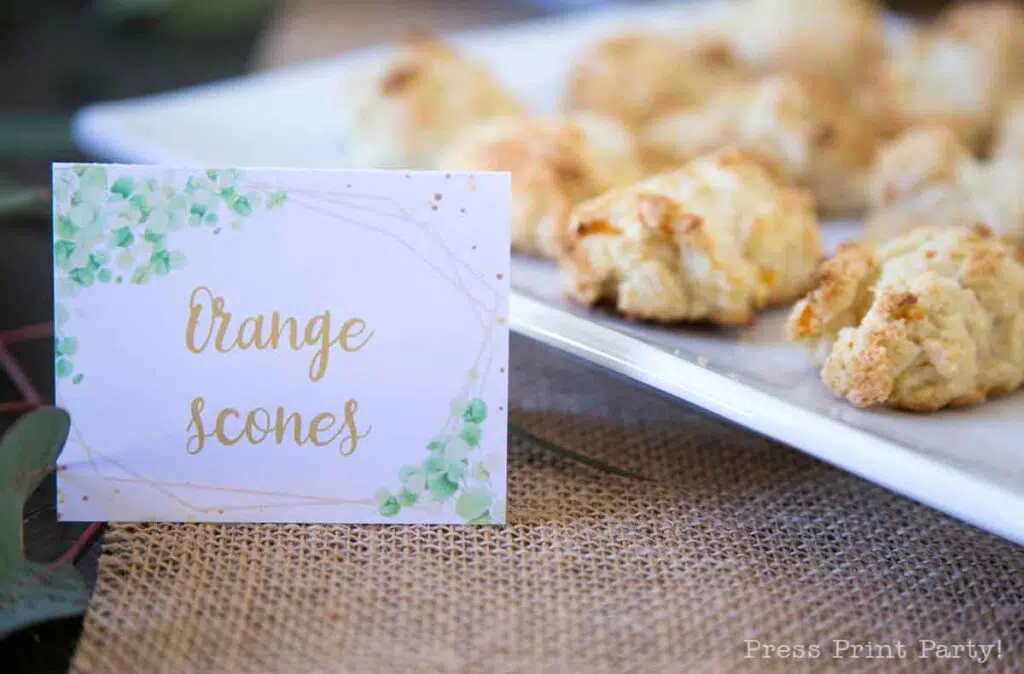 The primary food station featured 2 charcuterie boards and 2 other snack platters and was mainly decorated with a burlap runner, fresh and faux greenery as well as some small rustic baskets.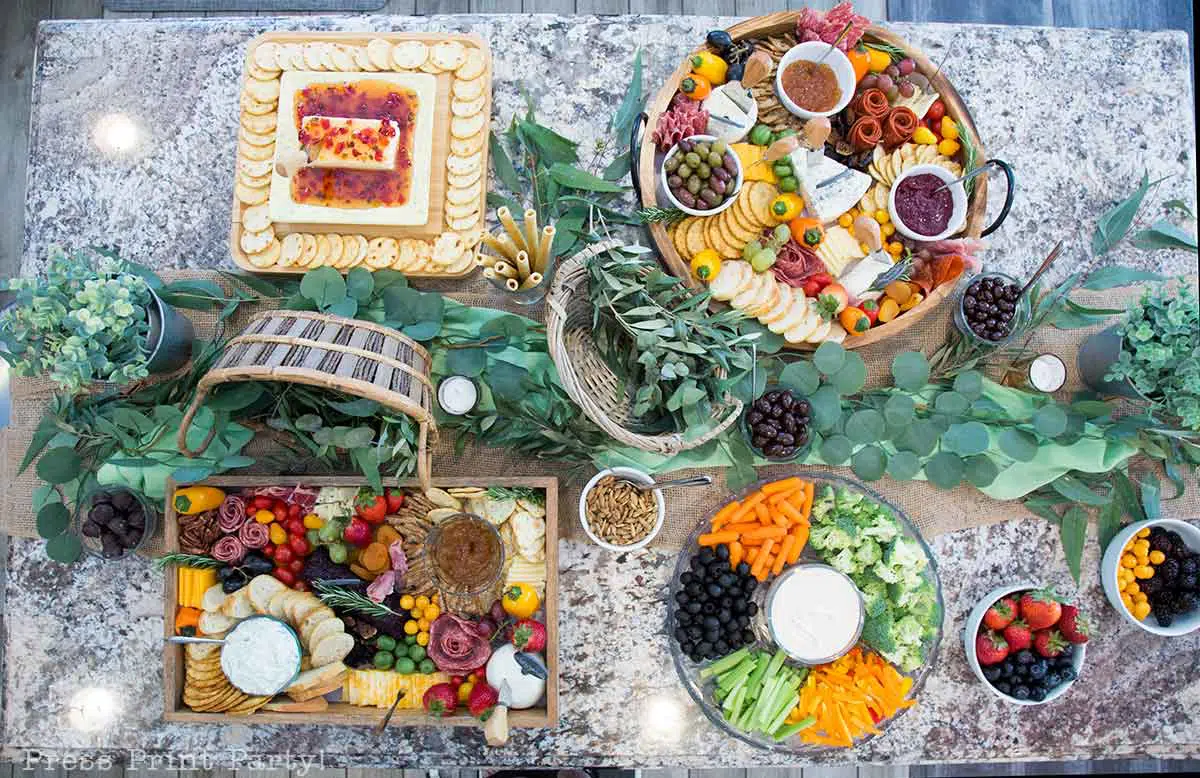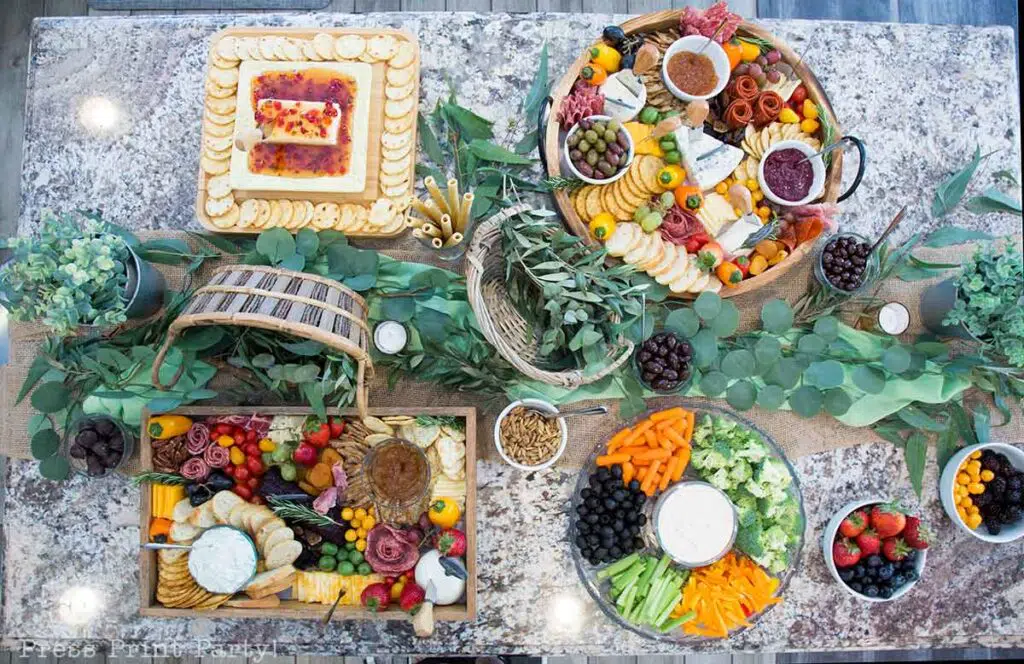 These amazing charcuterie boards made by two of our friends were beautiful decorations by themselves.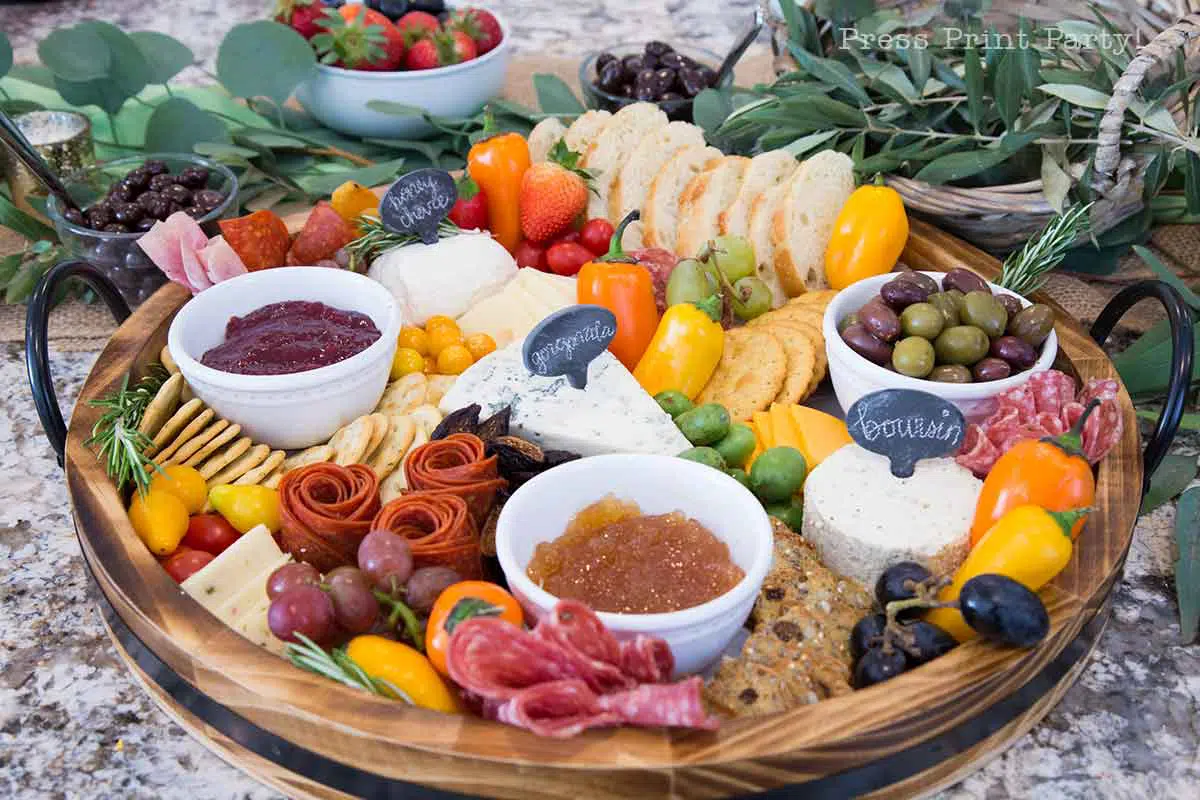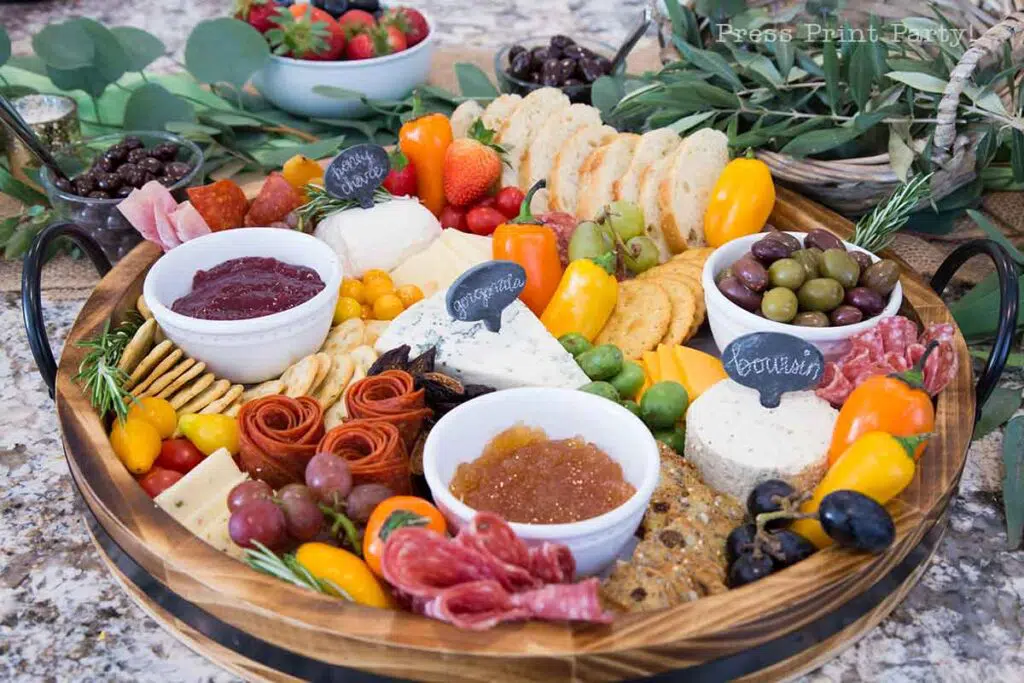 We did give out hair tie party favors with a cute little favor tag, but did I take a picture of it? Nope. I do have some unique scrunchie holders in the shop though.
---
Perfect Baby Shower Activities
All parties need activities. Typically, fun baby shower games are what you'd expect, some more active than others.
But our friend didn't want any baby shower games, so we instead chose a couple of fun activities for the guests to do while they mingled.
Baby Onesie and Bibs Coloring
We provided white onesies and bibs in a variety of sizes along with fabric markers with stencils and lots and lots of printed inspiration.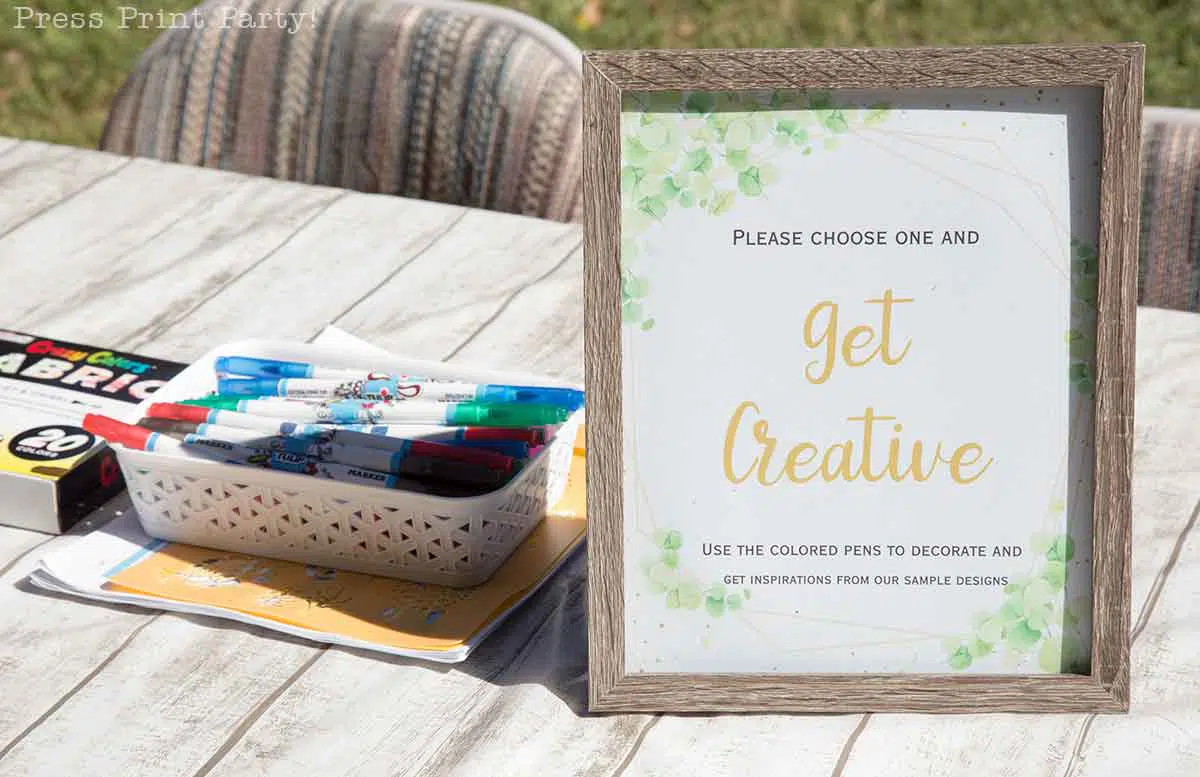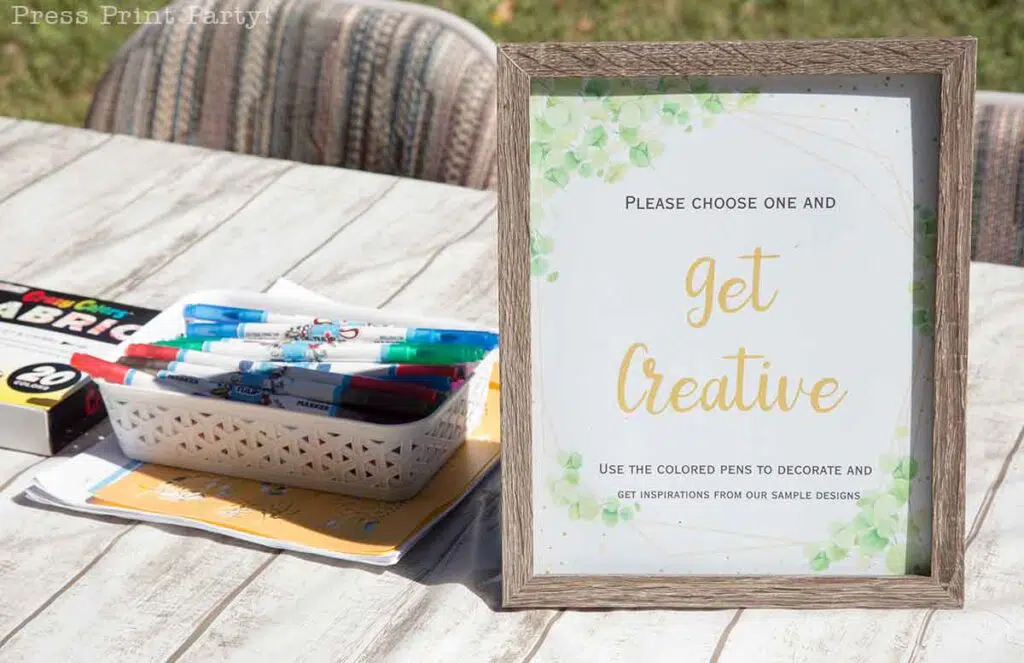 We figured the not so artistic people in the bunch wouldn't feel too intimidated if we provided stencils and a little inspiration.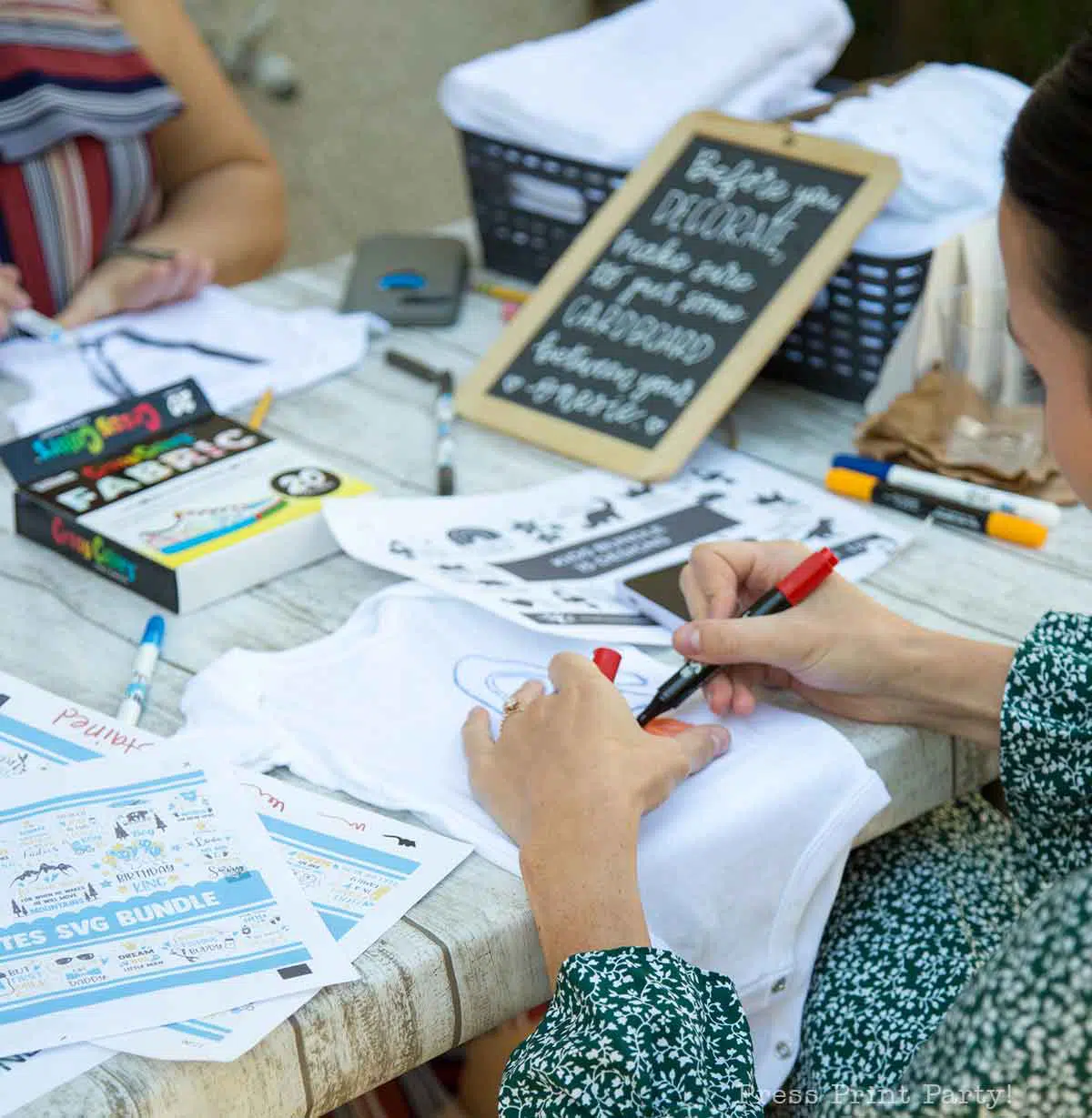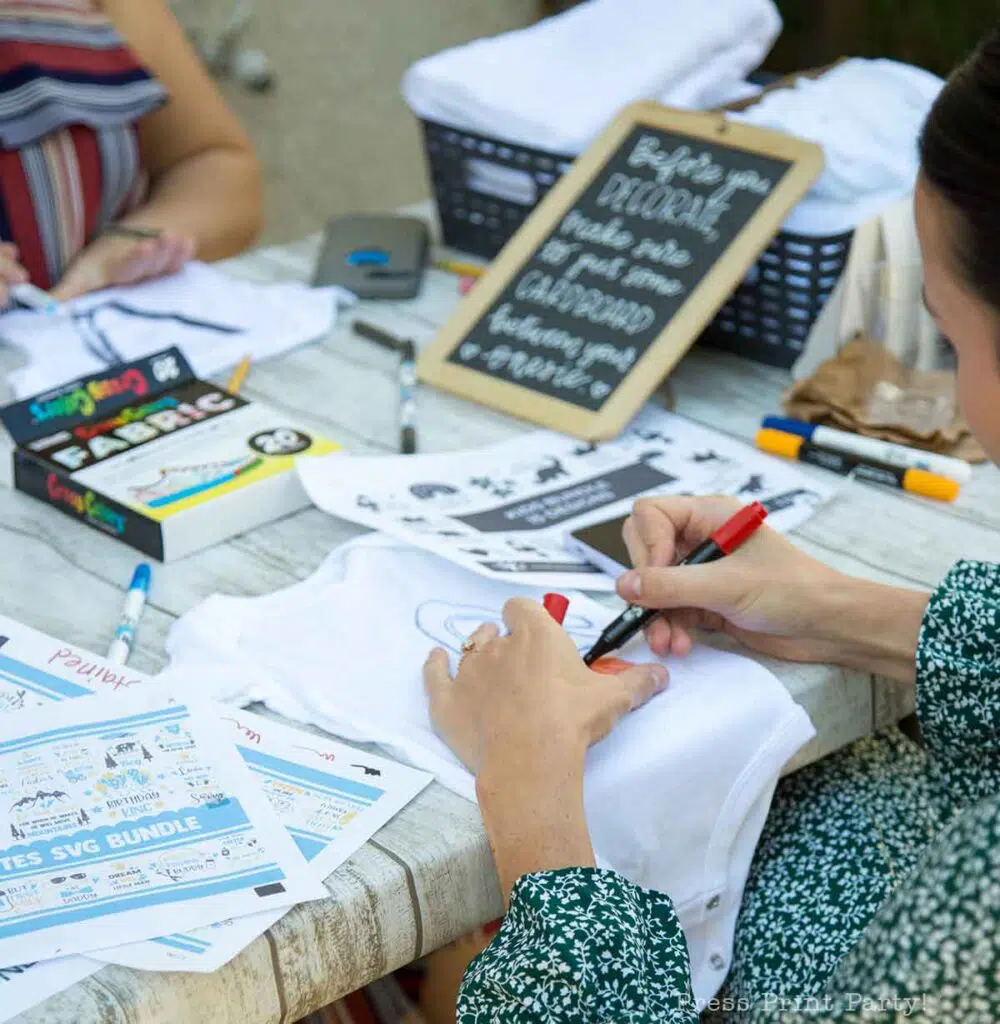 This proved to be a great idea and a popular station at the baby shower. And it provided the new mom with lots of meaningful keepsakes.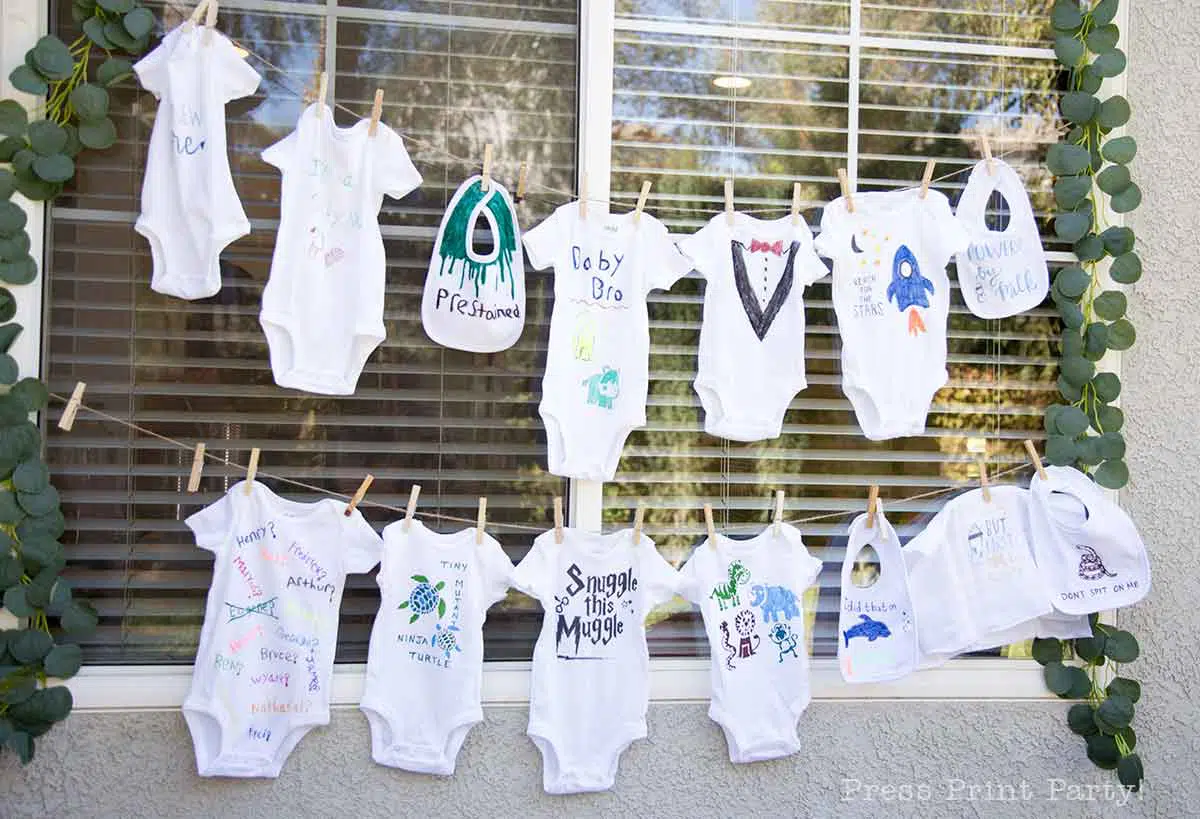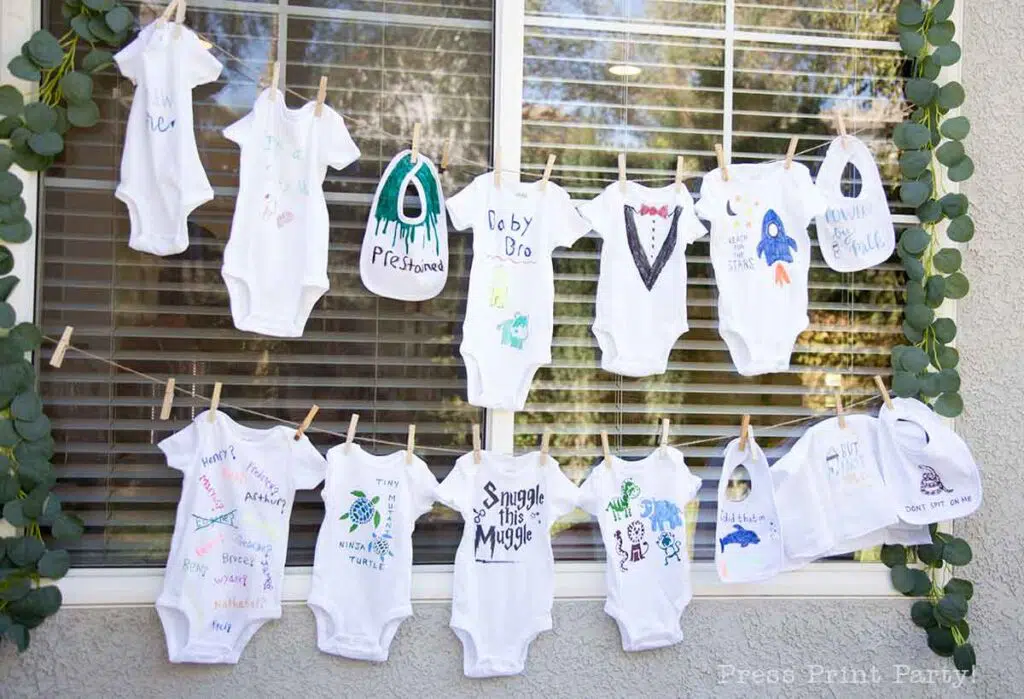 Funny Diaper Messages
This activity is so easy to do and a fun way to spend time with friends. It always ends up with lots of laughter.
Open a pack of diapers and just provide permanent markers and simple instructions.
The eucalyptus baby shower decoration kit comes with an editable sign for you to make any baby shower signs you need for your party.
The result is always hilarious and moms will appreciate the giggles while changing those 3 AM diapers.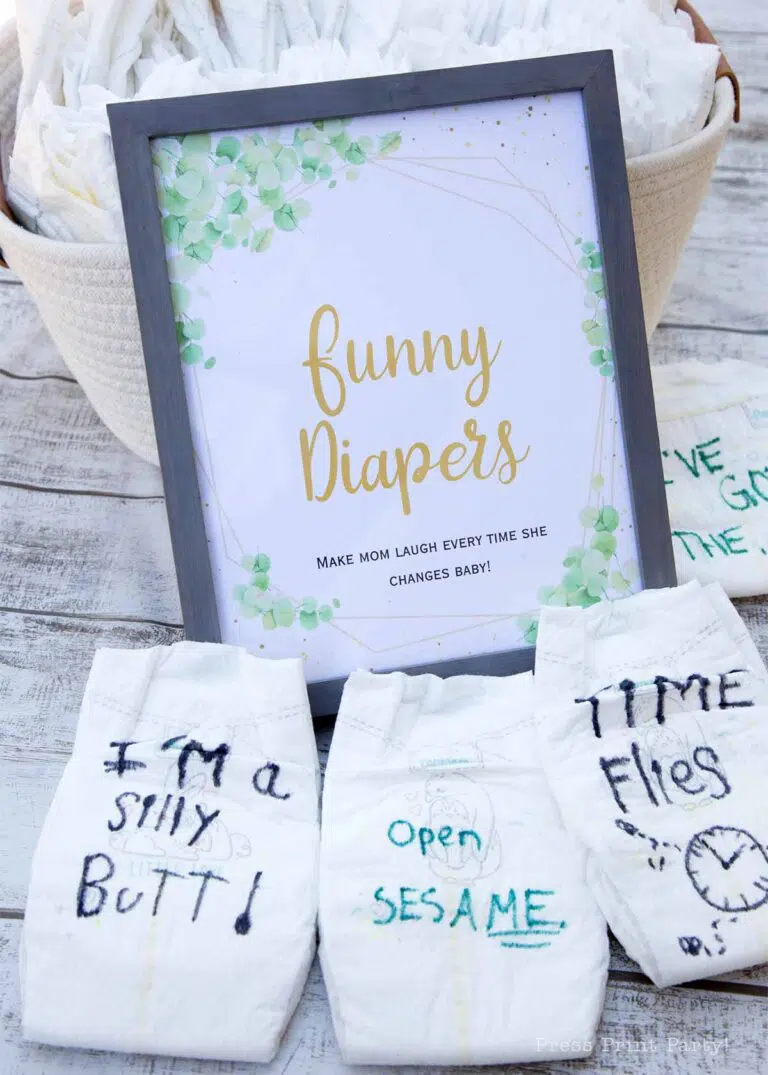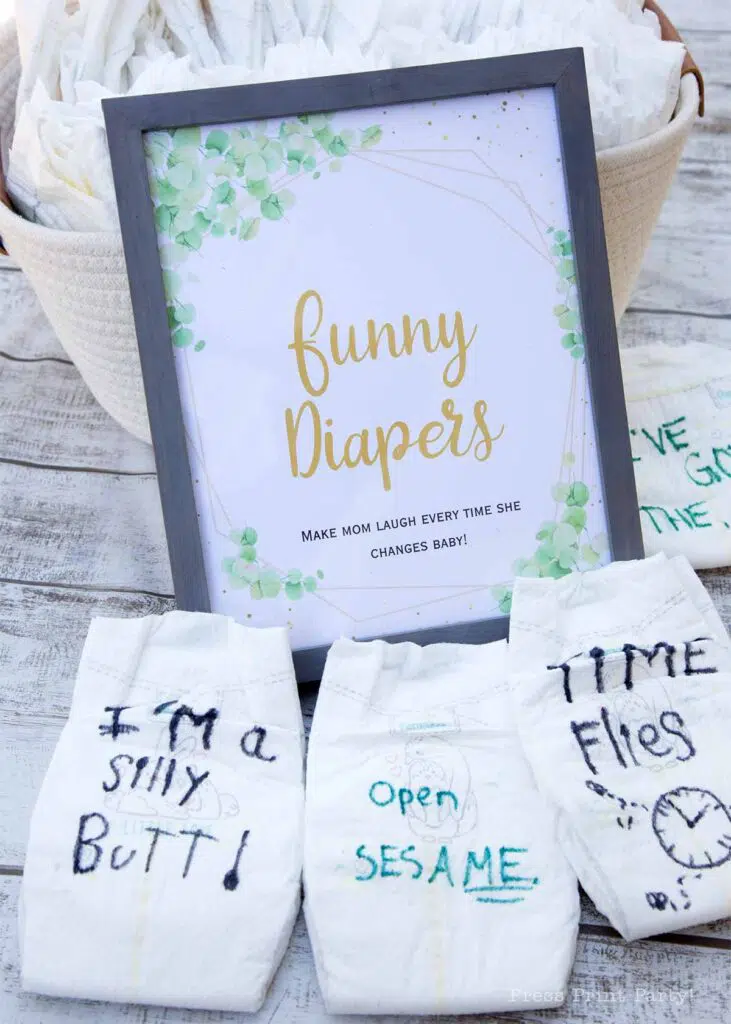 ---
Our guest of honor, Amber, loved her baby shower and enjoyed a sweet time spent with her friends before bringing her new baby boy into the world.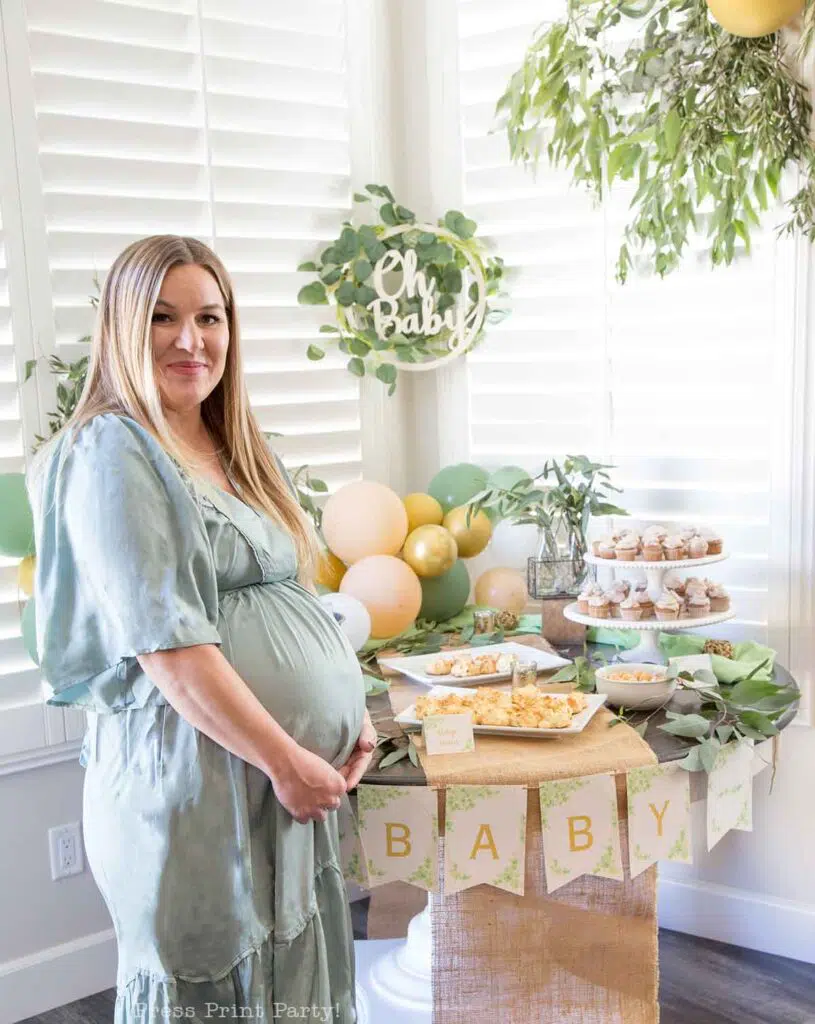 I hope you enjoyed these unique greenery baby shower ideas. Please go check out the shop for all my baby shower printable kits. They are your all-in-one solution with lots of options to decorate a beautiful baby shower.
Don't forget to pin the greenery baby shower decor: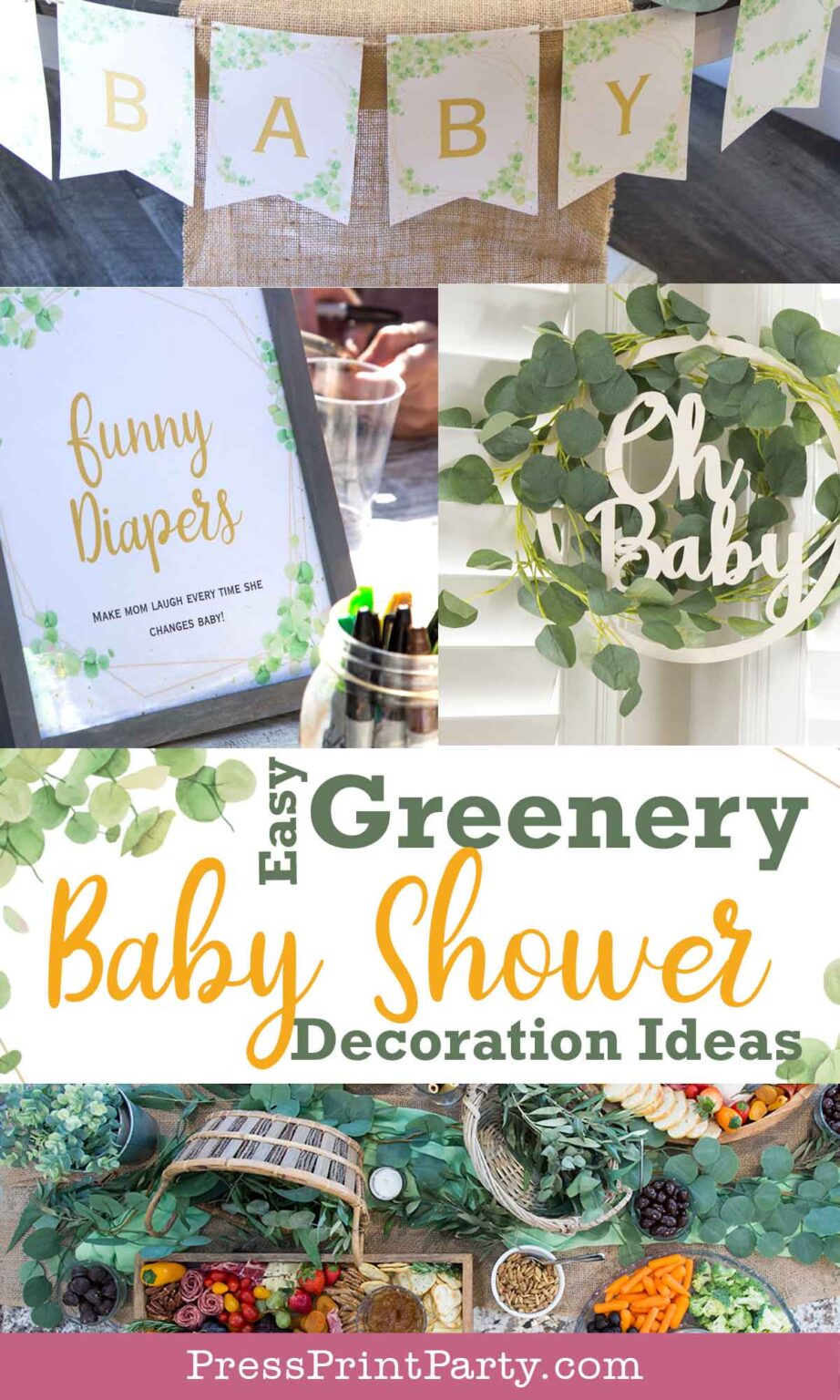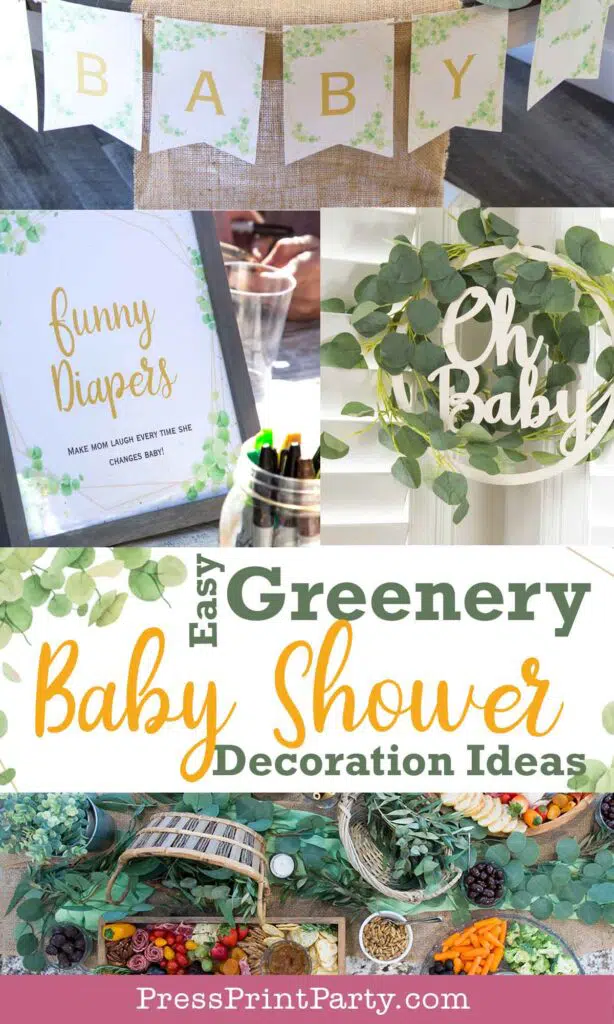 Check out our Baby Shower printables