One needs to have an amazing moist chocolate cake recipe in their arsenal. When you've got 2 hours to come up with a dessert for that event you got invited to last minute it will save the day. And in your kid's heads it will cement the indisputable fact that yes, you are a parenting superhero.
One taste and this will recipe will become your go-to.
The cake comes out so fluffy it stays moist for a week. But I can hardly imagine a scenario where it would ever last that long! It's just too good!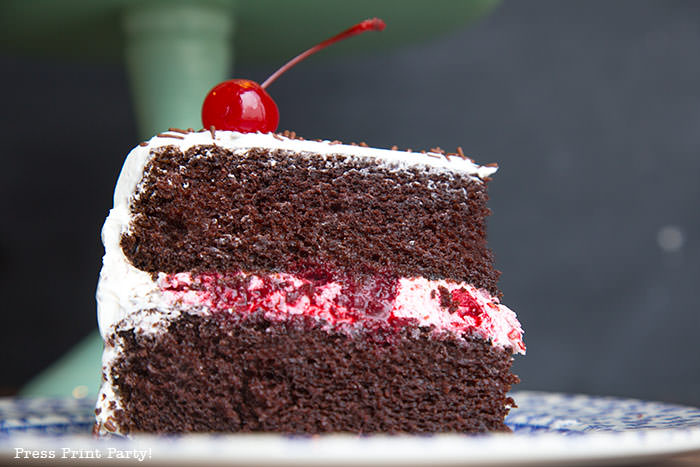 I love visual instructions so I made an image as well as a 4″x6″ printable recipe card with the visual instructions (Go to the bottom of the post for download instructions). I think these are really handy so I'm planning to make lots more. So if you like it, let me know in the comments. You can also print the full, written recipe a little bit below.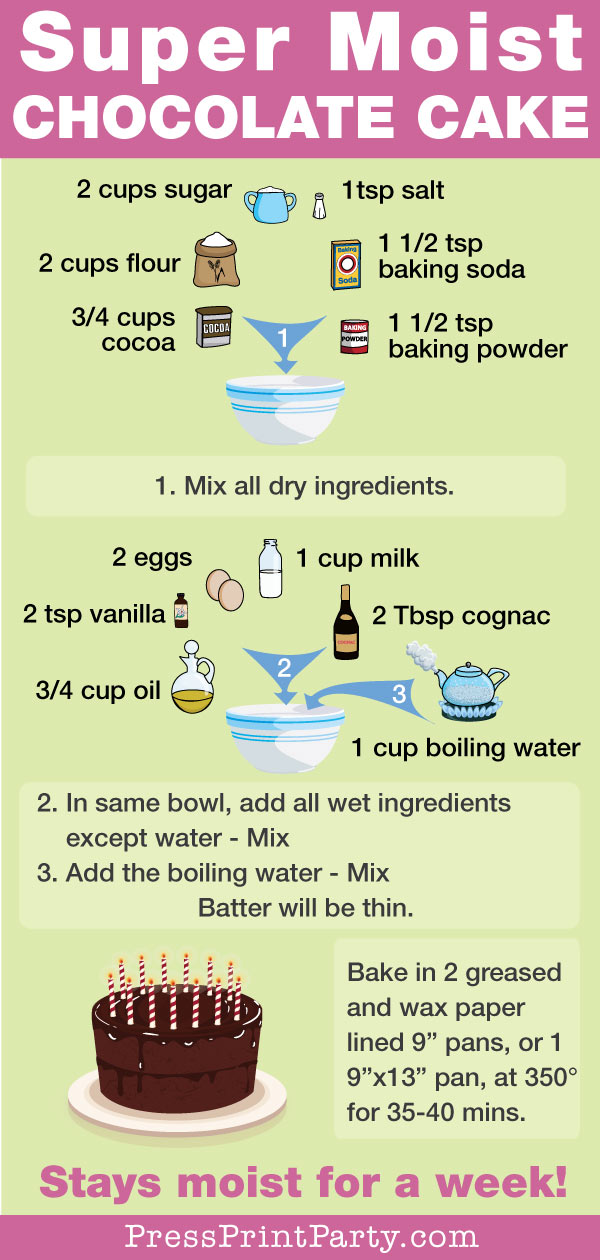 Of course, you'll need frosting to go with the cake! I recommend my amazingly good Swiss meringue buttercream frosting.
For this cake, I added raspberry jam to the frosting for the inside filling and used plain vanilla frosting for the outside. Some chocolate sprinkles and a cherry and voila!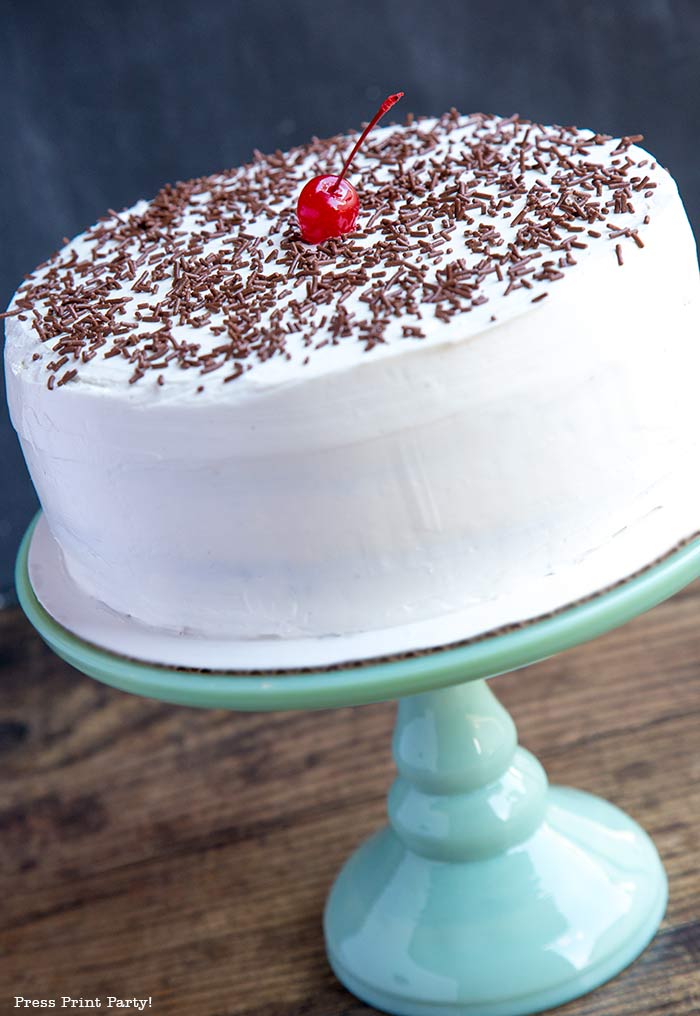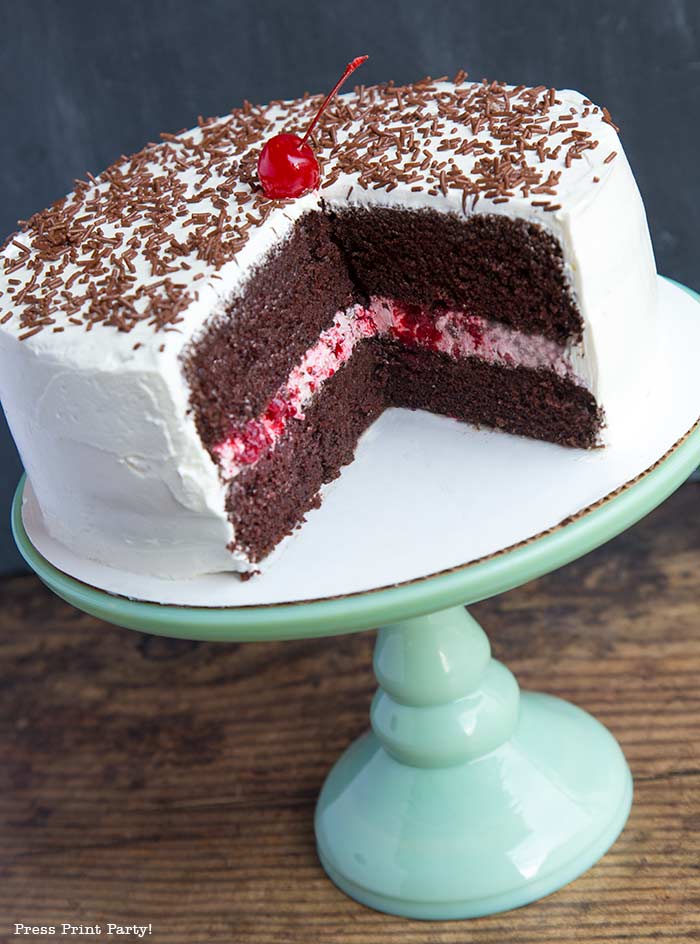 This recipe doesn't call for buttermilk. Really, who keeps buttermilk in their fridge at all times? But we all have veggie oil and milk. So no trip to the store needed.
But the recipe calls for Cognac. I'm a Frenchie and we like to put liquor in our cake batters. It really enhances the flavor and you can actually use any liquor you want. Each imparts its own flavors. Rum, Brandy, or Grand-Marnier would also work well. You can also skip it altogether.
If you're worried about the alcohol content, keep in mind that the alcohol burns up during cooking.
Coffee lovers! If you'd like a mocha flavor, you can replace the boiling water with hot coffee. In that case, I'd probably use Kahlua as the liquor.
To know if the cake is done, insert a toothpick in the middle, if it comes out clean, it's done! Look at this beauty just out of the oven!!! Yum Yum!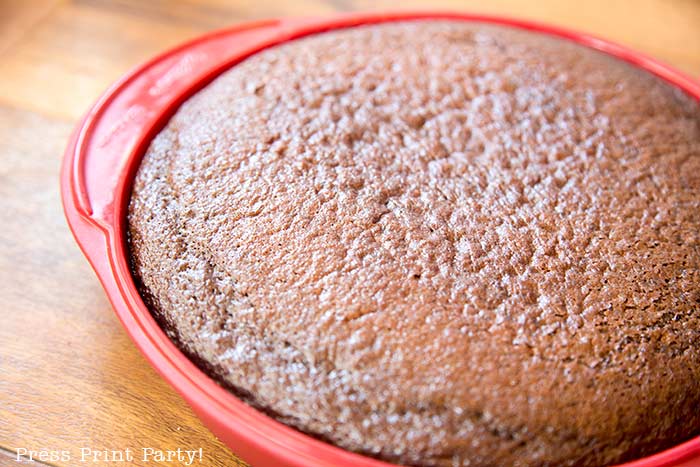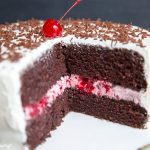 Super Moist Chocolate Cake from Scratch
Ingredients
2

cups

sugar

2

cups

flour

3/4

cups

unsweetened cocoa powder

1

tsp

salt

1 1/2

tsp

baking soda

1 1/2

tsp

baking powder

2

eggs slightly beaten

1

cup

milk

3/4

cup

oil

Canola

2

Tbsp

cognac (or other liquor)

optional

2

tsp

vanilla

1

cup

boiling water
Instructions
Add all wet ingredients except water - Mix.

Add boiling water and mix. The batter will be thin.


Bake in 2 greased and wax paper lined 9" pans, or 1 9"x13" pan at 350° for 35-40 mins. Test that the cake is done by inserting a toothpick in the middle. If it comes out clean, it's done.

Recipe Notes
You can use any liquor you choose. Each will impart its own flavors. Rum, Brandy, or Grand Marnier also work beautifully. You can also just skip it if you feel strongly. The alcohol burns up during the cooking though, if you're worried about a boozy cake.
The boiling water can also be replaced by hot coffee. In that case, I would replace the cognac with Kahlua.
Of course you can use this recipe to make cupcakes too.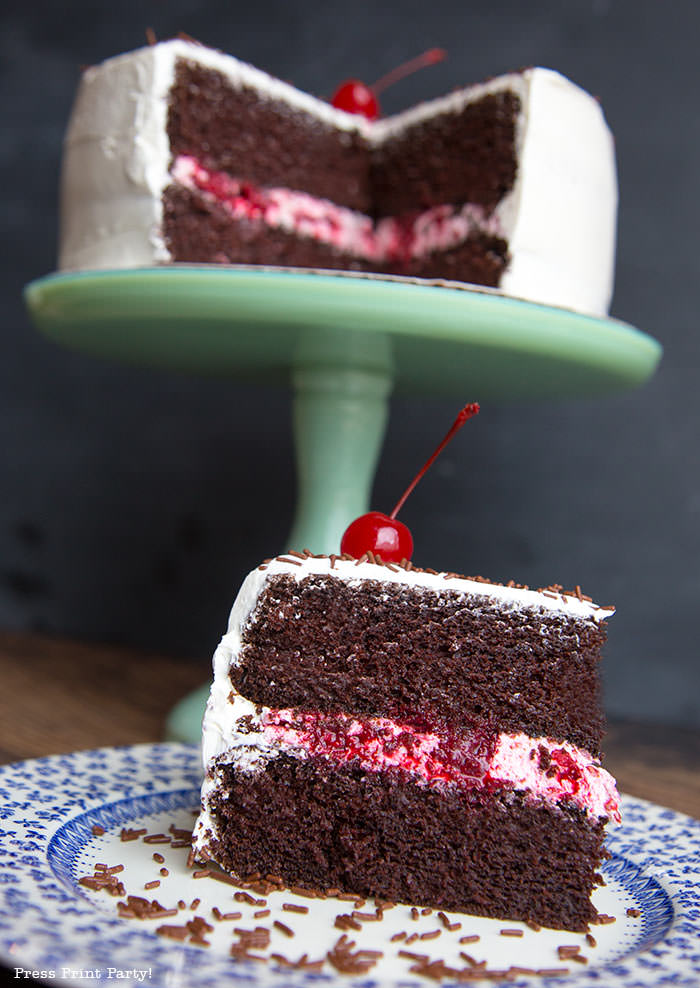 You can do this! A homemade chocolate cake with homemade frosting is very doable. Especially with easy visual instructions! Now to fetch my foolproof Meringue Buttercream recipe and frost that baby!
Don't keep this to yourself, pin it: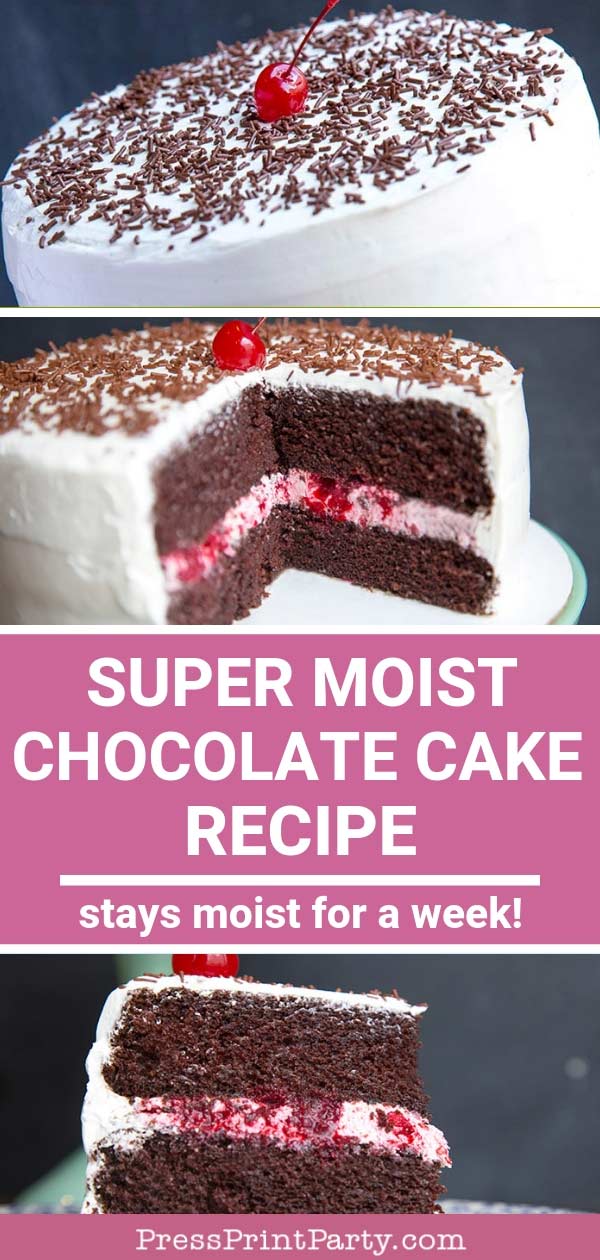 Get Your Freebie:
If you've already subscribed, you can get the password from the bottom of any email I send and go directly to the Free Downloads Library.
Check out our birthday printables