In fact, posts like these serve a double purpose because I am researching festive appetizer ideas for my own Christmas Eve parties while doing work for my business.
If that's not multitasking, I don't know what is.
Here you'll find all kinds of delicious appetizers shaped like a Christmas tree that can stay at room temperature for the length of your Holiday party.
From charcuterie boards to finger sandwiches and dips, these holiday appetizers come with easy recipes and will give your Christmas parties the wow factor.
19 Festive Christmas Tree Appetizers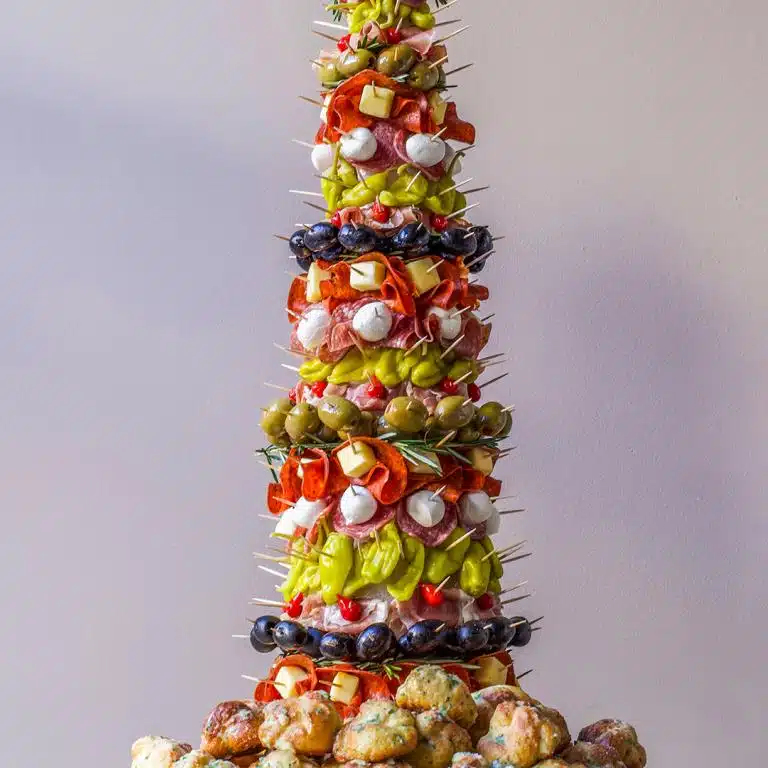 If you're looking for an appetizer that can double as a spectacular centerpiece, check out this recipe from the Rachel Ray Show.
You'll be essentially building with elements you would find on a charcuterie board onto a large foam cone with the addition of garlic knots at the base of the tree. This is a great way to direct the majority of your party budget towards food and keep decorating costs down.
Ingredients: Pepperoni, provolone, salami, fresh mini mozzarella balls, prosciutto di Parma, Sweety Drop mini peppers, colossal pitted black olive, large green olives stuffed with pimento, pepperoncini, fresh rosemary, garlic knots
---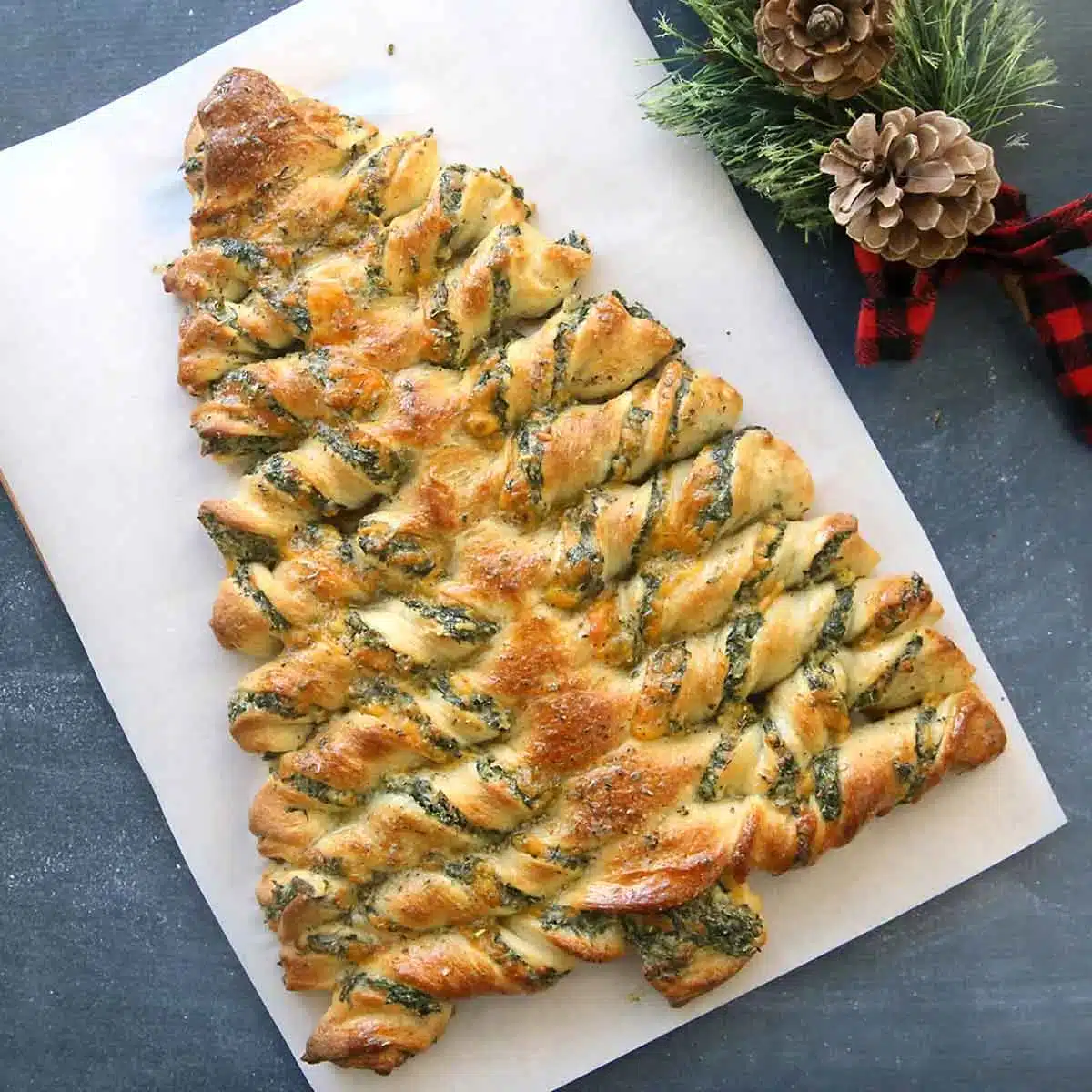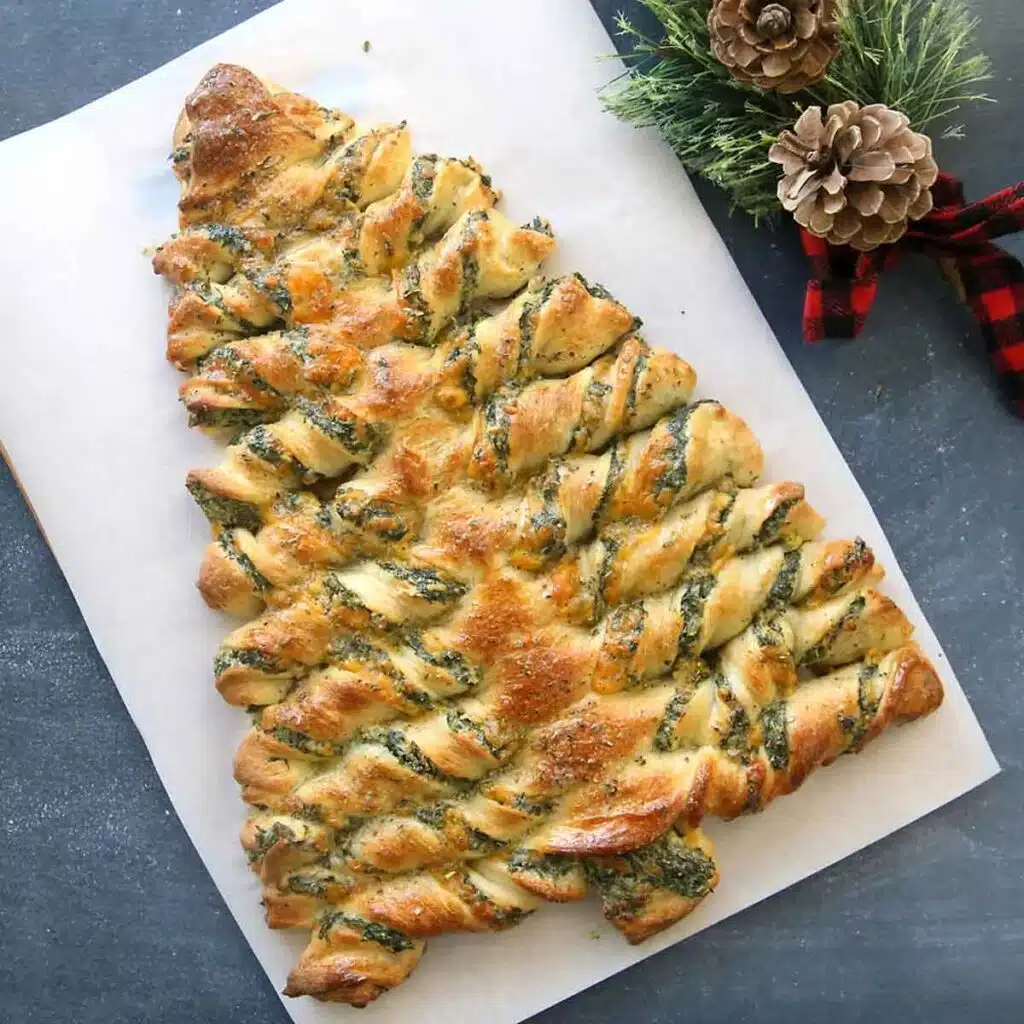 It's Always Autumn call these "Christmas tree spinach dip breadsticks" where the dip is already rolled up in the bread!
This one is made with refrigerated pizza crust, but you could make it with crescent rolls also.
Ingredients: spinach, cheese, pizza crust, spices
---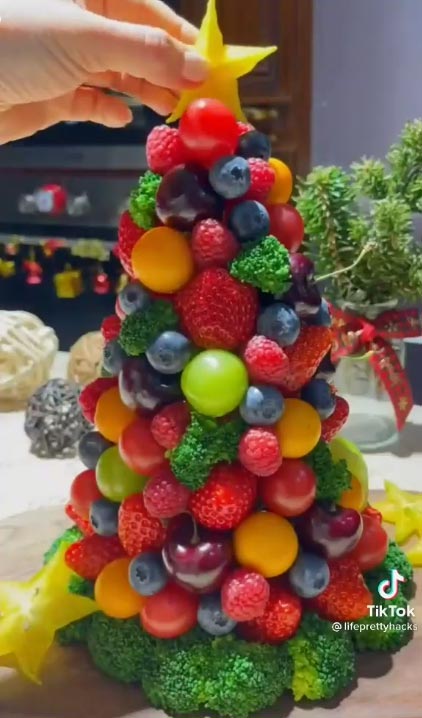 Break out from the boring veggie tray and arrange your plain veggies and fruits in a fun Christmas tree shape!
I love this DIY from Life Pretty Hacks because it doesn't use a foam tree! That's right. The middle is a carrot staked into an apple.
You may not find all the ingredients they used, but work with what you find. This technique can work with all kinds of ingredients.
Ingredients: apple, carrot, broccoli, strawberries, blueberries, grapes, mini tomatoes.
---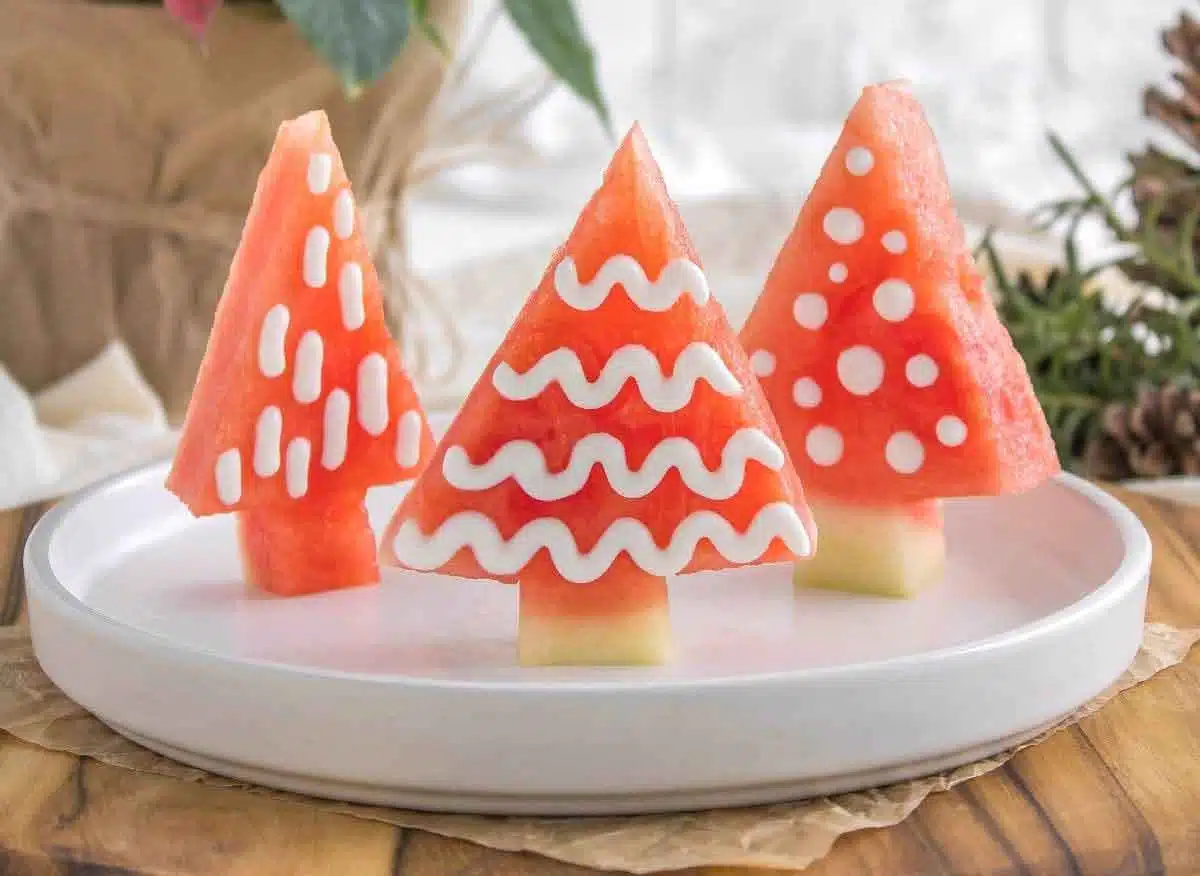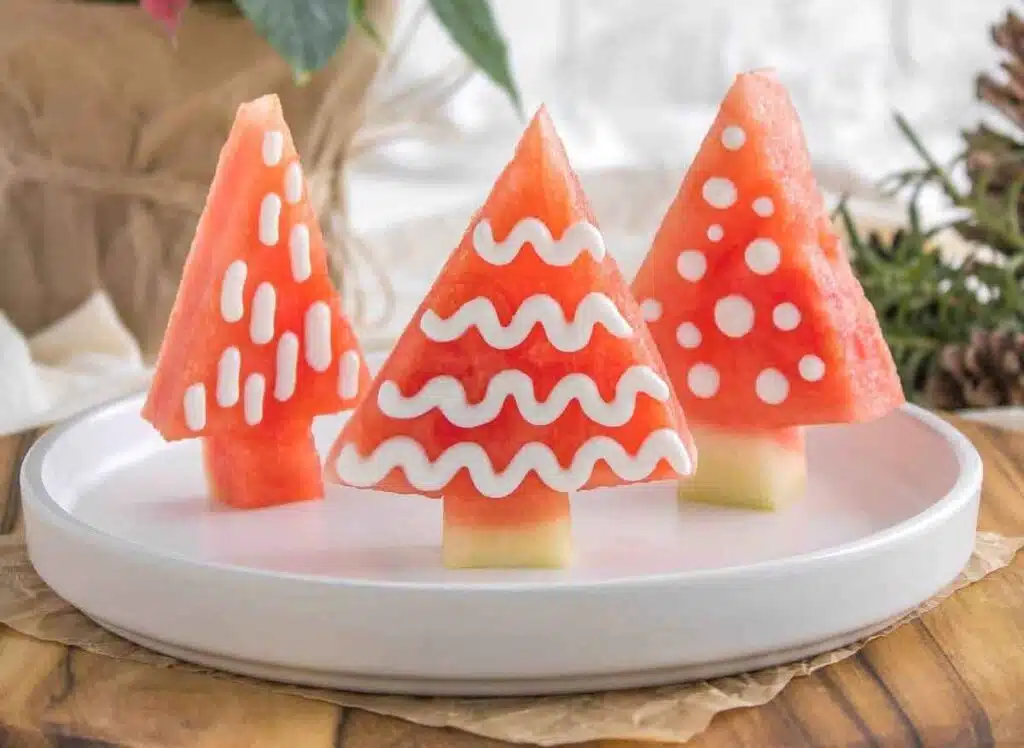 Watermelon Christmas Trees can be a simple, tasty appetizer for a party or a side dish for Christmas dinner with the family. Plus, this festive recipe from Yum in the Kitchen is guilt-free!
Ingredients: watermelon, Greek yogurt
---
---
---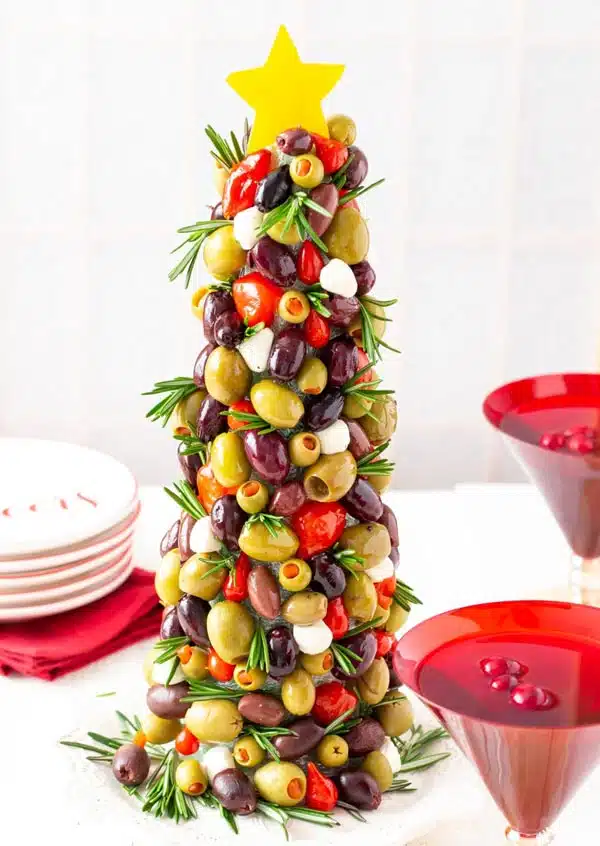 Make this easy appetizer from Cooking on the Front Burner starts with a large styrofoam cone wrapped in cling wrap. Place all kinds of olives, and rosemary sprigs to craft this spectacular centerpiece.
Ingredients: Olives, rosemary.
---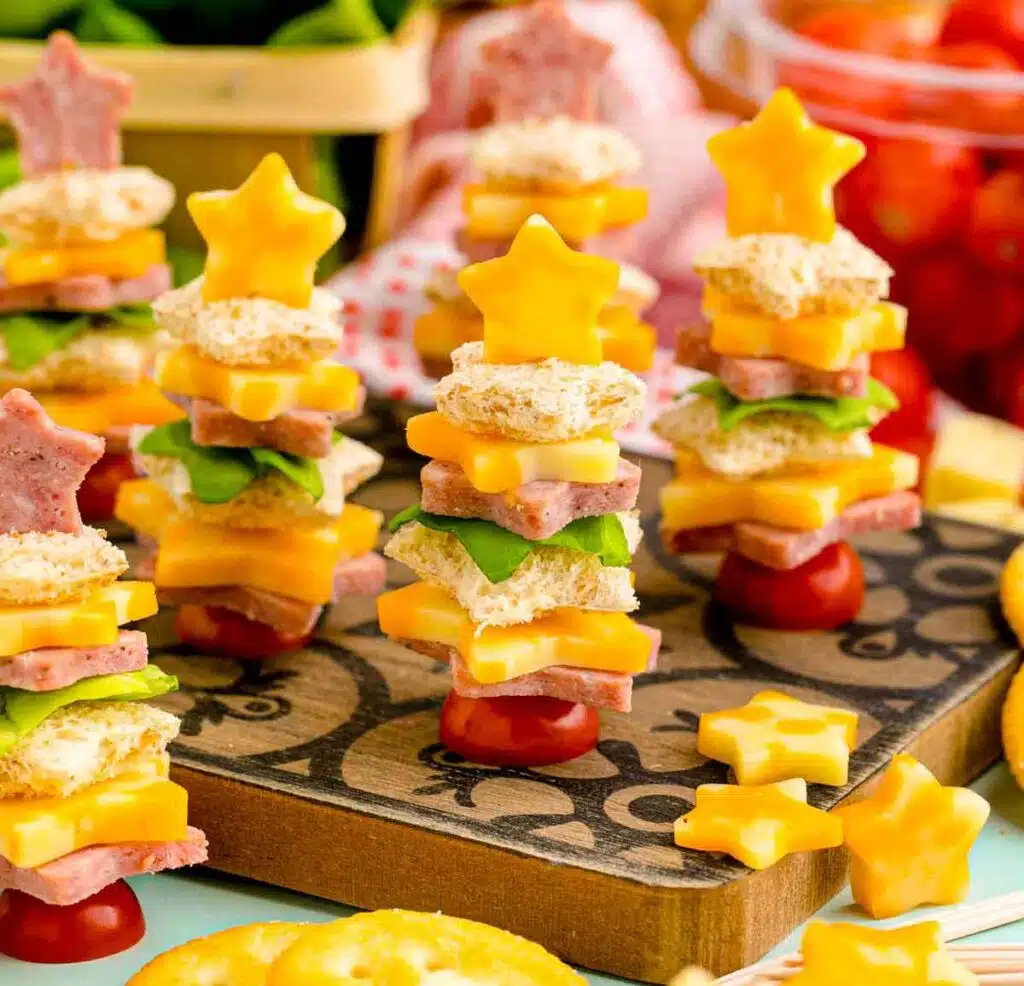 Sugar and Soul turns everyday ingredients into adorable stacked Christmas Tree sandwiches. Guests just have to remove the toothpick and then they can pop them in their mouths!
Ingredients: wheat bread, summer sausage, Colby jack cheese, cherry tomatoes, butter lettuce
---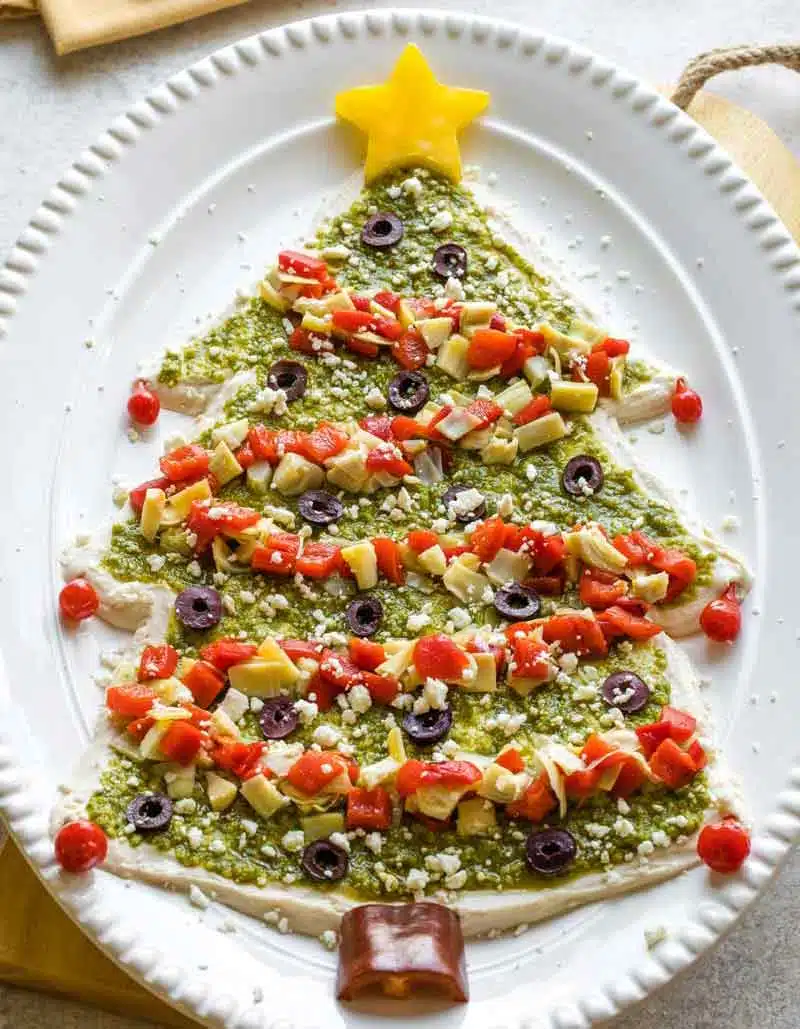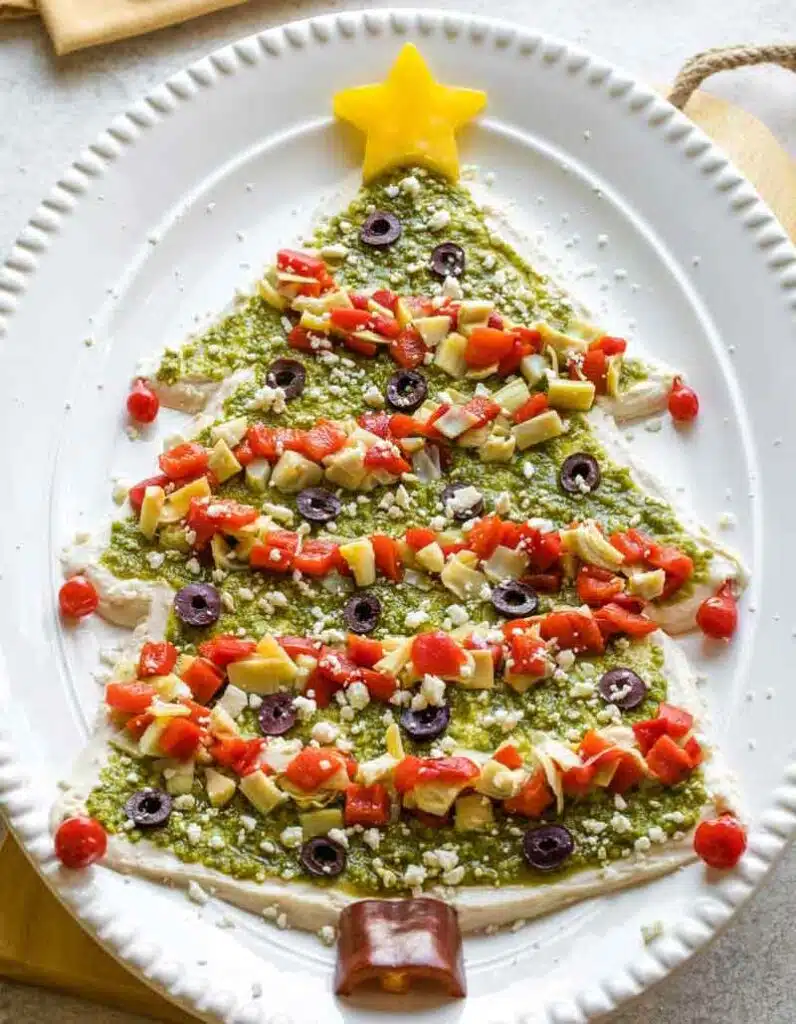 There are two times during the year when people expect at least one really good dip: Christmas and the SuperBowl. Two Healthy Kitchens offers a festive recipe that will send your guests' tastebuds on a trip to the Mediterranean.
Ingredients: cannellini beans, cream cheese, salt, pesto, yellow bell pepper, crackers, artichoke hearts, roasted red peppers, Kalamata olives, Sweety Drop peppers, feta cheese
---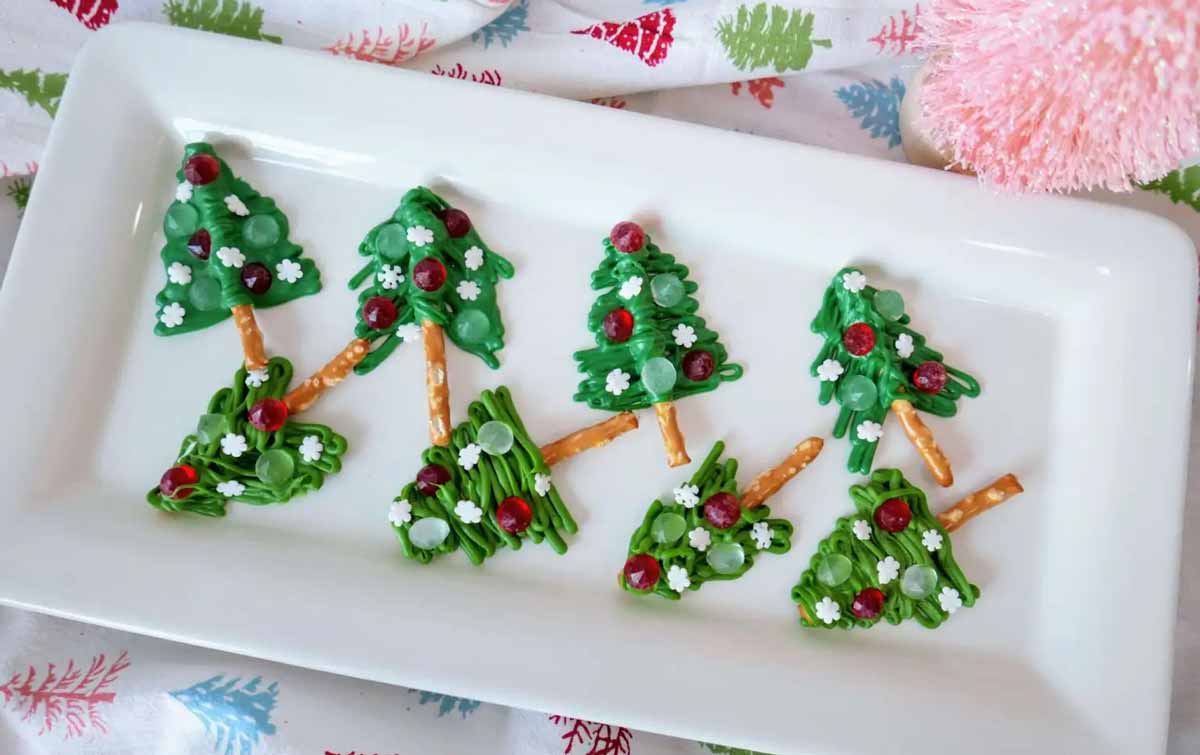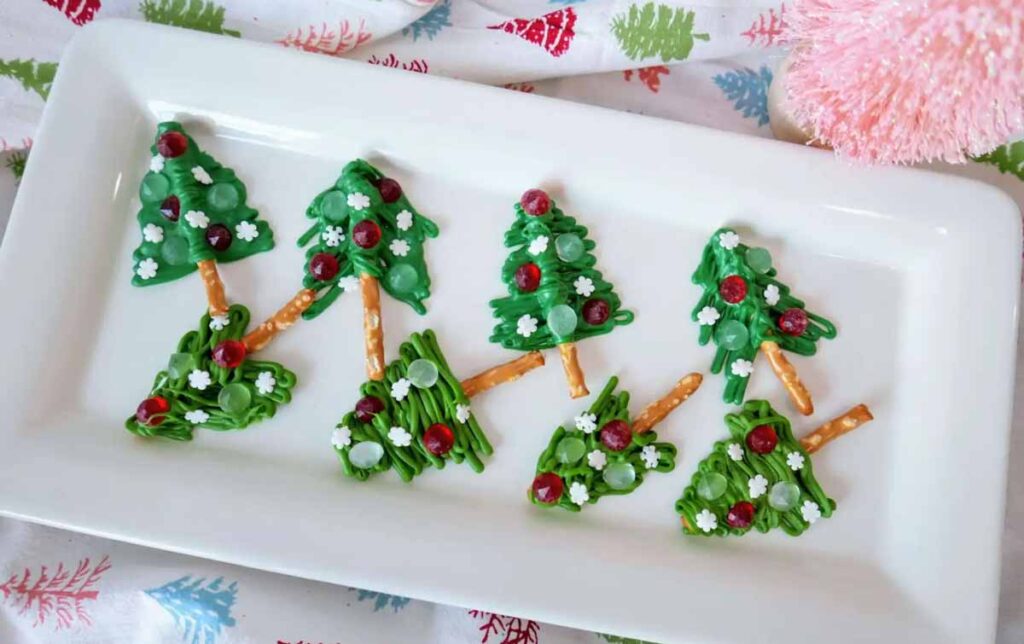 With some simple ingredients, you can make cute trees that guests of all ages will love. Made in a Pinch uses Wilton sweet isomalt sugar gems for decorations. You could also use sprinkles or M&Ms.
Ingredients: green candy melts, pretzel dipping sticks, Wilton sweet isomalt sugar gems, snowflake sprinkles
---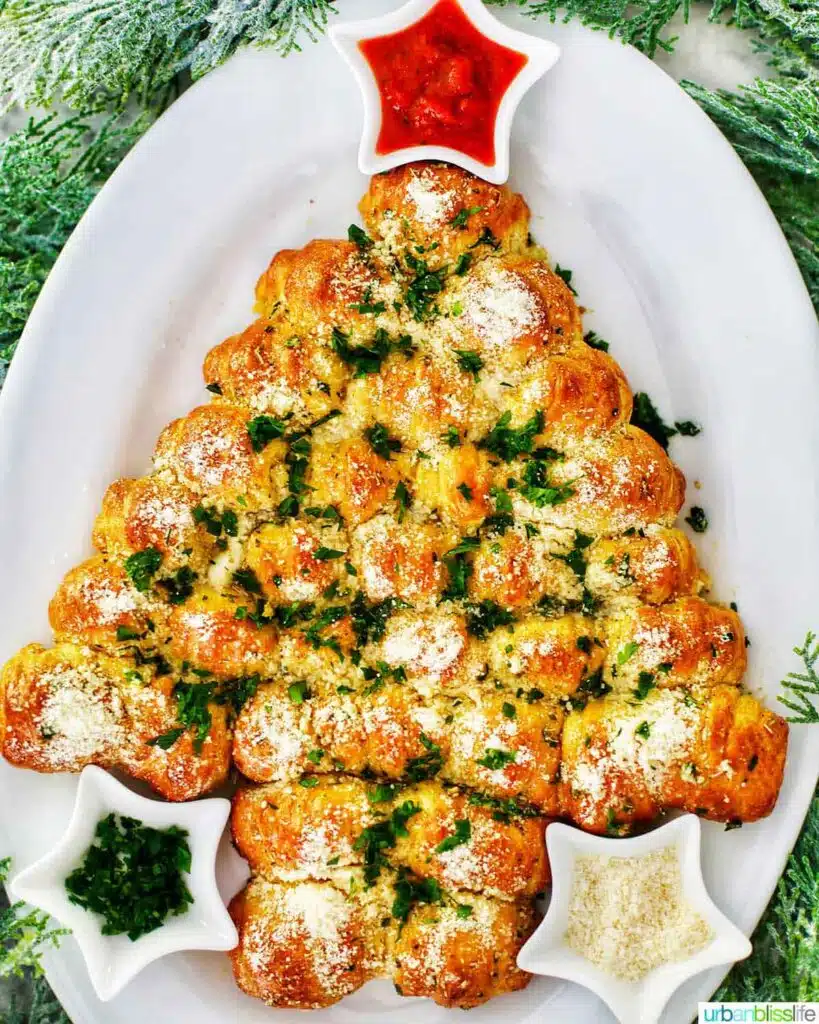 I would be remiss if I did not include multiple Christmas tree pull-apart bread recipes in this roundup. Urban Bliss Life's recipe is cheesy and looks amazing! Remember, there is no shame in testing recipes before the party.
Ingredients: egg, crescent roll dough, mozzarella sticks, unsalted butter, garlic powder, parsley, grated parmesan cheese
---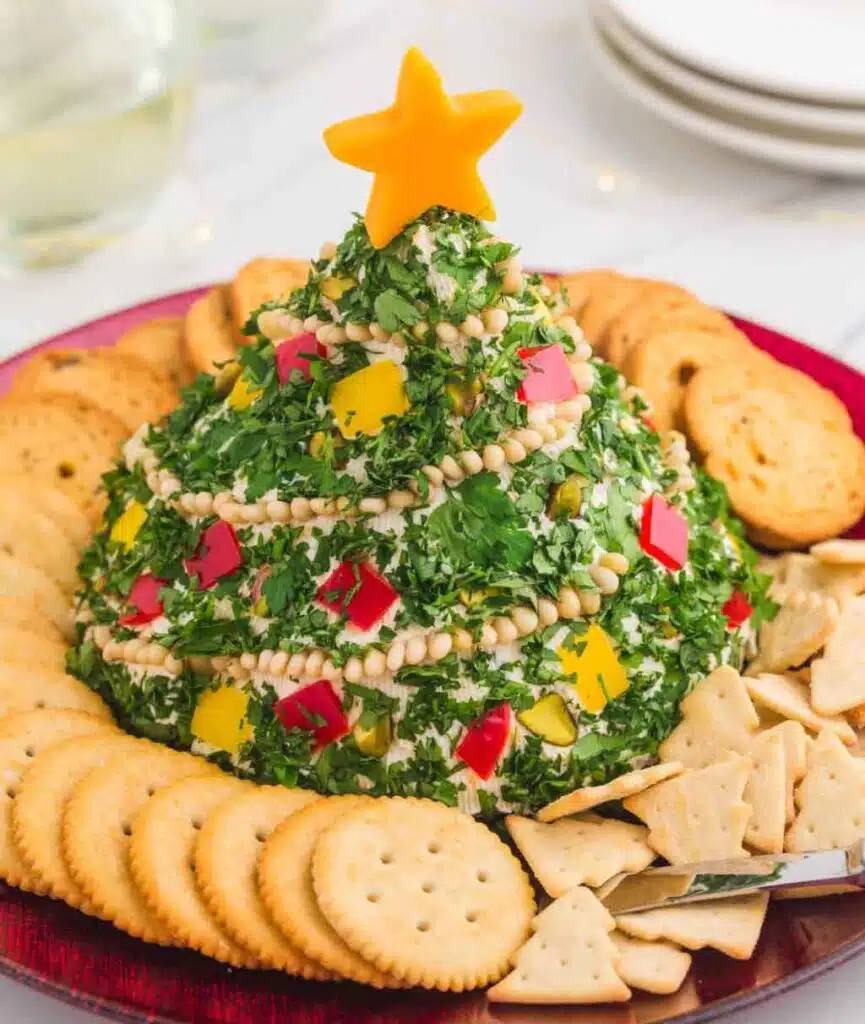 If you've never tried a cheese ball before, the concept probably seems a little funny. But don't let that stop you from giving it a try.
Cheese balls are very tasty, and they can (and should) be made ahead of time, which frees up your time on the day of the party.
Little Sunny Kitchen offers simple instructions for making a delicious and eye-catching Christmas Tree Cheese Ball.
Ingredients: cream cheese, sharp cheddar cheese, Monterey jack cheese, parsley, garlic powder, onion powder, Italian seasoning, ground black pepper, salt, yellow and red bell peppers, pistachios, pine nuts
---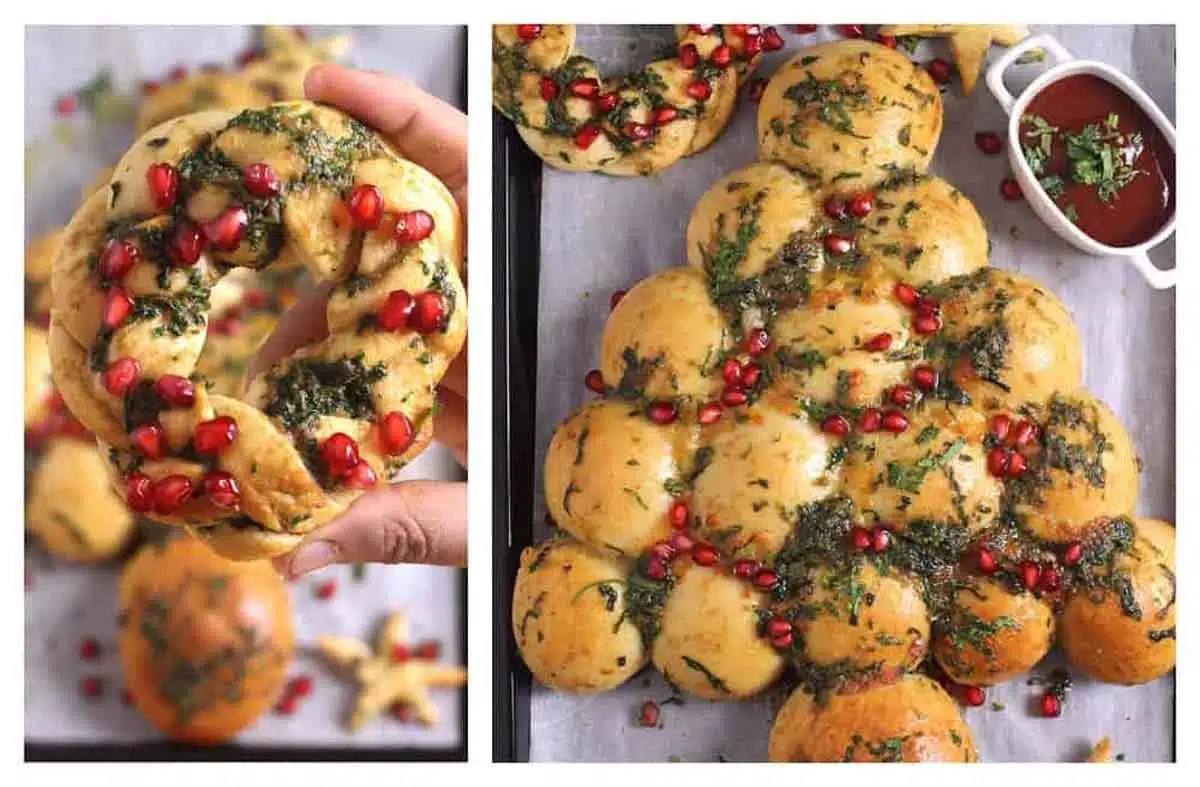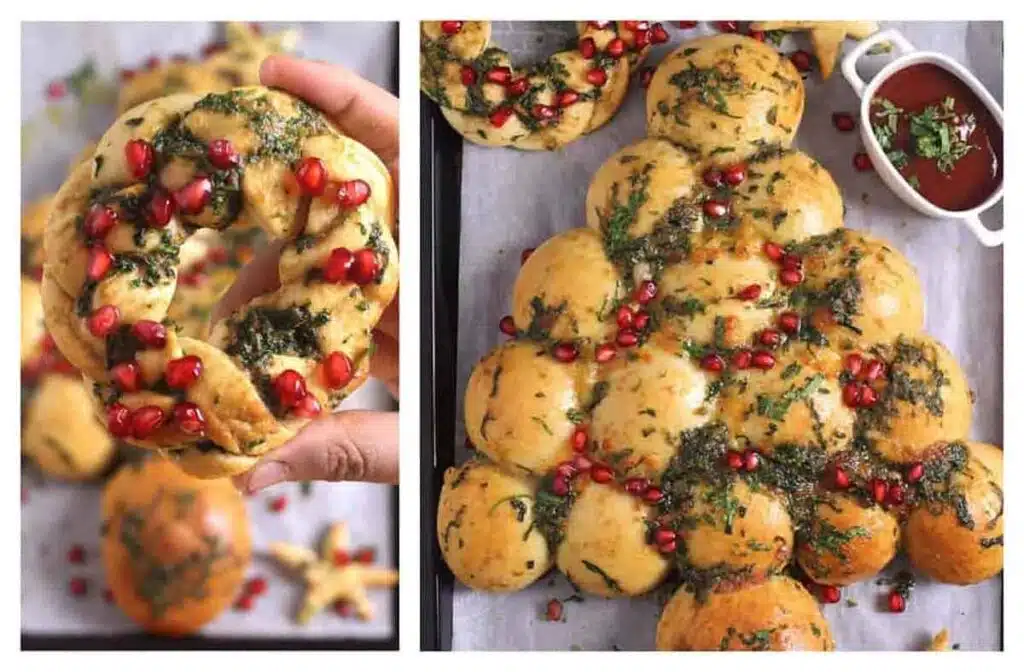 This recipe from Cook with Kushi makes a classically delicious garlic pull-apart bread appetizer. It also puts you in control of all the ingredients with instructions for making the bread from scratch.
Ingredients: sugar, active dry yeast, all-purpose flour, salt, melted butter, egg, mozzarella cheese, cilantro, garlic powder
---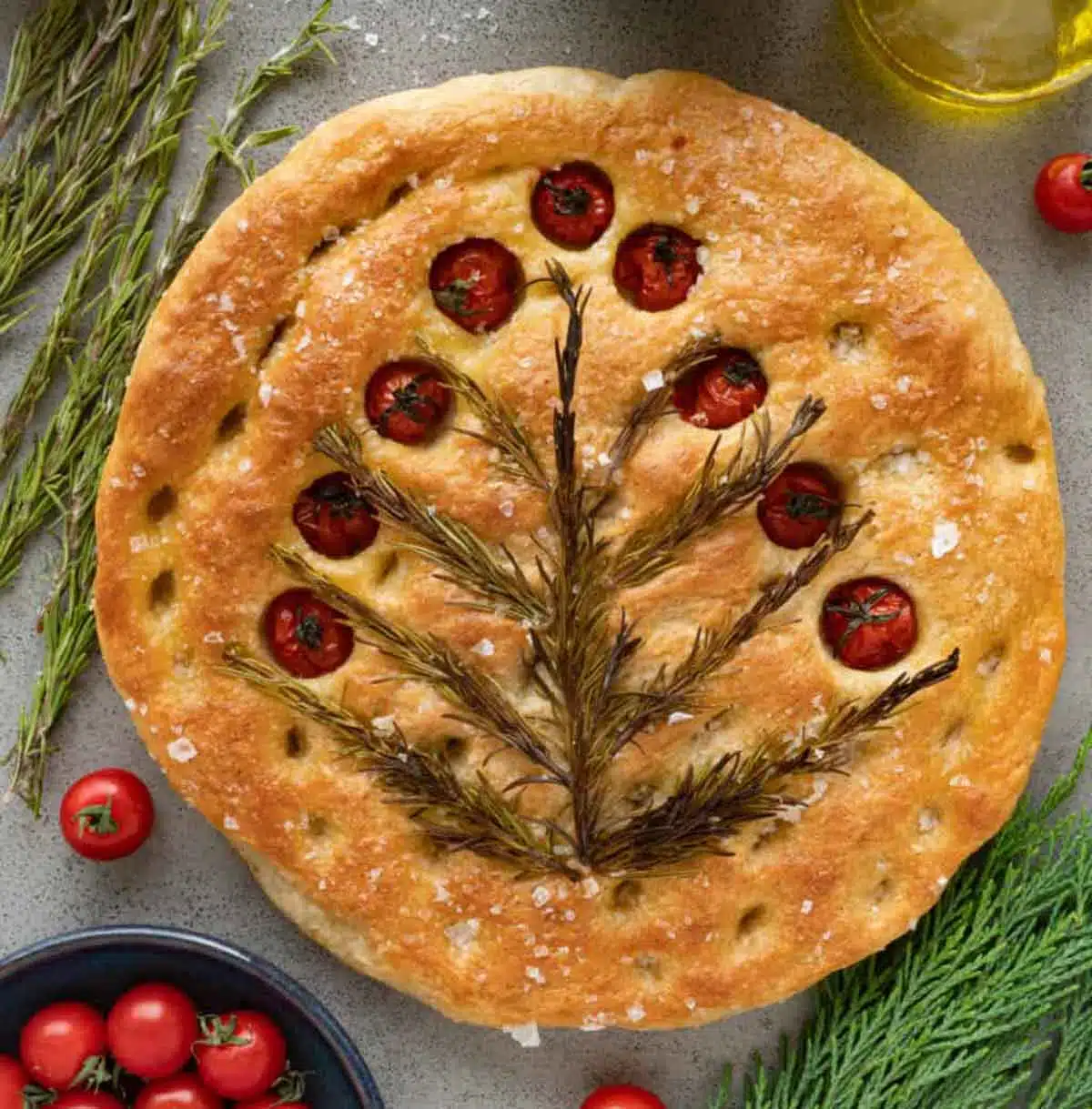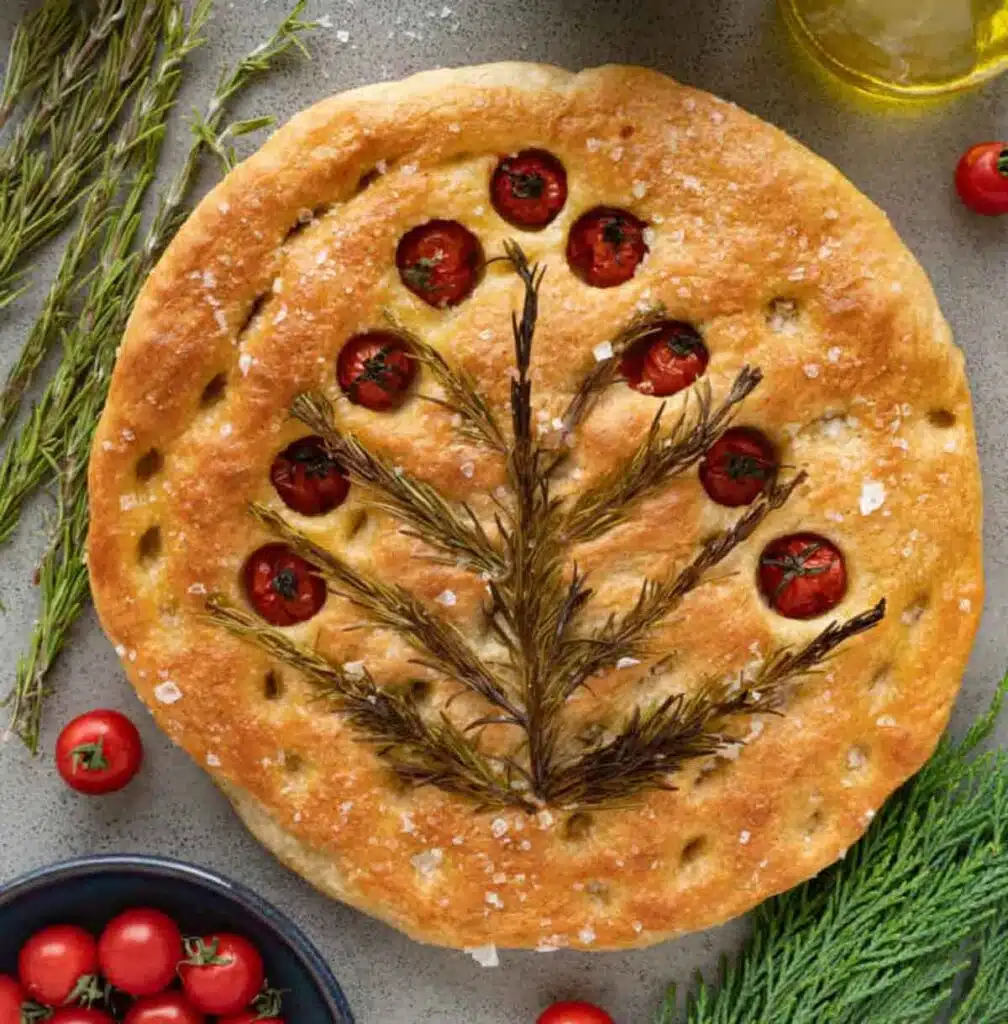 While this focaccia bread is not in the shape of a Christmas tree, I made an exception because…well, just look at it. Mouthwatering is a good way to describe this holiday appetizer.
My Organized Chaos provides easy-to-follow instructions and photos so you can make your own gorgeous cherry tomato and rosemary focaccia bread.
Ingredients: active dry yeast, sugar, bread flour, salt, extra-virgin olive oil, fresh rosemary, cherry tomatoes
---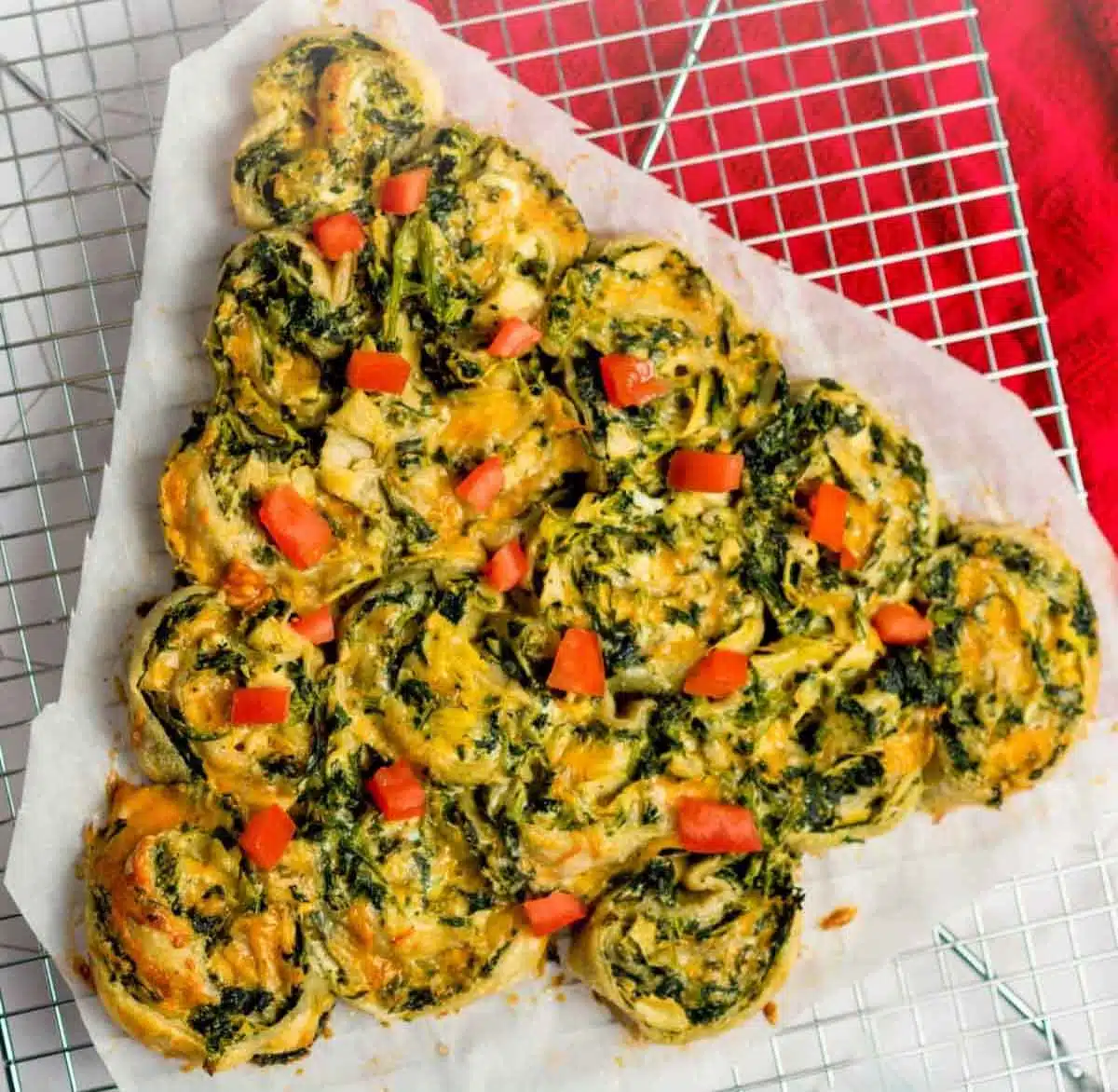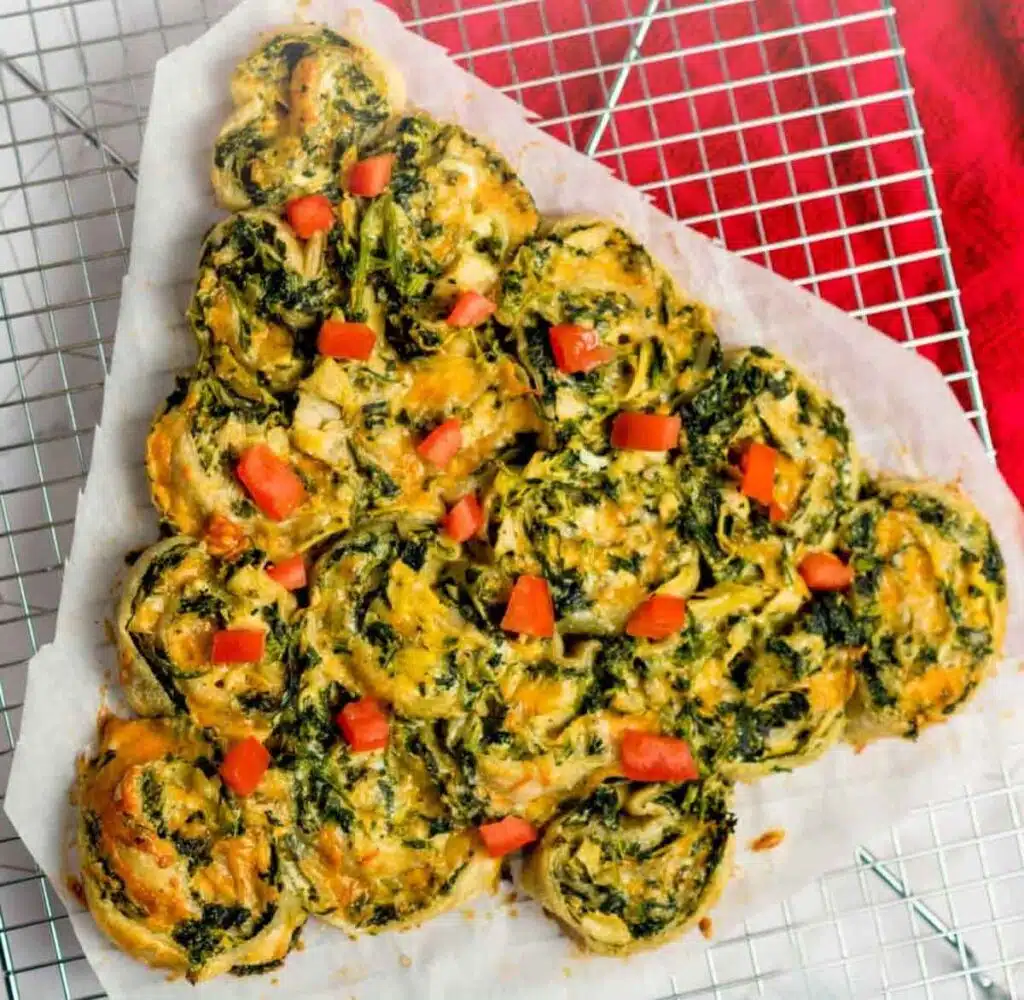 Adding a Christmas tree puff pastry to your Christmas tree appetizers lineup is almost a no-brainer. This recipe from Playdates to Parties is especially delicious and easy to execute.
If you are looking for Christmas tree spinach dip breadsticks, just roll and twist the pastry into branches.
Ingredients: puff pastry, frozen spinach, artichoke hearts, cream cheese, cheddar cheese, egg, garlic powder, salt, pepper, tomato
---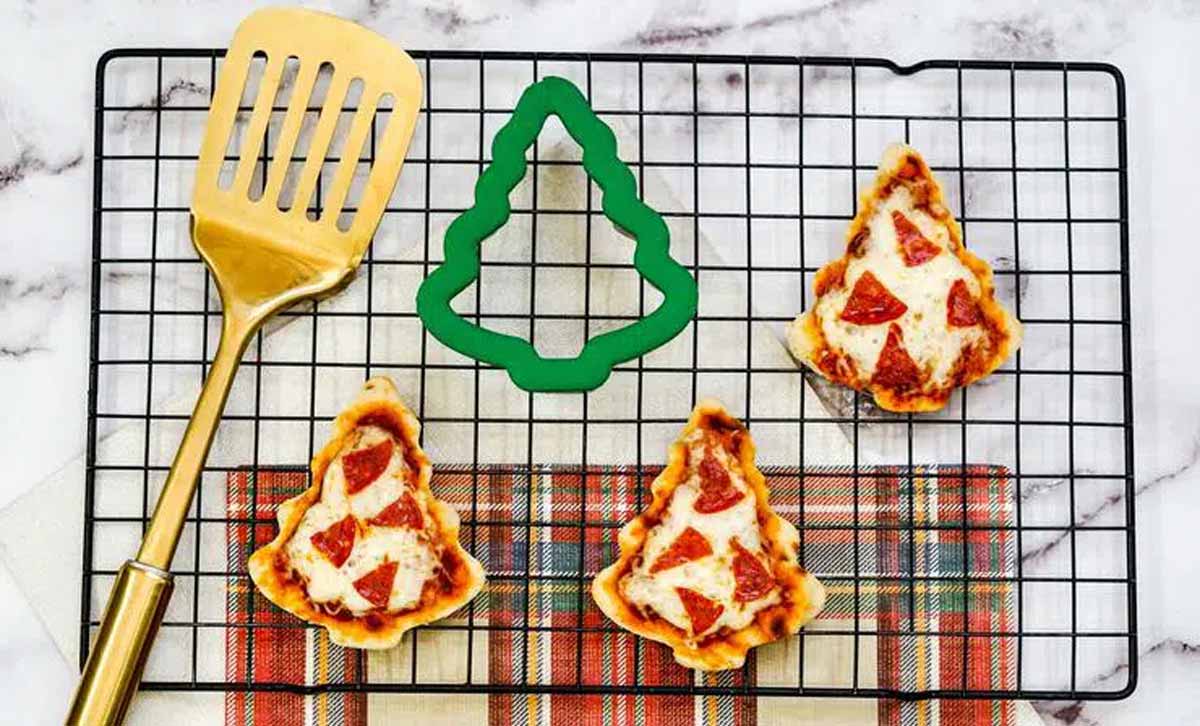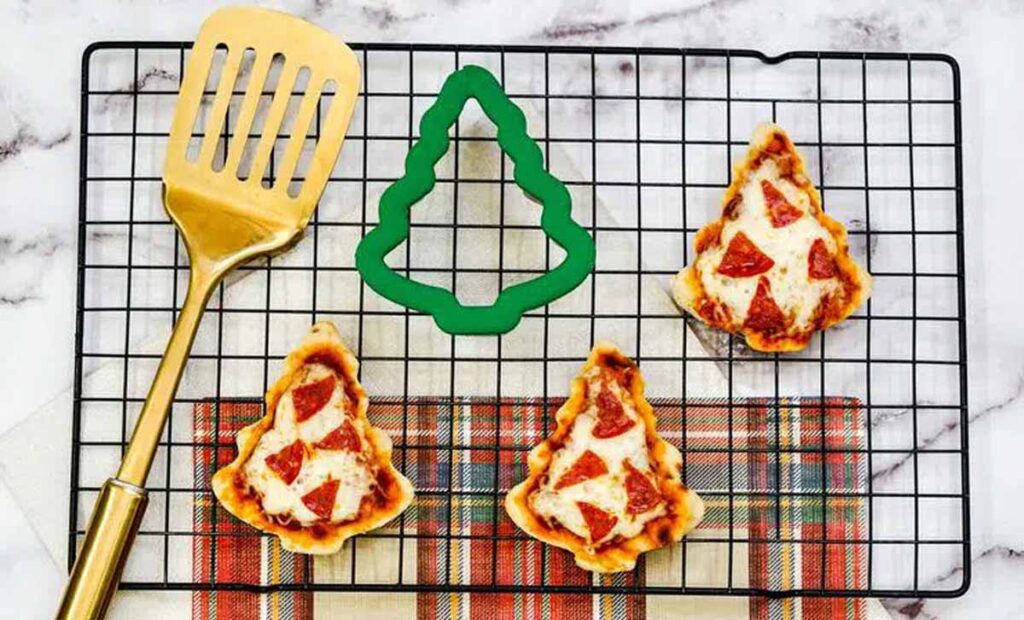 Create Yum offers a tasty and easy Christmas party dish using a Christmas tree cookie cutter you probably already have.
Build your mini pizzas on a prepared baking sheet, throw it in the oven, and you're good to go. No pizza cutter needed.
Ingredients: flatbread, mozzarella cheese, pizza sauce, pepperoni
---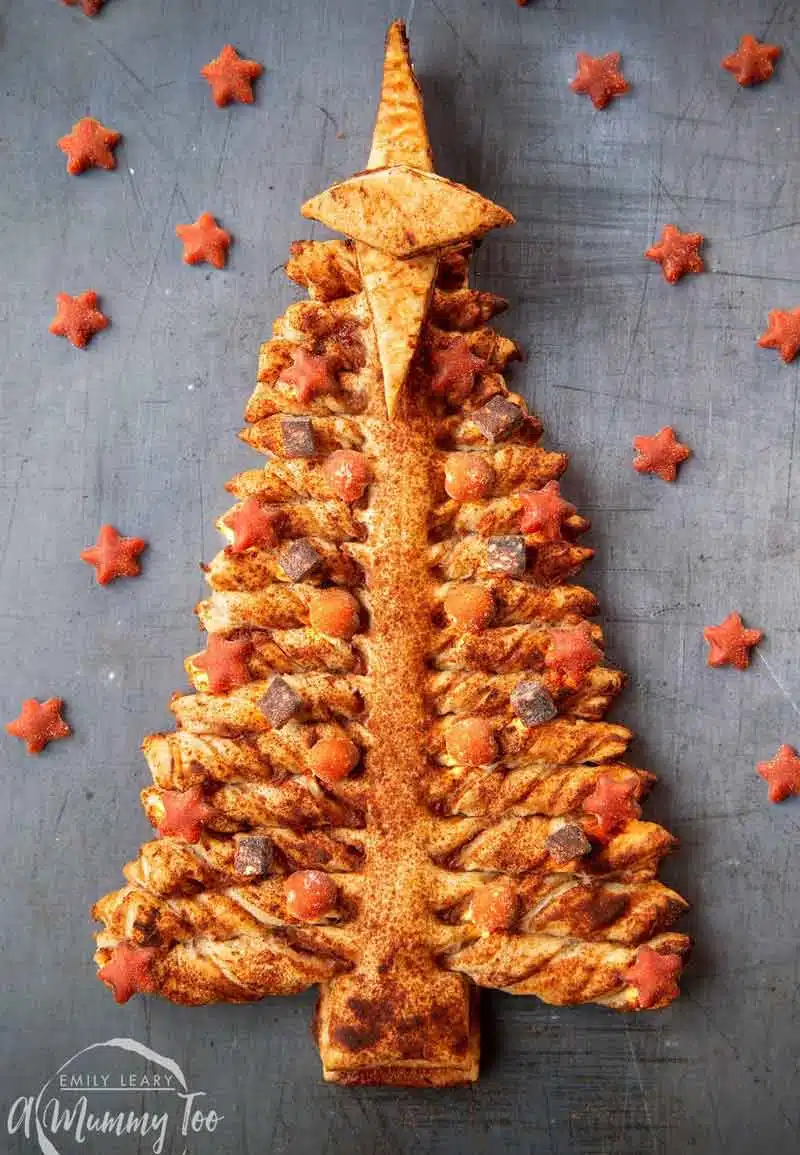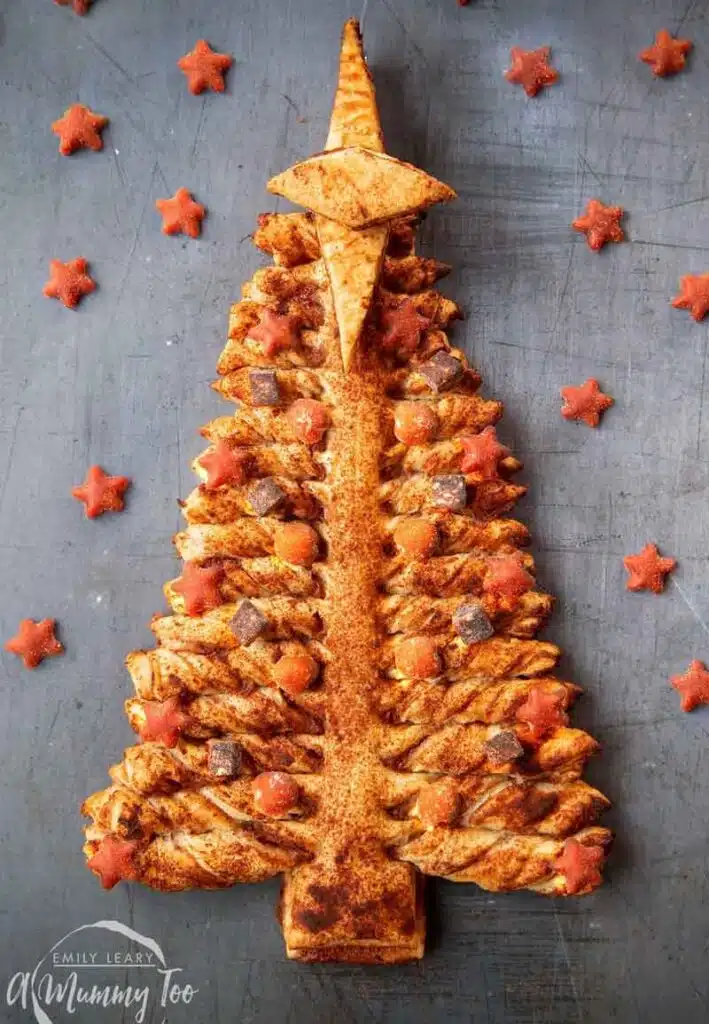 Looking for a sweet puff pastry Christmas tree appetizer? Check out this recipe by Emily Leary!
This would be delicious for a party or appetizer while you wait for your turkey or ham to cook on Christmas day. You can't get much easier than store-bought puff pastry.
Ingredients: apples, mixed spice, puff pastry, dried cranberries, whole milk, cinnamon
---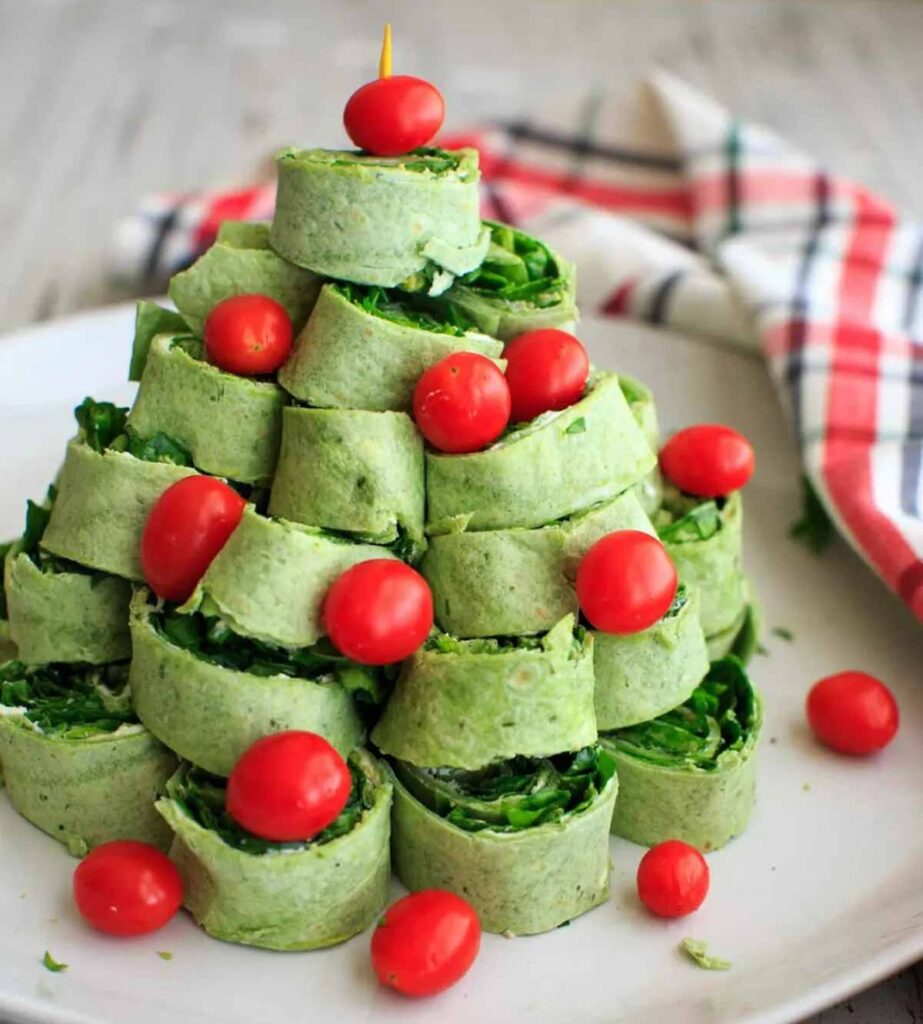 One of the beauties of this recipe by Trial and Eater is the opportunity to customize your pinwheels with different fillings.
There are plenty of sweet or savory filling options for you to choose (ex. pesto sauce and mozzarella cheese, Nutella and marshmallow cream, etc.). You could even do a variety of fillings!
Ingredients: spinach tortillas, garden vegetable spreadable cream cheese, guacamole, baby spinach, grape tomatoes
---
19- Kissmass Tree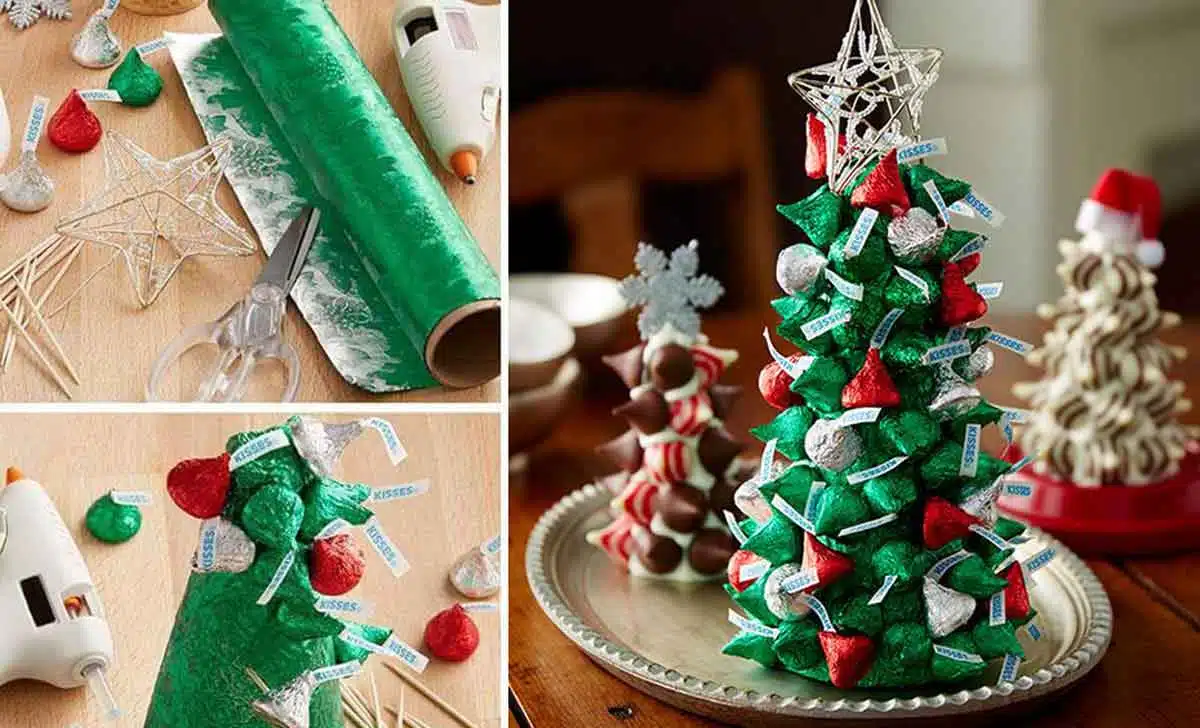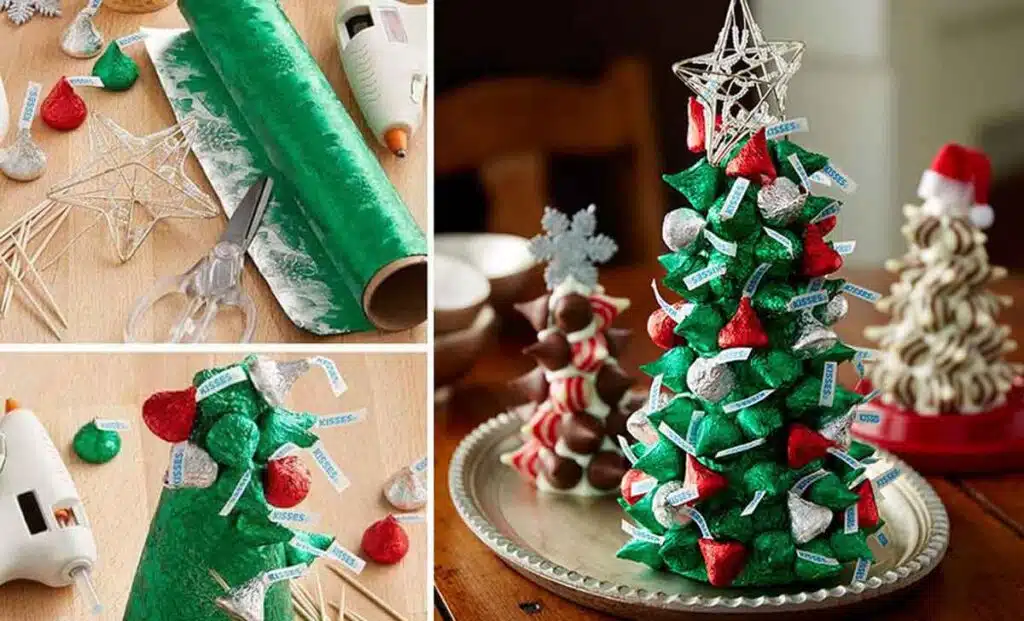 Here's another use of a styrofoam cone. Wrap it in green plastic wrap or foil, and insert Christmas Kisses onto it with toothpicks.
Unfortunately, I couldn't find the instructions for this one but I imagine you may need to cut each toothpick in half to get that done.
They also hot-glued an ornament star on the top to keep it upright.
This Kissmass tree sure would make a festive centerpiece at your next Christmas party.
Ingredients: Hershey Kisses.
---
Merry Christmas!