Savor a taste of the Hawaiian islands with this scrumptious coconut butter mochi cake which just happens to be gluten free. With extra coconut milk and sesame seeds, it's a fantastic treat for any luau or tropical themed party!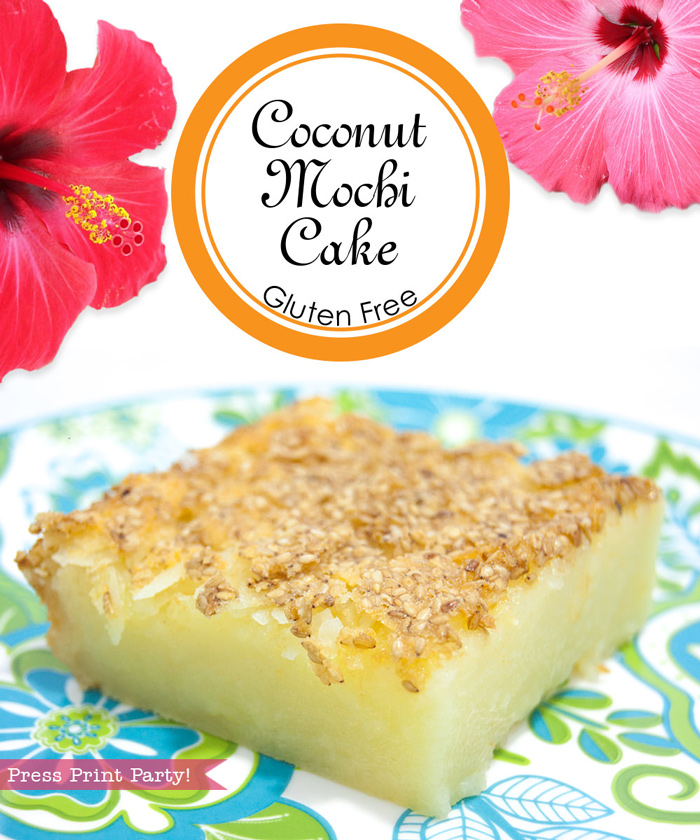 This post may contain affiliate links.
Mochi is a Japanese cake made with sweet rice flour. Plain mochi is delicious and one of my most anticipated treats when going to Little Tokyo in downtown LA.
This buttery coconut rice cake takes plain mochi to a new level of moistness and flavor. A favorite in Hawaii and soon to be a favorite in your house.
I know what you're thinking though; you see the words "Gluten Free" in a recipe and you may say, "That's not for me, I can eat gluten therefore I should make a regular cake and not a gluten free cake". I hear you. Although I only came across butter mochi cake when looking for a dessert to make for a friend with celiac disease, it quickly became one of my family and friends' favorite treats.
And it's also is a best seller at the church's bake sale! It really stands out in an endless sea of breads, cookies and brownies. I have included a free download of catchy tags for bake sales at the bottom of this post.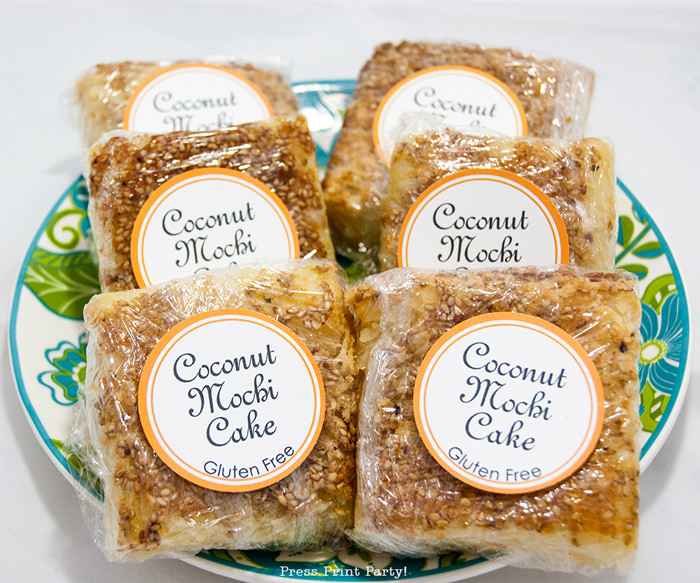 I've tweaked the basic recipe to make it extra "coconuty" (like my daughter would say) and added the sesame seeds, which blend perfectly with the Asian theme. A friend, whose wife is Hawaiian, admitted in confidence my butter mochi was better than his wife's. (Well I hope she's not reading this right now. No, really, yours is good too and was my first inspiration!).
Definitely the perfect dessert for a tropical party.
Here's a visual of the ingredients and of the finished product. Check out the full recipe at the bottom of this post.
Make sure you use a sweet rice flour and not just rice flour. They're made of different types of rice.
Although not the one pictured, this is the one I recommend: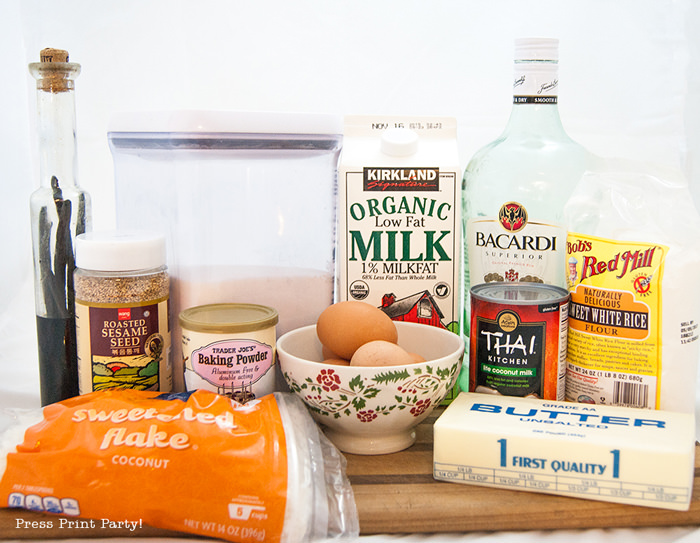 Most of the ingredients are separated into wet and dry then mixed.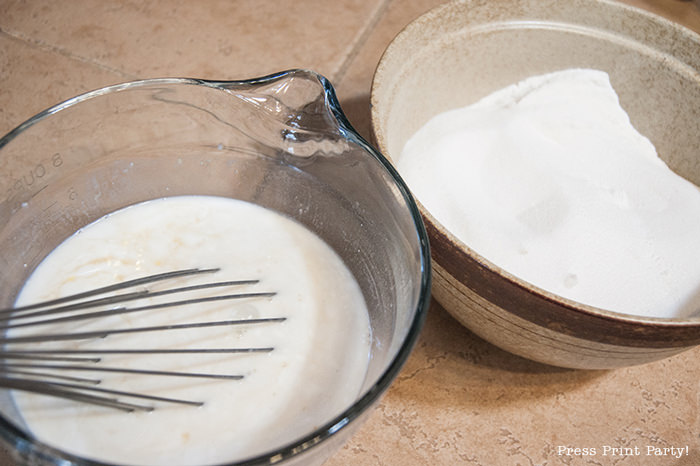 After the mixture is poured in the baking pan, the sesame seeds get sprinkled on the top like this: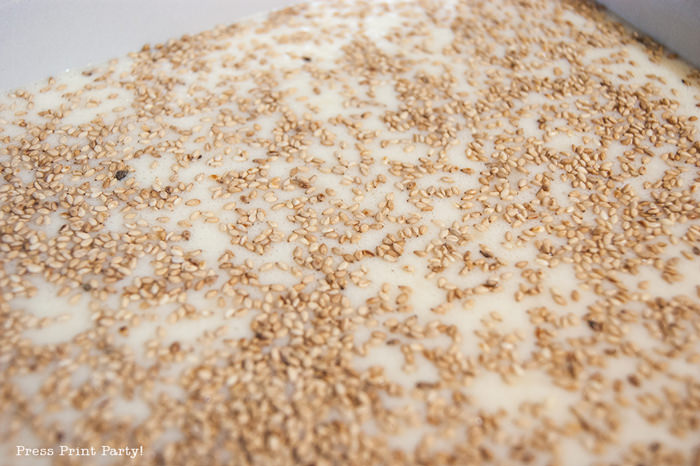 Which turns into a delicious crispy crust: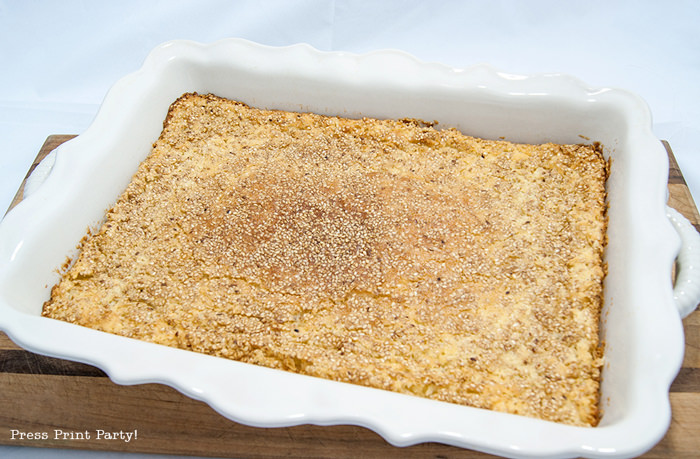 YUM!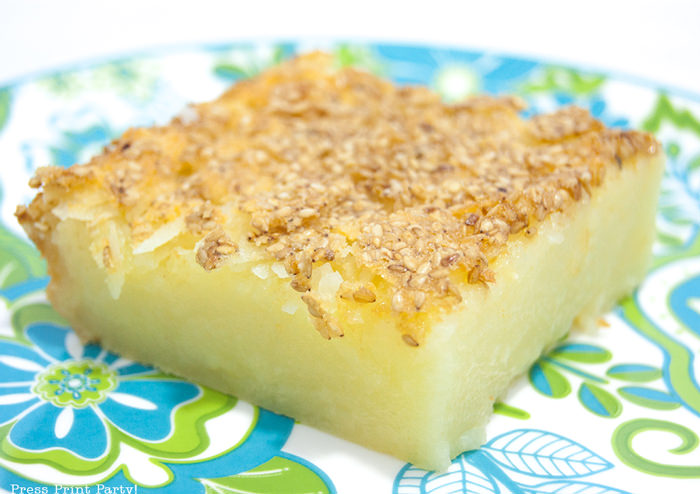 Butter Mochi Cake recipe with coconut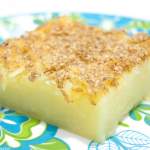 Hawaiian Coconut Butter Mochi Cake
This easy Hawaiian local-style treat is made with coconut, butter, and sweet rice flour. A great dessert for any tropical party!
Total Time
1
hour
10
minutes
Ingredients
1

lb

sweet rice flower

Mochiko glutinous rice flour or sweet rice flour

2 1/2

cups

white Sugar

1

tsp

baking powder

1/2

cup

butter

melted

1

Tbs

rum

1

can coconut milk + enough milk to make 3 cups

3 cups includes coconut milk and milk

5

eggs

1

tsp

vanilla extract

1

cup

sweetened flaked coconut

Sesame seeds
Instructions
Preheat the oven to 350 degrees (175 degrees C). Grease a 9"x13" baking dish.

In a medium bowl, whisk together the eggs, vanilla, rum, coconut milk and milk.

In a separate larger bowl, stir together the rice flour, sugar, and baking powder.

Pour the wet ingredients into the dry ingredients and stir to blend well.

Mix in melted butter and coconut flakes. Pour into the prepared pan.

Sprinkle with sesame seeds on top.

Bake for 1 hour in the preheated oven. Cool completed then cut into squares to serve.
Get Your Freebie:
If you've already subscribed, you can get the password from the bottom of any email I send and go directly to the Free Downloads Library.
Check out our tropical party printables