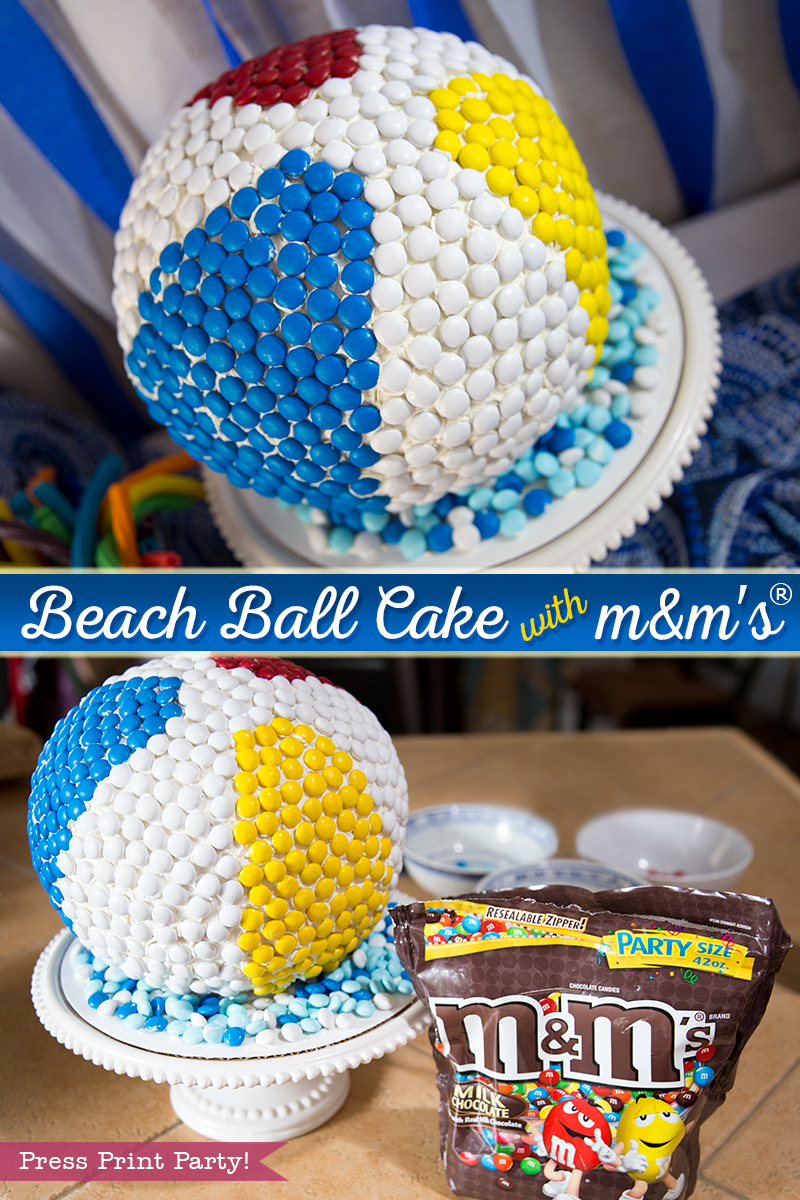 When planning our pool party, I created all the printables with a beach ball theme. So it seemed like the perfect time to learn how to make a beach ball cake. In my search, I came across a beach ball cake decorated with m&ms® HERE. It looked like so much fun! And with my passionate dislike of fondant, I was sold! But, the cake in the linked post was so small. The 9-inch sphere pan
' target="_blank" rel="noopener noreferrer">9-inch sphere pan
1 9″ cardboard cake round
3 nails
2 boxes of cake mix (or your own cake batter)
1 box of Rice Krispies® + ingredients for 2 recipes of Rice Krispies® treats.
1 large party size m&m® bag
White m&ms® (found some at a candy shop). You could use white mints. I also bought some light blue m&ms® for contrast on the bottom.
Vanilla Buttercream frosting
Make the ball cake:
Butter your half sphere pan and mix 2 cake mix boxes into it. I used the Trader Joe's Vanilla because it's always a hit.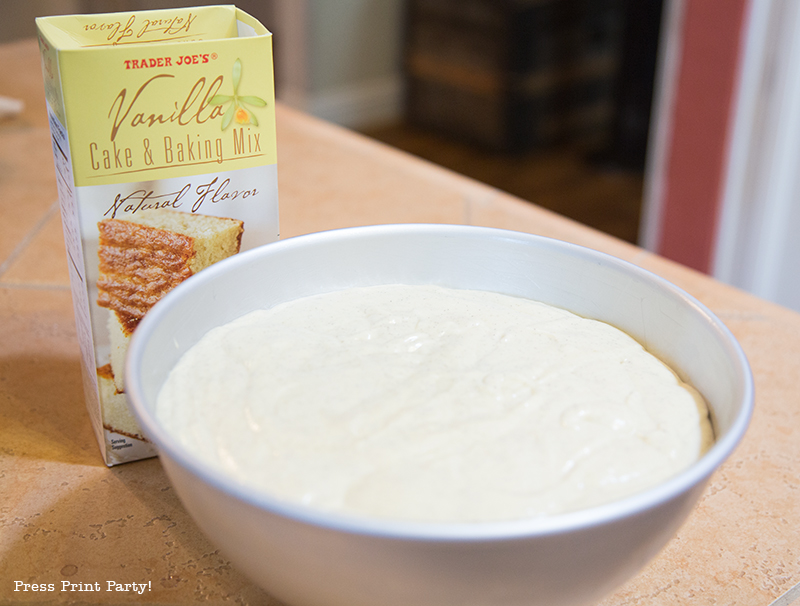 I secured the pan in the oven by propping it on a circle egg shaper. A cookie cutter would work great too.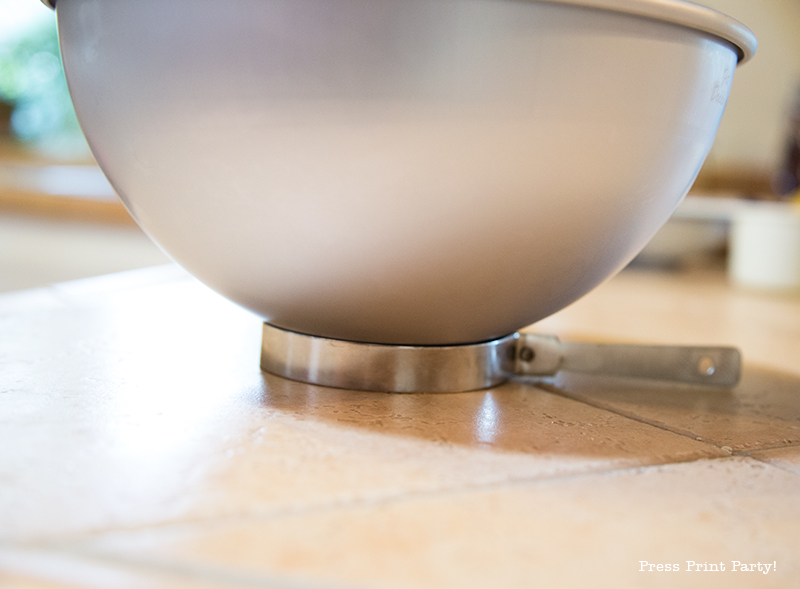 Bake per the box instructions. Because of the size, ours took a bit longer than usual. Use a cake tester to make sure your cake is baked all the way through before you take it out.
After the cake has cooled, level your cake and invert it. We had some trouble here as you can tell. Probably didn't butter the pan enough. Nothing frosting can't hide.

Make the Rice Krispies® treats:
Use 2 or 3 recipes of the Rice Krispies® treats to fill the buttered half sphere pan. Make sure you pack it in good. We really needed a bit more here. Wait until it cools to invert it.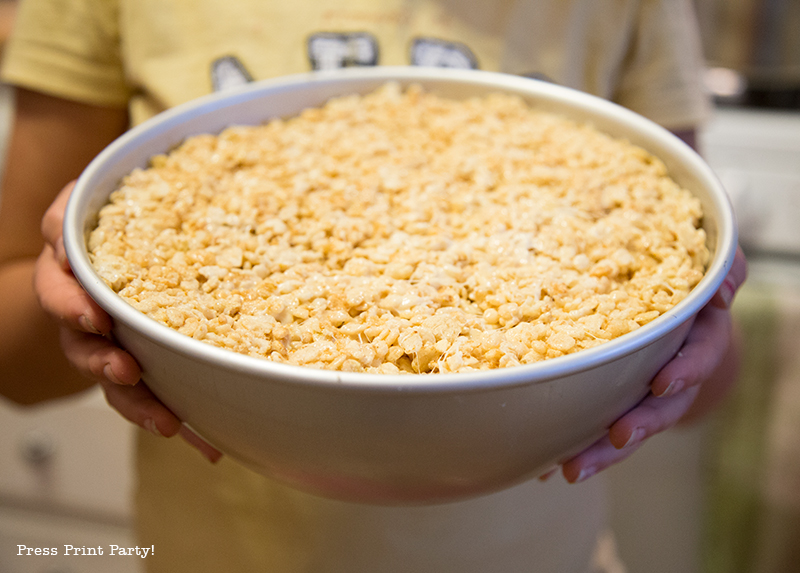 Make the base:
Pierce the cardboard cake round with the 3 nails as shown.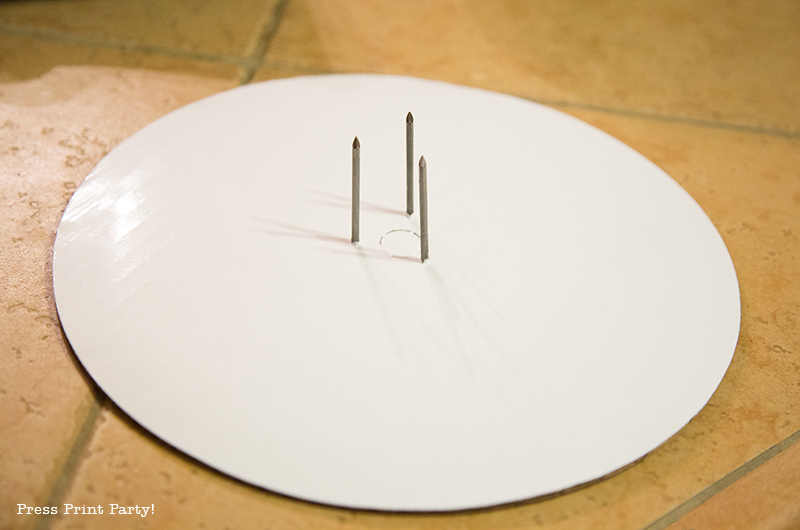 Put it all together:
Secure the Rice Krispies® treats bottom to the nails.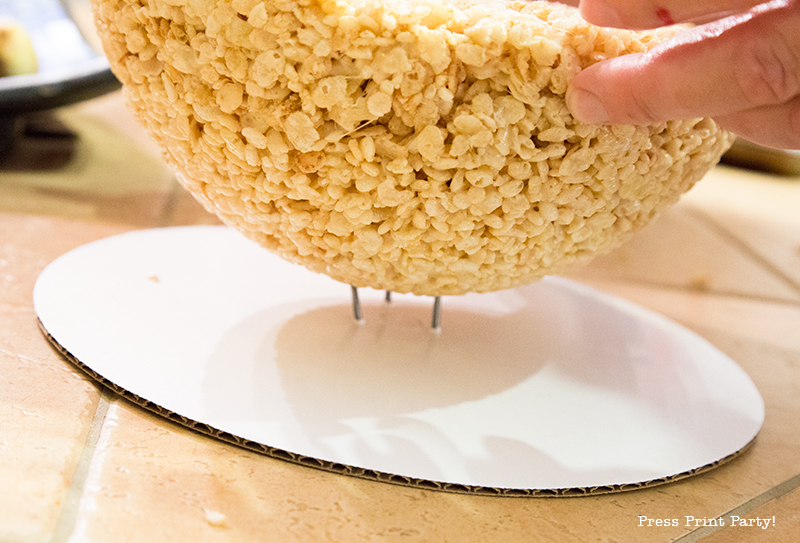 Frost the middle and invert the top cake layer on it.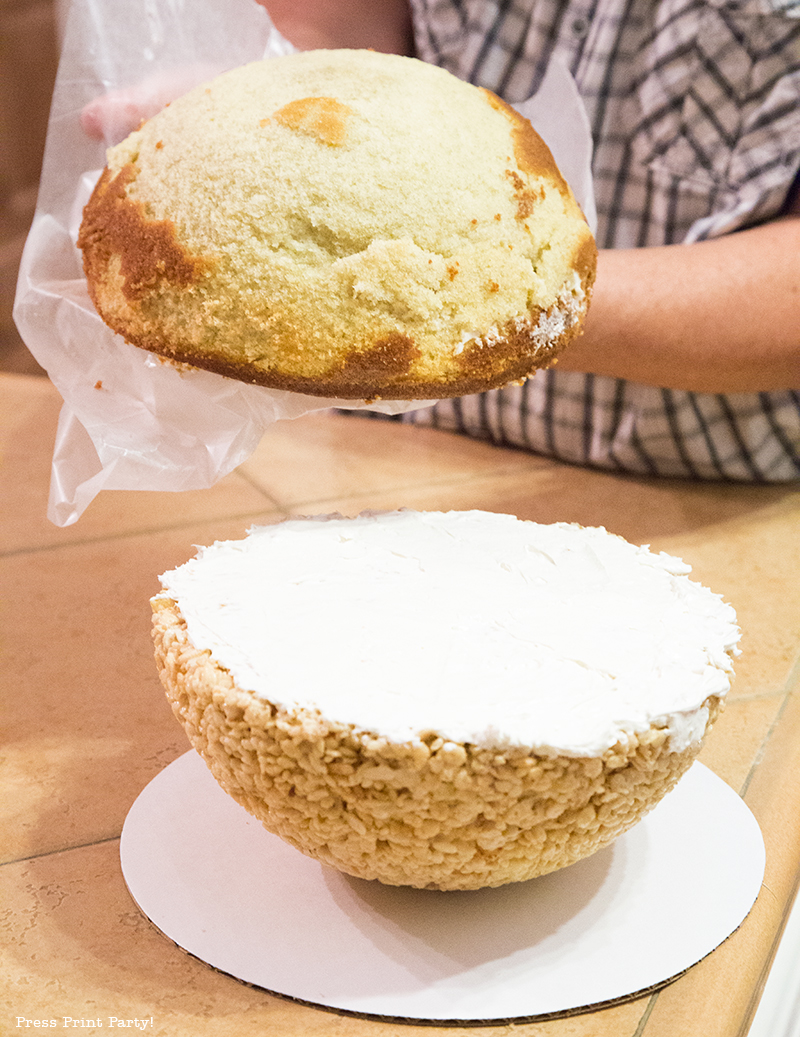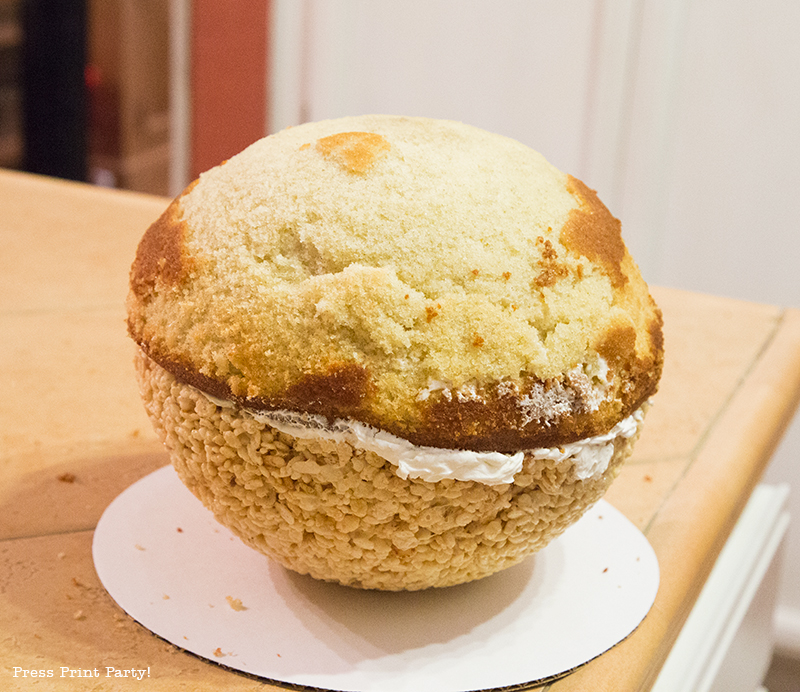 A little trimming and a crumb coat later: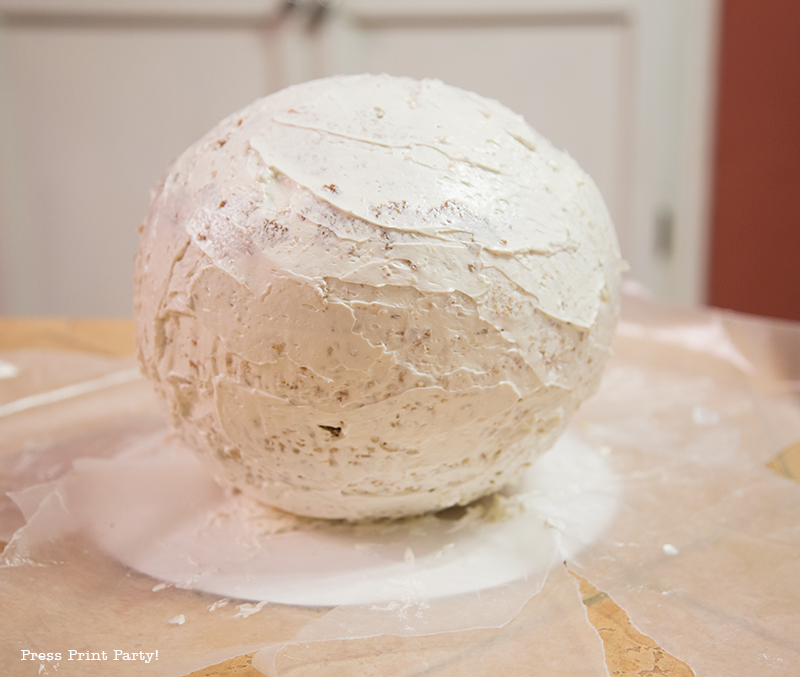 Add more frosting and start placing the m&ms. I scored the frosting with a toothpick first to make guide lines. I really wanted the traditional beach ball look so I had to buy the white m&m® separately at the candy store in the mall. You could use more of the colors in the m&ms® party pack bag and make stripes of different colors.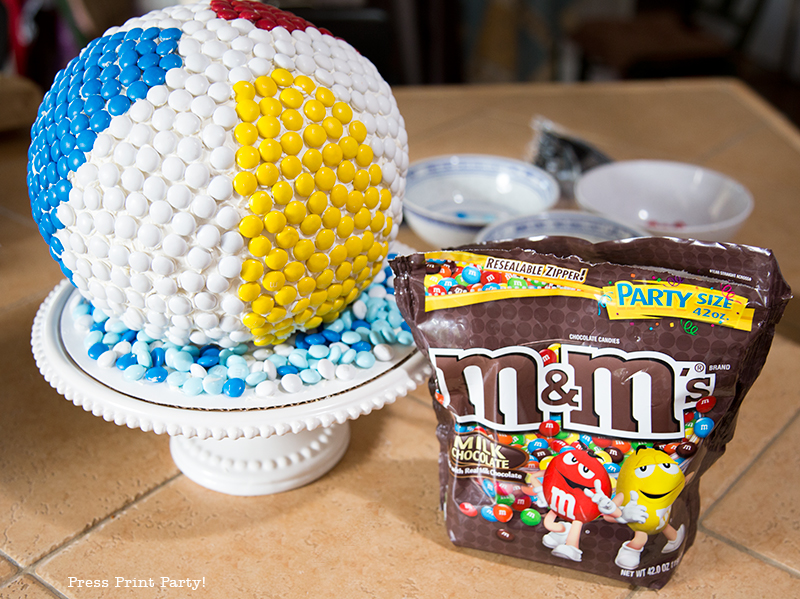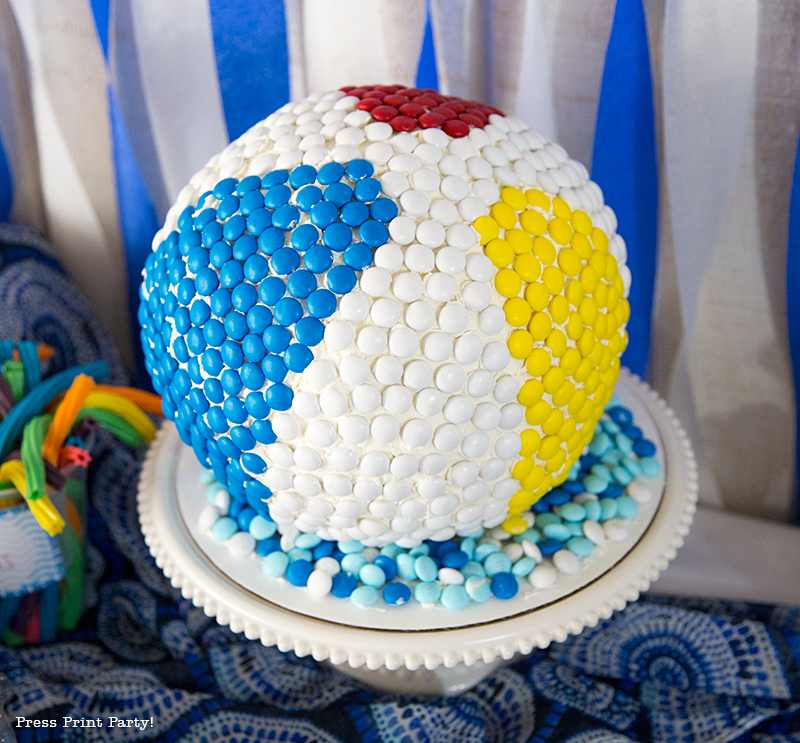 A great addition to the beach ball printables in my shop.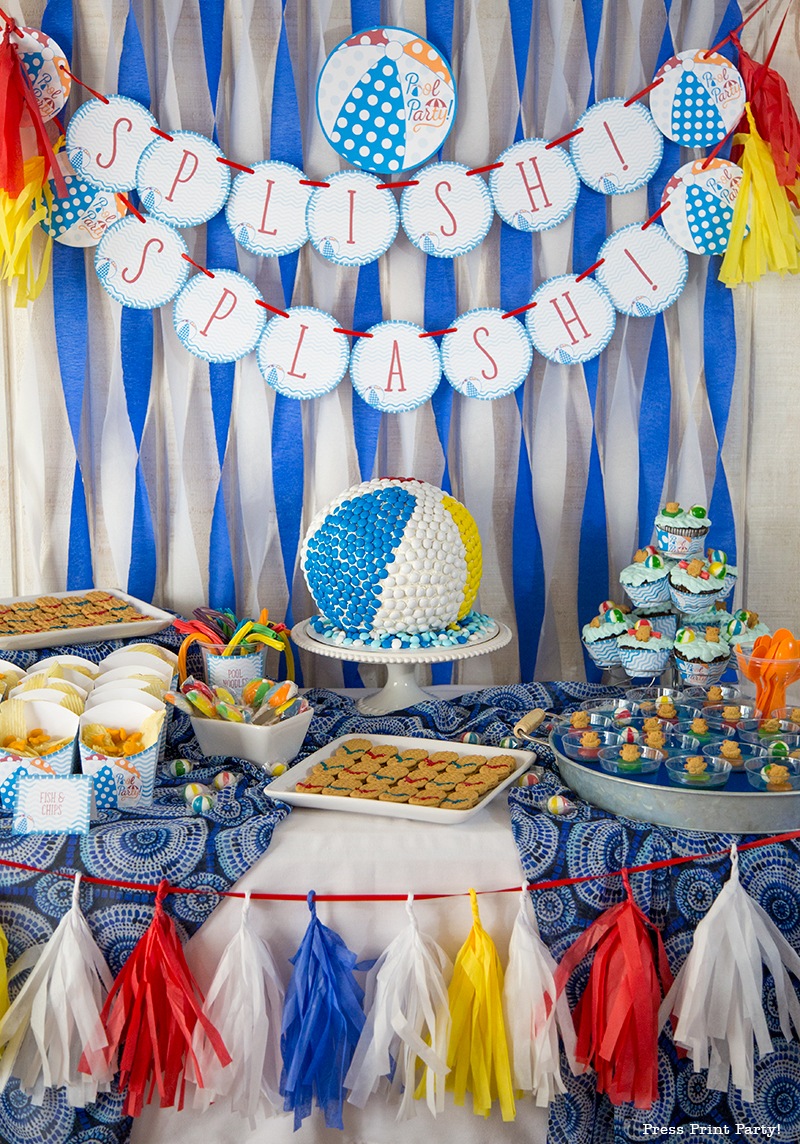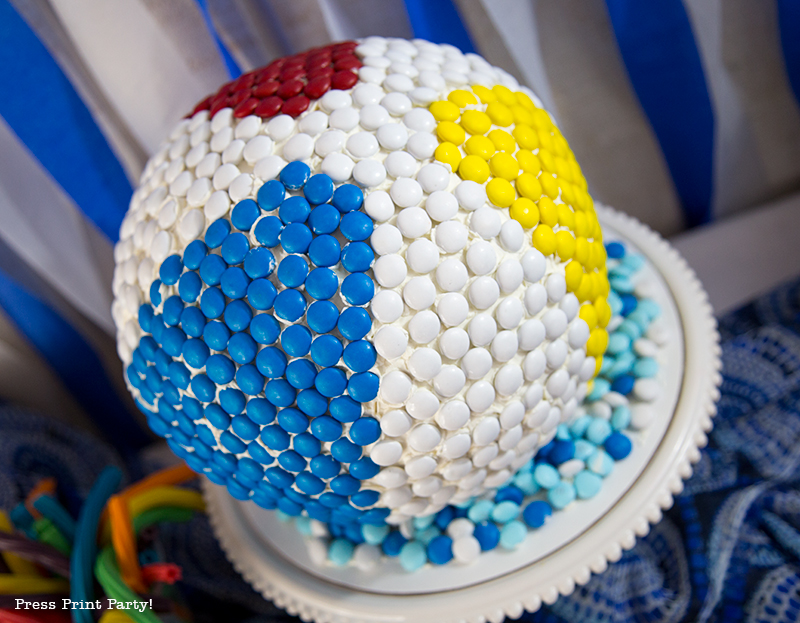 Beach ball was the theme for this party but learning how to make a big ball cake could be useful to make a soccer ball cake, a basketball cake or even a Star Wars® Death Star cake!
Please let me know if you've made one. I'd love to see your creations. Especially a Death Star!!!!