Easy, fast, inexpensive, and a great crowd-pleaser, these swimming teddy bears blue jello cup treats are the perfect after swim snack at a pool party.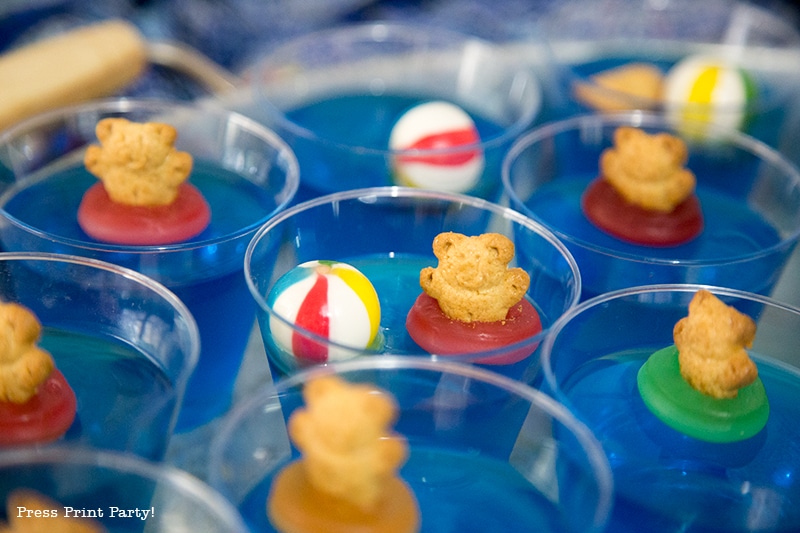 This post may contain affiliate links.
You start with clear plastic cups (pretty sure I used 5-ounce dessert cups), Teddy Grahams, blue Jello, and Lifesavers candy. Clear glass cups would also work great.
It seems easy, but read on, I have some great tips that will save you some trouble.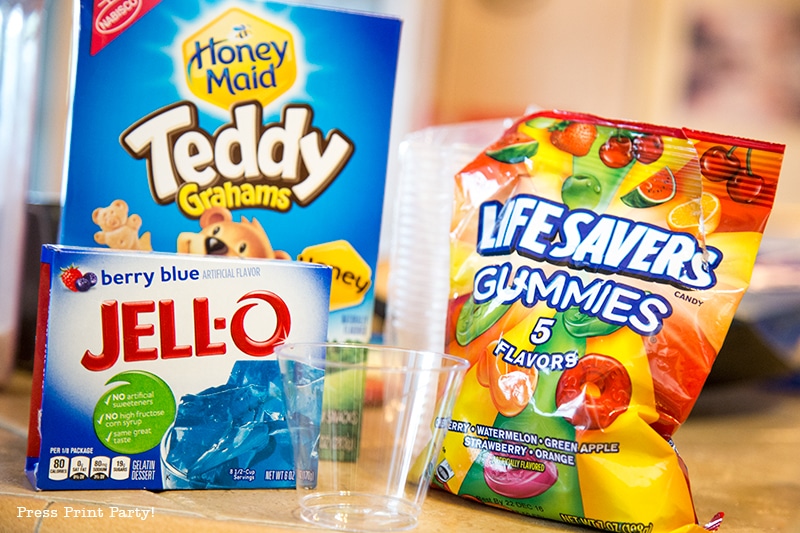 How to make the blue jello cups
I set all my cups in a casserole pan to keep the mess to a minimum. After all, the kids are involved here.
You could also use a baking sheet with a lip.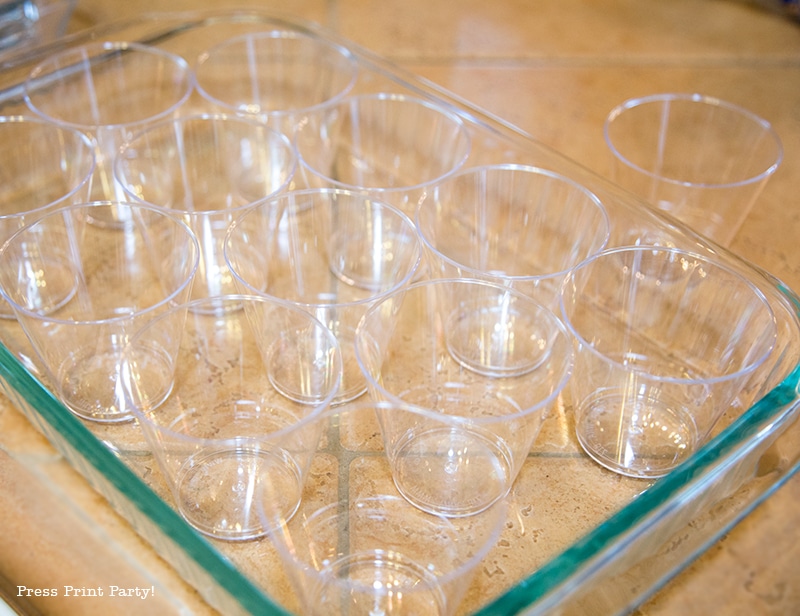 We simply followed the jello recipe instructions on the Jello packet and poured in the cups.
Success! Minimum mess! And a pretty consistent pour.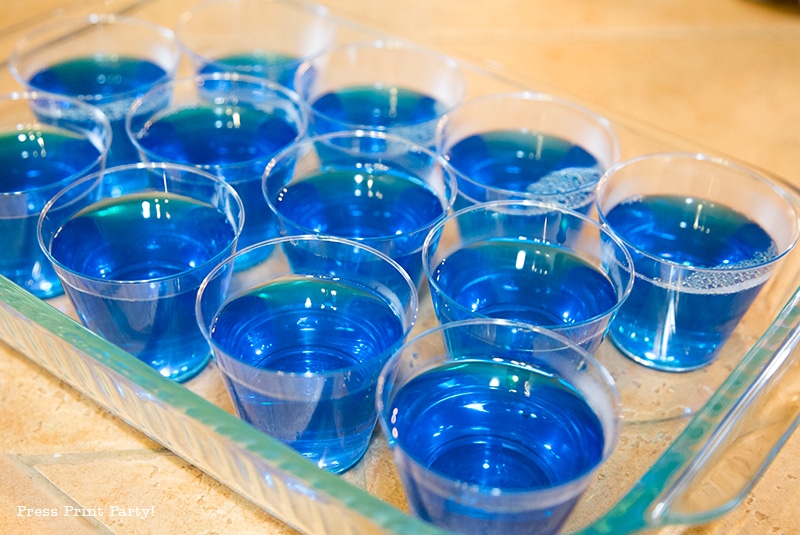 Now, wait! The Jello has to be set in the fridge. But once that's done, WAIT again!
Adding the swimmers and candy
I would recommend NOT to add the Teddy Graham swimmers UNTIL just before the party! The Teddy Grahams will get soggy in the fridge and the Lifesaver will bleed all over the Jello. There's nothing worse than to expect a crispy bite of a delicious cracker, and instead of ending up with a soggy mess in your mouth, or to try to pick up a Teddy Graham and smooshing it with your fingers.
Let me repeat, JUST BEFORE THE PARTY, insert the Teddy Grahams in the Lifesaver candies and place them on your Jello. Best to use the Teddys with their arms up in the air like they just don't care. They just seem like they're having a blast. The ones with their arms down are such a bore, just eat them.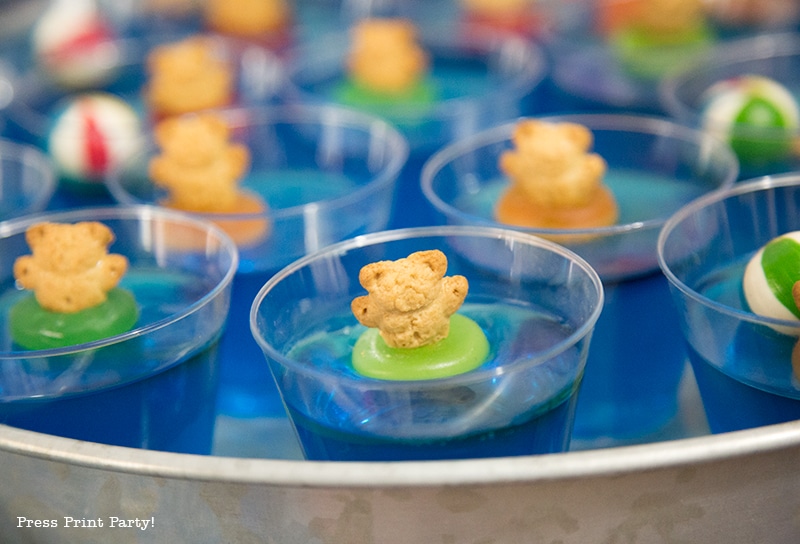 Have some fun with this. We added beach ball candies too (again last minute. They will bleed if left too long on the Jello). I get a lot of messages asking where I got those beach ball candies… just click on the link above.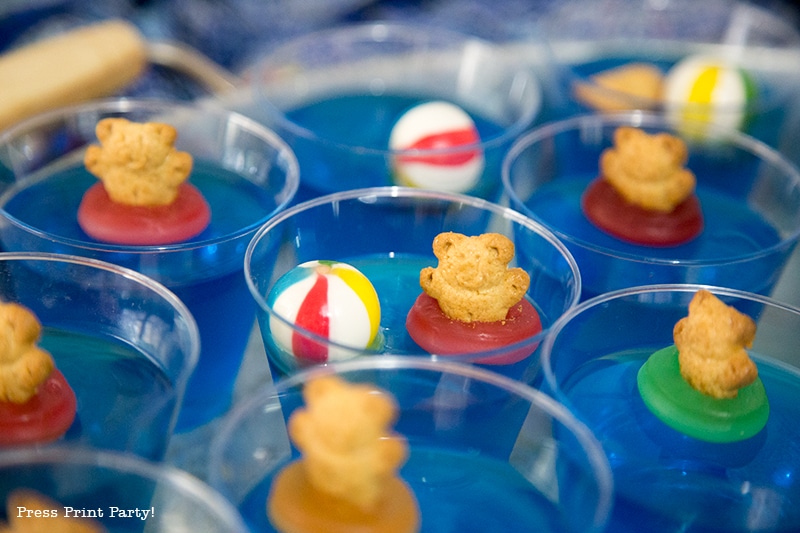 We had some floating. See how bored he looks with his arms down.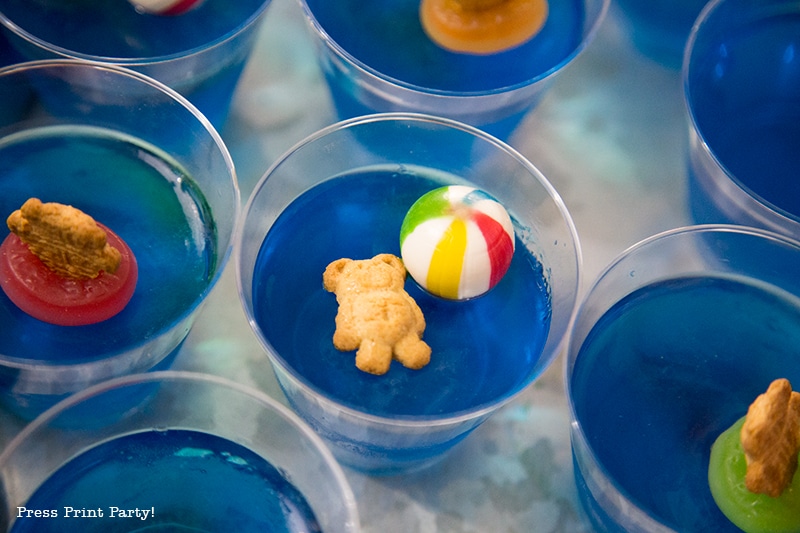 And some hanging out under their umbrellas from my Pool Party printable set. You could just use some drink umbrellas. They sure looked great on our dessert table.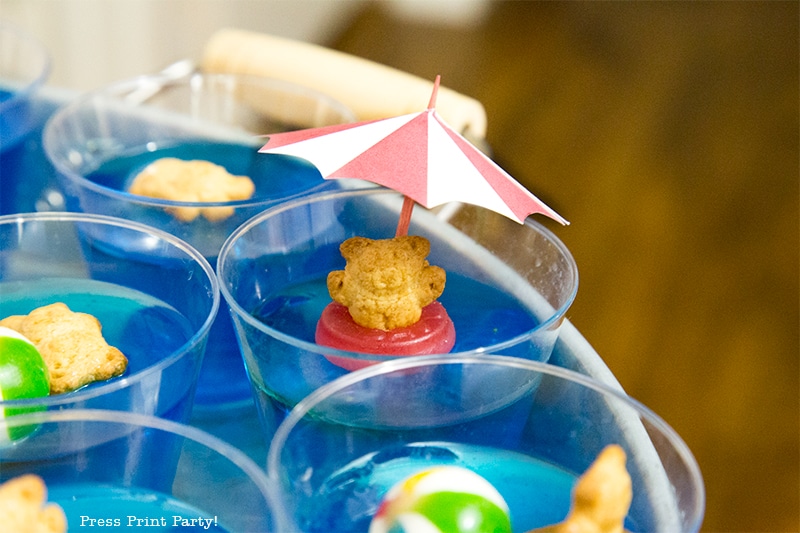 More Blue Jello Cups Decoration ideas
There are tons of other candies and ideas you could use to decorate your blue Jello cups for a beach party!
Crush some of the Teddy Grahams into graham cracker crumbs to simulate sand.
Cut up a short piece of Airhead rainbow-striped candy to make a beach towel for your Teddy Graham to lay on.
Insert some gummy fish, like Swedish fish, at the bottom of the cups before the cups have set all the way.
Place some cute gummy turtles on the top.
Insert some gummy sharks ready to come out and bite. (Great option for shark week).
Make Jello layers with red jello and cool whip, whipped cream, or white gelatin, as a fun patriotic dessert for the Fourth of July or memorial day.
Use cut-up Red Vines as pool noodles.
Check out way more pool party silliness (you have to see the cake!) at my pool party blog post, here! I also have tons of ideas for summer parties like under the sea decoration ideas as well as a DIY coral reef that will wow your party guests. And find more easy recipes for fun dessert ideas here.
Don't forget to pin it: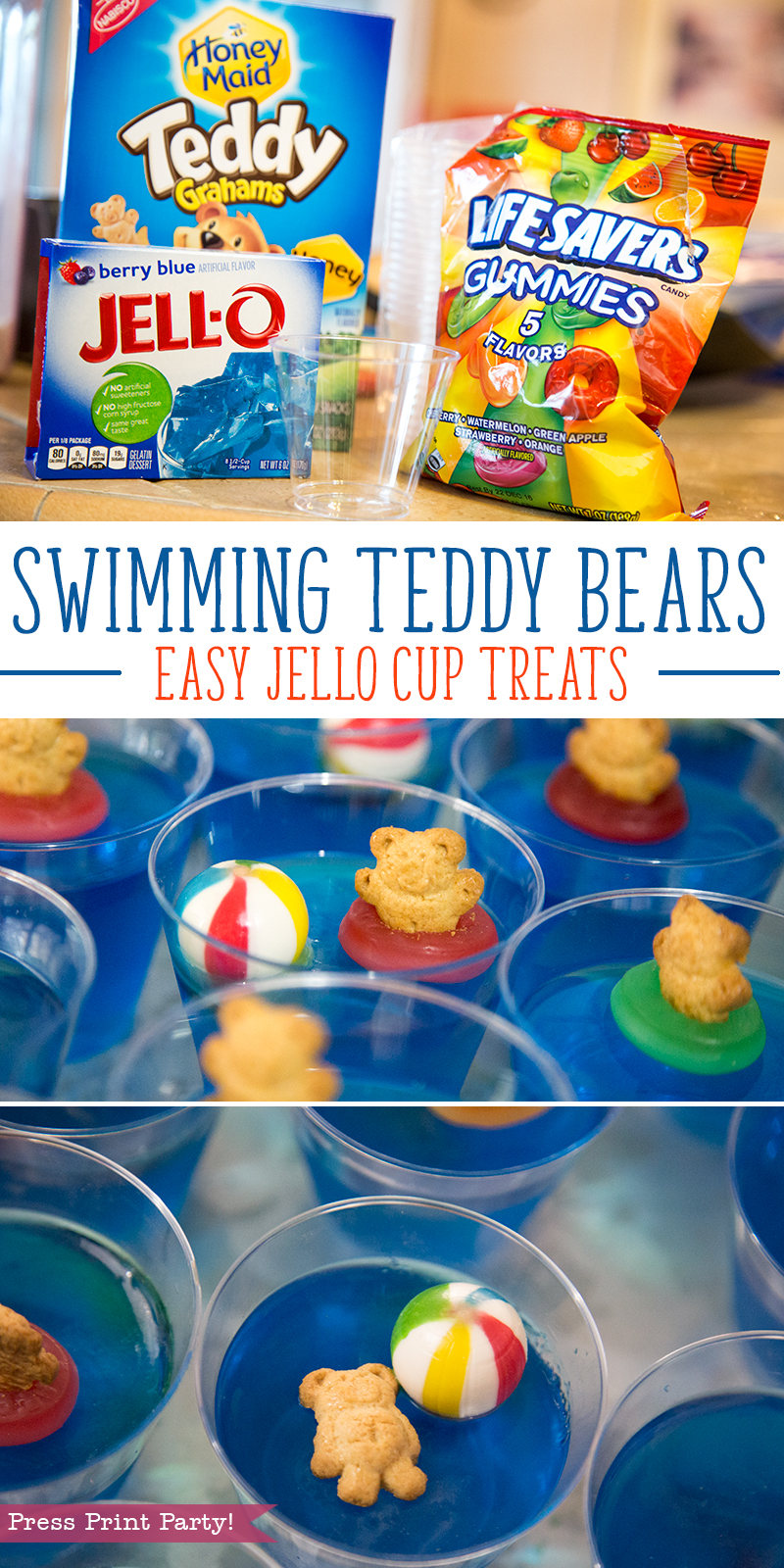 Check out our birthday printables