Just about every time I'm asked to bring a salad to a potluck I'll bring my Chinese chicken cabbage salad because it's easy to make and sure to be a crowd pleaser.
I'm sure you have a family favorite potluck salad that you make all the time, one that you know is always a hit. That's why I wanted to broaden my horizons and find out what others we're making.
So I asked around and came up with this long list of 43 easy potluck salads ideas from a bunch of talented bloggers. You're sure to find a great new dish for that event when you need to feed a crowd.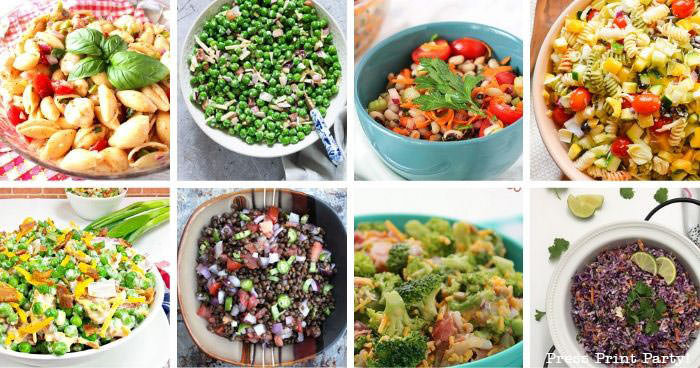 This post may contain affiliate links
These potluck salads are perfect to bring to your next get-together, summer picnic, family reunion, church potluck, fourth of July party, backyard barbecue, work potluck, or any special occasion. They are much more than a mere side salad, these potluck ideas are ready to be the main course.

Because I love to be organized, I structured these potluck recipes by main ingredients.
You'll find cabbage salads, salads with broccoli and bacon, a traditional potato salad and not-so-traditional potato salads, a whole bunch of pasta salads, bean salads, and even pea salads. There are very few leafy green salads and no fruit salads on this list. I wanted to feature hearty salads to endure the summer sun. These potluck salads run the gamut from healthy recipes to no so healthy eating.

I'll be trying a bunch of potluck dishes during the summer months for all those family and church get-togethers we have planned.