This Halloween Candy Game will keep kids entertained for hours! It's fun, it's easy to play and it requires no special skills.
It's a fun way for kids of all ages to swap their candies and the adults can get in the action too!
This Candy dice game is great to play after trick-or-treating with friends and family, as an activity for your little Halloween party guests, or as a perfect classroom activity during October.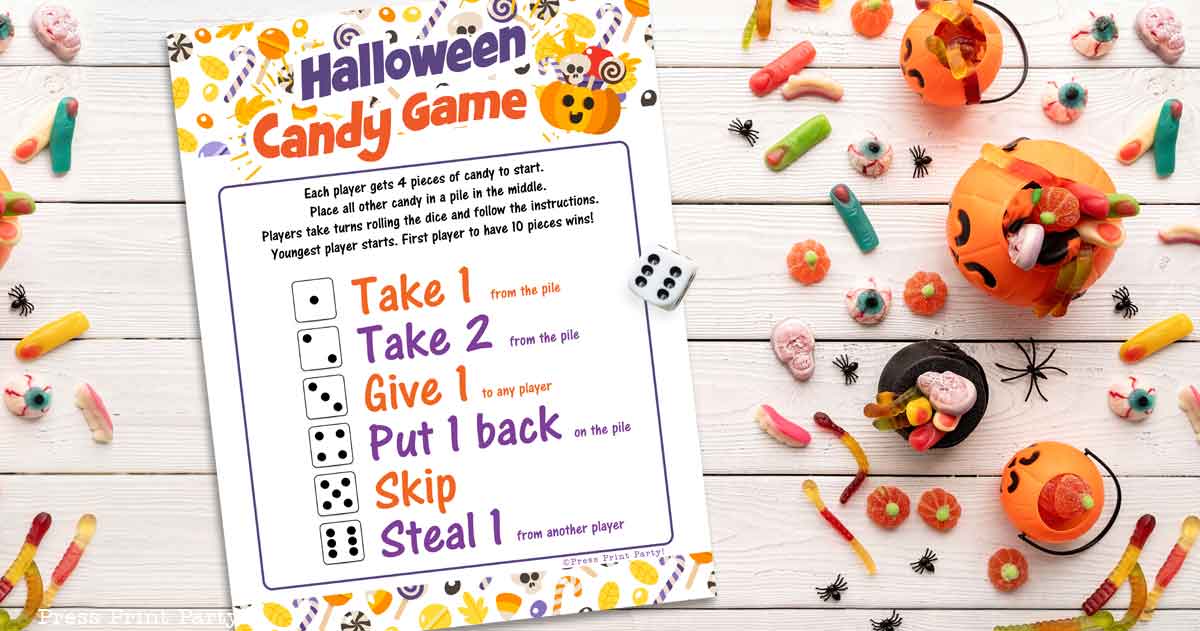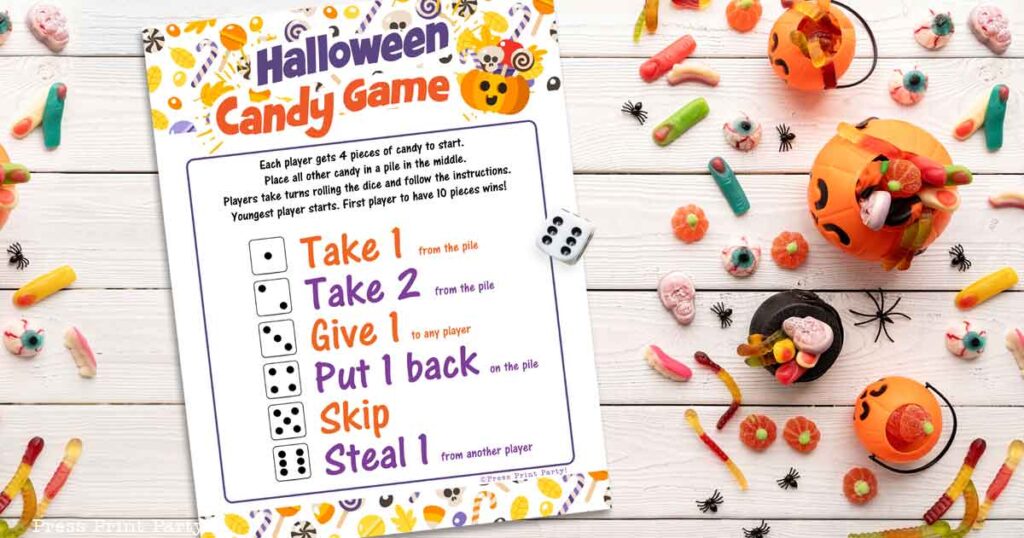 This post may contain affiliate links.
Growing up in France, my first exposure to Halloween was the movie ET!
I had no idea what was going on when they dressed up ET as a ghost and everyone was in costume knocking on doors for candy!
Now that I live in the U.S and have my own kids, I love Halloween. Especially because it's one of those fun Holidays which helped my husband and I get to know our neighbors better.
Truly, when else can you knock on a neighbor's door, down the street, at night and be greeted with a smile? And candy?
I don't know if your kids do this, but ours always come home from a long evening of trick or treating, sit down, and swap their candies.
This fun Halloween candy game helps them do just that and gets mom and dad in the action too with the leftover candy.
How to Play the Halloween Candy Game
All you need is the printed instruction sheet, a dice, and a few pieces of candy.
You can use all kinds of different types of candy. You could use candy corn, jelly beans, leftover candy, or any piece of candy the kids might like to swap.
You can even use full-sized candy bars to make the game more interesting for older players.
The game is best played with 3-6 players. If you have a lot of guests, it may be best to make several small groups to keep the game moving.
Place a pile of candies in the middle of all the players. You'll need around 10 candies per player.
Each player starts with 4 candies in front of them.
Now the game can begin.
The youngest player will start first, rolls the dice, and follows the instructions from the sheet.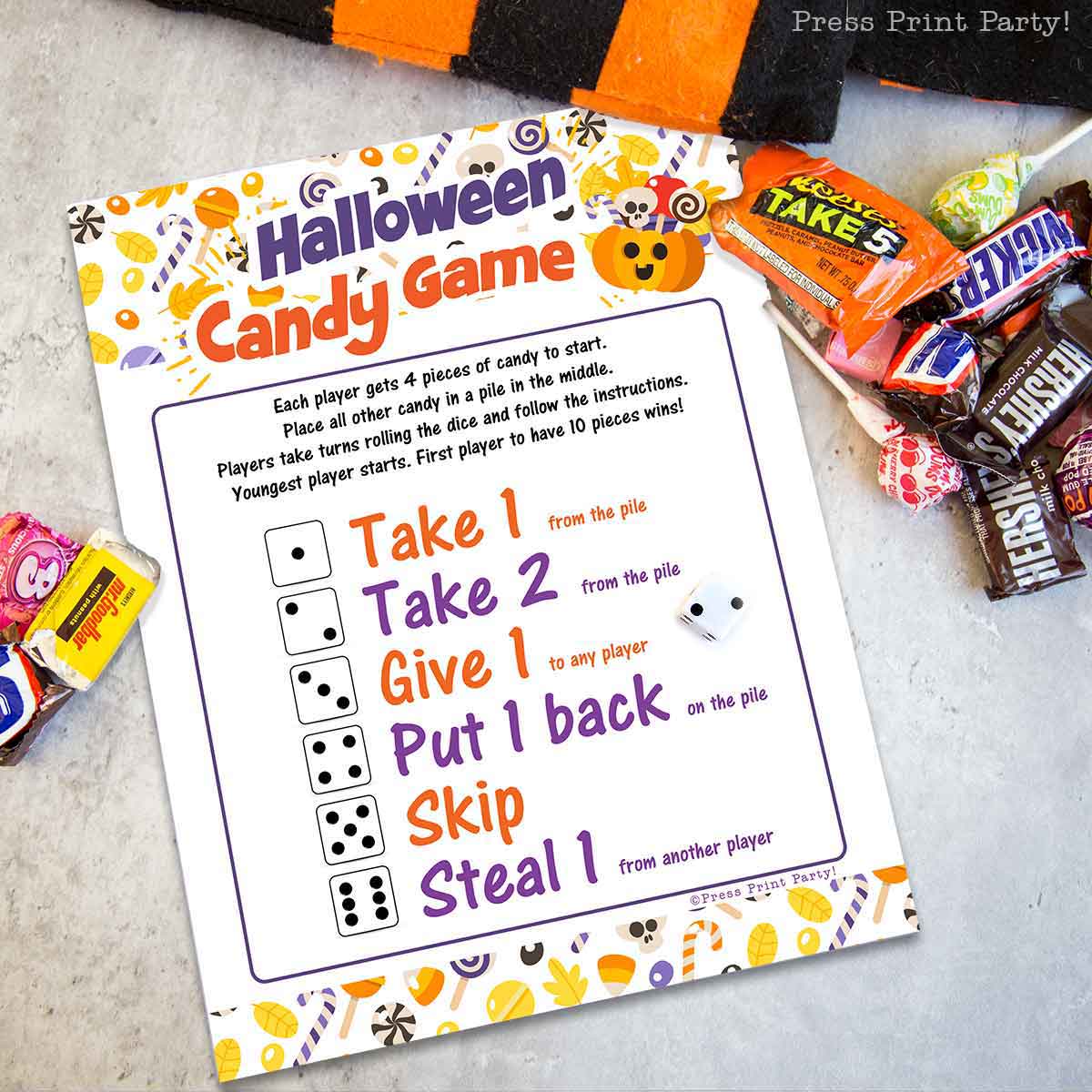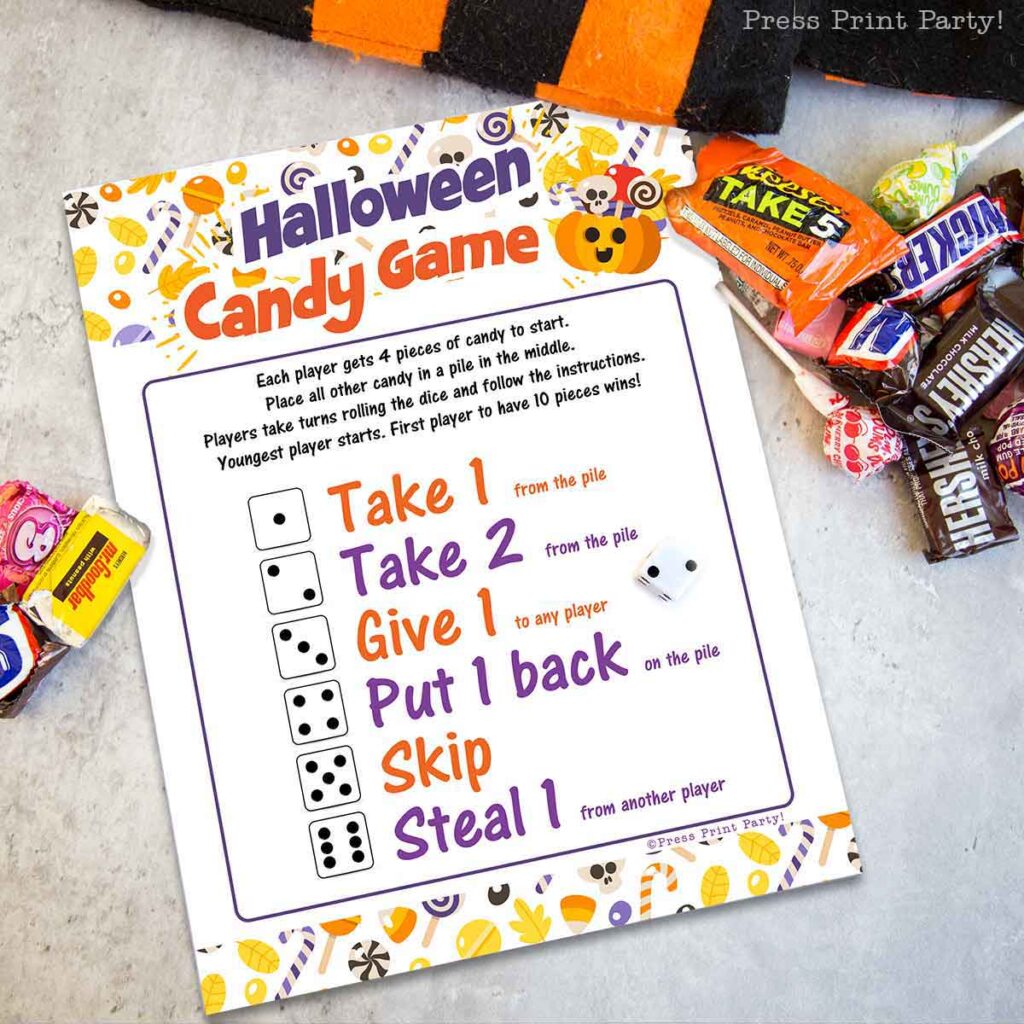 The first person to get 10 pieces of candy wins!
Simple!
Who knows, maybe getting candy will give little kids the motivation to learn their numbers and count to 10.
But if your kids are anything like mine it's more likely that they eat half the pile while they're playing, no one will have enough candy to win and they'll all go to bed with a stomach ache.
But it'll be fun anyhow. Right?
Download The free printable Halloween Candy Game.
The printable PDF digital download is a part of my free downloads library which you can access by subscribing to my weekly newsletter below.
As a newsletter subscriber, you'll always learn of freebies right when they become available.
More Free Printable Halloween Fun
You'll find lots more free Halloween printables on my blog like a fun coloring book for kids, a bat garland craft, a hanging bat craft for kids, free Halloween treat bags, and a free ghost lollipop tutorial with a cute free tag to download.
And if you want to treat the neighbors, get a "you've been booed" game started in your neighborhood with my free kit and instructions.
I also have a huge list of free pumpkin carving patterns and where to find the best Halloween coloring page for kids.
You can scour my Halloween section for these and more, and check out my Halloween store for tons of great Halloween gift tags and cards for teachers or anyone in your life.
Don't forget to pin this free Halloween candy game: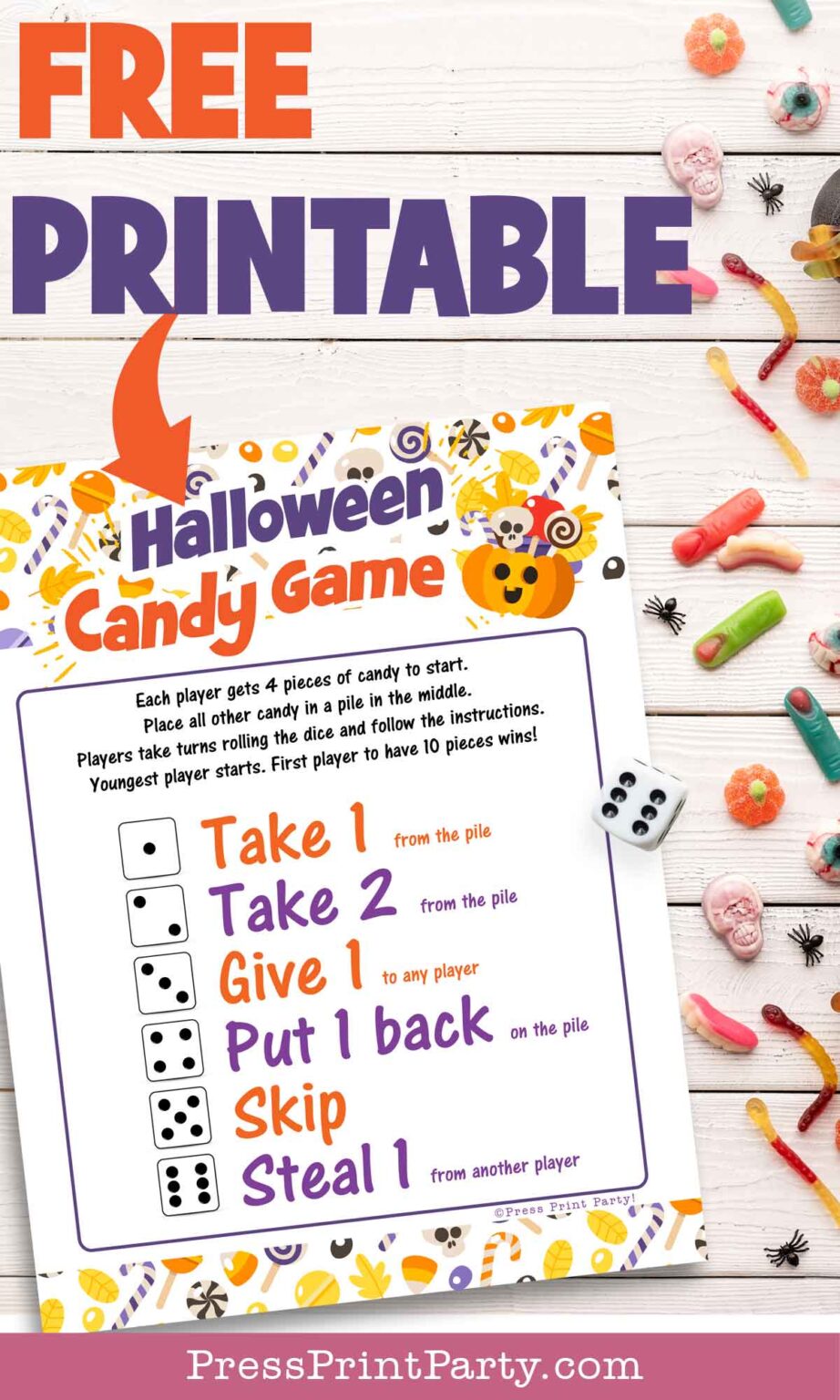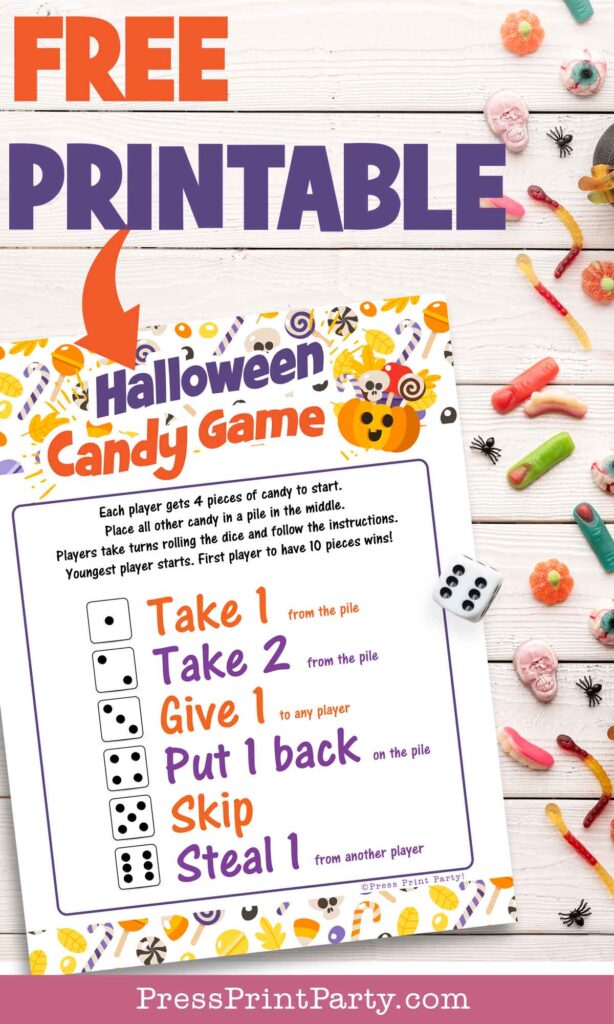 ---
Get Your Freebie:
If you've already subscribed, you can get the password from the bottom of any email I send and go directly to the Free Downloads Library.
Check out our Halloween printables