Websites with Free Pumpkin Printable Stencils for Halloween
Spookmasters
Spookmasters has to be one of my favorite websites to find free pumpkin stencils. The site is very easy to navigate and has no ads. The free pumpkin carving patterns are also well categorized.
While they don't have a ton of what I would call regular jack-o'-lantern patterns, their "traditional pattern" category includes lots of iconic characters from the Star Wars, Marvel, Harry Potter, and DC universes.
They also have a wide array of sports patterns, animal patterns, and patriotic patterns.
---
Pumpkin Stencils
Pumpkin Stencils is an easy-to-navigate site with a ton of pumpkin patterns. Browse through their categories. They're terrific and I'm sure you'll find what you are looking for.
The categories include animal, cute, easy, face, fantasy, monster, music, scary, symbols, and word pumpkin stencils. Their collection is sure to please any Halloween fan.
You'll find all levels of difficulty. Some are very easy, like a happy face stencil, and some are much more complicated, like a griffin.
---
Pumpkin Pile
Pumpkin Pile is another well-laid-out website with loads of free stencils for your Halloween pumpkin.
They have a nice array of classic jack-o'-lantern patterns as well as other traditional patterns, patterns for cartoons, movie icons, superheroes, sports, video games, celebrities, words, vehicle logos, animals, and symbols.
The movie pattern category includes patterns from your favorite characters from Star Wars Inside Out, Jurassic Park, The Lion King, Frozen, Back to the Future, The Wizard of Oz, Guardians of the Galaxy, Snow White, RoboCop, Jaws, Minions, Monsters Inc, Dumbo, The Hulk, Cars, Toy Story, Marvel, Ghostbusters, ET, Gremlins, Harry Potter, Shrek, and more.
---
The Pumpkin Lady
Although the Pumpkin Lady has a thousand free pumpkin carving designs, I found the website a bit annoying to navigate.
You will eventually get to the pattern you want but it will take you several confusing clicks.
The search may be worth it though as they do have a wide array of nice carving patterns.
Their categories include simple jack-o'-lanterns, cats and witches, dogs, Americana, fairy tales patterns, skulls and skeletons, ghosts, magic symbols as well as more special occasion patterns, harvest carving stencils, famous faces, and even faith-based free pumpkin carving templates.
---
Better Homes and Garden
Better Homes and Garden has 43 very cute pumpkin stencils ready to download in varying levels of difficulty.
Most are classic types of stencils but they also have things like a chess piece, a cat, a vampire, a witch, a bat, a wolf, a crow, a tombstone, a Scarecrow, and a zombie pumpkin hand.
---
Oriental Trading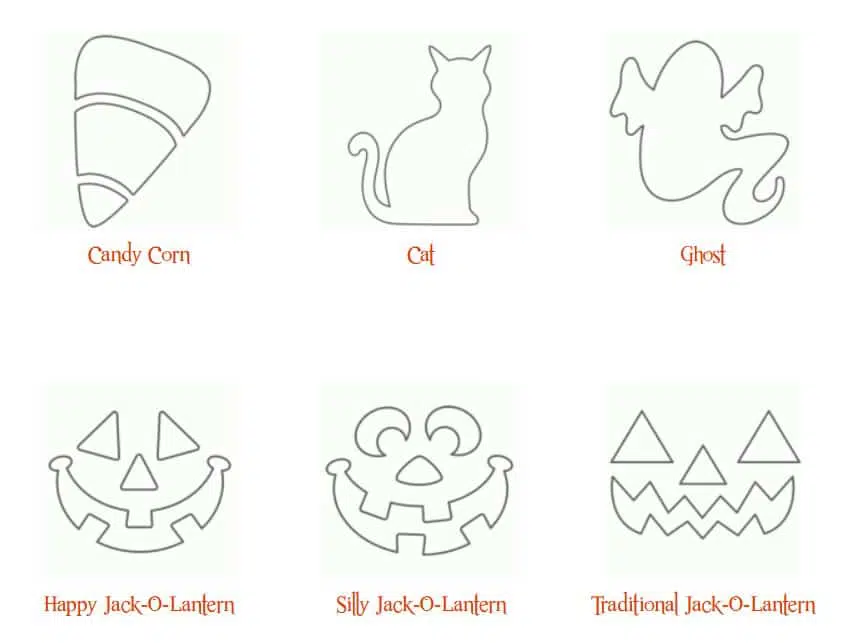 The Free Fun Halloween site from Oriental Trading has several free printable pumpkin stencils in three levels of difficulty: easy (which are great for small children), intermediate, and advanced.
The site is easy to navigate and the PDF download is only a couple of clicks away.
---
Woo Jr.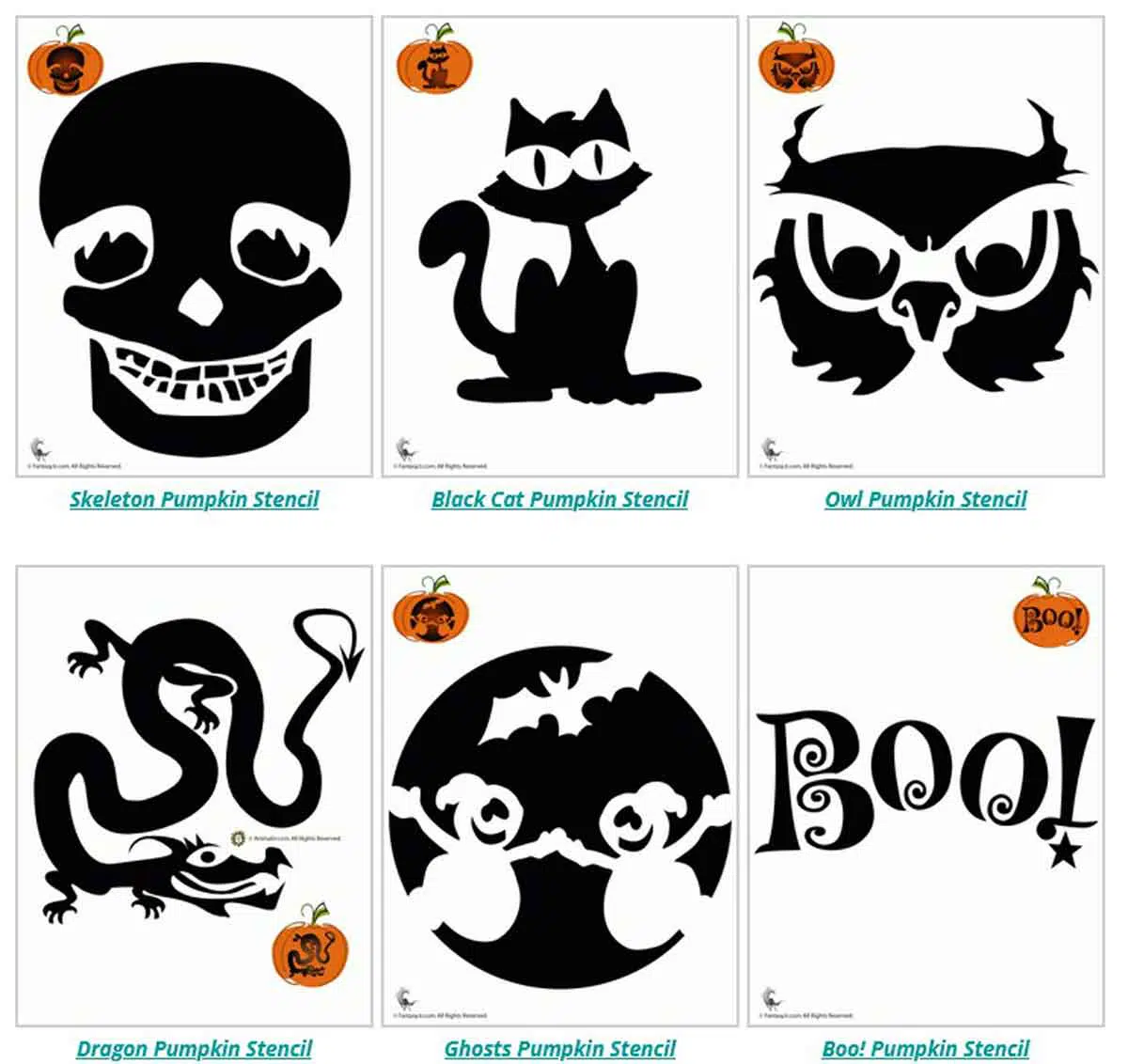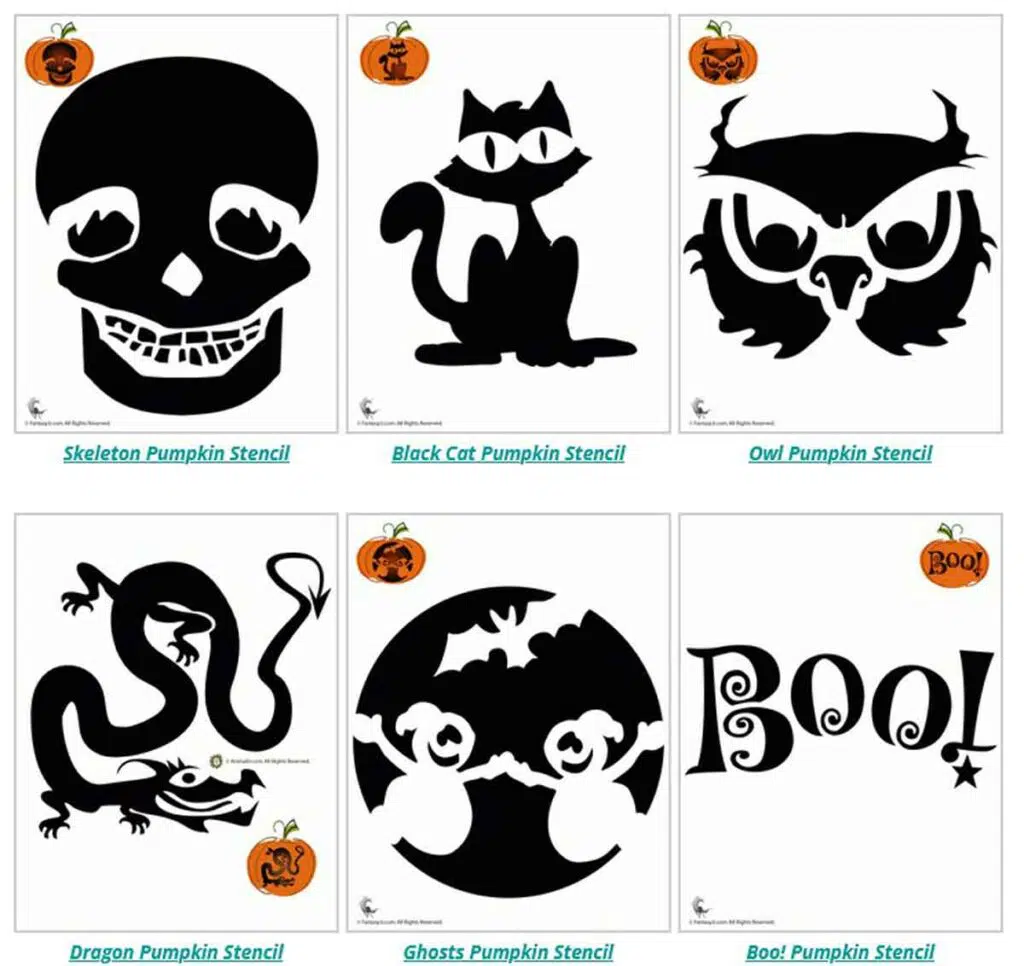 The Woo Jr. website has hundreds of fun free Halloween stencils.
It will take a bit of navigating to see them all and choose your favorites but if you don't mind paying they do have a pdf for sale with all of them in one place.
I especially liked their funny carving templates category which I found to have some clever designs and fun ideas. I think I may just use their Pac-Man template this year.
---
Band of Cats
If you're cat-obsessed, you just may find the pumpkin carving pattern of your dreams at Band of Cats. They've got 28 downloadable cat-themed pumpkin carving patterns at your fingertips.
---
Costume Super Center
Costume Super Center has a wide array of free pumpkin carving stencils with your favorite movie characters.
The movies represented include Star Wars, Rick and Morty, Frozen, The Lion King, The Dark Crystal, Lego Batman, Transformers, the Justice League, The Avengers, Nightmare Before Christmas, and several Disney Pixar pumpkin carving stencils.
---
Star Wars
You can also go to the official Star Wars website and you'll find 8 official Star Wars pumpkin stencils for the advanced carver.
---
Southern Living
If you're looking for some easy patterns for the kids to carve you'll love these 20 printable pumpkin carving patterns from Southern Living. I especially liked their Frankenstein and spooky ghost patterns.
---
Woman's Day
Maybe they don't have as many downloadable pumpkin carving stencils but you'll find more creative ideas with plenty of pumpkins carving instructions at this fun Roundup from Woman's Day.
---
News Sports Logos
If you're looking for a pattern for your favorite sports team then the News Sports Logos site has all the sports-related pumpkin stencils you'll need.
---
Websites with Pumpkin Carving Patterns for Fall and More
The ghost, ghouly, witchy elements of the Halloween season are not for everyone.
Many of the sites mentioned above have some great non-traditional Halloween carving options. But I wanted to highlight some great websites that focus on the really uncommon carving patterns.
So if Halloween is not your thing but you still want to carve a pumpkin, check out all these uncommon patterns.
Pumpkin Glow
Pumpkin Glow has everything but Halloween. They claim to have free pumpkin carving patterns and templates for the rest of us. Most of their carving patterns are unique and creative but more advanced.
Their themes include animals, cartoons, famous people, fantasy, movies, patriotic, religious patterns, and more.
The website is well laid out and easy to navigate.
---
Midwest Living
Midwest Living lives up to its name with 10 farm-themed pumpkin stencils including a Light House, Barn, Mapleleaf, dear, eagle, and more.
---
Better Homes and Garden
Better Homes and Garden also has some fall-themed pumpkins stencils. You'll find a pine cone, an array of leaves, acorns, corn, a butterfly, a pheasant, cattail, and sunflower stencils among others.
---
Martha Stewart
Martha, Martha, Martha. This list wouldn't be complete without the creative pumpkin carving designs from Martha Stewart. Although they do have a couple of jack-o'-lanterns the list mostly has great ideas and instructions for fall pumpkins and includes some no-carve patterns.
Some seem a little over the top, but they sure are fun to look at.
---
No Carve Pumpkin Ideas
Painting or using chalks to decorate a pumpkin is also very popular.
I have three free stencils on the site perfect for decorating a big black pumpkin painted with chalk paint. You can sign up for the newsletter anywhere on the site to have instant access to my free downloads library and the pumpkin printable stencils as well as lots more free printables.
Woman's Day also has this awesome pumpkin round-up full of great ideas for no-carve designs.
The kids will love this no-carve idea from Hershey's using an array of chocolates and candies to make a jack o'lantern. Beware though, in warmer climates the chocolates just might melt and then the real horror would begin!
---
So whether you like to carve a real pumpkin, a foam pumpkin, or not carve at all, I hope you found an amazing pumpkin pattern just for you.
There are enough patterns here for the whole family to carve their own pumpkin. You're sure to find plenty of favorite pumpkin carving stencils.
And don't forget to keep those pumpkin seeds and roast them in the oven with a little salt. At least in our house, that's the smell of a Happy Halloween season.
Find more Halloween decoration ideas, costumes, and free Halloween printables on the blog. Check out the free "You've been booed" printables, the fun hanging bat craft, or make a bat garland, and more.