We had a fantastic Amazing Race Birthday Party for our teens. It was so much fun that we're thinking of doing it again!
An Amazing Race party is the perfect activity-filled birthday party for older kids, teens, or adults. Even those who have never seen the Amazing Race TV show will have a great time.
Amazing Race games offer an immersive experience that will leave everyone buzzing with excitement. Get ready to unleash your competitive spirit and create memories that will last a lifetime with a thrilling Amazing Race birthday party!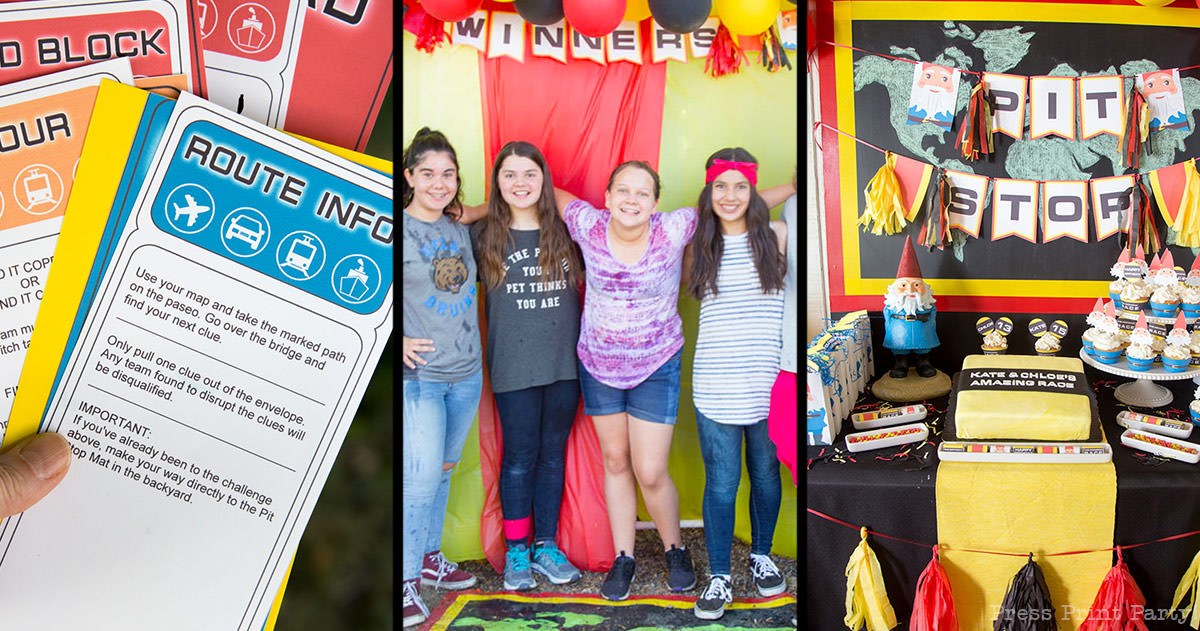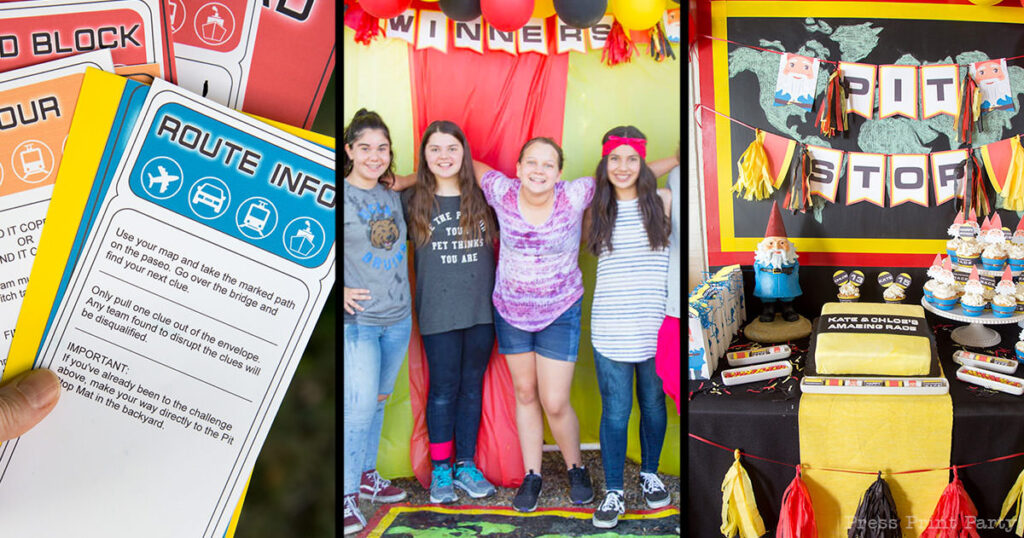 This post may contain affiliate links.
Yes! An Amazing Race birthday party is a great idea but also requires a lot of work. I won't deny it. BUT, I've put together this "amazing" 😁 guide to help you with all the tools you need to throw the most fun filled birthday party you've ever thrown.
From the birthday invitations to the official-looking Amazing Race clue cards, decorations, supplies, food, challenges, and games, you'll find a well-rounded party that your guests will talk about for years to come.
I have a bunch of posts about our Amazing Race Birthday party that go into much more detail. So most sections of this post will offer only a short summary and will link you to a much longer post on the subject.
But I also have a secret weapon.
For a party with so many moving parts, my Ultimate Birthday Party Planner was an invaluable tool to keep me organized and on task. It's the first thing I grab when I plan a themed party and it keeps everything neatly in one place.
---
---
The Amazing Race Invitation and (nearly) official Clue Cards
If you're thinking about throwing an Amazing Race birthday party you'll need some official looking invitations AND clue cards.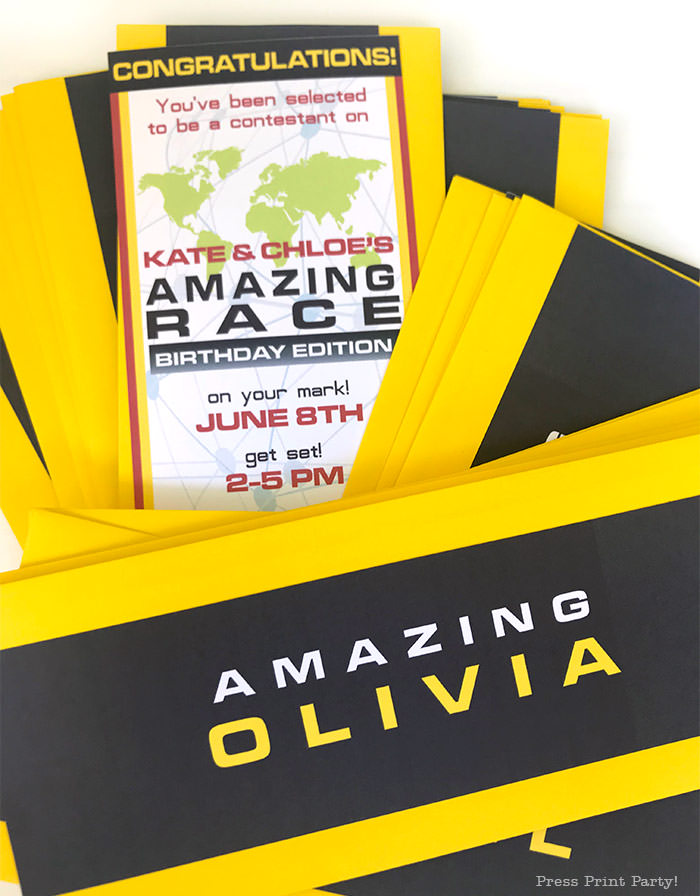 The TV game's clue cards are so iconic that your guests who've seen the show will know exactly what they're looking at. With editable Route Info cards, Road Block cards, Detour cards, Speed Bump cards, Fast Forward cards, and Face Off cards, you'll find all the supplies you need to create your challenges.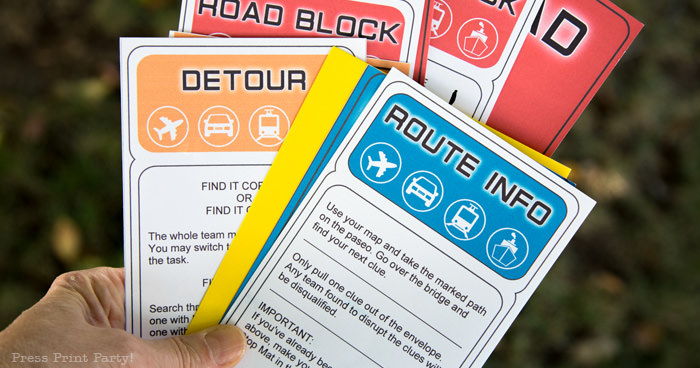 My printable Amazing Race clue cards look like the real thing and come with a small Race flag as well as a label to put on yellow envelopes that will make them look exactly like the real thing.
We didn't use the actual rip-top envelopes but if you want genuine Amazing Race yellow envelopes to rip open, they're available here.
In the shop, you can buy the Amazing Race printable invitation and clue cards individually but I'd recommend getting the full set with all the decorations. They're all fully EDITABLE with Adobe Acrobat Reader or Canva.com so you can use them over and over. And both Adobe Reader and Canva are totally free.
---
Set up Your Amazing Race Teams
It's always best to set up your teams ahead of time keeping in mind the size of your party. If you have a lot of people, you don't need to set up teams of 2 like in the show. Teams of 2-6 will work perfectly well and will make the organization so much easier for you.
To give you an idea, we had 25 kids and made 5 teams of 5.
To separate the teams we gave them all bandanas in different color. But you can also give them ID Badges with their team color. Printable badges in 5 colors and 2 sizes are included in my Amazing Race Party Printable Kit or by themselves.
---
Plan Your Amazing Race Challenges
I'm really big on making a good schedule for your party. I have a whole blog post on how to schedule your party in a way that will keep you sane, as well as a freebie sample schedule to download. When you're planning your party schedule, the different challenges in an Amazing Race party will take the longest. Use them as your game time.
The Amazing Race is basically a big scavenger hunt where different teams go from task to task retrieving their next challenge clue at the new location.
Some Amazing Race Challenge Ideas:
Food challenge: Incorporate food-related challenges into the race, such as eating contests, blindfolded taste tests, or cooking challenges. This will add a fun and delicious (or not so delicious in our case) twist to the game.
Obstacle course: Set up an obstacle course that includes various physical challenges such as crawling under ropes, jumping over hurdles, and balancing on beams.
Trivia Challenge: Test your participants' knowledge with a trivia challenge. Set up stations where teams must answer trivia questions correctly before moving on to the next checkpoint.
Puzzle challenge: Create a series of puzzles that participants must solve in order to progress through the race. These can be simple jigsaw puzzles, word puzzles, or even math problems.
Sports challenge: Include sports-related challenges that require participants to showcase their athletic abilities. This could be shooting a basketball through a hoop, a relay race, or even a soccer shootout.
Photo Challenge: Incorporate a photo scavenger hunt where participants must take specific photos or selfies at designated locations. This will encourage creativity and add a social media element to the race especially if you decide on a specific hashtag for your own Amazing Race theme party.
I hope these ideas sparked a ton of other challenge ideas for your Amazing Race birthday party.
We put together some really fun challenges like, "Find your shoes" and "Stack it high or Stack it low". I have tons of suggestions and a long list of all the Amazing Race challenges we played, but no matter what, be sure to give your challenges a good name just like in the show.
It makes 'em way more fun.
---
Setting Up the Race Course
The race course is the backbone of any Amazing Race game. It sets the stage for the challenges and determines the flow of the event. Here are some key considerations when setting up your race course:
Location: Choose a location that offers a variety of settings and challenges. This could be a park, a city center, or even your own backyard. Consider the accessibility, safety, and suitability of the location for your participants. Our race course included the house, the backyard, and the nearby park. We also made sure they didn't have to cross a major street. We planned the start of the race in our front yard and we made the kids run.
Map out the course: Create a map of the race course, outlining the different checkpoints and challenges. This will help you visualize the flow of the race and ensure that each team follows the correct route. You'll need to place a map in the first envelope for each team.
Checkpoints: Determine the number and location of checkpoints along the race course. Each checkpoint should involve a unique challenge or task that participants must complete before moving on.
We also had fun placing the envelopes with the challenge cards in difficult to reach places like up in a climbing tree or hanging high above the trampoline where they had to jump to get the clue.
We stapled Amazing Race flags at each challenge point so the team searching for their next clue can easily find them. The clues were in the black envelope which is not more than a folded piece of black paper.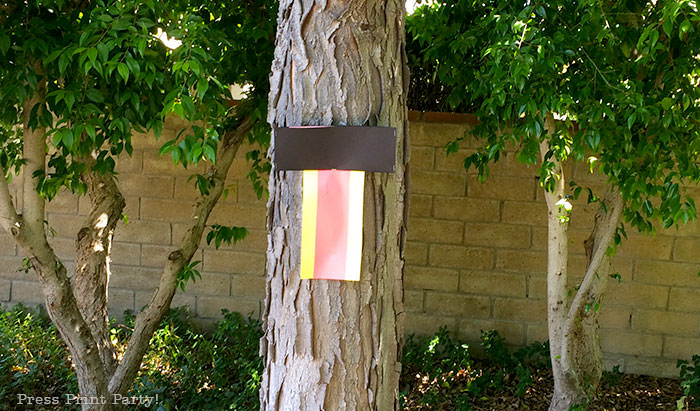 ---
More Activities for After the Race
We wanted to still play some fun games after the race, so after the challenges were done the kids had a great time taking a whack at our Travelocity Roaming Gnome pinata. Who doesn't love a good pinata at a party?
You won't find this awesome gnome pinata in a store, so I've included all the instructions you'll need to make it from scratch. And the pinata does double duty as a decoration too.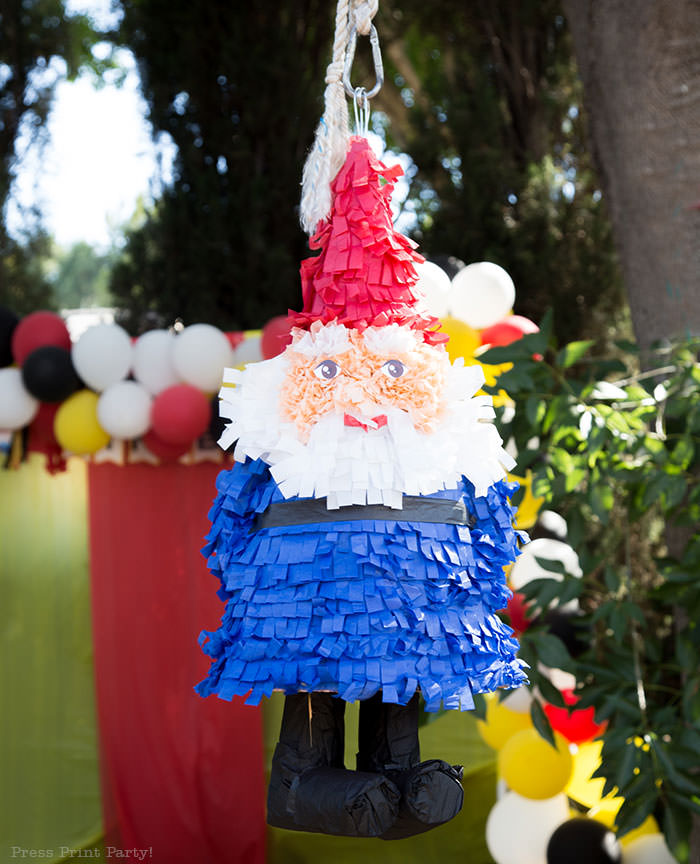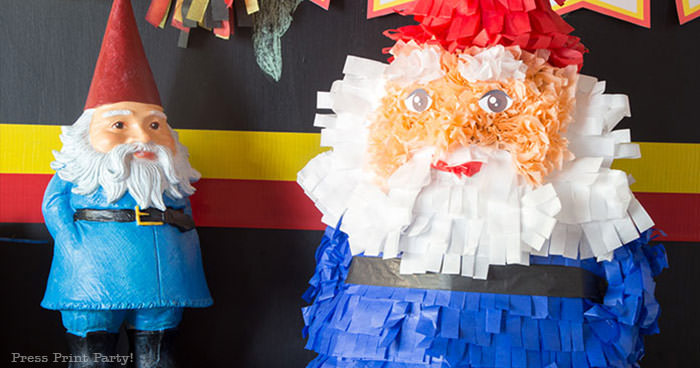 ---
Fantastic Amazing Race Birthday Decorations
Great party decorations are the difference between a get-together and a birthday party. Of course, I like to go all out, and my full set of Amazing Race party printables has everything you'll need at your fingertips. From banners to cupcake toppers and favor bags, all you'll need are some color-coordinated balloons and table settings and you'll be set.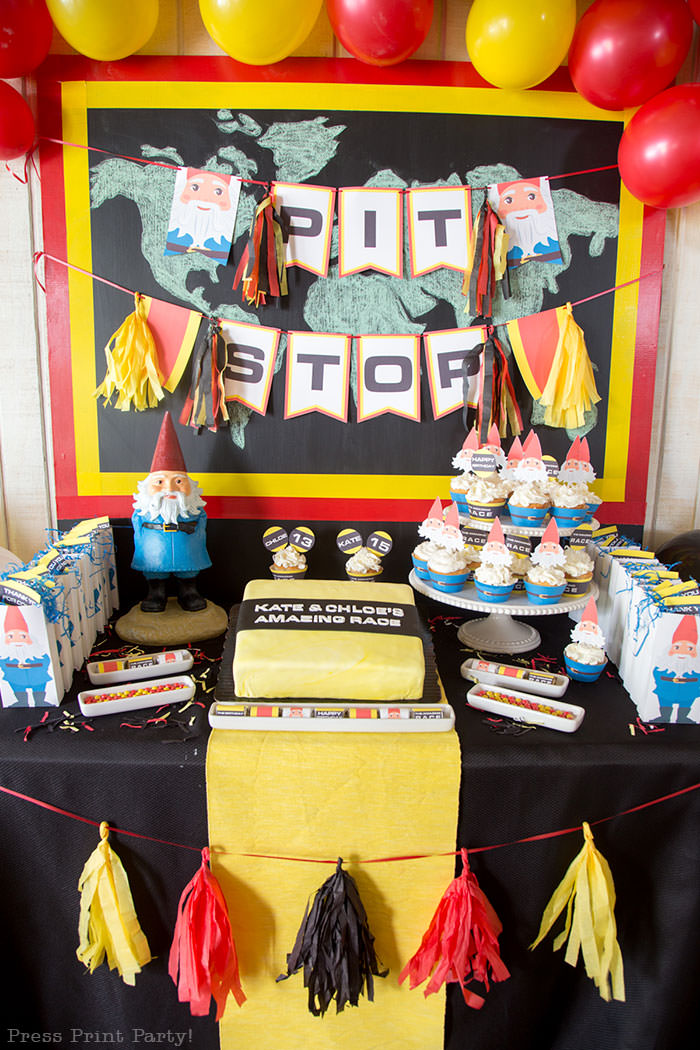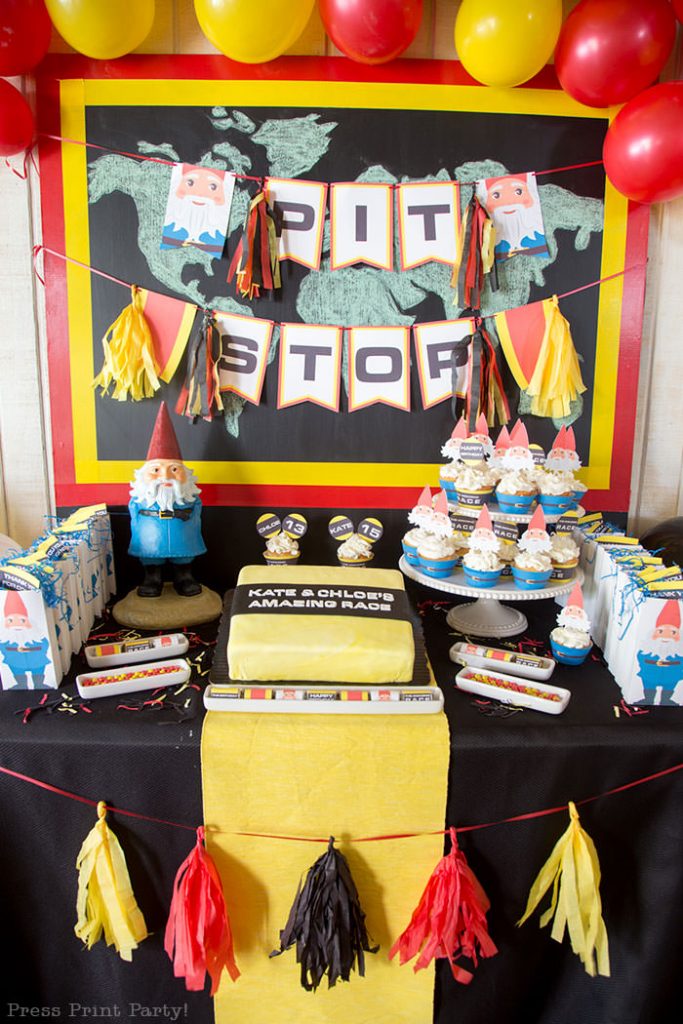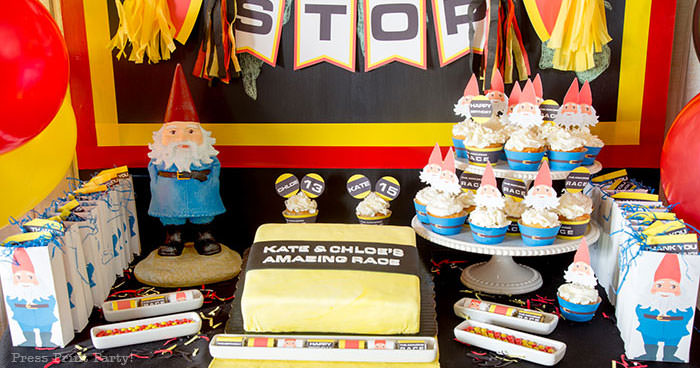 And you can't forget an Amazing Race pit stop mat for your guests to reach at the end of the race.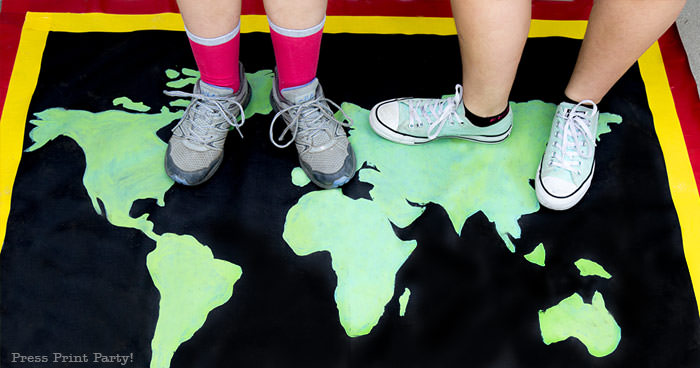 We put ours in front of a PVC photo backdrop with a "Winners" banner and a balloon garland strung along the top.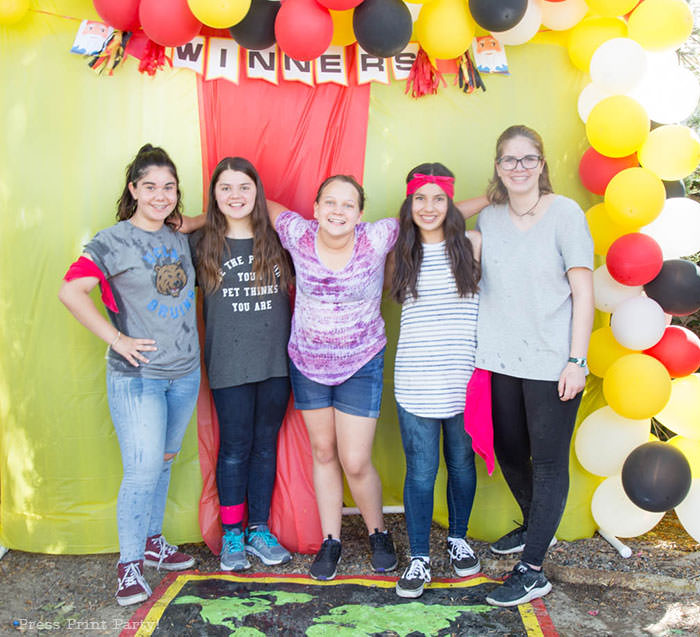 I made my pit stop mat very inexpensively and I give you all the details so you can make one yourself so you can rock your finish line.
---
The Amazing Race Themed Party Treats
I tend to keep the food at my kid's birthday parties pretty simple. As I recommend in my 5 Major Money Saving Tips for Any Party on a Budget post, I rarely serve a meal at our kids' parties.
For an Amazing Race party, you could serve snacks from different countries and label them accordingly. I kinda cheated and just went with simple fruit cups, popcorn, and trail mix, as well as the birthday cake and cupcakes, and labeled everything "Amazing".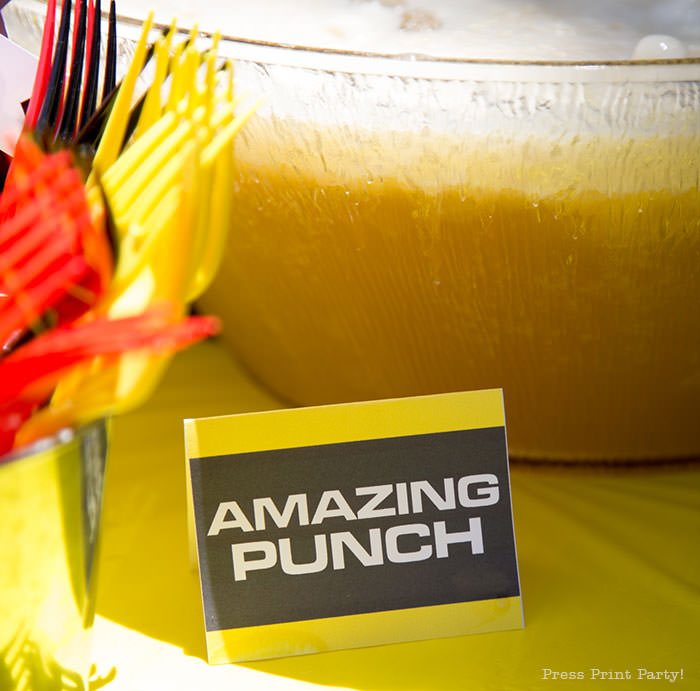 I did put little country flags in the fruit cups.
That counts, right?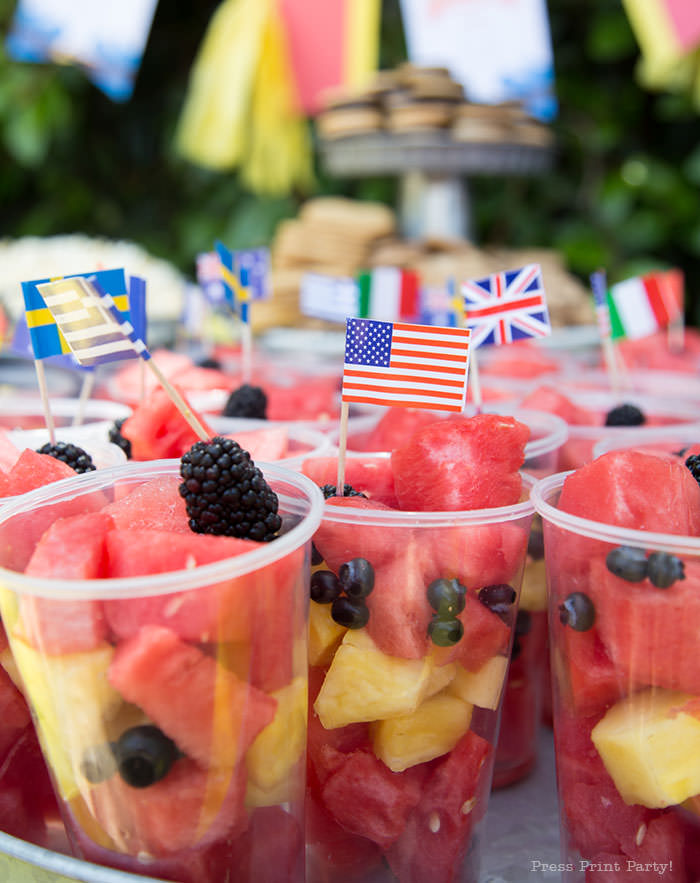 You can see more food ideas in my Amazing Race Party Decoration Ideas post.
---
The Amazing Race Party Favors
A little goodbye gift at the end of any party is a welcome treat. I used the favor bags from my Amazing Race party printable set and filled them with homemade travel luggage tags and fun eye masks.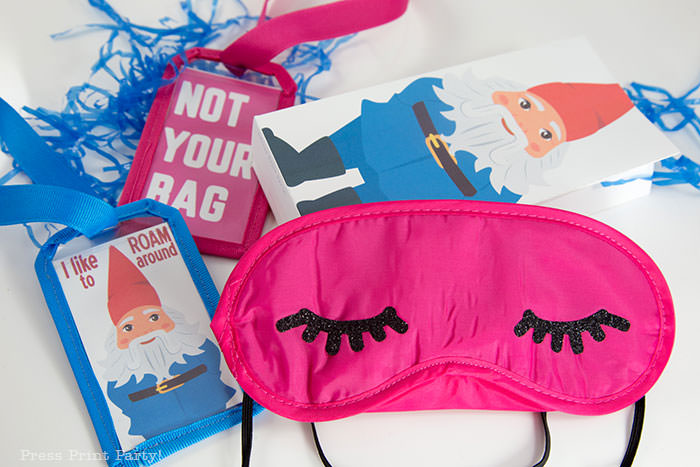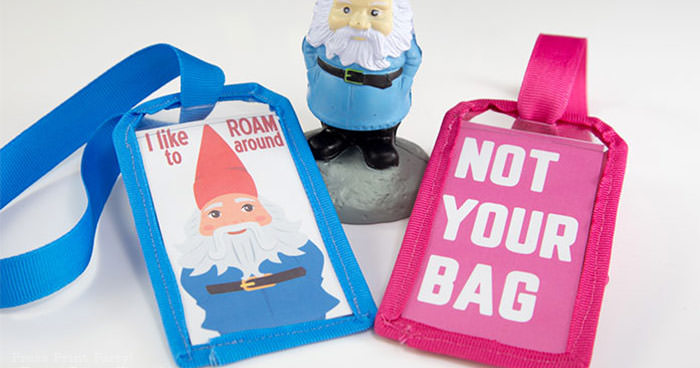 Learn how to make them here: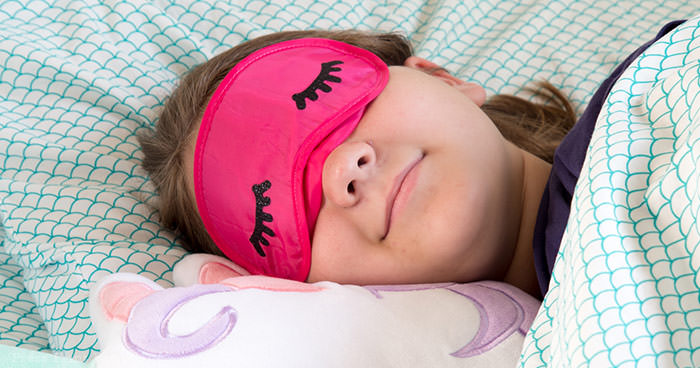 Get the full DIY and free SVG:
---
I hope you have a fabulous Amazing Race birthday party. Grab your Ultimate Birthday Planner and your Amazing Race Party Kit and start jotting down all of your fantastic ideas. And send me some photos!
An Amazing Race party is not just for kids' birthday parties. It would also be fantastic for youth groups or adult team-building camps.
And if you love the idea of a scavenger hunt party, you may also love our Hunger Games Birthday Party!
See all my Amazing Race posts. I have lots more tips and tricks and go much deeper into the variety of challenges we planned.
Don't forget to pin these Amazing Race birthday party ideas: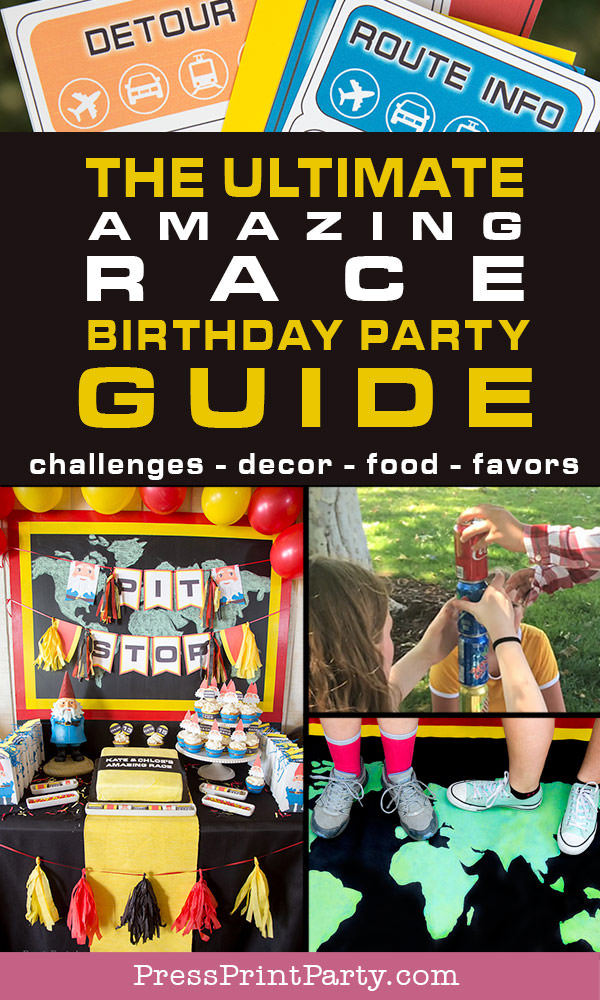 Check out our birthday printables