The show "The Amazing Race" makes such a wonderful party theme for older kids, teens, and adults. We just had to do it.
As a family, we've enjoyed watching almost every season of the show oohing and aahing at the beautiful scenery and rooting for our favorite couple to win. We love the chance to see so many countries and traditions from around the world.
If you've never seen the show then boy are you in for a treat. (And how did you stumble on this post??) It's a reality show where 11 teams of 2 race around the world for 1 million dollars.
There's so much to talk about with an Amazing Race themed party, the decorations, the games, the favors, the crafts, that I've decided to break it up into several posts. So in this post, we'll talk about the decorations and I'll add the links to the rest of the posts as I write them.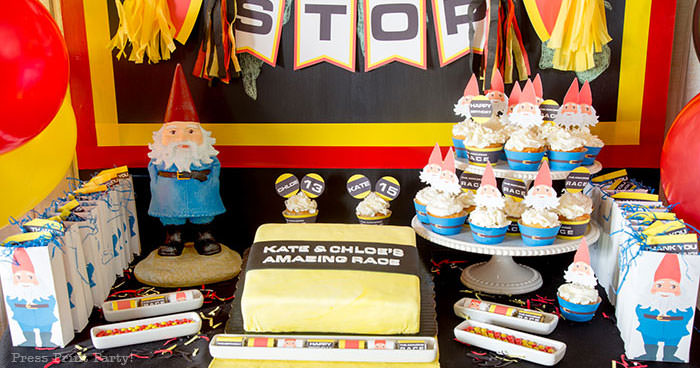 This post may contain affiliate links.
The Amazing Race Party Printables
I always start planning my decorations with a set of party printables. And since decorations and party printables for an Amazing Race party are almost non-existent I decided to create my own.
The iconic yellow, black, and red stripes, as well as the Travelocity roaming gnome, were my inspiration for this fun set. It contains everything you need for an "amazing" party including all the clue cards to create your own race circuit.
An Amazing Dessert Table
At my parties, I love to create stations that do double duty as party decorations. I talk about it at length in my post about How to Throw an Unforgettable Party and it's one of the cornerstones of my Ultimate Birthday Party Planner.
One of the main focal points of the party was the dessert table complete with a pit stop mat background, banners, balloons, and treats.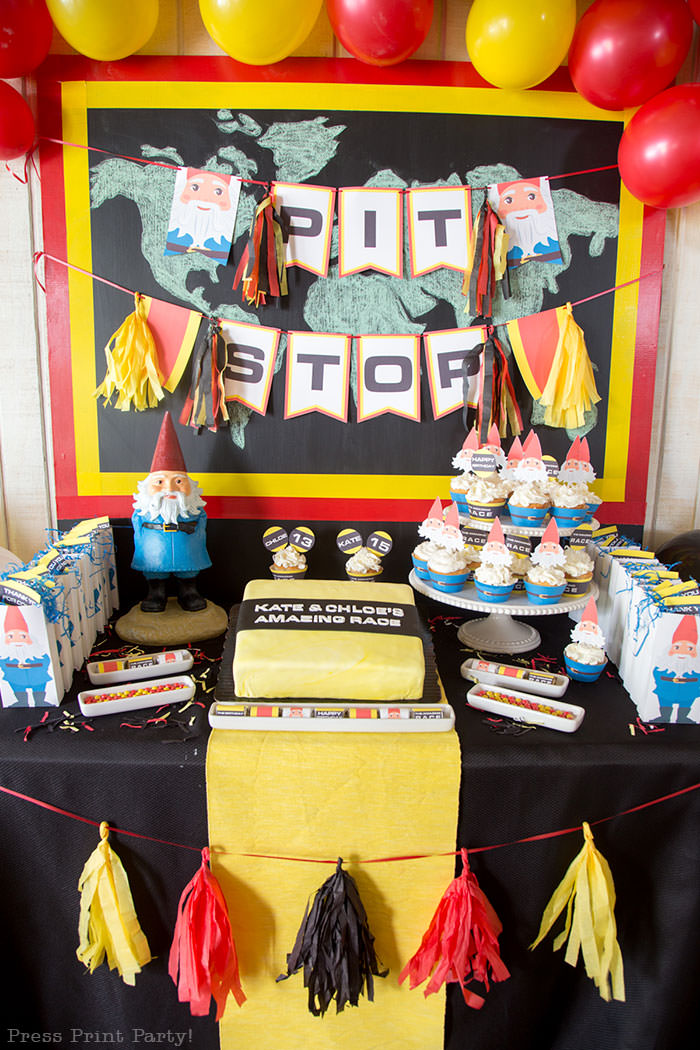 Keeping in the show's red/yellow/black color scheme, I started with a black tablecloth and a yellow runner and made some fun paper tissue tassels to decorate the front and add to the Pit Stop banner.
I made the pit stop mat backdrop by painting a piece of wood with black chalkboard paint and drawing the map with green chalk. I then used red and yellow duct tape to make the border and placed a balloon garland at the top.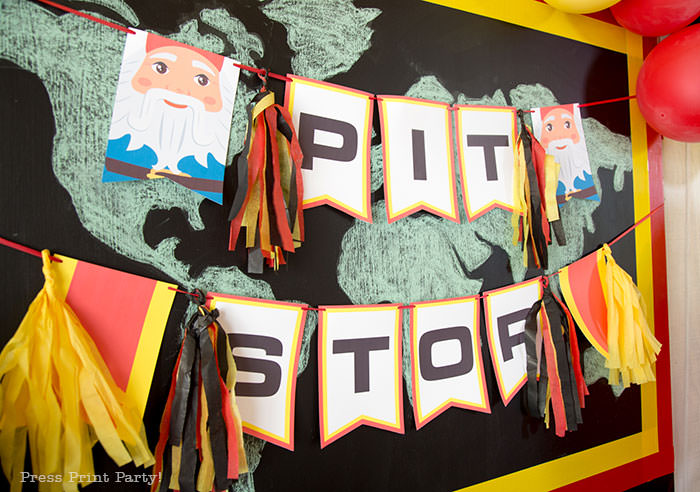 The cake is just a sheet cake with fondant details that my friend Bre made to look just like the clue envelopes. She is remarkably gifted and you can find her on Facebook at Beautifully Made by Bre.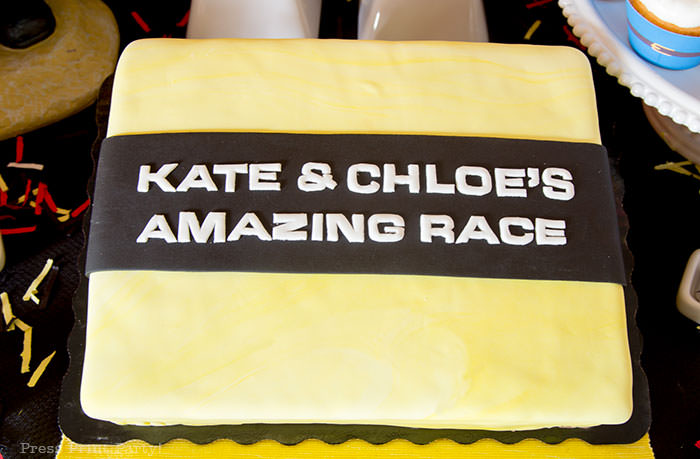 One of the fun highlights of the Amazing Race is the roaming gnome.
Being sponsored by Travelocity, the show uses its roaming gnome as a kind of mascot. But did you know that taking a gnome on vacation and taking pictures of it is a thing? I do believe it all started with the movie "Amélie" where the protagonist steals her neighbor's garden gnome and gives it to a stewardess friend of hers who takes pictures of the gnome and sends them as postcards to the confused neighbor. One day the gnome comes back from his travels and is placed by in the garden as if he never left.
Anyway, I wanted to incorporate the gnome throughout the decorations to make the whole party more festive. So I purchased a couple of the official Travelocity roaming gnomes and designed a similar gnome in my printables too.
They look so cute as cupcake wrappers and toppers, banner flags, and favor bags.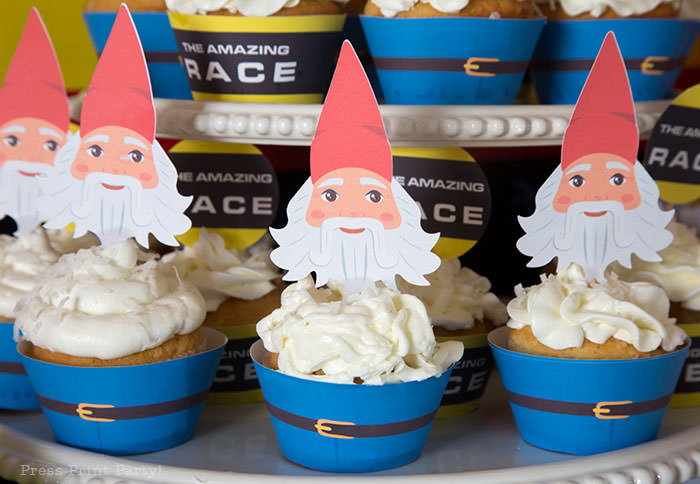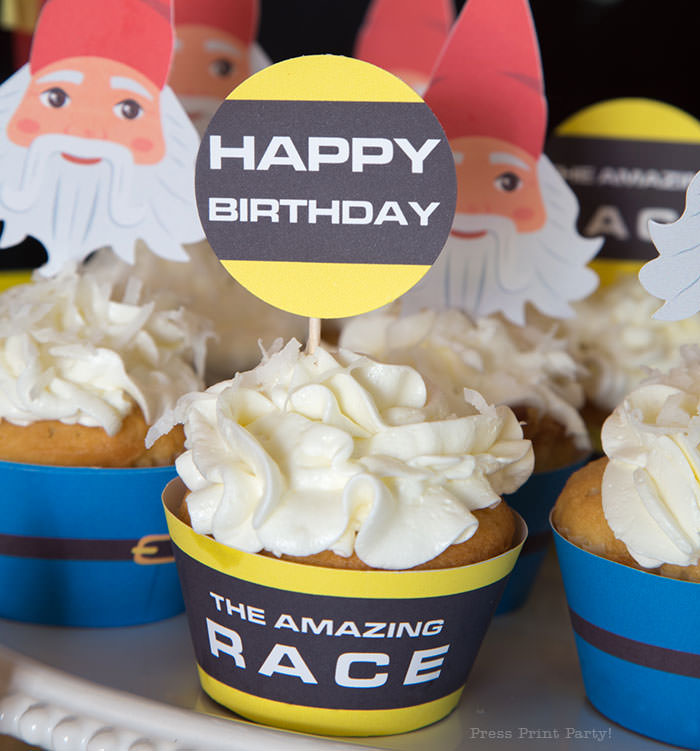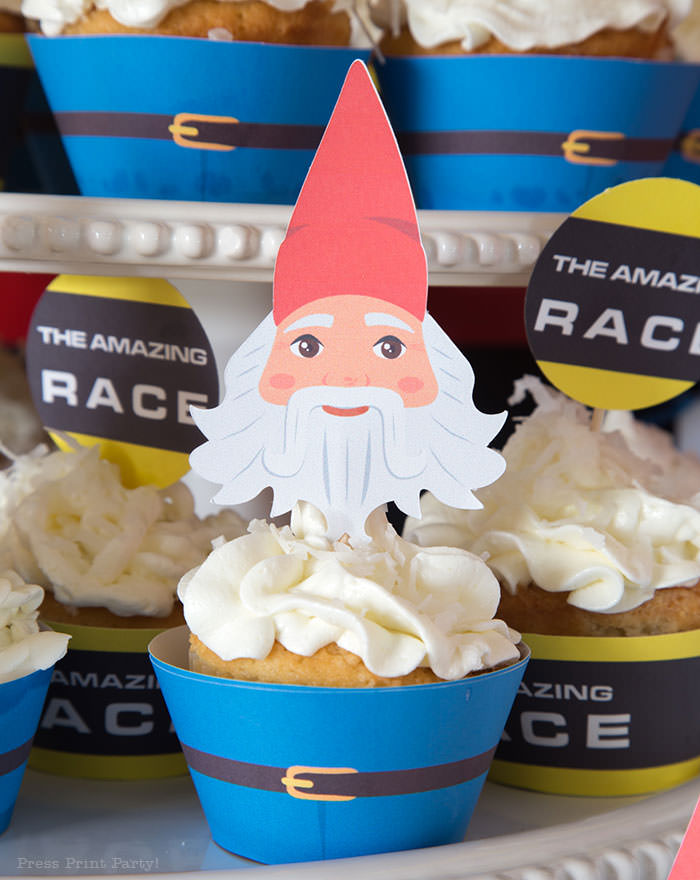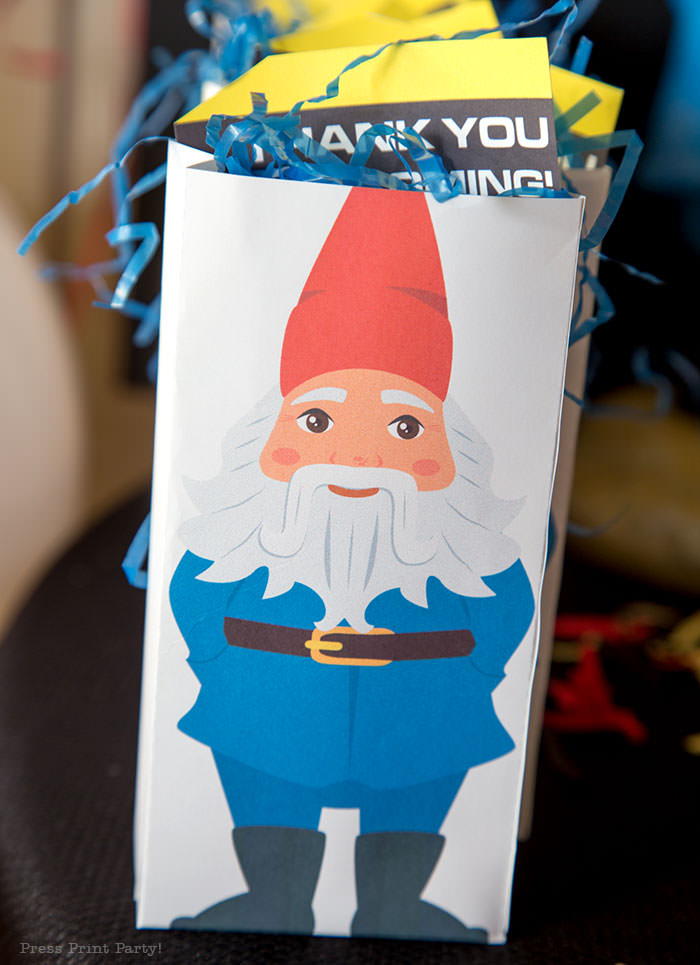 It's easy to decorate a pretty dessert table once you know the pro secrets. Don't worry I spell them all out in B.E.S.T. Dessert Table Ideas and Basic Set-Up.
Decorating the snack and drinks table
Since I was serving simple snacks and drinks, I decided to combine my snacks and drink stations into one.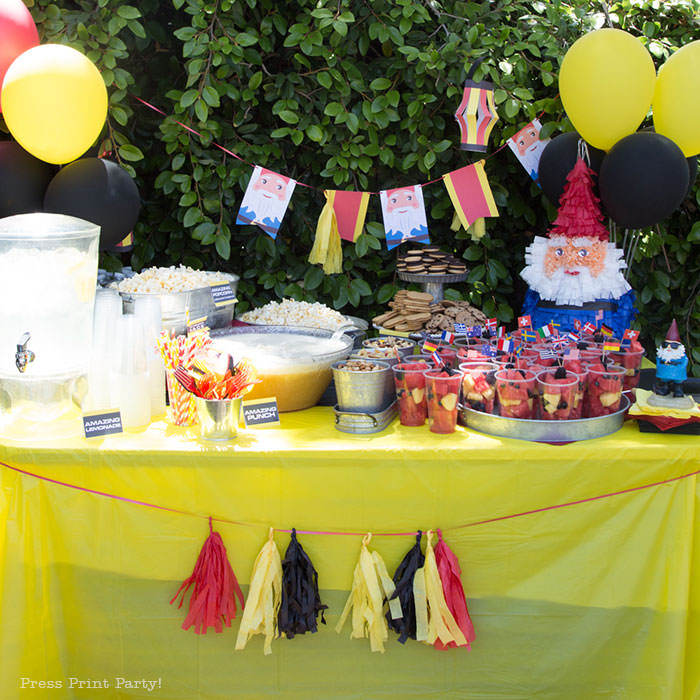 More yellow, red, and black tassels, balloons, and banners make for easy decorating. The balloons in the back are on stands with sticks, no helium needed.
Our homemade gnome piñata made a prominent statement at one end of the table. I'll have a tutorial on it soon.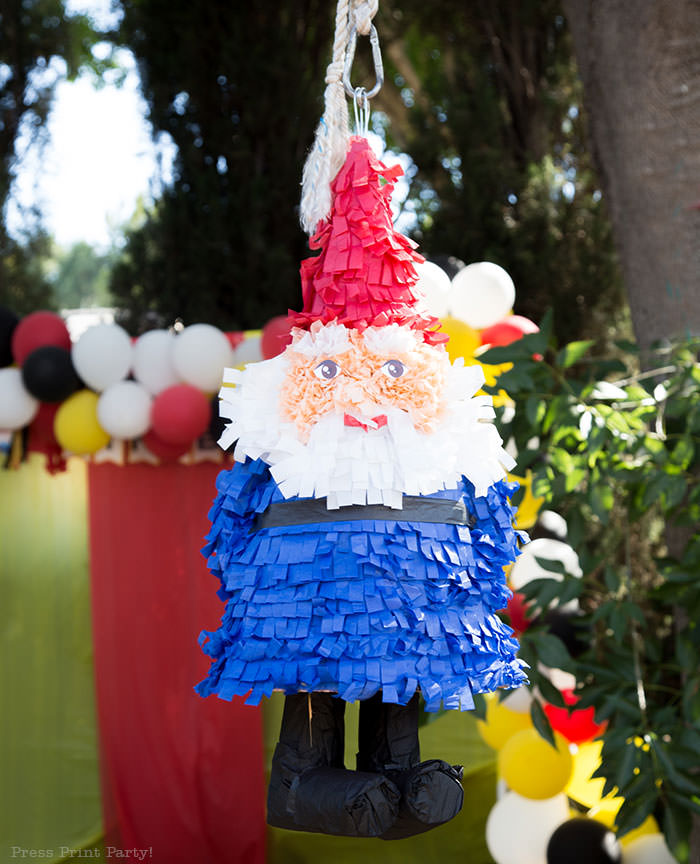 I just love using the piñata as decorations during the party. We usually break the piñata towards the end so it works like a charm. You can check out my perfect kids' birthday party schedule to see how we schedule all of our parties.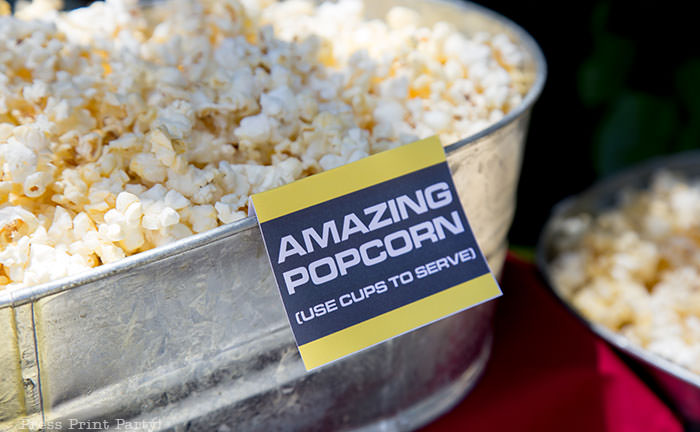 I kept the snacks simple and mostly store-bought but carried the color scheme with the popcorn, cookies, fruit cups, lemonade, and trail mix. And of course, I didn't waste an opportunity to add Amazing Race themed printable touches to everything.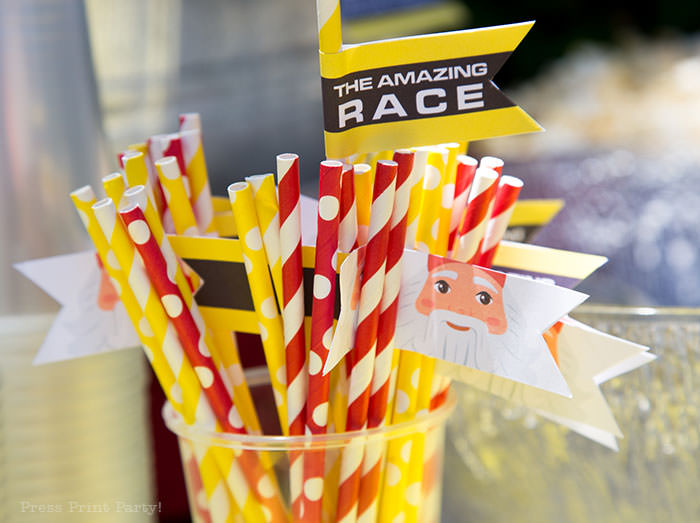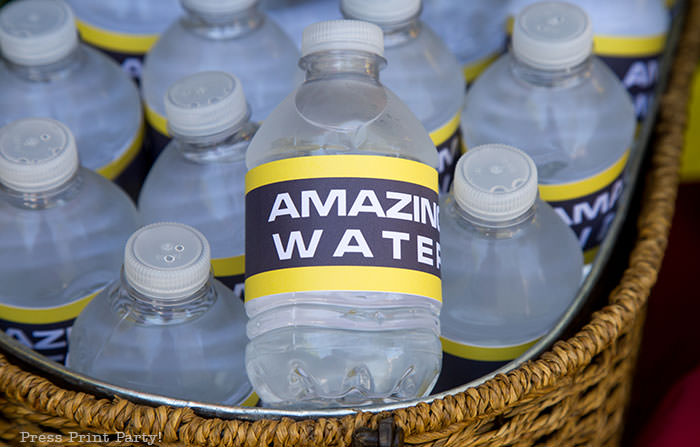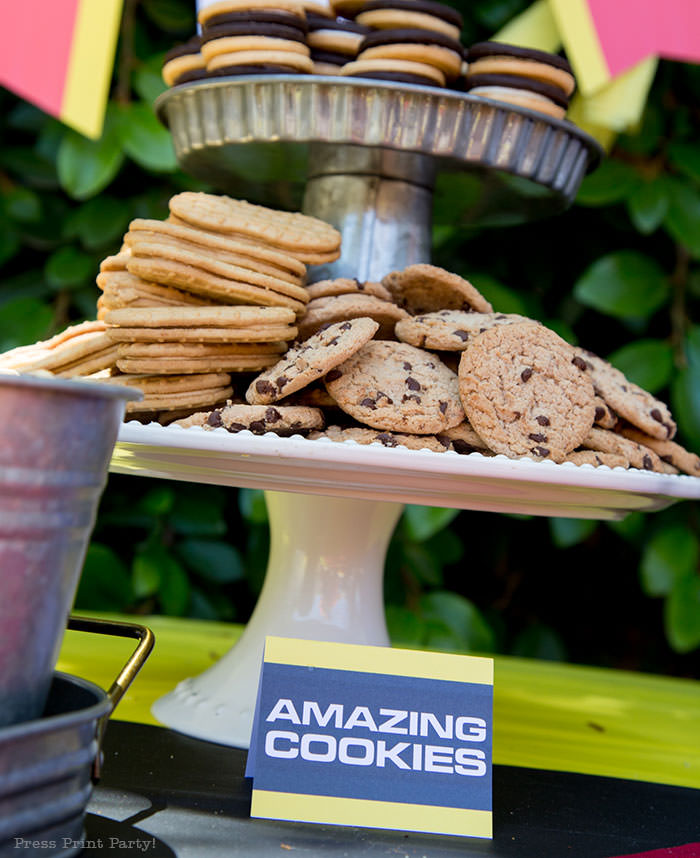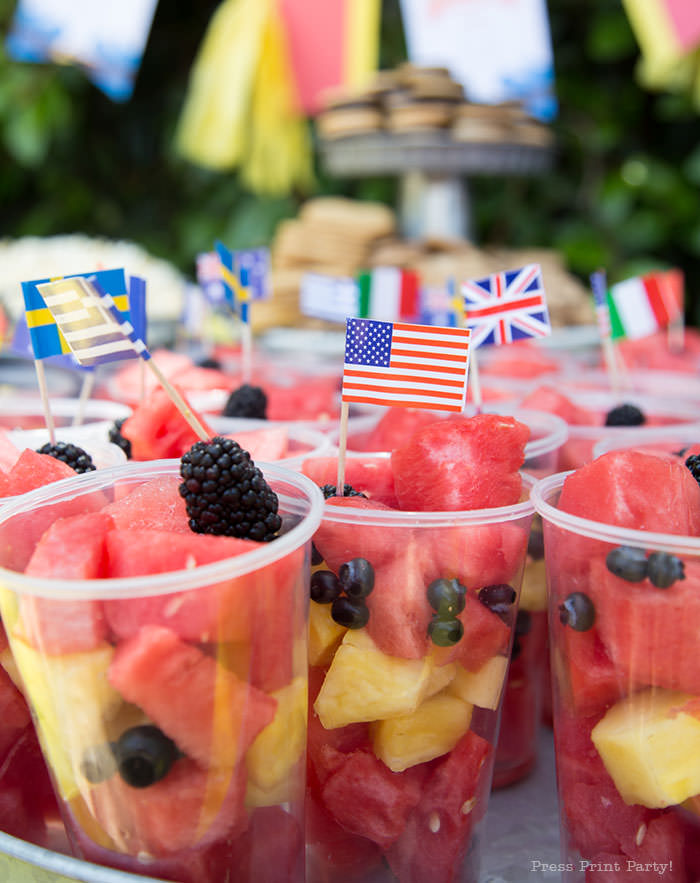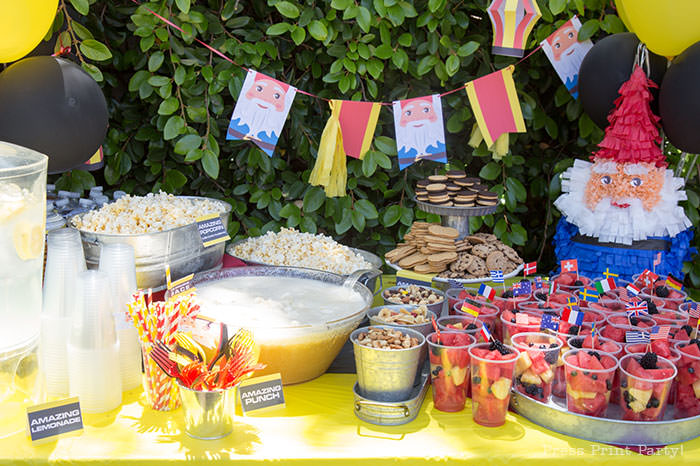 Winners pit stop decorations
I used my homemade PVC frame once again to create a fantastic photo booth and winner's pit stop.
We created the pit stop mat out of black vinyl, paint, and more yellow and red duct tape. We draped a couple of yellow plastic tablecloths and one red one on the PVC frame and draped the whole thing with a balloon garland.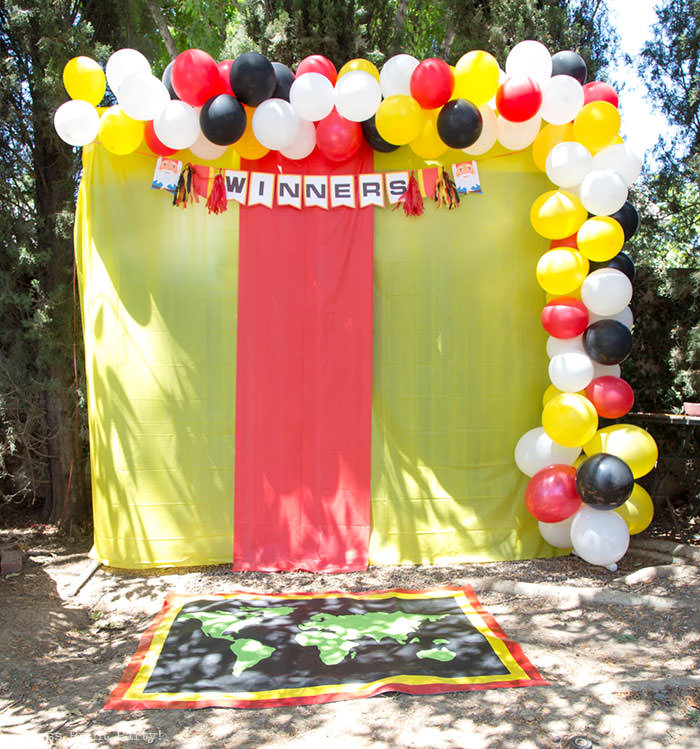 More tassels, including a couple of multicolored tassels, and a banner, and we have the perfect photo booth for the winners!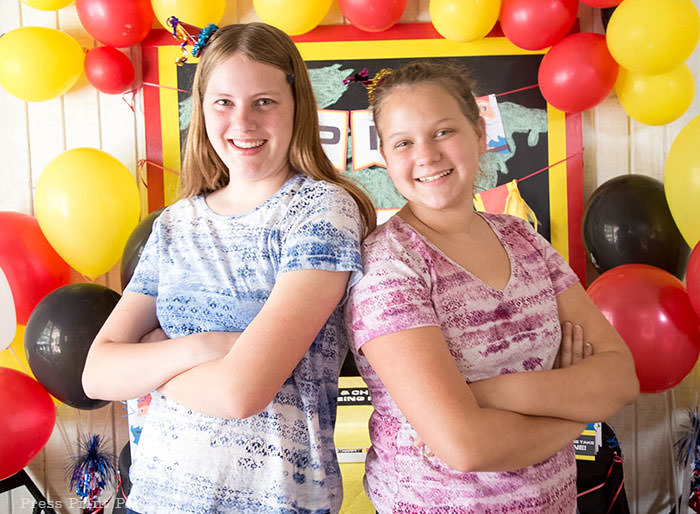 The dessert table also made a great backdrop of this cool shot of my birthday girls.
Stay tuned for the rest of the posts in this series including all the games, challenges, activities, crafts, and DIYs.
Don't forget to pin it: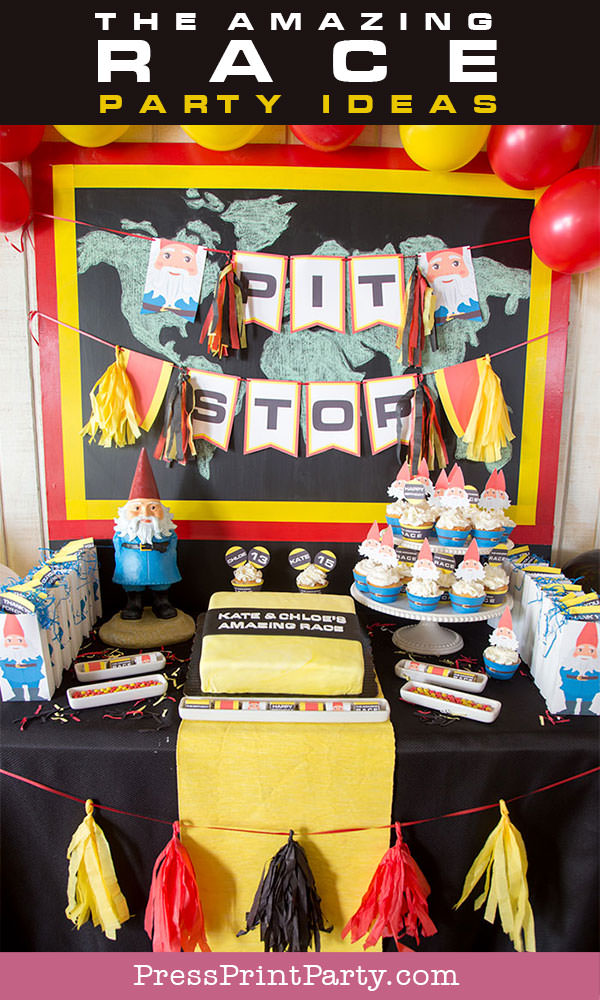 Check out our birthday printables