Have you ever planned a party for you or your kids and worried about actually getting people to show up? Maybe you've just avoided having parties because you see yourself as that 8-year-old girl wondering "What if no one comes?"
That's a legitimate fear.
A party without guests is not a party. And to be sure you have guests you need to get RSVPs. And to get RSVPs you need to know how to remind guests to RSVP.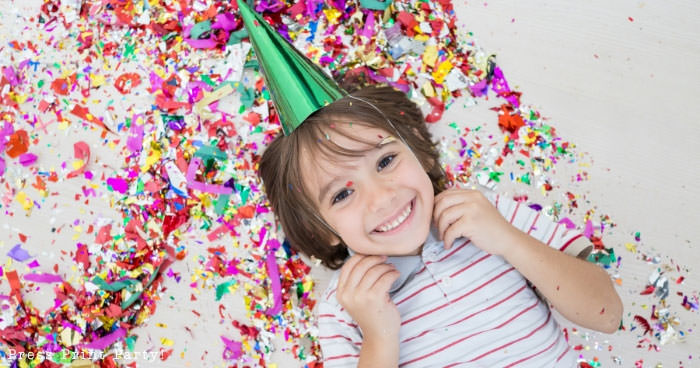 Parents are so busy nowadays, they tend to ignore RSVPs or worse, say yes and then not show up. Truth be told, your kid's party is not their top priority. That hurts, I know, but it's true.
After a couple of successful birthdays, we gained a reputation as a family that threw fun parties.
This was not the case for me as a child. I always felt like getting 3 or 4 friends to my birthday parties was like pulling teeth.
As a parent, I remember what it felt like to be that little girl and vowed that my kids would not have to endure that.
I take charge of my kids' parties and the success of those parties is ultimately my responsibility. And I honestly don't want to be left with a huge cake at the end and 2 kids to eat it.
Fortunately, there are some tricks to getting people to show up to your party. Here I mostly concentrate on kids' parties but a lot of this advice will work for adult birthday parties or showers too.
The main idea is to set yourself up for success, not failure:
Don't have the party on a holiday or right next to a busy season
My kids have birthdays around the end of the school year. We have Mother's Day, Memorial day weekend and the last week of school to navigate around. That's a nightmare. Having a party on those weekends would be tough on me and tough on the guests.
So we don't.
We either have their party early or late to ensure those guests will be able to come. We've even held their party a whole month after their birthdays.
You could also have a ½ birthday party instead, 6 months after your birthday. I knew a woman who really made a big deal out of her half birthday. It was important to her. And that's a great strategy if your birthday happens to fall during the frantic, money-strapped period between Thanksgiving and New Years.
Don't have 2 parties with the same guest list back to back
My girls are just over 2 years apart so we combine their parties. We have one birthday party a year and invite all of their friends. One of my girls is more outgoing than the other and has more friends so having 2 parties would really be a poor idea and would create comparison and jealousy. A lot of their friends overlap too so it works for us.
You are the guardian of your kids' well being. Exercise wisdom and don't purposely put them in situations that may trigger comparison and conflict with their siblings. Also if you had 2 parties a month apart, parents may get confused and might not show up to the second one.
If you have a daughter and a son, or if your kids are far apart in age and the guests would be totally different, then knock yourself out!
Getting RSVPs starts with your guest list
Bottom line, you need to know the parents of the kids you're inviting. If you don't, you need to introduce yourself. I know birthday parties can be hard when you've just moved to a new area or have just started attending a new school. So don't try to invite 20 kids who won't show up. Only invite the 2 kids you know will show and other friends or family if they're local because you know they'll be there.
As a kid, my husband experienced first hand inviting the entire class, only to have a single kid show up to his party. Kids might be friends at school but if the parents aren't your friends they rarely want to interrupt their weekend to take their kid to celebrate the birthday of another kid they don't know. Most likely they'll just ignore the invite.
If you want to feel the pain of kids getting ignored on their birthday read this Quora post.
It may make you lose your faith in humanity.
Or this kid whose story went viral.
Some of this could've been avoided with more parent involvement. Some stories just show you how disinterested and uncaring some of your kids' friends and parents are.
Because we homeschool and go to church, I have some wonderful friendships with other moms. Homeschool kids have very close friends who would never think of pulling some of the tricks that these kids pulled in the Quora post. If you're lucky enough to be a part of a close-knit community you'll never encounter this kind of disinterest.
People who don't RSVP usually don't show up. So if you get 0 RSVPs by the deadline you don't have a party.
Please don't do this to your kid. It's your job to know who and how many are showing up.
If your school wants you to invite the whole class, respectfully decline
Most schools don't care as long as you give out invitations in a discreet manner before or after school.
One mom told me she gave out invitations to a full class once and she only got a 10% response. She also admitted to having found old invites in her kid's backpack way past the party date… oops.
Of course, be wise, don't end up inviting 18 out of 20 kids in the class. Word will get around and the other two will feel left out.
Give out paper invitations, and give them to the parents
The invitation is a prelude to the party. You want the kids and/or parents to notice it. It needs to be enticing, show the theme of the party and promise lots of fun.
I don't know about you but I get a million and a half emails per day and I've missed bunches of party invitations in my inbox. So sad.
But I've always RSVP'd to a paper invitation handed to me directly. Especially one that looks good or looks like it took time and effort to make.
You will get a bunch of instant RSVPs that way. Parents will look in their phone and will tell you right then and there whether their child can make it or not.
You can hand them out before or after school, at church, or hand-deliver them at guests' homes.
If your child really wants to hand them out, have him or her do it with you and the parent there.
Sometimes that's not an option, so have your kid hand them out personally and discreetly to their friends, or mail them, then contact the parents to let them know their kid has been invited.
If you don't have the parent's info, and you don't get a response, forget it. You may never get an answer and the invites may be forgotten at the bottom of someone's backpack.
Sheryl and Andy were very new to our church. The first time we met them they asked us personally if our youngest girl could go to their daughter's birthday party. They had just moved to the area and didn't know anybody. But our girls were in the same Sunday School class and seemed to get along. It would mean a lot if she came. They were 8 years old or so. They invited 3 girls from the Sunday School class by talking directly to the parents. And guess what, all 3 showed up. I said yes, and talked to my daughter later about the importance of making new kids feel welcomed and that she was going to a new friend's party. I didn't give her a choice really.
But the parents spoke to me directly and I committed. That's why talking to the parents directly is so powerful.
Be clever with birthday party RSVP wording
Some parents wonder HOW you'd like them to RSVP to birthday invitations. Really! So make it clear and easy.
Nowadays, some people dread phone calls as much as the dentist or the DMV. So don't make people call, give them the option to text or email: "Please RSVP by text to 555-555-1212 or email mom@mail.com"
Give them a reason to reply. Ask for confirmation of the spelling of their kid's name – Something like "When you RSVP please confirm the spelling of your child's name for personalized favors…" Or "Please RSVP by (date) so each guest can get their personalized favor…"
Play to scarcity: "Please RSVP by (date) so we have enough pizza, cake, favors, etc. for everyone…"
Or give them the option of RSVPing only if they plan to come " RSVP only if you plan to attend …" I don't like this one as much because if they don't respond you're never 100% sure that they saw the invitation.
"Regrets only" – That's when you ask people to only RSVP if they're NOT coming. I like this one even less because the problem with birthday parties is getting people to show up. If you put in "regrets only" and no-one replies, you're going to think you have a full party when in truth few people are showing up.
Better to make them feel special: "We want you there! Please RSVP…"
Set an RSVP window that ends no more than a week before the party
I usually do 4-5 days before the party, but if I'm not too worried about people not showing up I make it only 2-3 days. Some parents just don't think that far ahead and it's nice to give them a little extra time to figure out their schedule. And they'll be more apt to remember the closer they RSVP to the event.
Contact the parents who didn't RSVP the day of or after the RSVP deadline
Hopefully, you have their info and can send a quick text asking if Timmy will be coming. Parents nearly always respond to texts and will often apologize for not getting back to you.
This is very important if you don't know the parents well or you're inviting a bunch of new friends. Trust me, it's not a good feeling when you invite 20 kids and 1 shows up. Be a diligent host and get those RSVPs.
Make them feel special
Remind people of the party. Have your kids tell their friends how much they look forward to seeing them on Saturday. If you see the parents, remind them "Sam is really looking forward to having Timmy at his party next week".
Sometimes people don't show up to parties because of the lack-luster way they were invited. It may seem that it doesn't really matter if they show up or not. So make it clear that they will be missed if they don't show up.
Talk it up!
Your party needs to feel enticing. The invitation will do some of that but the excitement you communicate to the guests and parents about the party will go a long way.
This is your big event, if you don't talk about it when you see them, it may seem that you don't care that much. Talk about the theme, the decorations, what kind of cake you're getting.
Promote it! You need to make people understand how much you're looking forward to it and make it clear how much fun their kids will have.
Acknowledge when you do get RSVPs
Don't let parents think their text or email went into a black hole. Again, they need to feel wanted. Respond with a quick "Sam will be thrilled to have Harry there!" or "Sam will miss Harry but we understand".
Remind the parents the day before
Only if you think it's necessary, you can touch base with the yeses the day before. Especially if they replied a couple of weeks ago and you haven't talked to them since. A quick "Sam can't wait to see Harry at his party tomorrow" text will do.
Plan for more kids then have said yes
Because I'm friends with most of the parents of my kid's friends I always plan for the kids who have not given me a firm answer even though they may not show up. I always have VERY late RSVPs and moms texting me the morning of asking if their kid can still come because their plans changed.
I plan for that so I don't get frustrated. If I have personalized favors, it's usually something that can be printed and made quickly. I always have more favors than guests. I've had kids ask to bring their siblings too at the last minute, it helps to have extras.
Have a plan B
If you still have reservations about whether the kids will show up (even though you got yeses from parents) have a plan B with kids or adults you can invite last minute. It's always a good idea to have family there anyway, the more the merrier and they'll probably help with the clean up too.
If you get anything out of this list, remember that guests need to feel wanted. And a hand-delivered personal invite goes a very long way.
And when your kids get invited to a birthday party be that parent that makes their kids go. Especially if it's for a new kid. Or if you really can't, reach out to the parents and explain why your child can't go. Don't be that flaky parent who just ignores party invites. Because on the other side of that invite there's a boy or girl with real feelings waiting for their friends to show up.
For that kid's sake, be an RSVP champion!
Help other parents out, pin it: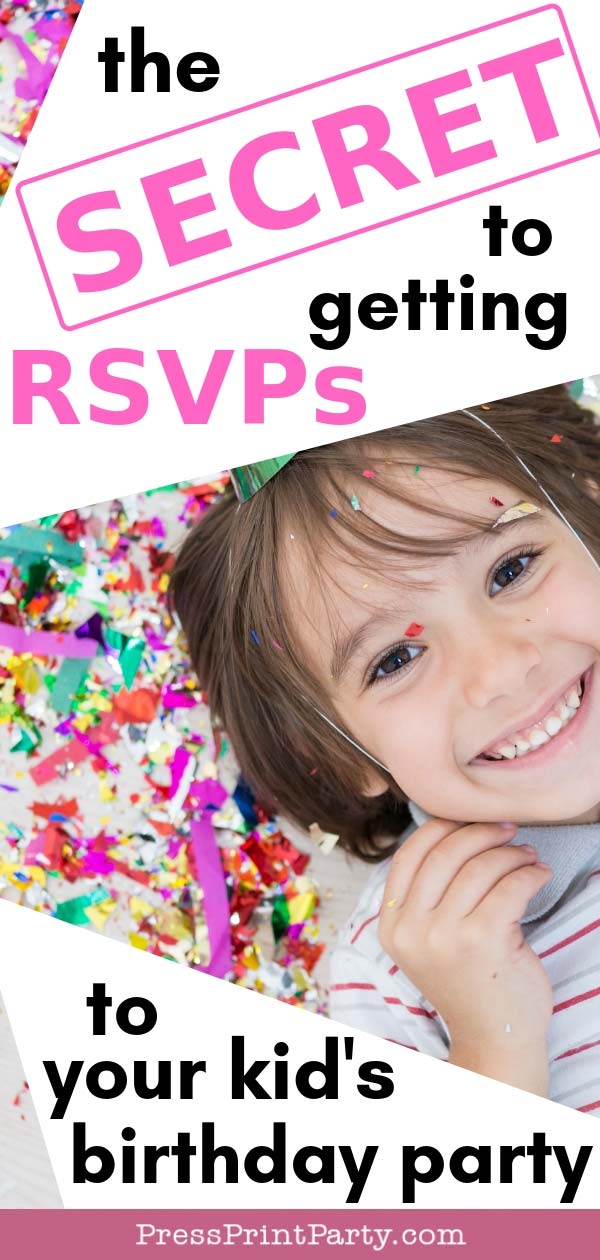 Check out our birthday printables