Whether or not you've ever used party printables before, after reading this post you'll be an expert! And afterwards you'll be on your way to throwing your best party ever!
Because let's get real, parties can all look the same. The same banner, the same colors. Sometimes it all looks the same.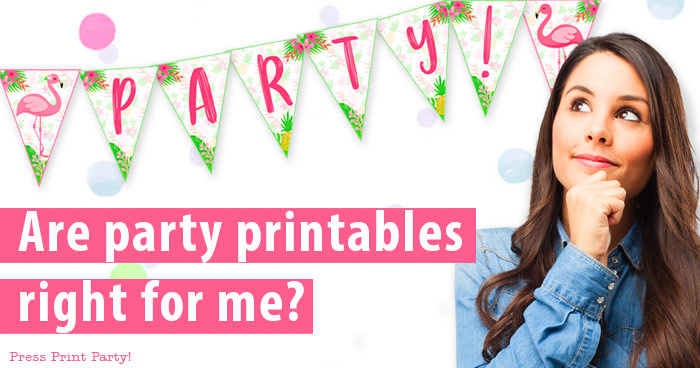 This post may contain affiliate links.
So in an effort to throw an exceptional party, you spend loads of money at the party store, pay a designer a small fortune for unique invitations, and spend hours trying to pull together different items and decorations from several places into a cohesive theme.
You're overwhelmed because you feel that somehow you missed getting the creative gene or that you don't have the skills to make everything match.
It doesn't have to be this way.
You can have an amazing looking party AND get rid of the stress AND the over-inflated budget.
You'll be able to look around and pat yourself on the back as your guests marvel at your decorating prowess and ingenuity.
How?
Because you used party printables. And with printables, the theme matching is done for you. All you need to do is color match the decorations you have to your printables.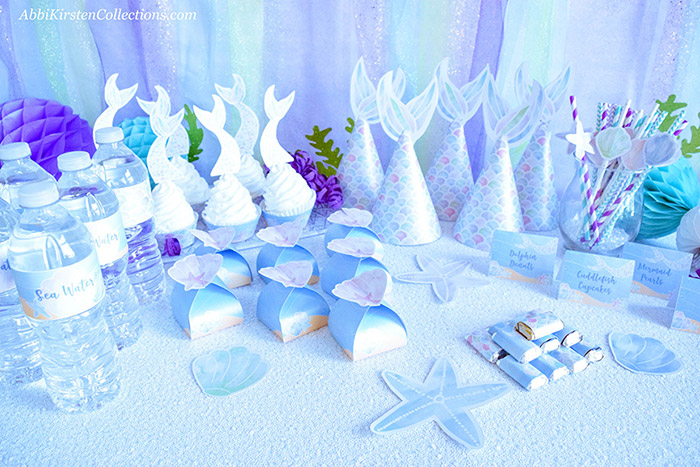 But let's start at the beginning.
So, What are Party Printables?
A party printable is a file containing an item you can print at home for your party. It's usually a PDF file.
It could be invitations, place cards, banners, water bottle wrappers, almost anything.

But what's a PDF?
PDF is short for Portable Document Format. It's a type of file created by a company called Adobe. There are many PDF viewers and one is probably installed on your computer already.
However, the ONLY PDF viewer compatible with fields, (those places where you can type in the name of your sweet birthday girl or the friend whose baby shower you're celebrating), is the original free Adobe Reader. It's called Adobe Reader DC.

I use some fancy-schmancy fonts in my designs and other PDF viewers have a tendency to corrupt text fields when the document has those higher-end fonts embedded in them. But if you open the document in Adobe Reader it'll work just fine. I promise. If somehow it all goes haywire I'm here to help though.
Adobe Reader DC is available for free here: https://get.adobe.com/reader/
You can even use your phone, just download the Adobe Acrobat App.
Once opened, the printable file will contain multiple pages. Each page is a different printable item.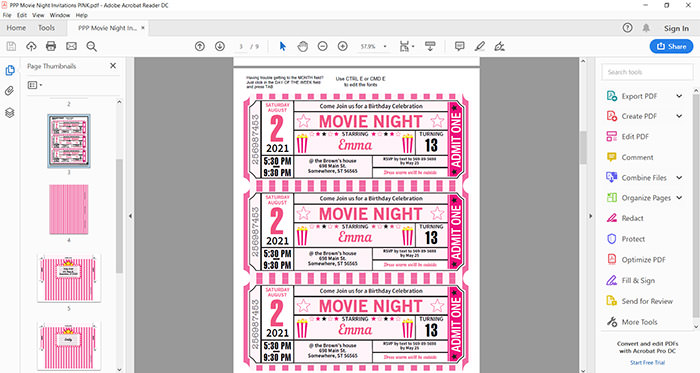 Most party printables I sell are editable with your own text. You could print blank place cards and use your newfound calligraphy skills to handwrite the names, or you could keep it simple and type your text in the fields and print them.
Check out this video and see how easy it is to edit and print my creations:
You'll love being able to type in your own information and print it right away. No back and forth with a designer and no waiting for them to give you your file.
Since you can edit your own text you'll also look like a creative genius when you decorate with personalized items like a banner with the name of the guest of honor or water bottle wrappers that include a clever pun.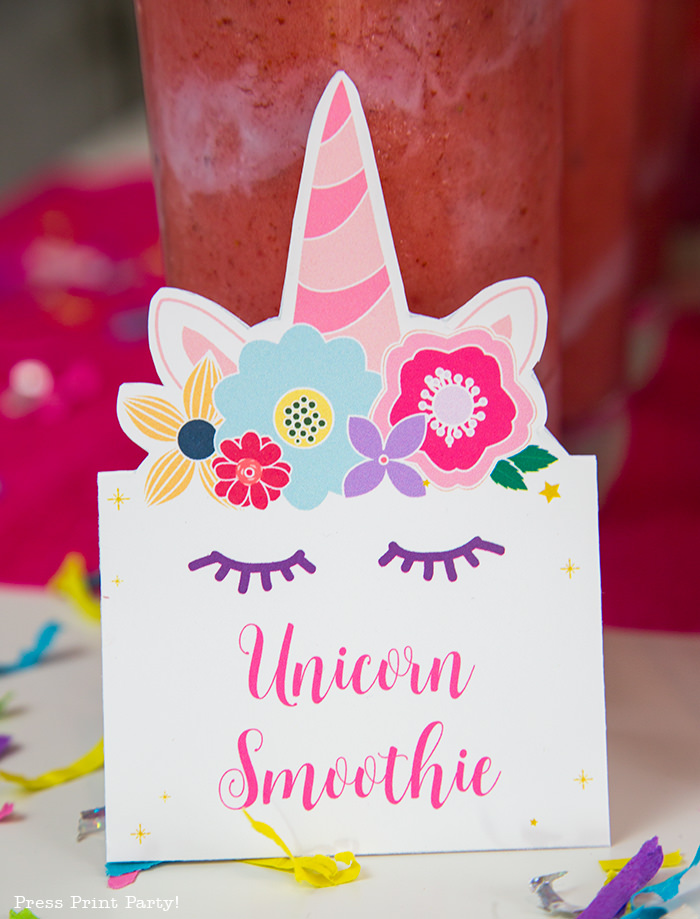 The benefits of getting a full set of party printables
With a full set of party printables you'll be able to:
Throw a one-of-a-kind party with one-of-a-kind decorations
Personalize your decorations with your name, date, fun sayings, etc…
Have everything match the theme instantly. Invitations, banners, place cards, cupcake wrappers, favor boxes, etc…
Save money and worry only about color matching the rest of the decorations. (No more buying expensive themed paper plates and napkins because even white plates will work)

Avoid the crowds and overpriced store options.

Order, customize, and print party decorations from the comfort of your home.

Skip waiting on an expensive designer! You can download, edit, and print instantly.

Best of all you can do it in your jammies!
If you're getting married, having your decorations match the invitation is sure to impress your guests.
But if you decide you don't want a full printable set, you could buy just a banner or place cards or one of my very popular baby shower games and give your party a little stylish bump!
Fun, right?
Are you ready to get started?
Here's what you'll need.
Must-have items to make your printable decorations:
A computer with Adobe Reader DC installed (That's the free software from a couple of paragraphs ago) or a phone with the Adobe Acrobat App.


A color printer (or access to an office store to get your file printed)

White cardstock in A4 or letter size. (80 or 110 lbs works great)

Scissors

Scotch tape for taping toothpicks to cupcake toppers

Glue for certain favor boxes

A bit of time, usually in front of the TV or chatting with friends, cutting your printables
What's optional but nice to have to make your printable decorations:
You don't really need these BUT I find these tools super handy and a huge time saver. If you like paper crafting you probably have several of these in your arsenal already.
2" round punch


This is a fantastic tool for your cupcake toppers. No more slow cutting around the circles, just punch and done!

¾ " round punch (for Hershey's kisses labels)


I can't even think about cutting that small a circle with scissors. This punch is inexpensive and a must for cutting these tiny confetti sized circles.

Paper cutter


This is the best tool to cut straight lines. Before I owned one I just went to the nearest office store with my printouts, to use theirs.


I now own the cream of the crop of all paper cutters (thank you mom!) but any cutter you have for your photos or scrapbooking will work great.


Or you could use:

A craft knife and a metal ruler
You'll get much better straight lines with a ruler and an Xacto knife than with scissors. But If you use a craft knife I would also recommend:
A cutting mat


It will protect your surfaces from those errant cuts with your craft knife. I've had the same one for years and I would not craft without it.

A bone folder


The best for scoring those perfect lines. If you're making a favor box or even just folding a place card, a bone folder used with a ruler will give you that perfect folded edge.

A glue gun


I must admit that I don't use the glue gun much for my printables but it's a good tool to add the toothpicks to the cupcake toppers if you don't have regular tape. It's also pretty handy when sticking banners to a ribbon.

A Cutting machine


Only some of my printables have SVG files, the files needed for cutting machines. Mostly it's the favor boxes. I added that function because I was getting a lot of requests for it. Although I use my cutting machine and I LOVE it, with many of my designs I find scissor cutting to be just as effective and even faster in some cases.

If you don't have a printer, you can always take the file to an office store. If you'd like instructions on how to do that, or how to save your invite as a jpeg to put in an email, or you want to know where I get my ink for super cheap check my FAQ page.

Why not try it?

You don't need to be tech-savvy to do this! And I'm always available to help. I've held the hands of many of my customers as we walked through the process of opening and printing my printables.
I also include very detailed instructions in each of my files on how to put together your decorations.
If you've gotten through this post, you have all the information you need to get you started!
What are you waiting for?
If you'd like a sample of what my party printables are like, I recommend you download the free lemonade stand printables. That file contains a place card, a banner, cupcake wrappers and toppers, and a sign. You'll be able to see just how easy it is to edit and print.
The best party of your life is just around the corner.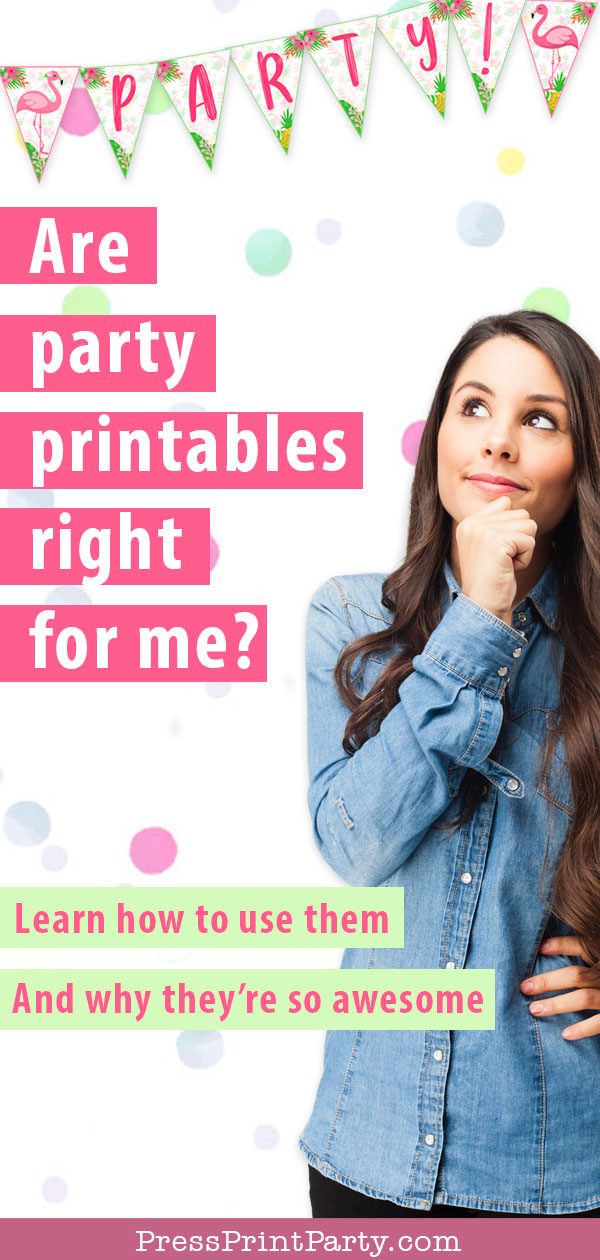 Check out our birthday sets!