We had a wild time at my kid's combined birthday party. With a Safari theme party and an amazing animal show, the kids had a blast. And you can share in the fun because all the resources for this safari party are listed at the bottom.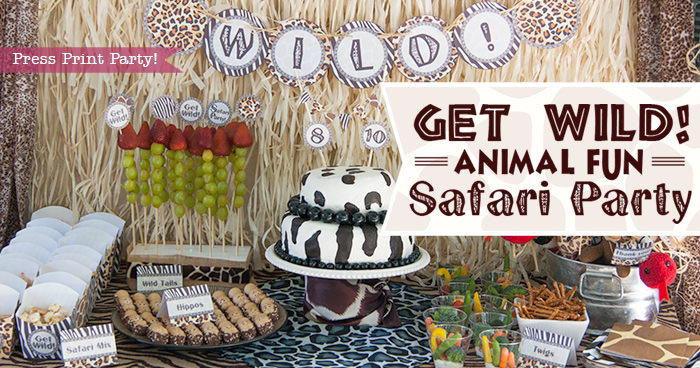 Scroll down for tons of DIY safari decor and party ideas!
Easy Safari themed party decorations
Some stacked hula skirts from the dollar store worked fantastic for this safari backdrop.You could also stack these raffia table fringe skirts
I also got some animal print fabrics and draped it in front, some animal print lanterns and bandanas.
A big piece of zebra pattern burlap found at my local fabric store was perfect as a tablecloth.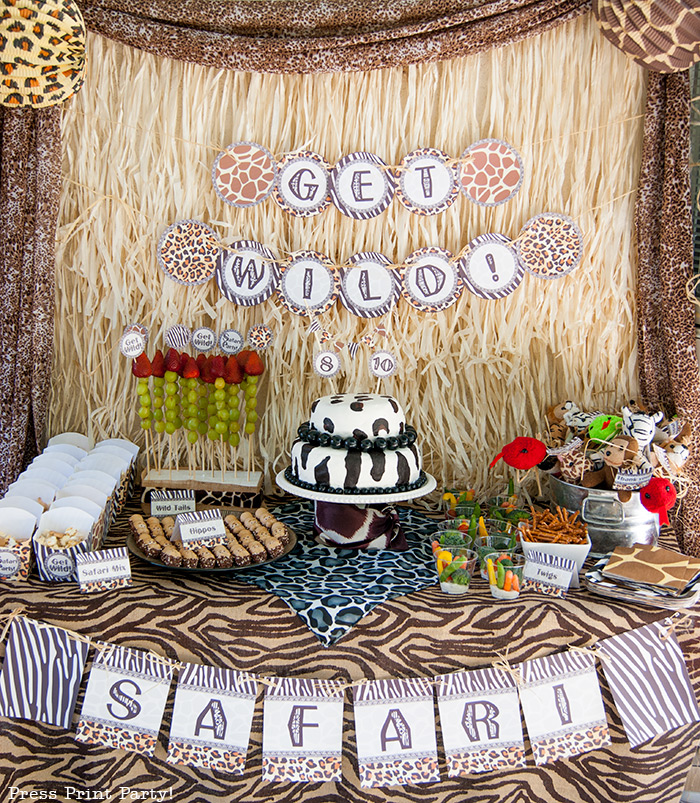 I used all the printables from my Animal Safari printable set to make several banners.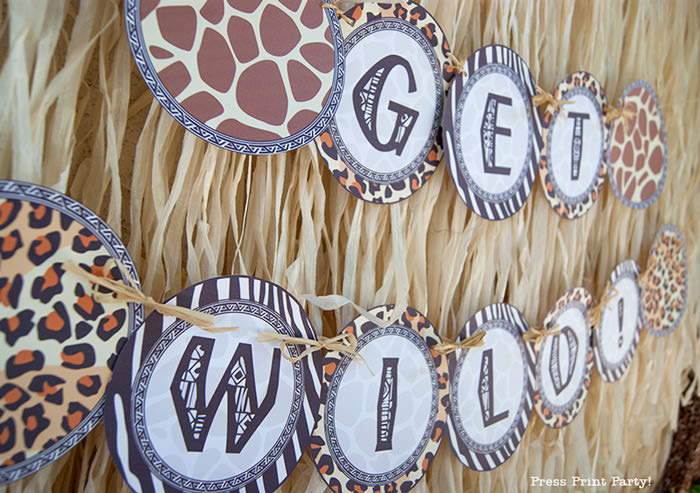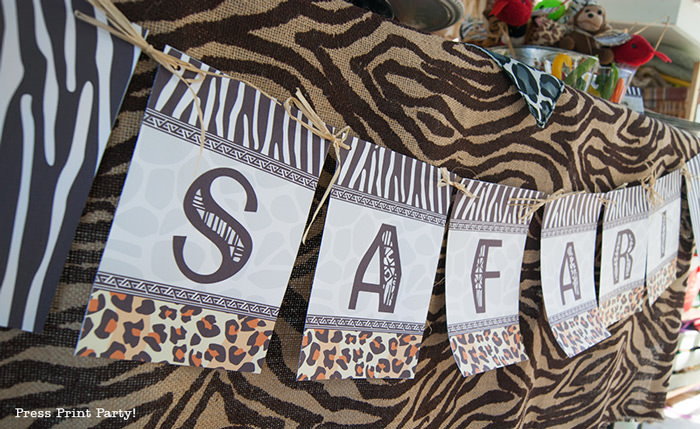 These easy printable animal print lanterns with raffia fringes make for a quick and fun safari decoration.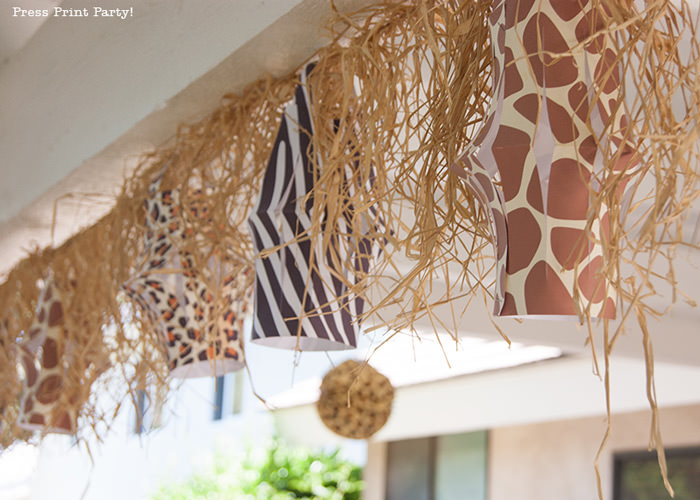 I loved these animal print balloons so much I placed them all around. The kids had so much fun bringing them home too.
Here I tried to unsuccessfully hide the air conditioning unit with those balloons… hum … that's when I wish I had invested in a screen.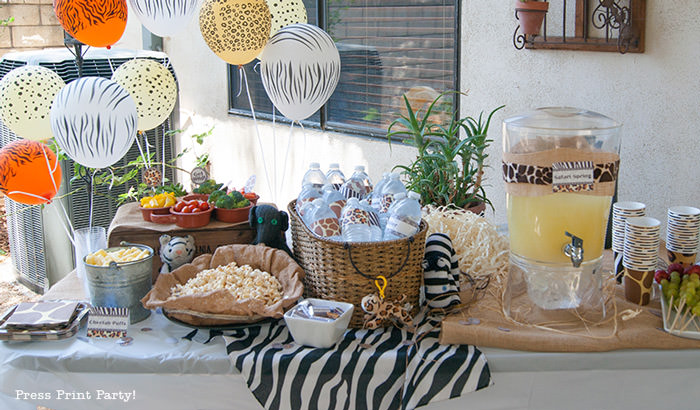 I used a bunch of stuffed animals all over the tables. It's amazing how many stuffed animals a kid can accumulate over the years!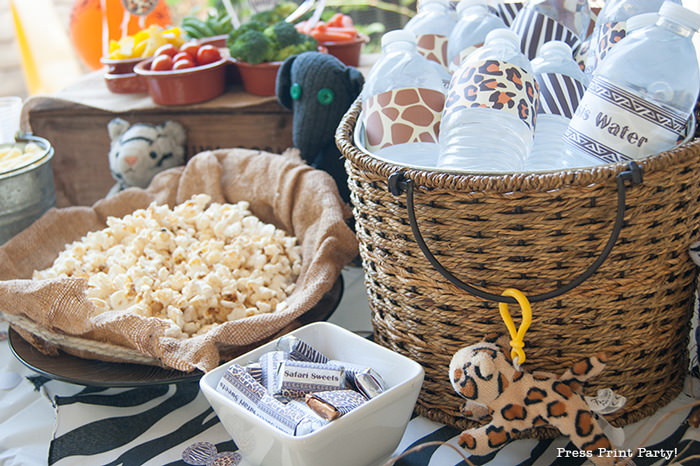 I found these cool dessert plates, napkins and cups that so perfectly matched the theme HERE.

Safari themed party treats
Coming up with safari themed foods was a bit tough but then I stumbled on these fantastic hippos from Kinder! A slam dunk!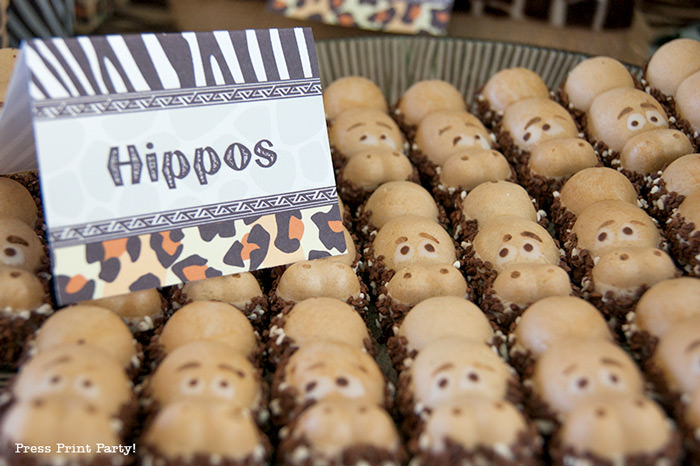 We also had twigs (pretzels), wild tails (grape and strawberry skewers), cheetah puffs (cheese puffs) and of course animal crackers served with popcorn in individual treat boxes, as well as wrapped chocolate minis.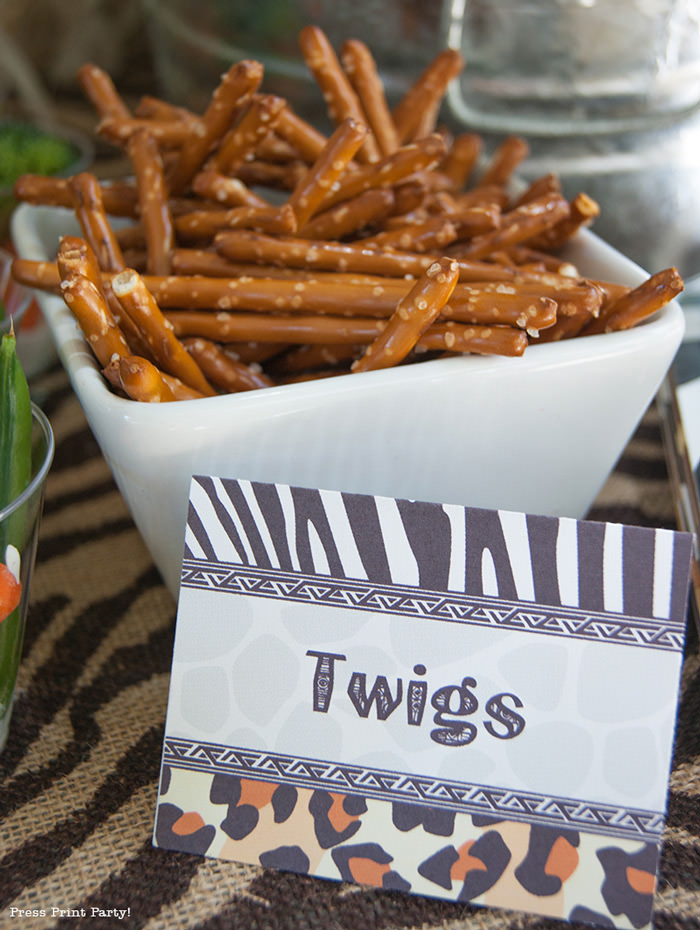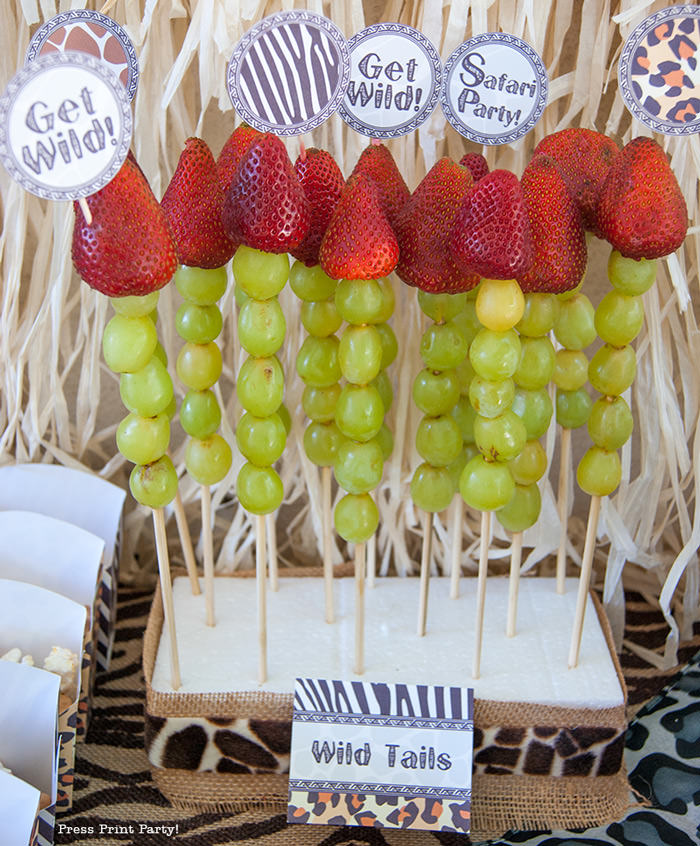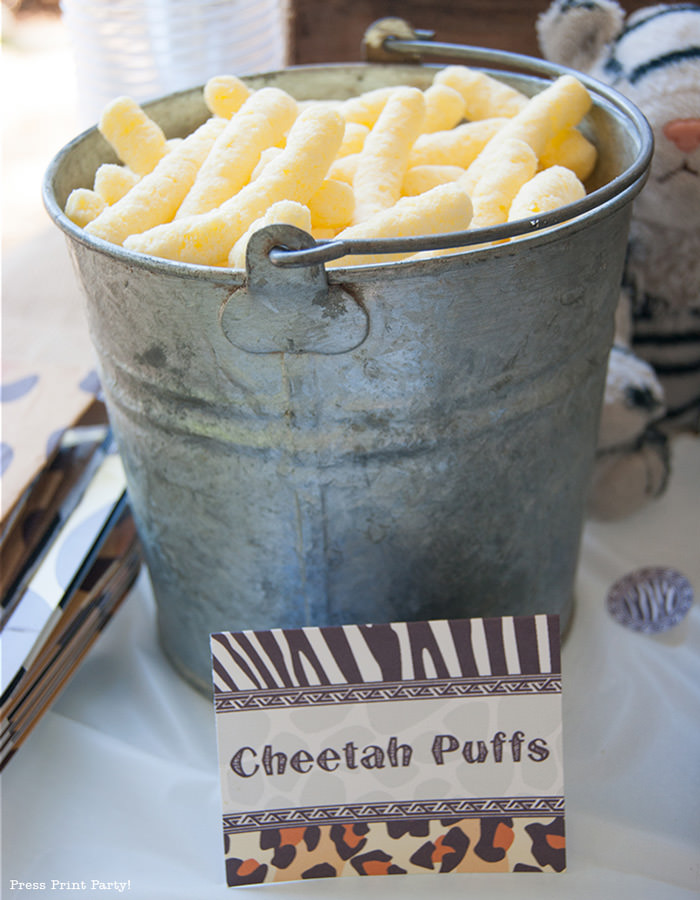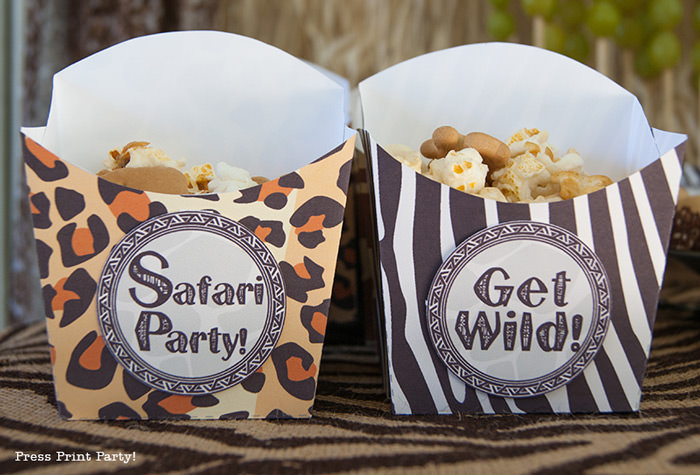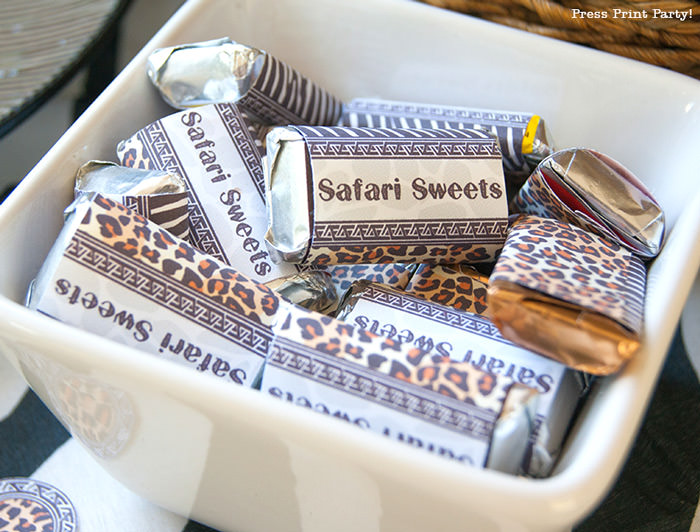 I renamed the lemonade Sahara Spring, wrapped the water bottles, and offered some more mature refreshments for the parents staying over in a cooler tagged "survival gear" 🙂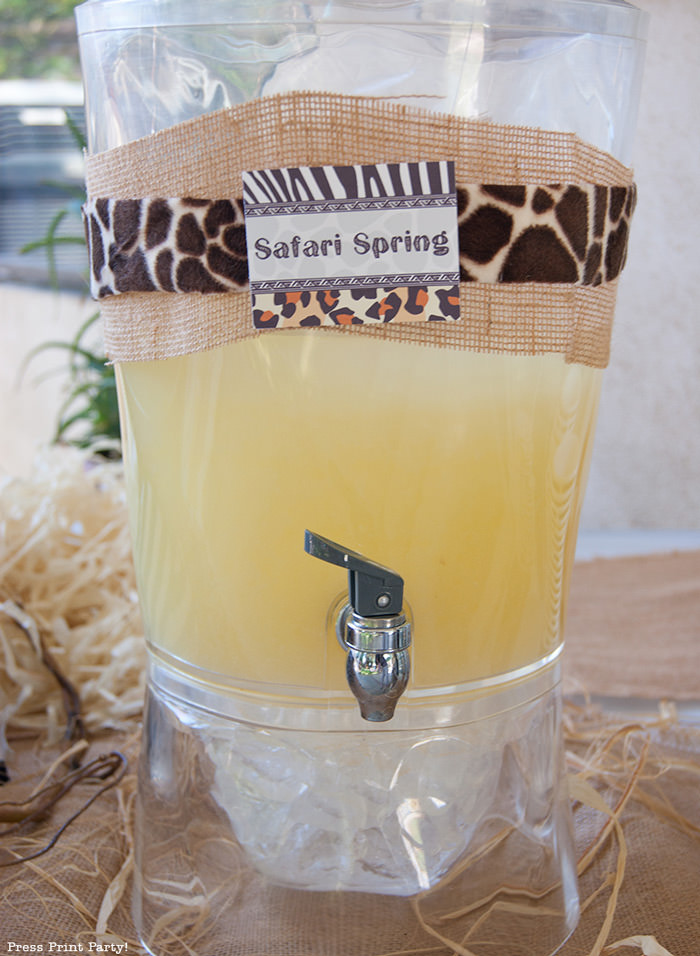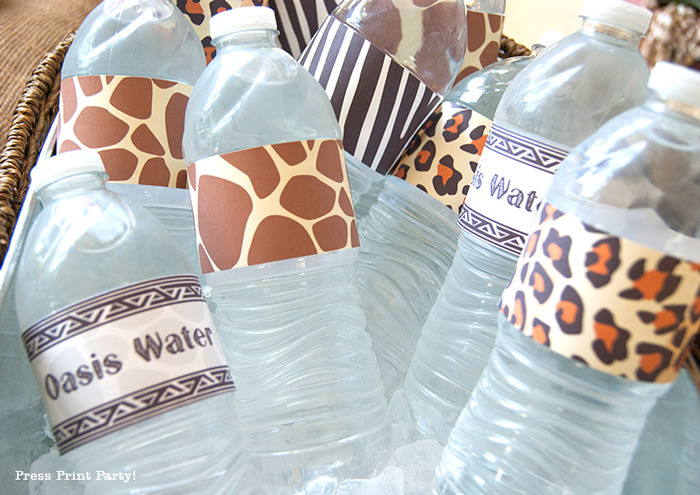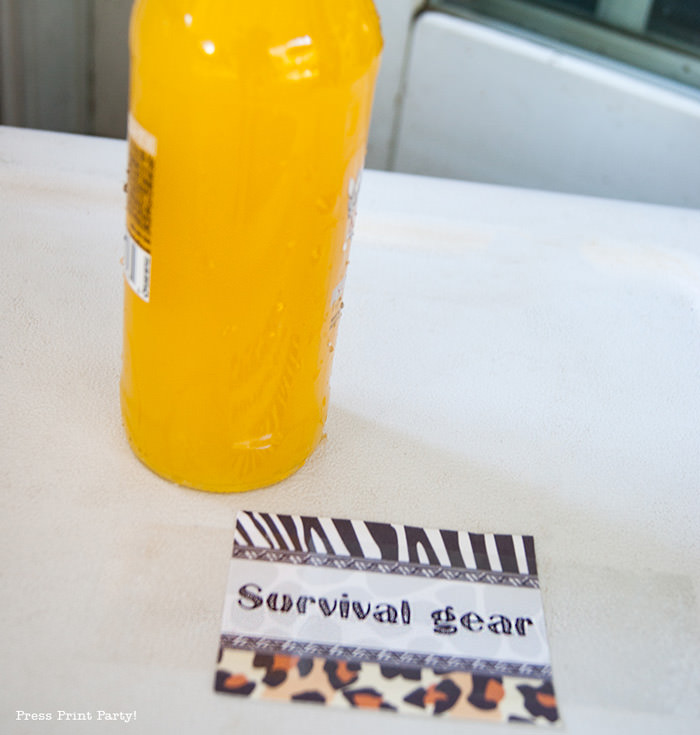 This year I saved a little money by making my own cake. I pouring over the internet for ways to make animal prints on frosting and was very pleased with the results. I explained how I made it in How to make and animal print safari cake.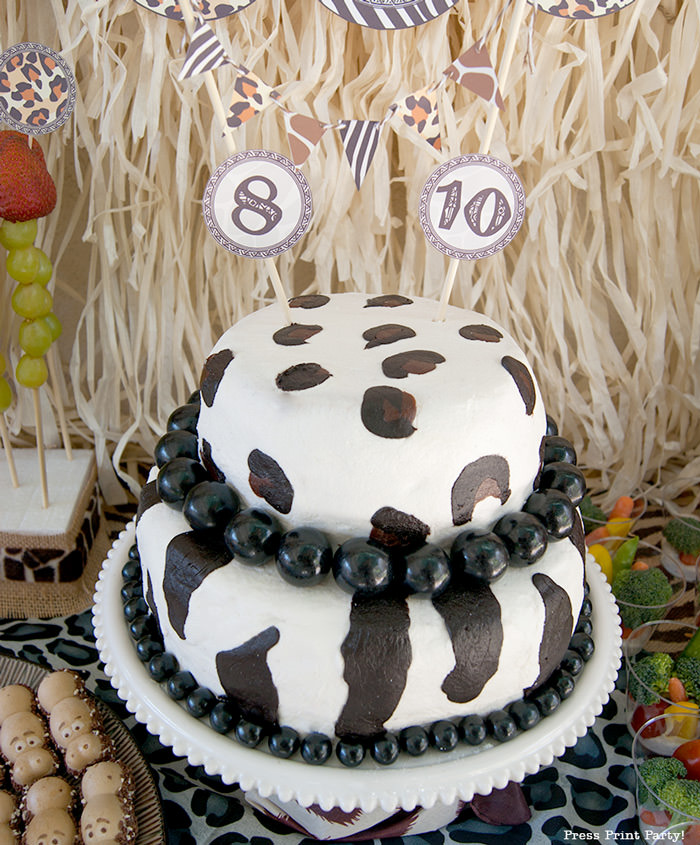 I also crafted the festive cake topper by cutting small triangles out of the full sheets of the animal print pattern. I used the 2″ cupcake toppers to add the ages of the girls.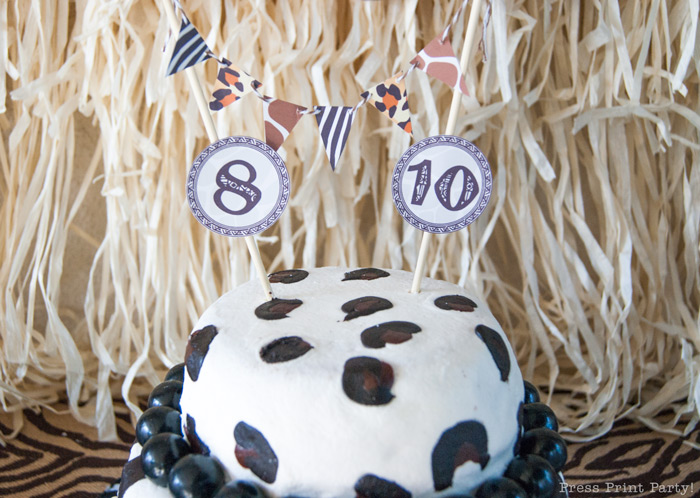 The entertainment
This year I bought the craft instead of making it. These How to make and animal print cake from Oriental Trading fit the bill nicely.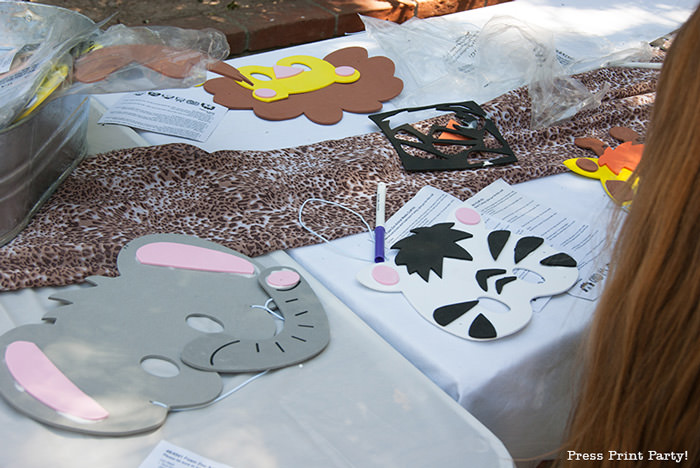 The main event was the animal show from Reptacular Animals. If you live in the Los Angeles area I would highly recommend them. They were wonderful! We had 15 mixed animals from snakes to chinchillas to scorpions. We moved some outdoor furniture in the shade of a tree and draped a canvas on the ground for the kids to sit on.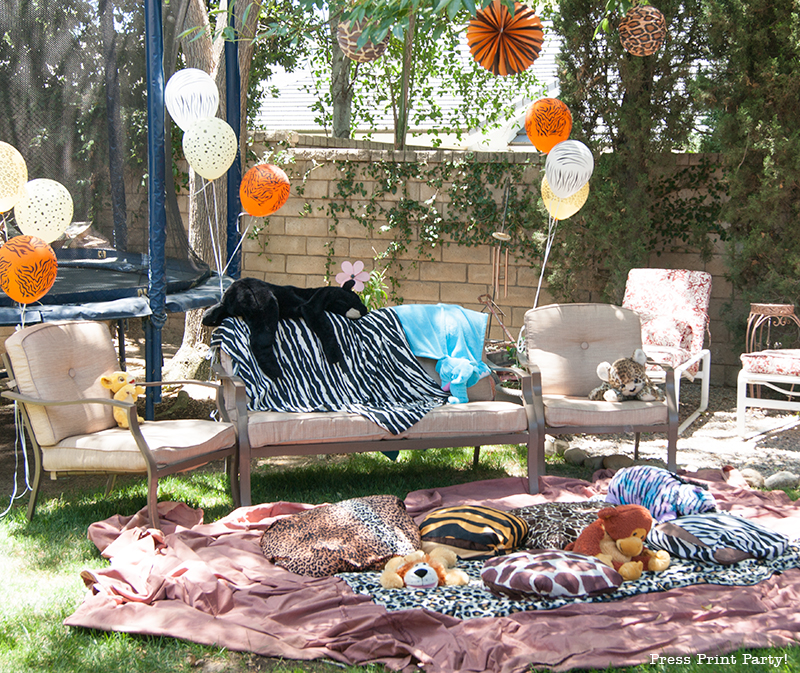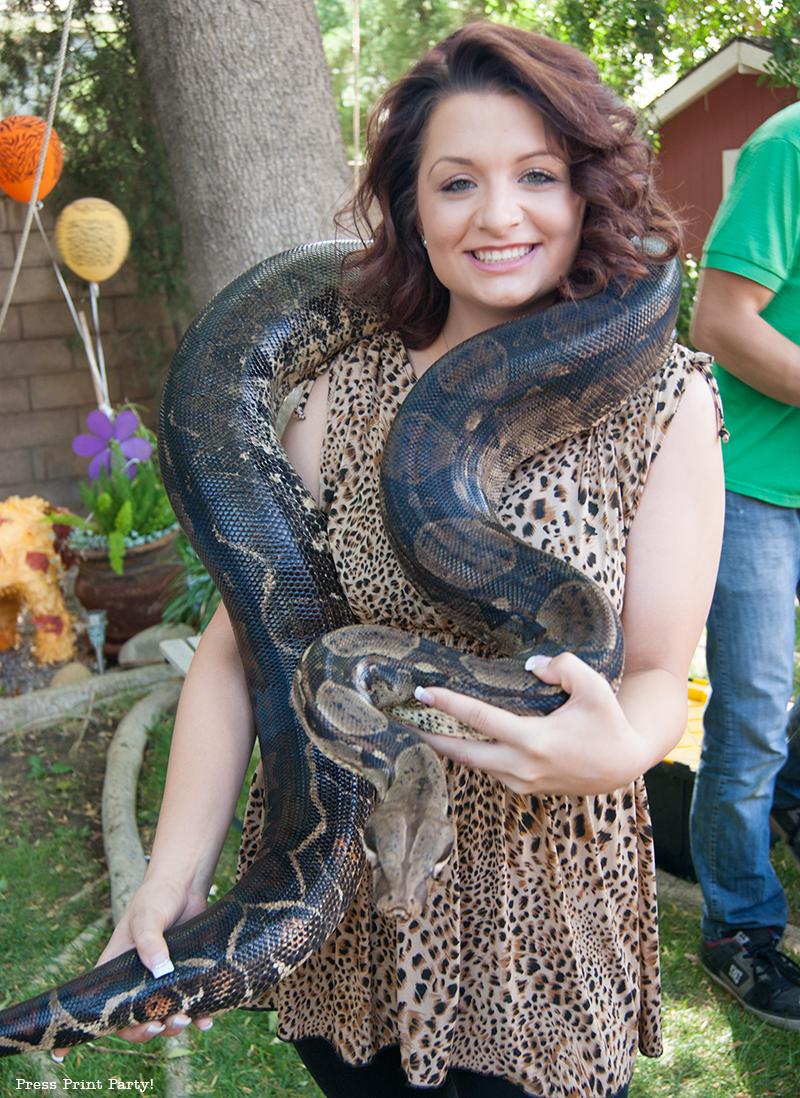 No fear!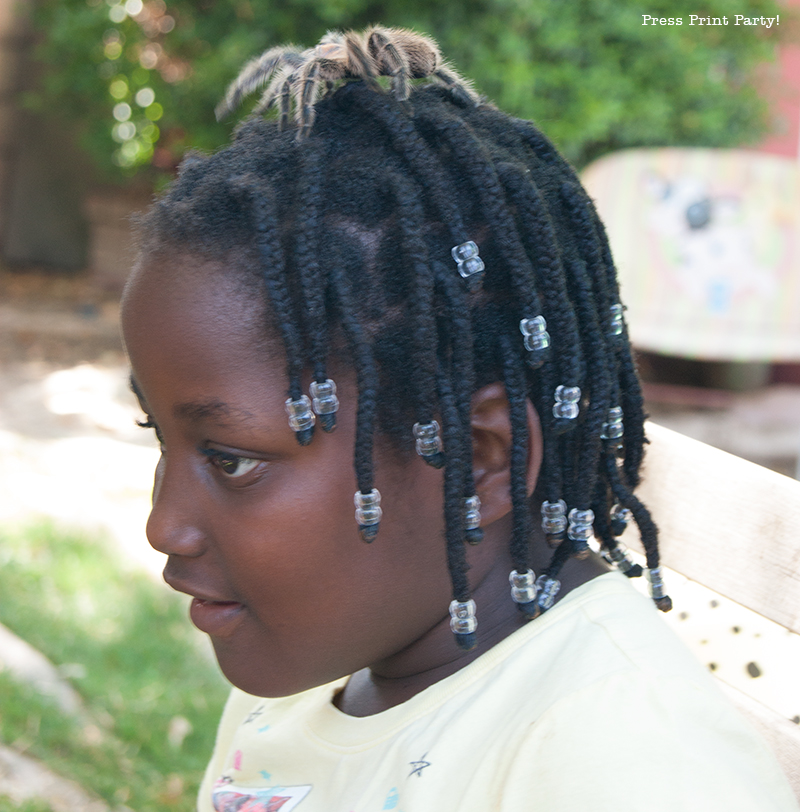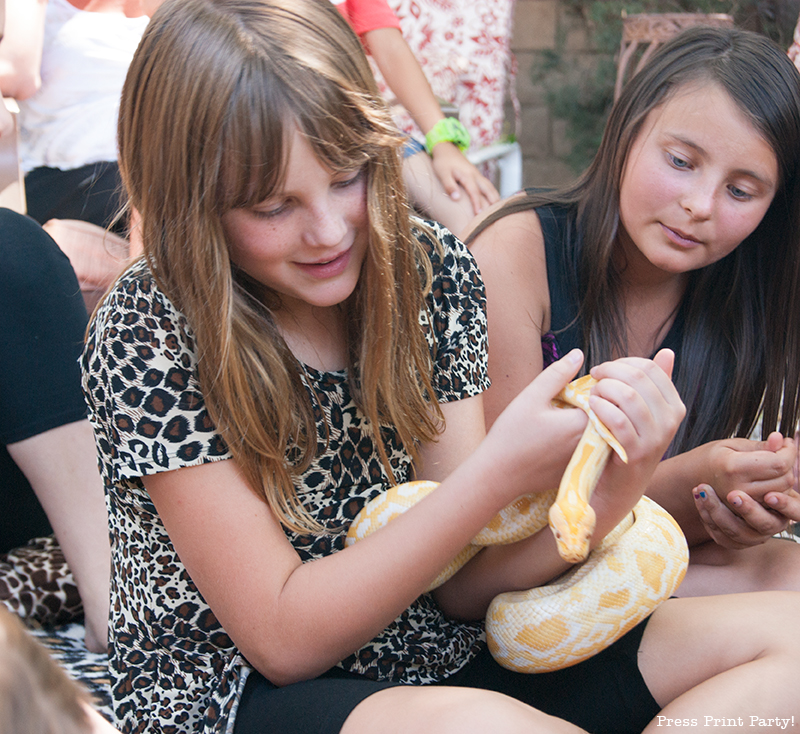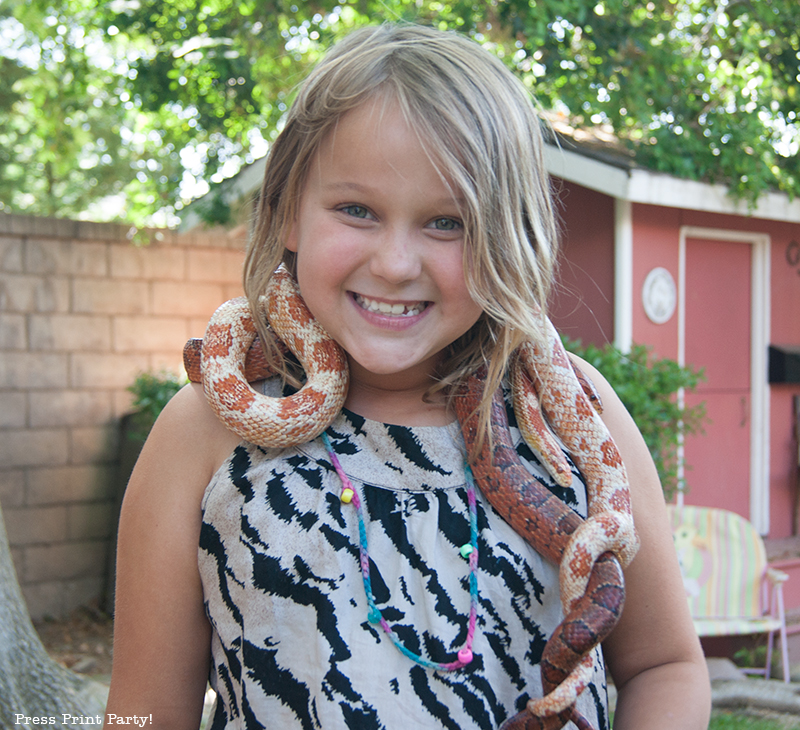 After sitting for the animal show, it was time for the kids to get some wiggles out and hit this giant giraffe piñata!
If you are lucky enough to live near a Mexican party store, most will make whatever shape piñata you'd like. They're always over sized and cheaper than any small piñatas found at chain party stores.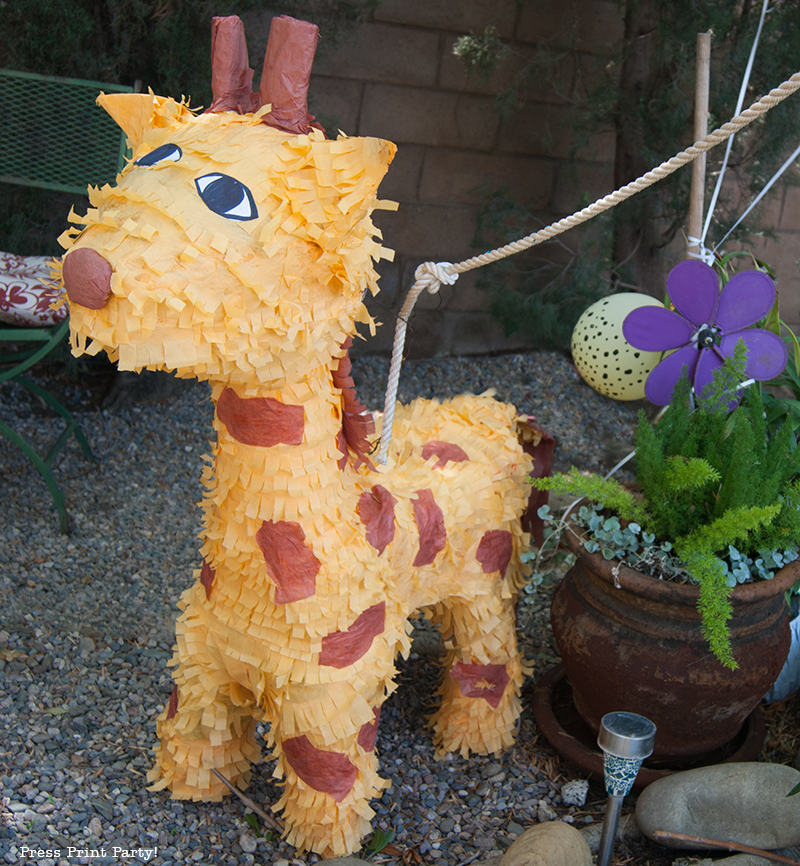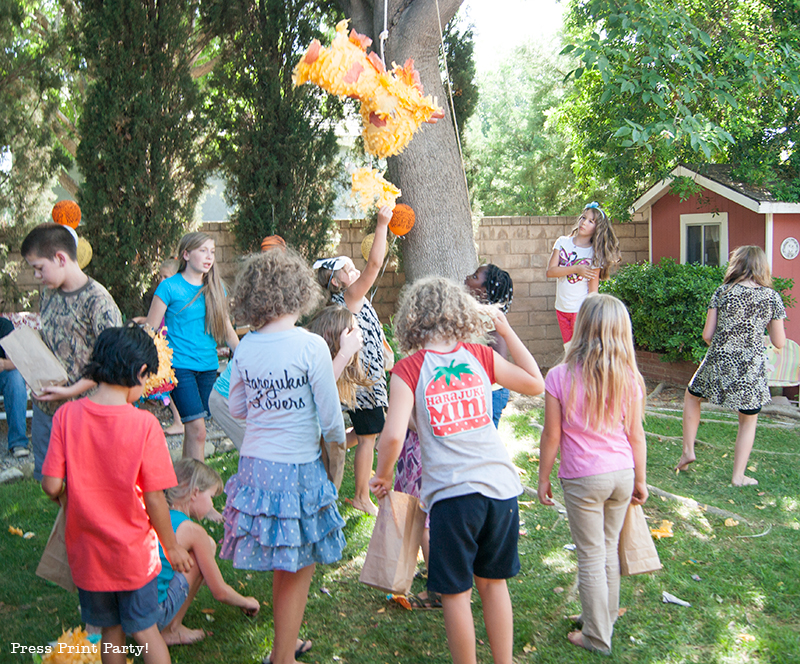 Well fed (sugared up), educated, and exhausted, the kids left the party with one of these adorable stuffed animals. What fantastic memories!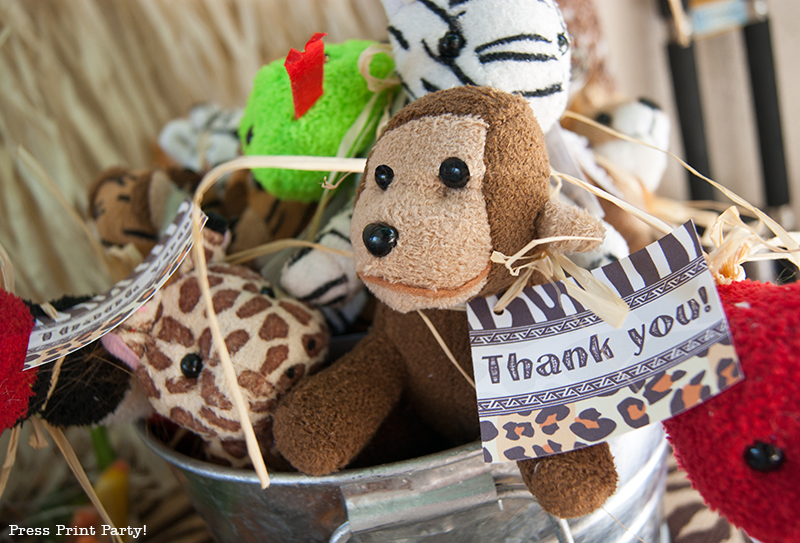 Pin for later: