If you're looking for a fun gift game in addition to or instead of Secret Santa or a white elephant gift exchange, you need to check out this left right game Christmas story.
This game is known by many name variations: Left Right Christmas game, Christmas Left Right game, Right Left game, or Left Right Gift Exchange.
Regardless of its name, Christmas left right games are always lively, easy to play at any table, and only require one small gift per table.
As far as Christmas games go, this is one of my family's favorites.
Everyone at your holiday gathering will love it!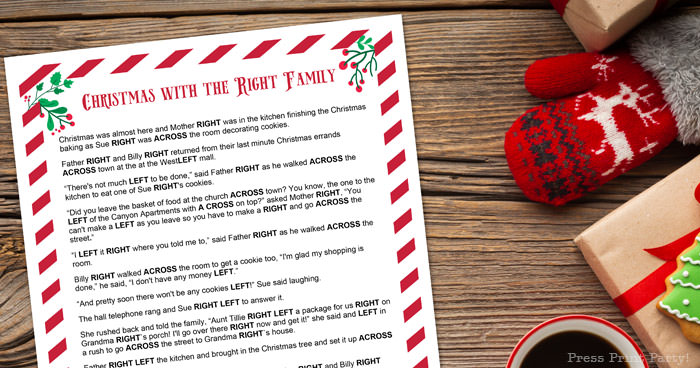 This post may contain affiliate links.
It's basically a gift passing game. The host will read the story and at every RIGHT, LEFT or ACROSS, the guests will pass the gift accordingly. We added ACROSS to our story to make it a little bit more exciting and fun than just right and left.
At ACROSS the idea is to pass the gift across the table to the person in front of you.
We've played this game many times at our church's Advent dinner and it's always a winner.
We try to change the story from year to year to keep it fresh. But if you change it, don't make it too complicated. We had one year where we tried to add UP and DOWN (passing the gift to another table) and it just was too much and people lost track quickly.
We almost didn't make it to the end of the story.
---
How to Play the Left Right Christmas Game
Set one wrapped gift in the middle of the table and have one person pick it up (youngest or oldest). You can play this game with everyone holding a gift too for a gift exchange.
The host then reads the story slowly, making sure to emphasize every RIGHT, LEFT, and ACROSS.
When the story ends, the person with the gift in their hands gets to keep it.
This game will have everyone on the edge of their seats listening for verbal cues. It might just become your favorite Christmas tradition.
---
Make your own Right Left Christmas Story
The free printable (available at the bottom of this post) comes with the full story. It's editable so you'll be able to customize it with your own silliness and if you want to make it your own story.
I recommend that once you download the pdf, you open it in the free Adobe Reader so the text fields and the cute fonts work correctly.
In our story, you'll follow mother Right, father Right, and the entire Right family as they bake and trim the Christmas tree, and fall asleep in anticipation of Christmas morning. There's a fun twist at the end where everyone thinks the story is over… but it's not!
But maybe you want to include something about a "wink of his left eye", "to the right of the tiny reindeer" or "the left hand of St. Nicholas."
Or maybe you want to incorporate the Nativity story into your Left Right Gift Exchange. You can creatively weave in King Herod, the town of Bethlehem, wise men, baby Jesus, and so many more.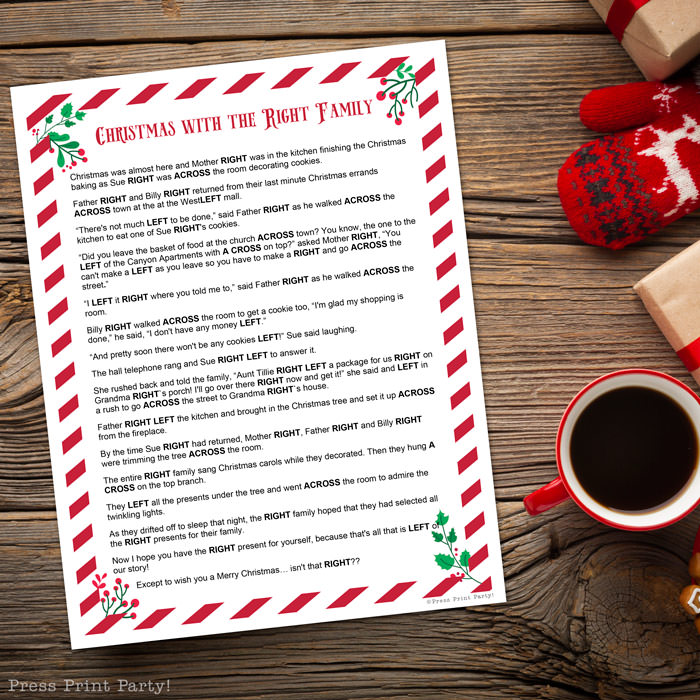 There is no wrong or right story as long as you include enough (but not too many) changes in direction.
This funny Christmas Left Right and Across game is just as fun with the family as it is with a big crowd. If you have a table for little kids, plan one gift for them too.
With a little guidance, this is a great way for them to practice left and right.
This Christmas party game cuts out the need for you to purchase a gift for each person at your party. Plus the story is a fun way to get everyone in the holiday spirit.
---
Gift Ideas for the Left Right Christmas Game
Let's talk about gifts for your Christmas party game. I recommend making the gift match the group.
The family would probably enjoy a laid-back gift like a movie night kit they'd all be able to enjoy after dinner.
You can fill a cute popcorn box with candy bars, a new movie, and packets of popcorn and hot chocolate. Wrap the whole thing in cellophane and you've got a gift worth winning! You can easily print popcorn boxes from my shop.
If you have a kids' game going, they'd likely appreciate a fun toy or a bag of candy to share.
If you're pulling together a corporate party, you'll want a nice, expensive gift. Remember, a company party is a gesture of employee appreciation and can help boost morale. An iPad or Beats headphones might be nice.
Also, an easy gift for this occasion is a loaded gift card. Starbucks or Amazon would likely be desirable. You can find an adorable gift card holder in my shop. Just print, fold, and you're ready for the game.
Lottery tickets are also a hot item at office parties and you can staple them to my fun Christmas lottery holder card.
A Christmas party with friends would likely be a fun occasion for a nice bottle of wine. You could even go the extra mile and create a French Mulled Wine kit so they can easily enjoy this delicious recipe I brought back from France, which is perfect for Christmas time.
When you're planning your Christmas or Christmas Eve party, don't forget to also plan to have photo booth props to create tons of silly, memorable pictures from the holiday season and keep your guests entertained.
---
Whether your holiday party is big or small, it's always so much fun to play a game and this left right Christmas game is sure to be a hit.
I'd love to hear how your family and friends loved the left right Christmas gift exchange game! Please share in the comments.
Don't forget to pin the left right game Christmas Story: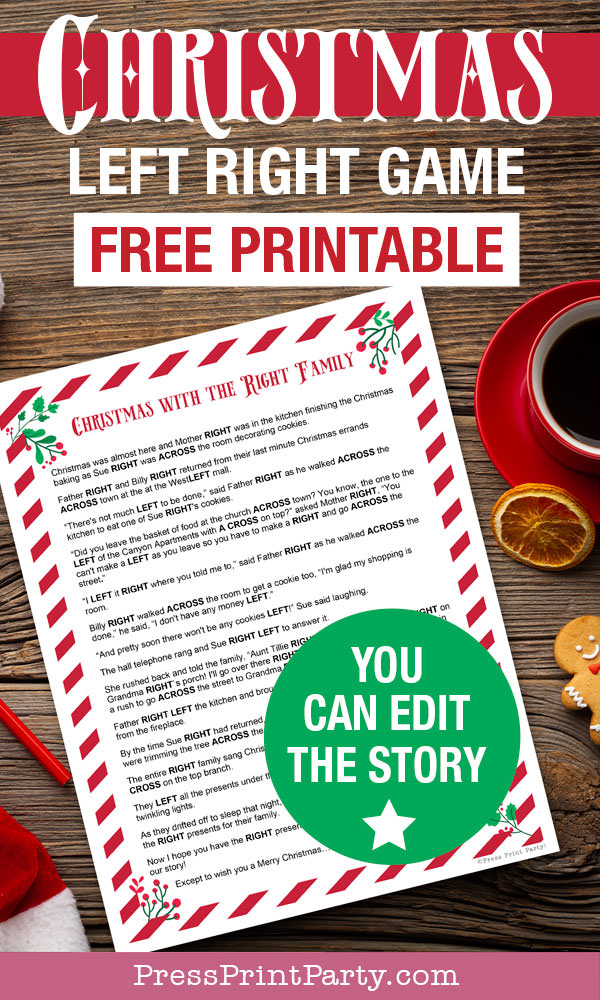 Get Your Freebie Left Right Game Christmas Story:
If you've already subscribed, you can get the password from the bottom of any email I send and go directly to the Free Downloads Library to the "Christmas" tab.
Check out our Christmas printables