When Catalina Crunch approached me about featuring their Keto-friendly cereal I jumped at the chance to create a homemade Keto trail mix recipe.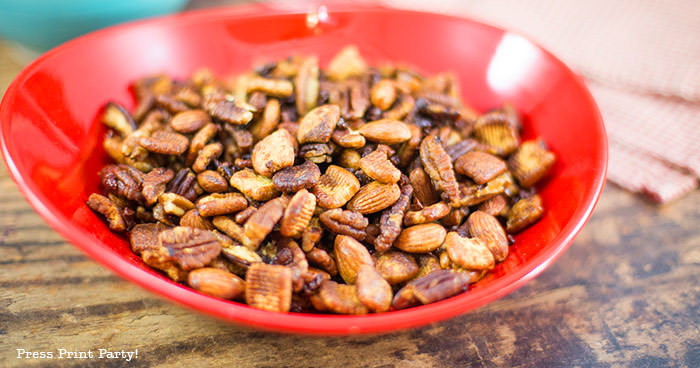 This post may contain affiliate links.
Bread is my friend, (I was born in France, good bread is part of my DNA), but I have several dear friends who follow either Keto or gluten-free diets.
I love my friends and I want them over, so I need to learn to cook for them too.
That forced creativity turned out to be a great thing. It's how one of my favorite desserts, my gluten-free coconut mochi cake came to be.
What my Keto friends told me is that they often feel like there is nothing for them to eat at gatherings. So I wanted to bring something easy for me to make but that would be a treat they could enjoy too.
I wanted to learn how to make Keto snacks.
No sugar, no grain!…. what am I doing??
I looked at how "regular" sugary snack mix were made and substituted Keto friendly ingredients like the Catalina Crunch cereal and Swerve. I used Swerve as my sugar substitute because it was recommended to me, and honestly I loved it. I may try out several other sugar-free treats.
Now I have a yummy keto trail mix recipe that I now can bring to parties and get-togethers and share with all my friends guilt free.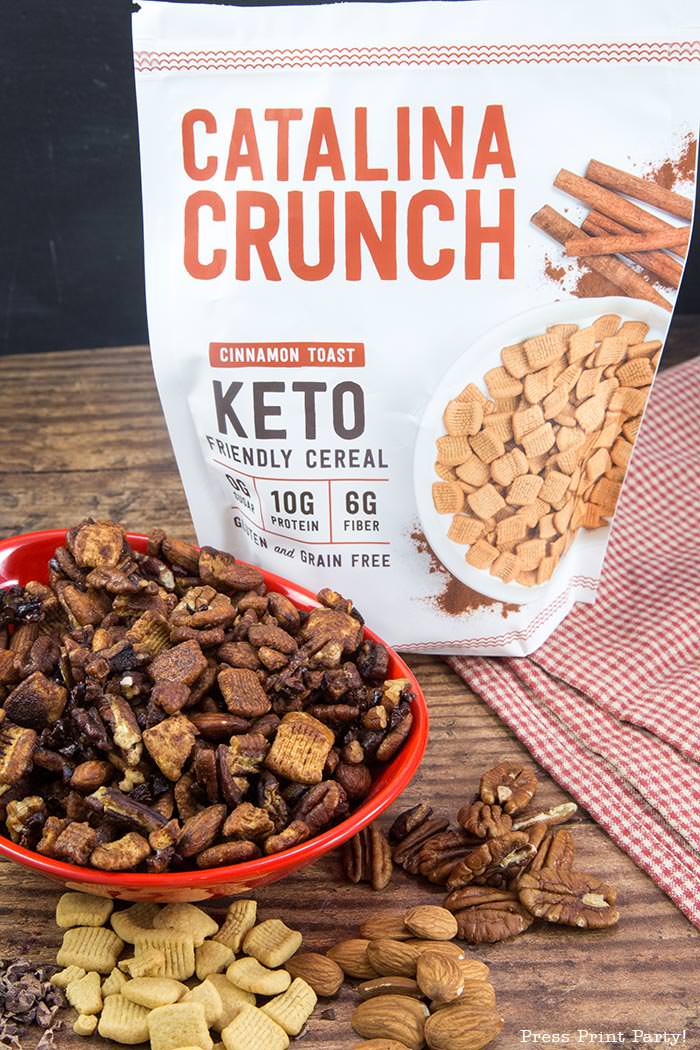 When I gave some to my Keto friend she beamed and LOVED it!
She immediately wanted to know what cereal I had used and asked for the recipe so she could re-create it.
It's sweet yet has NO sugar whatsoever, it's cinnamony and chocolaty, and best of all, crunchy.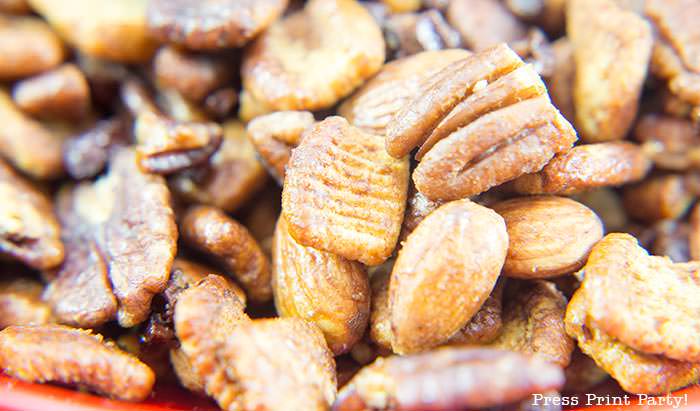 I used the Cinnamom Toast Catalina Crunch cereal but Catalina Crunch also has Dark Chocolate, Maple Waffle, and a honey graham cereal.
It can be used as cereal, as a gluten-free or Keto snack in lunches or as a party mix.
Best of all, Catalina Crunch gave me a special coupon code for my readers for 10% off your purchase.
Just use PRESSPRINTPARTY10 at checkout.
I kept half of the Keto trail mix I made and ate it all in one sitting…. addictive much?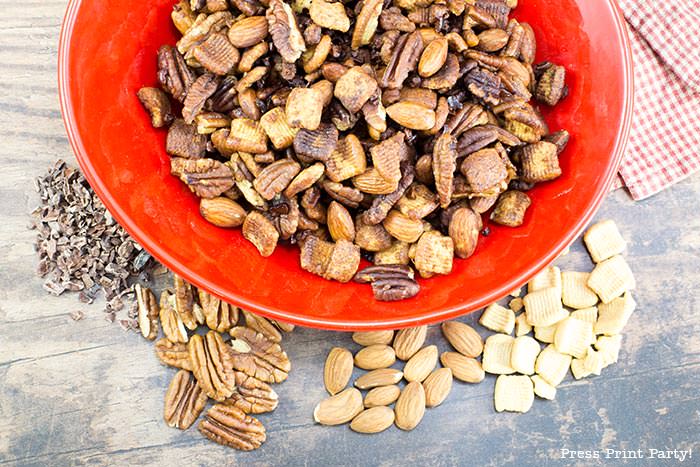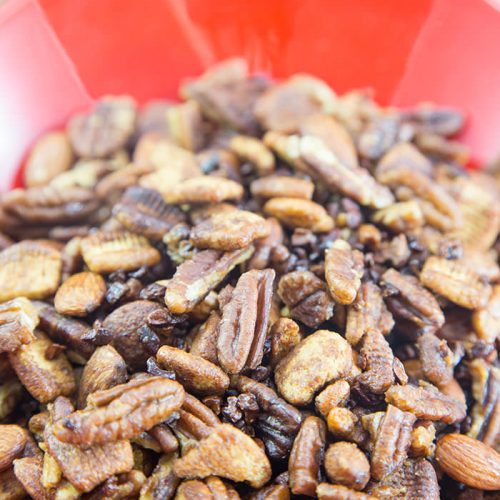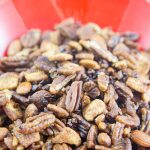 Crunchy Keto Trail Mix
Ingredients
2

Tbsp

butter

4

Tbsp

Swerve brown sugar substitute

1

cup

Catalina Crunch Cinnamon Toast Cereal

1

cup

pecans

1/2

cup

almonds

1/4

cup

cocoa nibs
Instructions
Mix the cereal, pecans, almonds, and cocoa nibs in a bowl.

Melt the butter in a saucepan. Add the brown sugar substitute and stir over low heat until it's not grainy anymore.

Pour the melted butter mixture on the mix and stir.

Transfer the mix on a baking sheet and spread.

Wait until the mixture is cooled and transfer to a clean bowl.
Don't keep this to yourself, share it: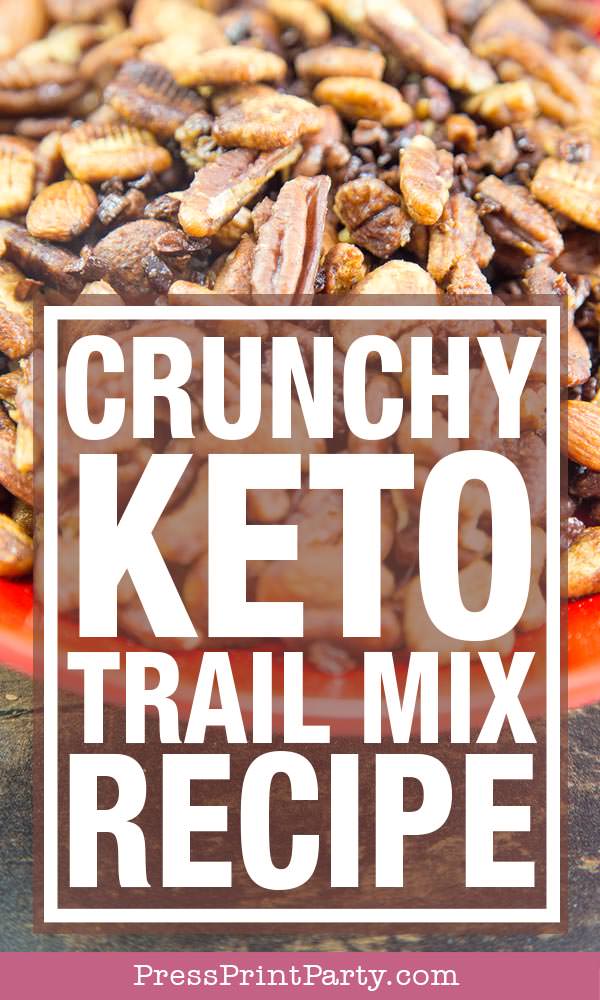 Check out our birthday printables