You've considered the site, the decor, the flowers, the clothes. Nearly every aspect of your special day reflects you two and your unique tastes. But what about the wedding favors?
The people you care for most in the world have come to celebrate with you and you'd like to make them feel loved by giving them a wedding favor they'll actually want.
The good news is that gobs of people feel the same way and the trend is strongly moving towards more thoughtful and unique gifts for wedding guests. Especially at smaller weddings.
The old fashioned tulle wrapped box full of Jordan almonds, although yummy, are pretty much a thing of the past.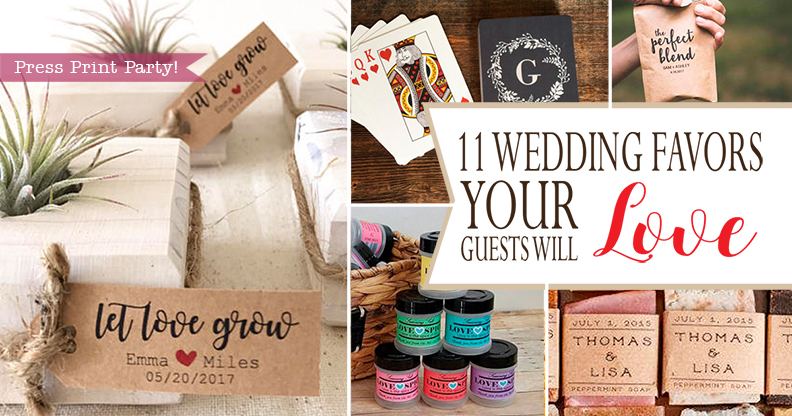 So here's a list of 11 unique and delightful wedding favors that your guests will be thrilled to recieve. No drink Koozies on this list! We're talking gifts that won't get tossed into the junk drawer or the pit of the car never to be seen again.
Let's raise the bar a bit. We're all capable of holding our own beverages.
This post may contain affiliate links.
Soaps
Not just any kind of soap. These babies are scented with amazing essential oils and wrapped in a custom sleeve. I really love these little homemade soaps from Rustic Joy Soap. They feel so elegant and personal, especially when the couple can choose their favorite scents. Perfect gift for a spring wedding.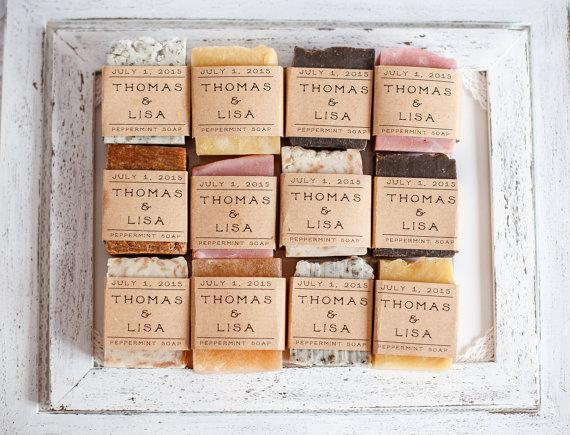 Succulents
Succulents are a fantastic wedding favor. A new creation is a tangible reminder of the new and unique union that you two have become. These little plants from Kat From The Block are hearty and come in an adorable, little container. Even a black thumb like me can keep these little puppies alive!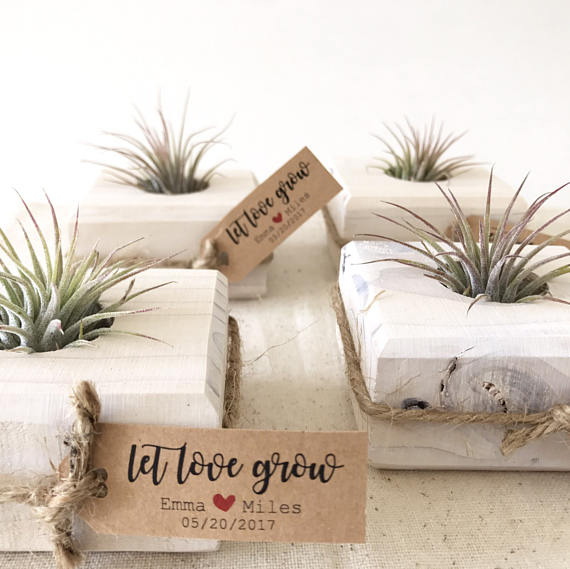 Seeds
And if you want to see the full range of something beautiful sprouting, blossoming and growing to fullness, a custom seed packet is perfect. Choose your favorite flower or herb seeds for a great personalized gift that your guests can sow at home. These brown paper bags from The Paper Shoppe are perfect packaging for gardening seed packets!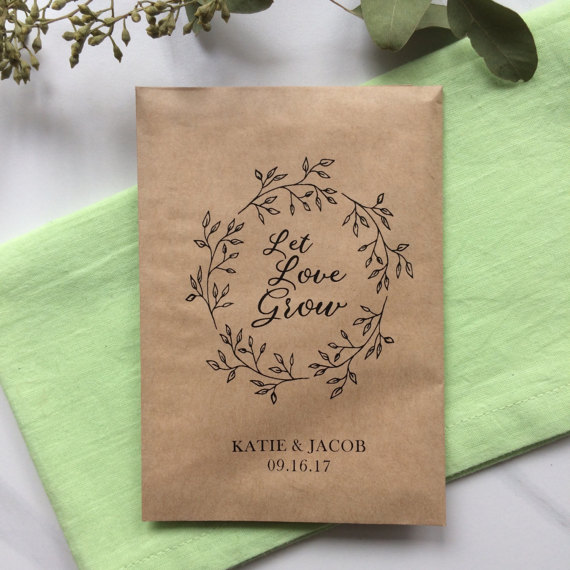 Spices
Are you a couple of foodies? Then spice blends with custom labels are for you. You can choose from Italian Seasoning, Lemon Pepper, Cajun Spice (I totally would chose that), Seasoning Salt, or Cinnamon Sugar. That's a gift that your guests will use over and over again and they'll think of you every time they do.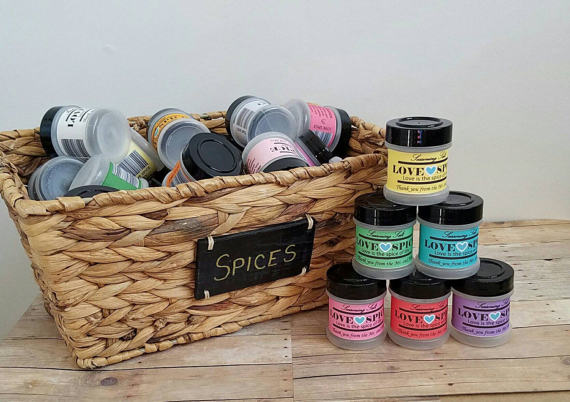 Coffee
You know the Hipster movement is alive and well when coffee has been elevated to a wedding favor. If you're a coffee connoisseur, these little custom packets from Give it Pretty are perfect for you.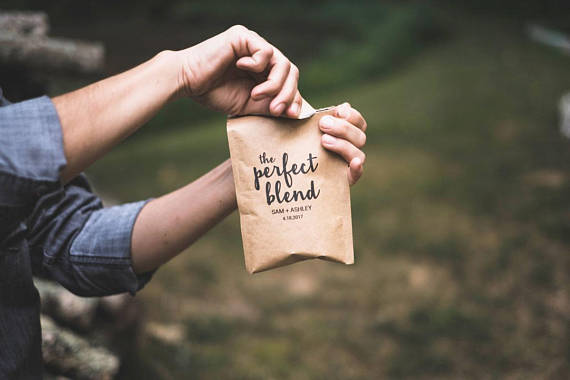 Tea
There are coffee lovers and then there are tea lovers. So if tea is more your speed these adorable corked test tubes from Custom Favors look amazing and can be filled with your choice of 5 different teas.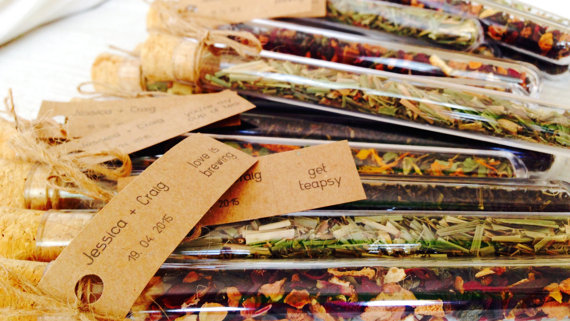 Rustic ornaments
My sister in law actually gave out wooden ornaments similar to these at her wedding. They make a fabulous Christmas ornament keepsake to remind your guests of your special day year after year. These ornaments from Rustic Wood Slices are a great fall or winter wedding gift.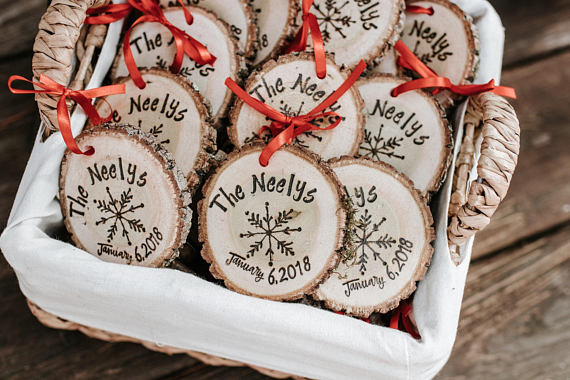 Honey
Another foodie gift, honey is presumably the oldest sweetener known to man. The Bible even calls the promised land "The land of milk and honey." These enticing little jars from Queendom Honey are filled with California local honey and wrapped in a rustic custom label.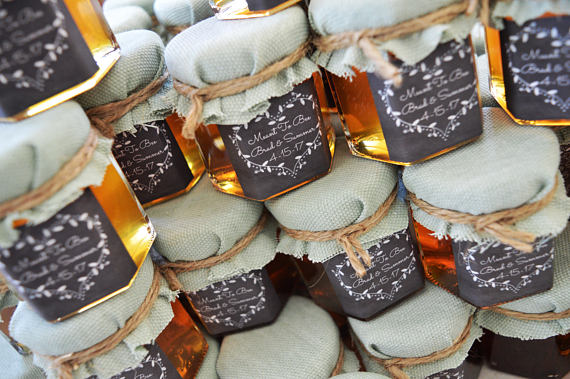 Playing cards
Do you love to play games? If so, a custom set of playing cards is for you. Shelby Ann Gifts will personalize the back of each card to your taste. It's a great gift that will keep your guests thinking of you and your special day for years!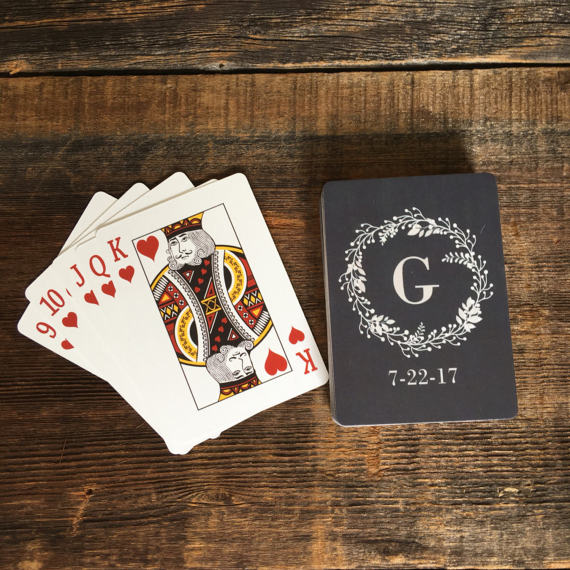 Pancake syrups
If you give Pancake syrups to your guests you will go down in history as offering the most unique wedding favor any of them has ever received. These lovely bottles from Custom Love Gifts would be fantastic for a western or a country themed wedding. Love is sweet indeed.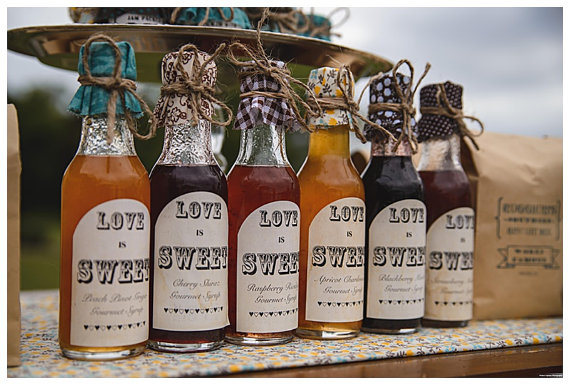 Chopsticks
The final item on the list of most unique wedding favors are these beautiful, custom chopsticks. Although I'd think they'd be most commonly used if the bride or groom were of Asian descent, I love chopsticks and use them all the time. These beauties from Clarke Wood Works are elegant, miniature works of art.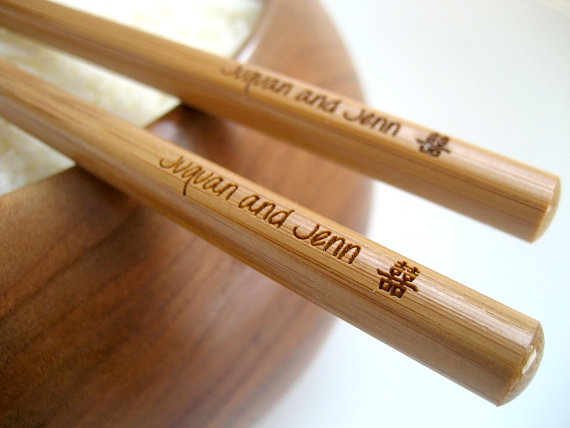 Pin for later:

Check out our wedding printables