If you've decided to have a Secret Santa Exchange at work this holiday season, you'll need a Secret Santa Questionnaire.
Why?
Because you don't know your colleagues as well as you do your family and friends.
Even if you're just giving a gift card, if the business isn't one that the recipient actually enjoys, you've just wasted your money and missed an opportunity. Secret Santa questions can teach you a little about your workmates and lead you to their perfect gift.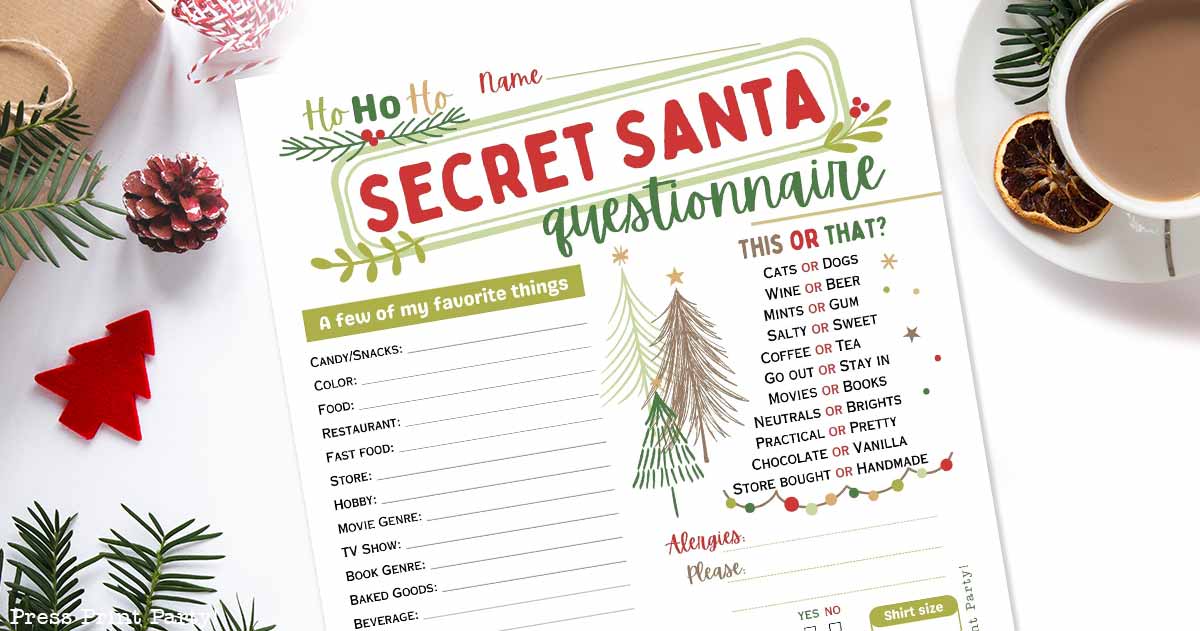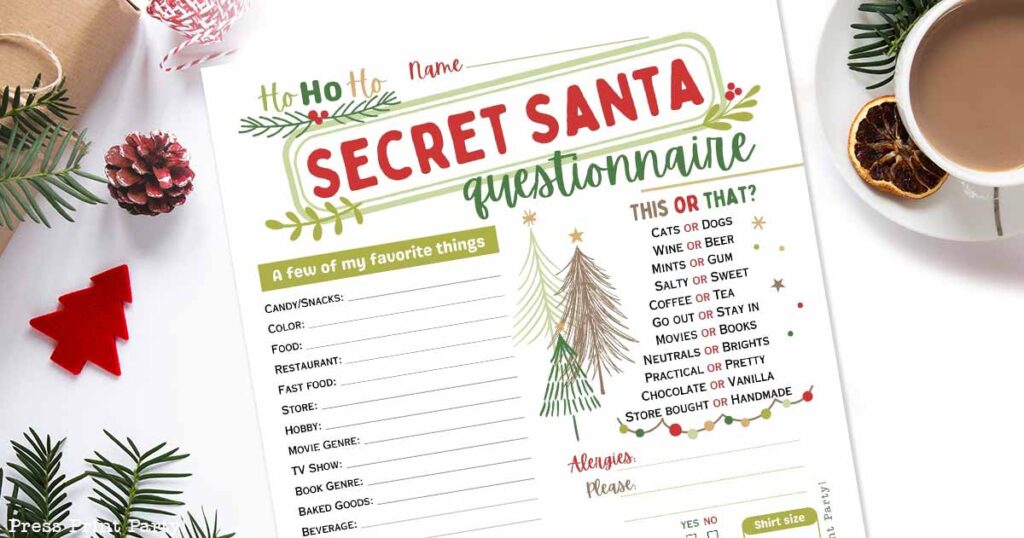 This post may contain affiliate links.
We used to do a Secret Santa exchange when I worked in an office. It was a fun way to have a holiday party.
But I don't know if it was because it was so long ago, or if my memory's fading, but we never had anyone fill out a Secret Santa questionnaire.
And because of that, it was hard to figure out what to buy! Especially when the recipient was new or someone you didn't deal with much.
And we're not talking about a white elephant gift. With a Secret Santa you're actually trying to give a thoughtful gift to a particular person, so knowing what they like is a good idea.
I remember trying to ask the person at the desk next to my recipient what they might like and searching Amazon to see if their wish list was public. It just was one more stressor in the whirlwind of stressful things that happen during the holidays.
But we've finally gotten a little smarter! The popularity of Secret Santa Exchanges has led to an explosion of cool, useful Secret Santa printables (mine included 😁).
---
How to Plan a Secret Santa Exchange at Work?
The premise of the Secret Santa game is simple. People get anonymously assigned a colleague to give a gift to within a given price range. The exchange is usually done in a work get-together, or maybe your office Christmas party.
But first, you'll need a person to organize the exchange. It's probably best if it's not the boss, and the Secret Santa organizer should not know who is getting gifts for whom, only who is signed up for the exchange.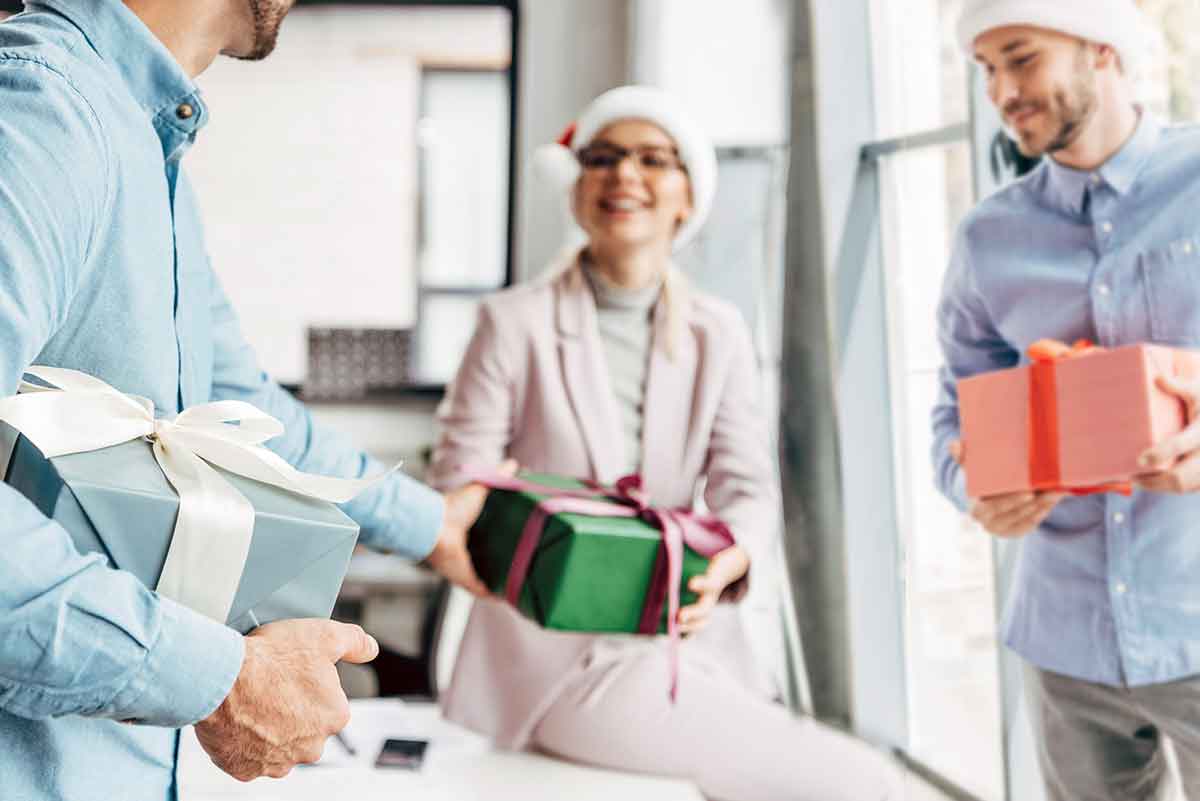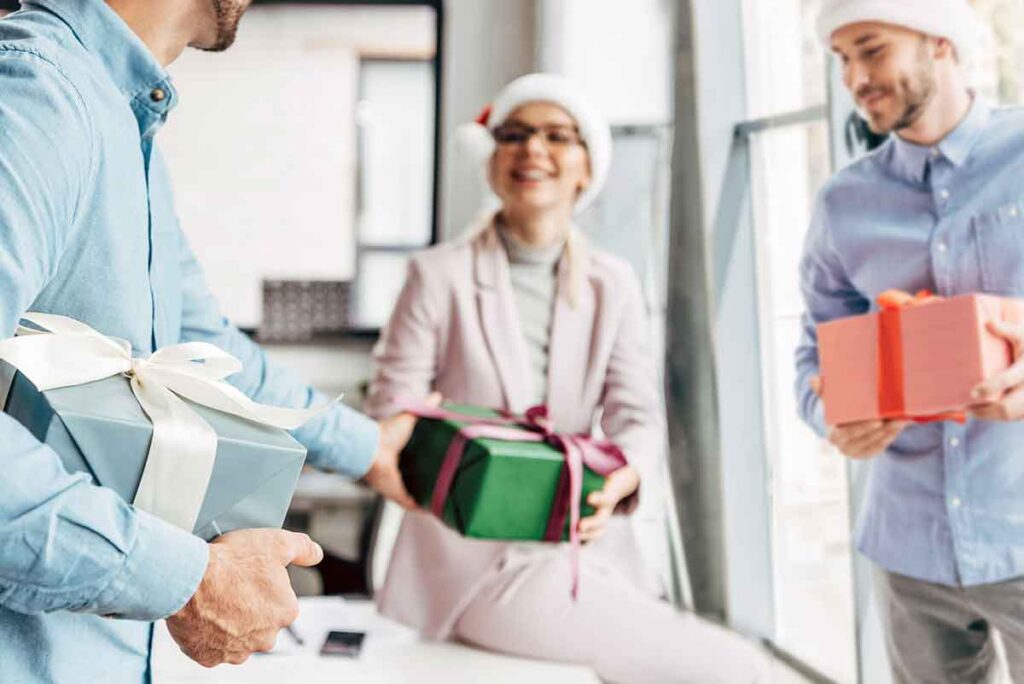 Depending on the size and setup of your office, you could organize your gift exchange this way:
Announce the Secret Santa gift exchange at a meeting, letting everyone know when the exchange will take place and the price range for the gifts.
Within the meeting, give everyone who wants to join a questionnaire and have them fill it out, fold it, and place it in a bowl.
Once everyone has put their questionnaire in the bowl, have each person draw names from the bowl. That person will be the recipient of their Secret Santa gift. (At this point, you pray that the last person doesn't pick their own name. If so, you may have to do it again).
The organizer should keep a record of who is signed up and who is not, just in case someone gets sick and cannot attend the exchange.
or this way:
Send an email or post a sign with a Secret Santa exchange Party date and rules.
Ask people to sign up either by email or place a sign-up sheet in a popular area.
Give people who have signed up their questionnaire, to be filled out and returned to you.
Once you have all the questionnaires, you can either assign people their Secret Santa (by yourself or with an online Secret Santa generator) or go around with a bowl and have them pick.
---
Free Printable Secret Santa Questionnaire
My free printable Secret Santa questionnaire is designed specifically for adults with coworkers in mind. And it's a PDF file, so you can easily print it out and have everyone fill it in. The text is NOT editable. (Editable version available here)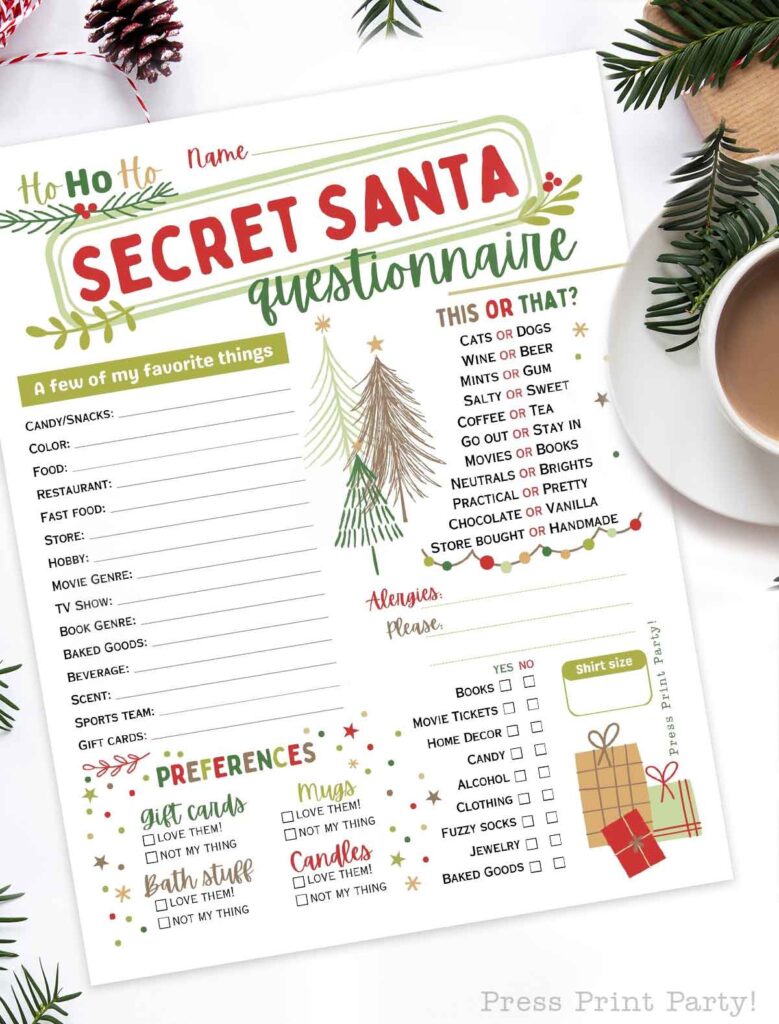 You'll find the instant download in the Free downloads library for my newsletter subscribers. Just go to the bottom of this post to sign in and you'll get an email with the secret code.
Of course, it will work for any group of adults. You don't have to be co-workers, family members or a group of friends would work just fine.
This Secret Santa form uses an easy list of questions to help you determine the recipient's preferences and ensure that you don't waste money on a gift that your recipient will never use.
It won't divulge too much personal information and each gift exchange participant is free to answer as many of the questions as they'd like.
But it may be useful to know someone's favorite color, favorite movies, favorite sports team, favorite treats, or favorite stores.
The Secret Santa survey is a great way to help determine if they're into gift cards or candles. Or if they have more mugs than they'll ever use or are someone who loves collecting them.
And, it allows you to gauge if alcohol is a good gift or something they need to stay away from.
The Secret Santa questionnaire will give you great gift ideas so you can ensure that your secret gift is thoughtful and tailored to the individual, making the holiday gift exchange a more satisfying experience for everyone involved.
If you'd prefer to be able to edit the questionnaire and change some of the questions, the Secret Santa Kit available in the shop has several printable templates that are fully editable and also come with a pre-written questionnaire for younger adults.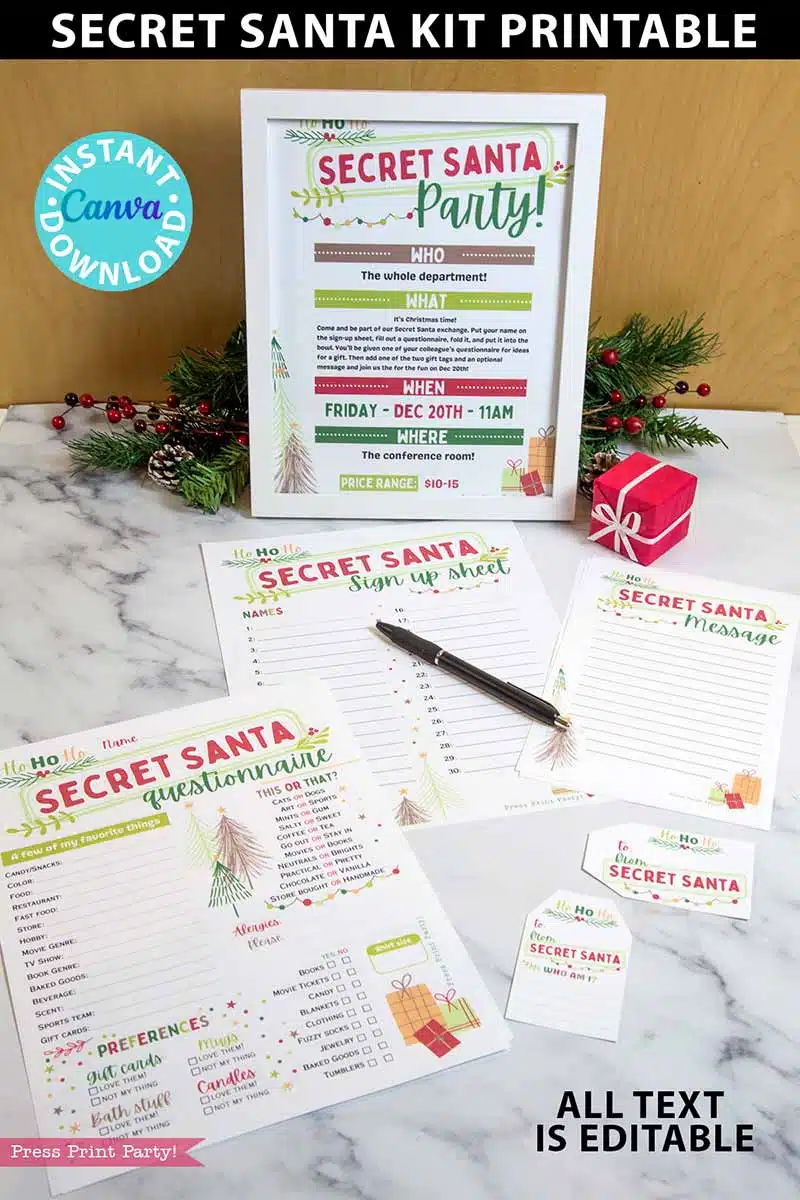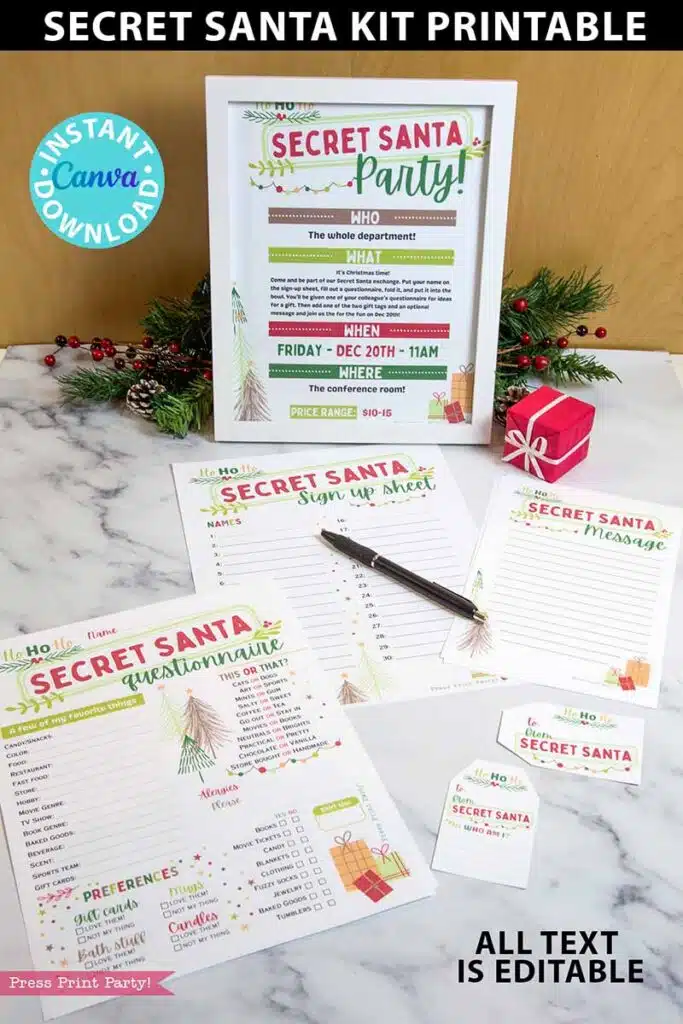 All my printables are for personal use only.
I also have a Secret Santa kit geared towards children and perfect for a classroom.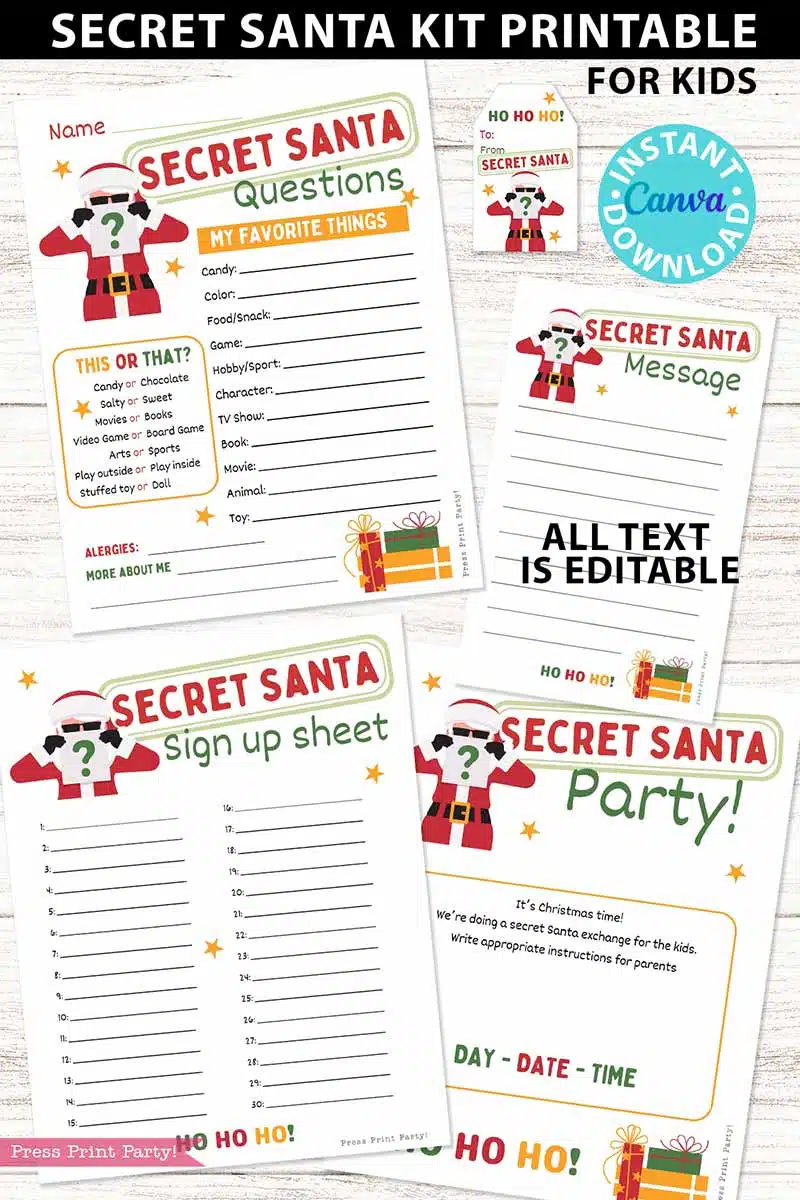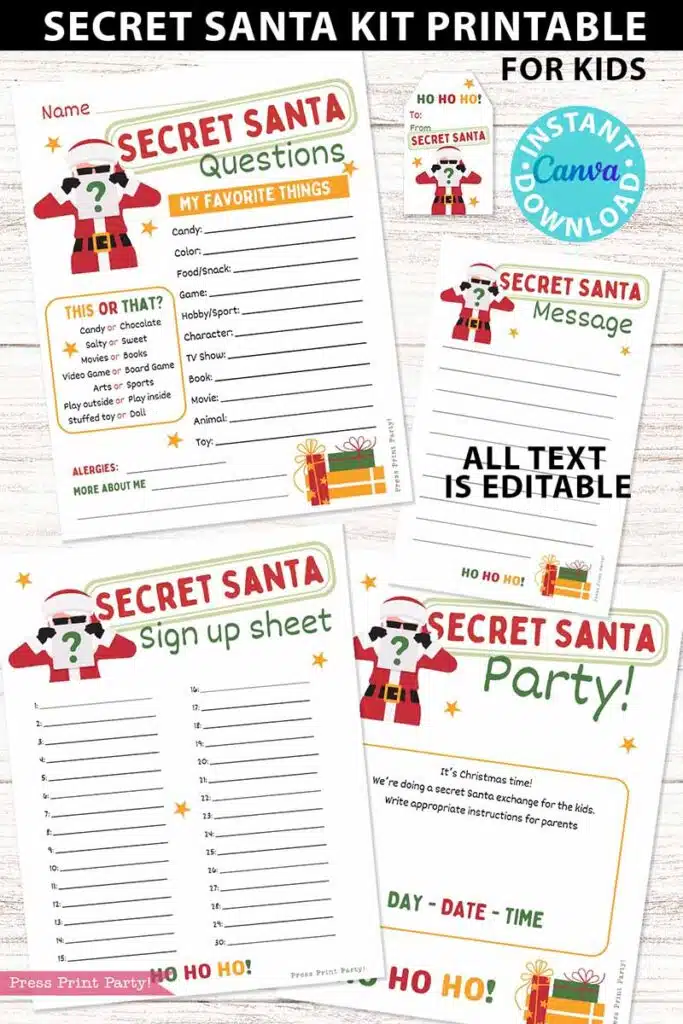 ---
Secret Santa Rules for the Day of the Exchange
The rules you set up for the day of the exchange are up to you and will depend on whether you want people to know the identity of the gift giver or not.
I think it's fun to see what everyone got so I'd run the exchange as part of a meeting or party setting but that's up to you too.
If you want everyone to know who their Secret Santa is, then at the party, just have them go around and personally give the present to their person.
If you want people to get their gift without knowing who it's from, you can have everyone put their gift on a table or give their gift to you, with a "To" tag. And you can take them all to the party at once.
I think not knowing is fun. But some people have a hard time staying quiet and will reveal who they were regardless.
---
Adding a Secret Santa Message to the gifts
Giving the option to add a Secret Santa Message can be nice. It can either hint at the identity of the giver, or it can be an anonymous message of goodwill.
My Secret Santa printable kit contains a printable message page that could be given to encourage offering a kind word or two to the recipient.
It could be a little note about something you admire about them, or how much you've enjoyed working with them.
Or you could add a hint as to who you are. My kit also has a tag with a hint portion. Trying to figure out who your Santa Claus is can be a fun part of the game.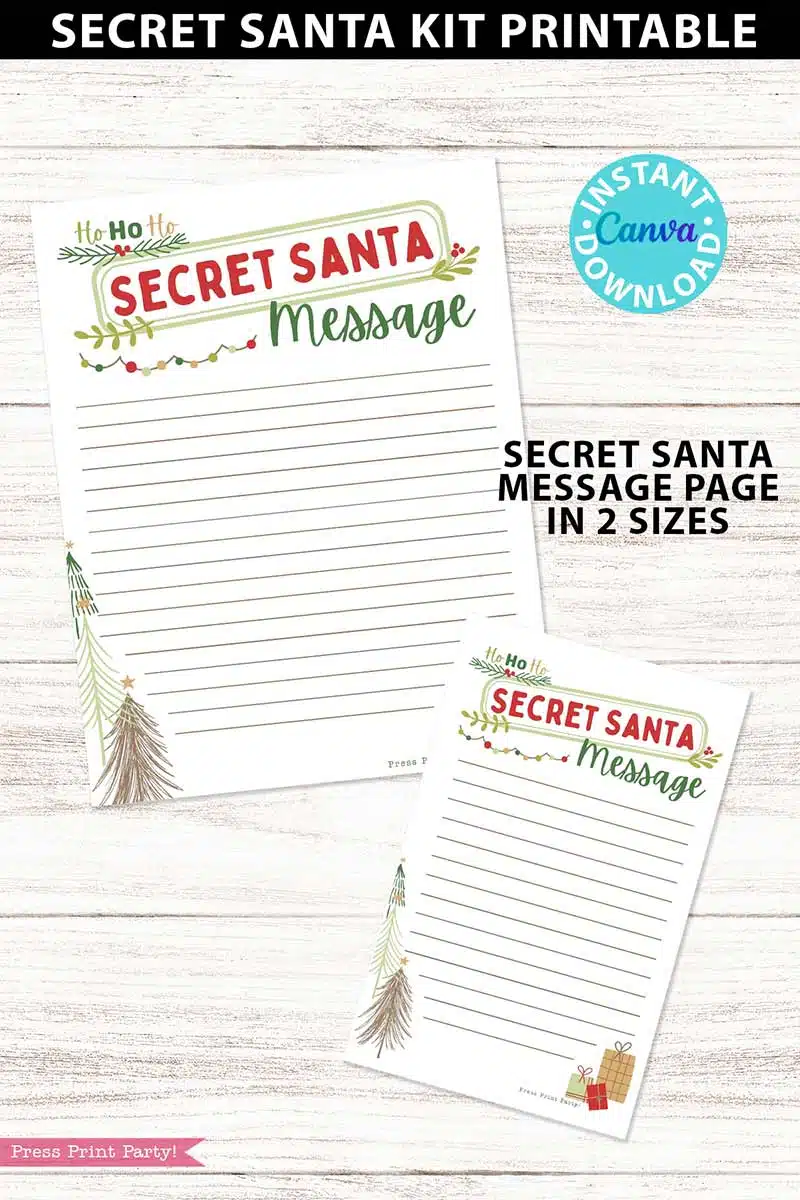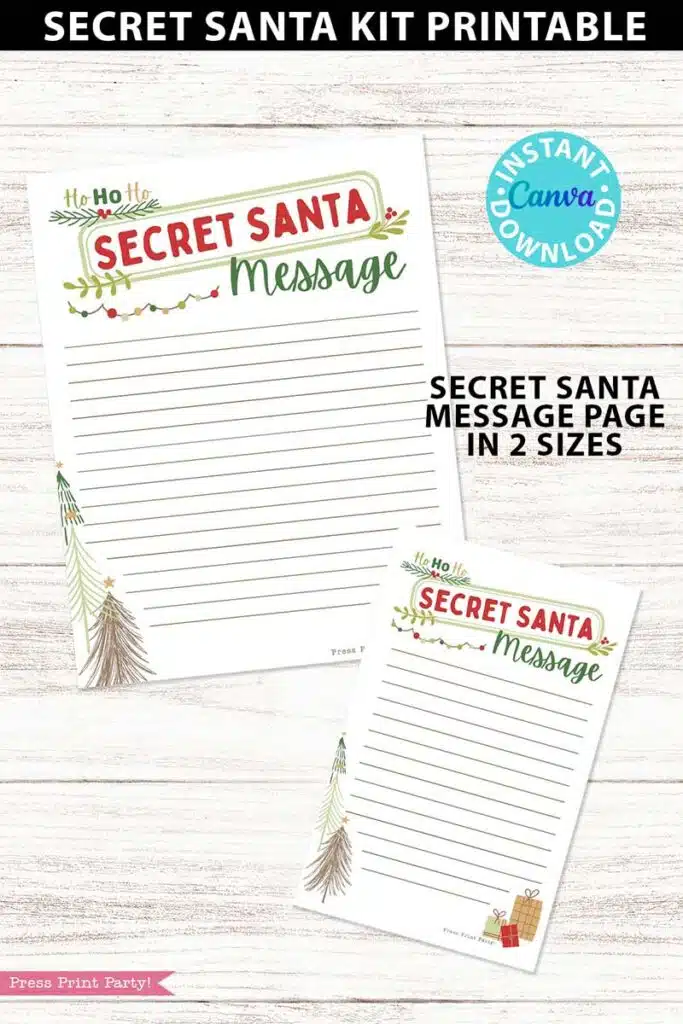 ---
A Secret Santa exchange at work is a fun holiday tradition and eliminates the need to give everybody in the group or department a holiday gift.
I hope my free printable Secret Santa questionnaire will be useful to you, but if you want more flexibility, then the printable Secret Santa kit is for you.
But your office Christmas party may not be complete without some games to play. So you may want to spread even more holiday cheer and download my 10 free Christmas games printables or use one of these free funny tags as the perfect addition to your gifts.
And if a gift card is what you choose to give, don't make it boring. Use a cool gift card holder like these!
Also, if the kids are doing their own Secret Santa exchange, I have a Secret Santa questionnaire kit for kids perfect for use at school or with friends.
Don't forget to pin this free printable Secret Santa questionnaire: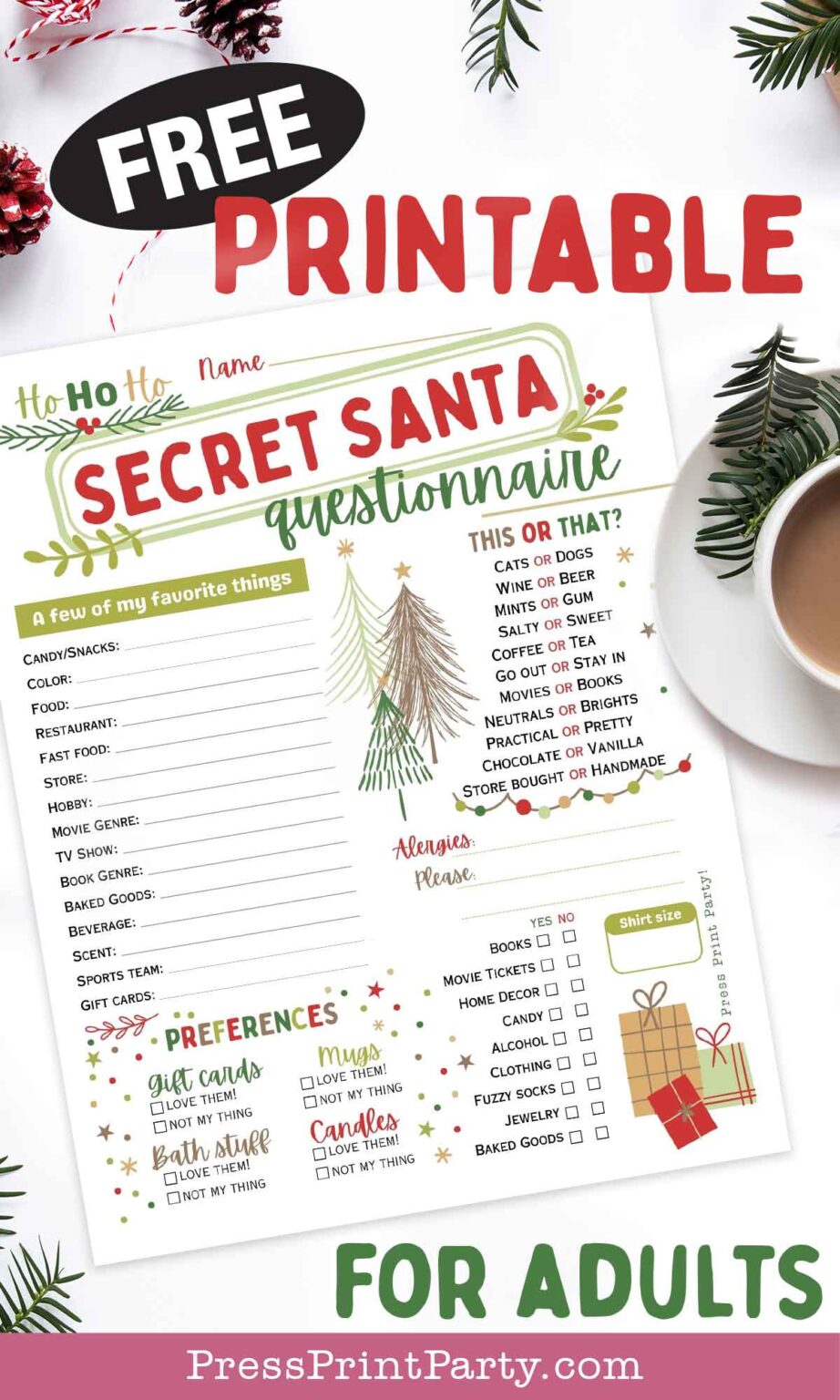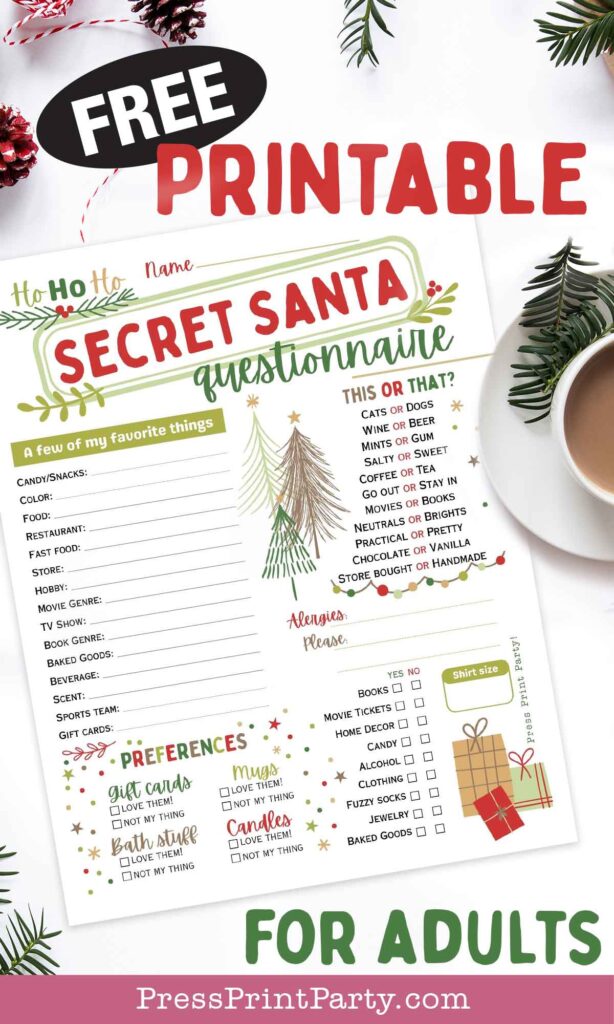 ---
Get Your Freebie:
If you've already subscribed, you can get the password from the bottom of any email I send and go directly to the Free Downloads Library.
Check out our christmas printables