If you've ever wondered how to make a salami rose, You'll be shocked to learn how easy it is.
Salami roses are the perfect way to upscale your charcuterie board and folding your meats in an interesting way really takes your charcuterie plates to the next level.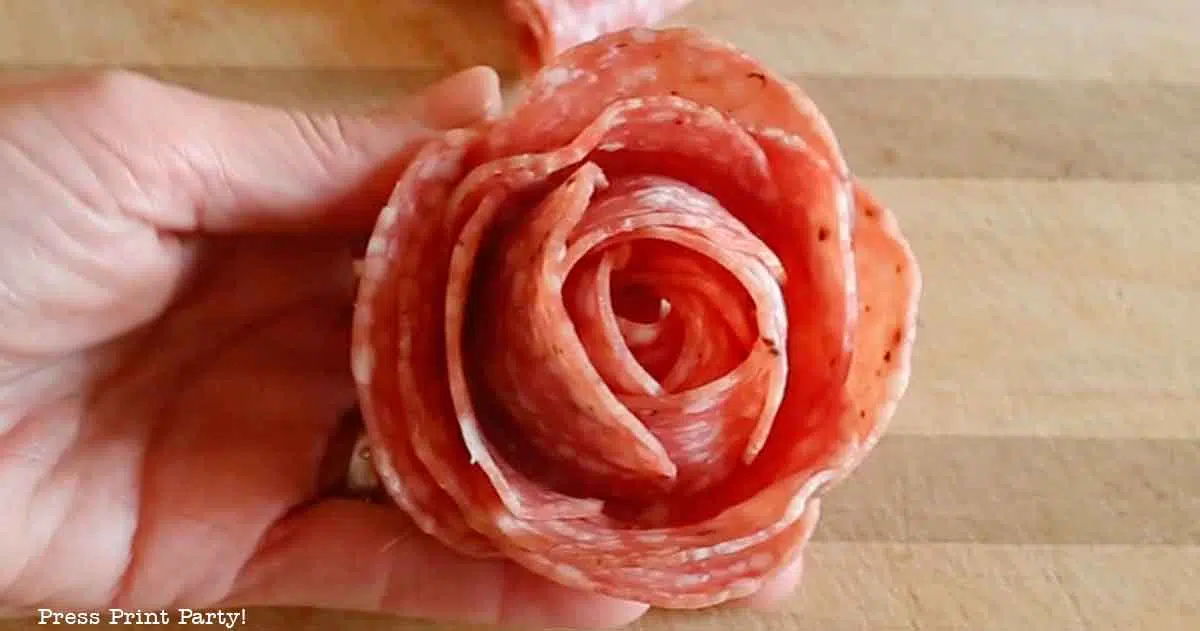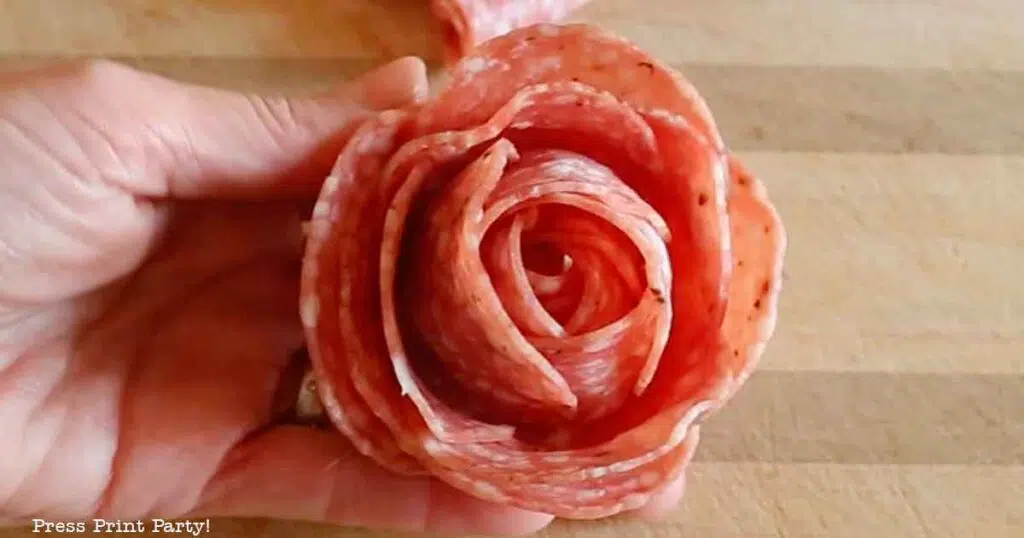 This post may contain affiliate links.
If you want to learn how to set up the perfect charcuterie board, I have a complete tutorial for you.
But in this post, I'm going to concentrate on how to display cured meats to create unique and beautiful charcuterie boards.
The picture tutorial below will concentrate only on the salami rose. You can also just scroll through the video to see it done.
The video will show you not only an easy way to make a salami rose, but also a salami or prosciutto rose bouquet, a salami chain, and a prosciutto fan.
For the meat roses, you can use any sliced salami or even pepperoni. Keep in mind the pepperoni roses will be smaller and you may need more slices to achieve the same look
Salami rose tutorial in 5 easy steps
You'll need about 9 slices of salami and a shot glass.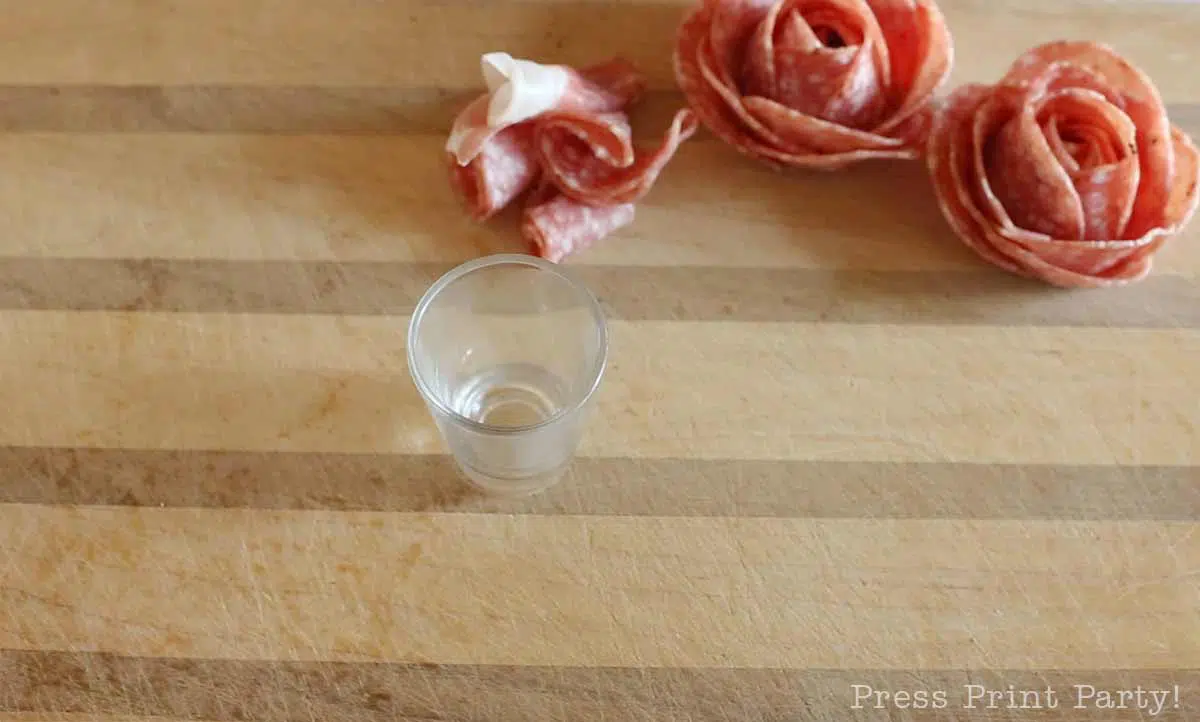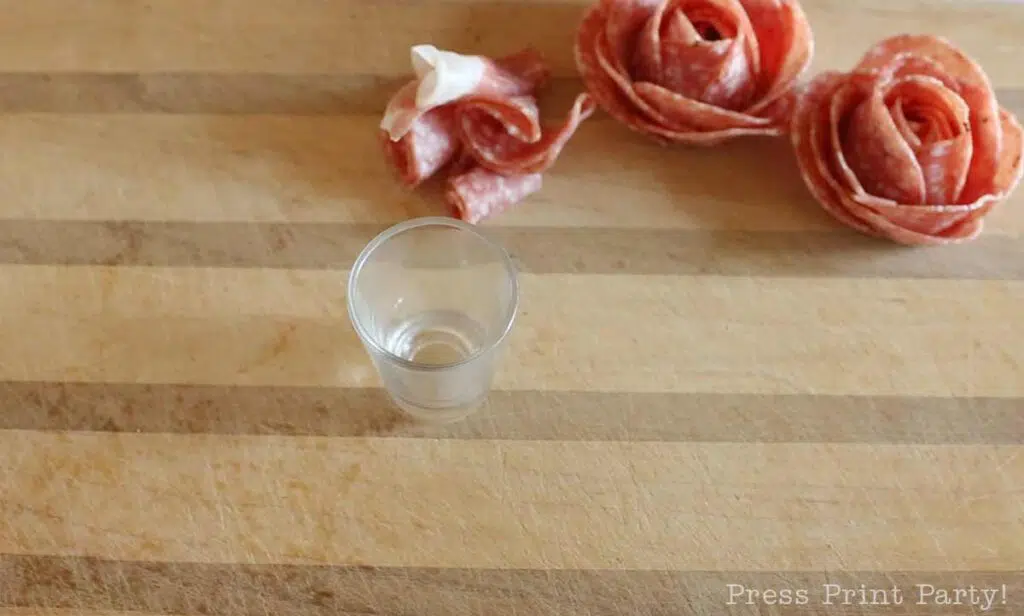 1- Take your first slice of salami and press it folded in half over the glass rim.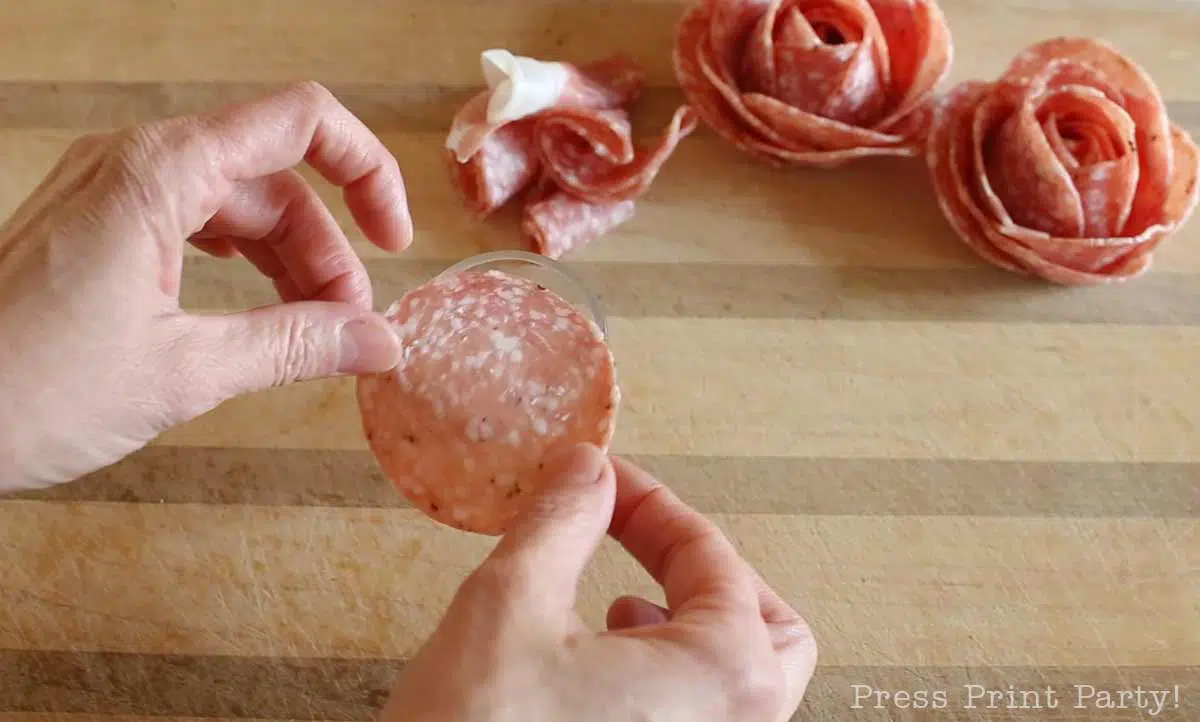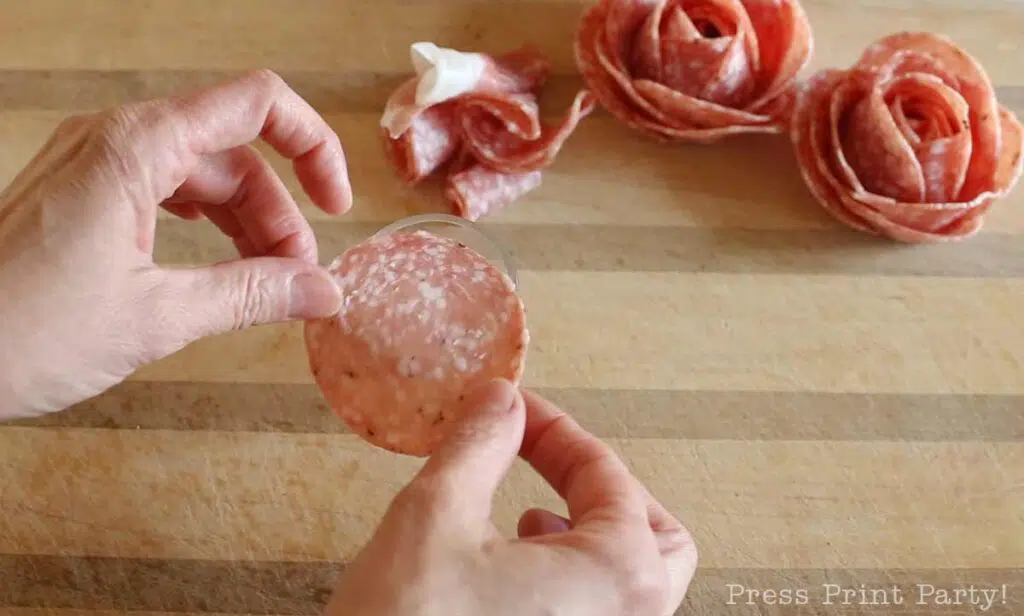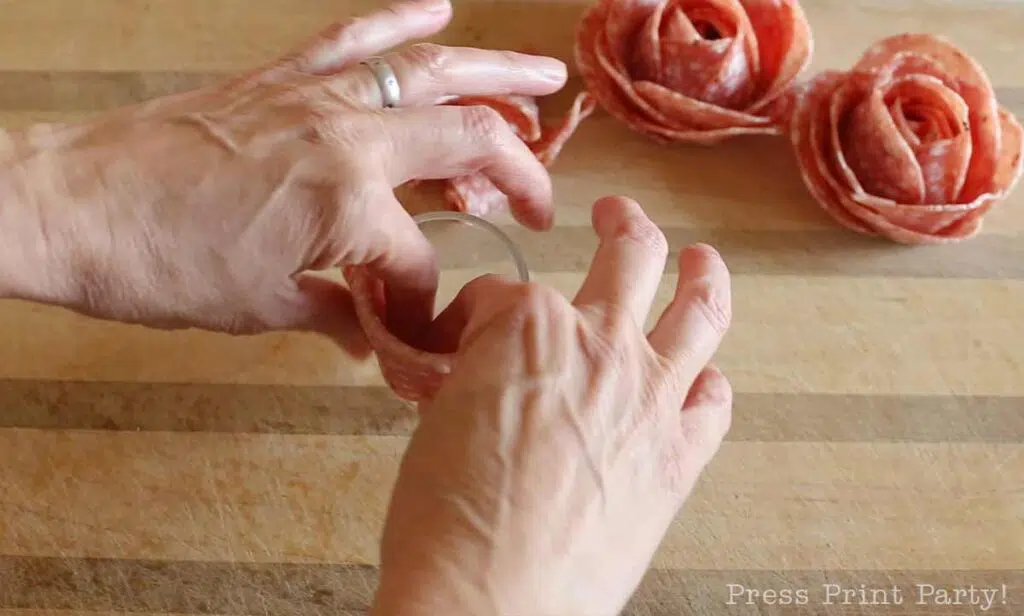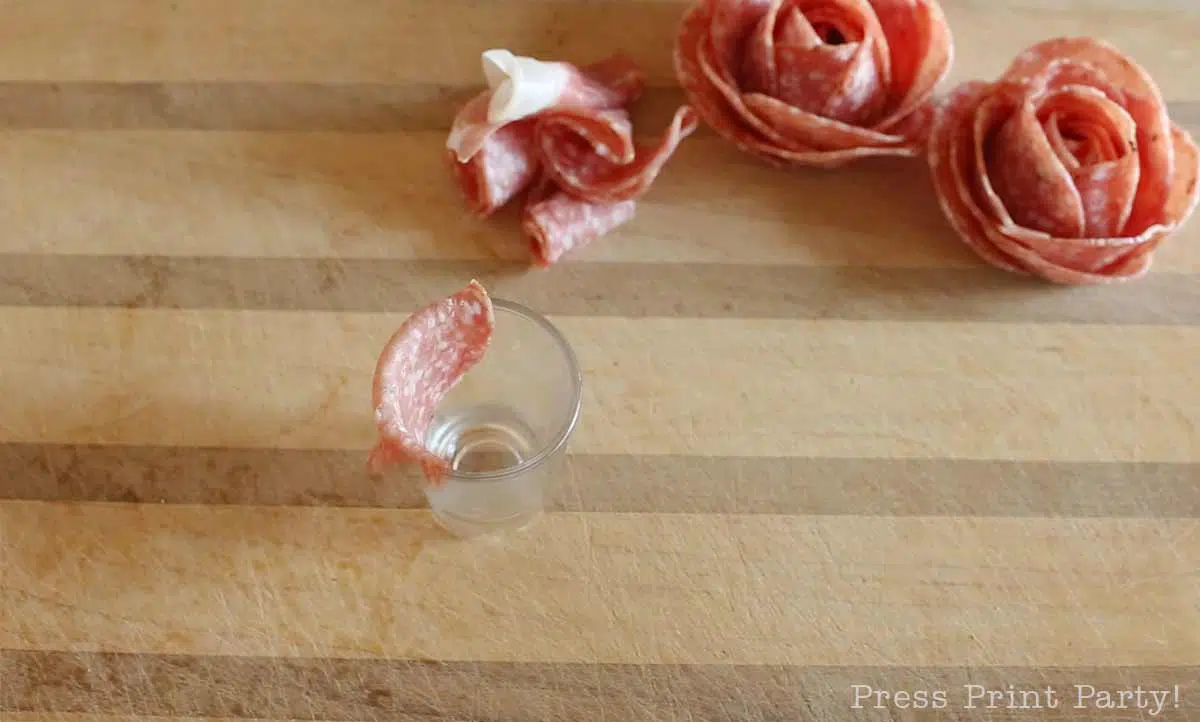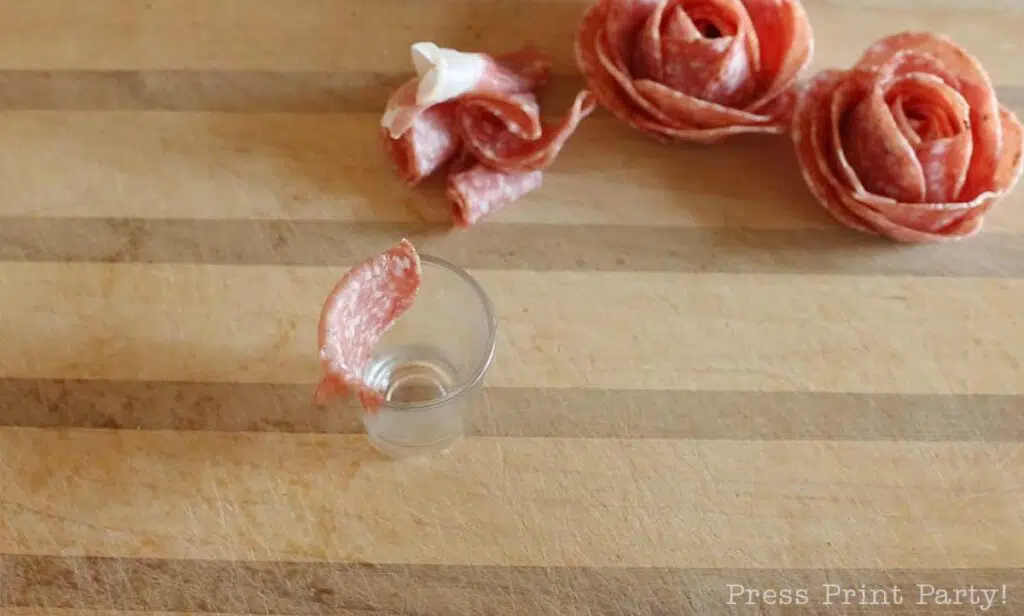 2- For the second layer, press the piece of salami positioned halfway over the first layer.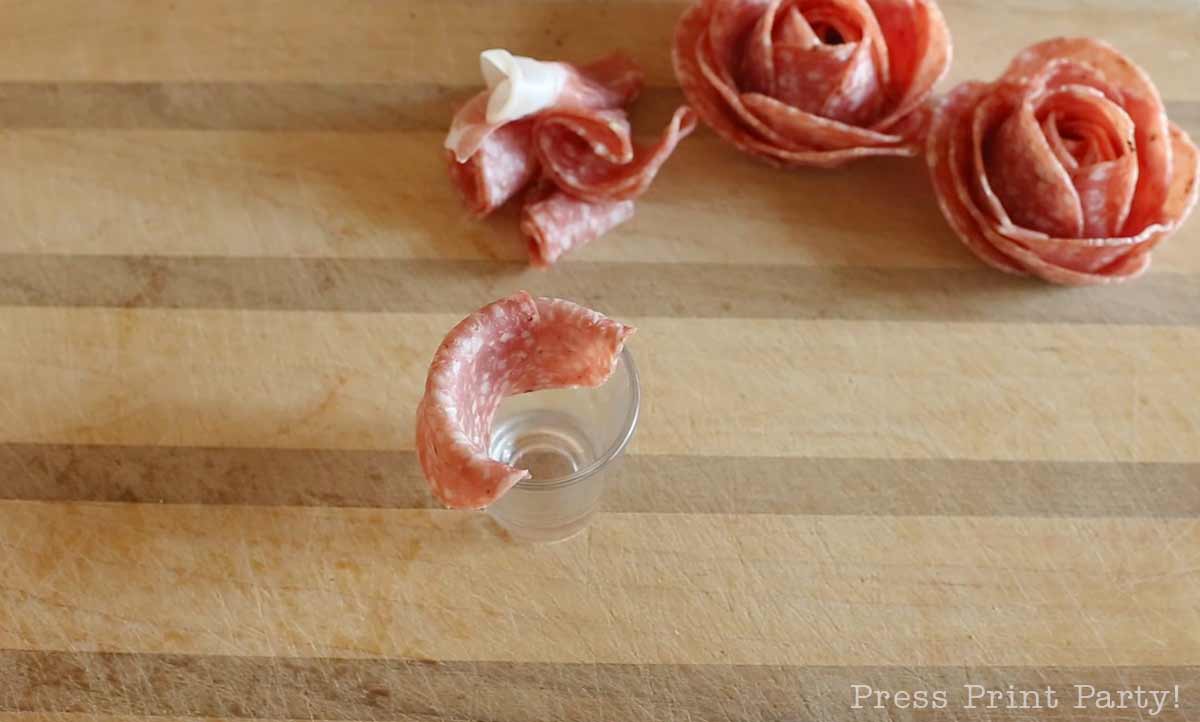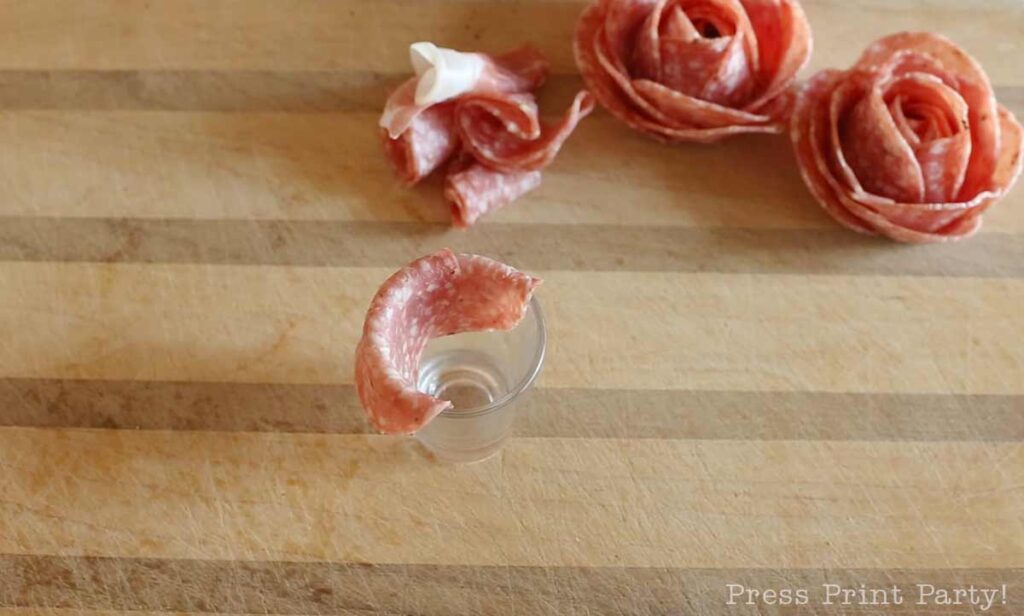 3 – Press the third slice halfway over the second.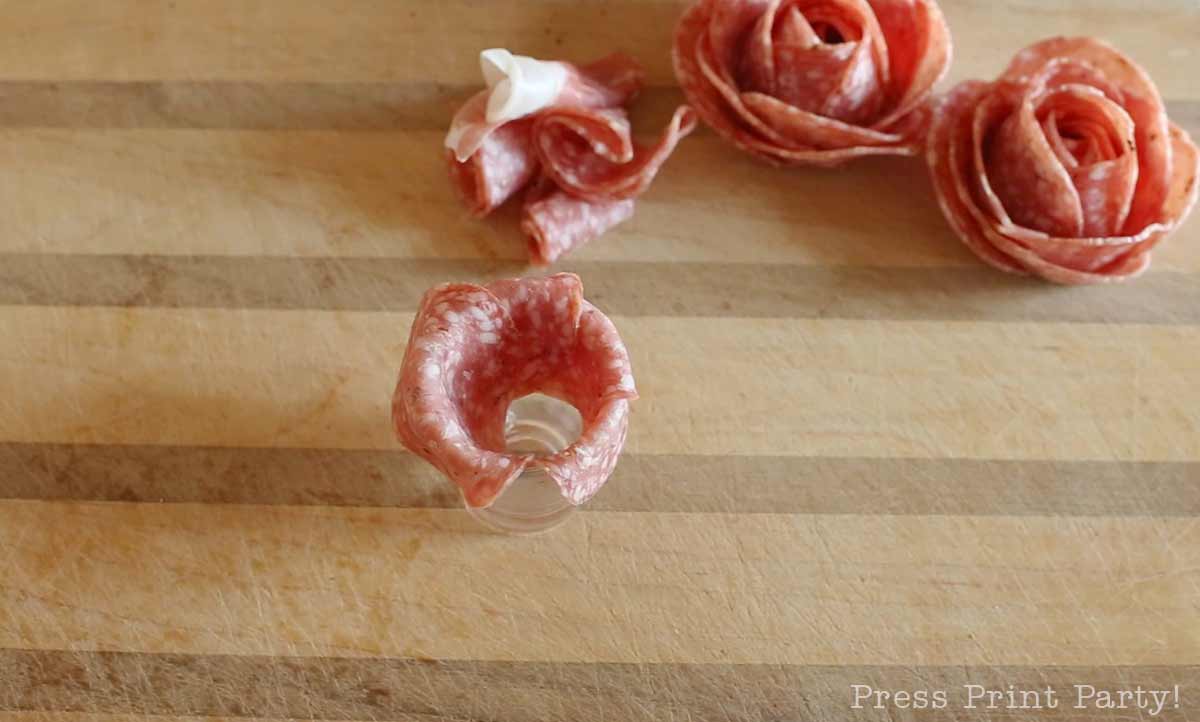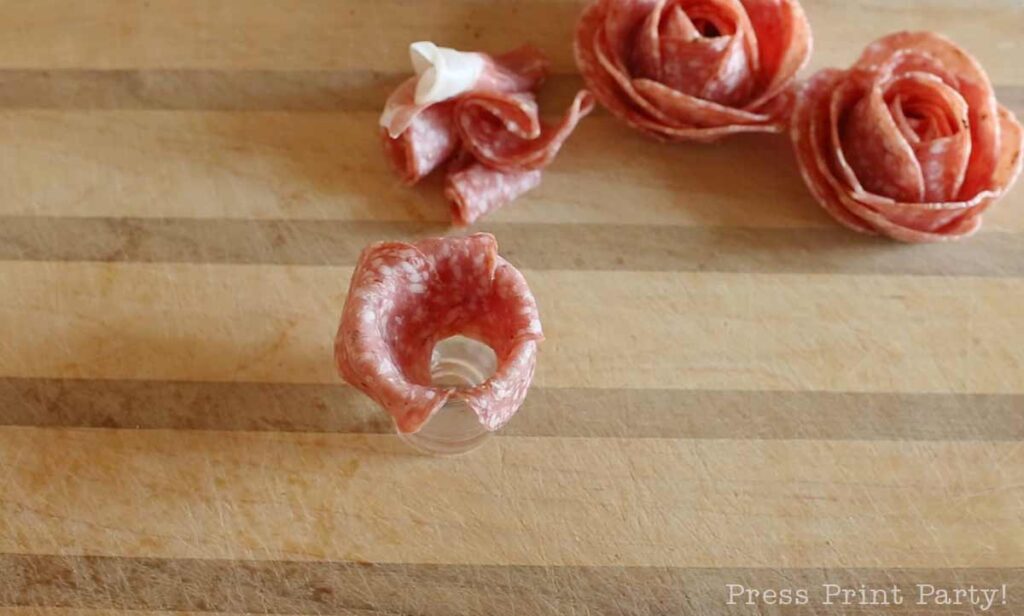 4- And so on, going around the glass until you've used all 9 pieces of salami.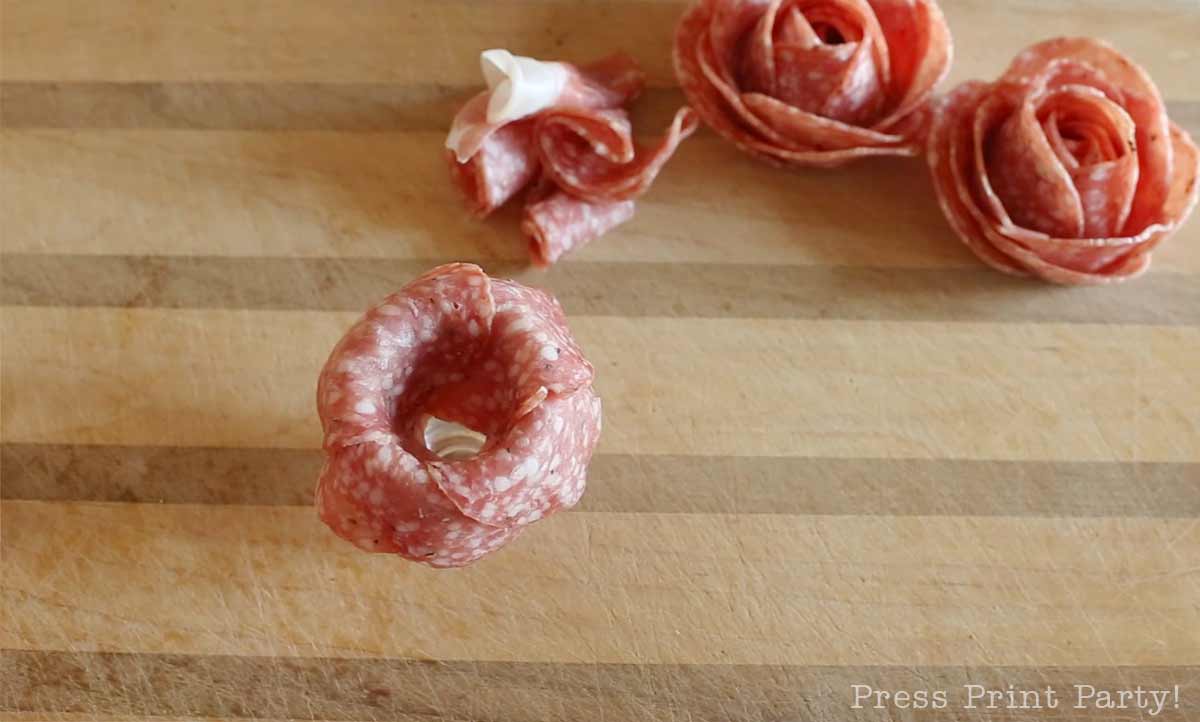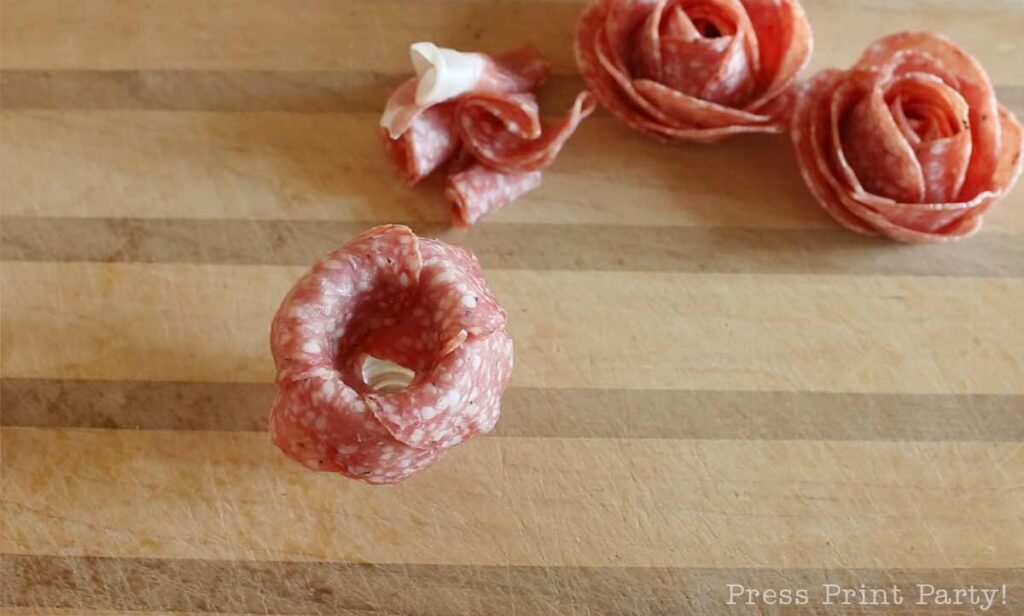 5- Lightly press the salami pieces over the rim of the glass and turn the glass upside down quickly on your cutting board.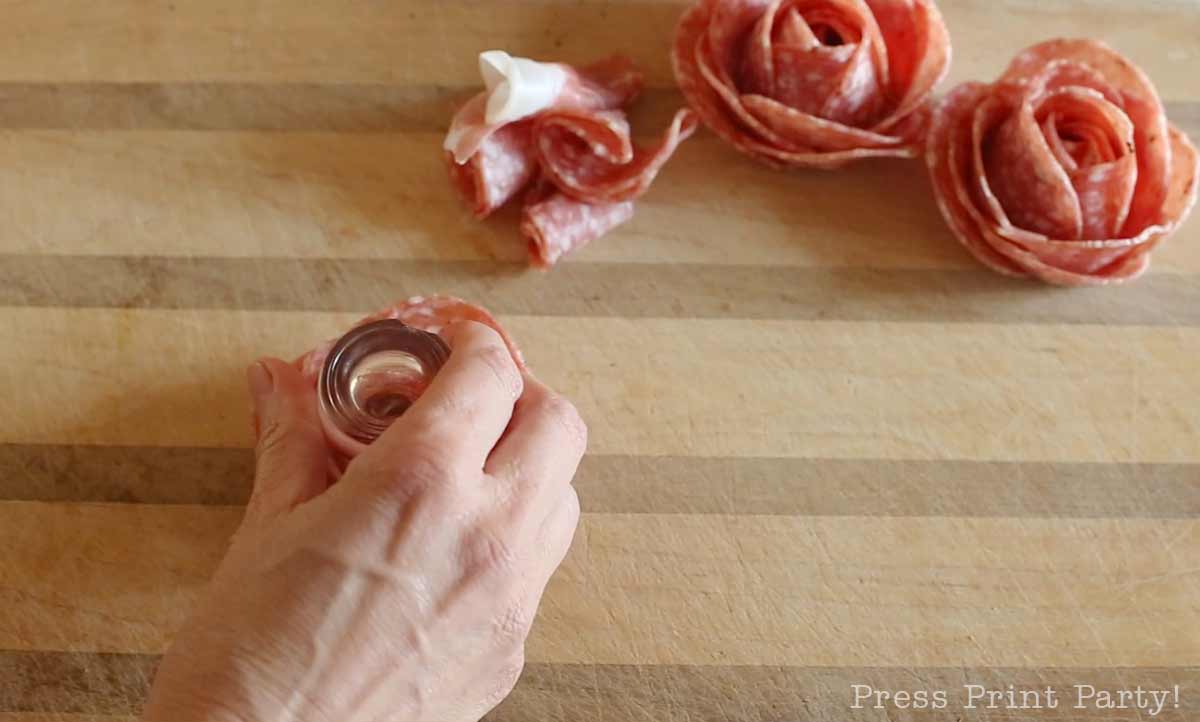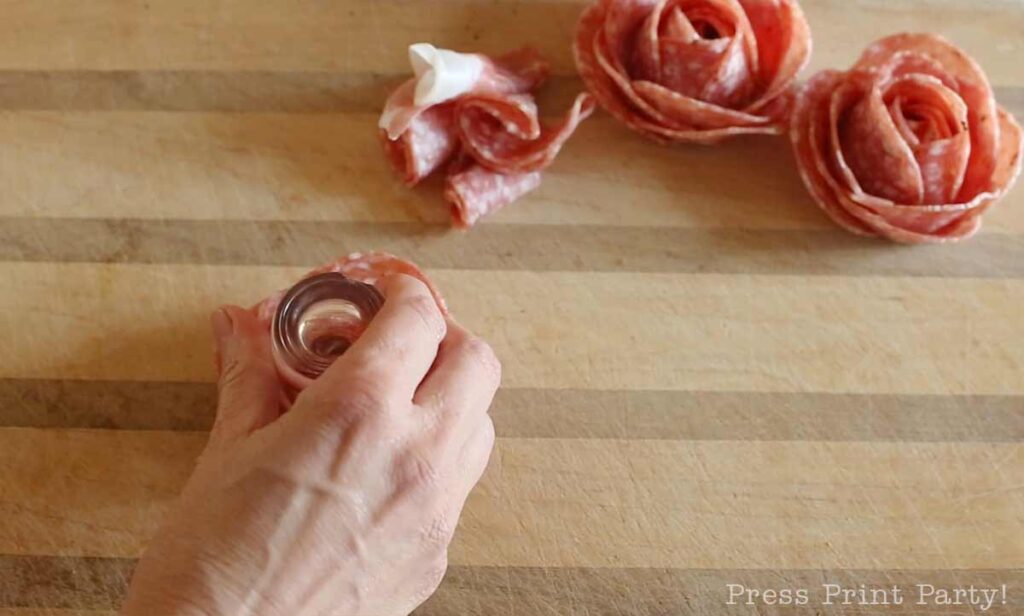 Remove the shot glass by sliding it upwards.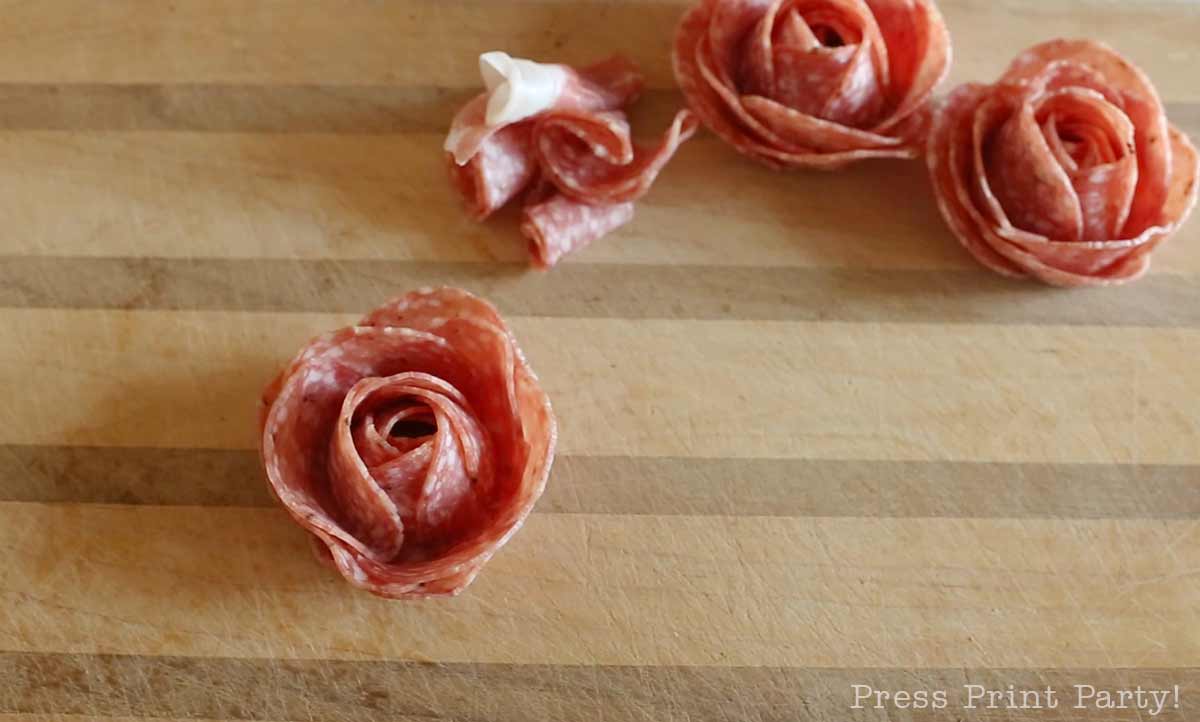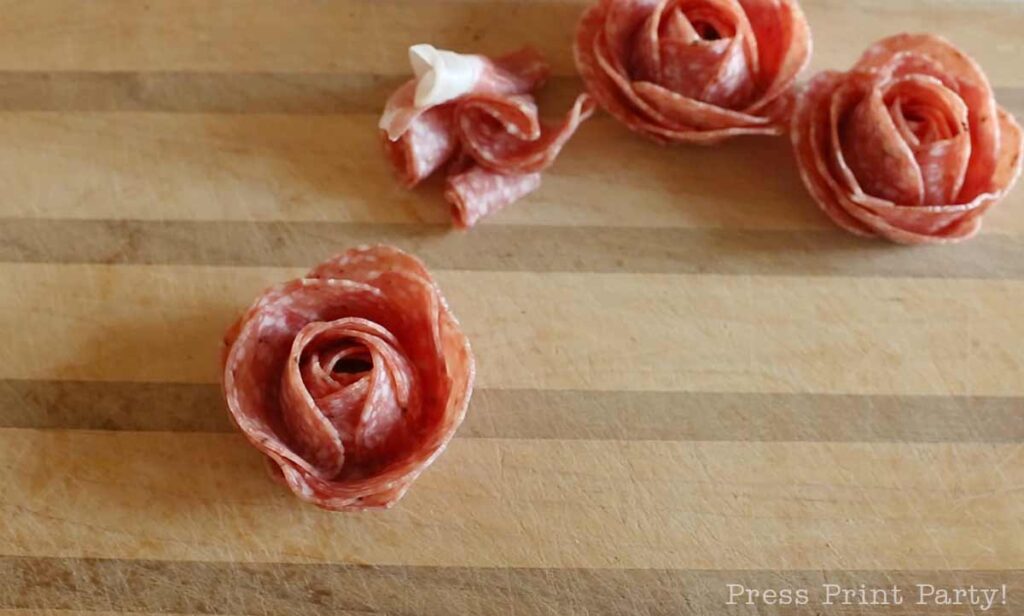 And voila, a beautiful salami rose. I was amazed at what a simple idea that was.
Although they don't take a lot of time to make, you could make them all one day ahead and store them in saran wrap in the fridge.
---
4 easy ways to display charcuterie meats (video)
Not just a salami rose, but also learn how to make a salami chain, a cured meat bouquet, and a prosciutto fan.
And please sign up to my
YouTube channel
by clicking here:
---
With a little practice, you'll become a pro at making salami flowers and arranging your meats on snack boards.
Want larger roses? The size of your charcuterie roses will depend on the size of your glass. So use a bigger glass, like a wine glass, and more salami slices or larger deli meats.
For smaller roses, you could use a champagne flute with a smaller rim and fewer meat slices.
Now that you know the tricks you can fancy up any dinner party by creating your own snack board for any holiday. Mother's day, Christmas, and Valentine's day will never be quite the same.
To see the salami rosettes in action, go check out my charcuterie board ideas and the gorgeous greenery baby shower we styled for our friend.
Don't forget to pin these salami rose instructions: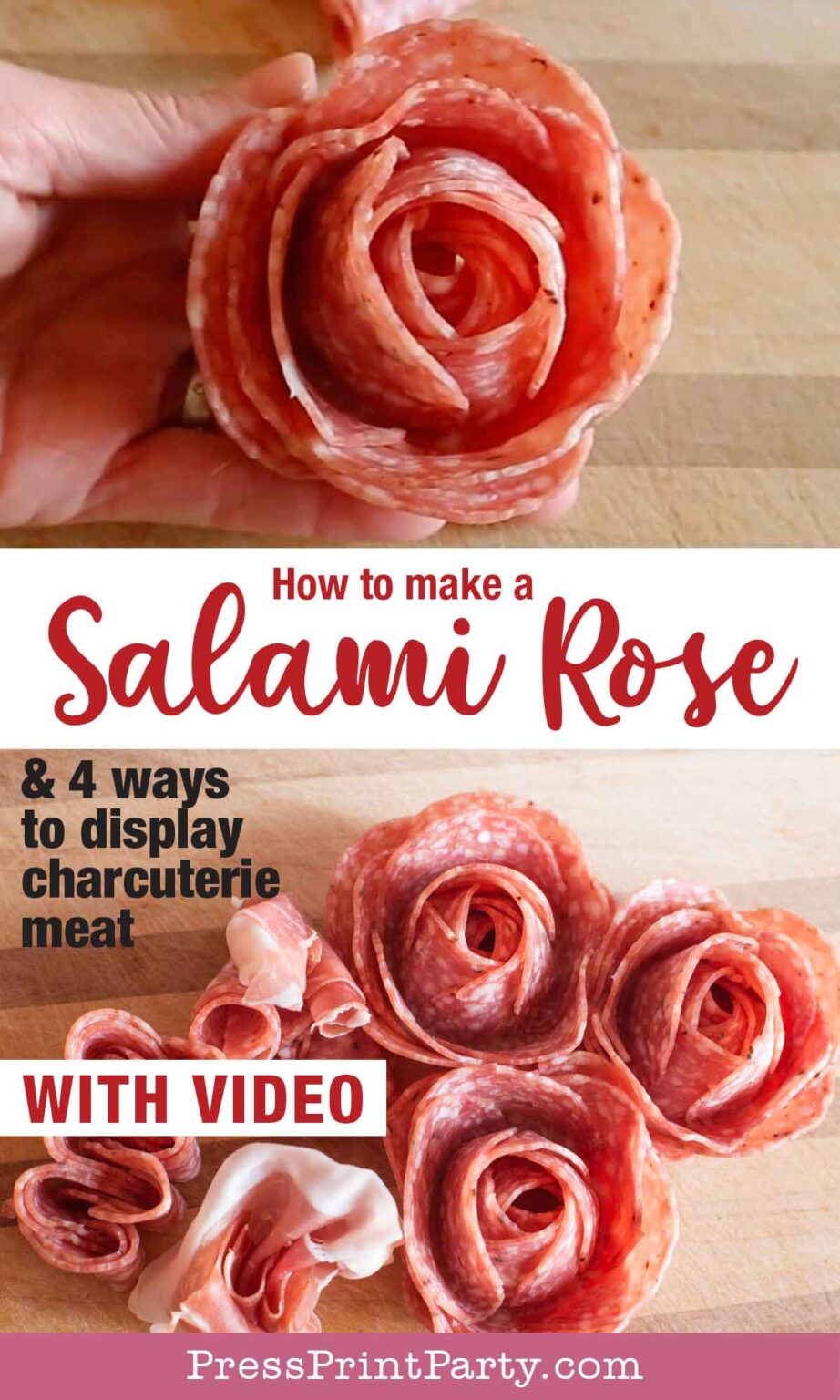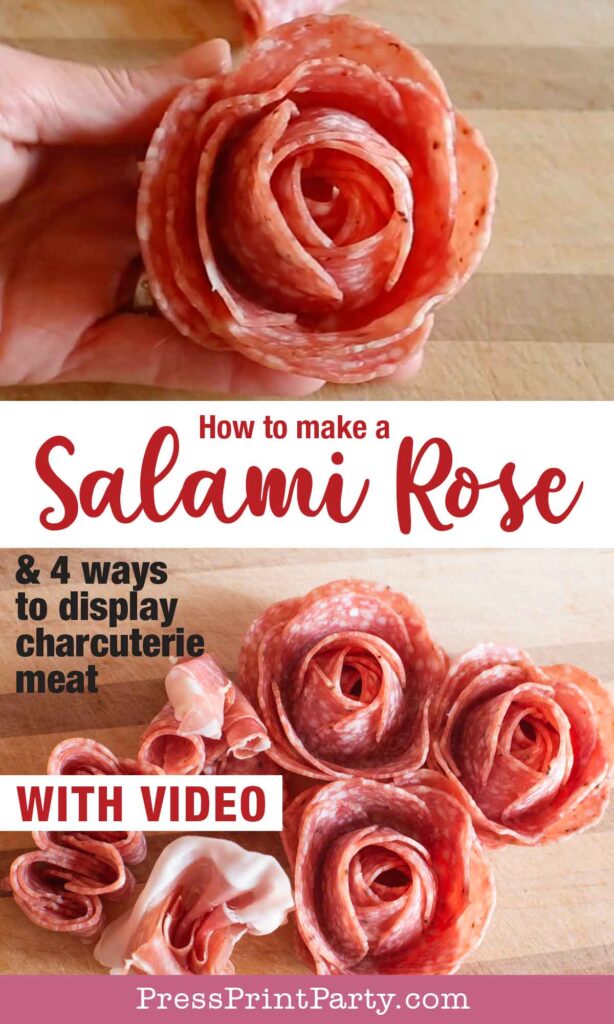 Check out our Baby Shower printables