I've had the idea to design a woodland-themed baby shower set for a couple of years now. All those woodland animals baby shower ideas on the web and cute forest animal party supplies sure make for an adorable scene.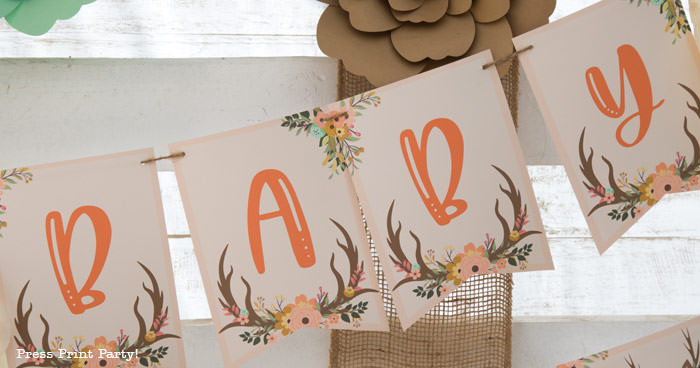 This post may contain affiliate links.
When I was asked to help throw a woodland baby shower for my sweet friend Kaylee who was about to become a brand new mom, I had about a month from starting the design to having the actual baby shower, which was a bit tight. But I knew I'd be getting a lot of help, I just had to come up with the vision.

In this post, I'm going to take you through the process from beginning to end of this baby shower theme so you can see how easy it is to pull off a beautifully coordinated party that's a lot of fun for your guests.
Step 1: Get a set of Woodland creatures theme party printables
Getting a set of party printables should be the first step to any party. It will guide you in figuring out the color scheme and the rest of the decorations for your party.
I designed this woodland baby shower package especially for my friend with some of her favorite little woodland creatures, but you don't need to hire a designer, this set of woodland baby shower printables is now available in my shop.
The cute baby fox is the main character of the woodland baby shower set followed by a couple of deer and the squirrel. There's also a little hedgehog that's a little shy, so he's only in some of the items.
The antler design and the soft brown and orange colors give this woodland baby shower set a very rustic look and woodsy feel.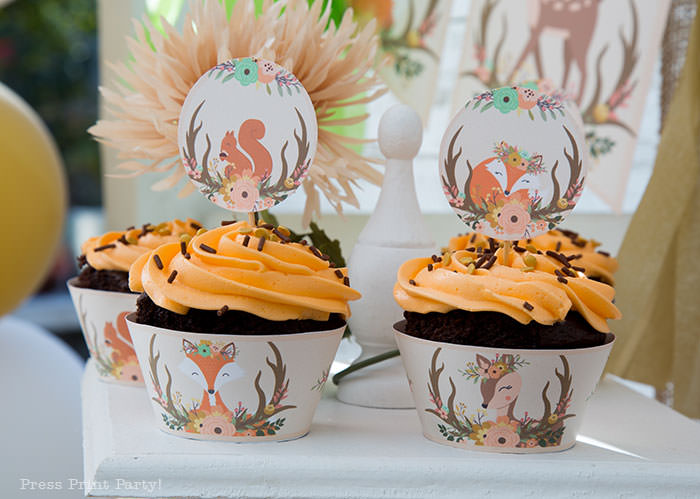 It includes everything you need to decorate your party including the invitation, banners, bottle wrappers, and cupcake toppers and wrappers, favor tags, and much, more.
I highly recommend sending an invitation that will match the feel of the party. It helps people anticipate the event all the more.
If you see baby shower invitations this cute you kind of expect the party to be exceptionally cute as well.
When you have access to all the decorations in the same theme it sure makes it easy.
Step 2: Get matching Woodland theme decorations
Now it's time to reinforce the theme with the rest of the elements. Collect your decorations in one place as you find them. When everything matches, it all comes together beautifully on the day of the party.
How to choose your main colors

The party printables start the look, and the rest of the decor rounds it up.
Looking at the party printables, I decided what the main colors would be. For this woodland baby shower, I choose to give it a rustic touch with mostly browns and oranges accented with green and white and a hint of yellow for the perfect accent color.
Use balloons as accents
I made 2 balloon Garlands with gold, orange, green, and white balloons. I placed one around the dessert table and one around the photobooth.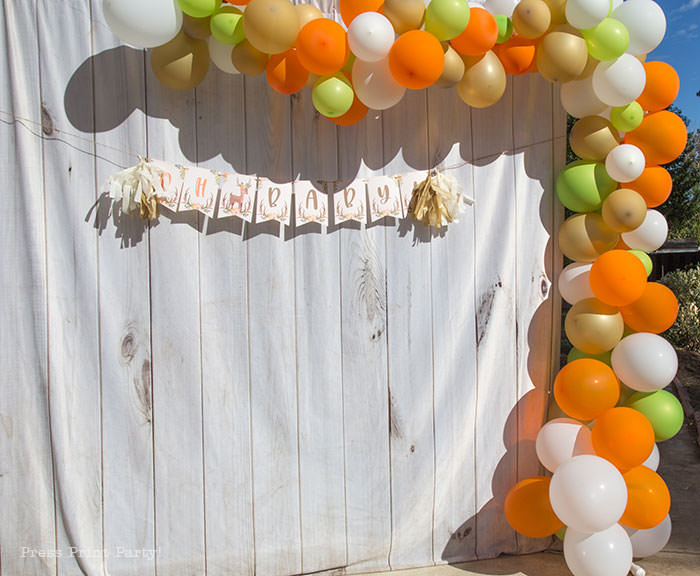 Making an organic balloon garland is way easier than you think. You can see where I got my balloon garland instructions in this post.
Balloon garlands are instantly festive and one of the best ways to tell your guests the party is ON! And you don't need any expensive helium.

Make lots of forest animals banners
I printed several banners and accented them with easy to make tissue paper tassels. Tissue paper tassels are one of the cheapest and easiest ways to make a fancy Garland.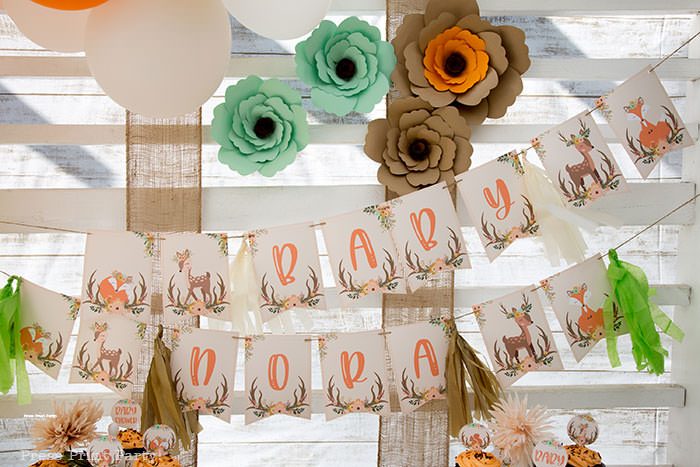 Choose several sheets of tissue paper in your theme colors. Those will make gobs of tassels that you can use at the ends of the banners or by themselves to decorate the edges of your tables.

If you've never made tissue paper tassels you're in luck because I have a post explaining it all.
Since you can type in any letter of the alphabet, I made a banner with the baby girl's name for the dessert table, I made an "oh baby" Banner for the photobooth and banner cutouts with just the woodland animals for the snack table.

Choose a detail from the printables
Because all the little forest animals have some cute flowers on their heads, I wanted flowers in my decor. I thought about buying fresh flowers but the cost was just prohibitive.
I did score some great fake flowers at the store in the clearance aisle that matched exactly the colors I was going for. Don't you love it when that happens!
But I also wanted something bigger on the backdrops.
So, since I had the pattern, I made some paper flowers following the design colors of the flowers on the printables.
I made green, orange, and kraft paper flowers with a brown center. See how well they match the flower design in the woodland printables.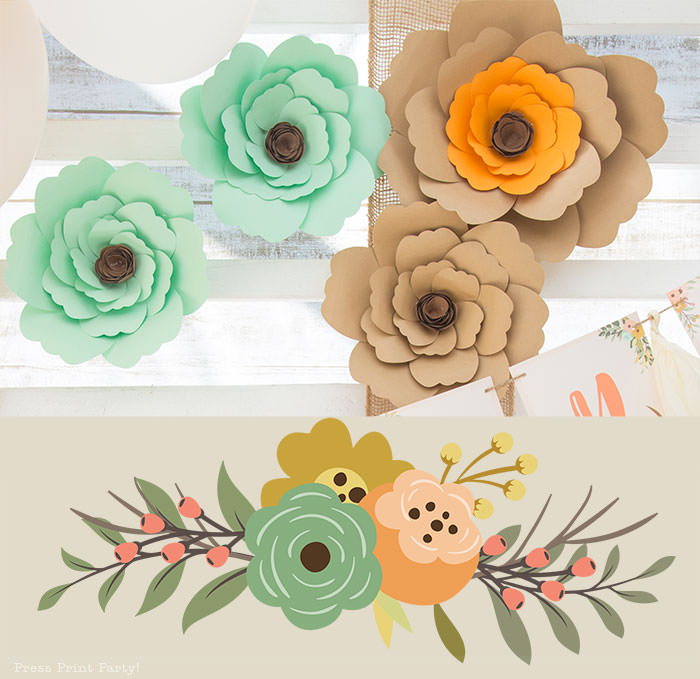 I used a paper flower template with a wavy rosette from Abbi Kirsten Collections. I've used her amazing flowers before for my unicorn party and a vintage baby shower. They make amazing accents. Making paper flowers is not difficult and you totally should try it.
Find more matching woodland decor
We didn't have any pretty wood tables so we wrapped most of the folding tables we had in this shiplap plastic tablecloth that looks like wood from Oriental Trading.
I used it on my farmhouse Thanksgiving table and loved the looks of it. And it comes in an enormous roll! I probably still have half of it left Even after two parties. I guess I'm ready for some other woodsy-themed festivities!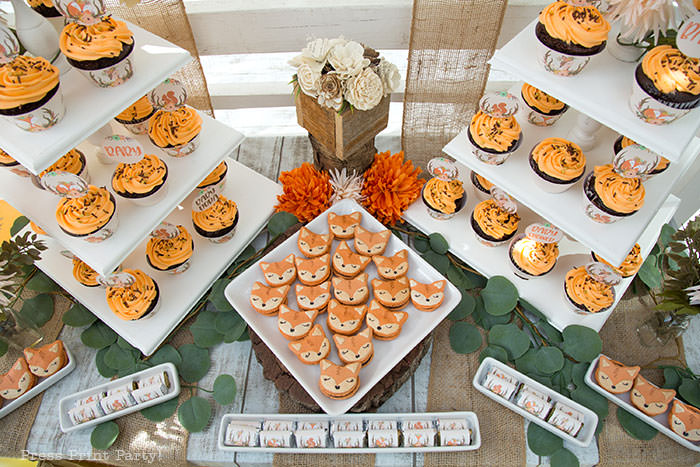 A bunch of cut pieces of wood that came from a tree we took down last year were the perfect accents and served well to elevate my platters. I was so glad I rescued many of the stumps to use them as decorations in the fall. You can see one of them here with my chalkboard pumpkin.
Another easy idea is to use some fake wood stumps from Oriental Trading as we did on the games table.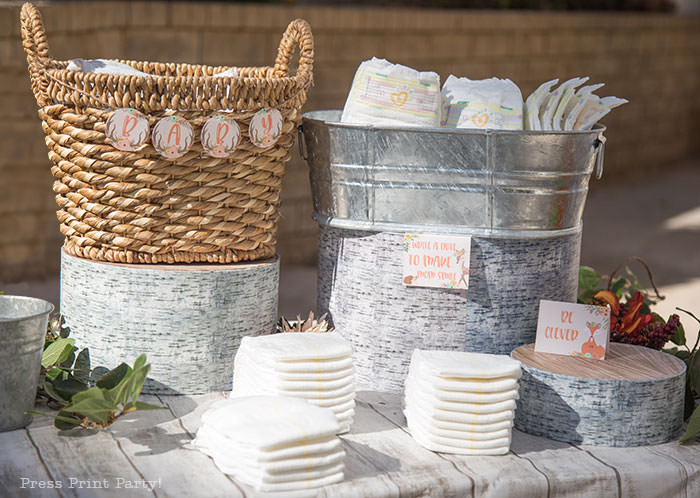 Burlap, greenery, and baskets were great table decorations for this woodsy theme.
I had one fake eucalyptus garland, and I used it, but for the rest, I cut some greenery off a hedge in my backyard and set it on every table. Super cheap!
The antlers and pine cones I had intended to use as accents on the tables were left in their box in my garage. (Sadness!) But if you have some they'd make some fantastic decorations.
Another focal point was a weathered small wood pallet I set as the backdrop for the snack table. Sometimes being a scrounge pays off.
Choose your platters and food containers
You need to think of all your platters as decorations too. I made sure that all the food containers matched the forest theme. I chose a green cake plate and a galvanized platter as well as a wooden platter and kept the rest mostly white. And since we had several people bringing in food, we transferred most of the food from their container to ours right before the party.
What you have is a cohesive table that fits well within the theme.

Don't forget the food
You need to think of your food as also part of your theme.
Cupcakes are always a crowd favorite and really easy to match with the theme just by using the wrappers and the toppers in the printables set. I colored my buttercream a light orange and used some chocolate sprinkles on the top. Easy and terrific.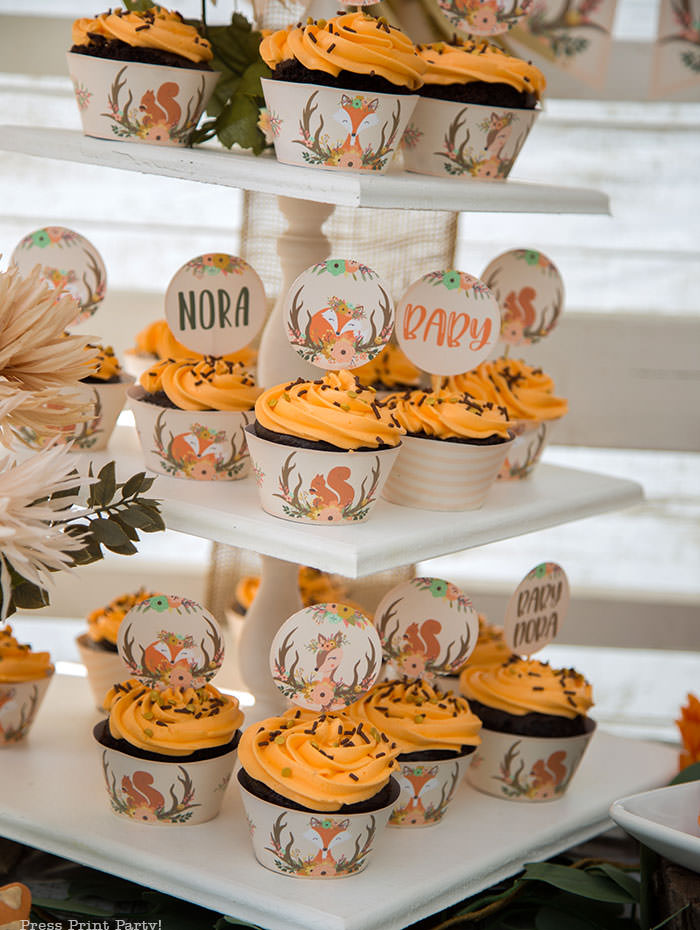 I couldn't resist commissioning these adorable Fox French macarons.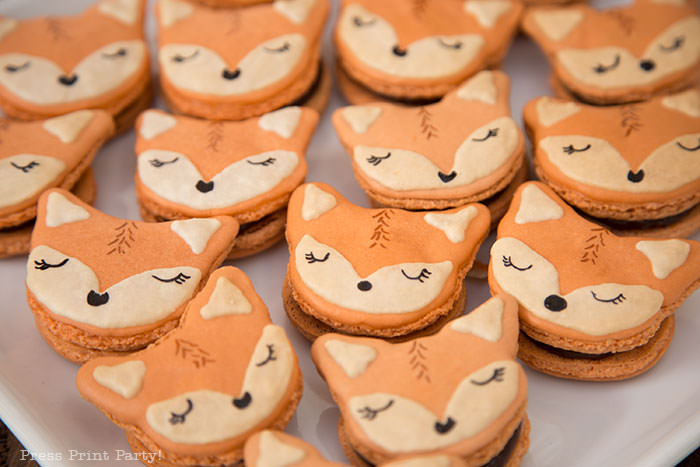 My friend Bre makes some amazing cakes and took up the challenge to make these macarons for me. You can find her on Facebook at Beautifully Made by Bre.
When you look at them you can't help but smile. They just looked amazing on the dessert table. And they were super tasty too with their hazelnut cocoa filling. Yum!
Notice how we didn't even have a simple cake. I only had two towers of cupcakes and the fox macarons taking center stage.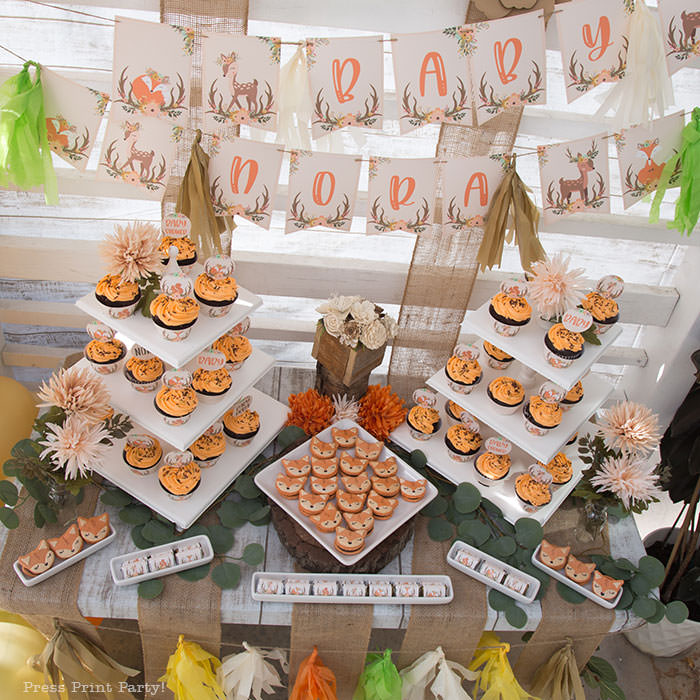 For a little more fun detail I always wrap some Hershey Minis with matching wrappers. They're always available in my set.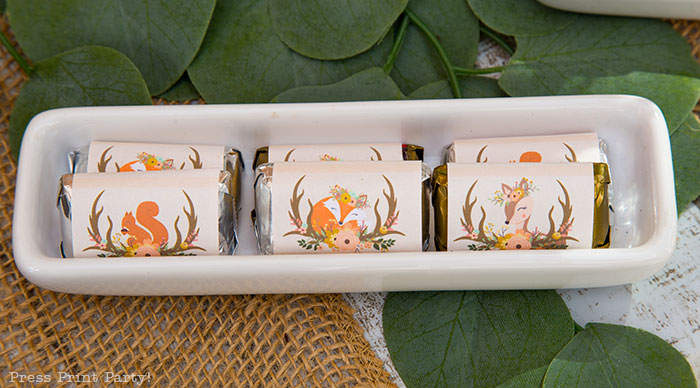 The printable bottle wrappers bring the theme to the drinks table. I just print mine on regular cardstock and set refrigerated bottles on top of the ice to keep them cool. Getting them wet is usually not a problem with a 2-3 hour party.
A mini Garland made with the cupcake toppers was the perfect addition to the water bottle basket.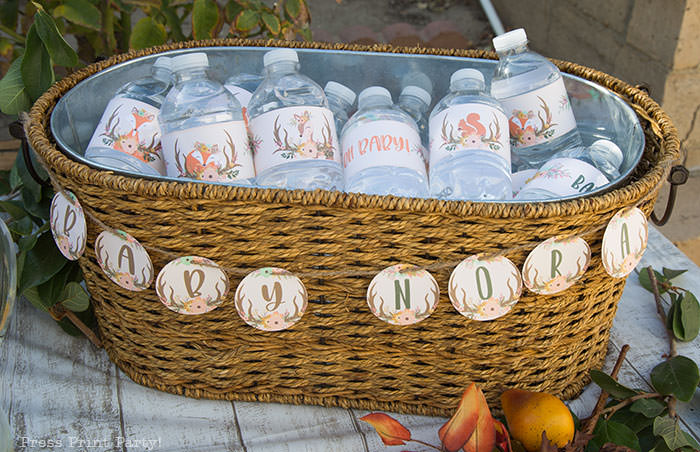 When we asked people to bring food we asked them to bring specific items, that way we knew exactly what was coming and that they would match the theme. The little veggie cups are always popular, and the orange and green colors are perfect for a Woodland baby shower.
For ease, we kept most items bite-sized including the tea sandwiches and the scones. And of course, we had some gluten-free cupcakes for our gluten-free friends which we labeled with place cards. Rest assured, none of this delicious food went to waste.
Notice how the paper plates are just white and the napkins are plain gold. When you have such a strong theme with your printables you don't need to buy expensive plates and napkins. Just plain colors from the dollar store will do.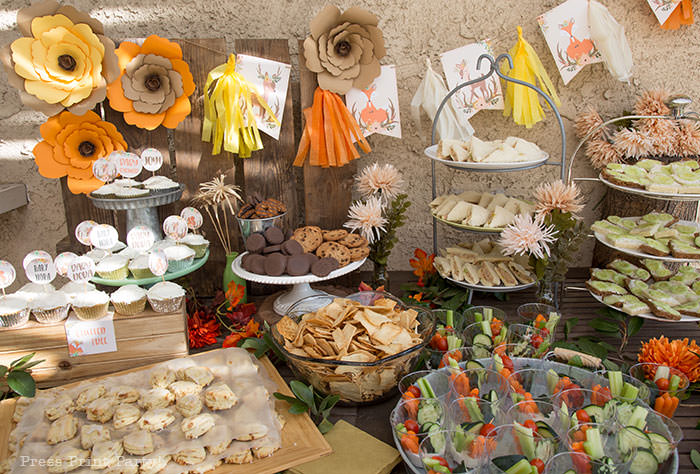 Step 3: Plan some fun baby shower activities
Having some fun activities that your guests can do during the party fosters conversation and reduces the chance that someone may just sit there and be bored the whole time. Of course, there's often that person that sits alone in the back, as a hostess, one must always look out for them and invite them to join in.
Baby showers are well-known for an array of games ranging from mild and fun to hilarious and embarrassing.
Since this baby shower was coed we decided to go with mild and fun.
We also didn't want games where people would have to stop talking and compete, so we chose activities that people could do during the shower at any time.

Diaper notes station
We made a station where people could write fun sayings on diapers for the mom so she would have something to smile at when she changes the baby girl at 2 in the morning.
Diaper raffle
We encouraged everybody to bring diapers, so we had a diaper raffle where we gave out prices to two people at the end of the shower.
How big is mommy's belly? game
The "How big is mommy's belly?" game is a fun activity where guests use yarn to try to guess the size of mom's belly. We used the printable "How big is mommy's belly?" sign from the Woodland printable collection which comes with tickets people can write their name on.
Right before we were to check all the yarn, we made a last-call announcement for anybody who hadn't yet had a chance to participate. Then we un-wrapped all the cards and compared each section of yarn to a piece of yarn I'd wrapped around mom's belly just a moment before.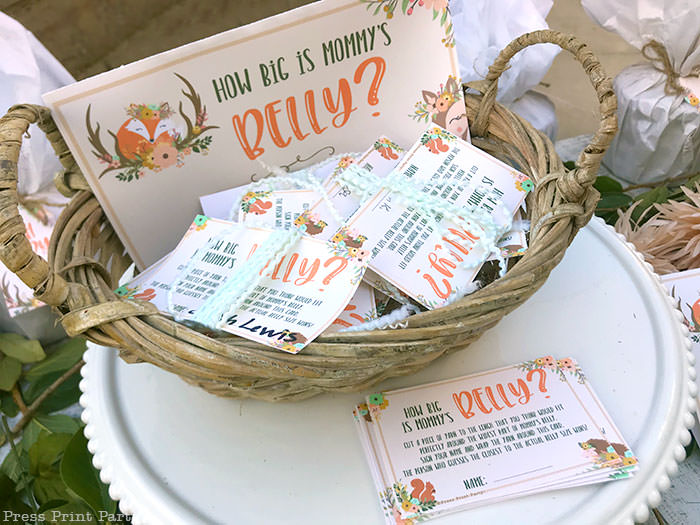 It's really amazing how much people overestimate how big a pregnant belly is. But the winner was just an inch from the mom's true belly size and won the contest easily.

Corn hole for the guys
We also put a game of corn hole in the yard where most of the guys concentrated. It was a great activity for the folks that have already enjoyed a little something to eat and wanted a little something more physical to do.

Find the baby
I hid a small plastic baby in three of the cupcakes. The guests got a prize if they found the baby in their cupcake. We had one winner during the party, the second one, the Mother of the mom-to-be, found the next day, and the third baby was never recovered. Who knew that we'd have a little mystery as part of the baby shower!
If a baby baked (or inserted) into a pastry seems odd, it may be more common than you'd realized. Check out this post for a little history about babies in cakes.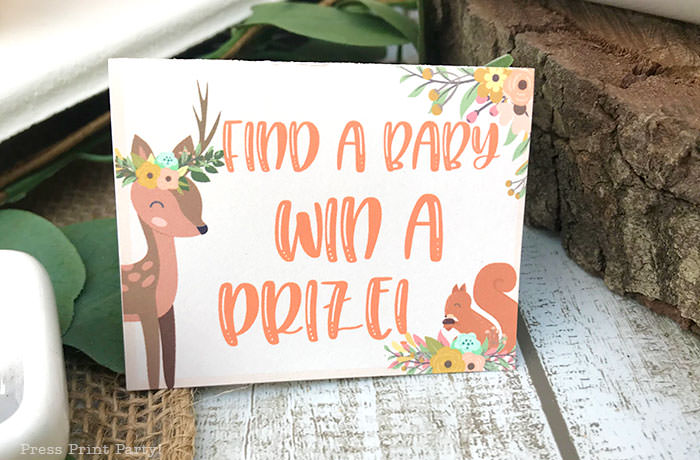 I think if I were to the baby-in-the-cupcake thing again I would try to keep track of the cupcakes that had the plastic babies and set them near the front so they would all be found during the party.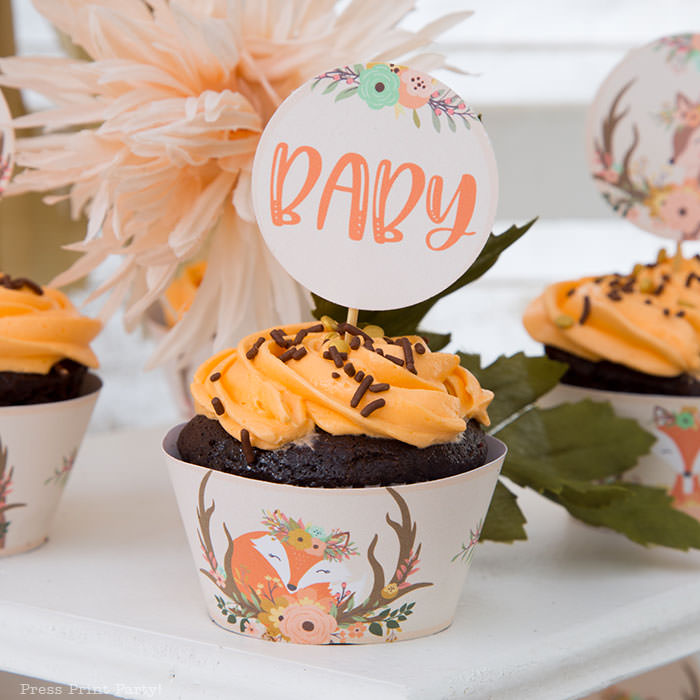 Our prizes were scented candles wrapped in tissue paper and secured with string and a printable tag from the woodland baby shower set.
Share your best baby advice
We also had a baby advice book that the mom and dad-to-be had already started. So we set up a little table and a sign so that people knew to write a kind note.
Of course, I printed the Leave Baby Advice sign from the shop and placed it next to the book. I didn't get a good picture of it though. Oh well!
Photobooth
And next to the baby advice book we set up the photobooth where all the friends and family took the time to take a fun picture with the couple.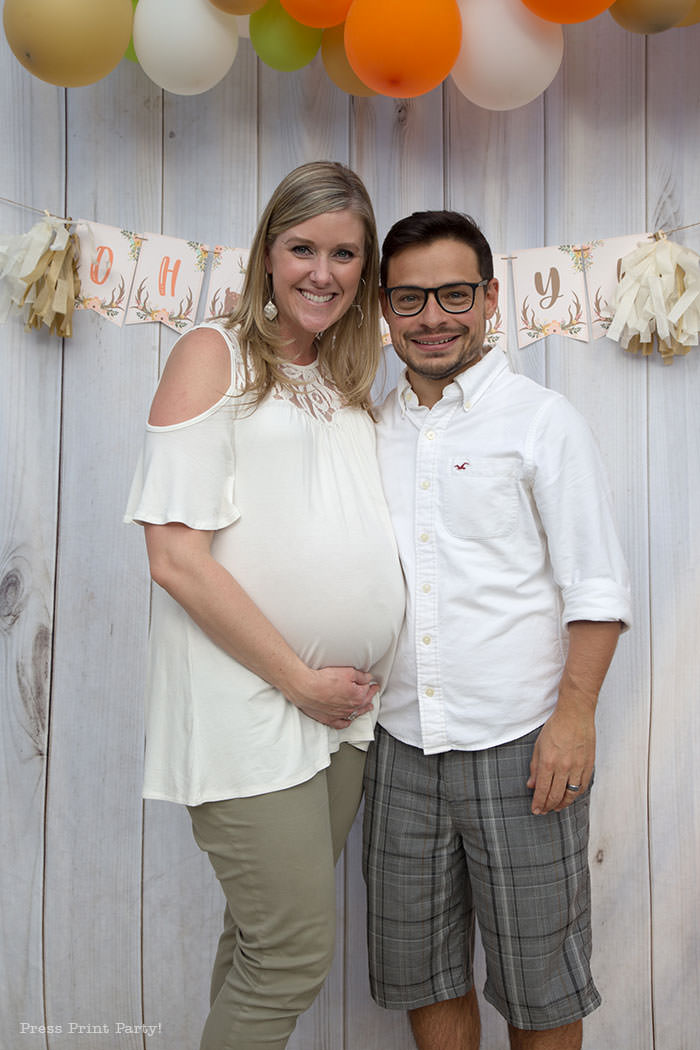 What a beautiful couple and I can't wait to see the little one.

Thank you notes
Last, but not least, we had a basket with baby shower thank you notes and envelopes with a note for everyone to write up their address on the envelopes. This saves the mom to be so much time later trying to write up thank you notes when trying to care for a little one!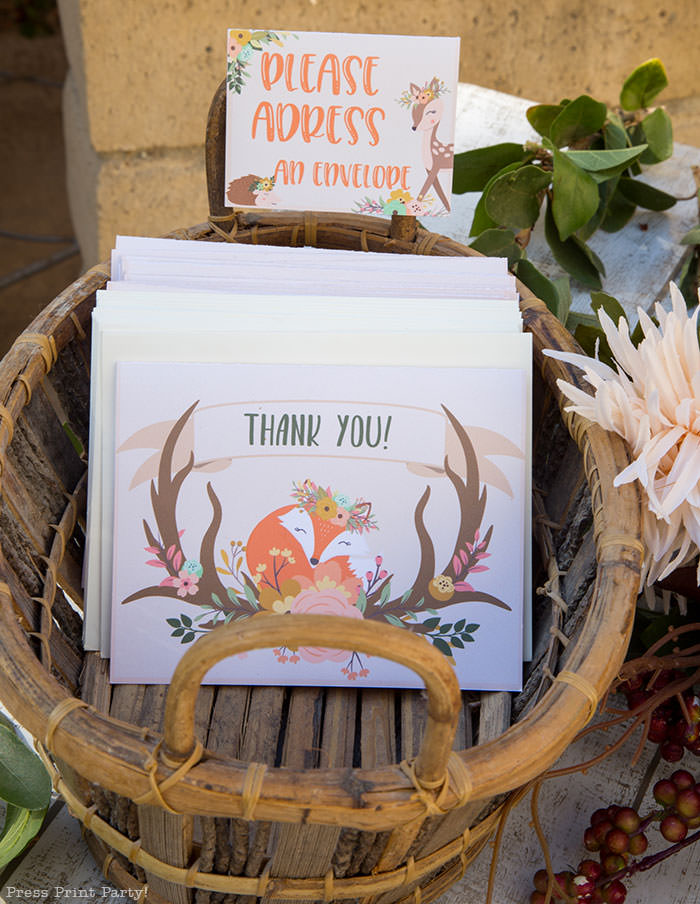 Using the printables as a base to determine all the colors and details for the rest of the decorations and the food really made for a visually stunning party.
All in all, people had fun and mingled, had some good food, and were able to participate in many activities in their own time.
If you want different baby shower games, I made a whole set of printable baby shower games in the same woodland theme available in the shop. There are so many that I listed them separately from the party package. You can choose from a ton of different games and signs for your party.
I hope I've inspired you to consider a woodland theme for your next baby shower. My goal is to give you all the skills you need to create the kind of party that will honor the parents-to-be and that guests will remember with fondness.
It's very satisfying to have people enter the party wide-eyed from all the decorations, and leaving with a smile from all the fun they had.
Share the fun and pin this woodland baby shower theme: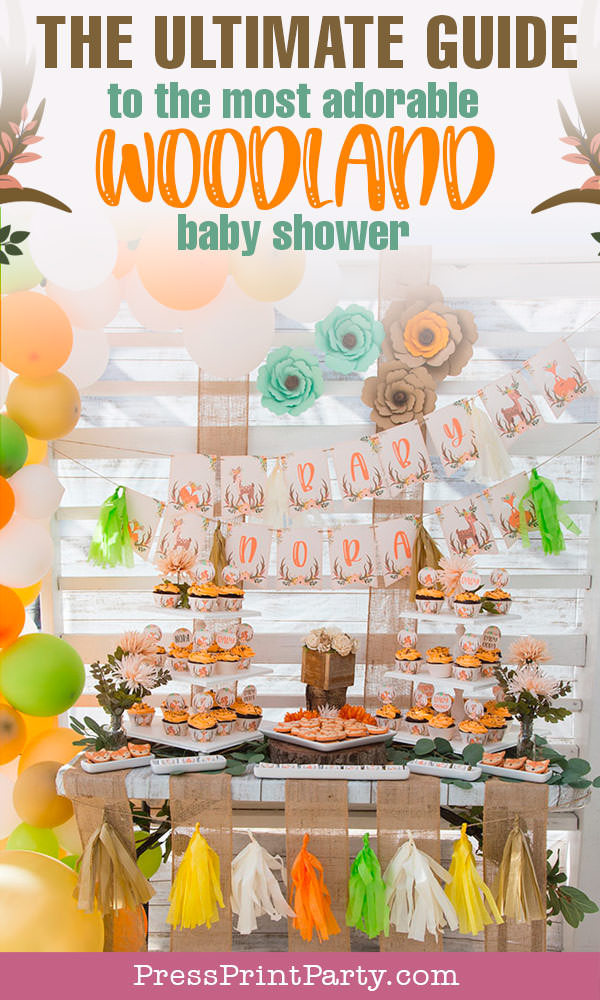 Check out our baby shower printables