Valentine's Day is fantastic if you're an adult couple or a little kid blessing his classmates with candy and cards. But what do you do when you're a teen or tween girl? Too young to date (mom says so) and too old to give out cutesy cards with candy hearts.
Well, you get all your girlfriends together and you have a fun Galentine's day celebration.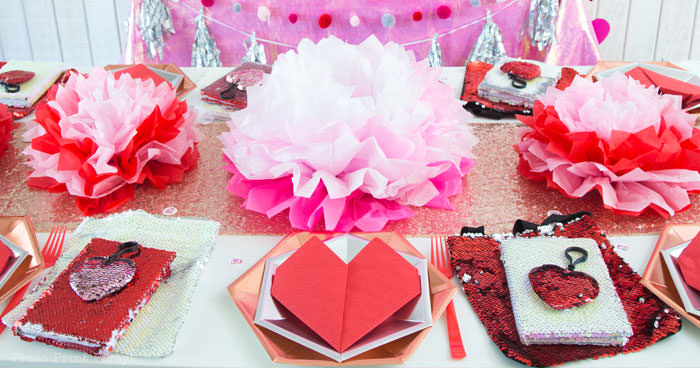 This post contains affiliate links.
For this Valentine's Day, Oriental Trading challenged me to put together a Galentine's Day party. I got all the products for free but I was free to choose what I wanted and do with them.
I'm married, even married to a guy I like most of the time, so Galentines is not my thing. So, as I was racking my brain for what to do. I looked at my teen girls and had this great idea to throw a party just for them and their friends. They could have some fun, play games, watch a movie, eat some fun treats.
My girls were all in!
---
So what is Galentine's Day?
Galentine's Day is a totally made-up holiday that originated in 2010 on the TV show " Parks and Recreation". In the episode, the main character, Leslie Knope who was single at the time, throws an annual party for her female friends and calls it Galentine's Day (Valentine for Gals). She celebrated it the day before Valentine's Day on February 13th.
Unbelievably the made-up TV holiday moved from the world of fictional silliness and actually established itself into everyday culture. Thanks to social media, this fun quasi-holiday is still trending years after the original airing of the episode.
---
Galentine's Day theme decorations
This Galentine's Day party is for teen girls, so it really had to sparkle and shine!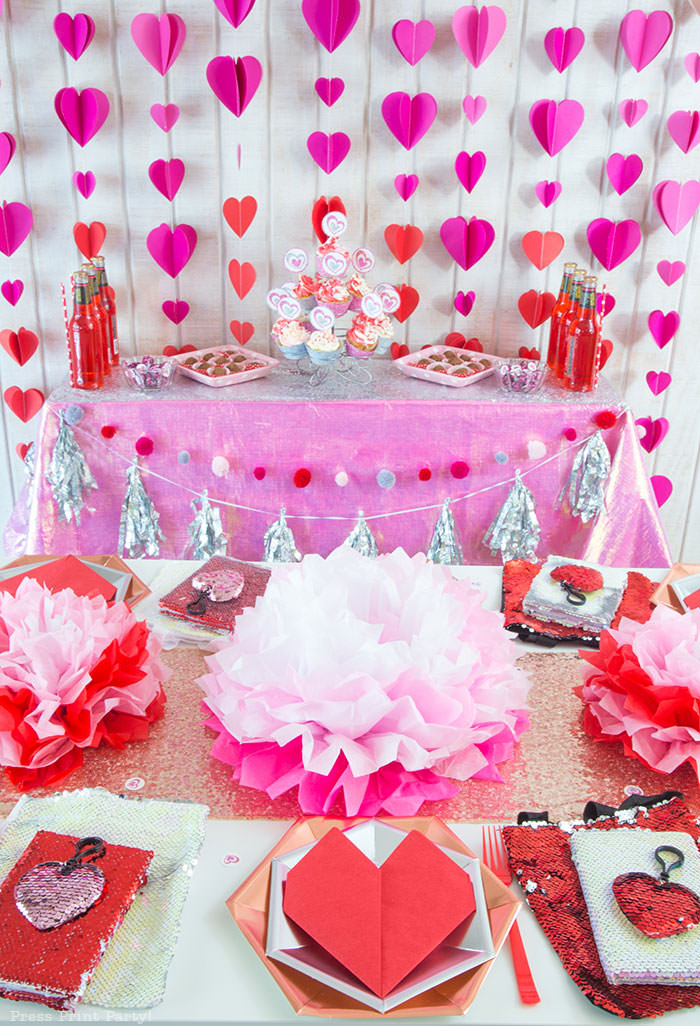 I found really fun decorations from Oriental Trading and started sketching some ideas in my Ultimate Birthday Party Planner (A great resource to reduce the stress at your next birthday party, check it out).
The hanging hearts curtain backdrop created a stunning and instantly festive focal point for the yummy desserts.
I hid the top string with paper fans (I keep a box of several colors on hand) and a giant paper flower also from Oriental Trading.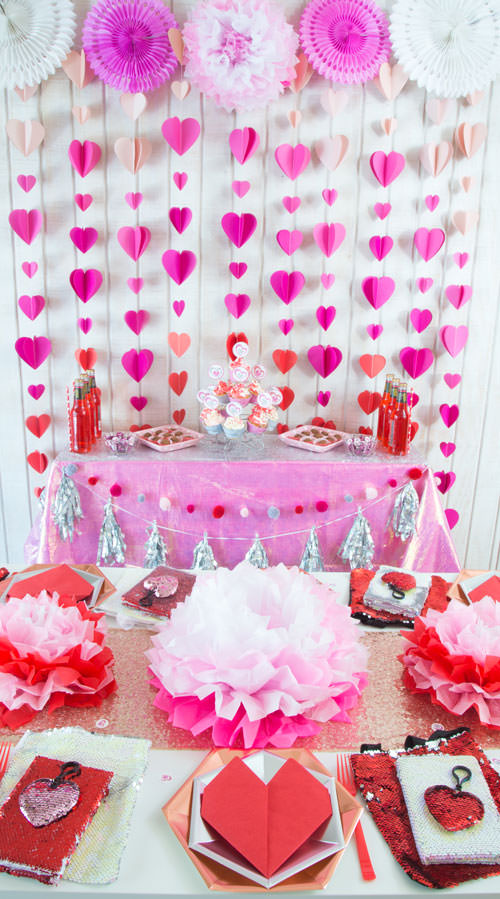 The sequin table runners added a Sparkle-rific touch to both my dessert table and my sit down table. I used the rose-colored one for the sit-down table and the silver one for the dessert table.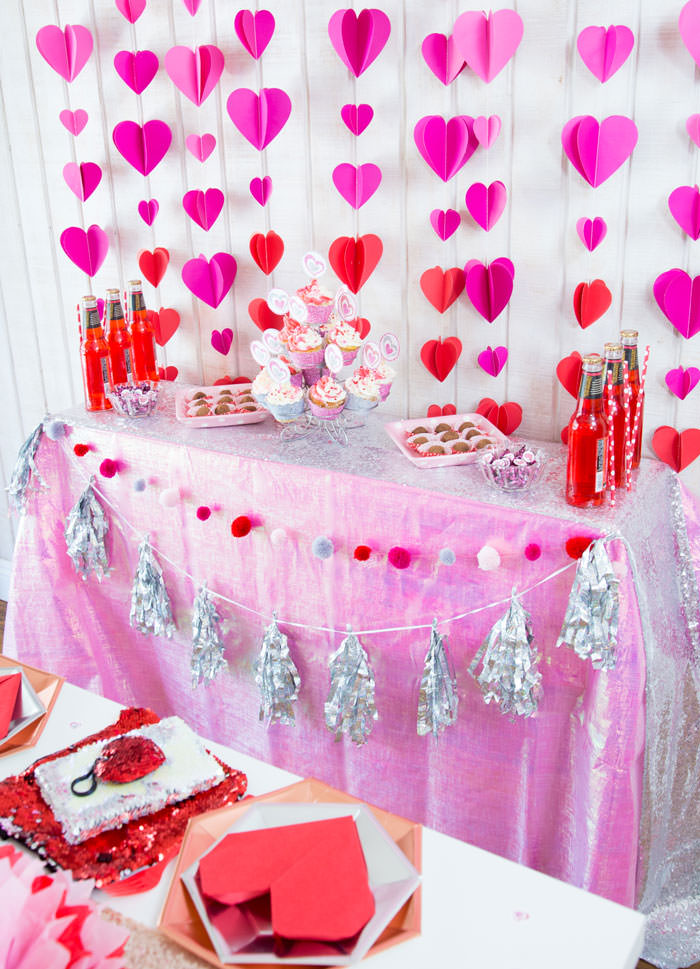 A shiny pink iridescent tablecloth, silver garlands, and a homemade pompom garland rounded out the dessert table decorations.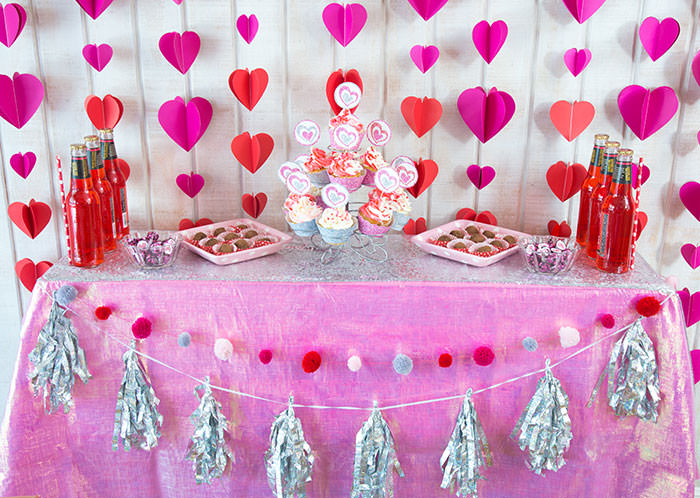 I fell in love with the giant tissue paper flowers. Originally packaged as a doorway decoration, I plucked the flowers off and used 5 of them as a striking and super easy centerpiece for the sit-down table.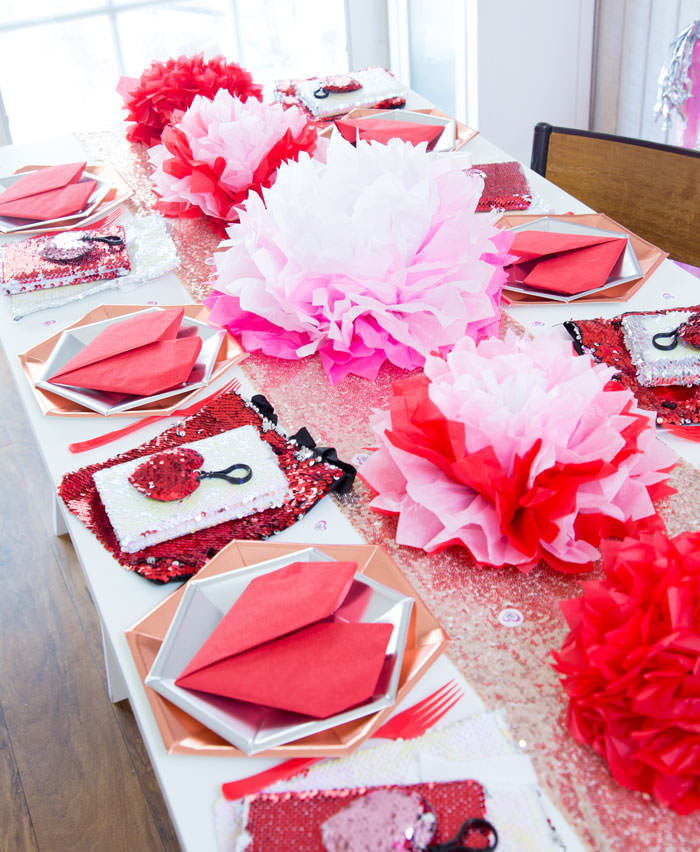 The shiny hexagon plates from Oriental Trading matched the rose sequin table runner perfectly.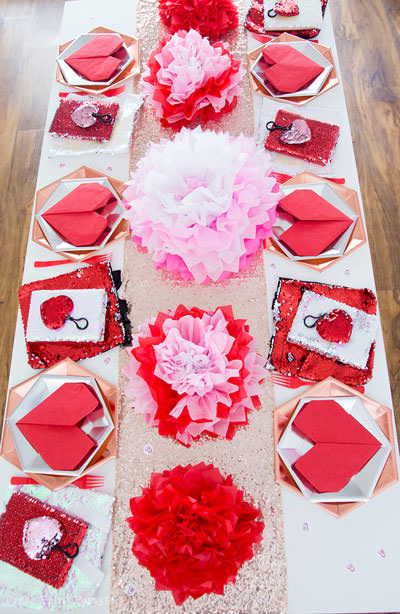 Stacking these interestingly shaped plates and off-setting their different colors added more visual interest.
I put a metallic silver dessert plate on top of the metallic rose plates and topped them with a red napkin folded like a heart.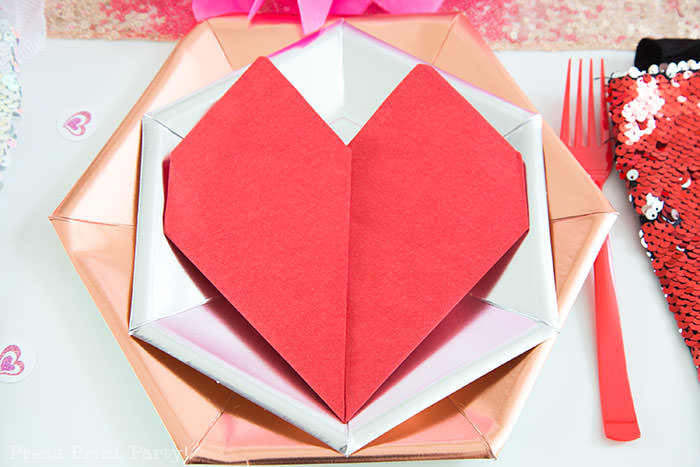 My girls loved the heart napkins! Fortunately, I have a video with super easy instructions on how to fold this heart-shaped napkin and the girls learned how to do it like a pro in no time (soon to come).
---
Party favors teens will love
The party favors took center stage on the table and added lots of glimmer to the table as well. The flip sequin valentines favor bags, notebooks, and heart clip keychains were a hit!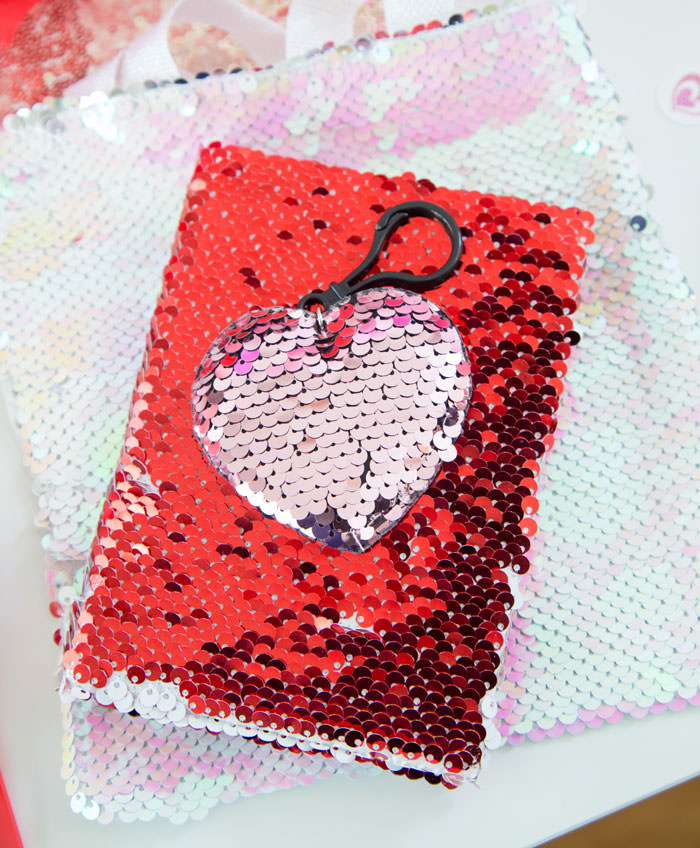 What teen or tween girl doesn't love flip sequins?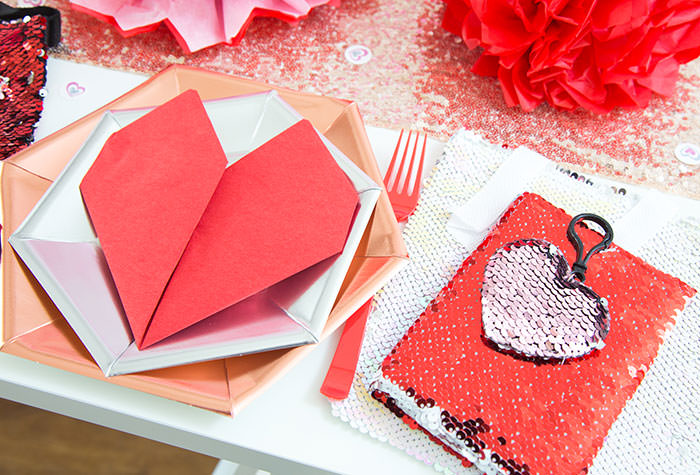 ---
Galentine's Day food ideas
Since this was only a fun little get-together, I didn't have to make too much. But I wanted it to be special.
And I always think of treats for a party as part of the decor.
That's why I LOVE cupcake wrappers and toppers so much. Cupcakes are so easy to make (Especially from a box – I won't tell), and the printable wrappers and toppers really emphasize the theme.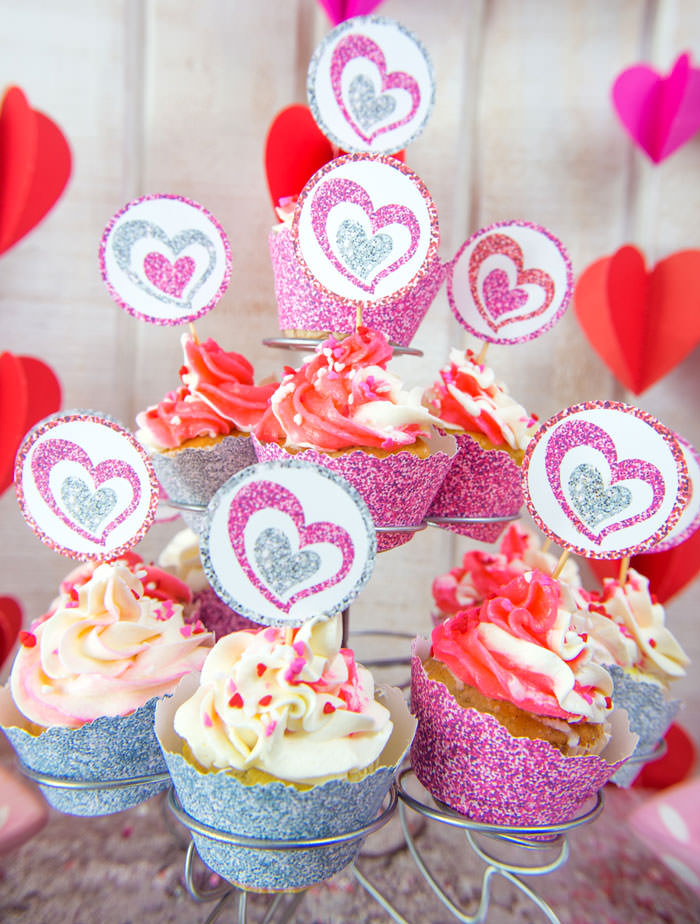 Because I wanted something glitter-ific, I designed my own glitter hearts cupcake wrappers and toppers as well as Hershey's Kisses labels and matching confetti to use on the table.
You can get the whole set for free in my Free Glitter Hearts cupcake printables post.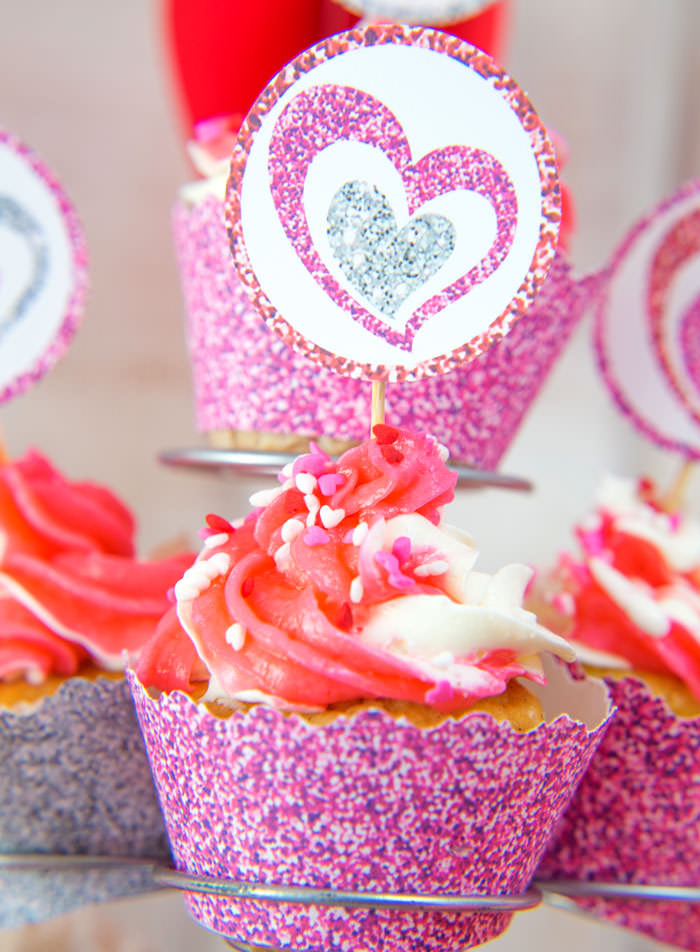 I used my foolproof Swiss meringue buttercream recipe to make the frosting and took advantage of my swirl frosting method to frost the cupcakes. Of course, some cute heart sprinkles added a lovely touch to the top also.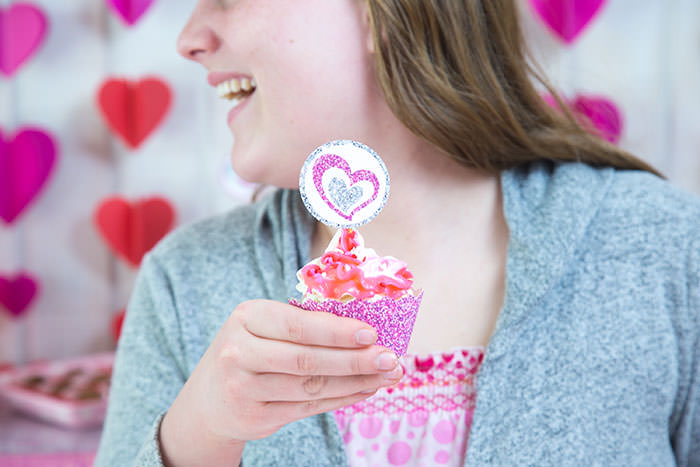 Nothing says love like chocolate, so I dusted off the chocolate truffle recipe from my French cookbook. I used to make these all the time to flaunt a little of my French heritage. This chocolate truffle is a really rich, almost bitter, chocolate flavor bomb, well suited for adult palettes. My girls are teens now, I figured they can handle it.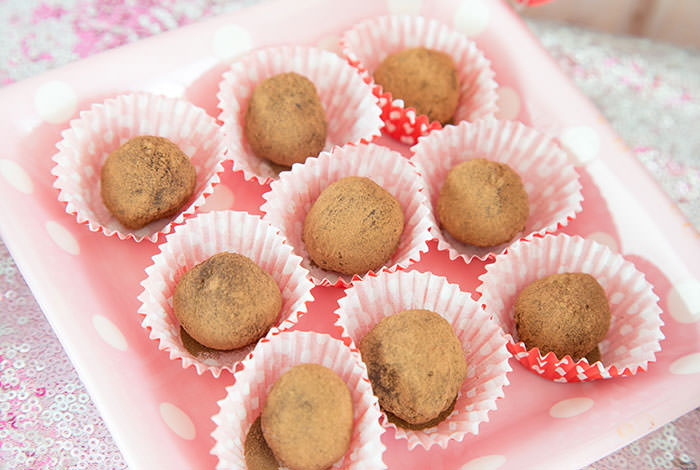 The girls stumbled on these new Lava Cake Hershey Kisses at the store and had to try them. If nothing else, they're super cute and perfect for a Galentine's day themed party. The cute glitter heart labels are also from my free glitter hearts pack.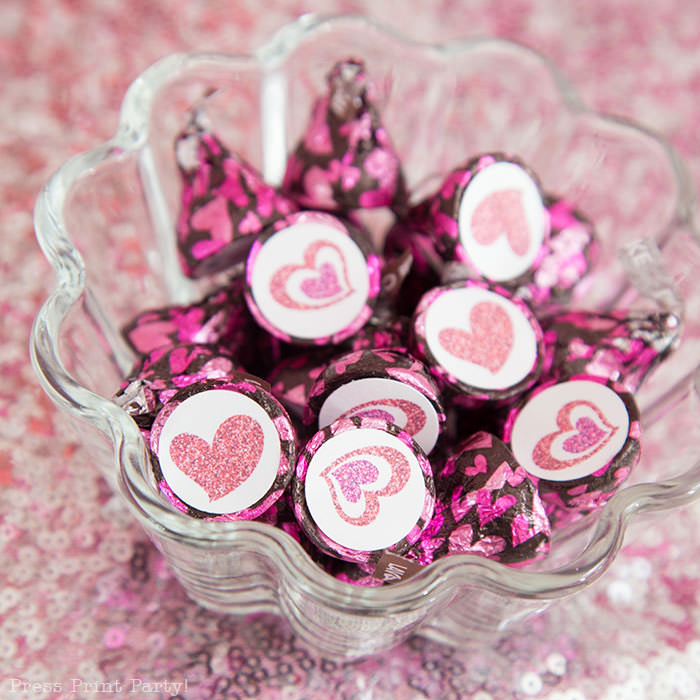 The pink sodas in the background were just Shirley Temples but they felt like such a treat with their cute paper straw attached to the side. (Glue dots for the win!)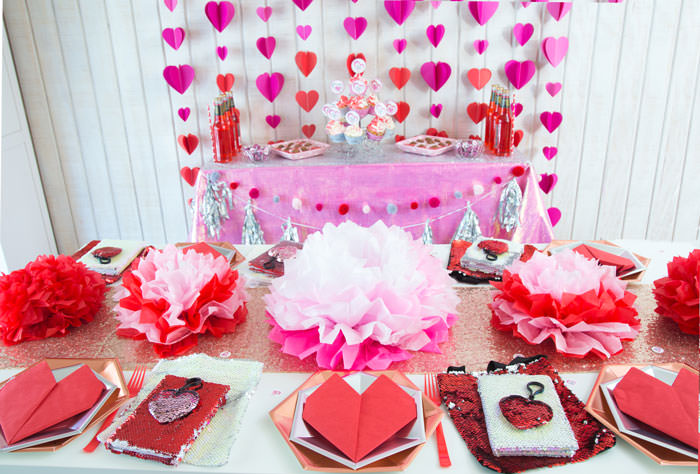 Some fun heart decorations, a few fun treats, a (not too) romantic movie, and a couple favors to keep and you have yourself a Galentine's party that your teens are sure to remember for a long time to come.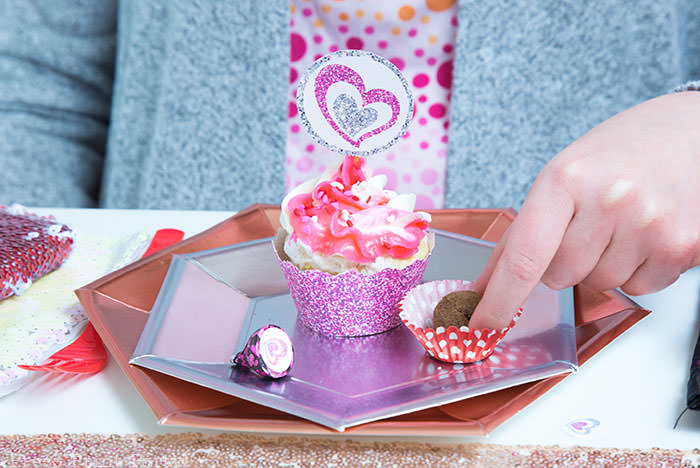 Remember to check out all the fun.
The FREE printable glitter hearts cupcake and confetti printables.
Don't forget to pin it: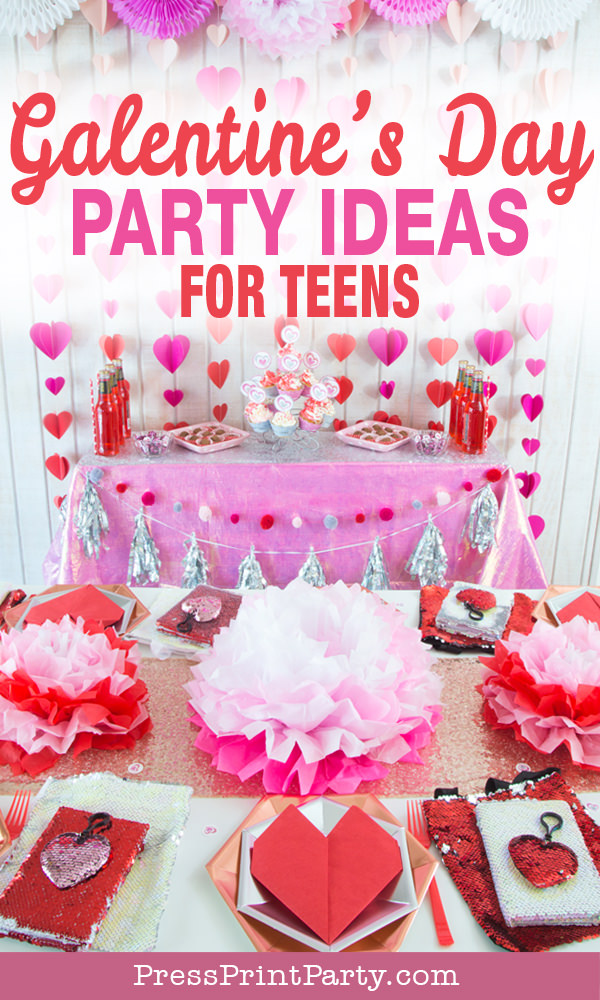 Check out our birthday printables