Everyone needs a little glitter in their life. Especially around Valentine's Day!
So treat yourself and download this bling-tastically free Valentine's Day printable set. It includes glitter heart cupcake wrappers, cupcake toppers, and matching confetti.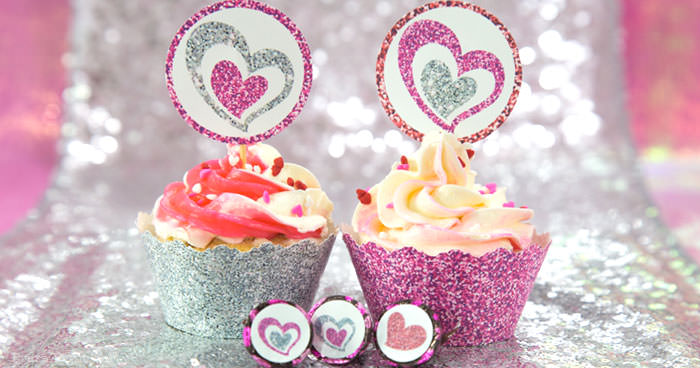 This post may contain affiliate links
I designed these free Valentine's Day printables for the Teen Galentine's day party that I created for Oriental Trading.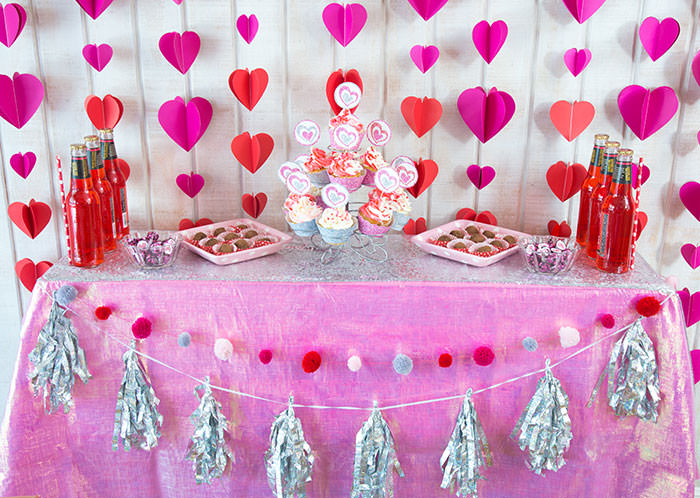 The party was for teen girls so it was full of hearts and had glitter everywhere!
Because what teen girl doesn't like glitter?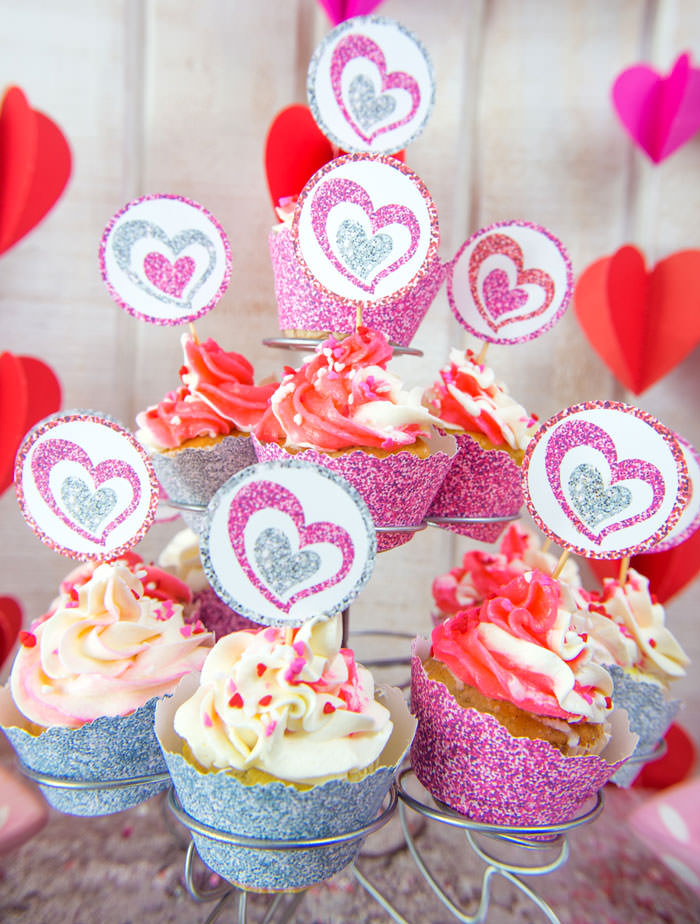 The free printable cupcake wrappers come in 2 glitter-ific colors, pink and silver. The hearts on the 2-inch round toppers come in three awesome colors, pink, silver, and red glitter. They're easy to make with a 2″ round punch but just as easy to cut with scissors.
I cut the top of my wrappers with a pair of decorative edged craft scissors, but cutting the top straight with regular scissors would work just as well.
One of the best features about this set is that it looks like real glitter but it's not. The glitter effect is created by printing bright, sparkly colors in a fine, splatter-y pattern. So it makes a great glitter effect, uses less ink than a solid color would and there's no glitter to clean up afterwards!!
Unless you look at it closely you can hardly tell it's not real glitter. It's really pretty cool.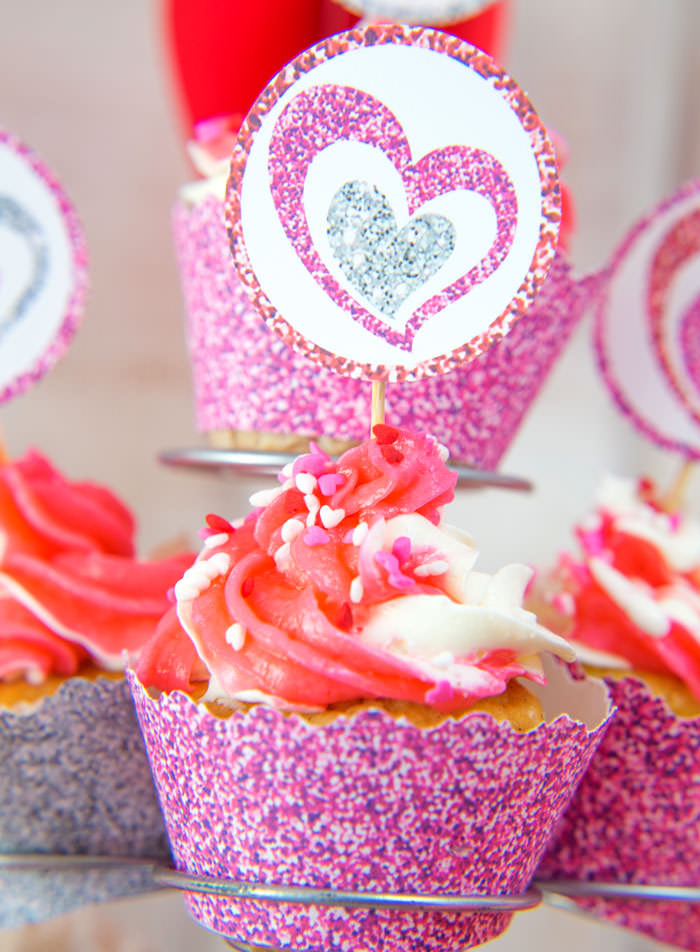 These cupcake toppers and wrappers are beautiful and festive and fun and perfect for young girls no matter what their age.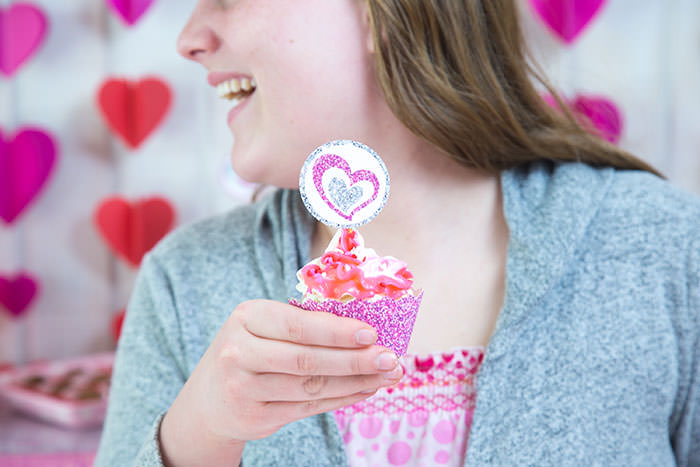 The free printable set also comes with a page of small hearts to be punched with a 3/4 inch round punch. They're perfect for making party confetti or as labels for the bottom of Hershey's Kisses. These were Valentine's Day Lava Cake kisses with a yummy gooey center!
Festive decorations for the underside of Kisses aren't anything new but I'm still surprised how surprised and enthusiastic the reactions are when you tell guests that you printed them and decorated them yourself.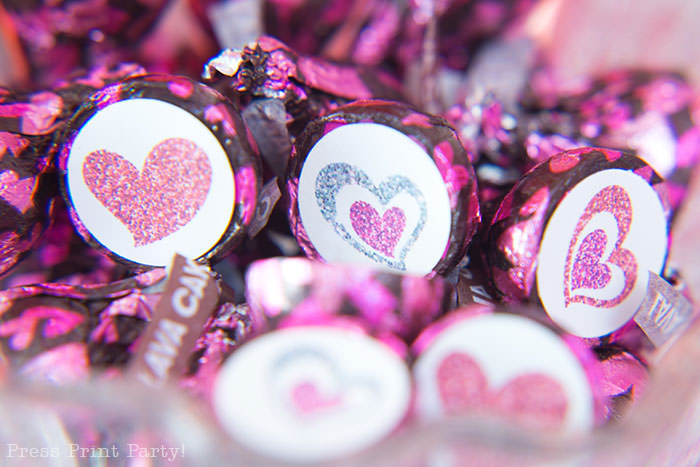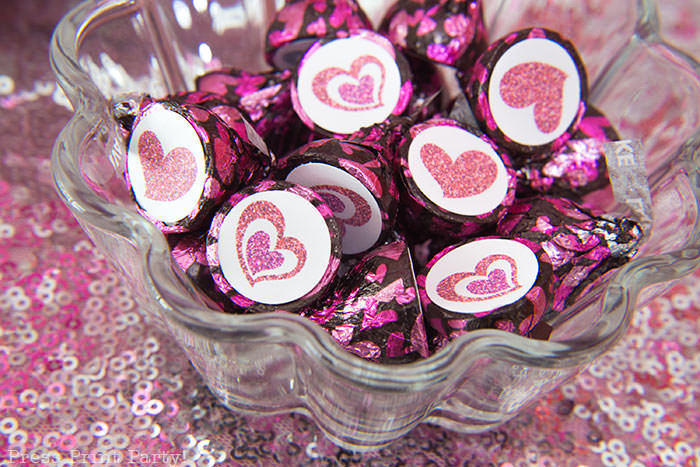 These beautiful Valentine's Day cupcakes are easy to create and will make a sparkle-licious impression at any party.
Or send them to the classroom with your kids for lots of oooohs and aaaaahs!
Don't forget to pin it: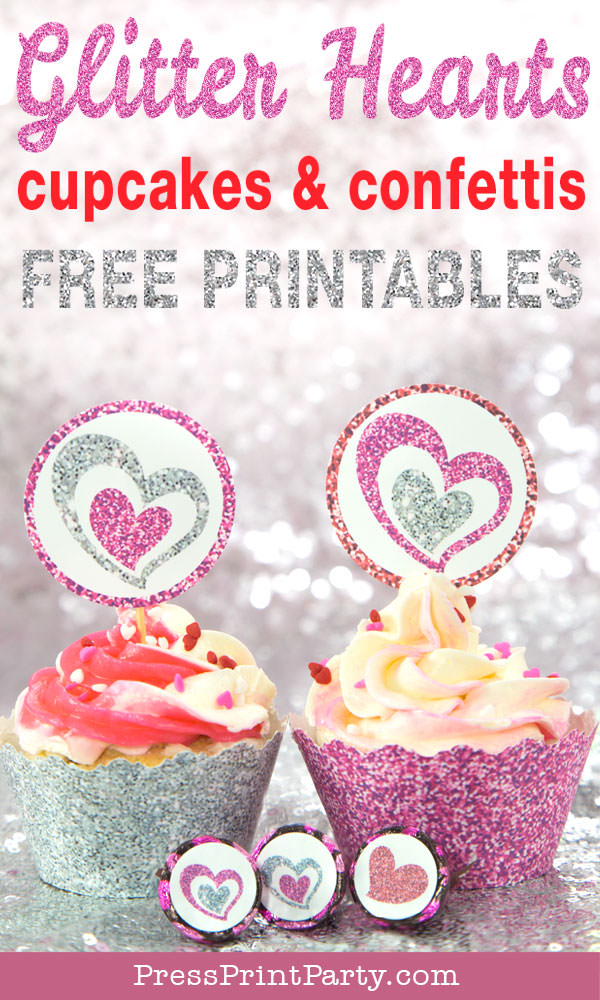 Get your Freebie:
If you've already subscribed, you can get the password from the bottom of any email I send and go directly to the Free Downloads Library.

Check out our Valentines printables