I wanted a little change of pace in my fall decorations this year. So after seeing a bunch of decorated chalkboard pumpkins on Pinterest, I decided to make my own.
I wanted to have a fall decoration that would last all fall season and work for Halloween as well as Thanksgiving.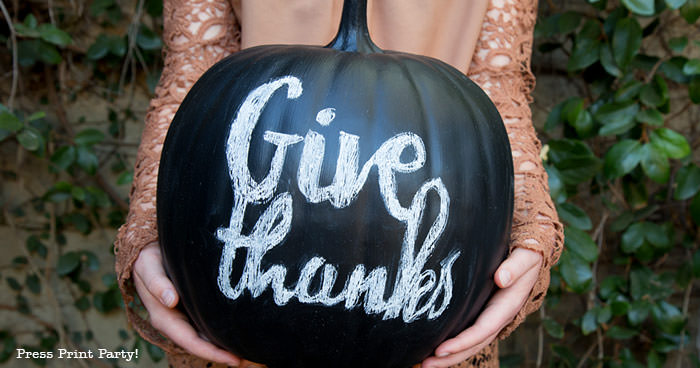 This post may contain affiliate links.
And I wanted something with a farmhouse feel. No more bright orange, let's go for black and white and some golds this year.
So I picked up one of those big orange foam pumpkins at the store and painted it with black chalkboard paint.
I did not try spray paint, so if anyone reading this has experience using chalkboard spray paint on a fake pumpkin, please share your experience in the comments!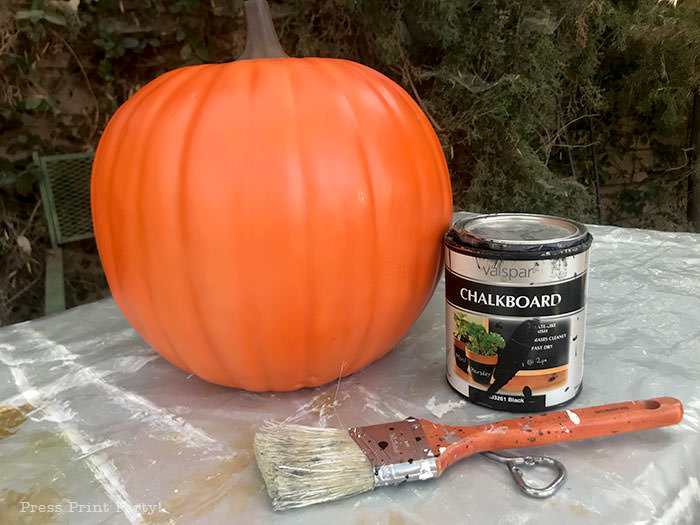 The idea was to use chalks to write different sayings for the different holidays. That way I'd have adorable decorations on my front porch that I could change up with ease.
A big bonus is that chalk is easy to erase with a damp cloth so you can change your mind as often as you wish.
Another bonus is that a fake craft pumpkin won't rot. We've all experienced or at least observed the stinky mess that comes from a real pumpkin expiring on your porch.
Of course, that's not to say I will only use artificial pumpkins from now on. I'm afraid my family won't let me give up on our pumpkin carving traditions so easily. Instead of buying several pumpkins for decorations, I might just get one or two for carving and make the rest fake.
I decided to use orange chalk to write a big "BOO" for Halloween, and white chalk to make a pretty calligraphy "Give Thanks" for Thanksgiving, and a handwritten "Fall" for the rest of the time.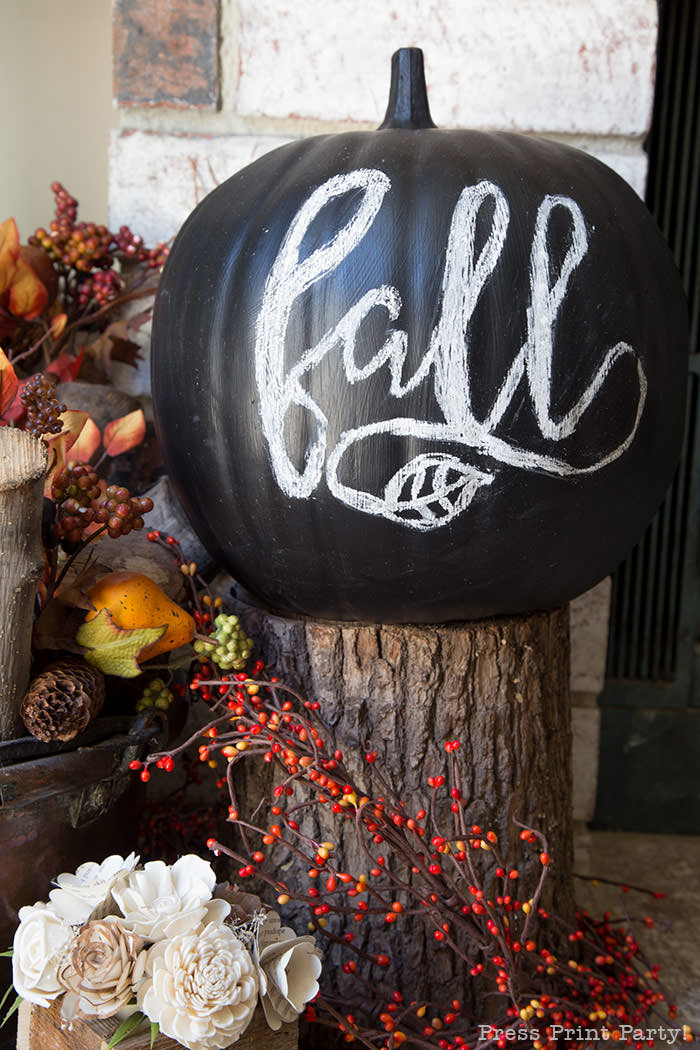 I'm thinking of using the "Give Thanks" design as a centerpiece for my Thanksgiving table. I also wanted it to match my new black chalkboard pumpkin place cards. I have the same pumpkin cards in orange and teal as well:
Since my calligraphy skills are not very good, I made myself printable templates to use on my black chalkboard pumpkin. But you could use these templates with any chalkboard sign to make yourself a pretty fall decoration.
Using the templates and getting the chalk on the pumpkin is easy once you know how to do it.
So let's get started, shall we?:
Materials needed for your chalkboard pumpkin:
A big orange foam pumpkin
A paint brush
Tape
A pencil
A wet paper towel
A possible alternative to chalk is chalkboard markers. I decided not to because they're not that easy to erase. Even with a wet wipe, they tend to leave a mark which means you may have to repaint your pumpkin a bit when you want to change the design.
I also love the look of real chalk, it's much more rustic looking and better for the farmhouse decoration look I was going for. Chalk pens, to me, look a bit too much like paint.
How to draw a design on your chalkboard pumpkin
Paint your pumpkin with black chalk paint. I used about 2-3 thin coats of chalkboard paint to make sure no orange peeked through.
While your pumpkin chalkboard surface dries, go ahead and print the template you'd like to use. Dry time will vary based on the conditions you paint in.
I have three printable templates available for free (the download link is at the end of this post), "BOO", "Fall" and "Give Thanks."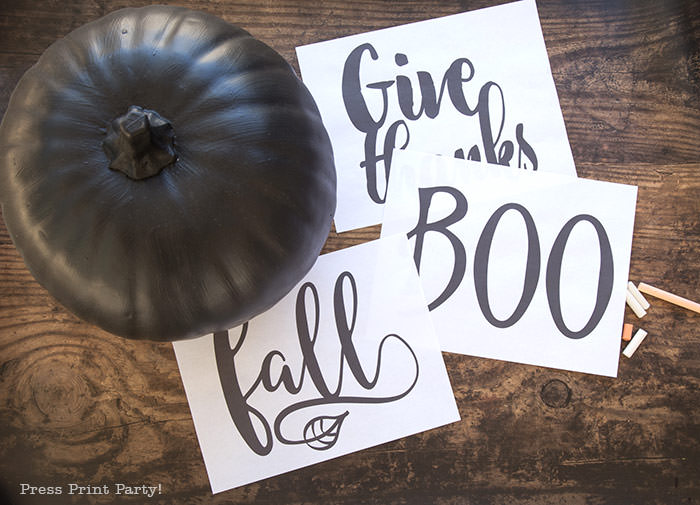 You're going to use the long side of your chalk and cover-up at the back side of the design in chalk.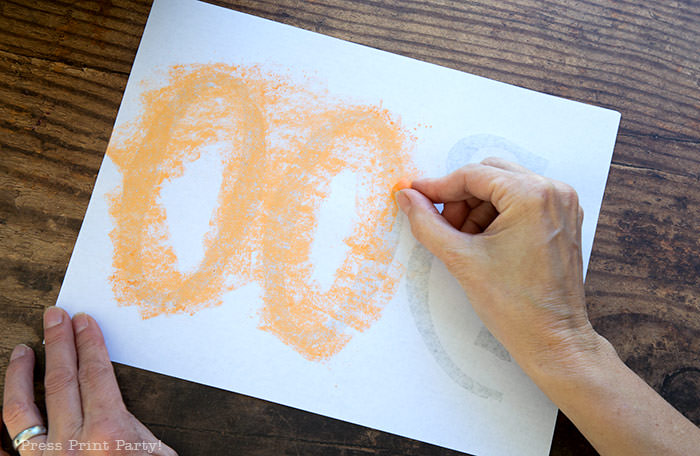 Now turn the design over and tape the paper onto your pumpkin. You don't need any special tape. I'm looking at you, washi tape. Masking tape will probably do the least amount of harm to your paint.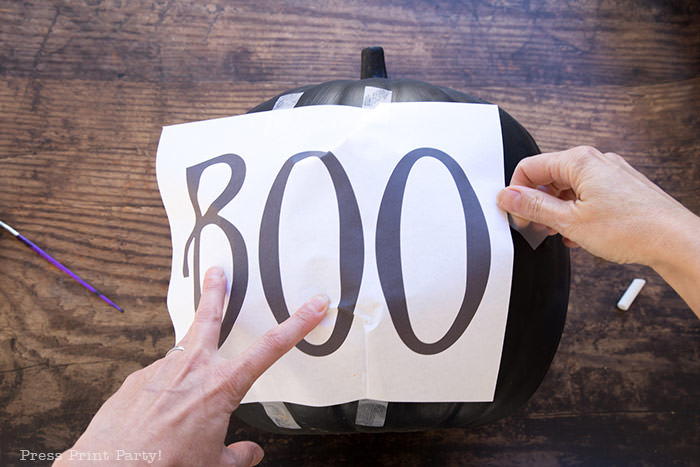 Use a pencil (or the end of a small brush like I did here) to go over the outline of the design. Don't press too hard or you'll damage your pumpkin.
When you take the paper away you will see a faint outline of your design.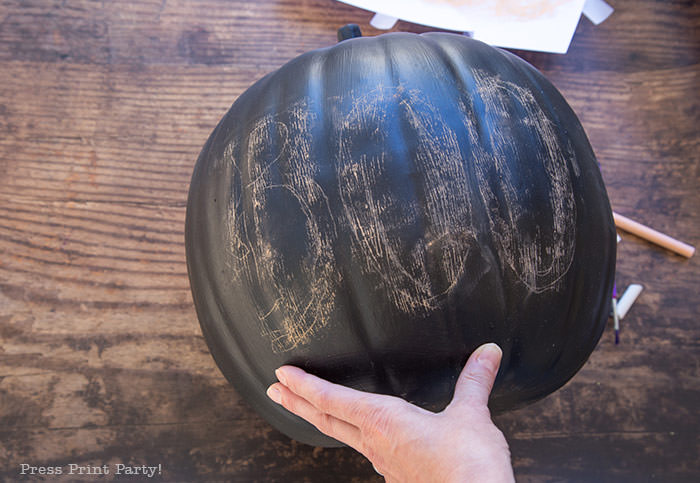 Go ahead and use the pointy end of your chalk to fill in between the lines. It sometimes helps to wet the piece of chalk to get better coverage.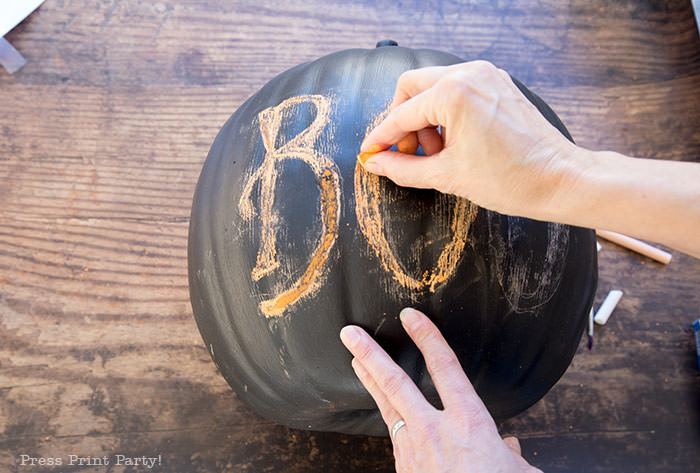 When done, use a wet cloth to clean up your design.
And that's it.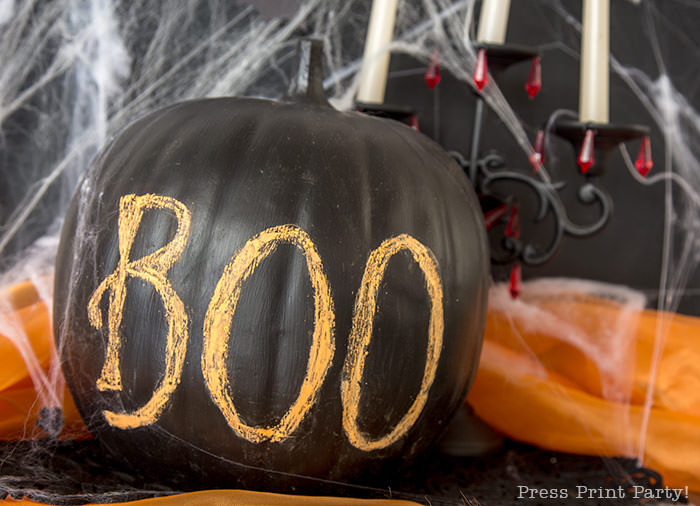 You now have a beautiful black chalkboard pumpkin that will follow you through fall, Halloween, and Thanksgiving. While a few steps are involved, it's a pretty easy project. And you end up with an adorable mini chalkboard of sorts on which you can commemorate fall's special occasions.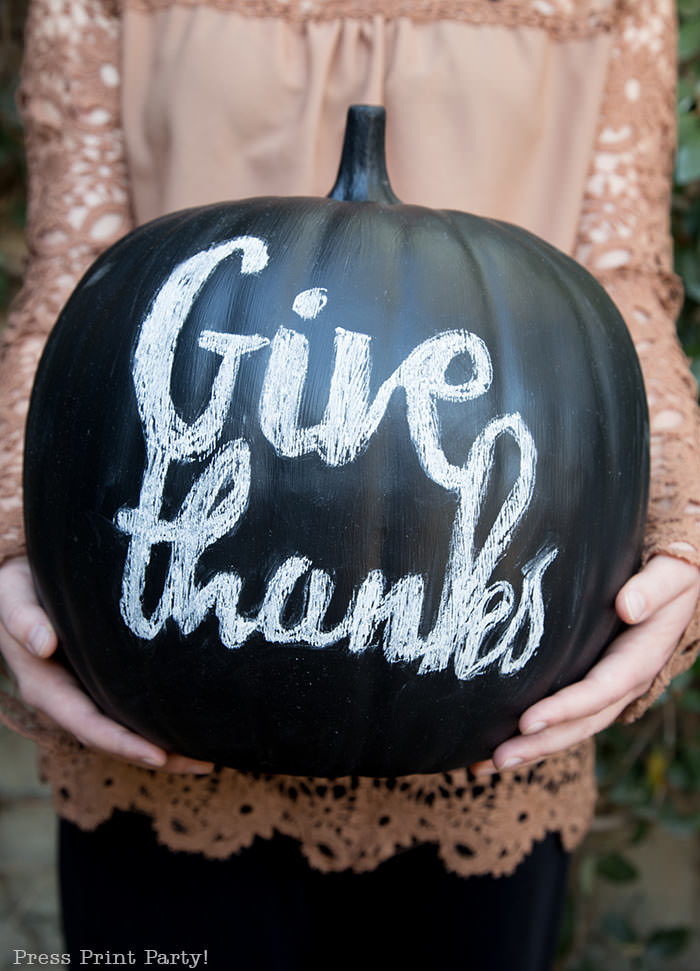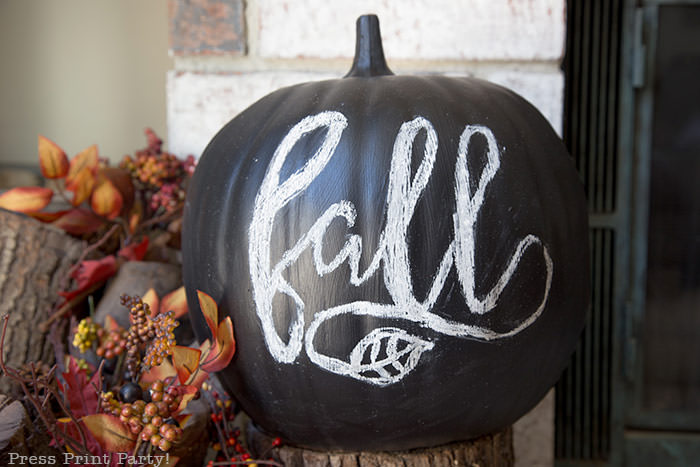 Don't forget to pin it for later:
Get your Freebie:
If you've already subscribed, you can get the password from the bottom of any email I send and go directly to the Free Downloads Library.

Check out our Holiday printables