It's Thanksgiving. I think all of us see the warm, wholesome photos of family and friends gathering together, lingering in one another's company, and eager to spend as much time as possible with one another. And for many of us, that's what we want. But the reality is not always so idyllic. You may be with family that you only see once a year or you may be a guest at someone else's home and only know a person or two. 
So how do you break the ice? What do you talk about? How can you elevate the conversation and build rapport?
Good Thanksgiving conversation starters and interesting conversation topics could help at any dinner table.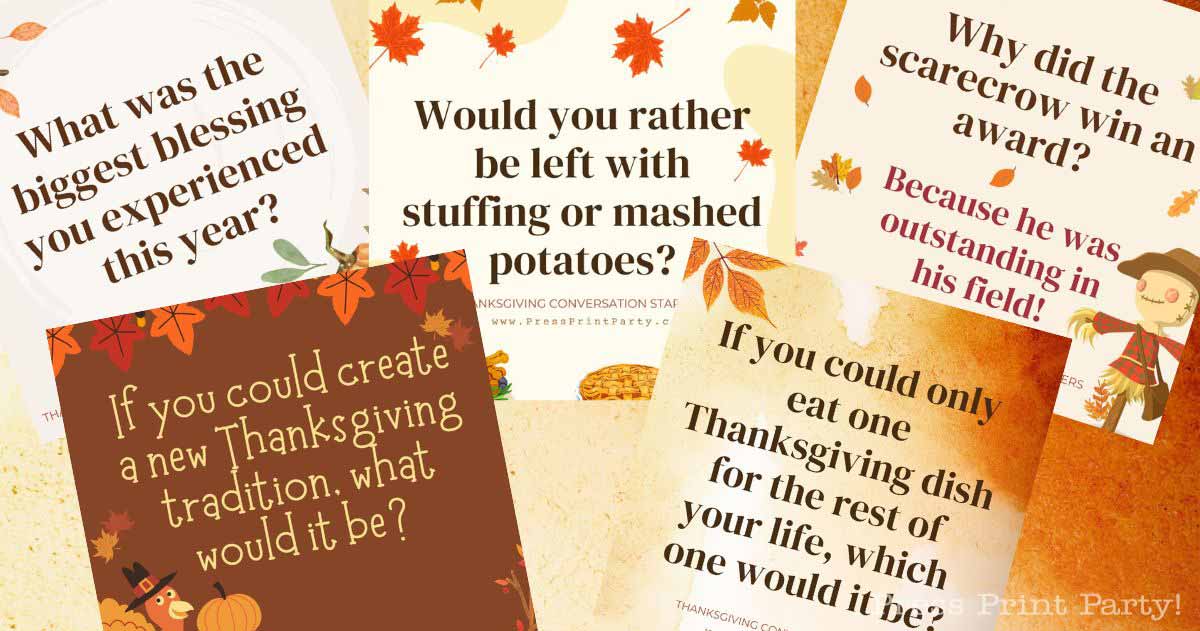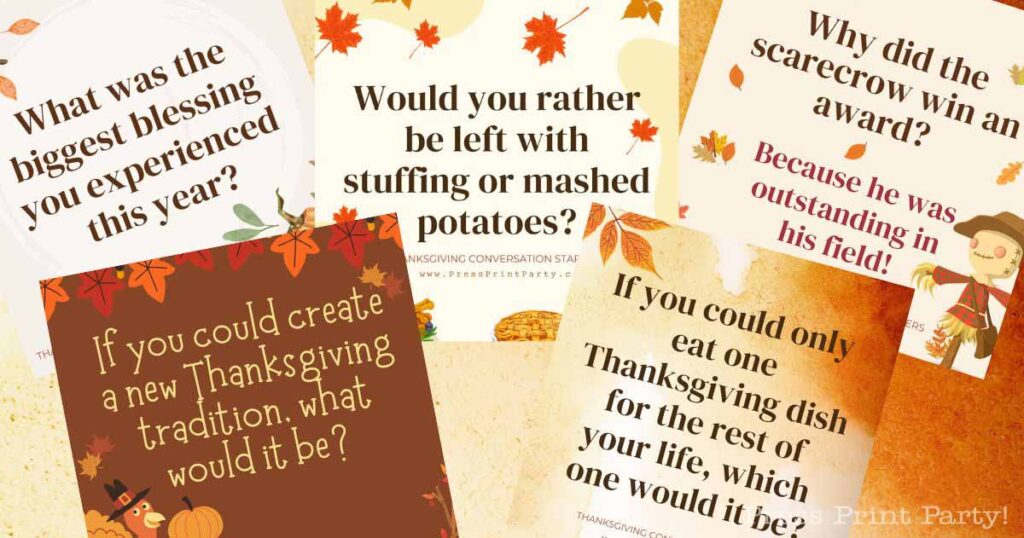 Even family dinner conversations could benefit from good conversation questions. Especially when you are in a rut with your kids and can only seem to illicit one-word answers.
When it comes to Thanksgiving, regardless of how much or how little your guests know each other, breaking the ice can be awkward and lulls in conversation can happen. And there is always the risk of someone killing the conversation by bringing up topics that should be avoided at these sorts of gatherings.
For many households, Thanksgiving is a time to get together with extended family members who rarely get to interact. That makes Thanksgiving the perfect opportunity to push past the small talk, get caught up, and ask great questions.
In the spirit of Thanksgiving, the gathering should be about meaningful conversations just as much as it is about feasting.
To make this year's Thanksgiving dinner even more enjoyable, consider using fun and unique conversation starters like the ones I have compiled below.
I've broken up my best conversation starters by theme. While many of them are Thanksgiving-specific, a lot are general and great for other occasions.
So, whether you're looking for a great way to engage family members, for questions to add to a fun Thanksgiving game, or for ideas for practicing social communication, I'm confident you'll find something on this list.
Don't get me wrong, lighthearted conversation isn't bad. It's just that sometimes, conversation with a little more substance is better.
So, whether you want to practice communicating in a group or you are working on being a better listener, conversation starters are an easy way to start up a……. conversation.
---
Thanksgiving Fun Facts to Get People Chatting
Here are some wild and interesting Thanksgiving facts and statistics. If you love wild and wacky facts, Thanksgiving is your golden opportunity to whip them out. People can't help but throw in their input when it comes to the details and numbers behind Thanksgiving.
The year of the very first Thanksgiving dinner celebration was 1621.
President Abraham Lincoln made Thanksgiving a national holiday on October 3, 1863, less than 2 years before his death.
Between 3,150 and 4,500 calories are consumed on average per person on Thanksgiving. (WalletHub.com)
Only male turkeys gobble. Also, wild turkeys can fly for short distances up to 55 miles per hour and run up to 20 miles per hour. (BabyQuip.com)
The tradition of having a football game on Thanksgiving began in 1876 with a game between Yale and Princeton. (HouseBeautiful.com)
Can you imagine the Macy's Thanksgiving Day Parade without balloons? The attendees of the first one experienced this when animals from Central Park Zoo were paraded down the street. (HouseBeautiful.com)
On average, Thanksgiving hosts spend 9.6 hours preparing for the holiday. (WalletHub.com) If you are frequently the host of Thanksgiving, you can cut down on prep time with my items from my printable Thanksgiving shop. I offer lots of things to make your life easier!
Plumbers receive 50% more calls on Black Friday than normal Fridays. But not for the reason you might think. The calls are largely about sink drains and garbage disposals. (ThePioneerWoman.com)
The Detroit Thanksgiving Day Parade ends with Santa Claus receiving a key to the city. How cute is that?! (GoodHouseKeeping.com)
You might have heard the name Squanto, but did you know historians believe he was not originally from the Wampanoag tribe? The abbreviated version of the story is he learned English when he was kidnapped by an English explorer. Upon escaping back to his homeland, he discovered his tribe had been wiped out by smallpox. He eventually joined the Wampanoag tribe and served as a translator when the Pilgrims arrived.
---
Conversation Starters About Thankfulness
In the spirit of Thanksgiving, here are some prompts to help inspire an attitude of gratitude. Several of these questions can also be found on my free Thanksgiving printable conversation cards. Just print, cut, and set them out on your Thanksgiving table for your guests to enjoy.
And don't forget to ask the most important follow ups: "Why?" and "Tell me the story."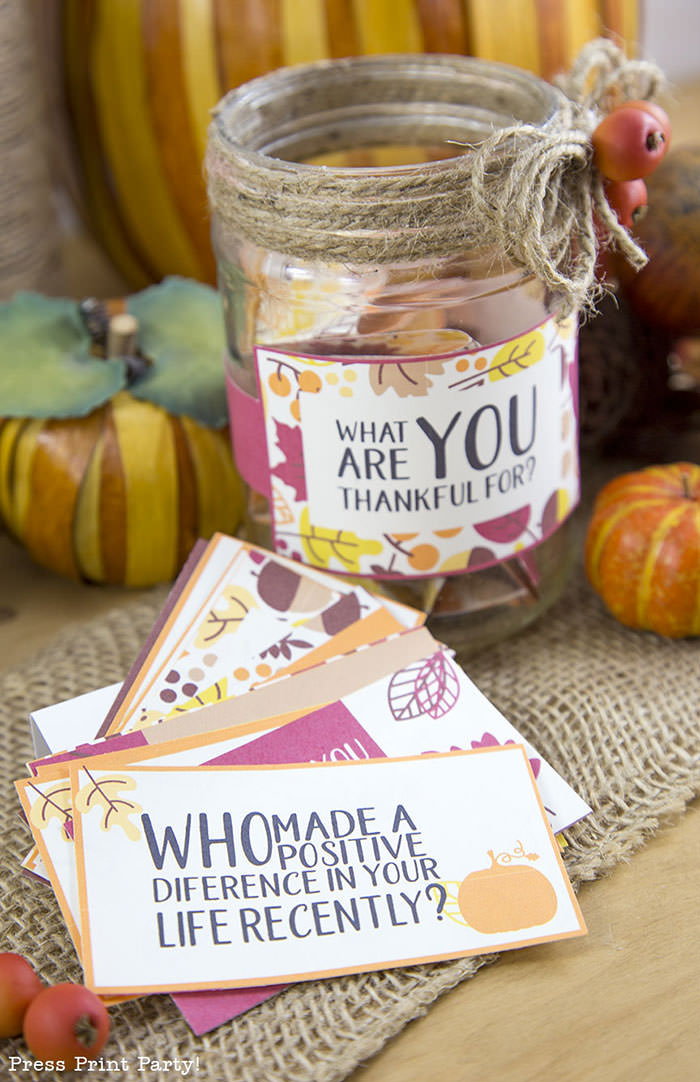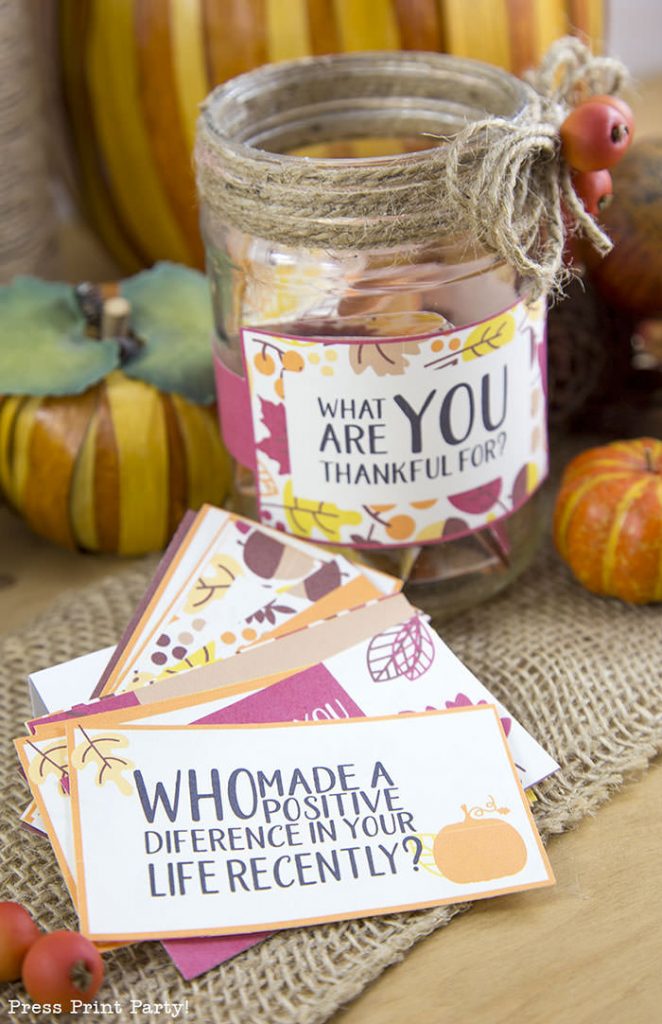 What are you most thankful for this year?
For what do you have your parents to thank?
Who made a positive difference in your life recently?
Do you have a role model?
What is better today than it was a year ago?
What invention are you most thankful for?
What is the best gift you have ever received?
What is the nicest thing someone has done for you?
Do you have a favorite family tradition from childhood?
What is your favorite childhood memory?
---
Would You Rather Questions
Would you rather questions are always fun conversation starters. Try out these questions with your friends and loved ones.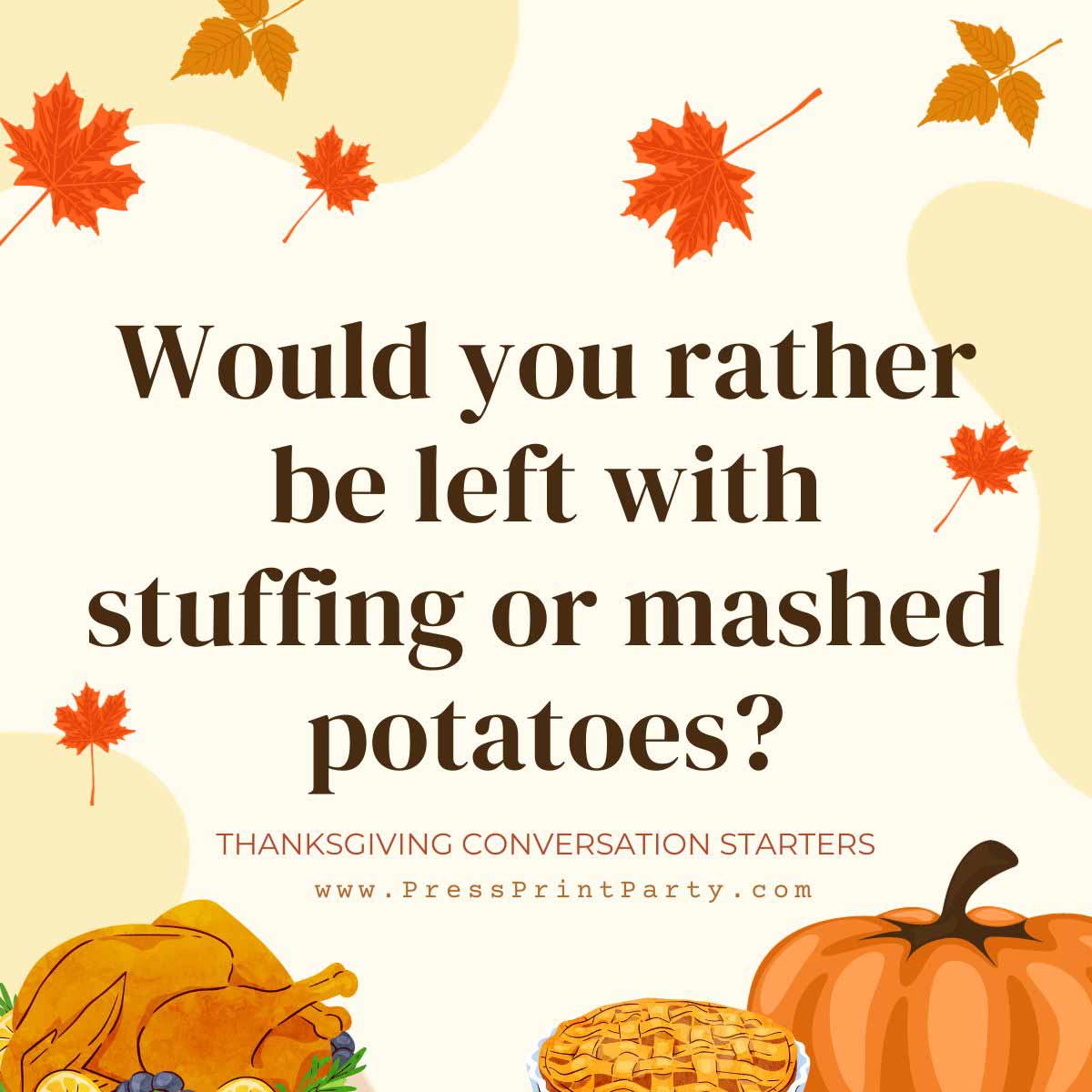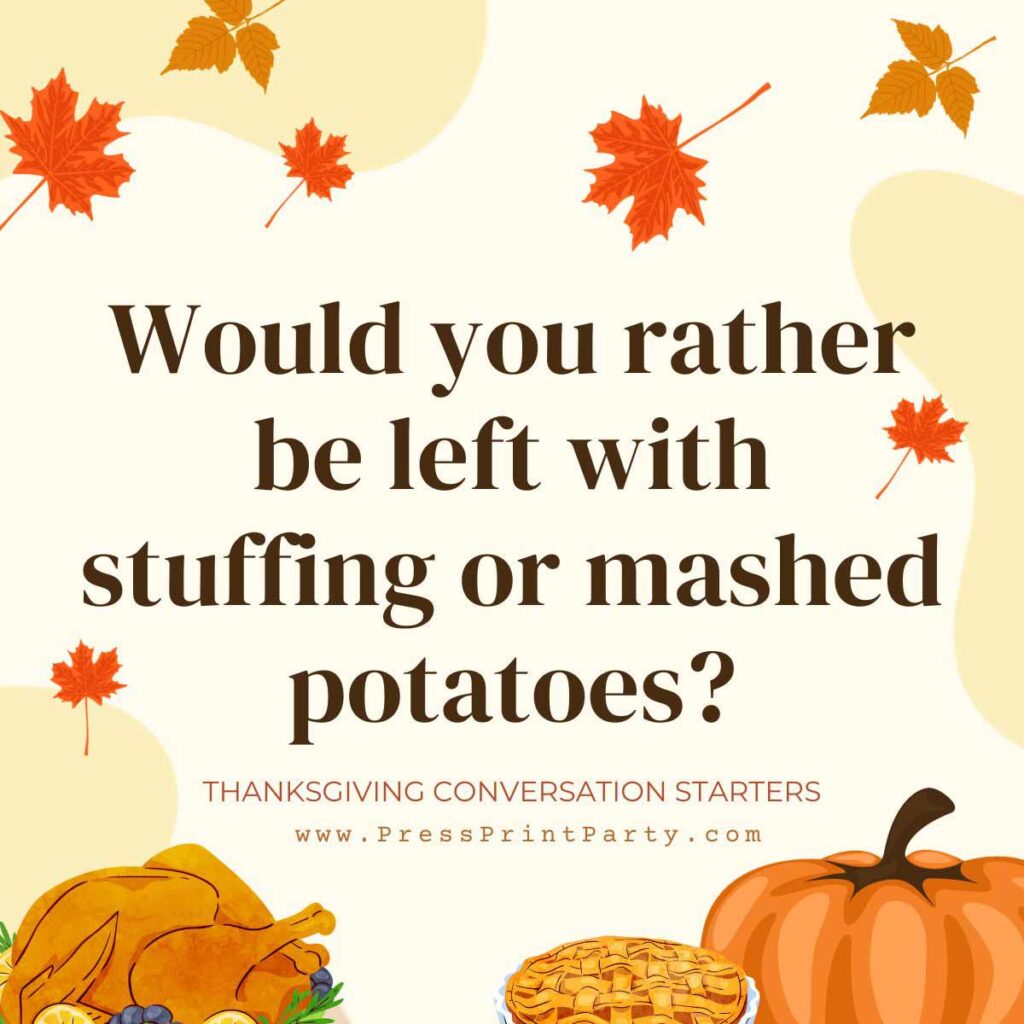 Would you rather have ham or turkey at Thanksgiving?
Would you rather travel to Thanksgiving or host it?
Would you rather have snow or summer heat on Thanksgiving?
Would you rather dress formally or in pajamas for Thanksgiving?
Would you rather eat apple pie or pumpkin pie (or neither)?
Would you rather be left with stuffing or mashed potatoes?
Would you rather competitively run or swim after eating on Thanksgiving?
Would you rather experience the first Thanksgiving or be a guest at the White House's Thanksgiving?
Would you rather attend a Brits-giving or Thanksgiving in Canada?
Would you rather have leftover turkey or leftover pie?
---
Spiritual Thanksgiving Conversation Starters
These thoughtful questions for Christians can help you direct the conversation to topics of eternal importance.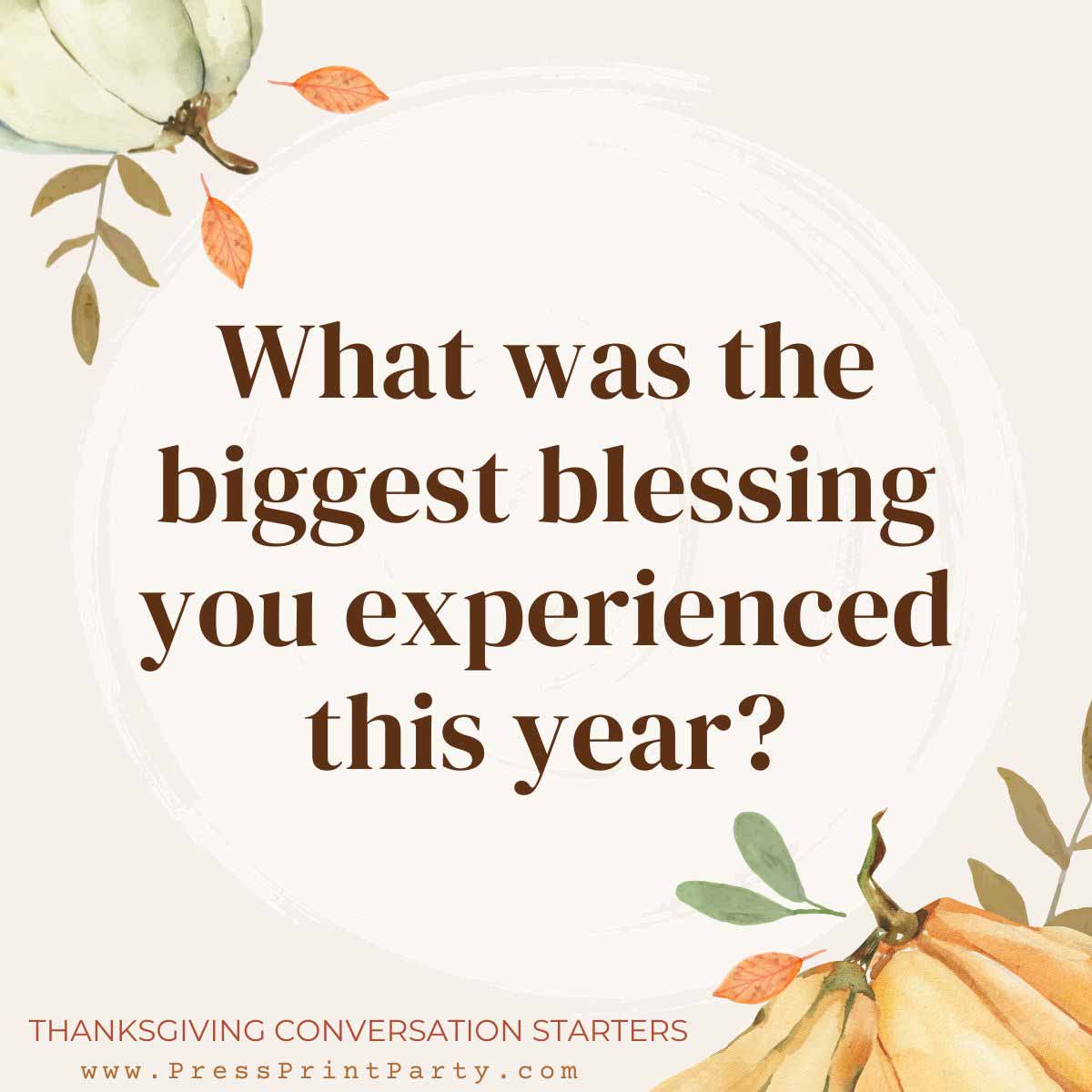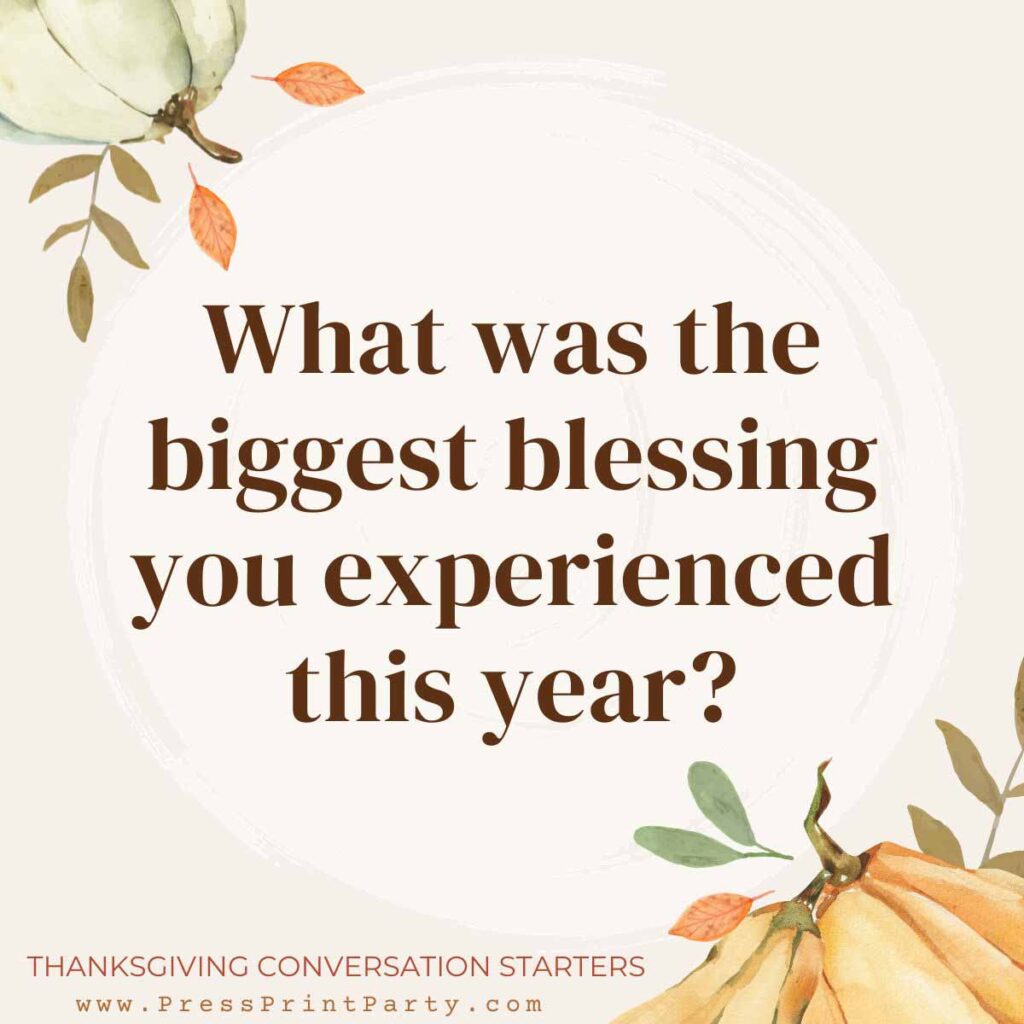 What book of the Bible are you reading right now?
Has there been a verse that has impacted you this year?
Was there a particular sermon or book that stuck with you?
Do you have any spiritual goals for the upcoming year? (Read the entire Bible? Establish a routine of being in the Word daily? Share Christ more fearlessly?)
When you look back at the last year, are there any events that stick out as supernatural appointments?
What did you learn about the character of God this year?
What obstacles did you see God help you or a loved one through?
When did you feel God's presence the most this year?
What was the biggest blessing you experienced this year?
Any big answered (or unanswered) prayers this year that you can look back at and say "Now I get it!"?
---
Fun and Unique Thanksgiving Conversation Starters to Make People Laugh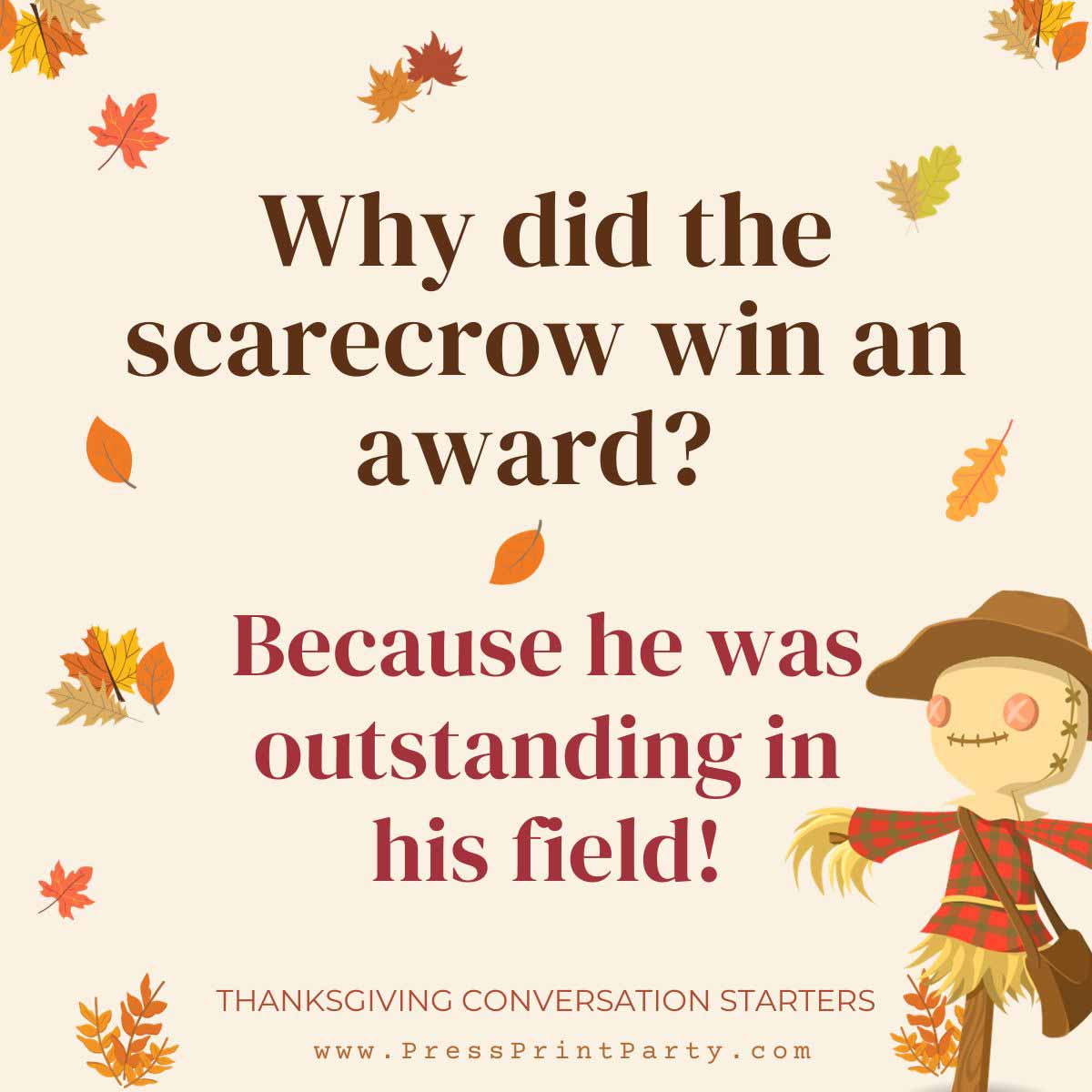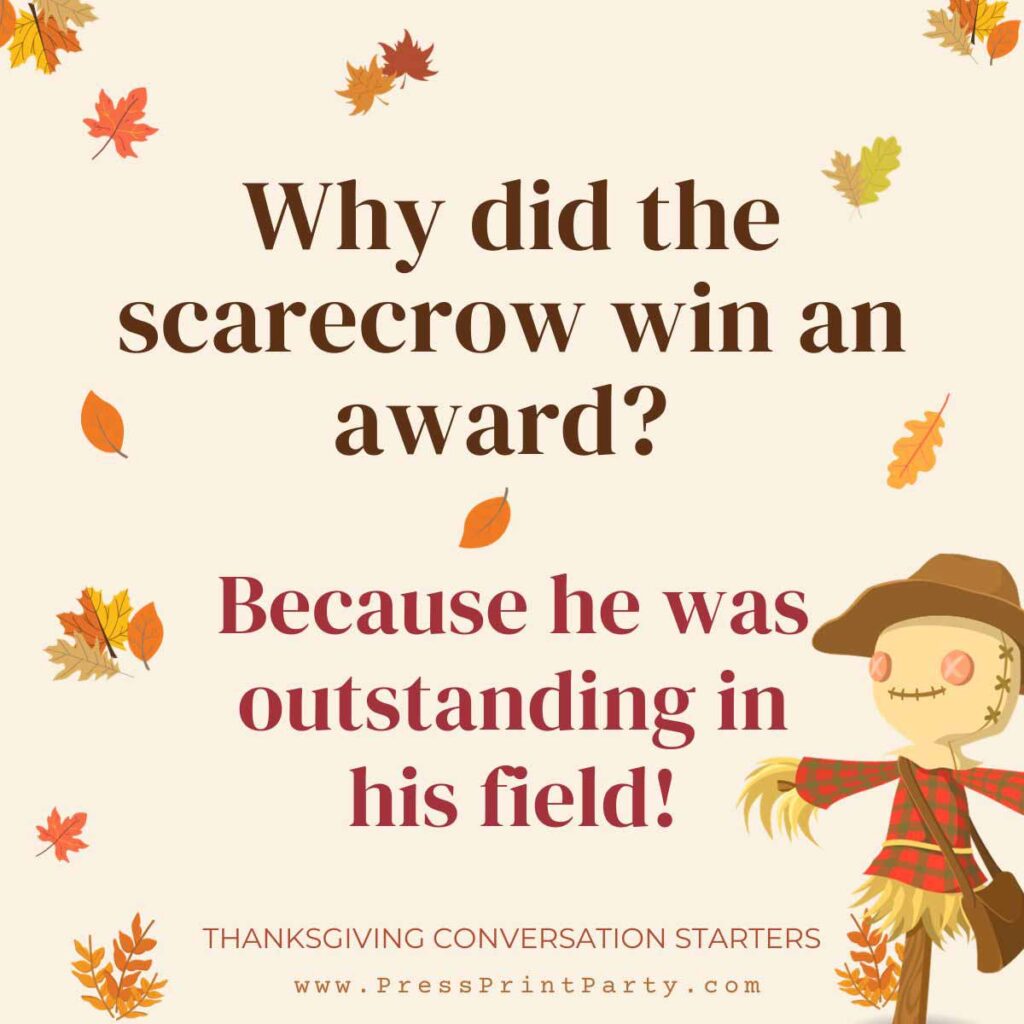 Thanksgiving is a time to gather with family and friends and enjoy good food and laughter. To lighten the mood and add some festive humor to your Thanksgiving dinner, here are ten of my favorite jokes and funny questions with Thanksgiving flair.
I'm thankful for elastic waistbands. Who's with me?
What's the best way to compliment a Thanksgiving turkey? Tell them "You're too thin!"
If Pilgrims were alive today, what sports would they play? Plymouth Rock-climbing!
What do you get when you cross a turkey with a ghost? A poultry-geist!
Why did the scarecrow win an award? Because he was outstanding in his field!
What did the turkey say before it was roasted? "I'm stuffed!"
What do you call a running turkey? Fast food!
What do you get if you divide the circumference of a pumpkin by its diameter? Pumpkin pi!
I tried a new pie recipe this year. I like to consider myself a pie-oneer.
What's the best song to play while cooking a turkey? All About That Baste
---
Interesting Conversation Topics for Thanksgiving and Other Dinners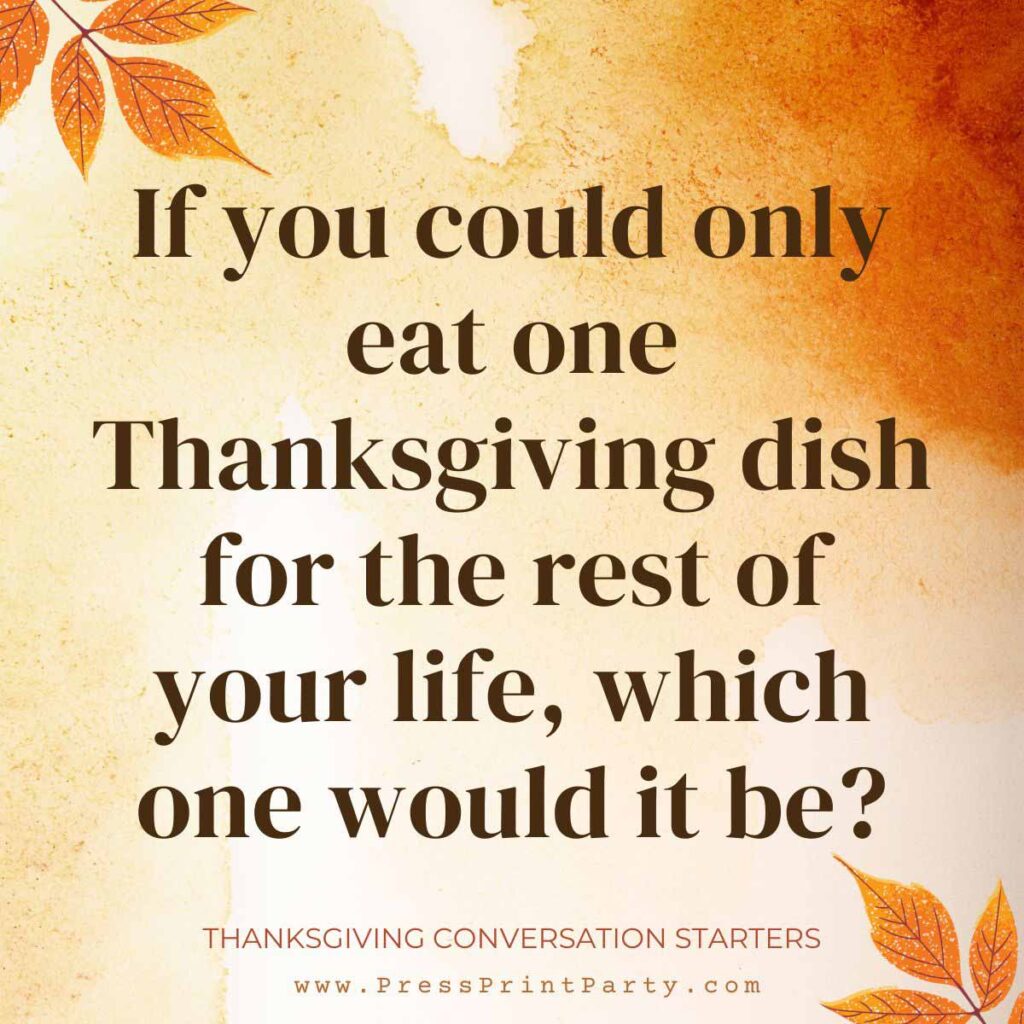 The first half of these conversation starter questions are Thanksgiving-specific, but I threw in general questions that may serve you well at other dinner parties or regular family dinner conversations. You might even be pleasantly surprised by what you learn from your fellow feasters.
What is your favorite Thanksgiving tradition or memory?
Are you team pumpkin pie or team apple pie?
What's the most interesting dish you've ever had for Thanksgiving?
Do you have any unique or special family traditions for Thanksgiving?
If you could invite any historical figure to your Thanksgiving dinner, who would it be and why?
Do you have any Thanksgiving traditions from your culture or heritage?
If you could only eat one Thanksgiving dish for the rest of your life, which one would it be?
What's the best Black Friday deal you've ever snagged?
If you could travel anywhere in the world for Thanksgiving, where would you choose and why?
Which family member or guest present at Thanksgiving would you vote for as president?
If football is not your favorite sport, which sports game would you prefer to watch on Thanksgiving?
If you had your own rock band, what would it be called?
Your home is on fire. What is the most important thing you grab before escaping?
If you were stranded on a deserted island, what three things would you like to have with you?
You're given a million dollars, taxes paid, no strings attached. What do you do first with it?
Have you ever had a crush on a fictional character?
Do you have a favorite book? If so, what is it?
Where is the most beautiful place you have been?
What is your earliest memory?
What is your least favorite household chore?
You find yourself with a day unexpectedly free. What do you do? Where do you go?
What is the craziest thing you have ever done?
If you could meet one famous person, who would it be?
What is your favorite holiday?
What is the most embarrassing moment you have experienced?
When was the happiest day of your life?
If your next family vacation was free, where would you go?
What is your greatest talent?
Who is the funniest person you know?
---
Thanksgiving Questions for Kids
Getting a kid's perspective on things is so fun! Often, young children have a hilarious take on things. Include your younger feasters in the discussion with these questions.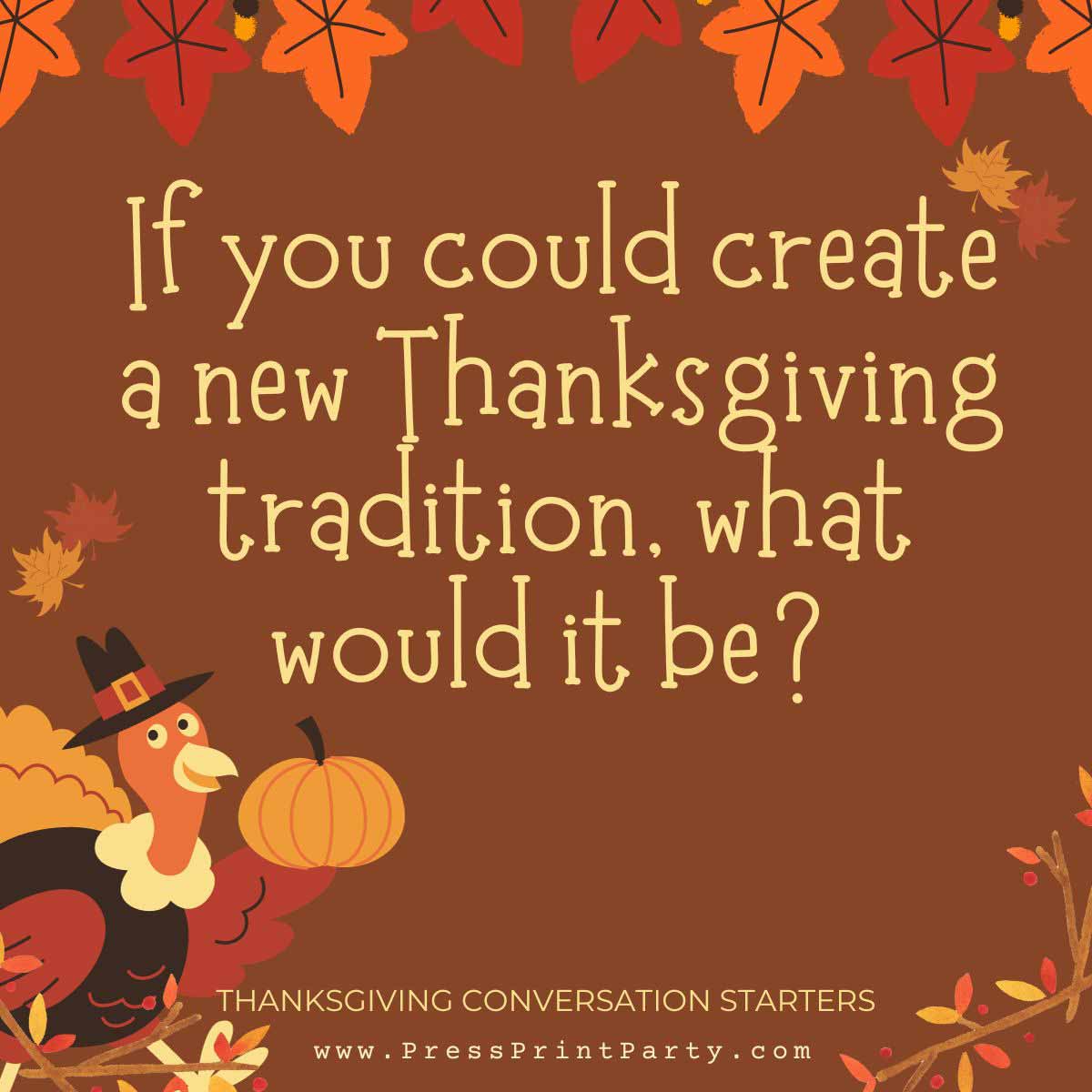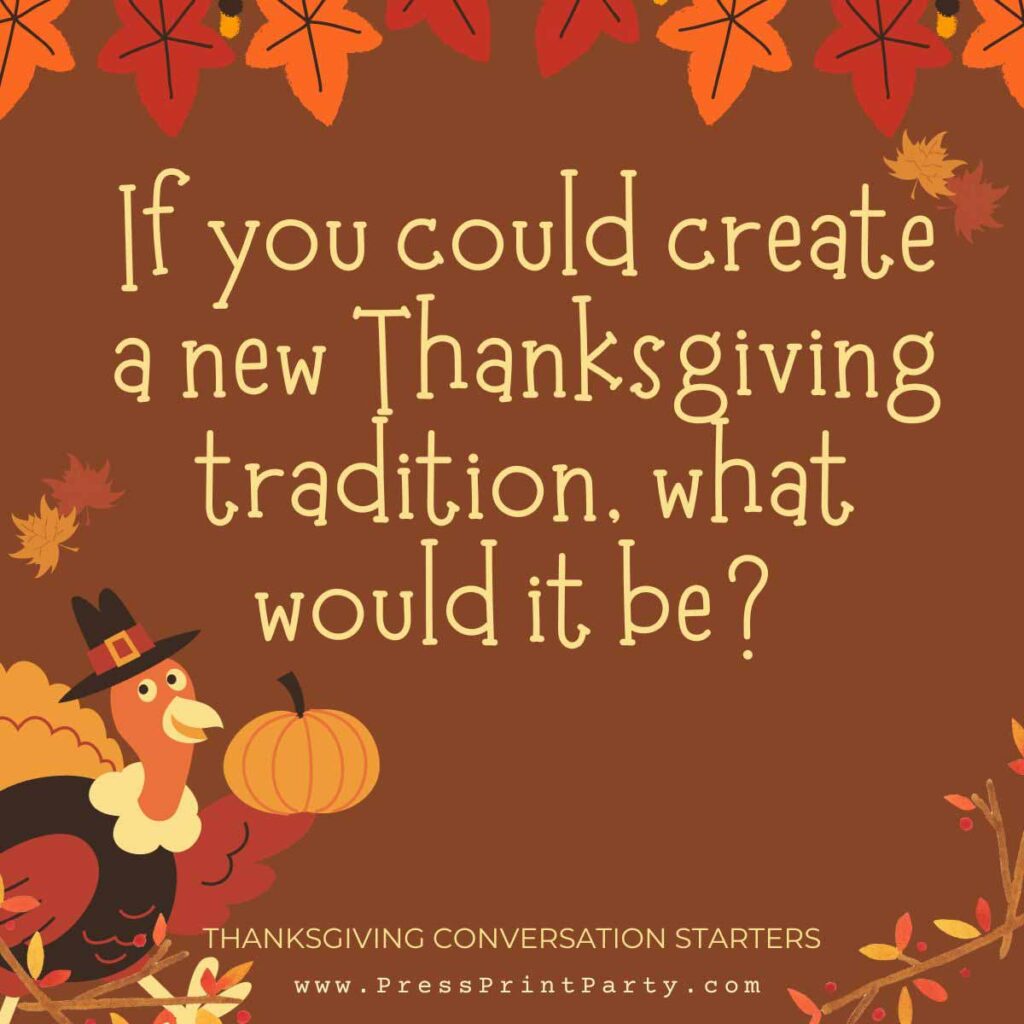 What is your favorite part of Thanksgiving?
What are you most thankful for this year?
How do you think Thanksgiving was celebrated differently in the past?
If you could have any superpower, what would it be and how would you use it to help others on Thanksgiving?
What are some dishes you would like to learn to cook for future Thanksgivings?
What do you think turkeys would say if they could talk on Thanksgiving?
If you could invite anyone, living or dead, to have Thanksgiving dinner with us, who would it be and why?
What are some fun activities we can do as a family after Thanksgiving dinner?
What is the most interesting fact you know about Thanksgiving?
If you could create a new Thanksgiving tradition, what would it be?
---
Conversation Topics to Avoid During Thanksgiving
This is a tough one. As a general rule, Thanksgiving dinner is not the time to have difficult conversations. And some topics are really divisive and are almost sure to anger and upset people.
So here's a list of the topics you may want to be especially careful with.
Controversial political or religious discussions: Thanksgiving is a time for peace and unity, so it's best to avoid topics that tend to divide people's opinions and can potentially lead to heated debates.
Personal or sensitive family issues: It's important to create a positive and joyful atmosphere during Thanksgiving, so avoid discussing sensitive family matters that could potentially ruin the mood for everyone.

Past grievances or grudges: Thanksgiving is a time for forgiveness and moving forward, so it's best not to bring up old arguments or past grievances that can stir up negative emotions.
Personal insecurities or weight-related topics: Avoid discussing personal weight, appearance, or any topics that might make someone feel self-conscious or uncomfortable.

Money matters: Discussions about personal finances, salaries, or any wealth-related topics can make people feel uncomfortable or create a sense of competition and comparison.
Unpleasant past experiences or tragedies: Thanksgiving is a time to focus on gratitude and positivity, so it's better to keep conversations light-hearted and avoid discussing past traumas or negative experiences.
Controversial social issues: Although it's important to have conversations about important social topics, Thanksgiving may not be the right time to debate controversial issues that could potentially create tension or arguments.
Negative gossip or criticism: Try to maintain a positive and uplifting atmosphere during Thanksgiving by avoiding talking negatively about others or engaging in gossip.
Health problems or medical conditions: It's best to avoid discussing personal health issues or medical conditions that might make others uncomfortable or anxious.
Work-related stress or complaints: Thanksgiving is a time to relax and enjoy the company of loved ones, so avoid bringing up work-related stress or complaints which can divert the focus from the holiday spirit.
---
I hope these conversation starters spark meaningful discussions and inspire some of your own questions for Thanksgiving or your next dinner party.
Be sure to check out my Thanksgiving shop for adorable, printable table place cards and more. I also have Thanksgiving drink recipes, adorable turkey crafts, dessert recipes, and more to make your Thanksgiving extra special.
Happy Turkey Day!
Don't forget to pin these Thanksgiving conversation starters: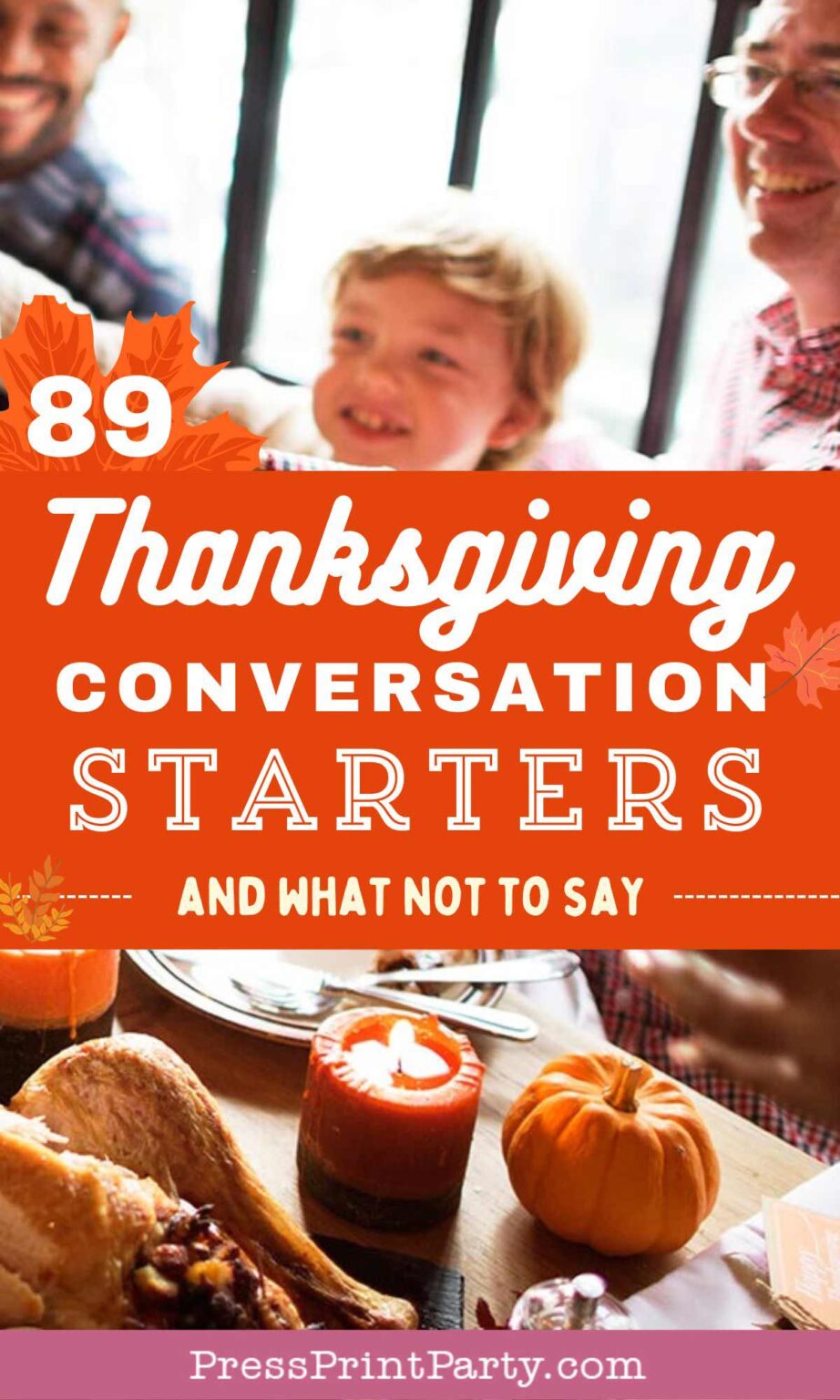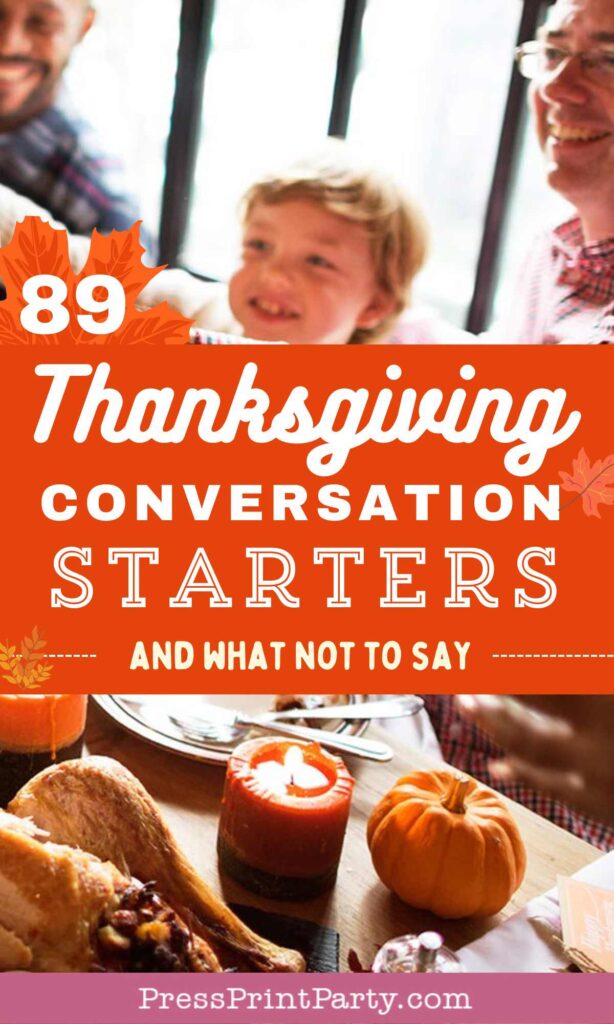 Check out our Fall printables