I don't know about you, but when spring starts poking out its head and the mental fog of winter starts to clear, I feel like baking and crafting! And of course, making videos!
And with Easter around the corner, these DIY bunny cupcakes make for a fun and easy cupcake decoration! I guarantee both kids and adults will find them just adorable!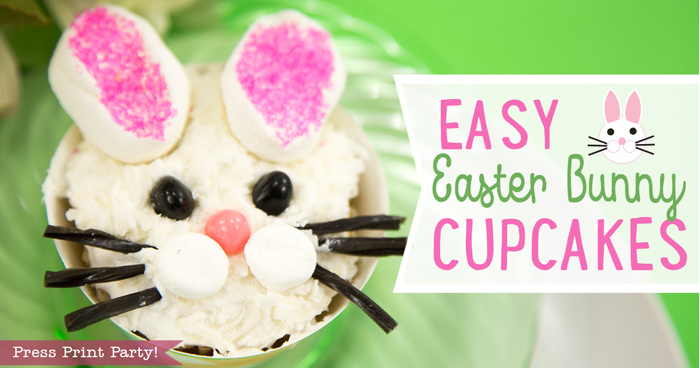 Bunny Cupcake DIY Instructions
For each cupcake you'll need:
Cupcake of your choice.
White frosting
Sweetened Coconut flakes
1 black jelly bean cut in half
1 pink jelly been cut in half
Pink sugar
Licorice – cut in 1/2 inch strands
1 big marshmallow
1 small marshmallow
Cute Easter cupcake wrappers naturally found at Press Print Party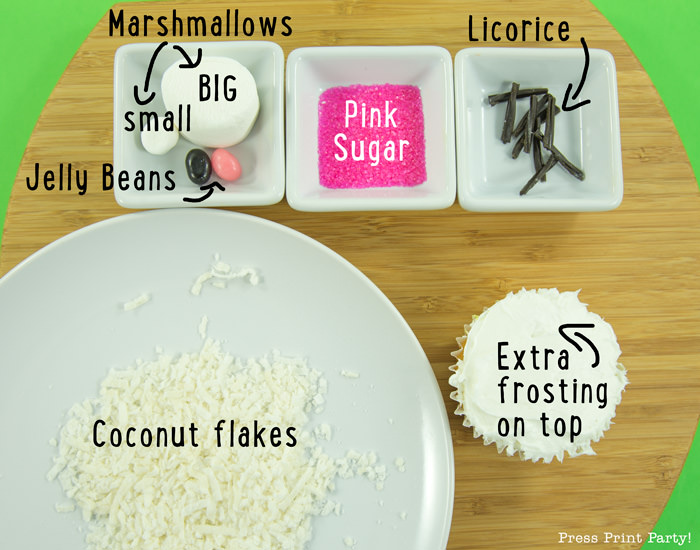 I'd encourage you to watch the video below first, it may just answer all your questions.
And don't forget to go to my YouTube channel to subscribe!
Scroll below for full instructions.
Frost the cupcakes white adding an extra amount of frosting on the top to hold the ears.
Dip the cupcake in coconut flakes.
Squish your big marshmallow (to create longer ears) and cut it in thirds! (halves are just too thick).
Next, eat the CENTER piece. I appreciate you taking one for the team. You're not eating this because marshmallows are so dangerously tasty, you're doing it because it's honestly easier to explain the next step if that confusing center piece is gone. Now if you've gone and made a horrible mistake and eaten one of the end thirds then there's just no redemption. You've made a fatal and inexcusable error and you'll just have to shove the whole errant marshmallow into your mouth to destroy the evidence. Now take a deep breath, look around suspiciously to make sure no one saw that and start again from the last instruction.
Take the outside two pieces and dip them, sticky side down, into the pink sugar to create the ears. Place them on the cupcake on top of the extra frosting.
Place the pink jelly bean half in the middle. Oh my goodness. Another little bit of candy I don't know what to do with.
Cut the small marshmallow in half and place the halves to either side, and a bit lower, than the pink jelly bean to create the cheeks.
Place the black jelly beans apart to make the eyes. They'll look cuter if placed farther apart.
Add 3 strips of licorice to either side of the little marshmallow to create the whiskers.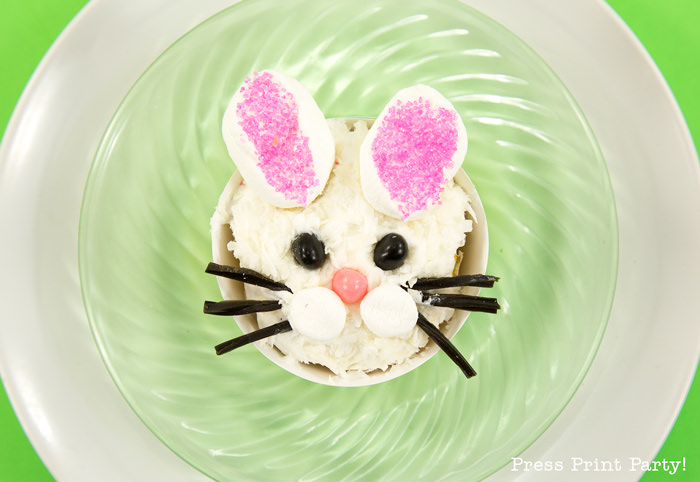 How cute is that!!!
A perfect companion to the chick cupcake!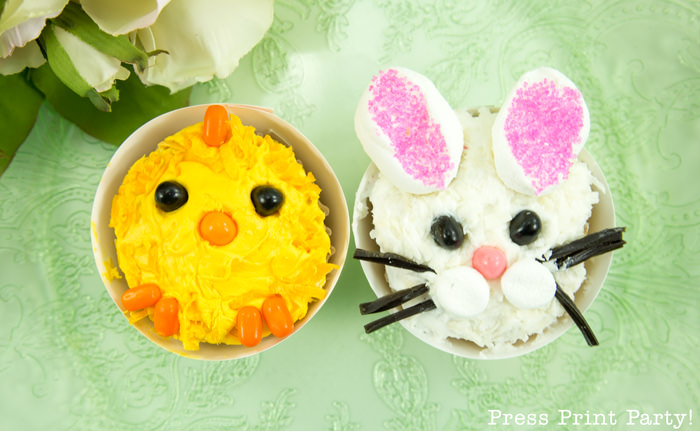 Don't keep all this cuteness to yourself, pin it: