If you're looking to add a touch of magic to your Harry Potter-themed birthday party I've got just the thing for you – Harry Potter potion label printables! These little gems are perfect for sprucing up any old bottle you have lying around the house.
Whether you're a Gryffindor, Slytherin, Hufflepuff, or Ravenclaw, these potion labels will bring an extra dash of enchantment to your party.
If you're a die-hard fan of the Harry Potter series, then you know that the world of potions is an essential part of the wizarding world. So I'll discuss each potion name and its purpose as described in the books.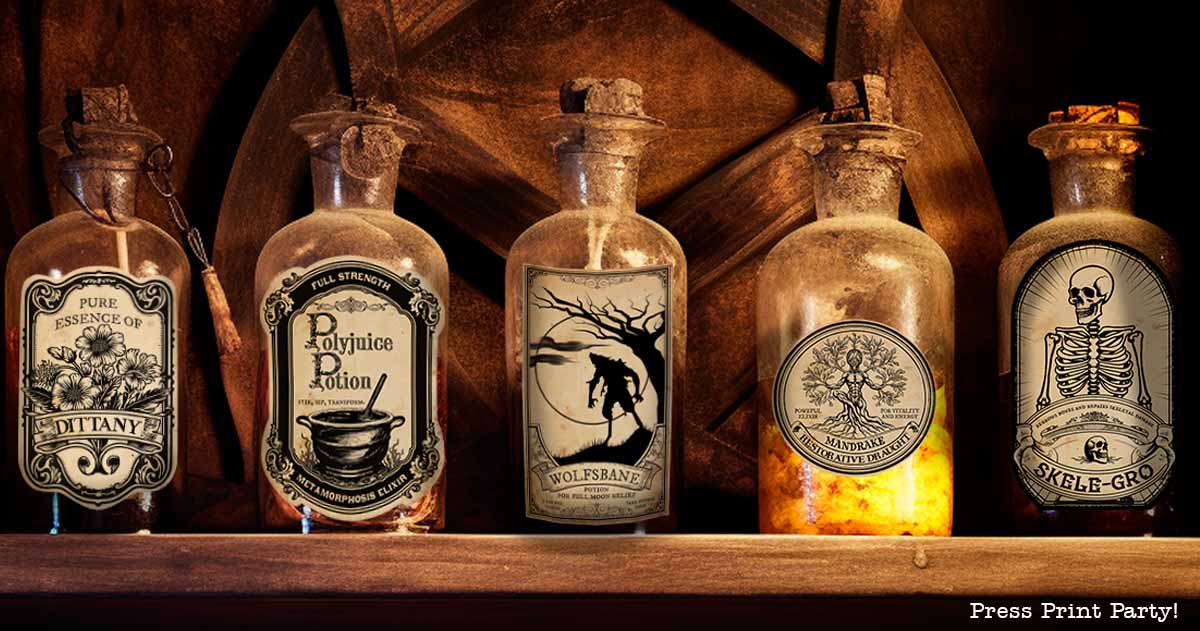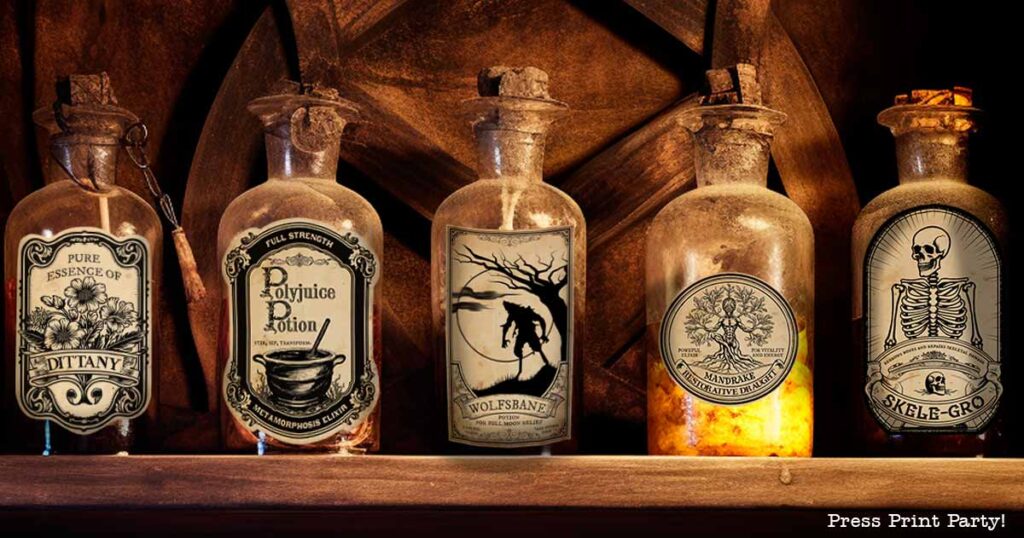 This post may contain affiliate links.
I've got all the major Harry Potter potion names covered, from Felix Felicis to Polyjuice Potion, and even some lesser-known concoctions like Amortentia and Veritaserum.
These labels allow you to transform any ordinary bottle into a fantastical display of potions and spells. Don't be afraid to get creative! Mason jars, vintage bottles, or even plastic containers can all be transformed into magical vessels with the right label.
So, don't miss out on the chance to make your Harry Potter experience even more bewitching. Grab those empty bottles, get printing, and let the magic flow!
---
Harry Potter Potion Label Printables
I have not just one, but two sets of files filled with fantastic Harry Potter potion labels! These labels are so fun, with each set featuring unique and specially crafted designs. Although some potion names overlap between the two sets, the designs of the vintage potion labels are completely different.
The initial set was created with Halloween decorations in mind, along with a sprinkle of Harry Potter-inspired potion names and ingredients for added excitement. However, due to the overwhelming demand for more Harry Potter potion label names, I enthusiastically obliged and created a second collection exclusively featuring concoctions associated with the Wizarding World of Harry Potter.
Be aware that the original set has only a couple of Harry Potter World potions but contains ingredient labels like Eye of Newt, Bouncing Spider Juice, Basilisk Venom, Mandrake Root, Porcupine Quills, and Pumpkin Juice that are not included in the second set.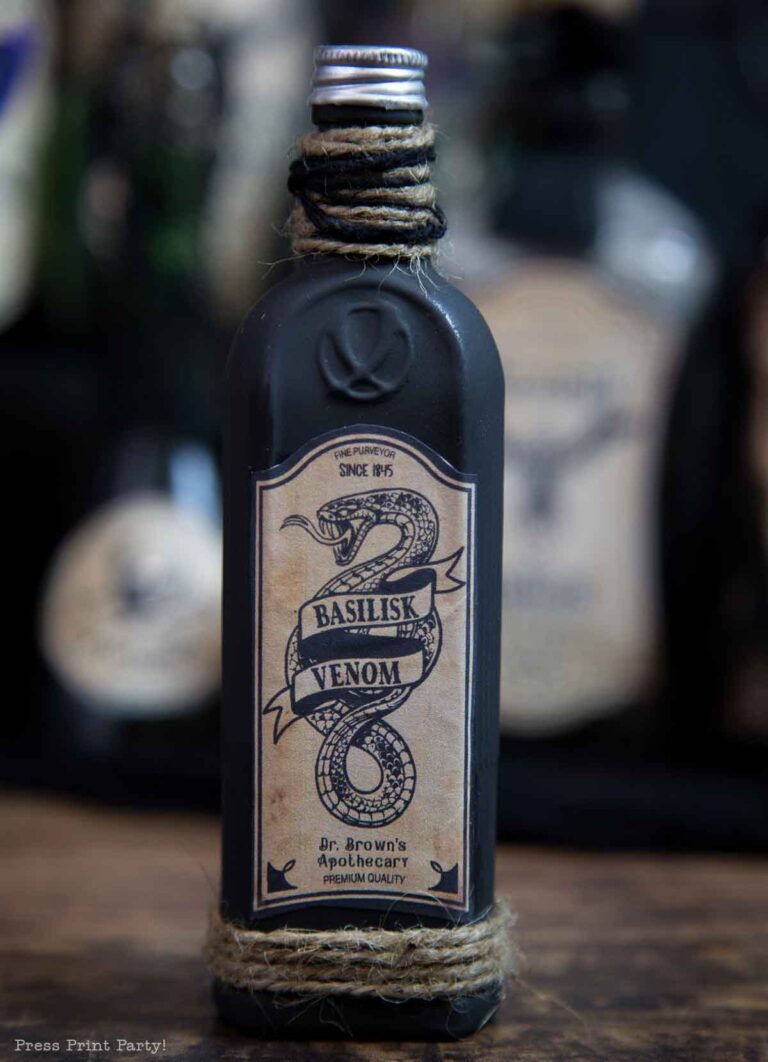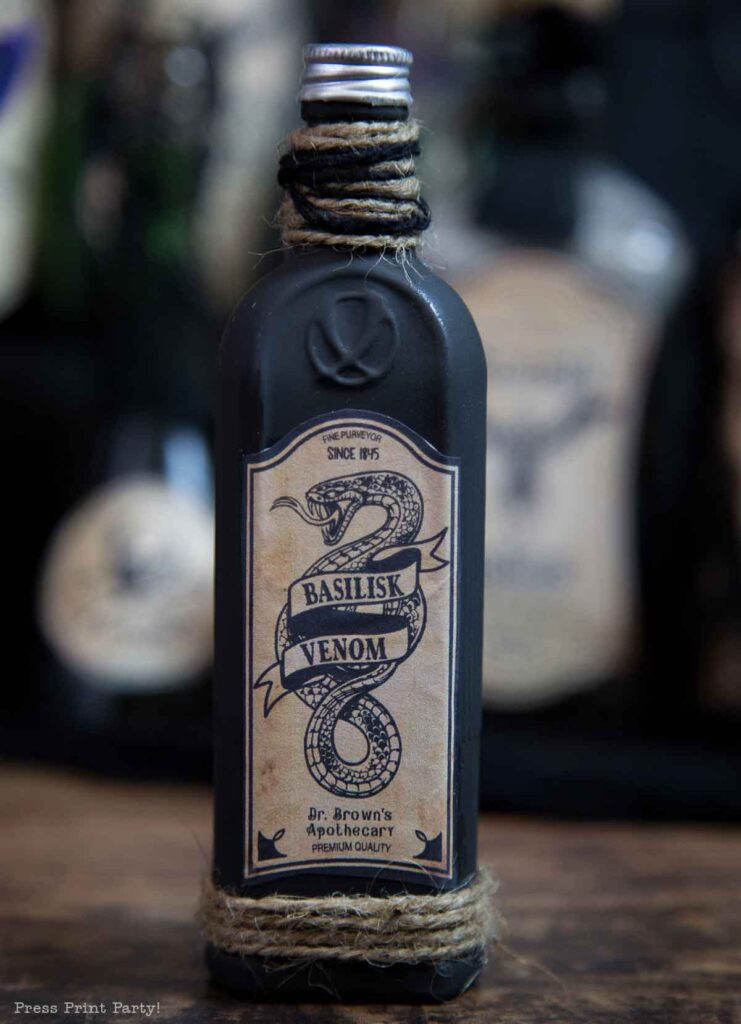 Now, I understand that you may have other specific potion names in mind for your own projects. Not to worry, because I have a fabulous vintage apothecary labels file that is completely editable.
This means you can personalize it to your heart's content, making it truly one-of-a-kind. With a whopping 15 different designs to choose from, you are bound to find something that captures your imagination and creativity.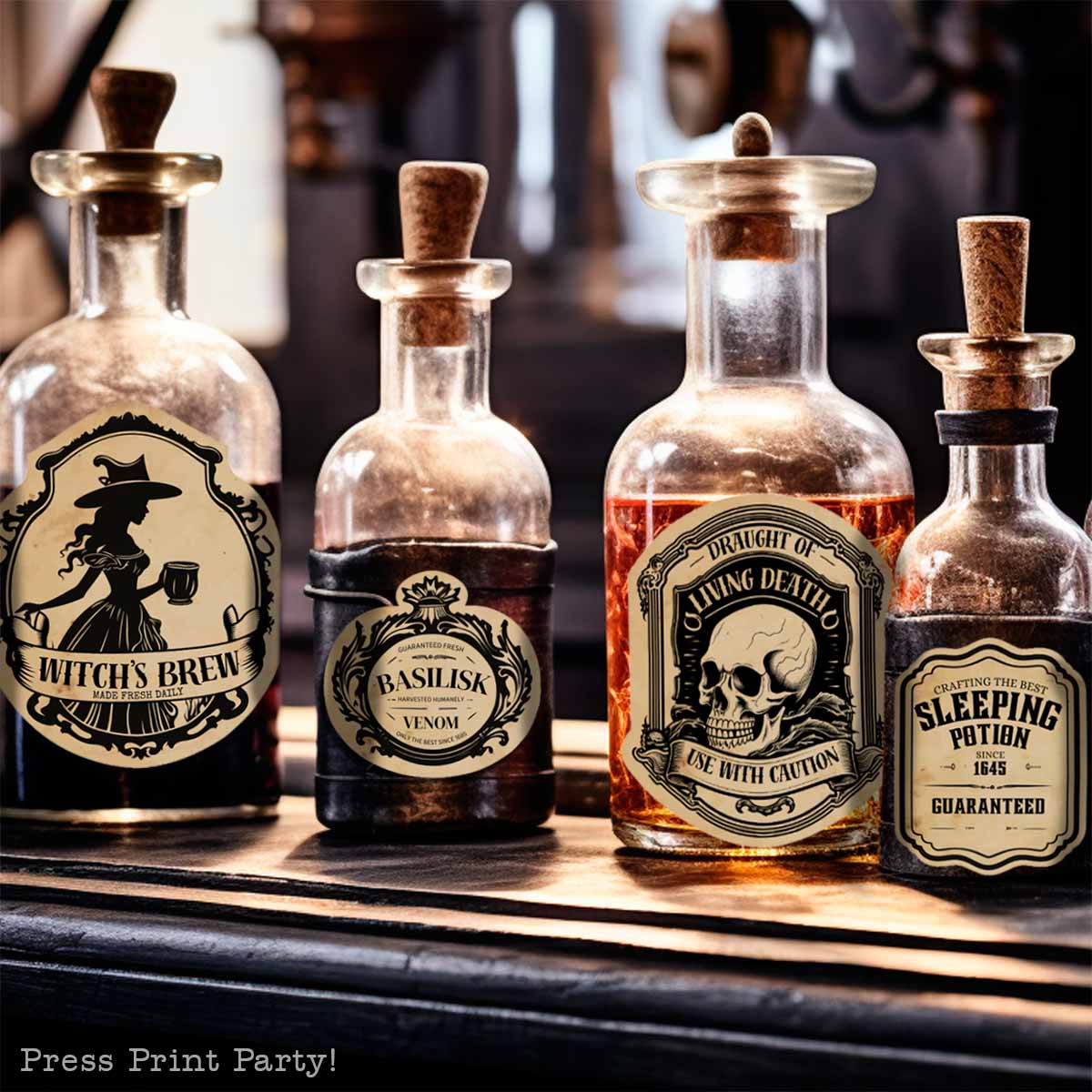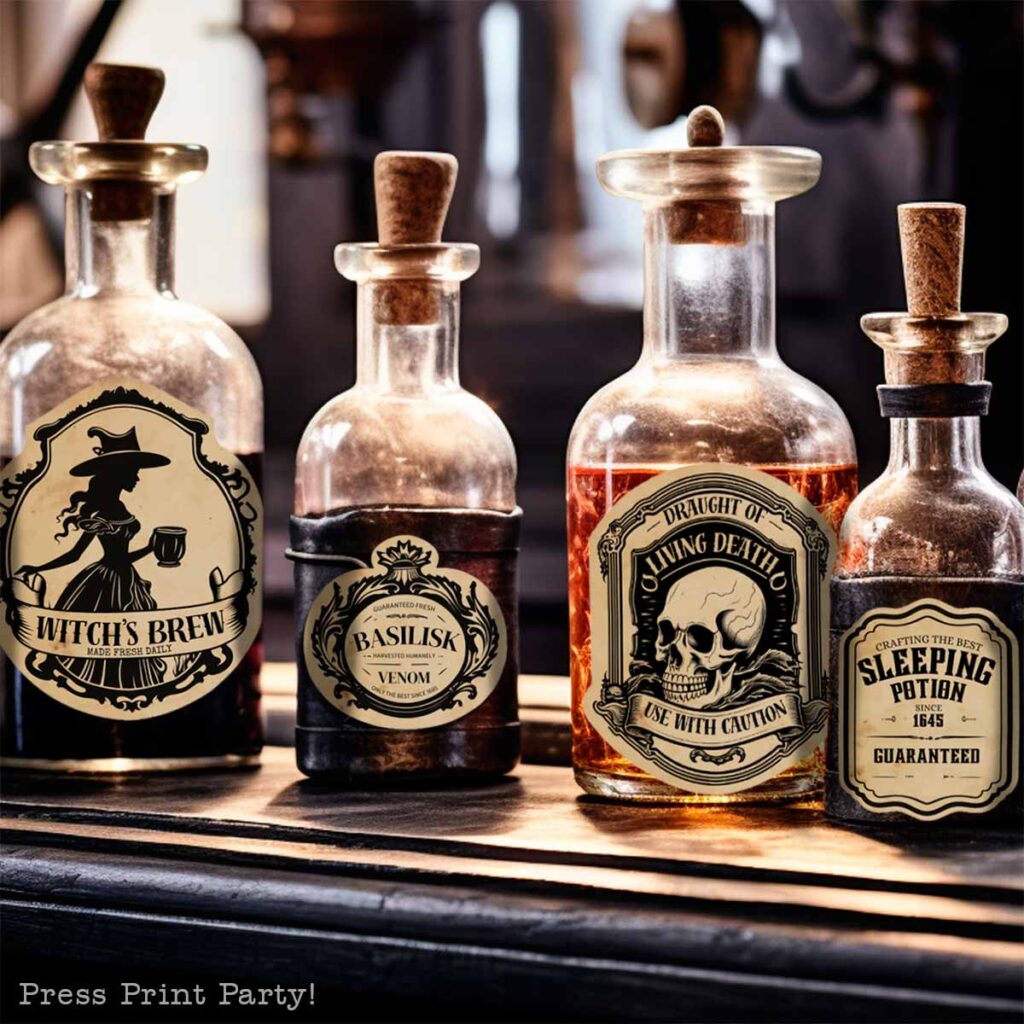 So go ahead and take your pick!
You can choose one or both of the printable sets with the pre-selected potion names or dive into the world of customization and create your own labels. The possibilities are endless, and I guarantee that you will be thrilled with the results.
---
The Main Harry Potter Potions and Ingredients
In the magical world of Harry Potter, potions play a crucial role in the art of wizardry. From curing wounds to inducing love, potions are a versatile way to manipulate reality. Here are some of the most iconic potions that are part of the Harry Potter printable label set.
Since I couldn't come up with this list purely by memory, I've checked all my facts with the official Wizarding World website.
Felix Felicis
Also known as liquid luck, this potion grants temporary good luck to the drinker. Mentioned in Harry Potter and the Half-Blood Prince when Harry wins a vial of it.

Polyjuice Potion
This potion allows the drinker to assume the appearance of another person by taking a small part of their body. Introduced in Harry Potter and the Chamber of Secrets and mentioned throughout the series as characters use it to disguise themselves.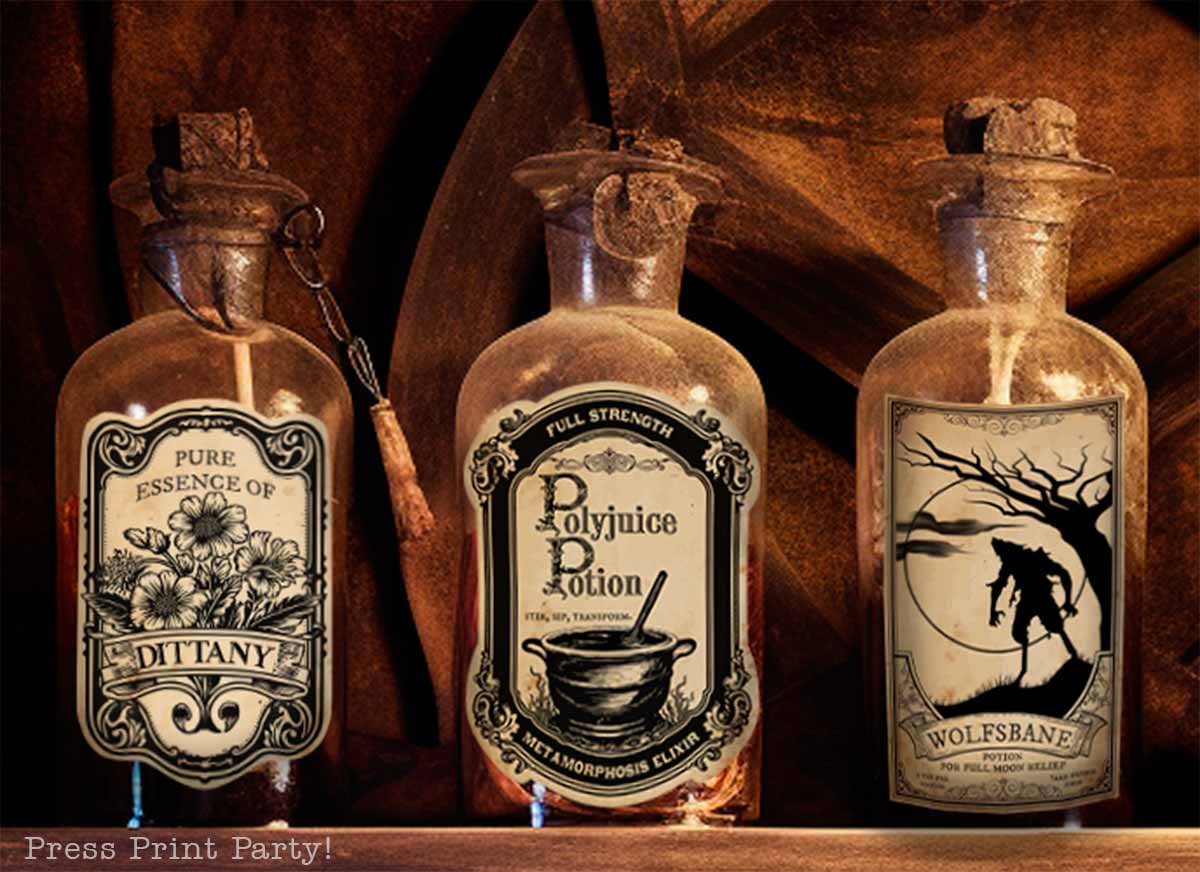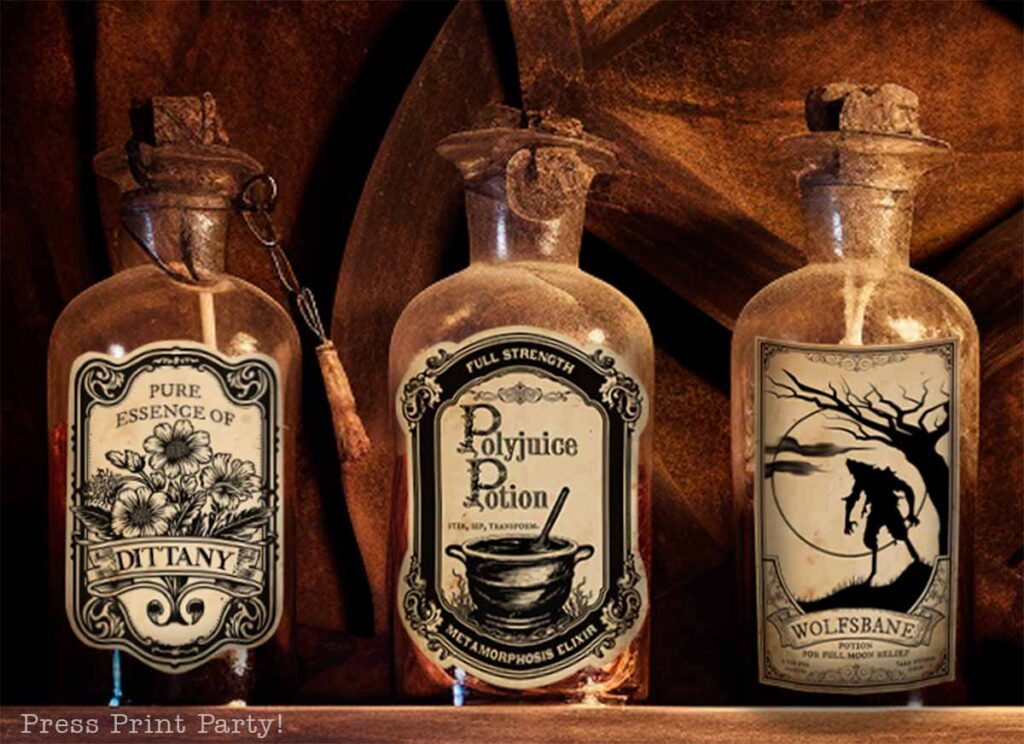 Amortentia
Considered the most powerful love potion, it causes infatuation or obsession in the drinker. The ingredients may vary and are not explicitly mentioned. Discussed in Harry Potter and the Half-Blood Prince during Snape's potions class.
Veritaserum
A truth potion that forces the drinker to answer any question truthfully. First appears in Harry Potter and the Goblet of Fire when it's used on Barty Crouch Jr. during an interrogation.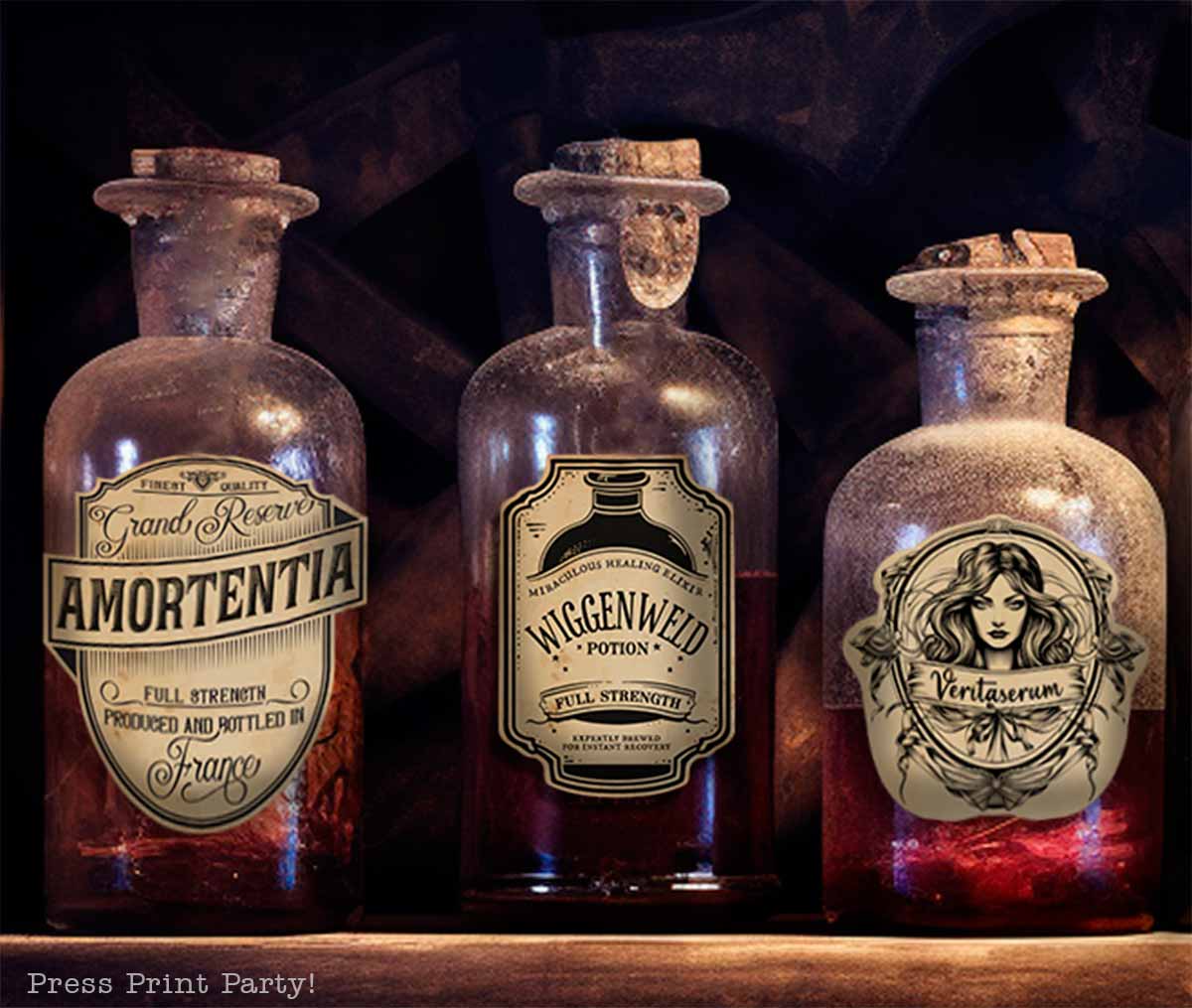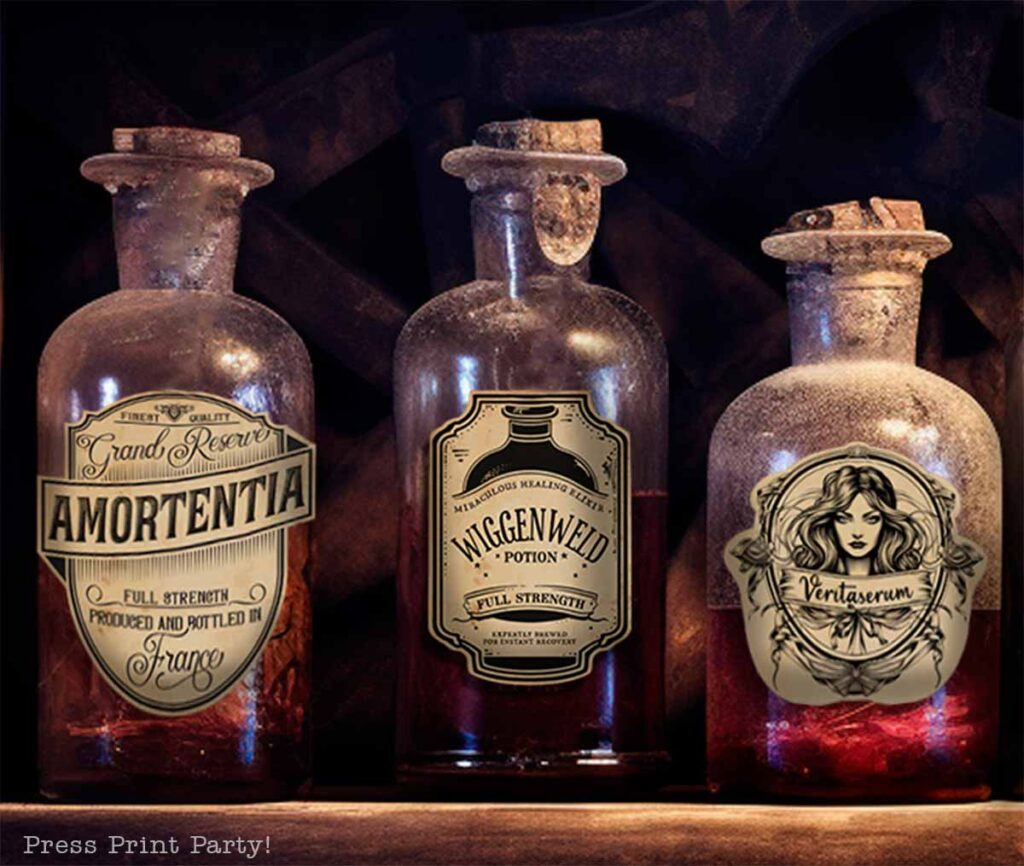 Wolfsbane Potion
The Wolfsbane Potion allows werewolves to retain their minds during the transformations. Discussed in Harry Potter and the Prisoner of Azkaban during Snape's potions class.
Draught of Living Death
A powerful sleeping potion that can mimic a death-like state that is almost impossible to wake from. Introduced in Harry Potter and the Philosopher's Stone during Snape's potions class.
Essence of Dittany
A magical healing potion made from the rare Dittany plant, which has powerful healing properties. Its application can soothe and mend even the most severe injuries. It is mentioned in the Harry Potter books several times, most notably in the Half-Blood Prince when Professor Snape uses it to heal Draco Malfoy's wounds after he is attacked by Voldemort's cursed necklace.
Wiggenweld Potion
The Wiggenweld Potion is a healing potion. It is said to have the power to cure minor injuries and revive an unconscious person. The potion is first mentioned in Harry Potter and the Chamber of Secrets when Harry drinks it to restore his strength after battling the basilisk.
Skele-Gro
Skele-gro is a magical remedy used to mend and rebuild bones, particularly useful for severe fractures. Skele-gro first appears in Harry Potter and the Chamber of Secrets when Gilderoy Lockhart attempts to fix Harry's arm after it is broken by a rogue bludger during a Quidditch match.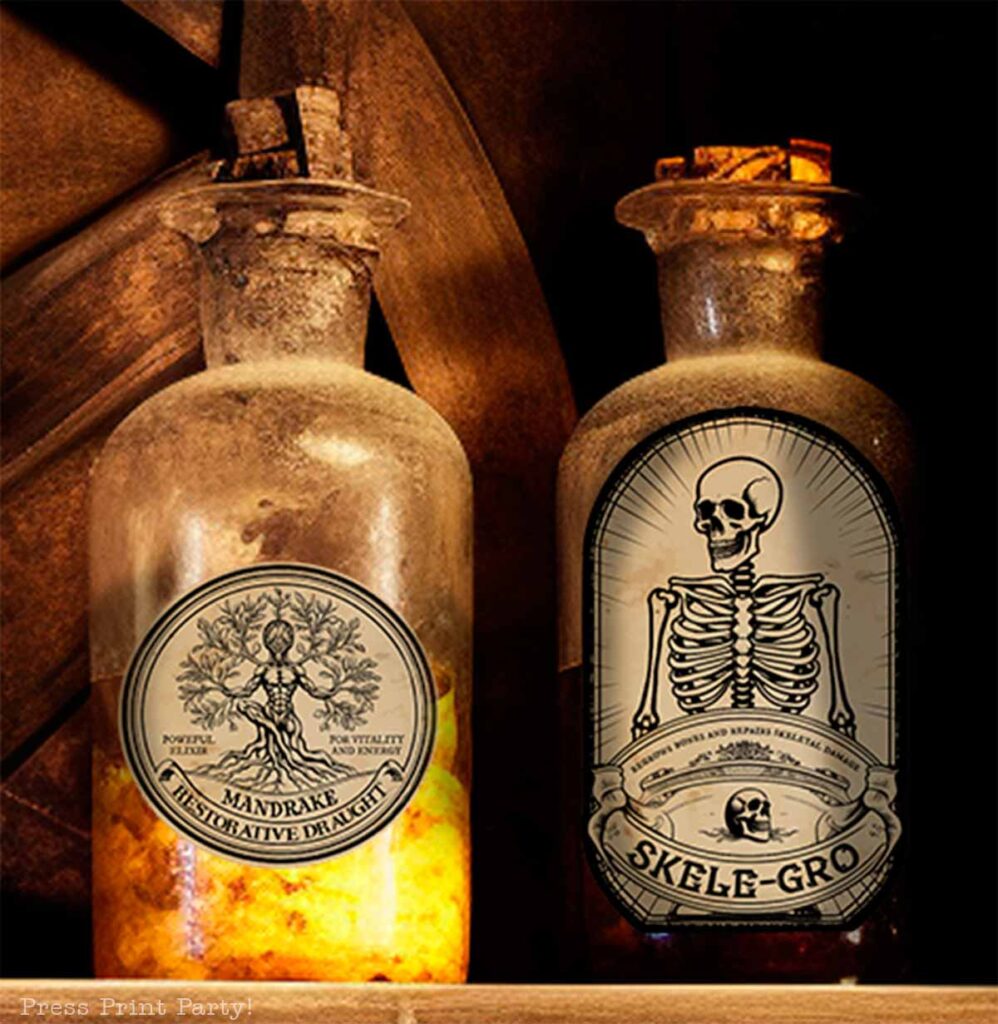 Shrinking Solution
The shrinking solution is a potion that causes the drinker to shrink in size and age. It is mentioned in "The Prisoner of Azkaban" when Professor Snape threatens to give it to Neville's toad.
Pepperup Potion:
A remedy for common colds and coughs, it clears the sinuses and warms the recipient. Ingredients include dried Billywig stings, Scurvygrass, and Tincture of Demiguise. Mentioned in Harry Potter and the Goblet of Fire when Mrs. Weasley gives it to the champions before the first task.
Mandrake Restorative Draught
The Mandrake Restorative Draught is a potion made from Mandrake roots. It is mentioned in Harry Potter and the Chamber of Secrets when Hermione, along with other petrified students, requires it to be revived from the petrification caused by the Basilisk.
Floo Powder
Floo powder is a magical substance that allows wizards to travel through fireplaces. It is mentioned specifically in Harry Potter and the Philosopher's Stone when Harry accidentally ends up in Diagon Alley through the Floo Network and in Harry Potter and the Goblet of Fire during the Triwizard Tournament when the champions use it to travel.
Gillyweed
Gillyweed is a magical plant that allows a person to breathe underwater. In the book Harry Potter and the Goblet of Fire, Harry Potter uses it to transform his body, growing gills and flippers. It enables him to successfully navigate underwater in the Triwizard Tournament's Second Task, where he must retrieve something important from the bottom of a lake.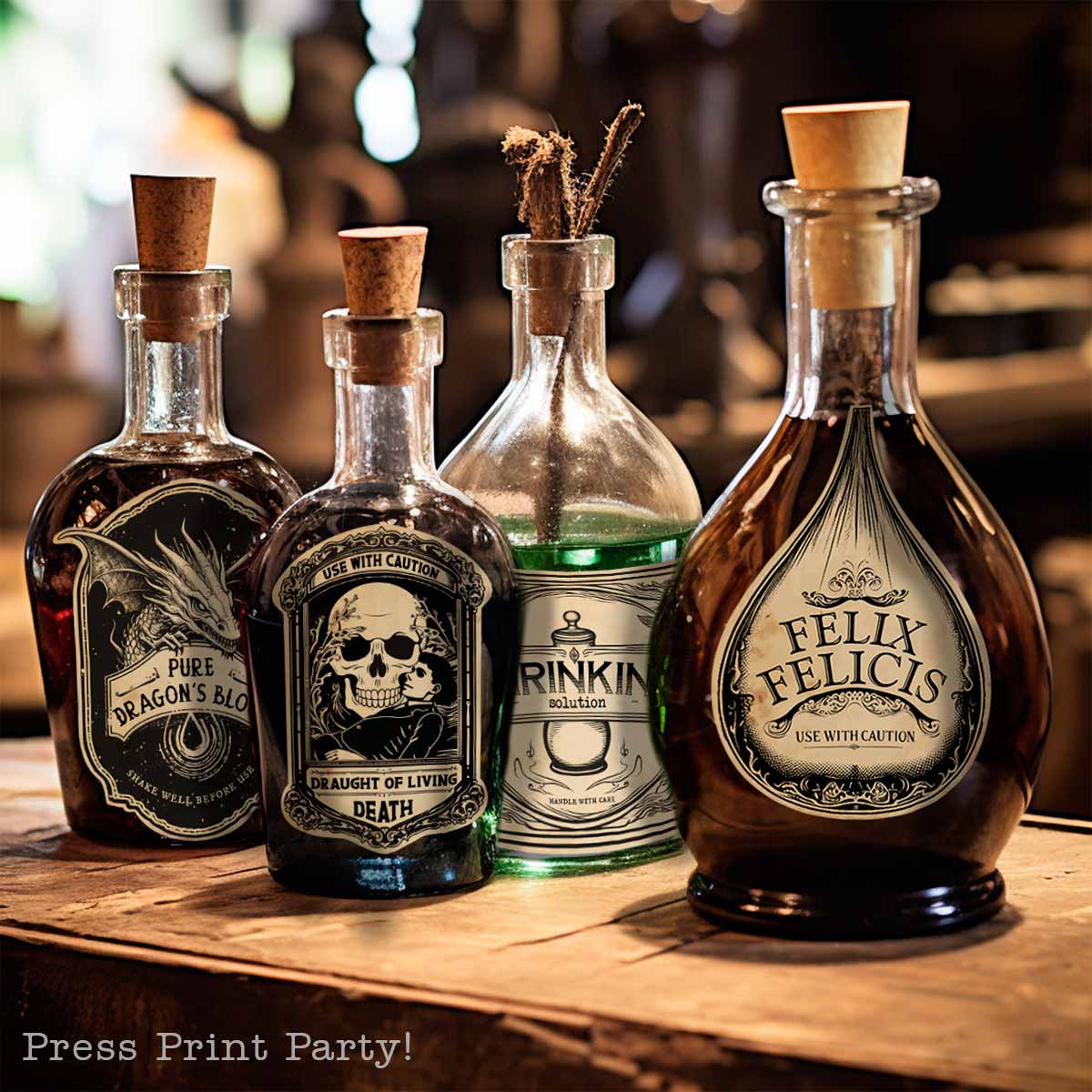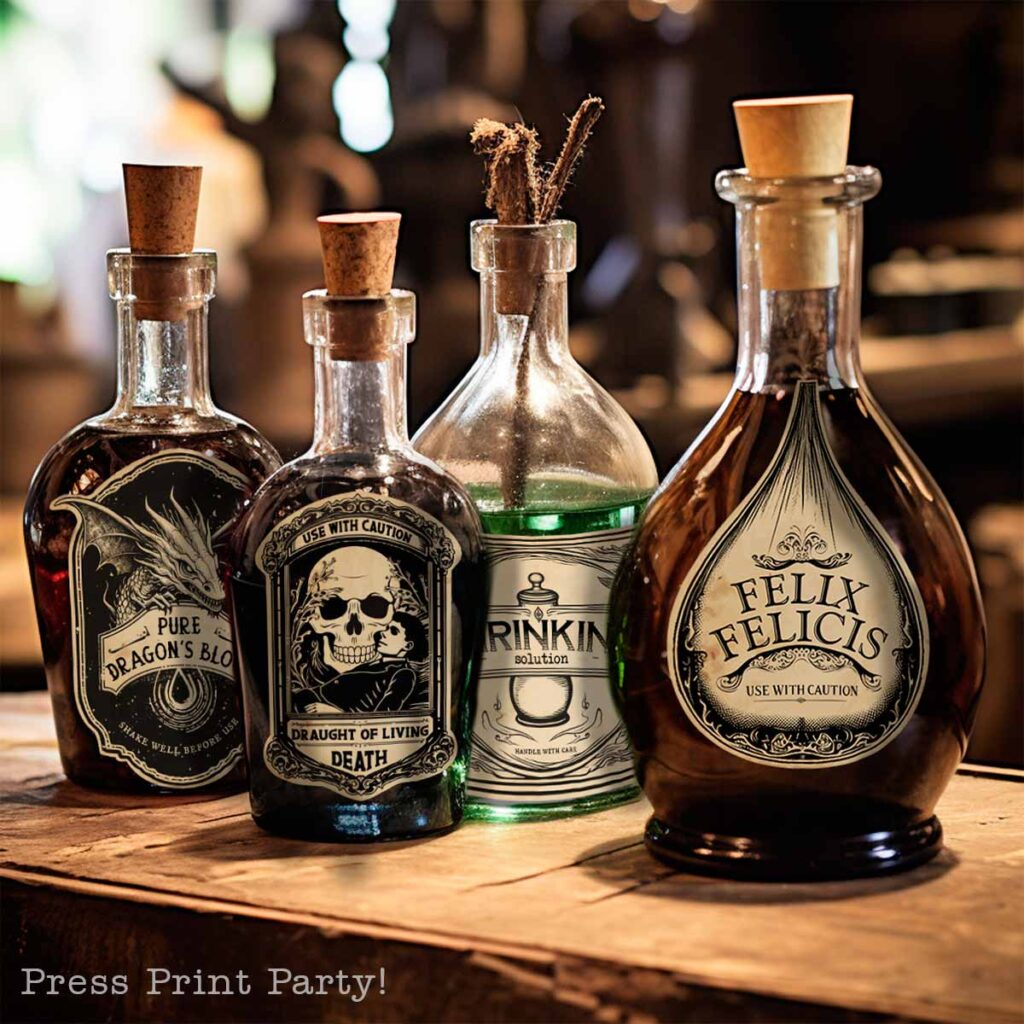 Dragon's Blood
Dragon's blood has various magical properties, including being a potent ingredient in many potions. It is mentioned throughout the series and Dumbledore is credited with discovering the twelve uses of dragon's blood
Unicorn Blood
Unicorn blood has a powerful magical property that can keep a person alive even if they are near death. It is first mentioned in Harry Potter and the Philosopher's Stone when Voldemort drinks unicorn blood to sustain himself.
Lacewing Flies
Lacewing flies are one of the ingredients in the Polyjuice Potion.
---
Making Your DIY Magic Potions
Making Harry Potter potion bottles is so easy, it may seem like magic.
I suggest printing your labels on regular paper to maintain that vintage touch, although using vinyl sticker paper is a more convenient option and will keep your bottles looking great longer.
Now that you have all your labels ready, creating a sensational apothecary display is a breeze.
Simply gather a variety of glass bottles, plastic and glass jars, and different sizes of containers from your house, the dollar store, or the thrift store. Give them a good cleaning, fill them with water and a variety of food coloring, and apply the labels.
Yep, that's it.
If you're using plain printer paper, just apply a little bit of Mod Podge or craft glue to the back of the label and place it on the container of your choice.
If you desire a more intricate and mysterious appearance, I highly recommend checking out my apothecary bottles post to discover the incredible possibilities using craft supplies that you may already have at home.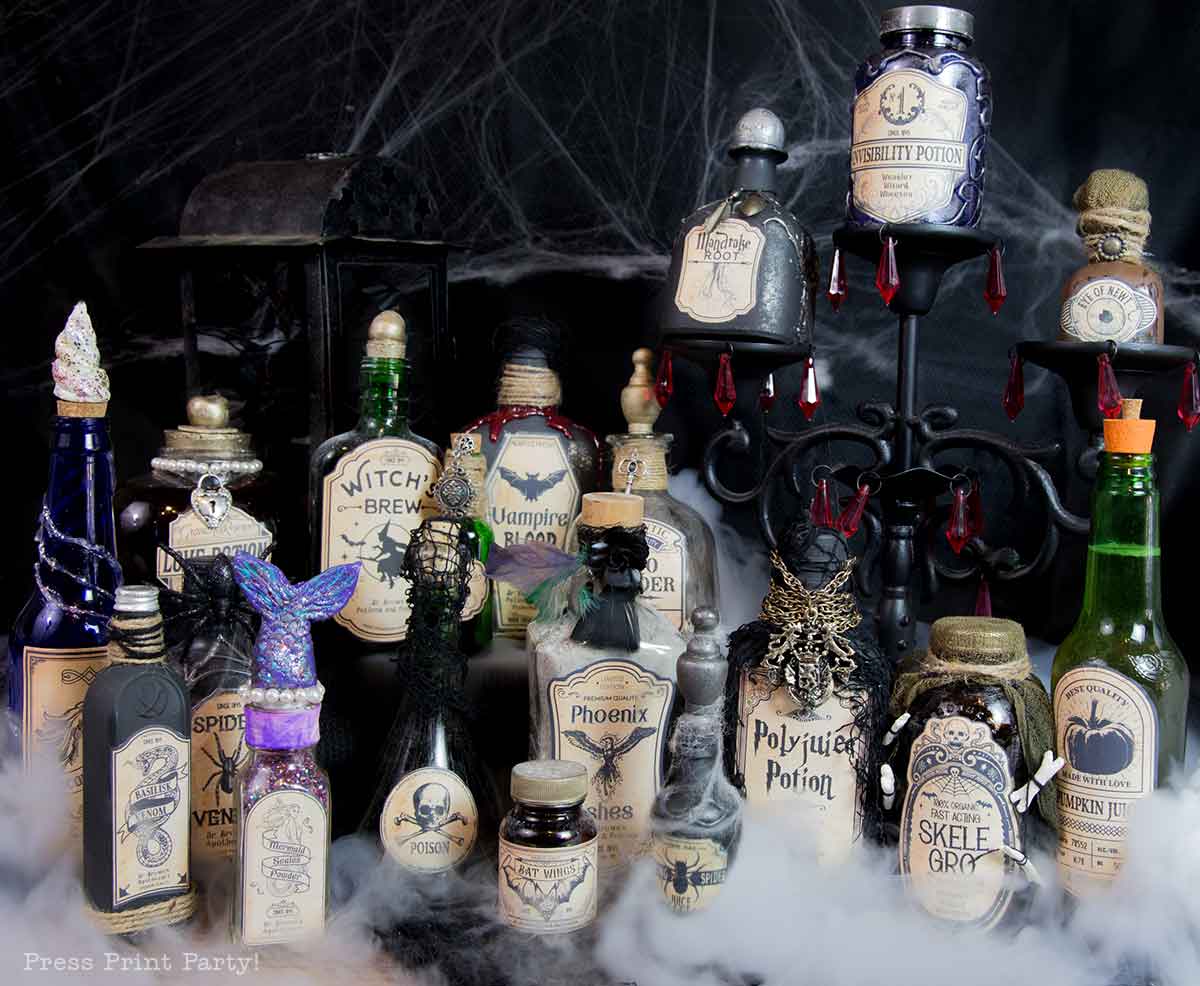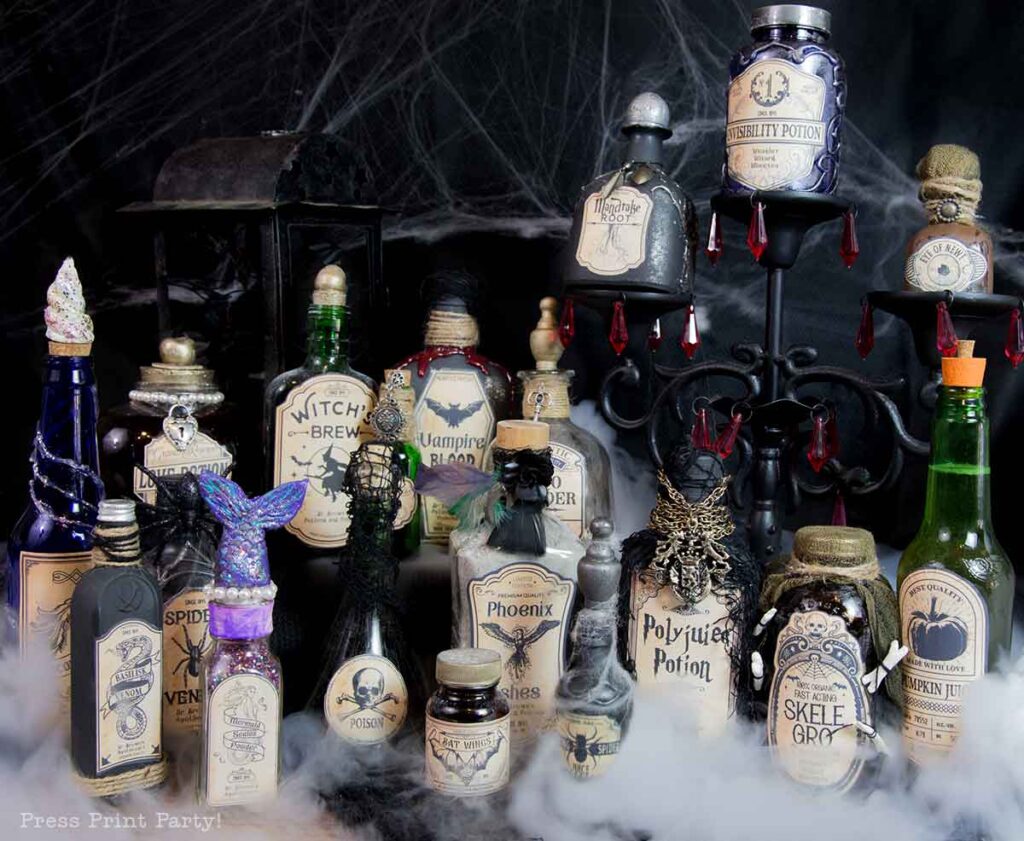 Also, if you're looking for a themed place card to identify your food contribution at the Harry Potter themed party, these editable vintage food labels match the potion labels perfectly.
---
Even if you're not having a Harry Potter party but just wanted some cool Halloween potions to decorate with, these printable potion bottle labels are sure to transform your space into a mysterious wizard's den.
Handcrafted potion bottles are a great gift for all those Harry Potter enthusiasts out there, and are a thoughtful gesture for the hostess of a Halloween party.
I have lots more cool ideas for Halloween like a long list of creative Halloween treats, some free Halloween printable coloring sheets, and fun crafts to make with the kids.
Don't forget to pin these Harry Potter Label Ideas: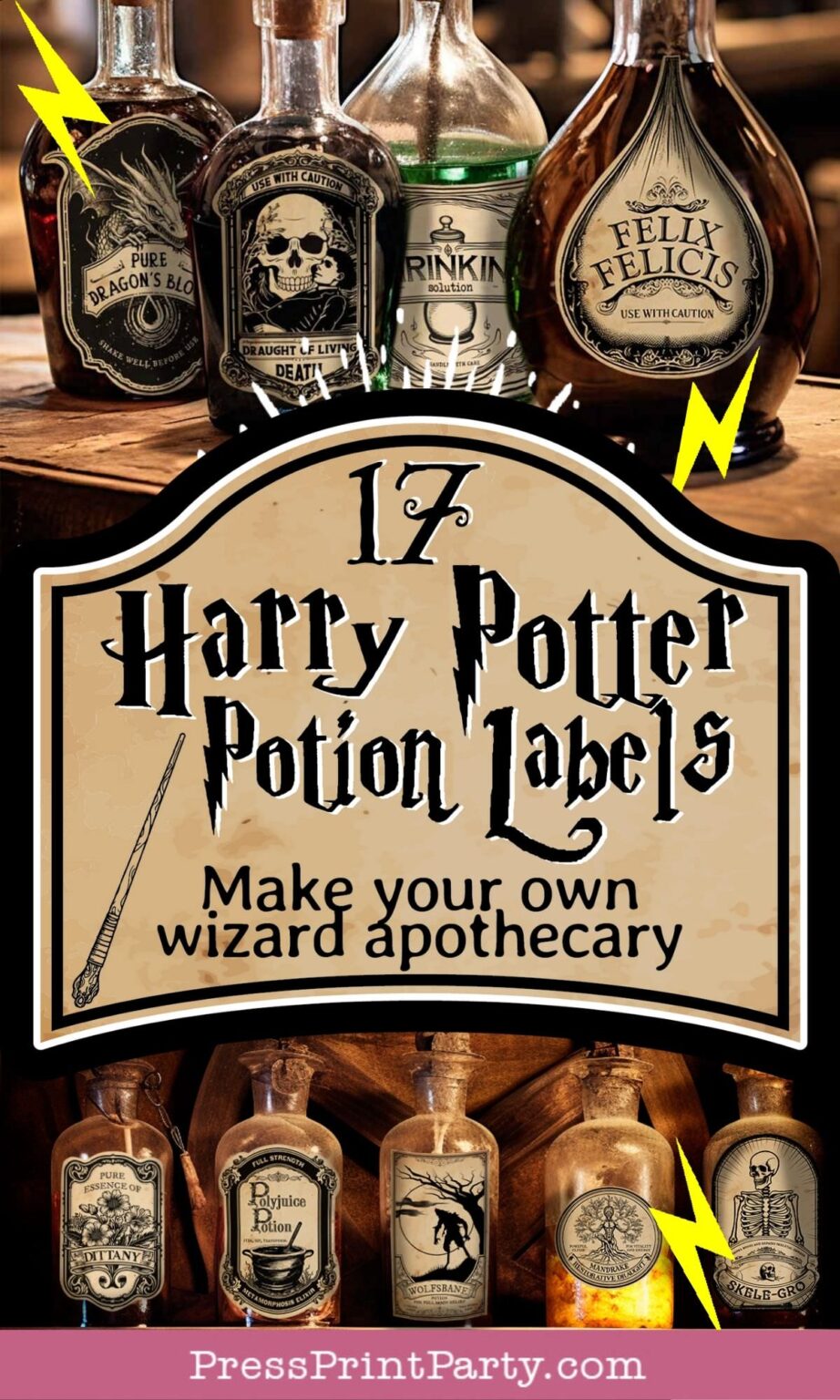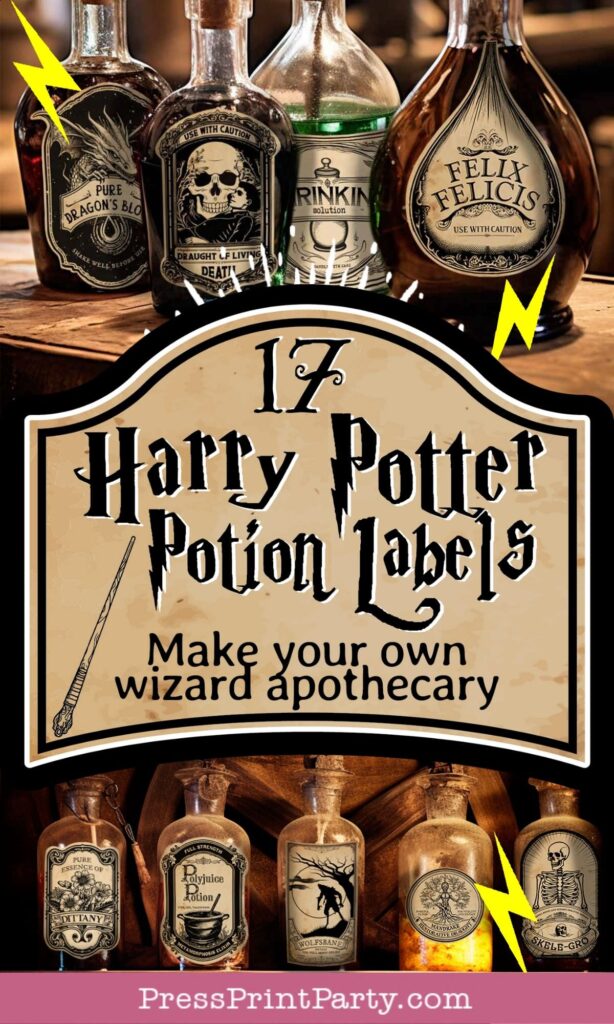 Check out our Halloween printables