Impress your party guests at your next Halloween bash with these clever ideas for Halloween party finger foods and appetizers.
This Halloween treats round-up is chock-full of easy recipes and delicious Halloween appetizers perfect for your Halloween party menu.
You'll find tasty finger foods from Little Ghosts, bats, little monsters, mummies, skeletons, creepy eyeballs, witches' fingers, spiders, and more.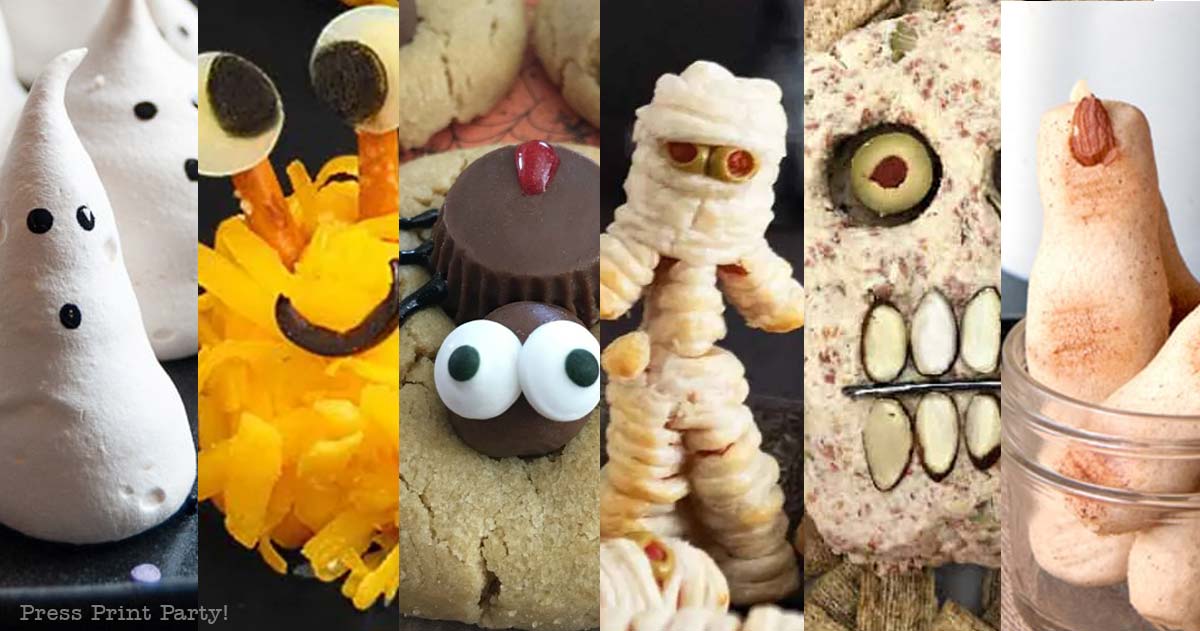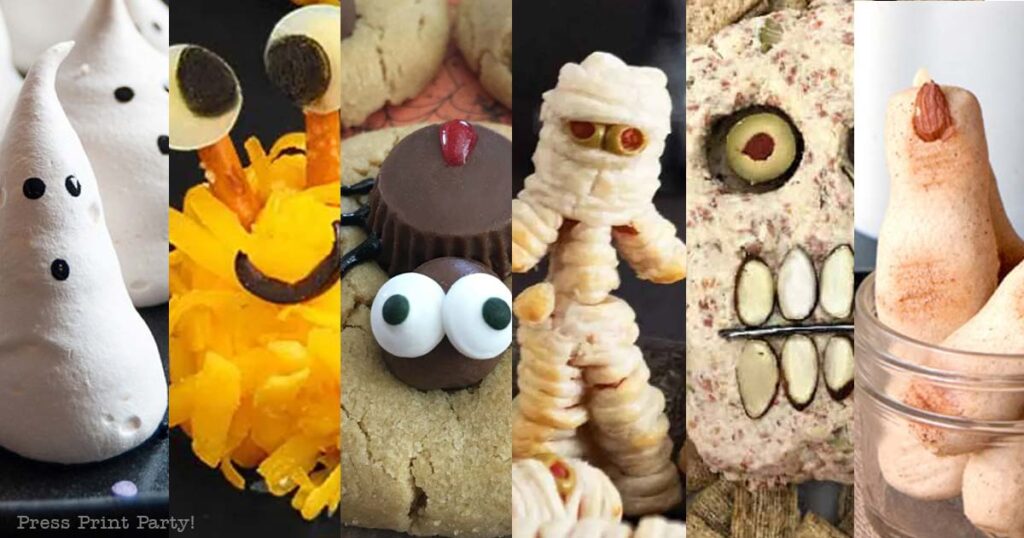 This post may contain affiliate links.
These Spooky snacks are not just Halloween desserts but also include savory and creative Halloween appetizers.
---
Ghosts Halloween Treats
It's amazing what you can do with some white chocolate candy melts and candy eyes. Making ghosts only requires a few simple ingredients and a little imagination. Ghosts are a fun way to give a nod to the Halloween season at your party table.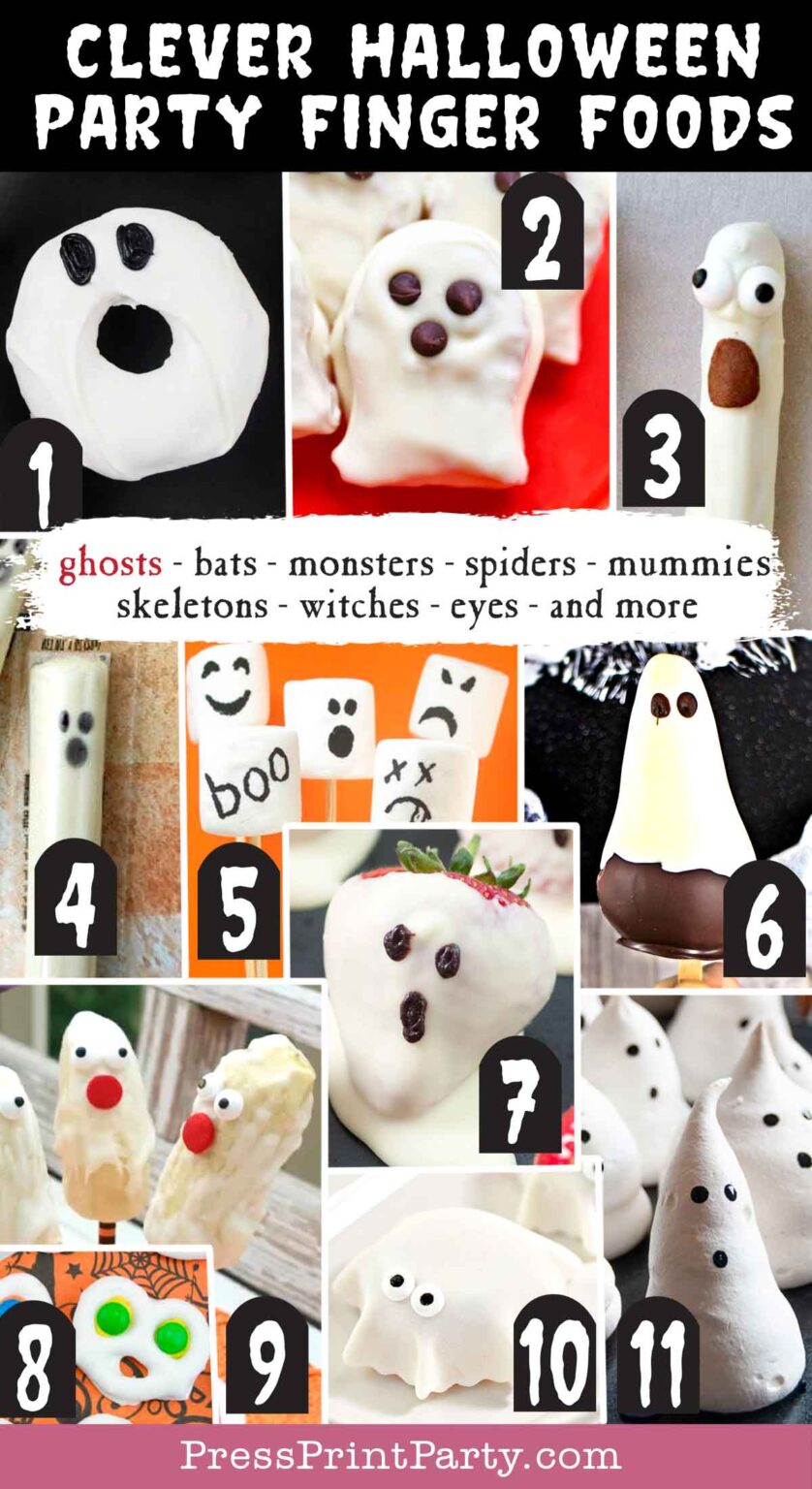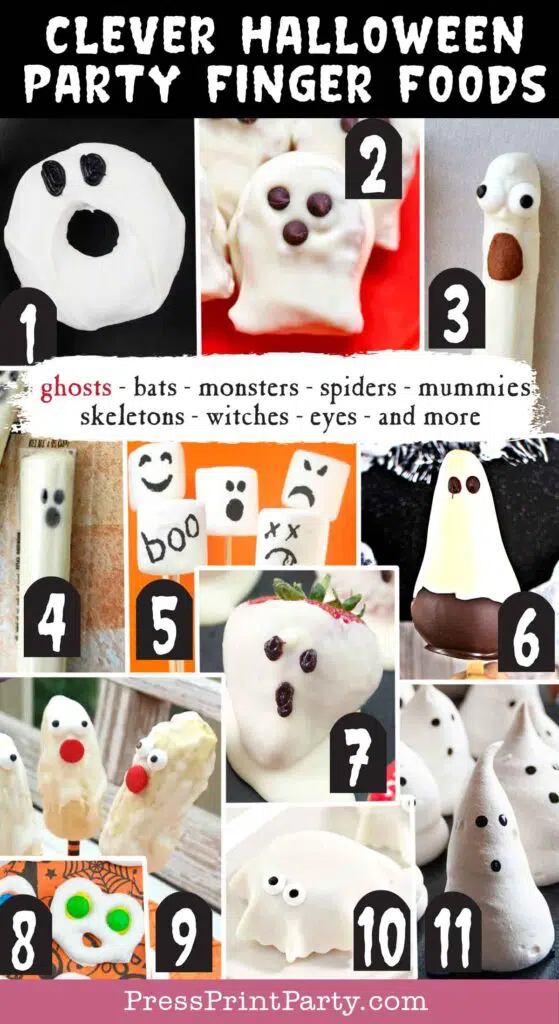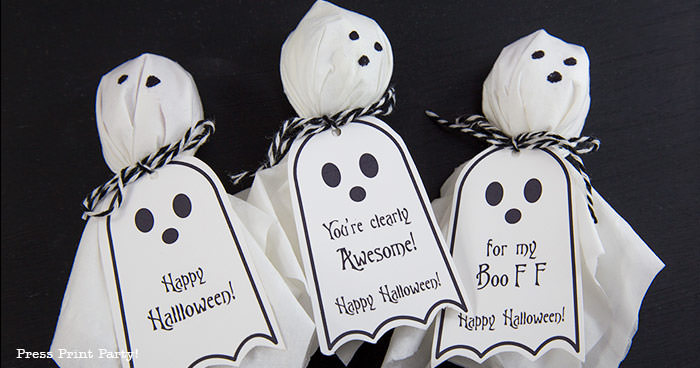 Don't miss this DIY and FREE printable tags:
---
Fun Bat Bites
Bats are fun snack ideas and with their cute little bat wings and eyes, they make a perfect addition to a kids' Halloween celebration.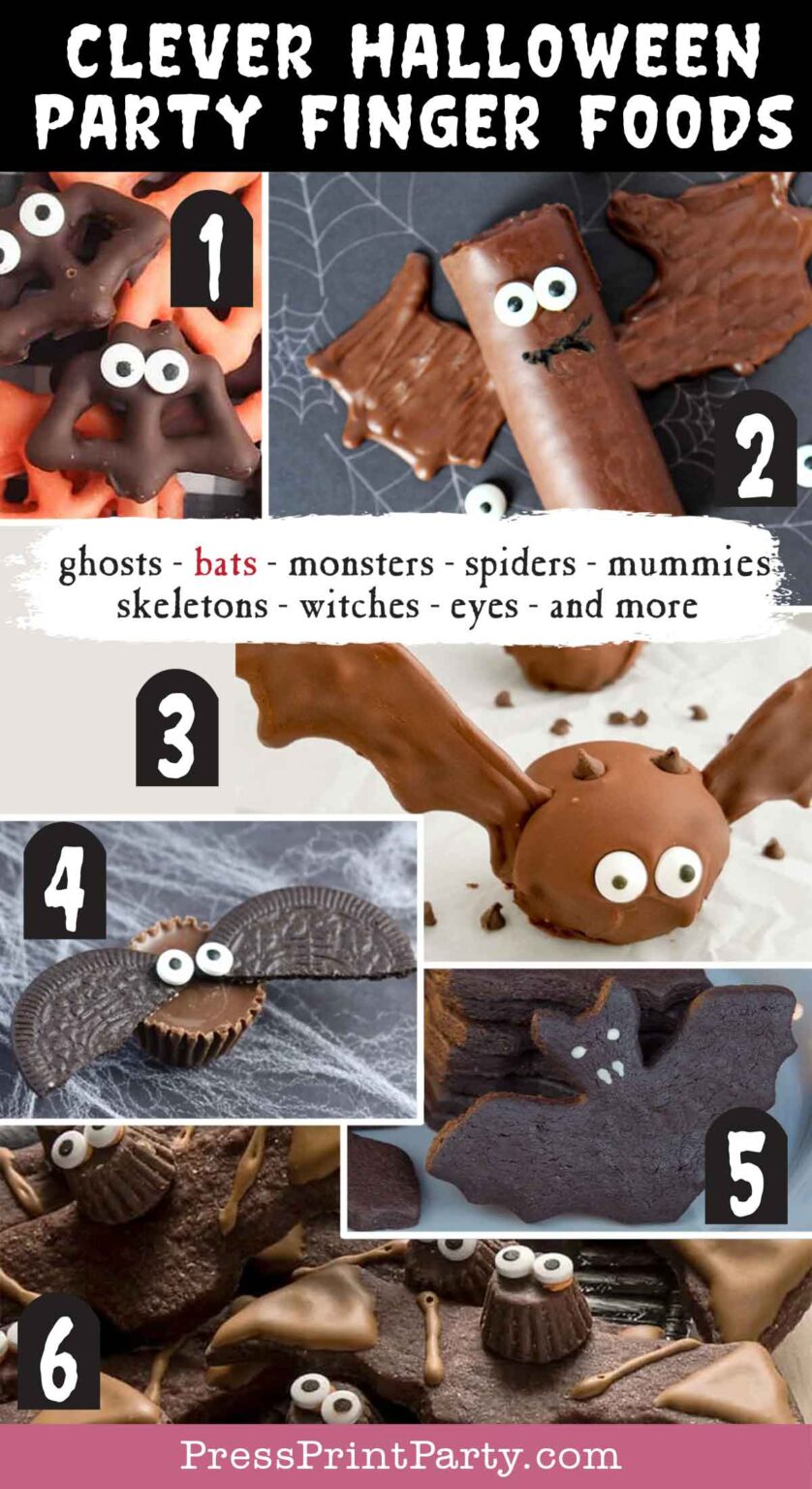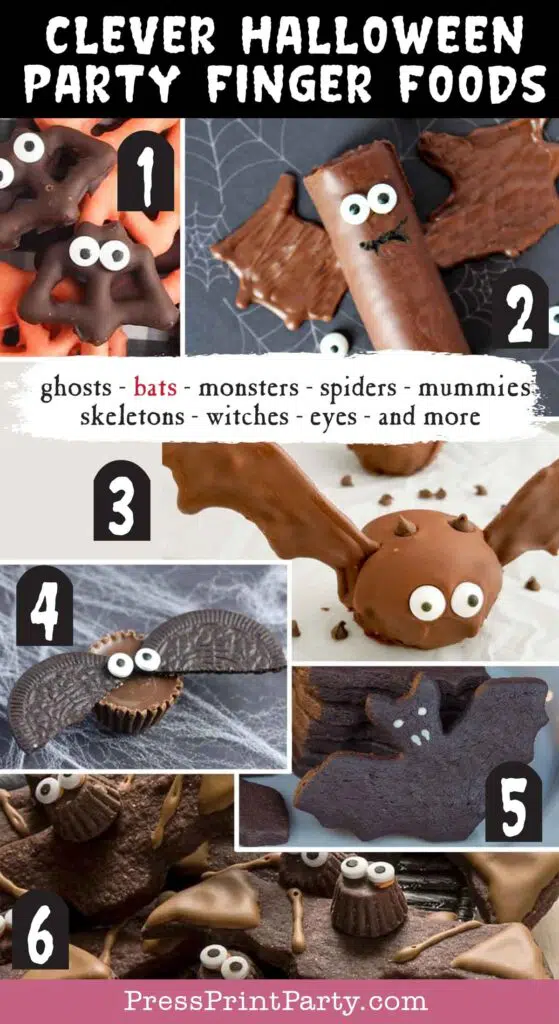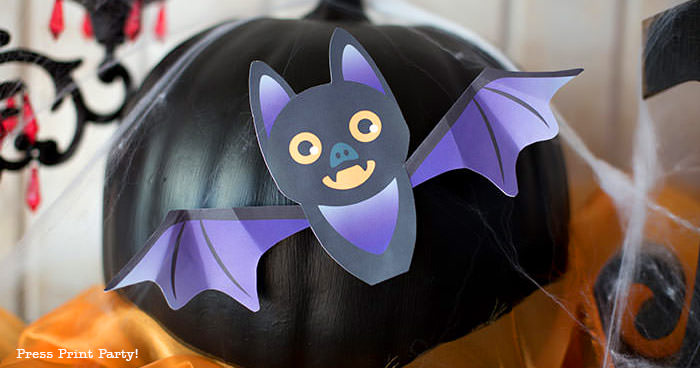 ---
Monsters treats
Monsters come in all shapes and sizes. Halloween parties are not the only place where you'll find Monster snacks. Monster parties are a thing of their own. You'll find lots of Monster dessert ideas as well as healthy snack ideas for kids like a cute cheddar cheese monster.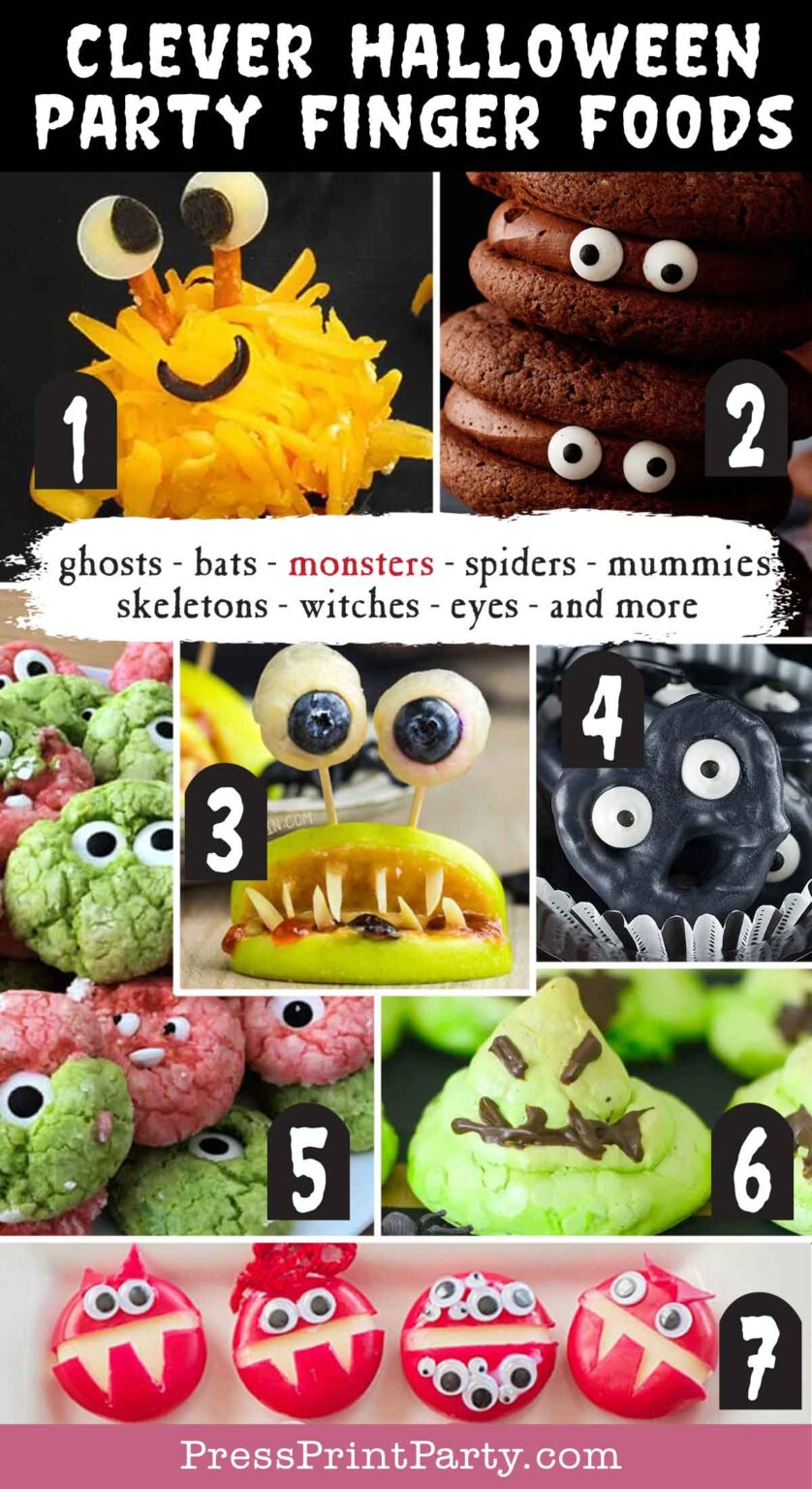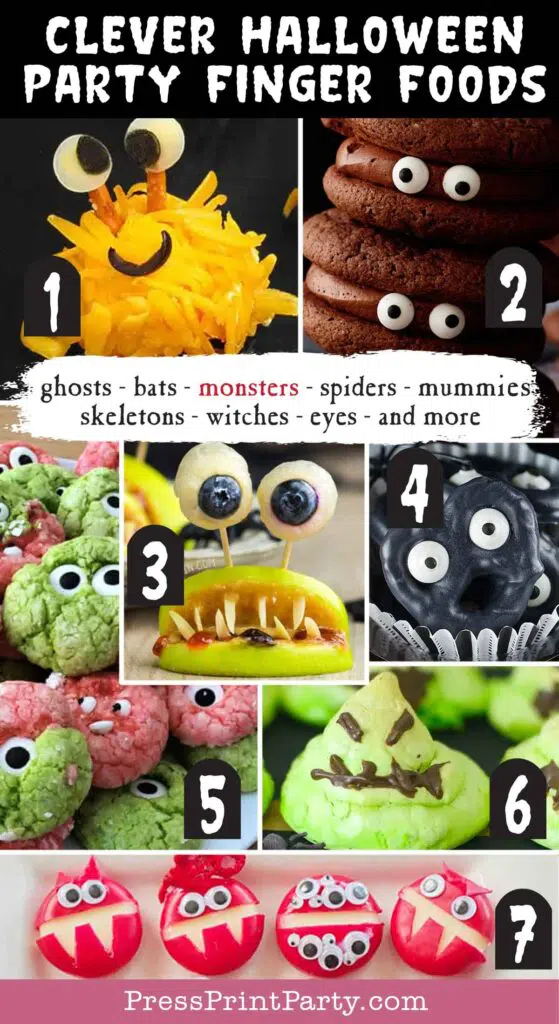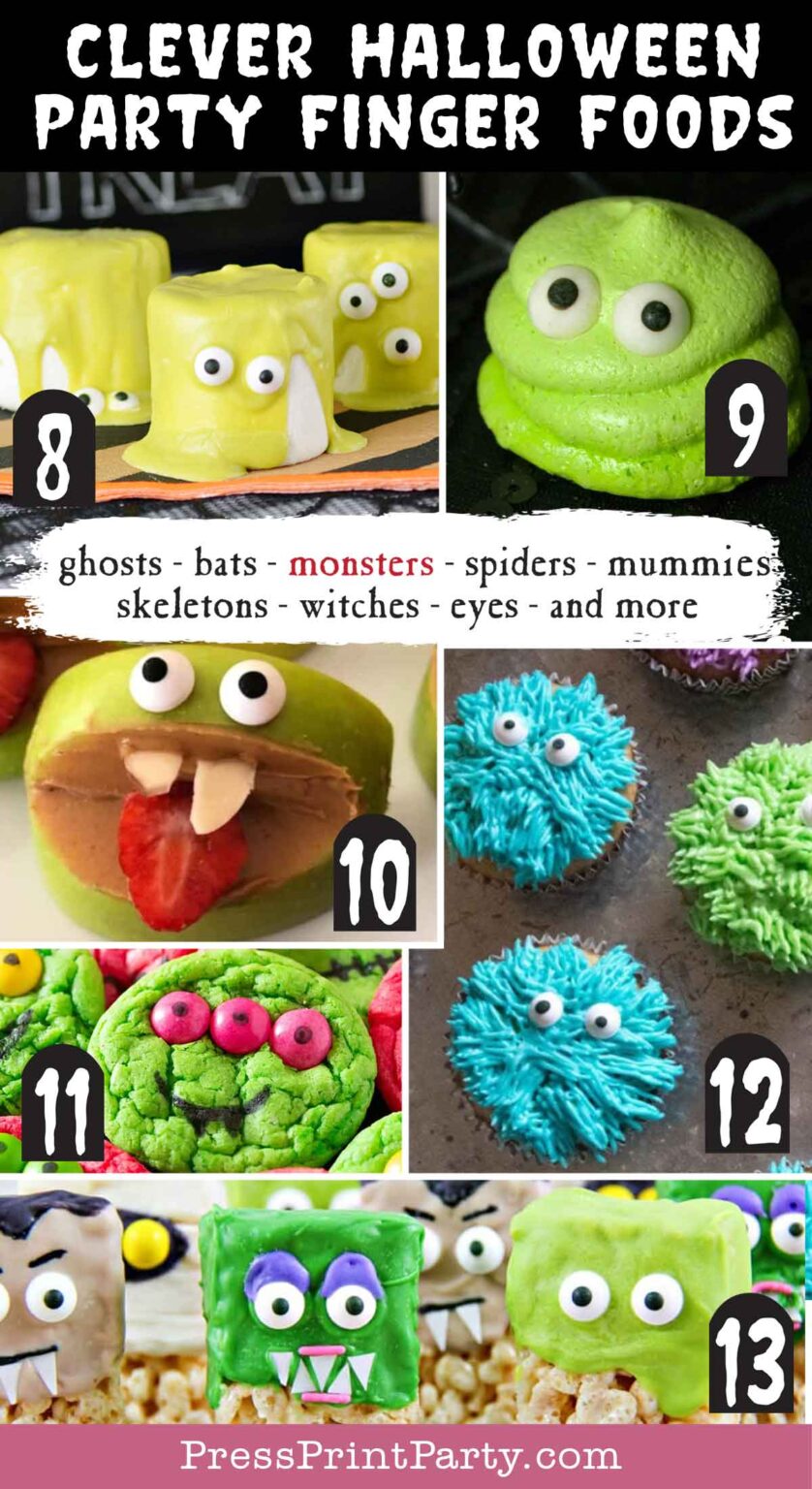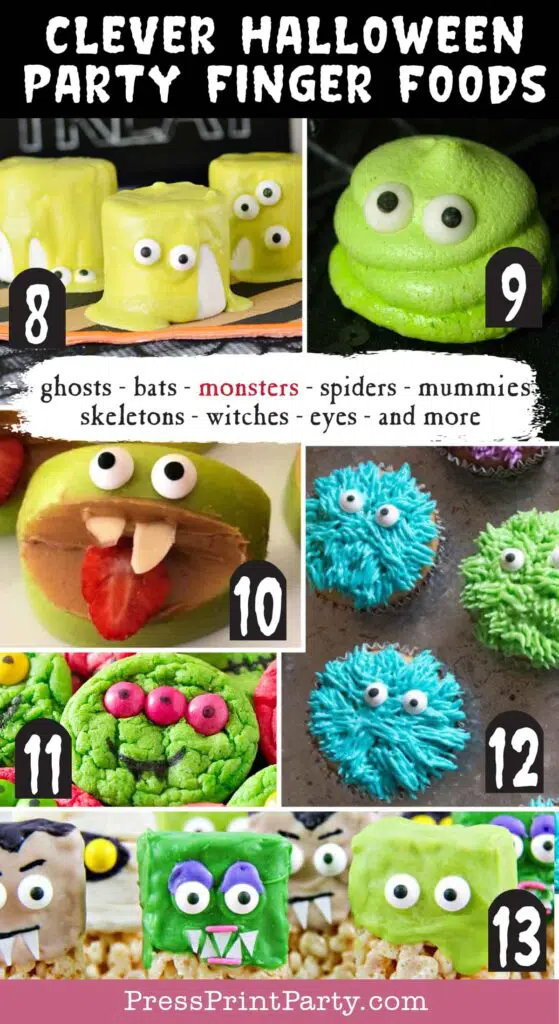 ---
Frankenstein Monsters party eats
Frankenstein gets his own list as the monster of choice for any Halloween celebration.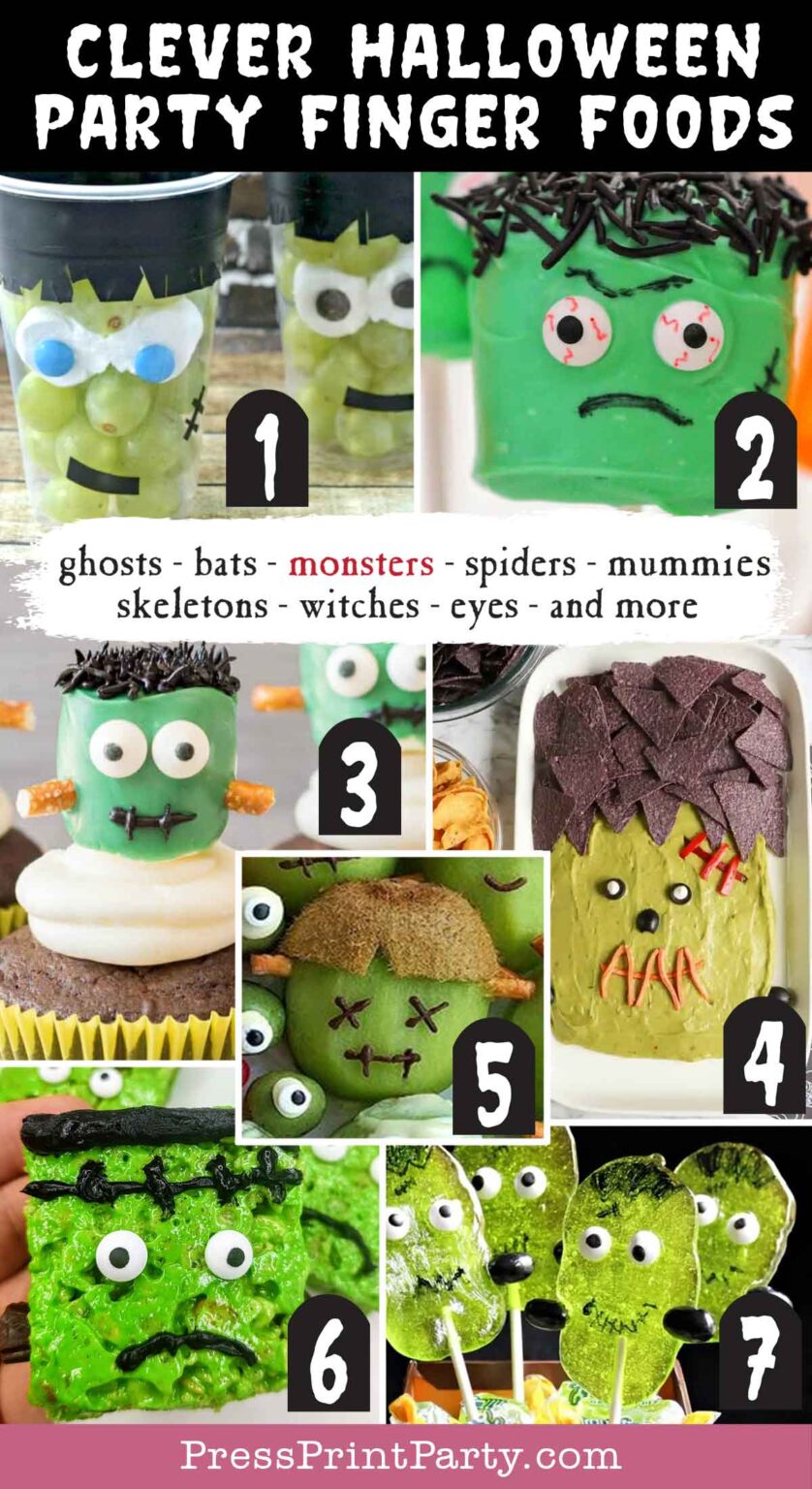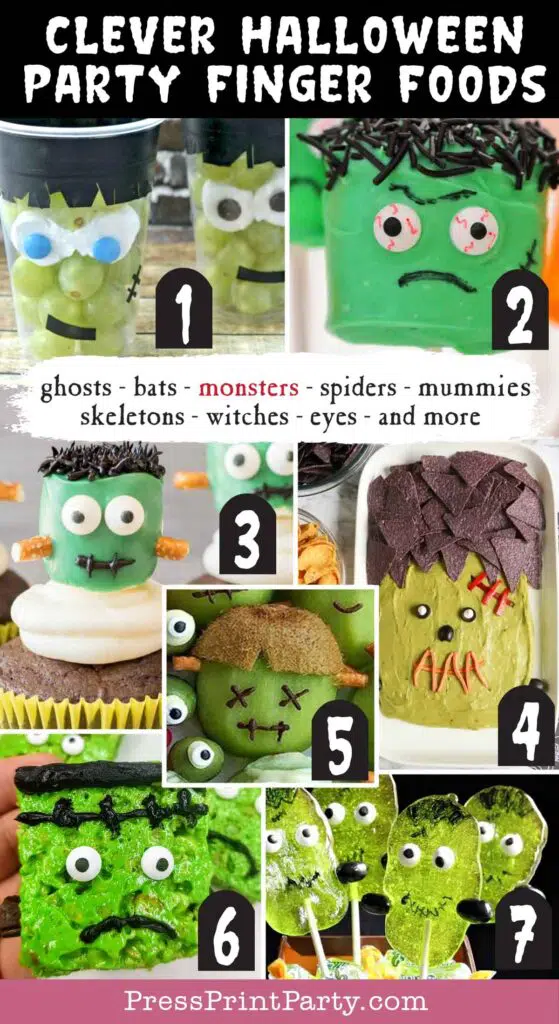 ---
Spooky Spiders Snacks
No Halloween party menu is complete without some kind of creepy-crawly spider on display. From easy brownie spiders with pretzel legs to vegetarian options like cucumber rounds with cream cheese and spiders made from black olives, spiders are the perfect spooky finger foods.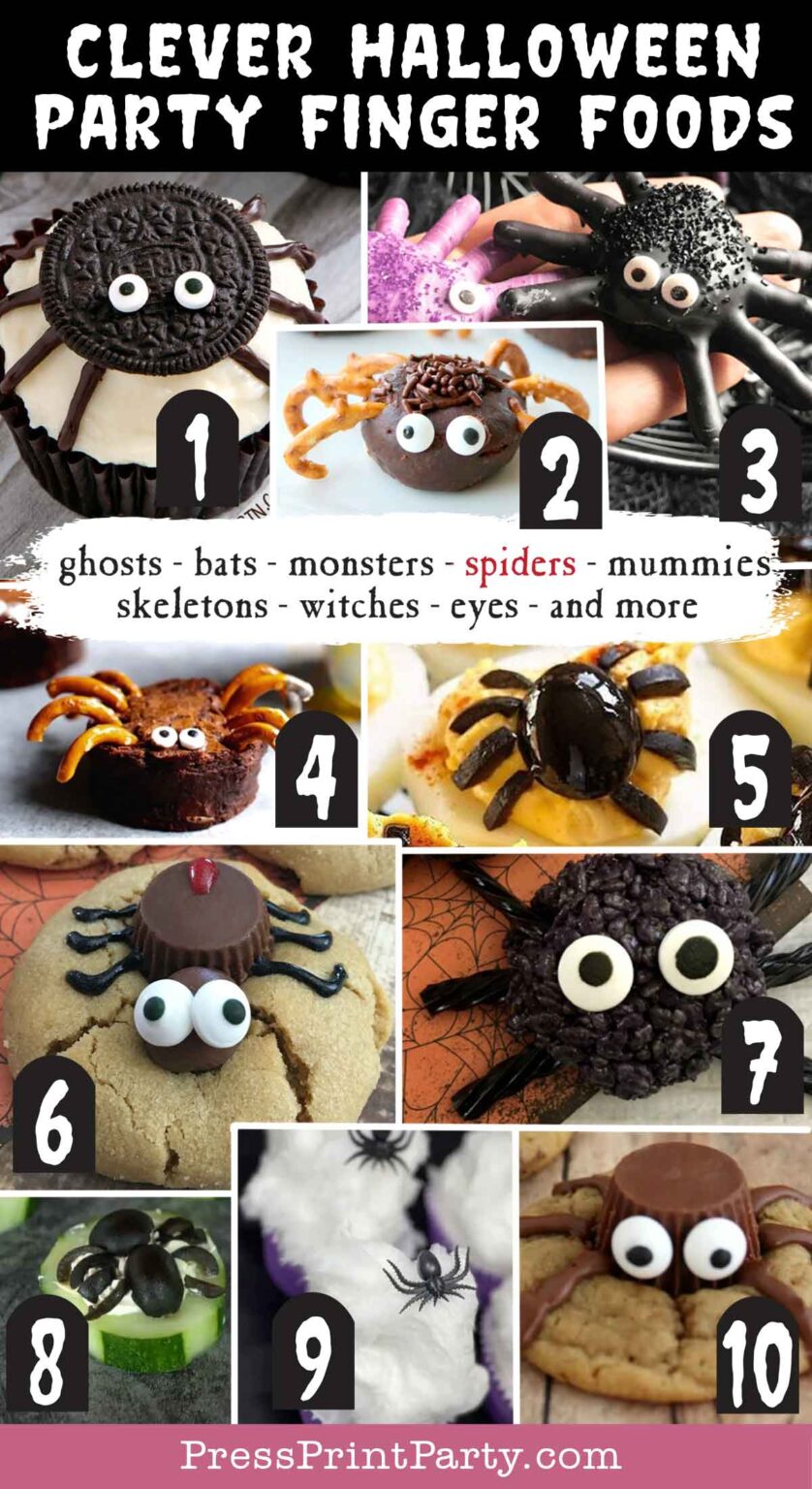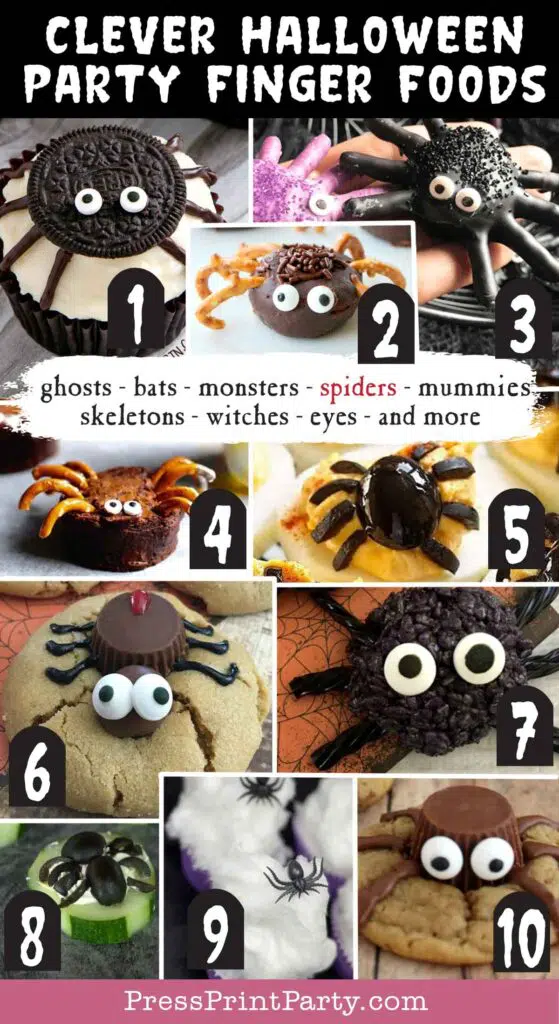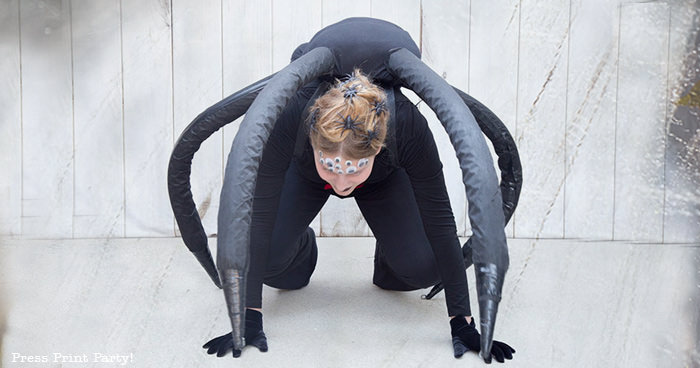 ---
Yummy Mummies
Mummy wraps are the perfect dress-up for any Halloween party appetizer. You can make hot dog mummies just as easily as jalapeno popper mummies. Drizzle some white candy melt and any cookie or brownie can be transformed into a mysterious treat for your next Halloween party. Candy eyeballs are a must-get to make these yummy mummies.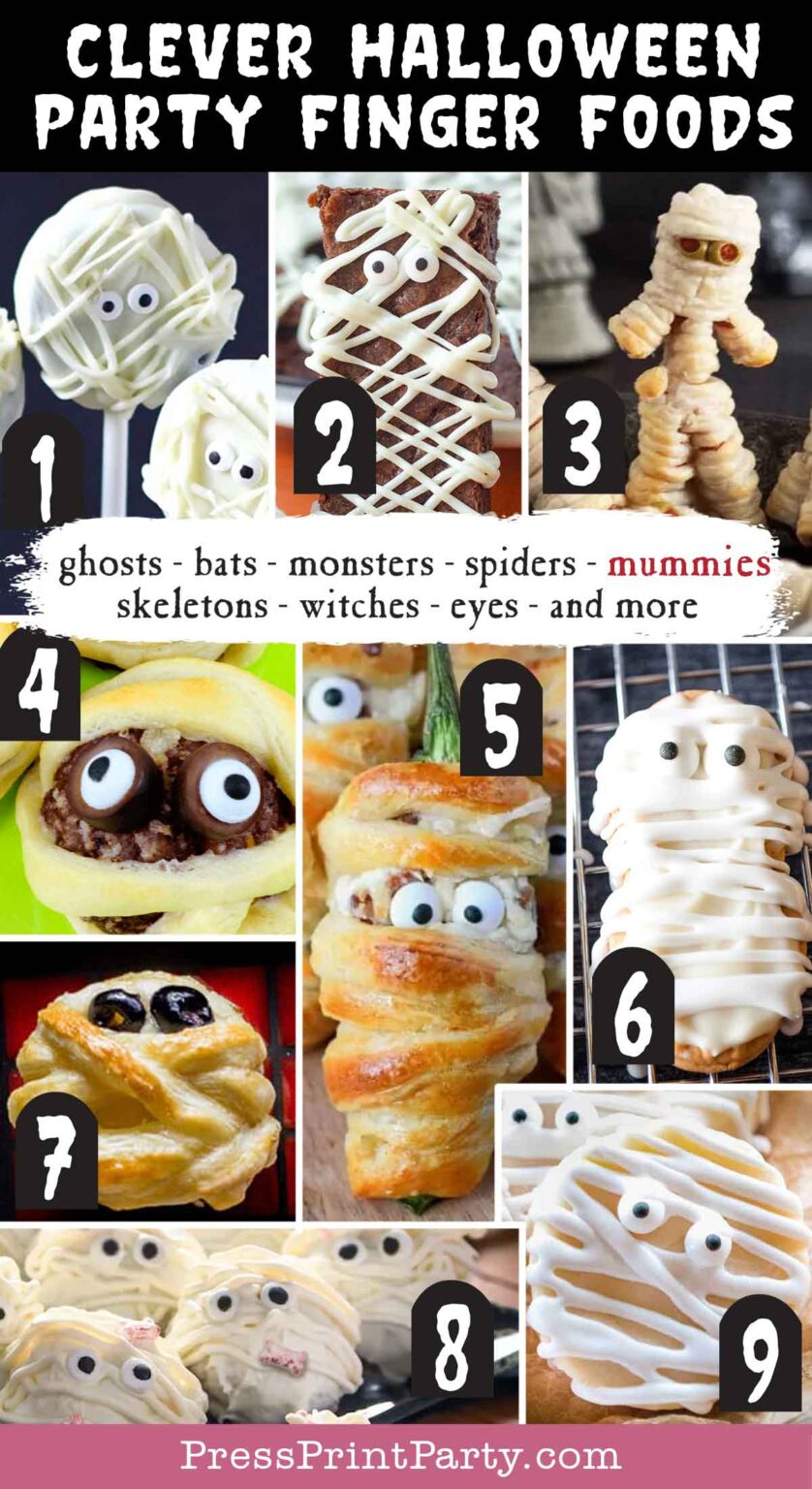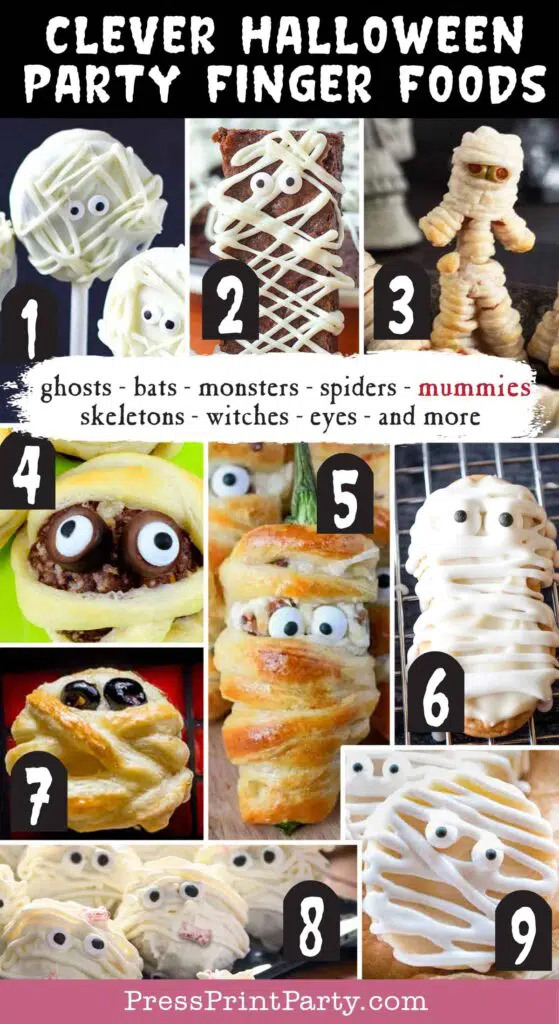 ---
Skeletons goodies
All Halloween festivities have one thing in common, skeletons! Whether you make some bone shapes with breadsticks, skeleton ribs with red pepper, or draw one on a cake gravestone, skeletons are always a great idea. You may also want to come back to this list for your next pirate party!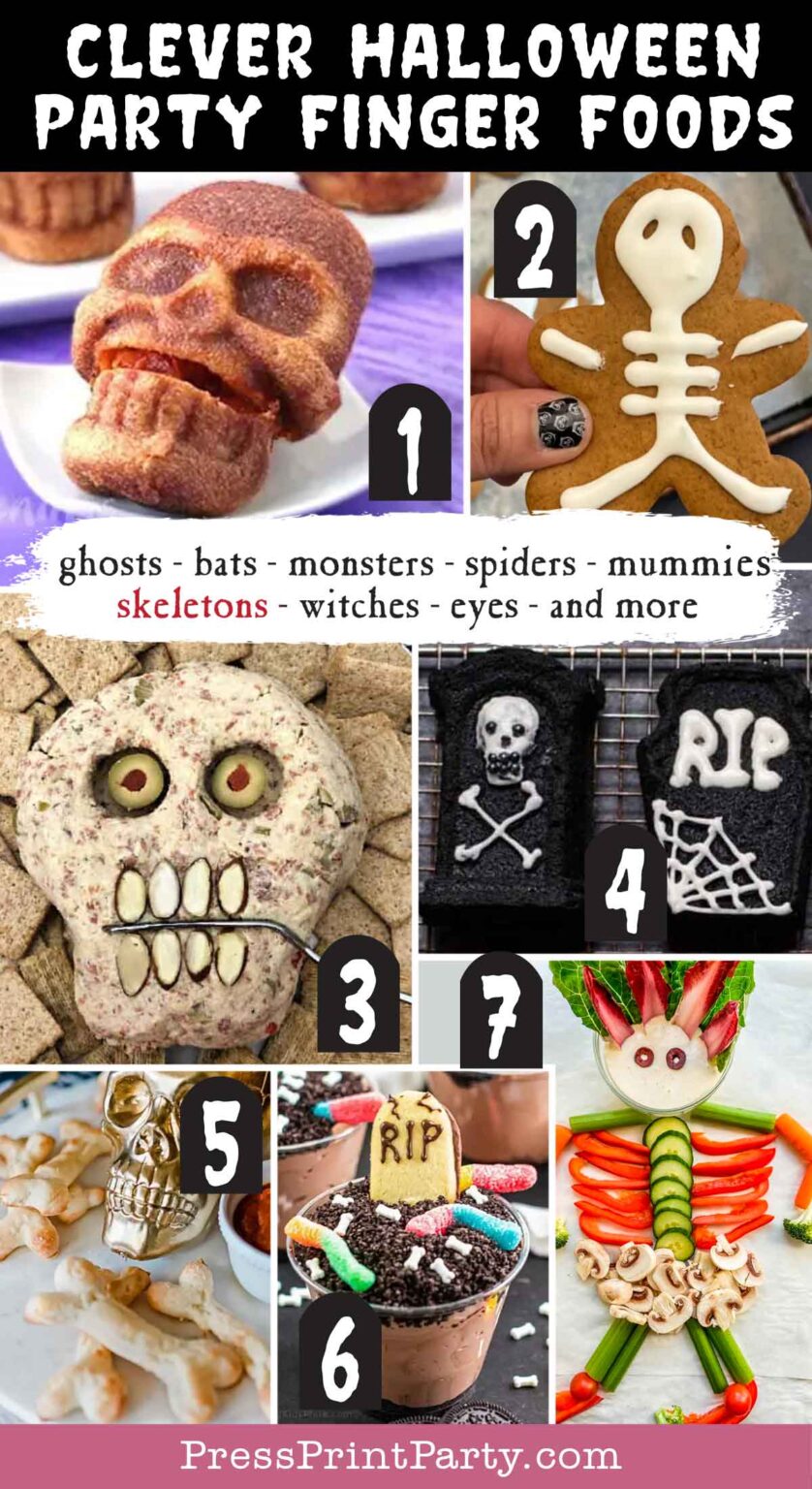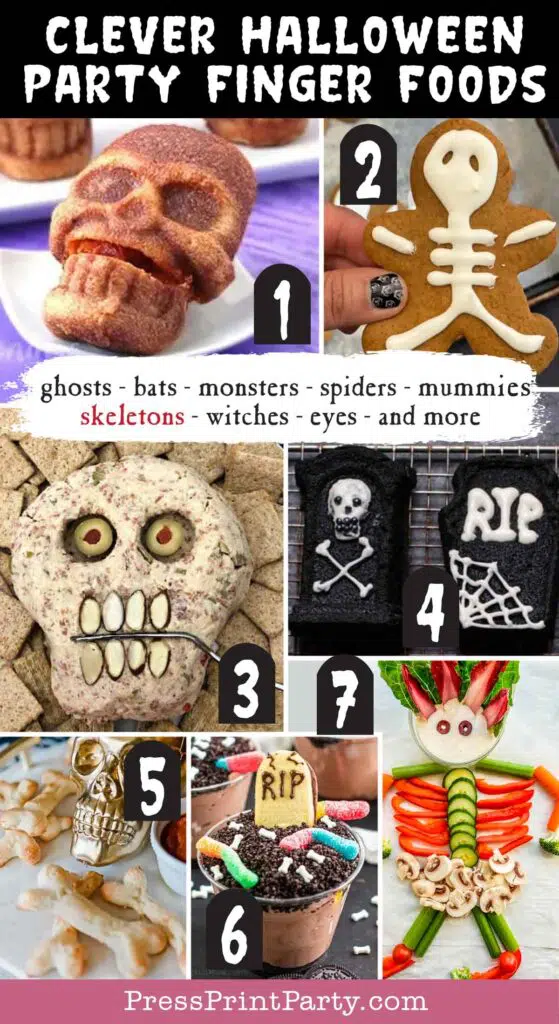 ---
Witches
What better tasty finger foods to serve than witches' fingers? You'll find an easy recipe where the fingers are made with pretzel sticks but also a more sophisticated recipe with homemade cookie dough. For a savory treat, the witch finger breadsticks are adorned with olive nails. Witch's hats, brooms, and poison apples are also included in the witch's arsenal of tasty treats.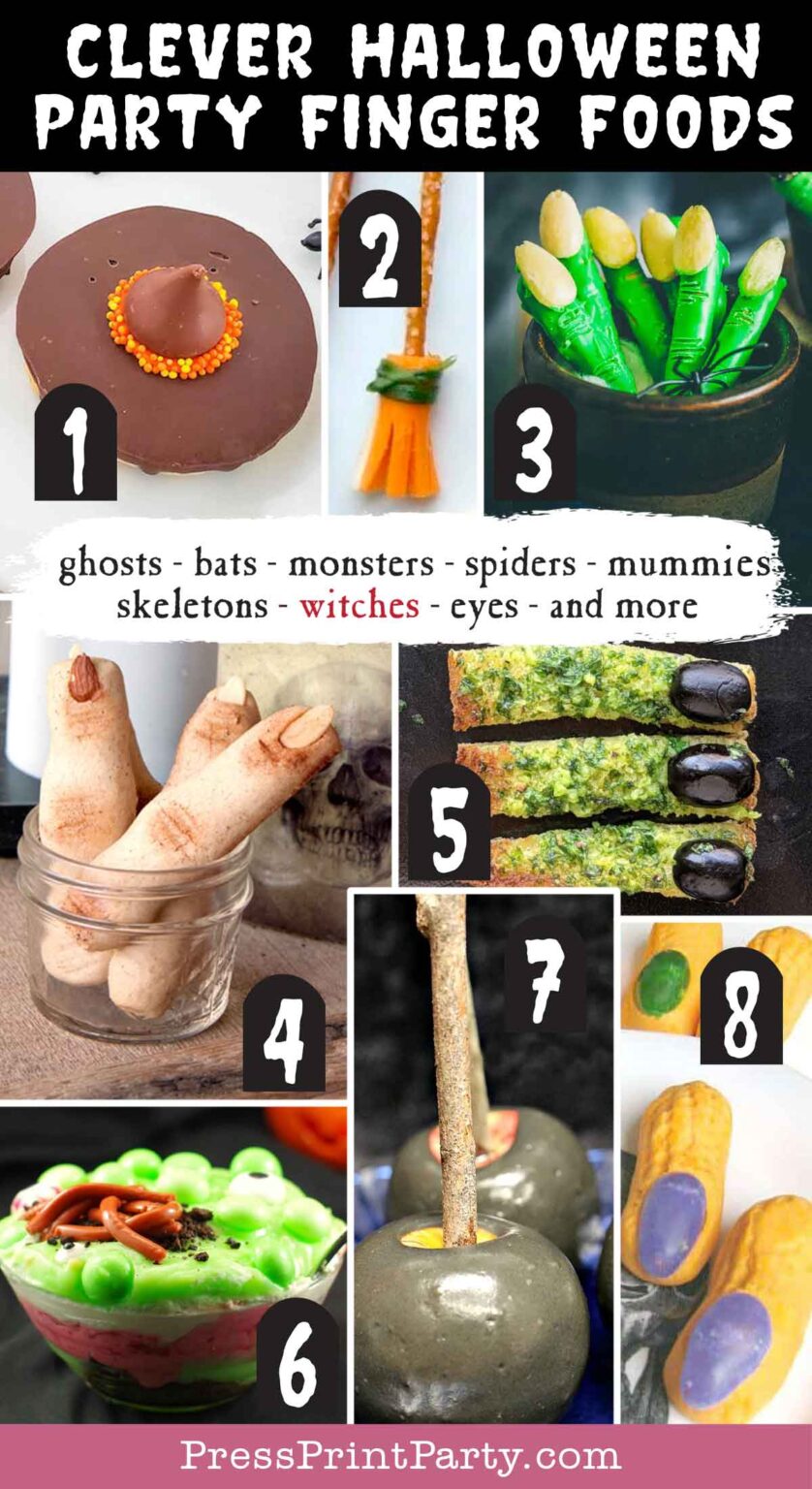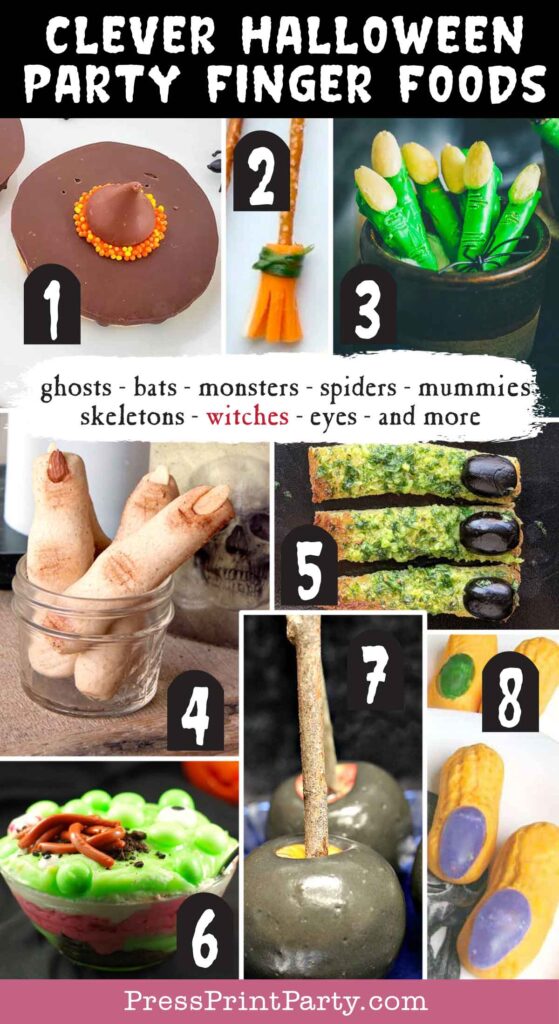 ---
Eyes Halloween Party Finger Foods
Eyes out of their sockets give me the heebie-jeebies. And that's why they find themselves on this list of Halloween finger foods. So easy to make with just a few ingredients, anything can become an eye. In this collection, you'll find them made out of eggs, popcorn, mini donuts, rice crispies, and even mushroom caps.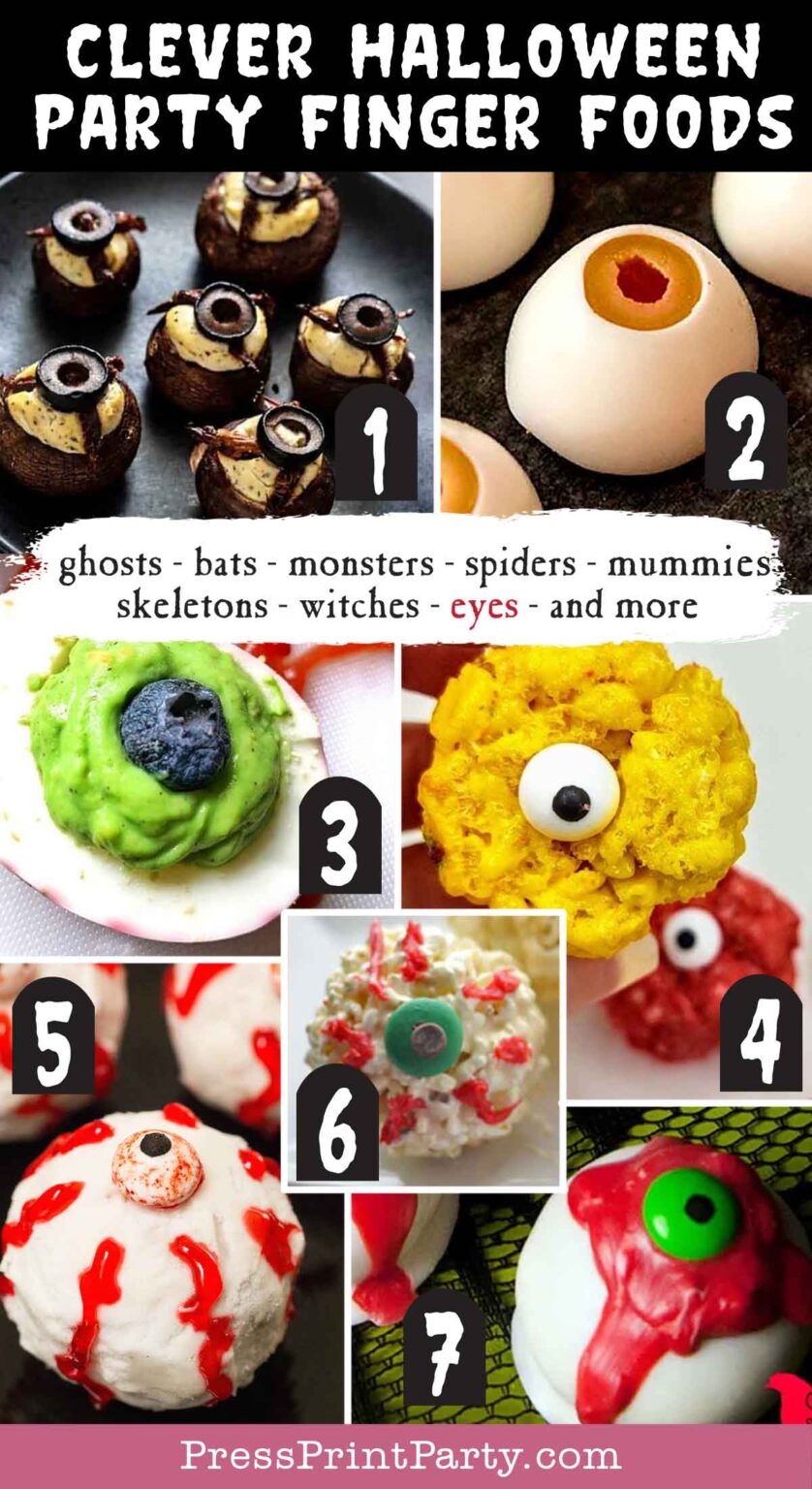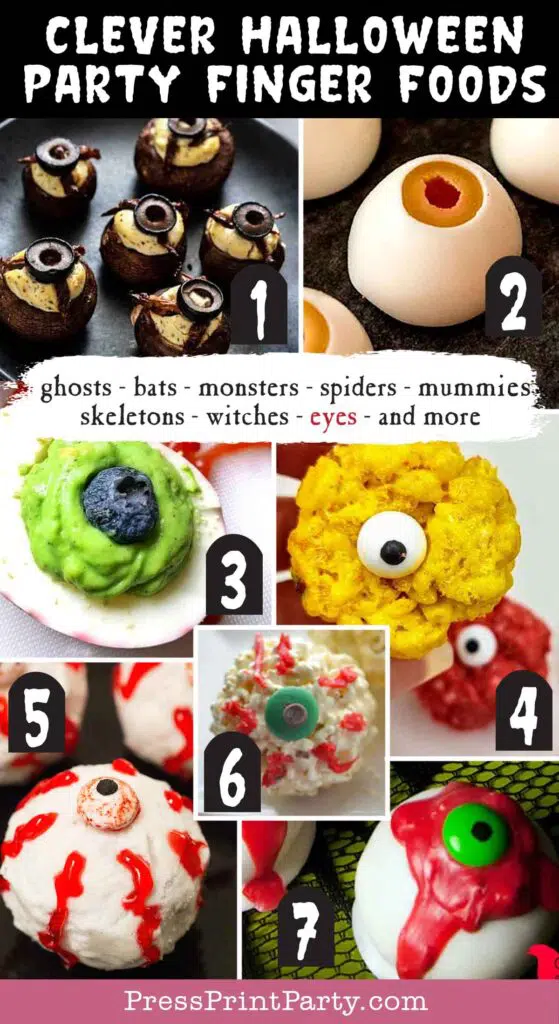 ---
More Halloween Party Finger Foods
Here's an array of Halloween party treats that would not fit in any other category. Surprisingly, the zombie guts are sweet and made out of cinnamon rolls. I'm sure they're delicious. You'll need a special jello mold for the brain but wouldn't it just look awesome as a centerpiece on your Halloween table?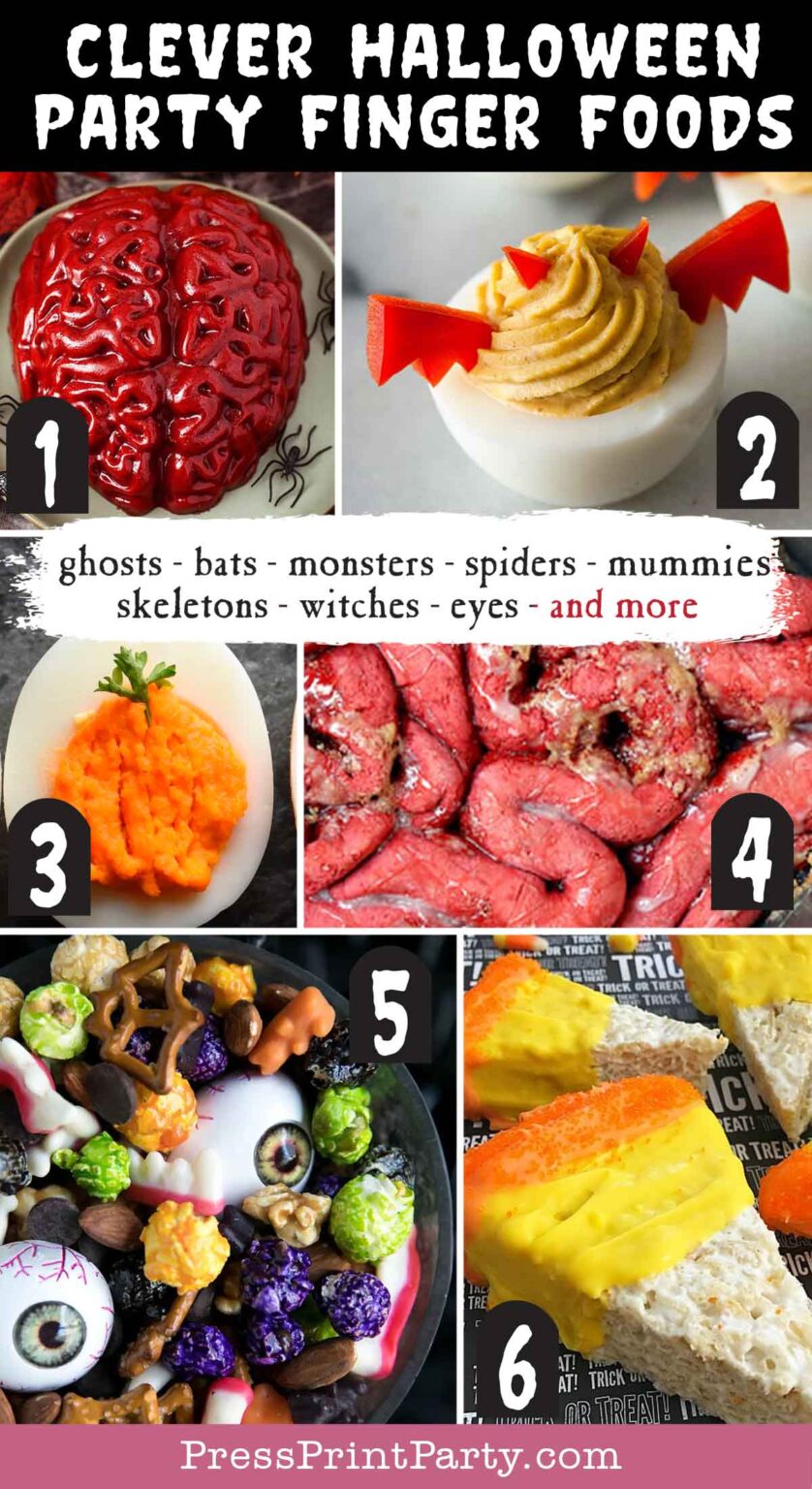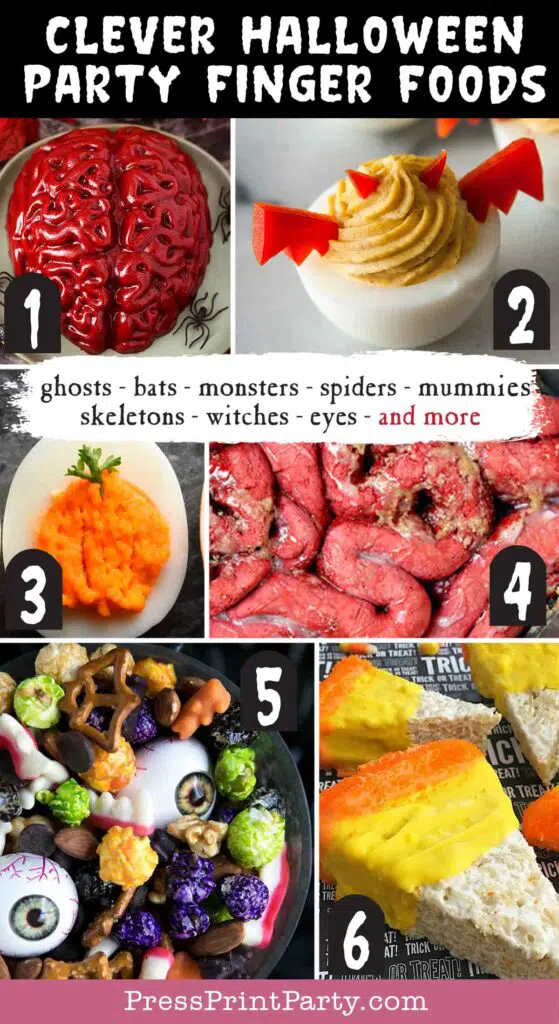 ---
Continue your Halloween research with easy DIY Halloween costumes to make for Halloween night as well as a large collection of free Halloween party printables. Also don't miss the free you've been BOOed printables to delight your friends and neighbors with a fun basket of treats.
Don't forget to pin these Halloween party finger foods: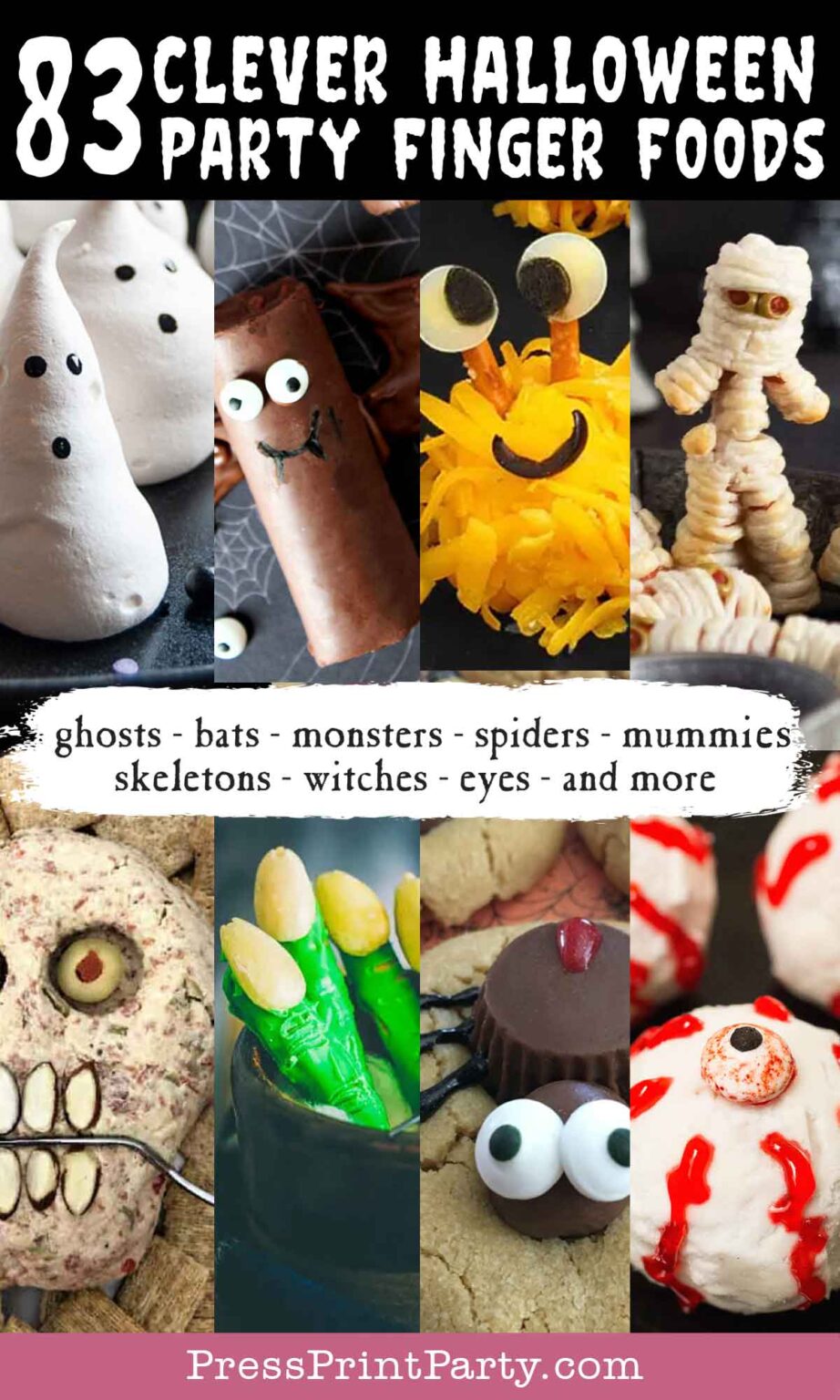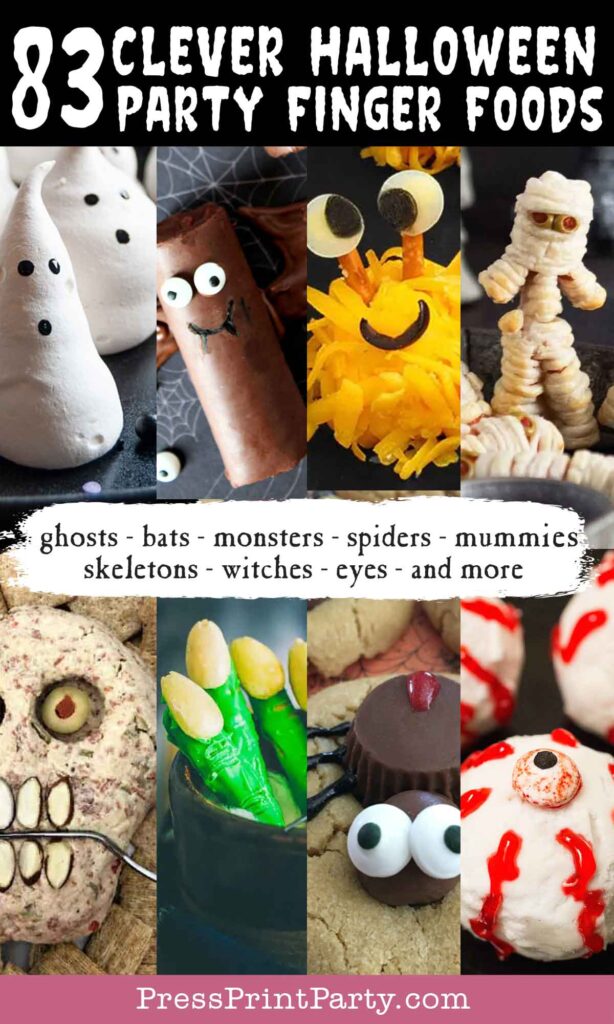 Check out the Halloween printables