Get Ready for a memorable holiday party with this free Christmas games printable collection of 10 fantastic games
Whether you're hosting an office party for the holidays or a Christmas get-together with friends and family, these printable games are guaranteed to bring laughter and excitement to your event.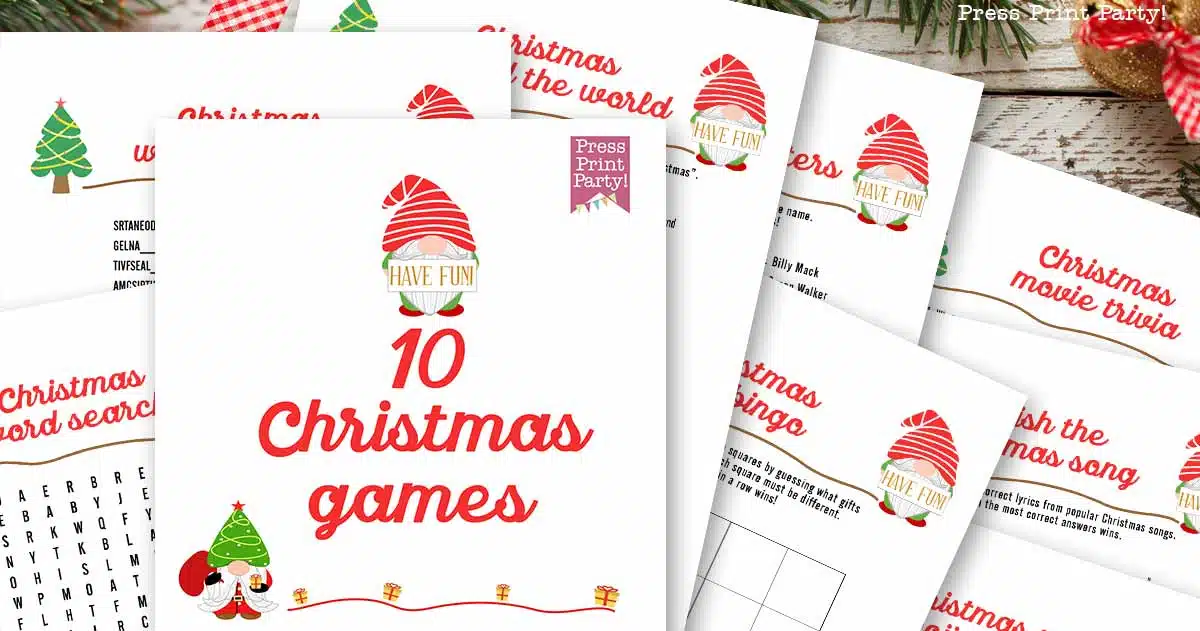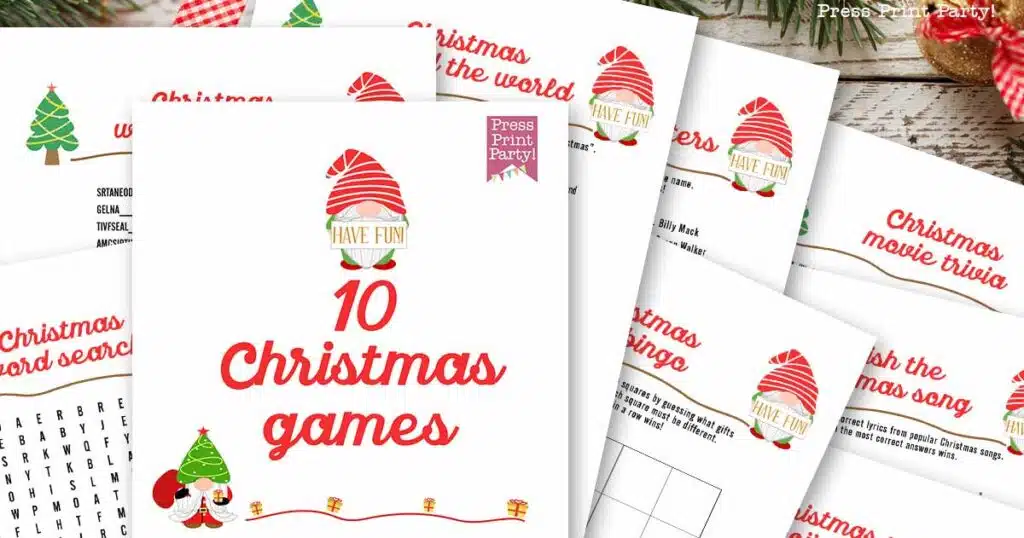 This post may contain affiliate links.
I truly believe that activities are the key to any party. It's one of the 3 essentials in my "How to Throw an Unforgettable Party" post and it's a way to guarantee that everyone has a good time. And what better way to inject some fun into your Christmas-time gathering than with these classic games?
So, I've gathered and re-vamped some of the best Christmas games. From trivia challenges and word games to emoji pictionary and gift bingo, there's something for everyone to enjoy.
Whether you're a competitive soul or simply looking to relax and have a good laugh with loved ones, these festive Christmas games will surely keep the holiday spirit alive throughout the Christmas holidays.
I also designed the pages to be super cute with little Christmas gnomes to keep you company as you ponder on your answers.
To make things even more exciting, don't forget to get some small gifts for the winners. Adding a little incentive will fuel the competitive fire and create a little rivalry and excitement amongst your guests. You could give out candy canes, special chocolates (Rochers are my favorites), little bags of special Chex mix, small trinkets, or candles.
So, get ready to spread some cheer at your next holiday gathering with these fantastic free Christmas party games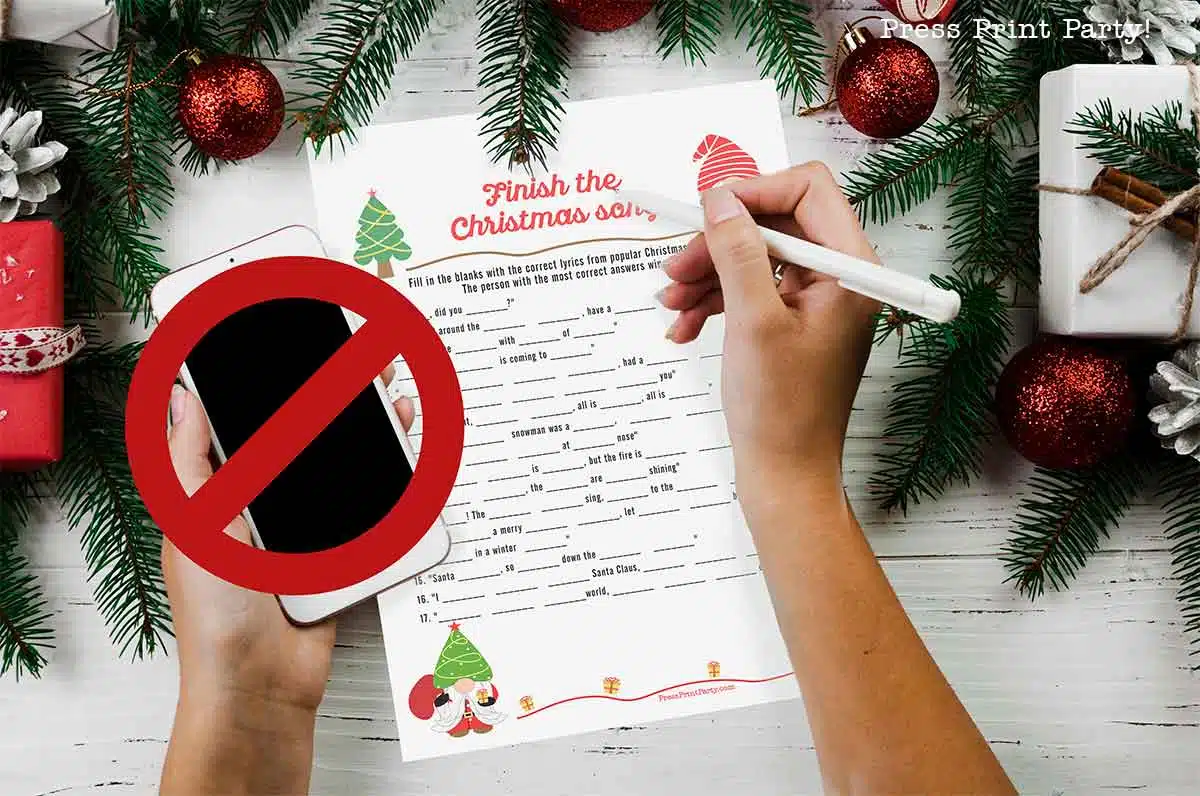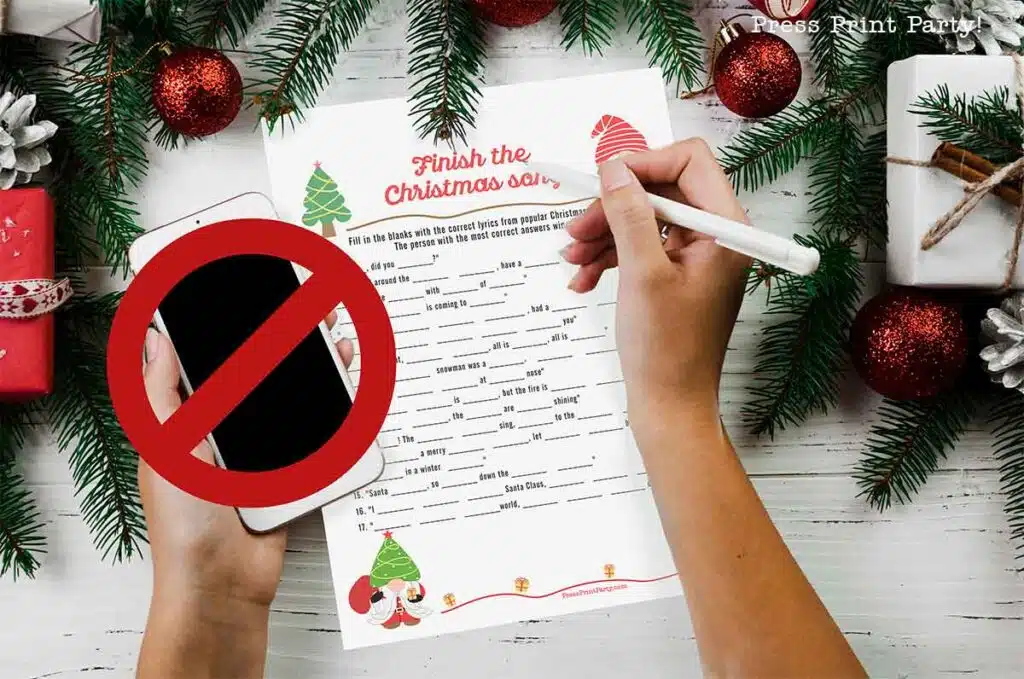 But before you play any of these games, you have to ban the use of cellphones or computers. Because that's just cheating.
---
10 Free Christmas Games Printable
The printable games are available to download for free as a PDF for all my newsletter subscribers. You may scroll down to the bottom of the post to opt in. All my printables are for personal use only.
1- Christmas Around the World Game.
Get ready to test your language skills in this thrilling game! Your task is to match the translation of "Merry Christmas" across a variety of 20 different languages. This game is the choix parfait when playing with an international crowd.
2- Christmas Movie Trivia
Have you really seen every Christmas movie a hundred times? Well, this Christmas trivia game will put that to the test.
If you're embarrassed about your performance on this game, I've assembled a great compilation of Christmas movies that the entire family can enjoy. Take a look and indulge in some festive cinematic delights throughout the holiday season!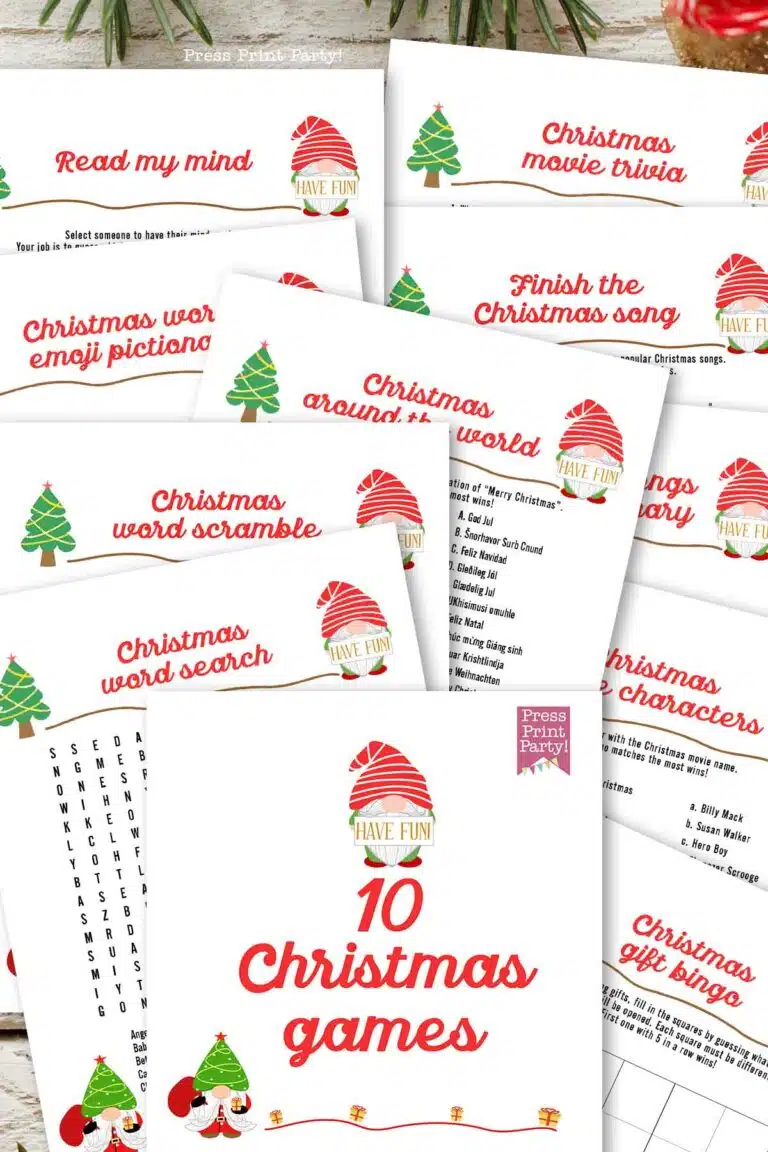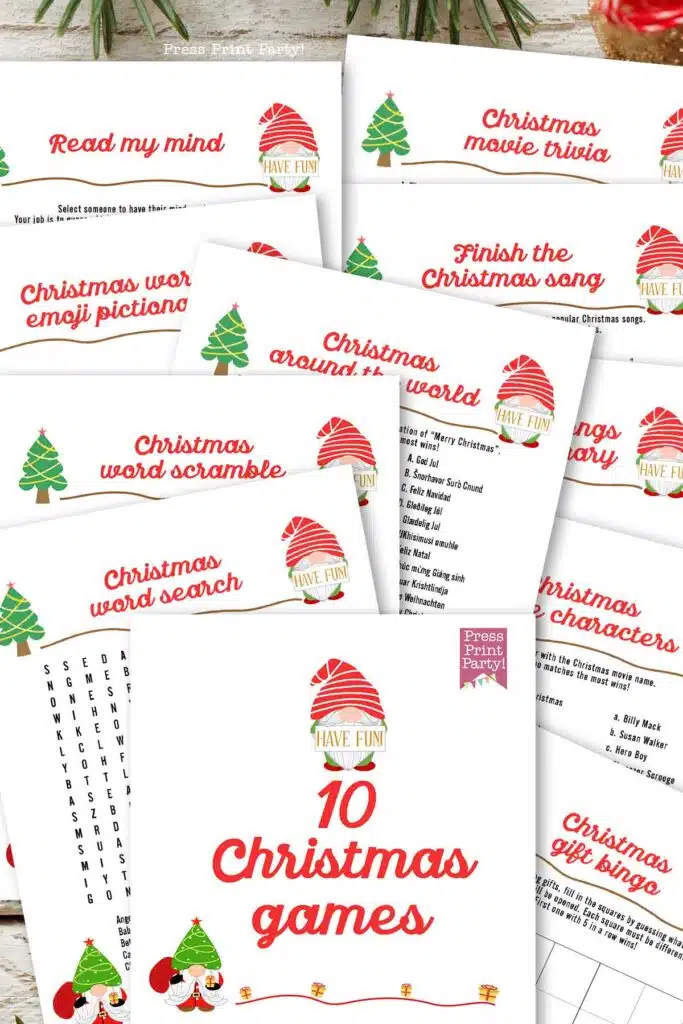 3- Finish the Christmas Song
This Christmas carol game will test your musical recall. Do you really know the lyrics to all those Christmas carols? The best part will be all the people singing quietly (or not) trying hard to remember the next line.
4- Read My Mind
This free printable game is fun to do especially if you'd like to put one of your guests on the spot. Give them the sheet ahead of time and have everyone else try to guess how their mind works.
5- Christmas Song Emoji Pictionary
Grandma may not excel at this game but the older kids and the young adults sure will. Can you figure out the title of these Christmas songs just by looking at emojis? Do they actually make emojis to communicate this obscure idea?
This Christmas Pictionary is harder than you think. Don't lose that answer key.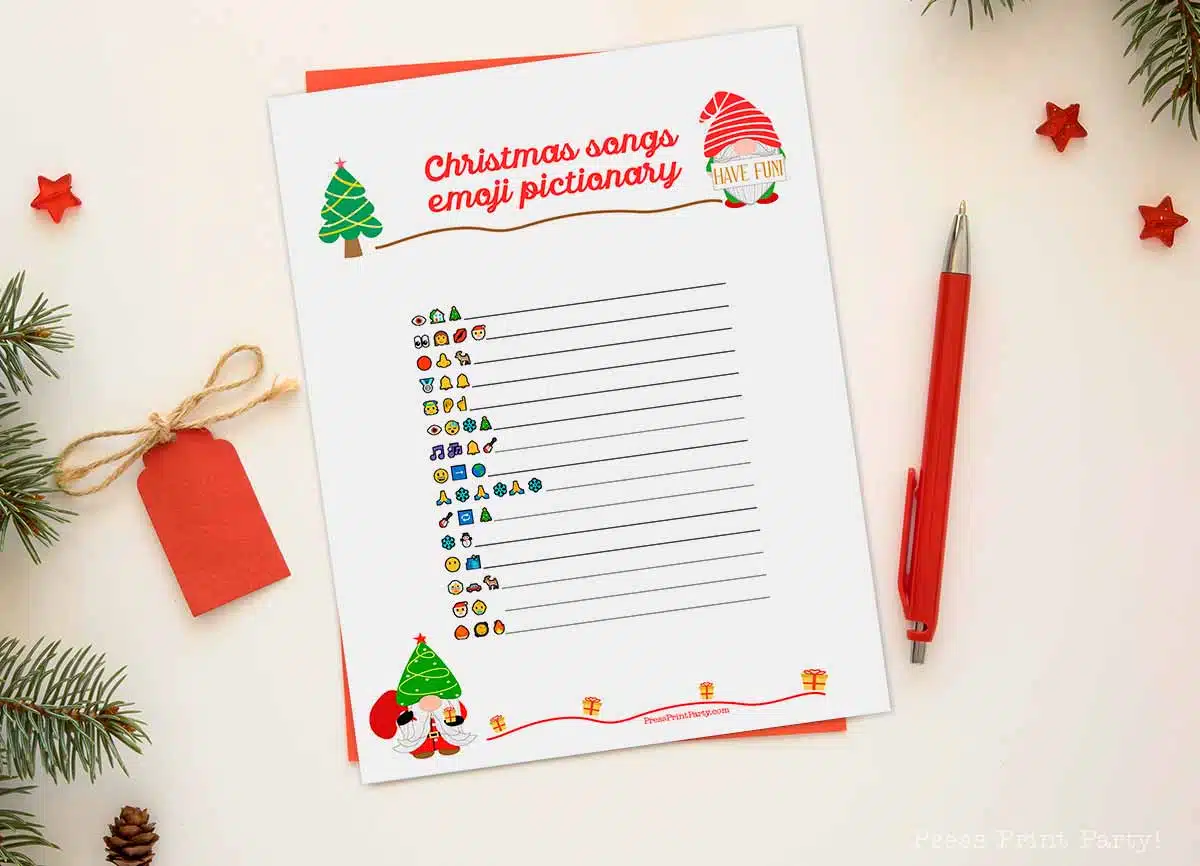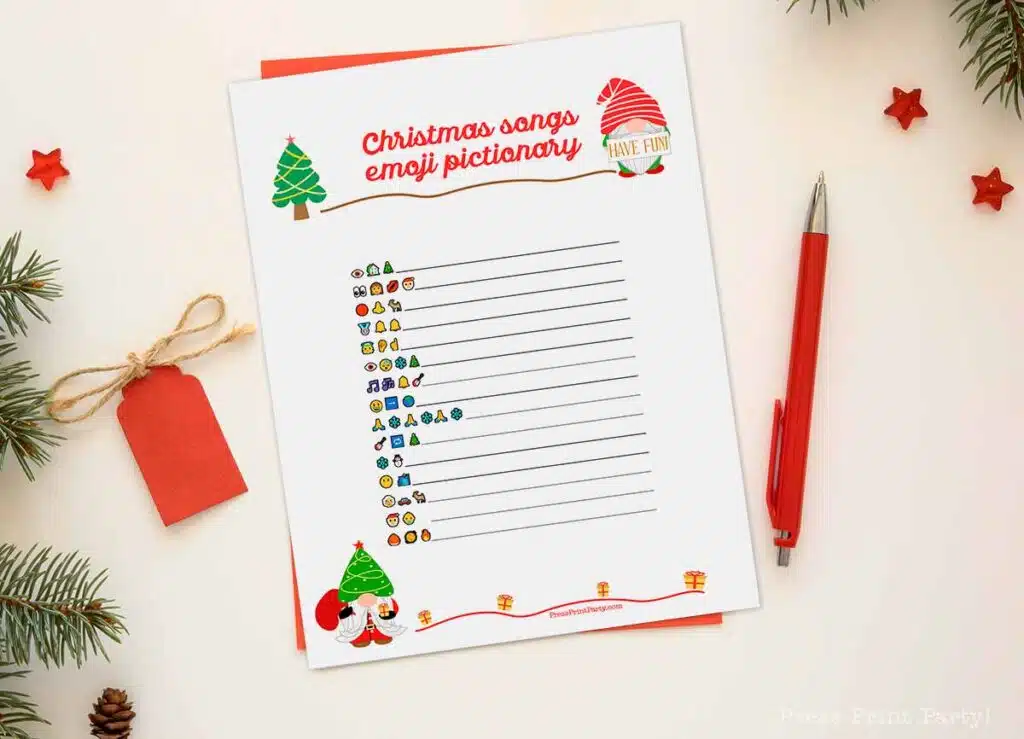 6- Christmas Words Emoji Pictionary
And once the young people have dominated one game, give them a chance to win another! In this fun Christmas game, you're trying to find typical Christmas words and phrases written in emoji form.
7- Movie Characters Christmas Trivia
We're back to Christmas movies again. In this trivia game, you need to match the name of a character with its movie. A great office party game to play with adults who would probably have seen even the older Christmas movies on the list.
8- Christmas Gift Bingo
This one is great to play right before a white elephant exchange, or a Secret Santa exchange at the office.
Have everyone fill the Christmas bingo squares by guessing what gifts will show up in the exchange. Each square must have a different gift. Since gift cards are probably going to be very common gifts, you could guess what specific gift cards people will get. This game would be really exciting if your group is known for its weird white elephant gifts. We had a few kids who brought old car parts to a church youth group gift exchange!
9- Christmas Word Scramble Game
Try to unscramble these Christmas themed words. This one is a classic printable party game and it never ceases to amaze me how difficult it actually is.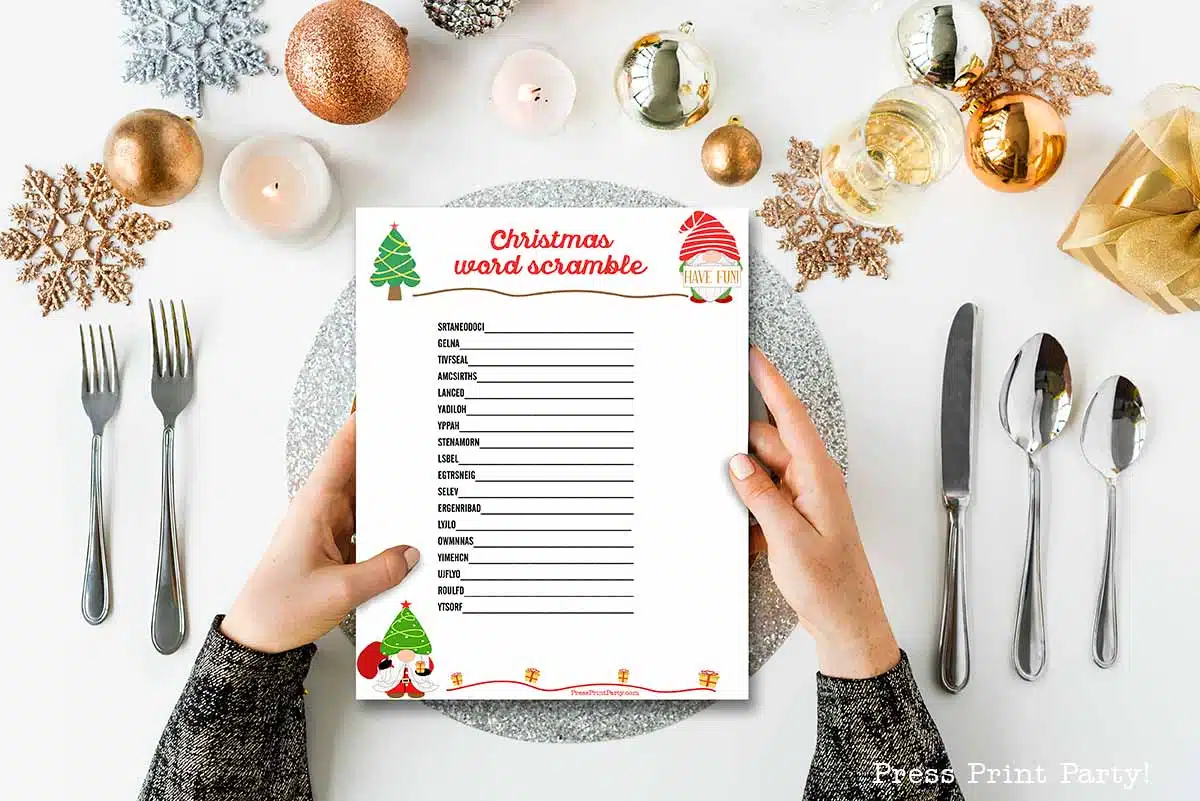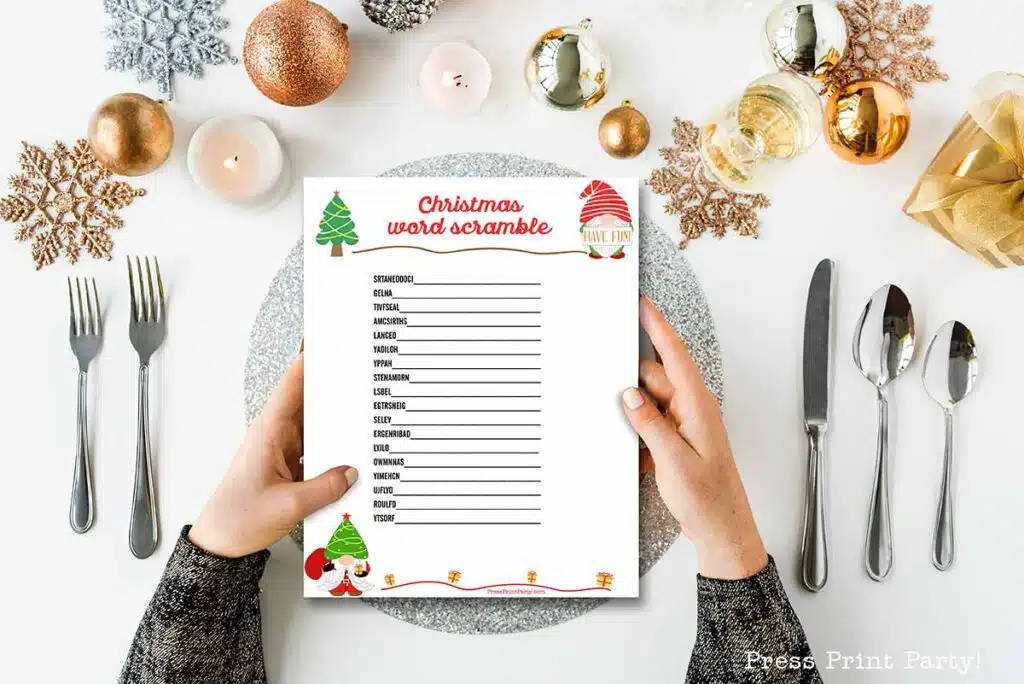 10- Christmas Word Search Game
This Christmas word search game was designed to be a little difficult, so it's a better adult Christmas party game. Words are set, horizontal, vertical, diagonal, and also backward to make it interesting. Those backwards and diagonal ones always stump me.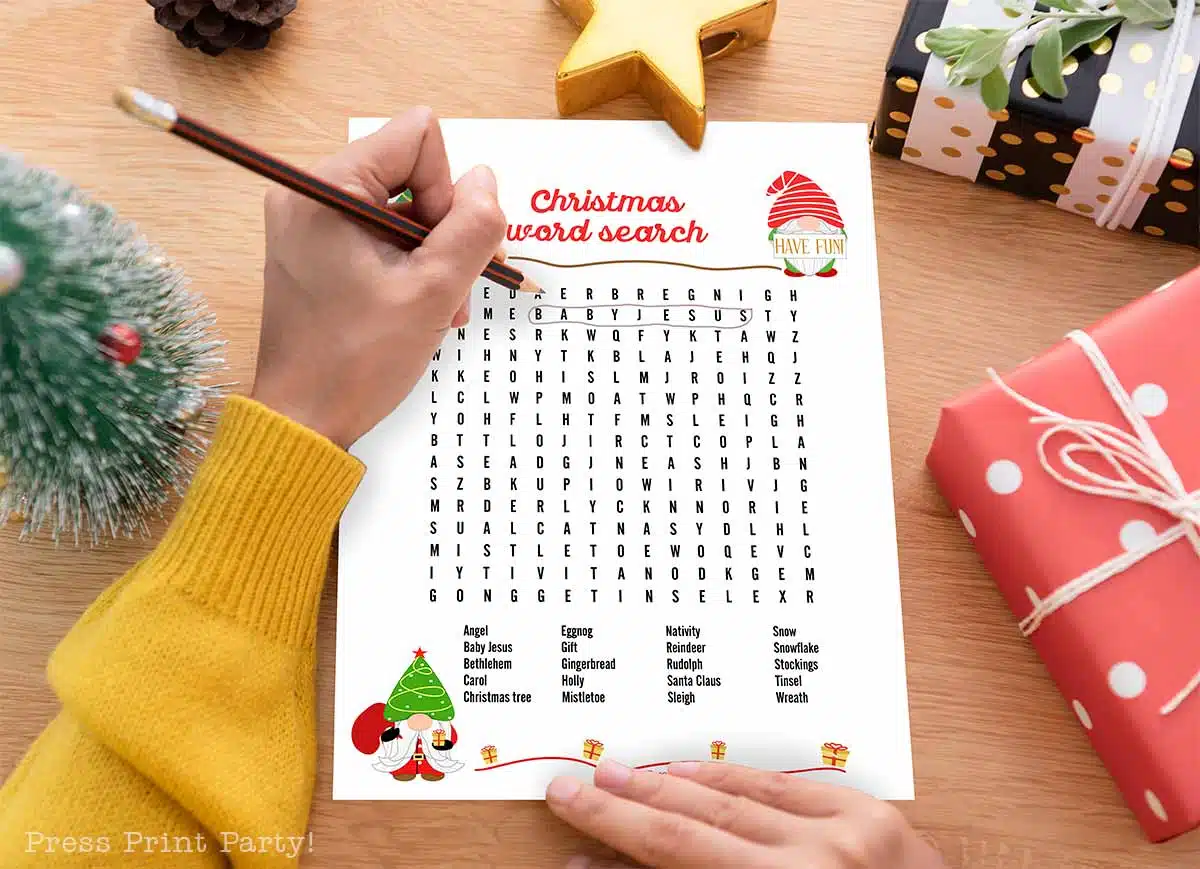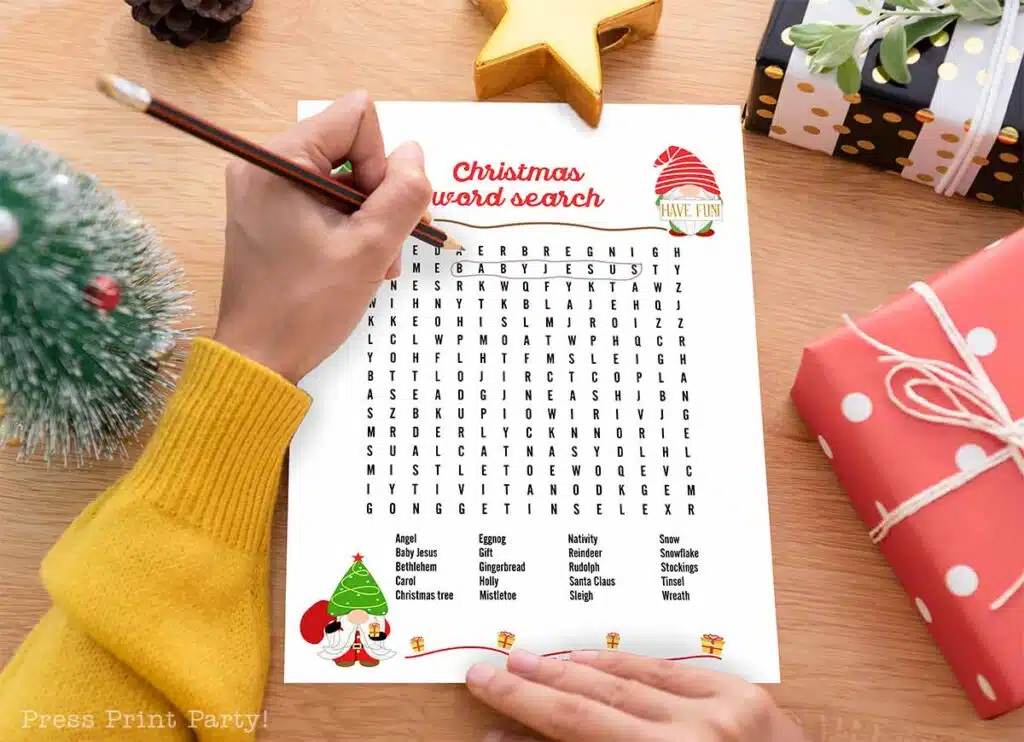 ---
More Christmas Party Games and Fun
One of the best Christmas party games to play with a large group is this left, right Christmas game. You only need one gift per table which really helps keep the cost down. Go check out my fun free printable story for you to use or edit.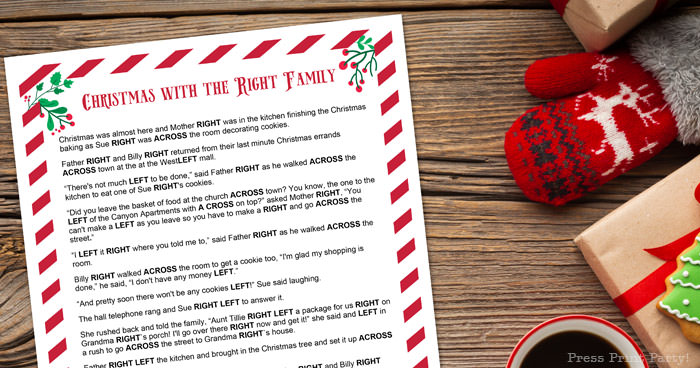 For classroom parties or to keep the kids quiet on Christmas Eve, I have not only a free Christmas coloring book but a long list of good websites where you can find a ton of quality free printable coloring books. Kids of all ages will love will love them and you'll love looking back at their work years later.
And have you ever played the "You've been Elfed" game with your neighbors? It's where you leave secret little gifts for your neighbors. It's a fun, kind way to spread a little Christmas cheer with the people around you.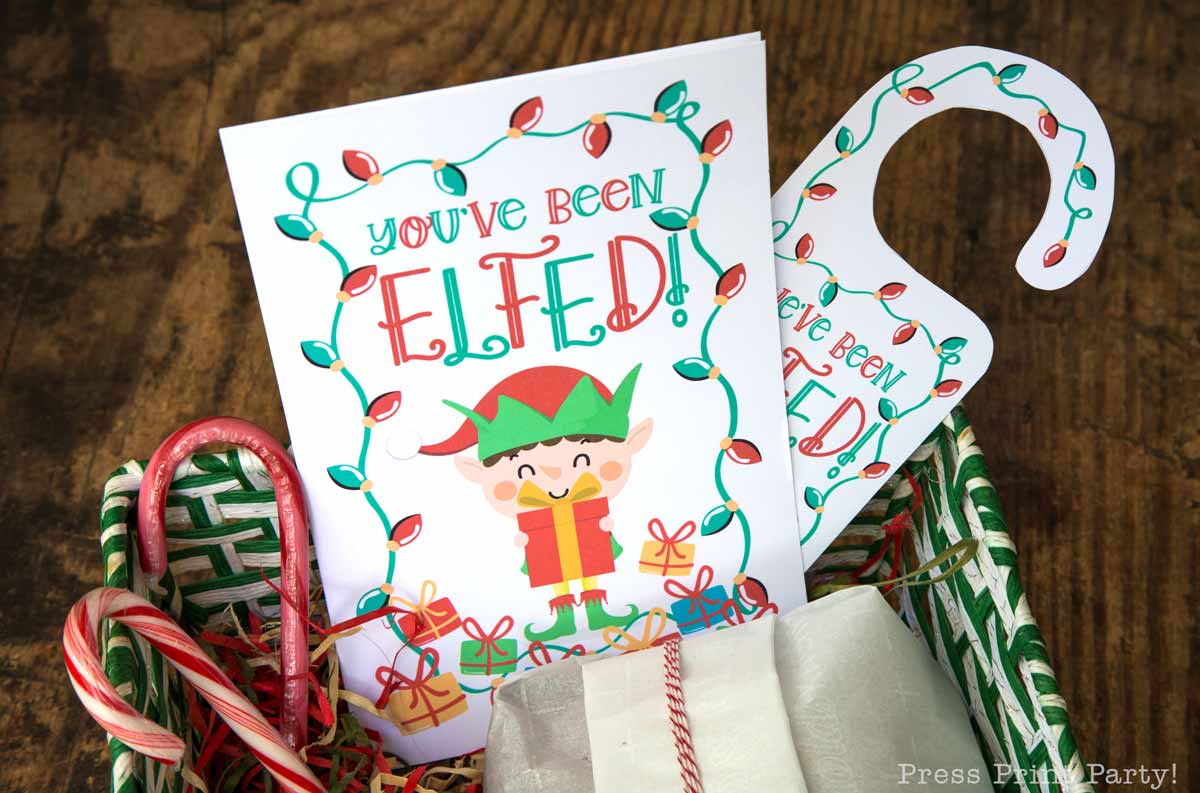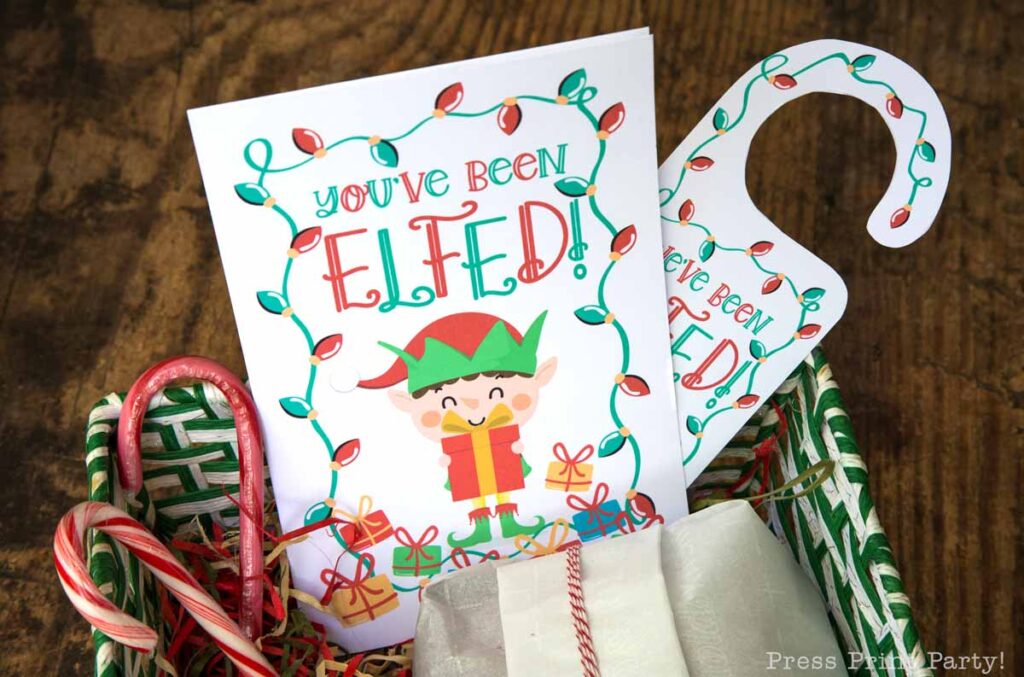 ---
So, there now no excuse for another boring Christmas dinner. Playing these festive games is a great way to ensure good times for all.
But, get ready to spread lots of holiday cheer with more fun freebies!
Induce laughter with a delightful collection of 12 hilarious Christmas tags. Keep the little ones entertained with 10 outstanding Christmas coloring pages designed specifically for kids. And guess what? I even have a complimentary Santa letter template just for you!
And if you're in the process of planning your Christmas dinner, get ready to be inspired by all the amazing Christmas table decorations I have crafted for our Church's Christmas dinner over the years. As well as a list of 100+ easy Holiday appetizers.
And if you want to add some extra fun to your family game night, you'll absolutely adore this assortment of family-friendly board games that adults will love to play too.
Don't forget to pin these free Christmas party games: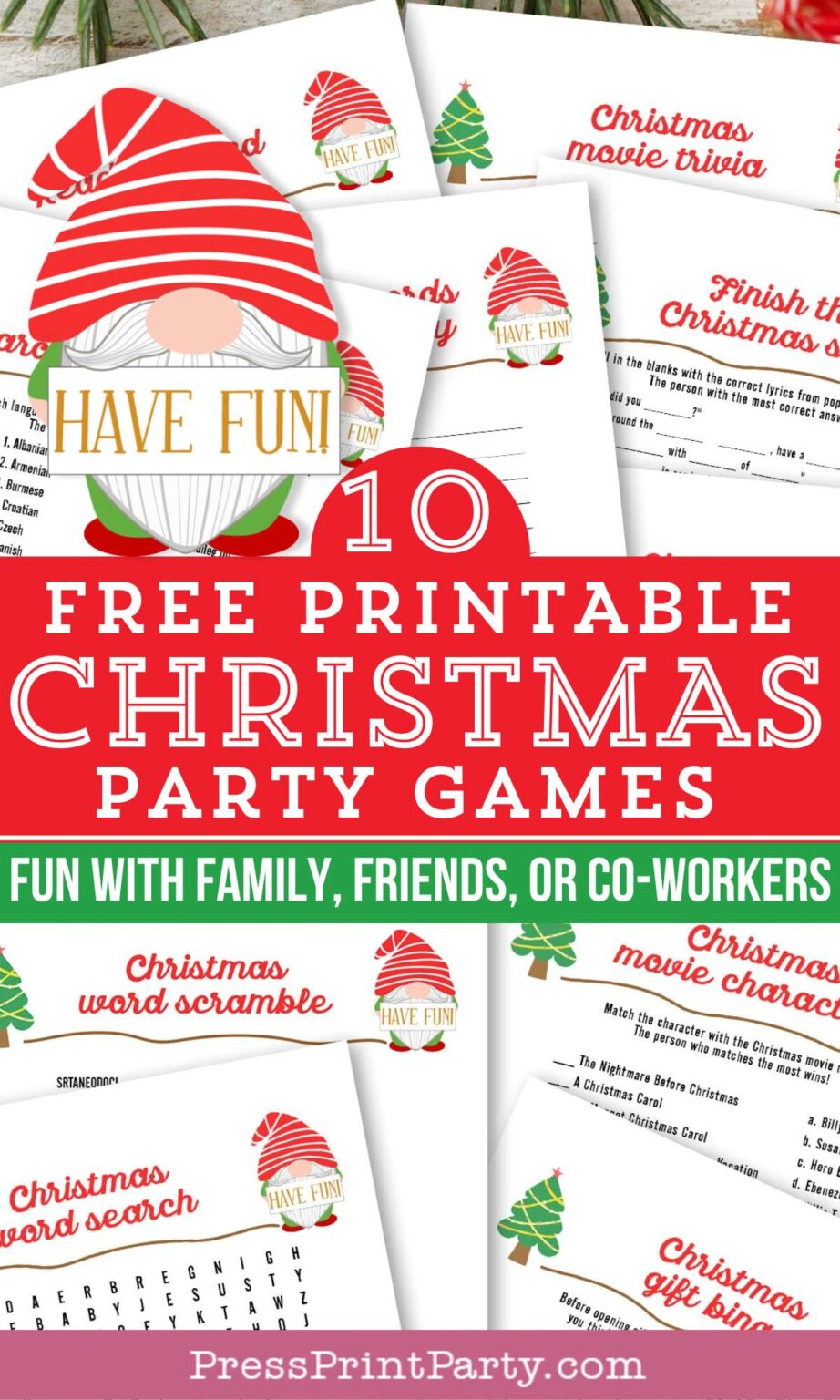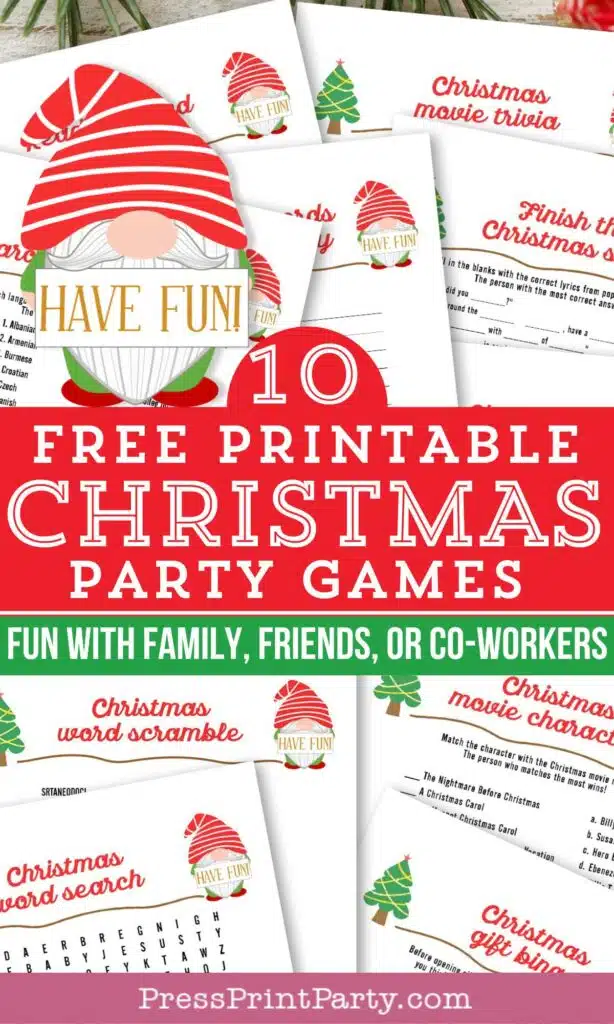 ---
Get Your Freebie:
If you've already subscribed, you can get the password from the bottom of any email I send and go directly to the Free Downloads Library.
Check out our Christmas printables