Your kiddo has graduated. Or you've graduated!!! All that work, all that time and effort. But you saw it through and you have the diploma in hand. Congratulations!!! That's awesome. And you deserve a little time to enjoy the spotlight and to celebrate.
All these open house graduation party ideas are from my daughter's high school graduation party. I had so much fun crafting this party. We, and I hope our guests, had a wonderful time and it was sweet to celebrate my oldest girl.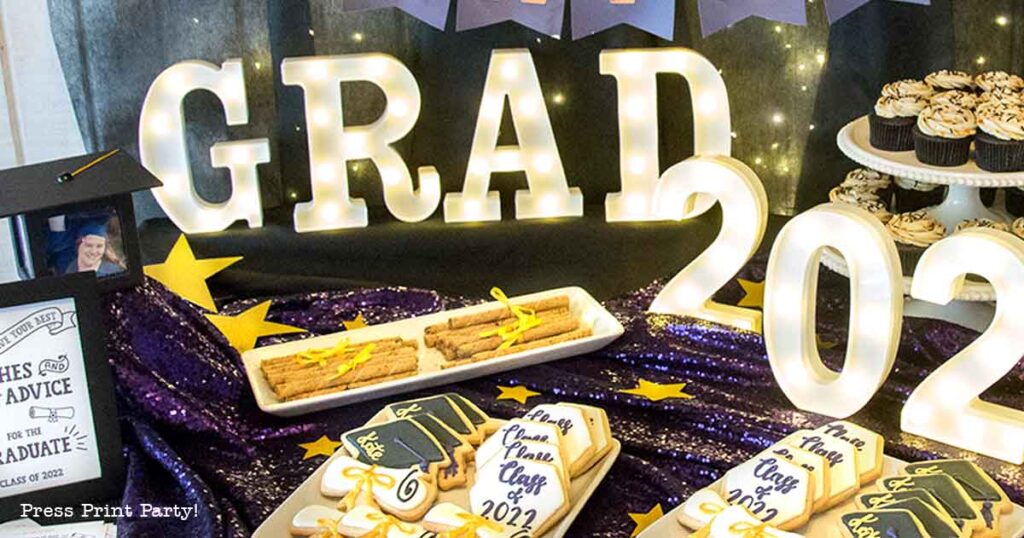 This post may contain affiliate links.
Graduation parties are a great way to celebrate with close friends and family members and to honor all the hard work your graduate has done.
But planning an open house style graduation party is really like planning any party, you need the main 3 elements I talk about in-depth in my "How to throw an unforgettable party" post. A cohesive theme, stations, and activities.
You'll see that I kept things simple for this party. Since it was an open house party, guests came and went as they pleased congratulating the graduate, maybe getting some food, chatting, and leaving to maybe go to another open house grad party.
And since guests can come and go as they please, you'll be able to accommodate way more guests than with a traditional sit-down dinner. It's the best way to go when inviting large groups.
An open house graduation party also allows the graduate to have fun with all their friends and family in a relaxed and informal atmosphere. It's the perfect way to mesh the calmer more sedate folks like the grandparents, with the rowdier younger folks.
It also reduces the stress and cost of preparing a large meal for everyone. Instead, simple appetizers, finger foods, snacks, and beverages can be provided for guests to enjoy while mingling with friends and celebrating the graduate's achievements.
Our event was an indoor/outdoor graduation party with guests getting their food inside but having the opportunity to wander outside to enjoy the wonderful evening air.
---
Graduation Party Invitations
I wanted the invitation to feel like a grand event so I chose a marquee-type feel. It also set the party theme.
The invitation is available in the shop with a purple or navy background. You'll be able to edit and print it easily and it will give you the feel of a grand event without the price tag of custom printed invitations. Or you can convert it to jpeg and send them as digital invitations via email or text.
I didn't send out graduation announcements to share the good news, I just invited everyone to the party.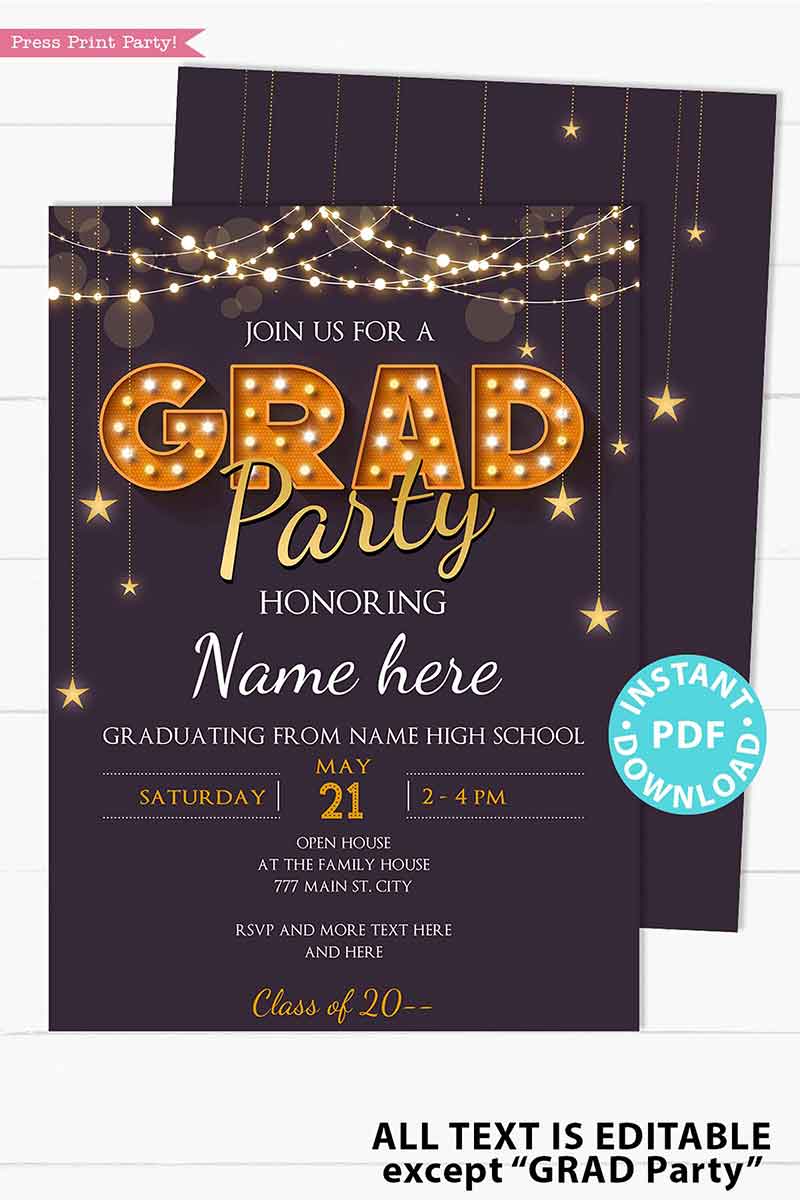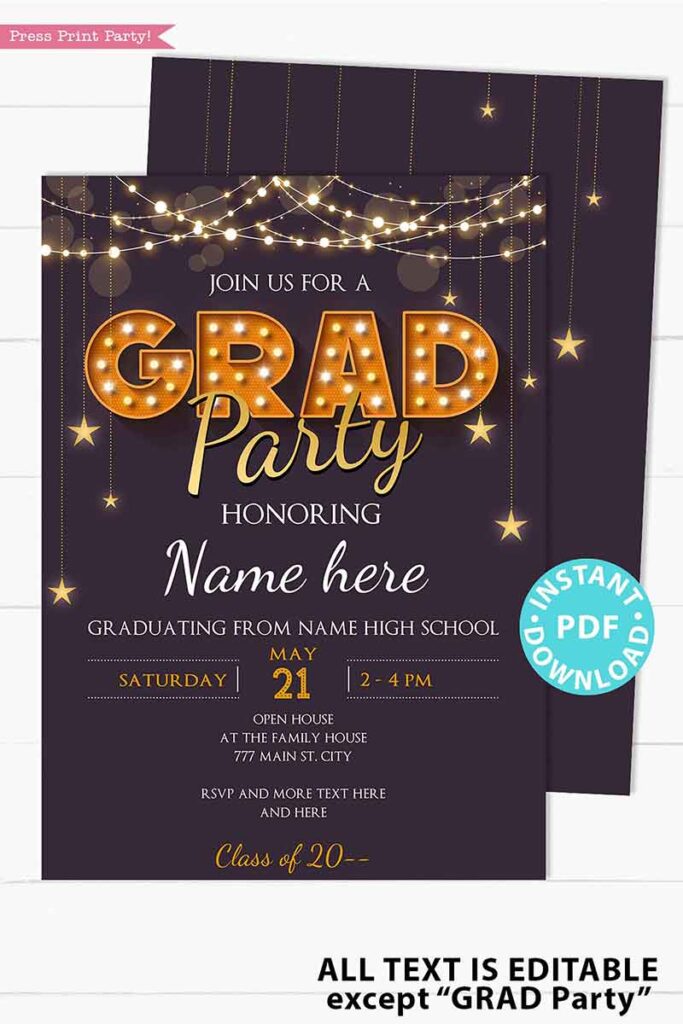 ---
Graduation Party Decor Ideas
I think we all stress a bit about decorating a party, but here I kept it really simple, only decorating a couple of areas. I wanted a grand entrance to set the tone and then had a dessert station as a focal point.
Playing with your grad's school colors is always a safe bet. But instead, I choose my daughter's favorite color, purple and included gold and black lettering.
The Grand Entrance
Nobody missed the house that day, with the big GRAD sign in front!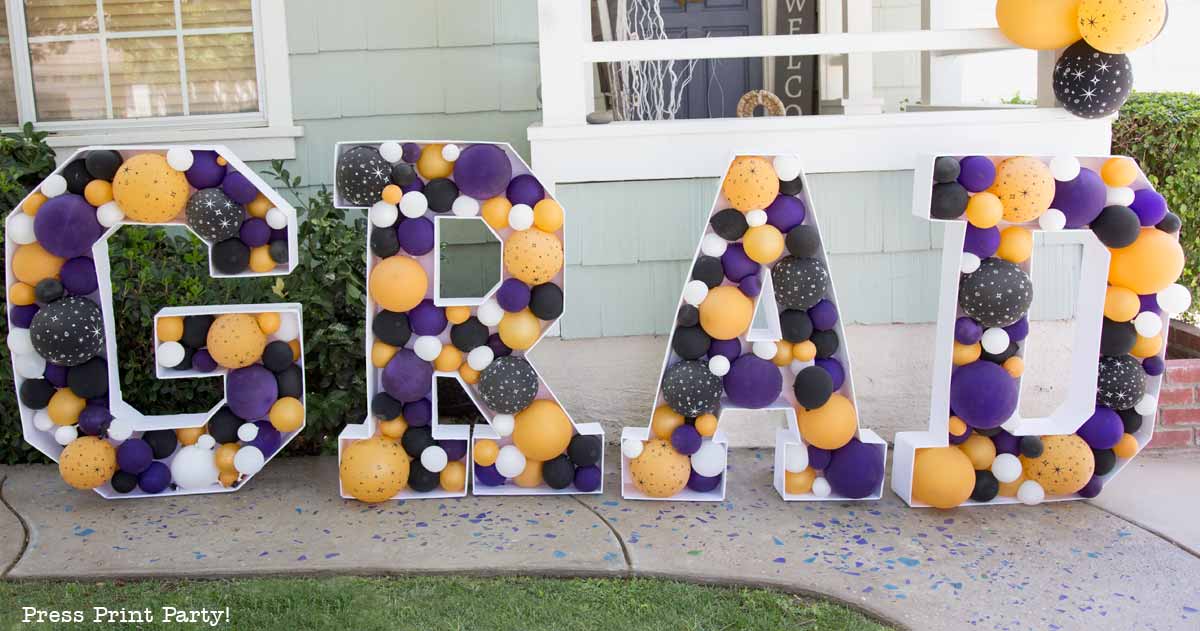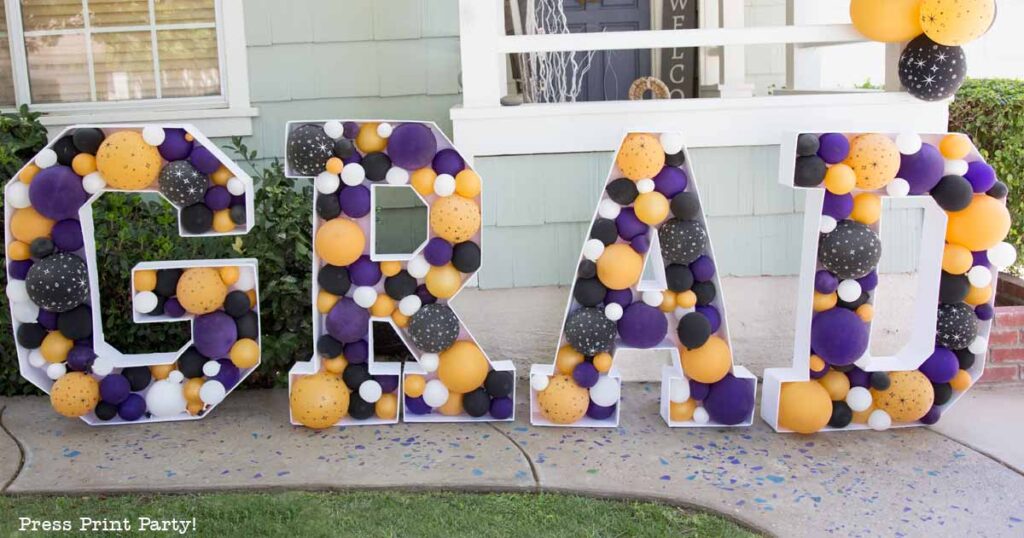 I saved a ton of money because I made the whole thing myself with dollar store foam boards and a bunch of balloons. I documented the whole process in this post and even provide a free template for you to use.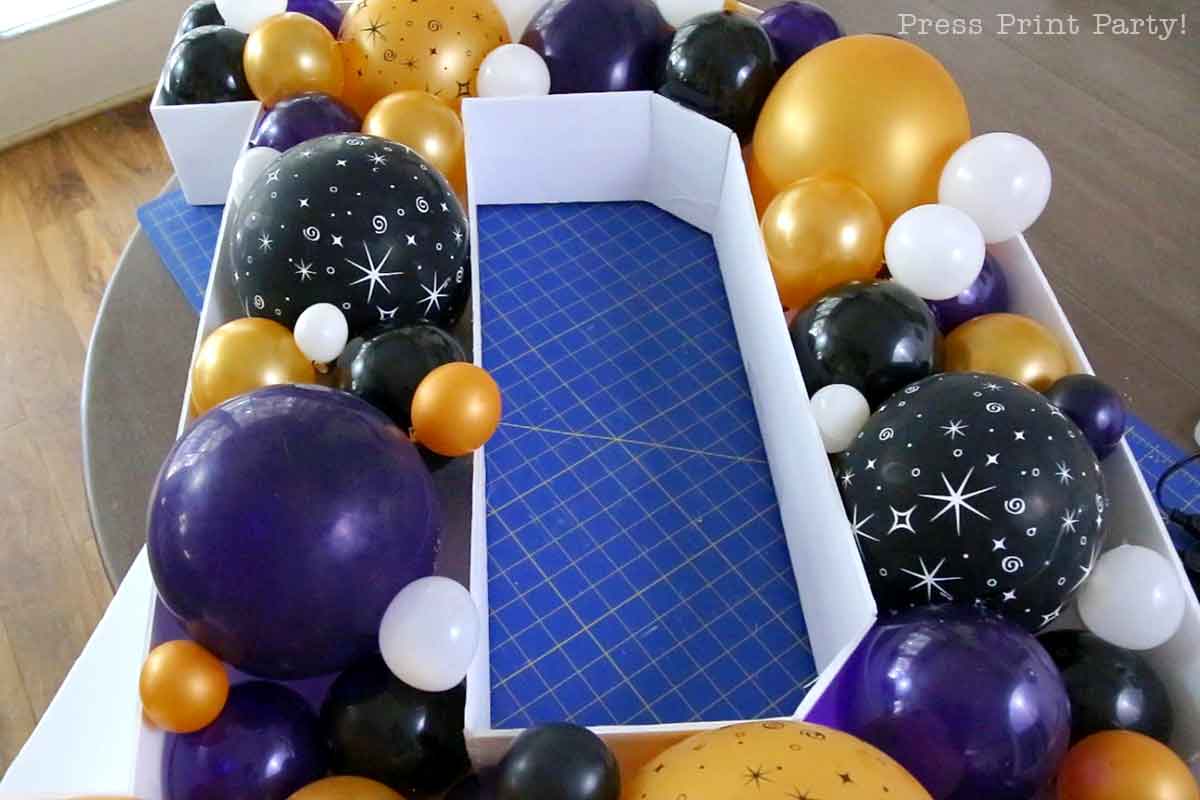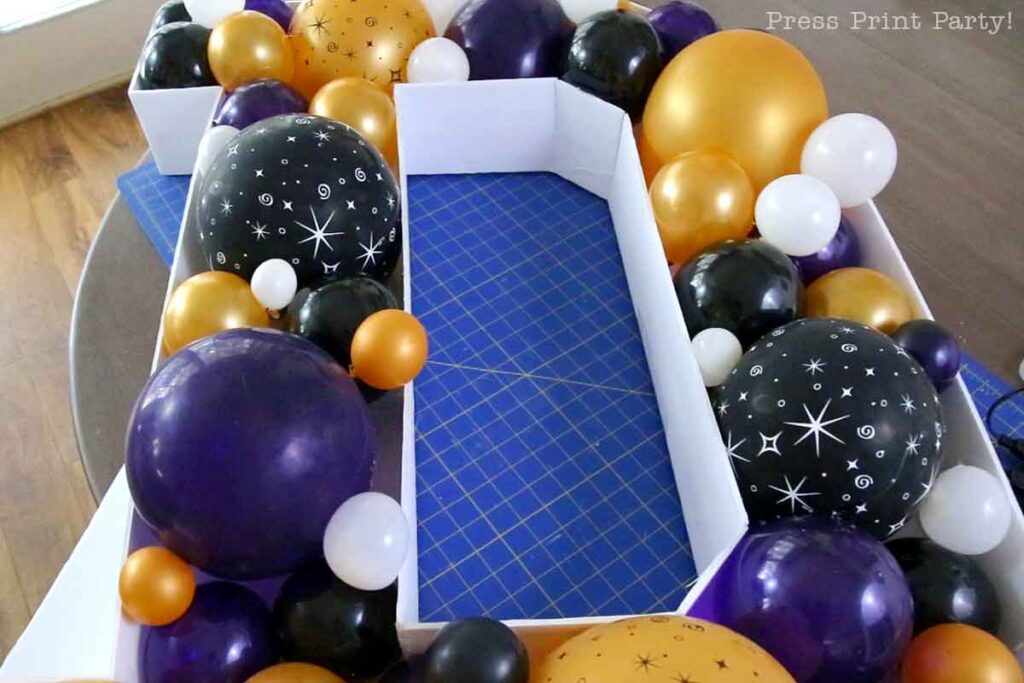 It's a fun project and nearly impossible to really mess up. One of those projects that gives you more bang for the time and money than it seems like it should. It sure made a great backdrop for graduation photos and served as a sort of low-rise photo booth.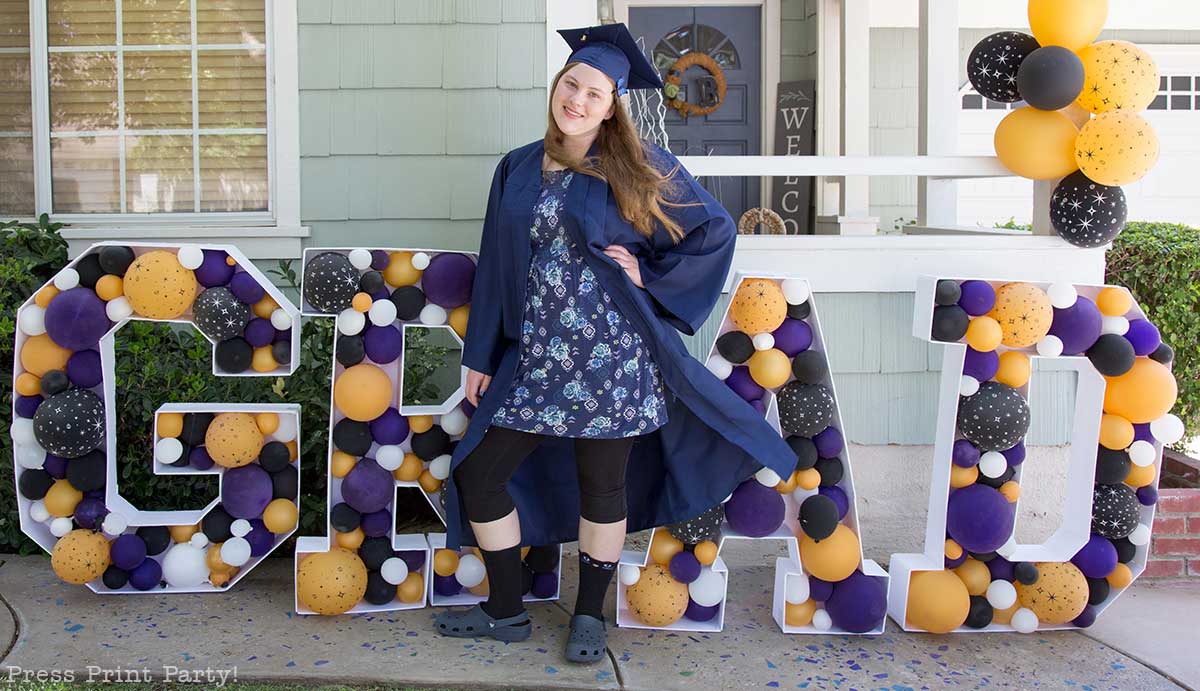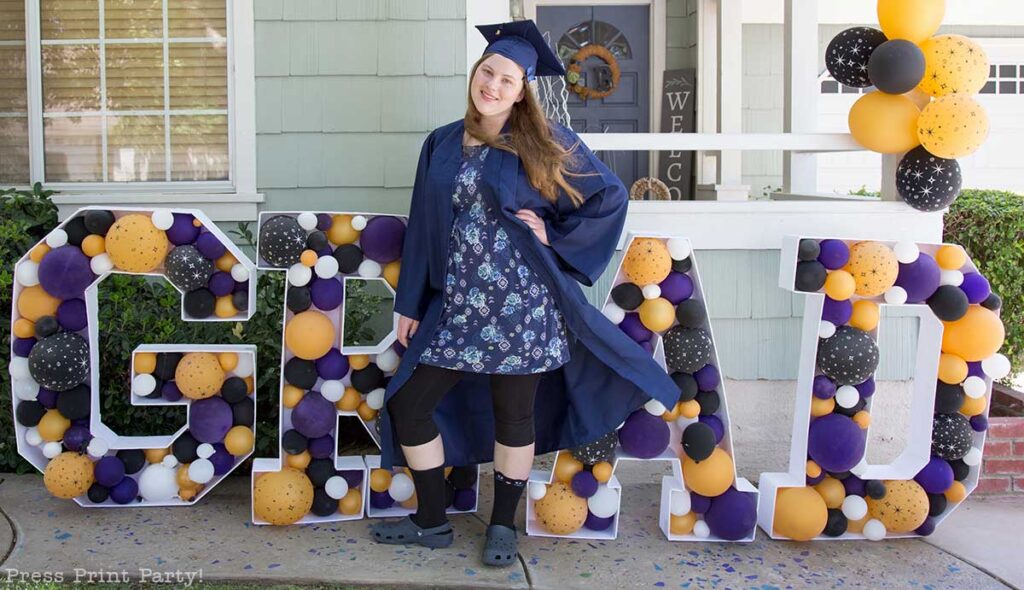 The Dessert Station
The dessert station was the big indoor focal point of the graduation party. If like me, you're running out of time, choose one spot and go all out.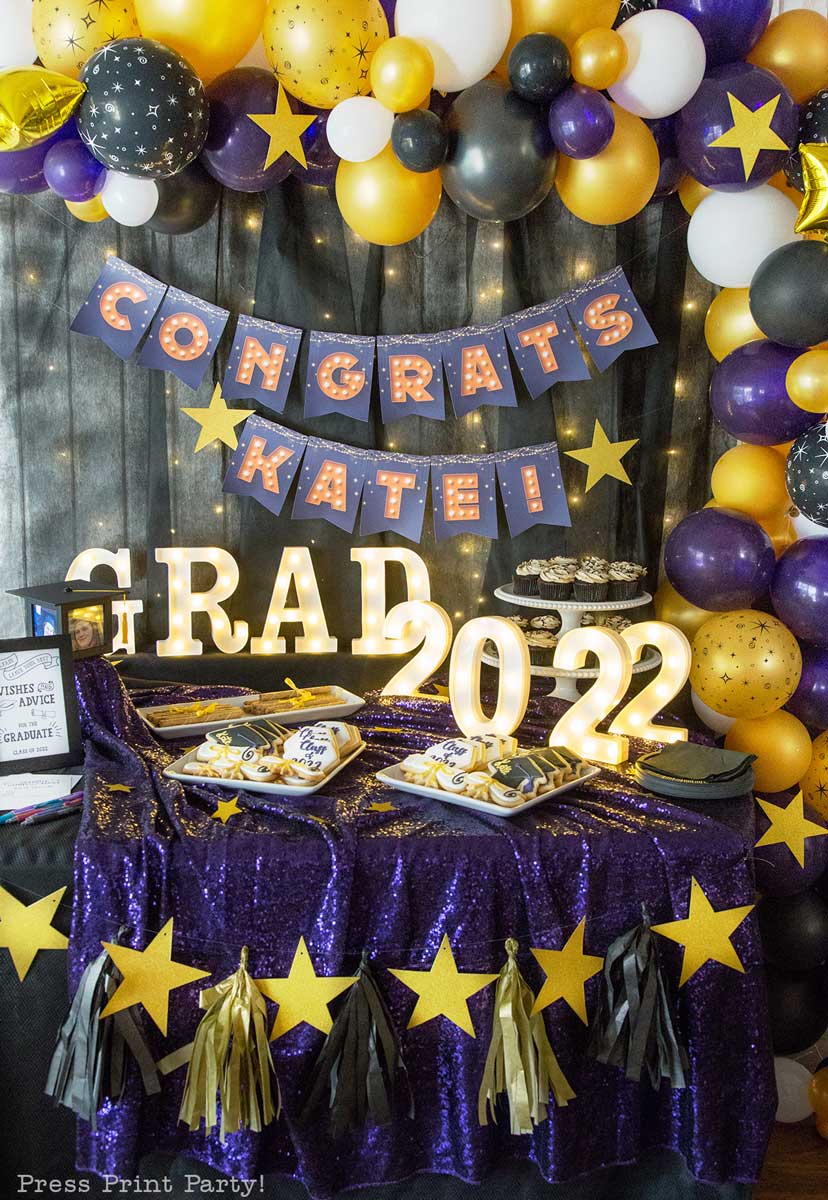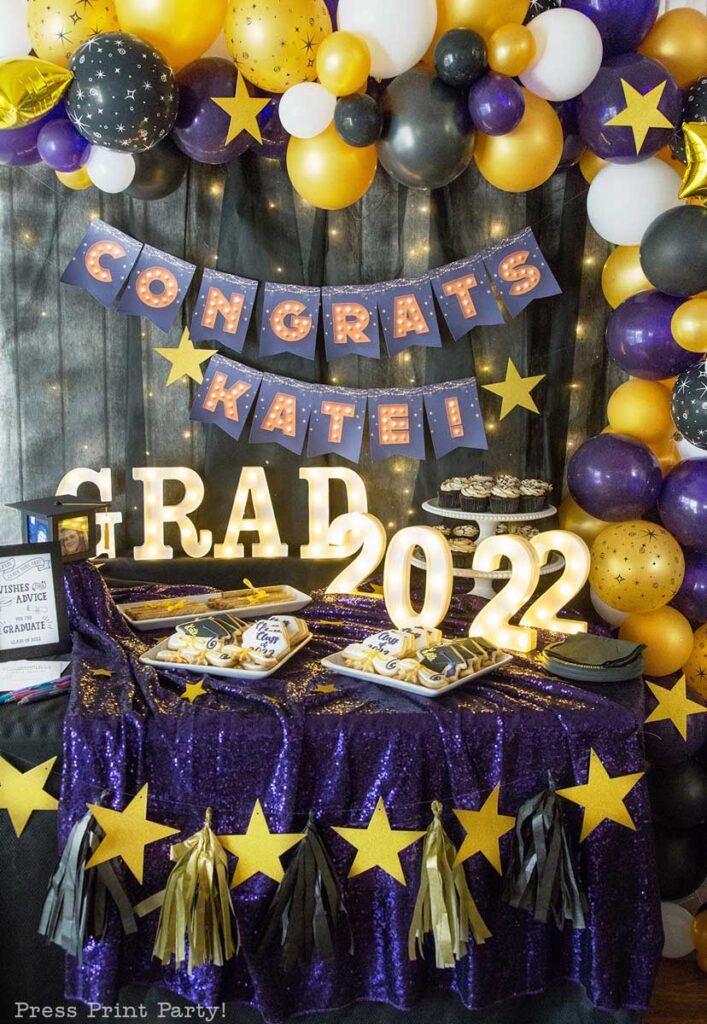 This table has a star student feel with all the golden stars, accented by lots of glittery purple, that favorite color again.
– The Backdrop
Since the party was in the evening I wanted to incorporate fairy lights into the decor. I made the backdrop by first attaching a fairy light curtain to the wall (with Command hooks) and placing black gossamer fabric over it. You could use any type of black fabric, it's just what I had on hand from the time we transformed our porch into a pirate ship.
– The Balloon Garland
Balloon garlands are so easy to make that once you learn how, you'll make them again and again. They're dramatic and colorful and perfect for so many celebrations. Fortunately, I have a great organic balloon garland tutorial that will make you a garland expert in no time.
For this garland, I used the 3 focus colors of the party, purple, black, and gold with a hint of white for highlights.
The glittery stars and the star balloons were attached to the other balloons with glue dots.
– The Marquee Congratulations Banner
I printed a congrats banner to add to the backdrop. The printable graduation banner is for sale in the shop in 2 background colors, purple and dark blue.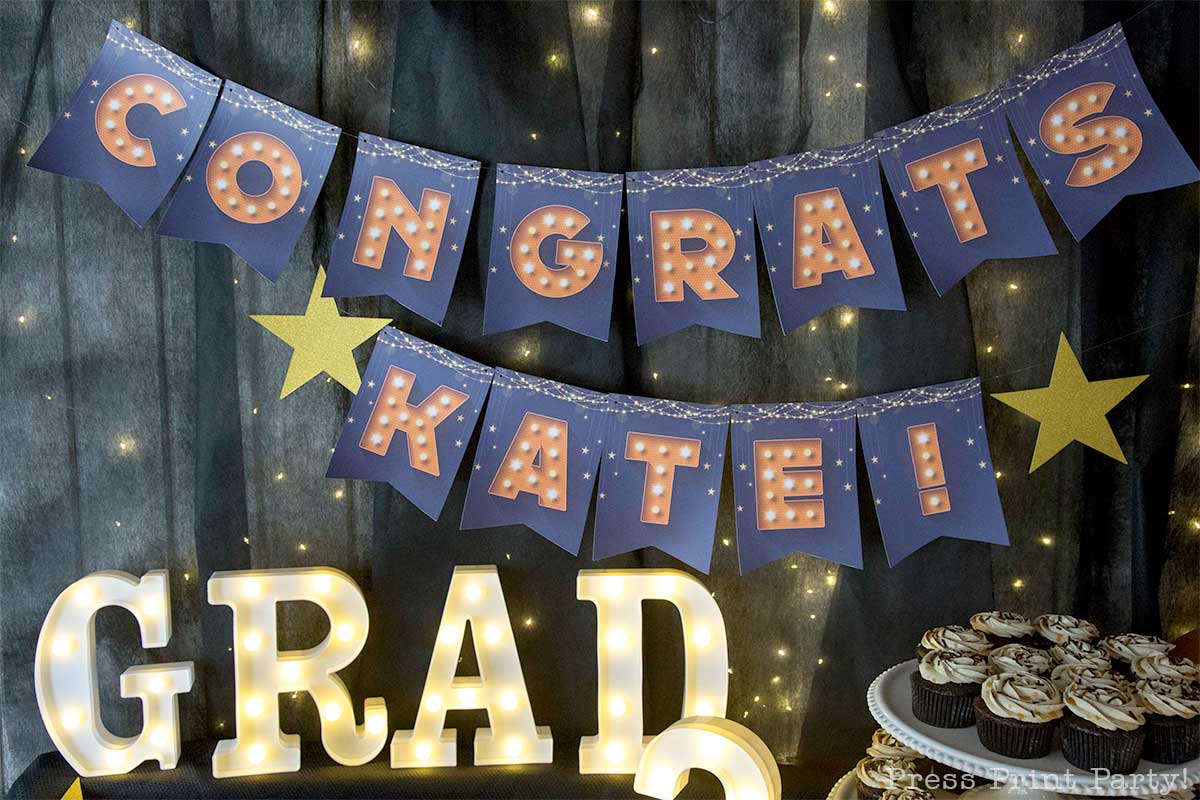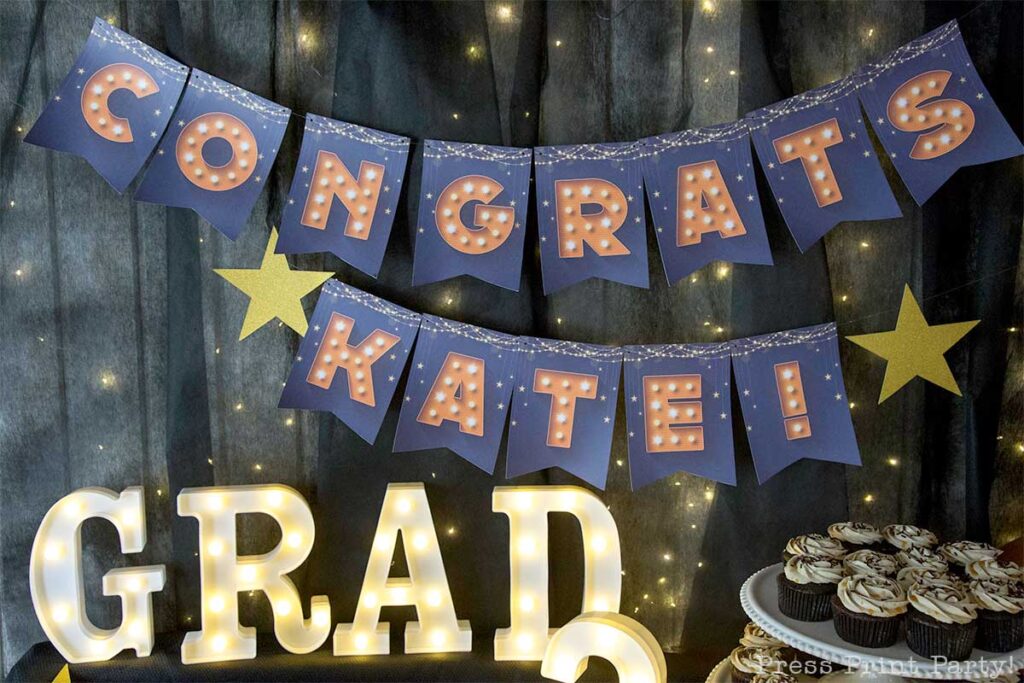 – The Tablecloths
Keeping with the color theme, I used a black tablecloth as a start and draped a glittery backdrop curtain over it for effect.
– The Tissue Paper Garland
I made the tissue paper garland myself from black and gold tissue paper and used glittery stars in between.
– The Light-up Marquee Sign
I love marquee props so I just had to buy marquee letters and numbers. They matched so perfectly with the theme and created a gorgeous focal point. In a couple of years, I'll be able to buy another number and use 'em again when my youngest daughter graduates!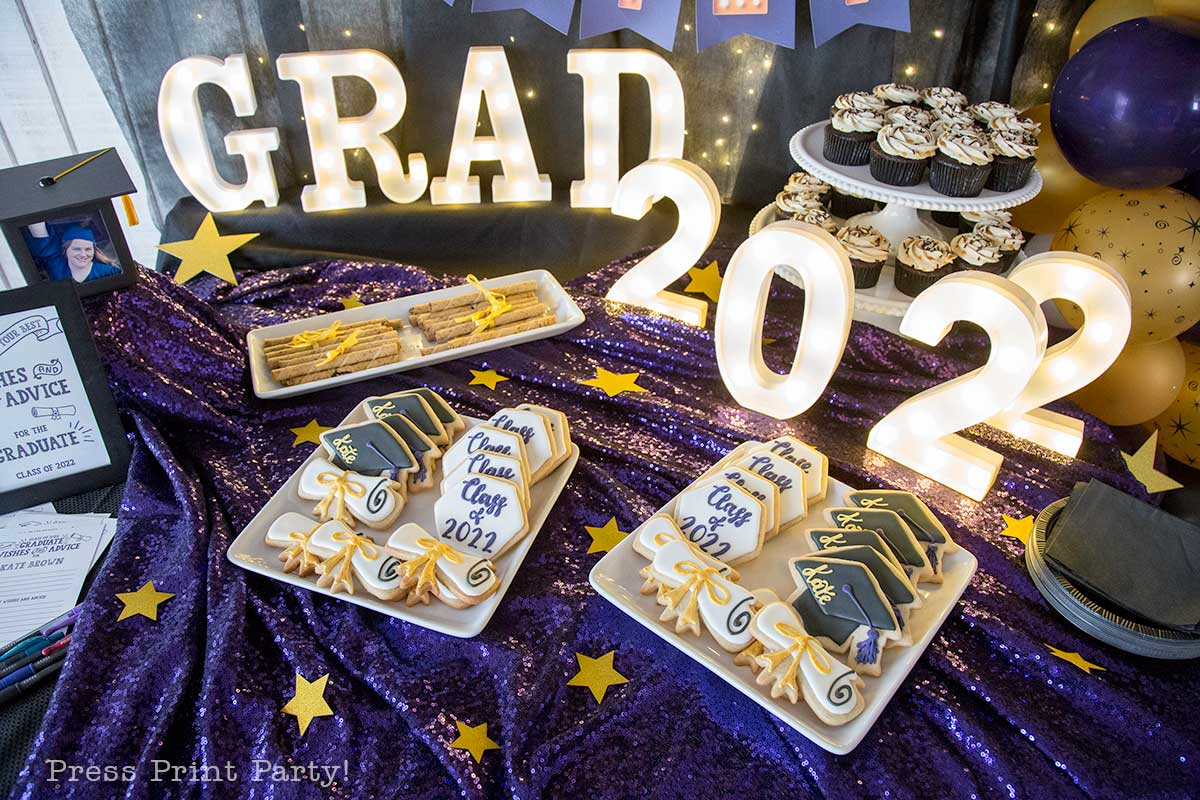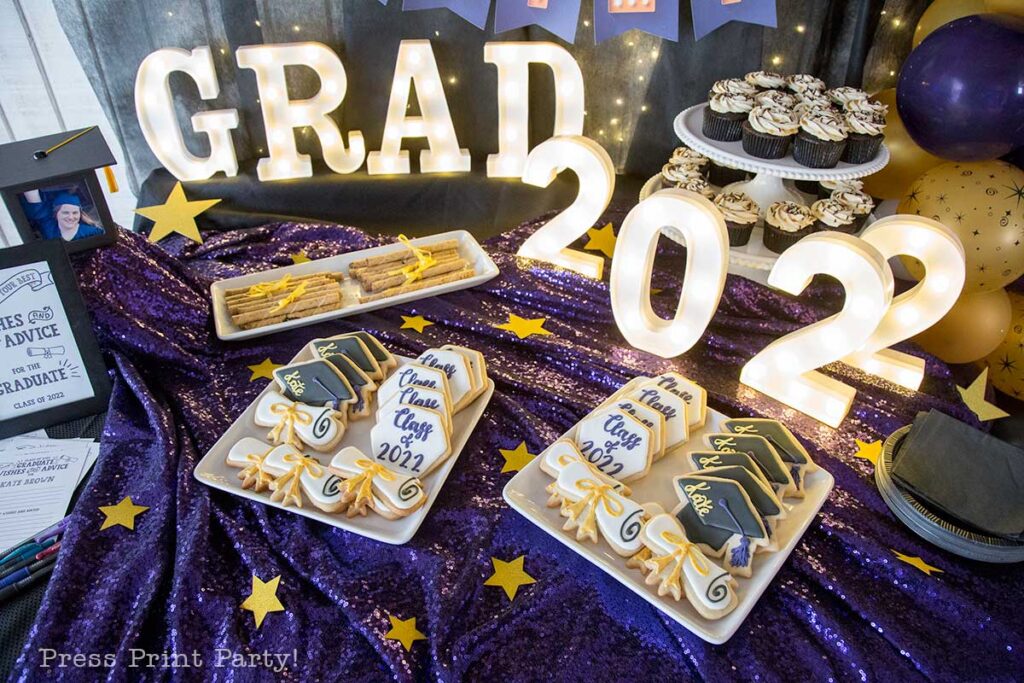 – The Graduate's Photo
Of course, you need to have a photo of your grad somewhere.
I found a fun graduation cap photo box at Walmart and used that as a photo frame on the table. It also worked great for holding the advice cards that we asked the guests to fill out.
You could also make a bigger celebration photo board with all the school pictures of your grad from kindergarten on.
Many people also choose to have photo banners made and hung at the entrance. They're a great option but they can sometimes get a bit pricey.
---
Open House Graduation Party Food Ideas
Serve One Big Meal Buffet Style
We had our party right after the afternoon ceremony, so I knew I'd have to serve some kind of dinner for the guests who wanted to stay awhile. I also knew I'd have to make it in advance.
Thankfully, I have a trick.
Every time I have an open house, I serve my famous chili, buffet style, with all the fixings. I know, I need to post the recipe on the blog. I get compliments on it nearly every time I make it and it's a great item to feed a bunch of people.
But whatever chili recipe you have up your sleeve, it's an easy and fun meal for an informal open house. Guests can make themselves a bowl, customize it the way they like and walk around with it and mingle.
And chili feels way more substantial to me than just a bunch of appetizers. So after a long graduation ceremony, a hot bowl of chili just hits the spot.
Another option would be a taco bar where party guests can make their own with an array of fillings.
A bunch of pizzas would also do the trick. Everybody loves pizza.
Burgers and hot dogs are an American classic, but they may not be your best option because you'll have to cook them while your guests are there and that may keep you from enjoying the party.
Serve Easy Finger Foods
On the cold food side, I'm a big proponent of making a charcuterie board in advance and having it at the ready for your guests when they arrive.
Charcuterie boards are a great option but they can sometimes be a bit pricey. You may want to check out my easy appetizers post for more simple finger food ideas.
Serve Grab and Go Desserts
After all those vigorous academic pursuits a little splurging seems in order. So I say desserts are a must at any graduation party. And that's where I had some fun.
I tied little ribbons to roll up cookies to make them look like diplomas and also I had a friend make some fantastic graduation butter cookies.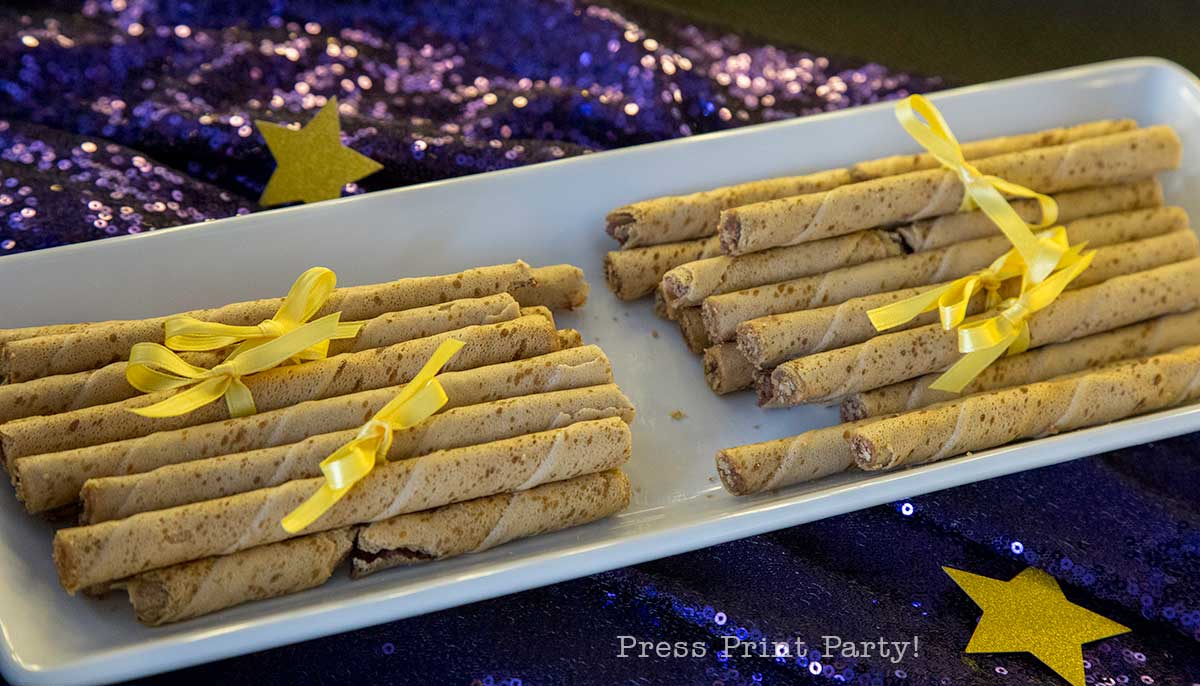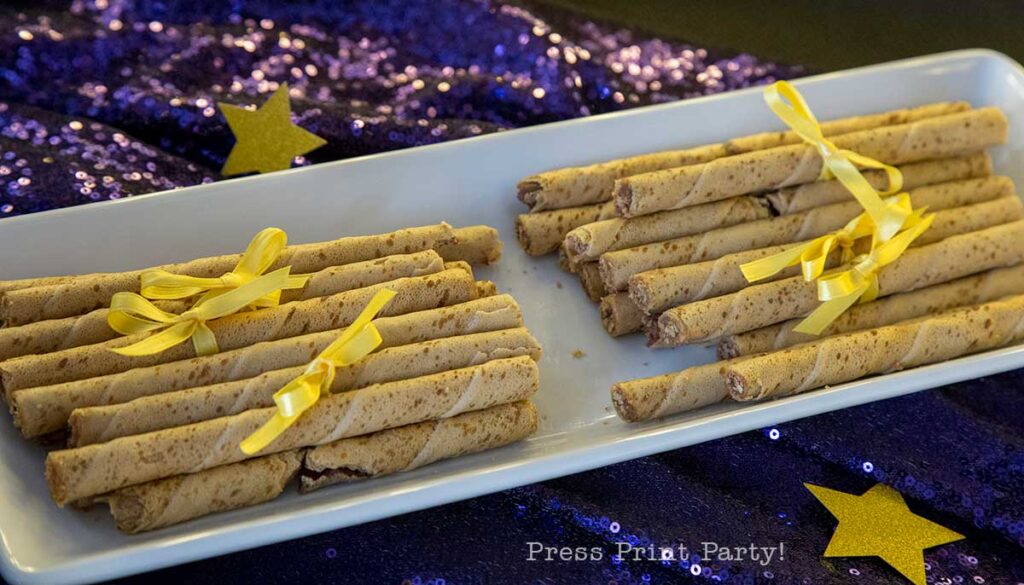 Honestly, I just ran out of time and only tied ribbons on 6 of them but I hope the guests got the idea.
I did spend some money ordering custom butter cookies. They were delicious and were so cute that I say they doubled as decorations.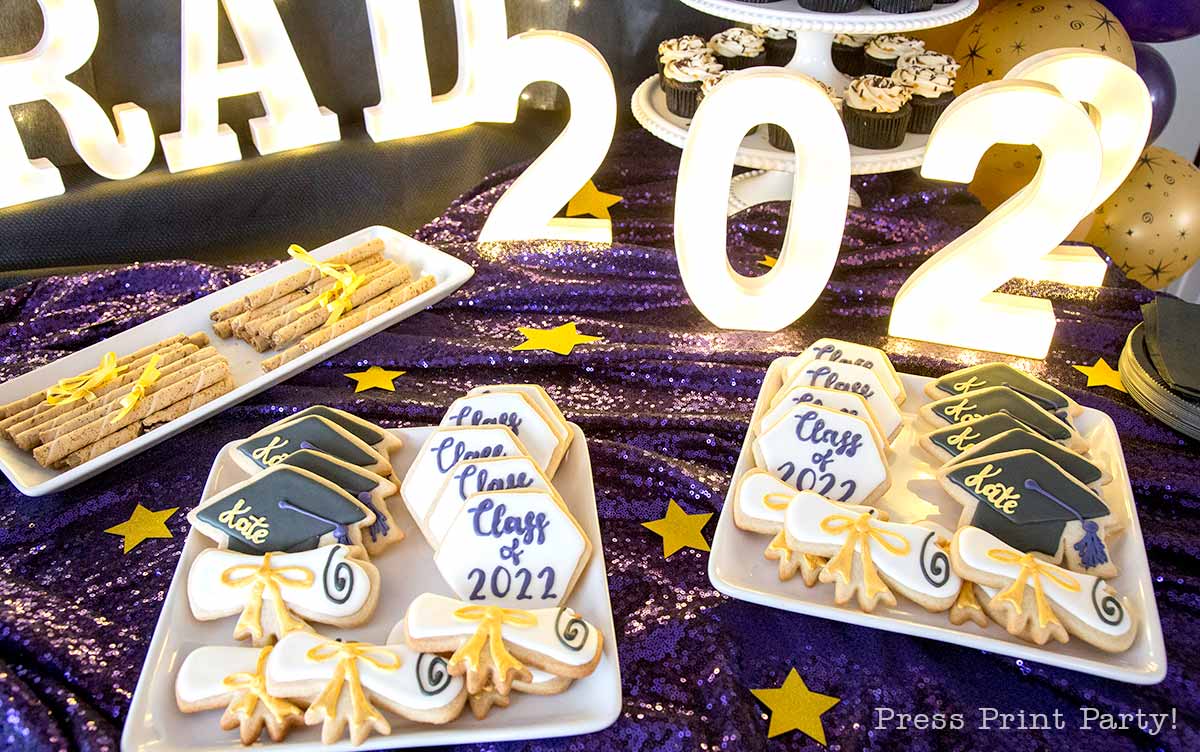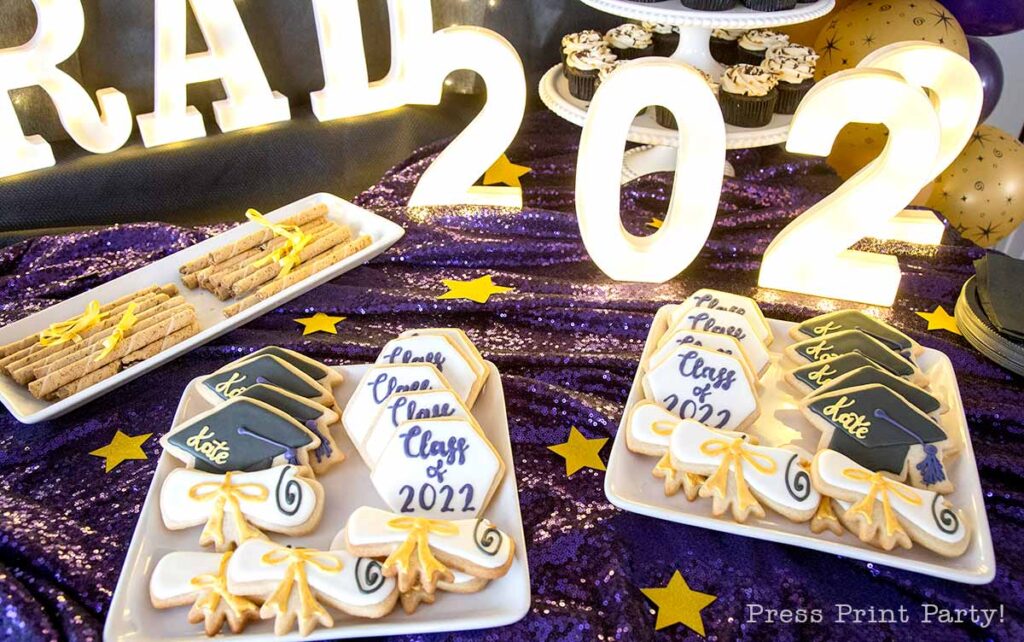 My chocolate cupcakes were a huge hit! I made them with my moist chocolate cake recipe and flavored the Swiss meringue buttercream with chai latte powder since chai is one of my daughter's favorite teas.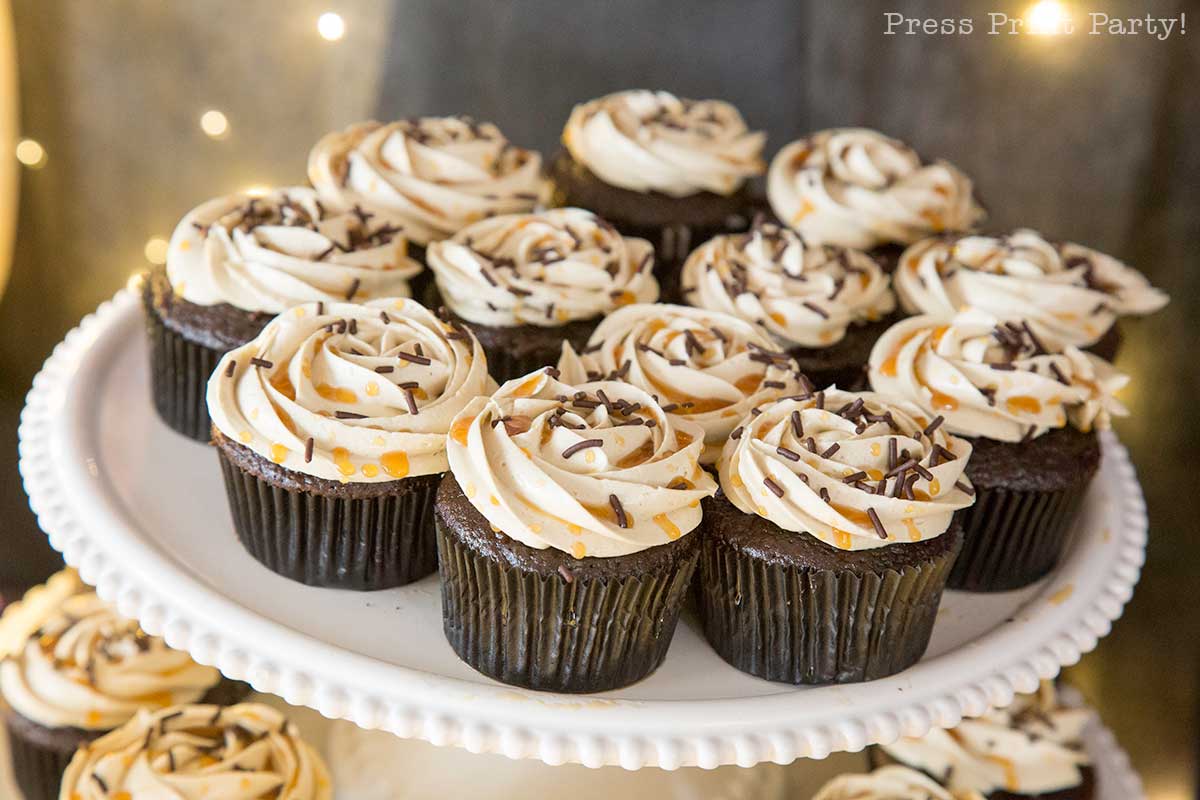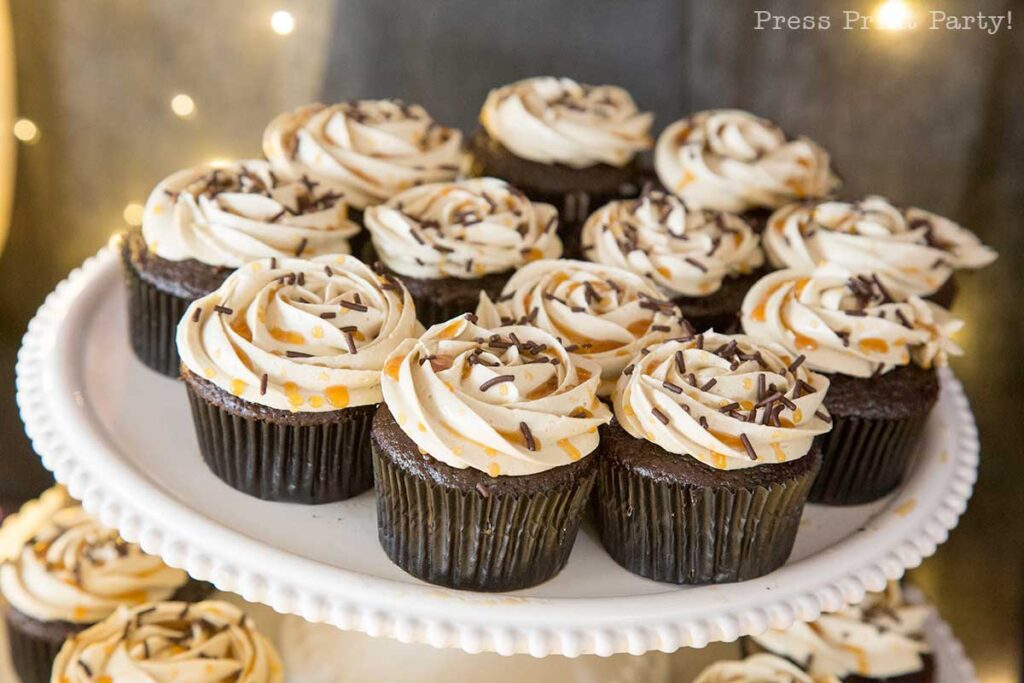 Then I drizzled them with caramel sauce and Dutch chocolate sprinkles. (Honestly, you've never had chocolate sprinkles like these. They're actual chocolate, not any of that waxy foolishness that some companies sell you. And they're delicious!! They come in milk and dark chocolate, both are great but the dark chocolate is our favorite.)
You can find lots more dessert ideas in my 33 Easy party desserts post.
---
Graduation Party Activities
Although I'm big on having activities at a party, I knew that since this was an open house, with guests in and out, scheduled activities like party games wouldn't work. I knew that I needed a self directed activity.
I also wanted my girl to have some great memories about that day and her accomplishment. So made some fun graduation advice cards that we asked each guest to fill out.
The next day we had a great time as she read all the fantastic advice out loud at the dinner table.
I can't recommend this highly enough. Having some kind of prompted advice card at your graduation party is an awesome, fun way to have the people you love, speak into your grad's life. (Sometimes they'll even say things that you tell your kids. It's amazing!)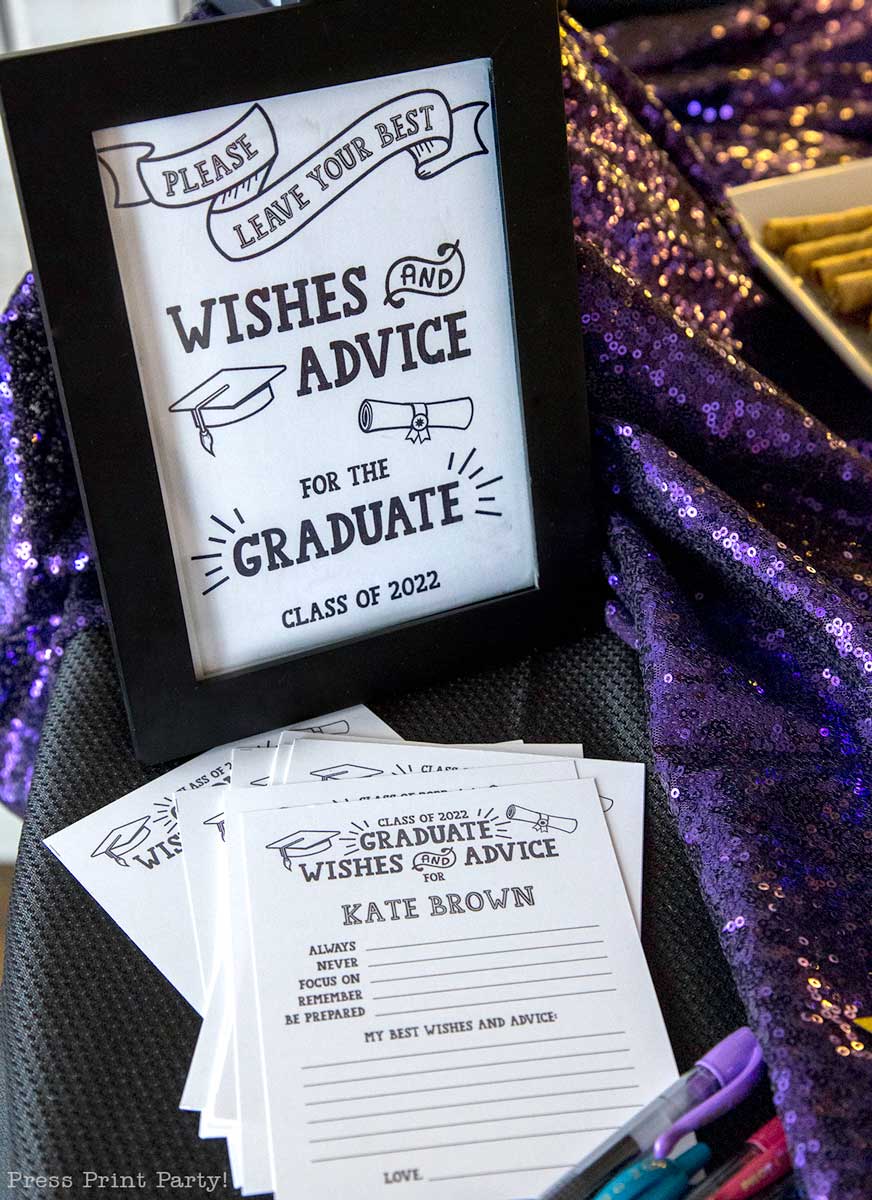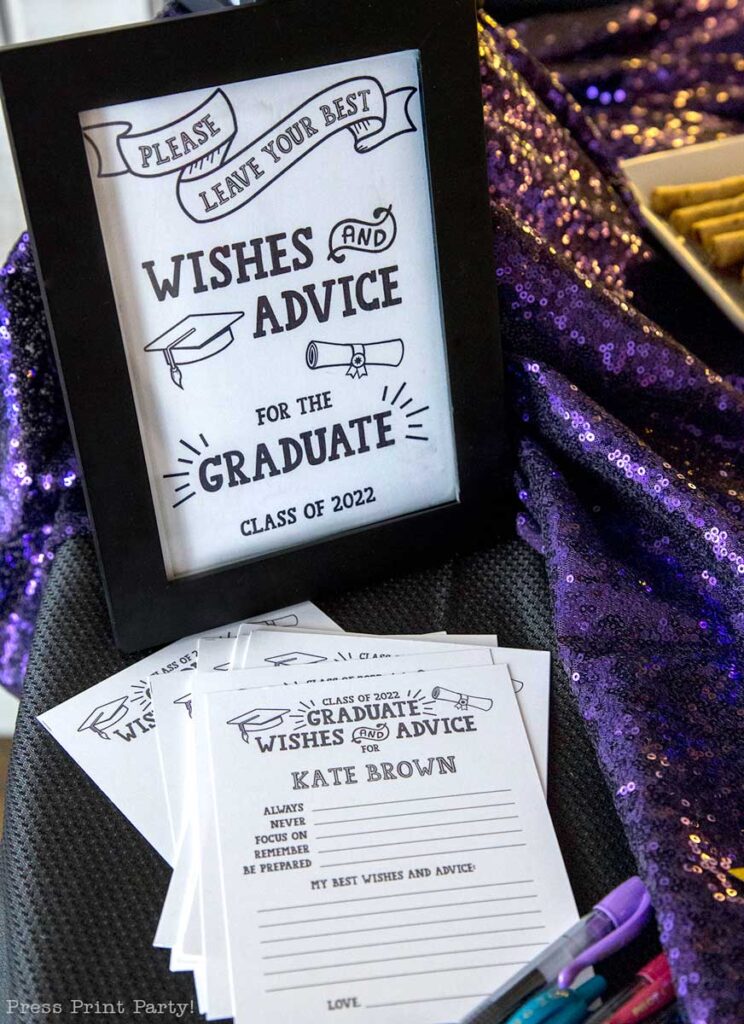 The graduation wishes and advice card is available in my shop. You'll be able to edit the year and the name of your graduate. The download also comes with a sign you can place in a 5″x7″ or an 8″x10″ frame.
Of course, most guests came with their own cards and I needed to have an obvious place for them to drop them off without them having to ask me.
So I printed the word "CARDS" from the printable banner letters at 50% and attached them to a small empty planter box.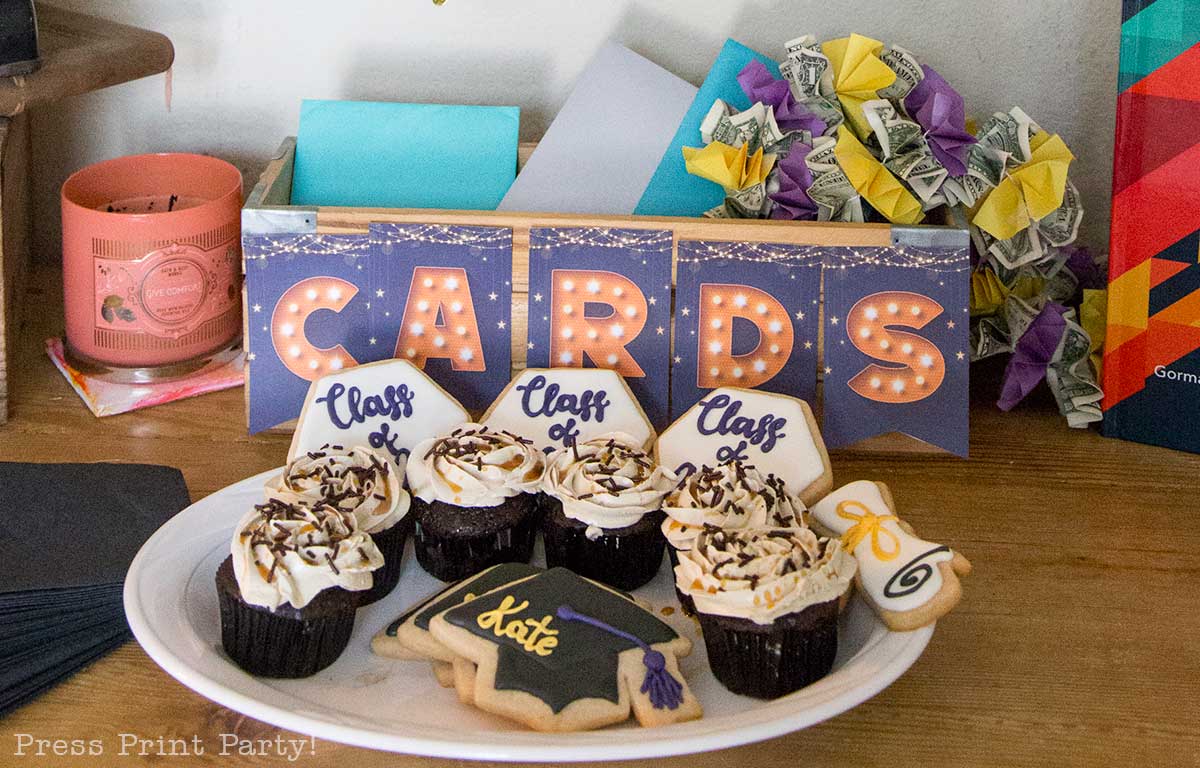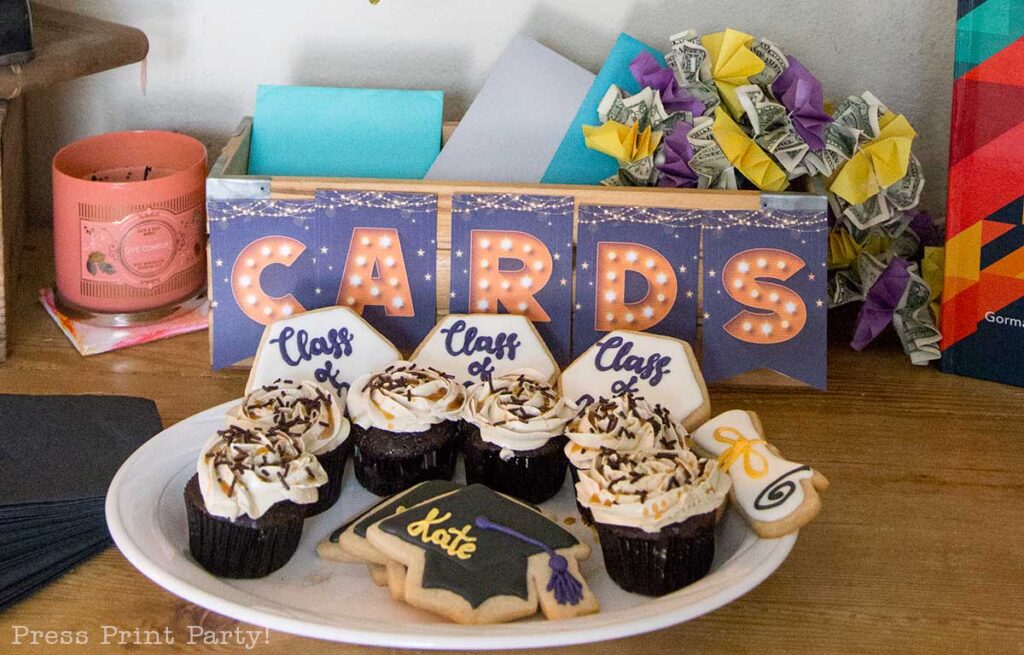 ---
The whole thing was really fairly simple to achieve since I only concentrated on 2 areas and paired down the food choices. I also used a lot of things I already had from other parties which helped keep the price down.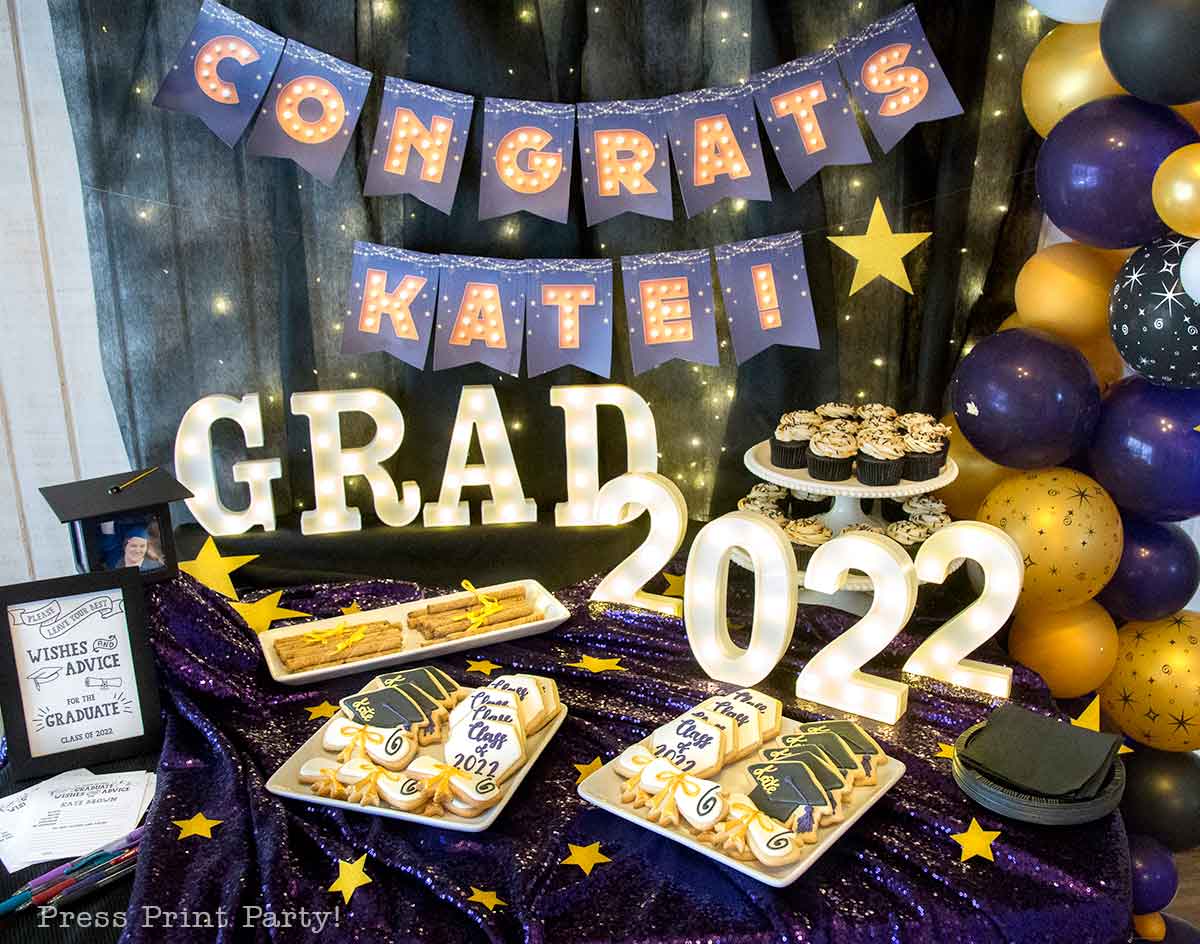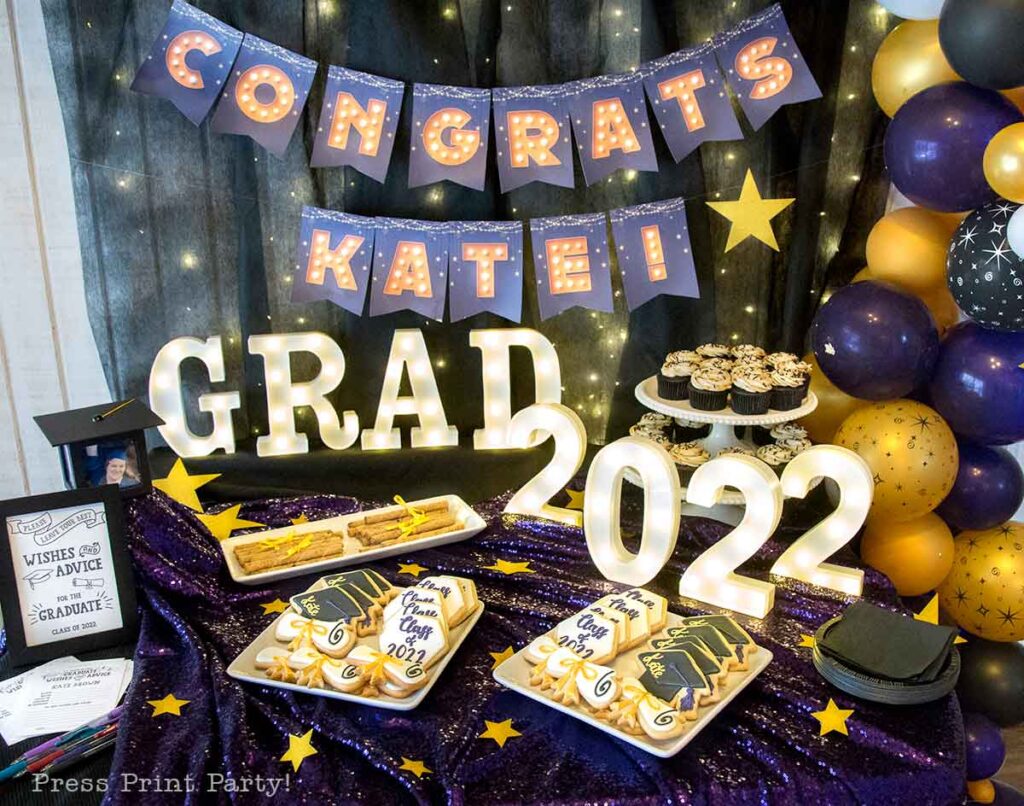 The wishes and advice cards were a hit with the guests as well as the custom cookies which a lot of people took home for a later treat.
My daughter loved every minute of it and had a lot of fun with her friends and family. She was able to relax after a stressful day that even included a Valedictorian speech.
I still can't quite believe that my girl… my kiddo was the Valedictorian. We're very proud!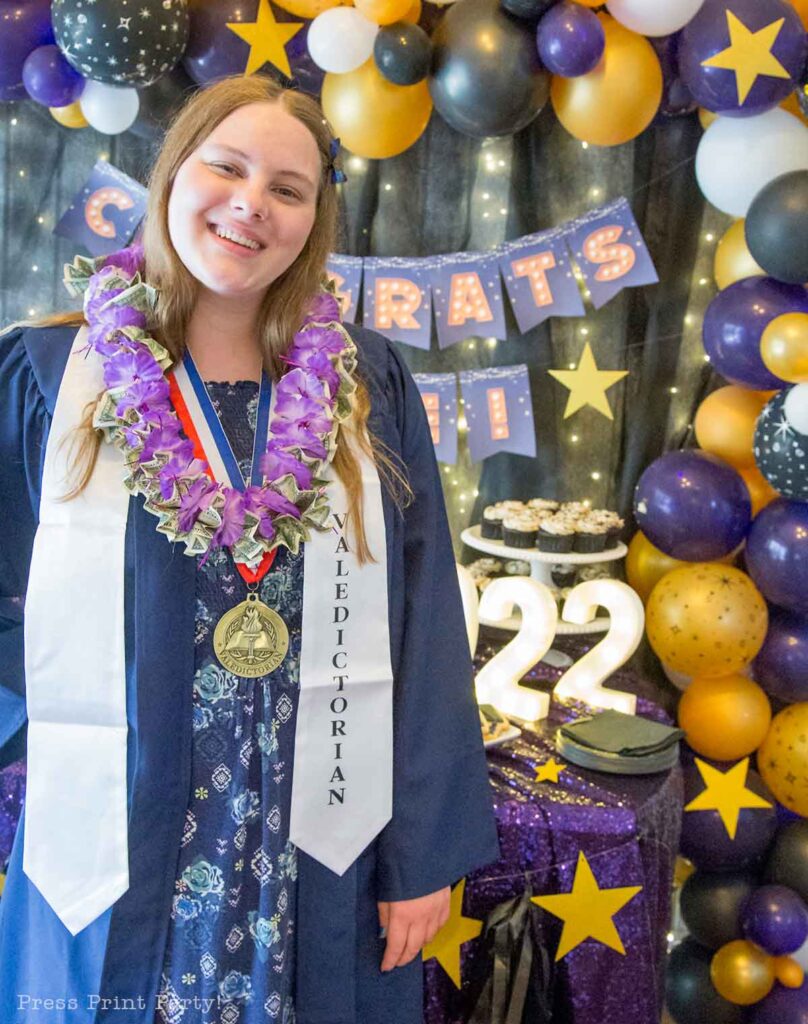 Here she is with the money lei I also made for her (and show you how easy it is to make in a tutorial).
She sure had a memorable party with friends, family, and several school teachers and staff attending.
Don't forget to go check out the tutorial for the big balloon letters, the organic balloon garland tutorial and the post describing how to set up a dessert table like a pro.
---
Don't forget to pin these open house graduation party ideas: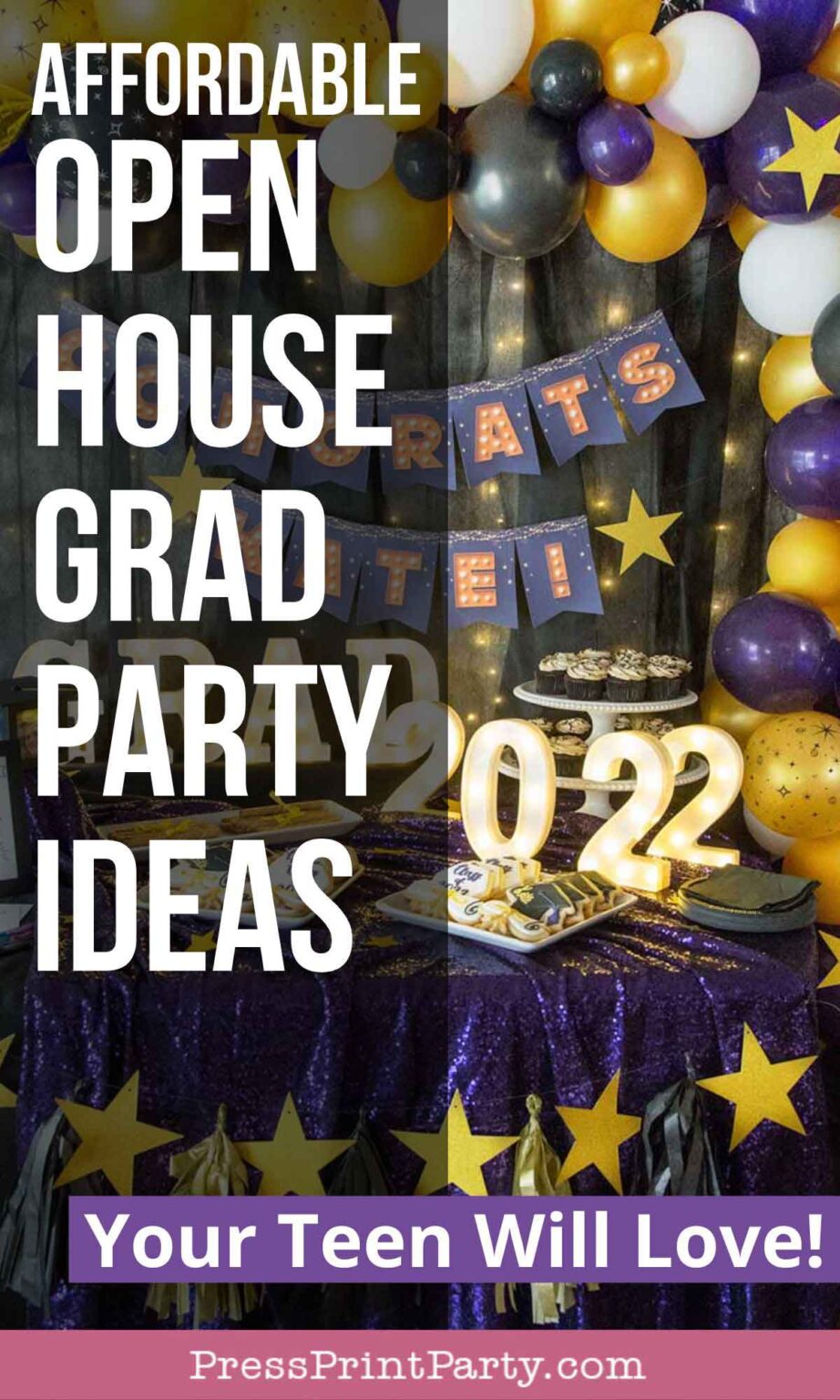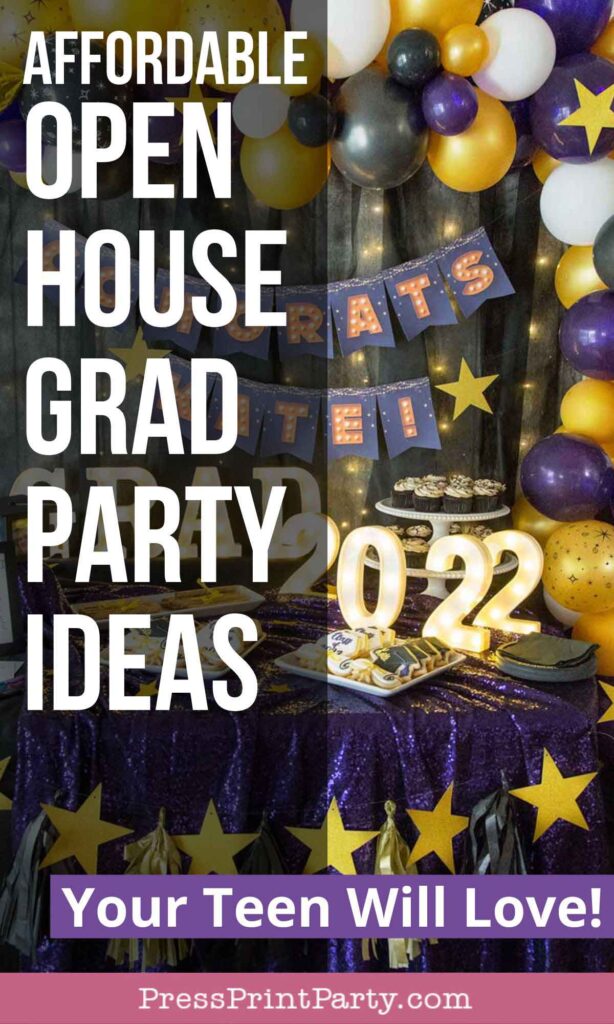 Check out our Graduation printables