Planning a party on a budget can be stressful. But parties are supposed to be fun and a chance to celebrate. So you need a few money-saving tips to make your party affordable and fun.
Fortunately, there are some simple ways to significantly reduce your cost and save loads of money whether you're planning a birthday party on a budget or a baby shower, bridal shower, etc…
Following you'll find some great resources and tips on affordable food ideas and decorating on a budget without reducing your guest list.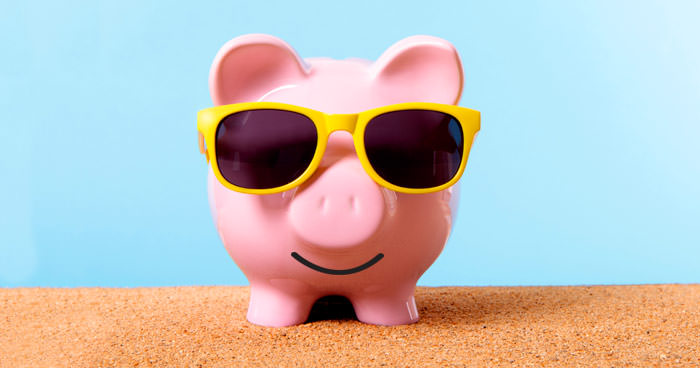 This post contains affiliate links.
---
1- Use a free location for your party
I'll admit that this first tip is no great revelation. It's no secret that having your party at home instead of at a party venue will save you a considerable amount of money.
"Yes", you say, "but a party venue will sometimes do it all for you, they have their own party planner." And if that's what you're looking for, go for it. But keep in mind that your party will be just like everybody else's.
I'm also a cheapskate.
I much prefer spending $200 and time on planning and decorations for a truly unique party for 20 kids than spending $600 at the local laser tag place for an hour's play and no-name pizza for the same 20 kids.
If you truly want a unique party then you need to do it yourself.
My motto is that you can DIY an amazing party at home on a budget. One that will truly be memorable and will bless the person of honor because it was so fun and beautiful. I've done it many times. And my goal is to show you how to do the same.
If your house is too small, a friend's house or local parks are a great alternative. Some homeowners associations also have clubhouses to use for very little cost. That's a great option too. Maybe you have a friend who has access to one of those clubhouses if you don't.
The best places to have a party would be the places you have total control over. It will enable you to truly craft a unique party that your guests will enjoy much more.
Cookie-cutter parties can be fun, but with a little creativity, you can throw a great party on a small budget.
---
2- Save money and your sanity and don't serve lunch (or dinner)
One of the biggest costs of a party is the food. For my kid's birthday parties I've cut that cost significantly by not serving lunch.
The secret is to schedule your parties in between. I schedule my parties from 2 PM to 5 PM, that way neither lunch nor dinner is expected.
For a kid's party, you just need a cake (or cupcakes), 1-2 theme-related treats (cake pops, cookies, cupcakes), and 2-3 store-bought or homemade treats (candies, chocolate, cookies, popcorn, snack mix, fishy crackers).
Serve a punch or lemonade and you're golden.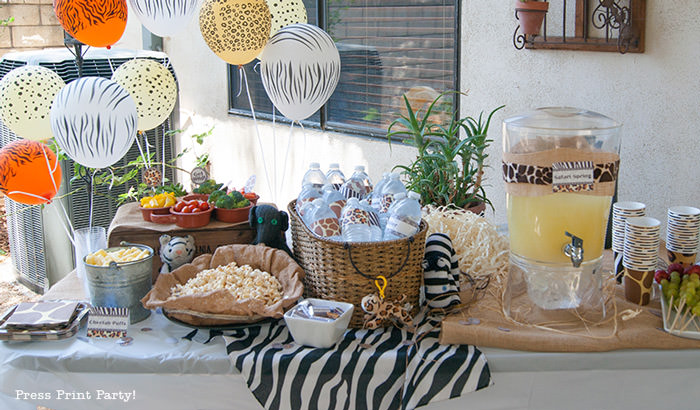 For an adult party, a birthday, a baby shower, or a bridal shower on a tight budget, go with an appetizer and dessert party. Most party guests will want to mingle anyway and usually don't expect a full meal if you schedule it right.
Not only will it save you money, but it will also save you from spending most of the party time in the kitchen or at the BBQ cooking hot dogs.
I have many more tips on how to stay away from expensive foods for your party with plenty of ideas for cheap party foods that don't look cheap.
---
3- Don't buy helium
There is a helium shortage in the U.S. It was expensive before, but it's even more expensive now! Fortunately, there are many options for decorating with air-blown balloons now that are super easy.
The best way to spend the $45 you were going to spend on a helium tank is to buy yourself a double air pump and reusable balloon sticks.
Spend it once, use it for years.
You can buy single balloon sticks and stick them in the ground to create a path or buy bouquet sticks with a base. Those are fantastic for food tables. Best of all, air-blown balloons will stay for at least 3 to 4 days indoors.
You can set up your balloon decor well in advance. No need for last-minute balloon inflation or a trip to the party store to pick up your overpriced helium balloons.
Balloon garlands are also a great way to use air-blown balloons. They're striking and surprisingly easy to make. Yes, EASY TO MAKE. Mostly because they're supposed to look organic and a bit irregular. So there are no mistakes!
Blow up a bunch of balloons in a bunch of different sizes. Tie them 2 by 2 and use fishing line or curling ribbon to string them together.
I love the "Ask me for a Balloon" channel, they have bunches of amazing DIY balloon videos.
But I also made my own basic organic balloon garland tutorial for you.
There are also tons of balloon garland kits that include supporting rods or balloon tape to help you create your balloon masterpiece.
You can also easily make balloon flowers with those little balloon flower clips.
So ditch the helium, learn a new skill, and save a bunch.

---
4- Shop early or hunt for free party on a budget decorations
Shop early.
This has to be one of my biggest tips for saving money on party decorations.
Don't get me wrong. I do LOVE my Amazon Prime membership, and I love that anything I want is only two days away from my doorstep. But sometimes you pay a lot of money for that.
Most party decorations, like balloons, streamers, and the like, come from China, and if you order directly from China you can pay significantly less. The caveat is that it sometimes takes a month or two to get here.
The best website for those super cheap Asian deals is Aliexpress, with eBay being a close second.
Sometimes the price difference between Aliexpress and Amazon will not be worth it. And sometimes it can be AMAZING.
I'm about to order a set of 50 20" LED balloons for a Christmas party for $65 on AliExpress when I can only find sets of 5 18" balloons for $15 on Amazon! That's significant. ($65 vs. $150 for smaller balloons).
And they always have coupons like the one below:
Shopping early can also mean you can take advantage of sales and coupons at your local party store.
I keep a running list of what I may need for my next party, that way when coupons become available I can take advantage of them.
Of course, a local dollar store is always a great option too. I get all my tissue paper from there and make a bunch of tissue paper garlands for pennies.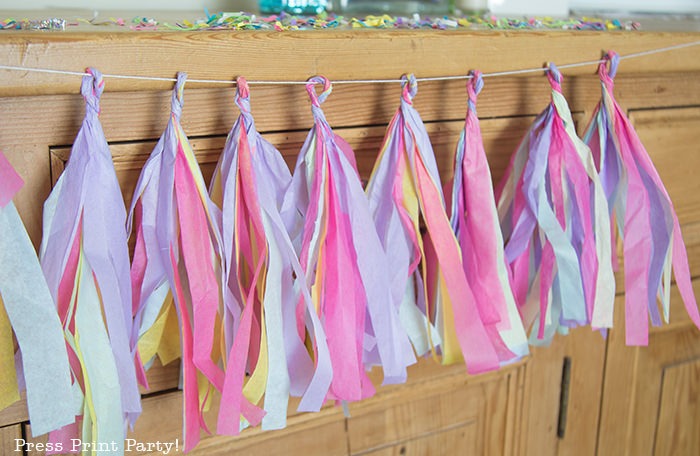 I also get most of my paper goods a the dollar tree. You can always buy solid color plates and stay with the color scheme of your party.
Shop your house (and your friends) for free
A great way to reduce costs is to choose a theme for which you know you already have props at home.
It's like going on a treasure hunt.
For example, I could put together a rustic baby shower in no time at all just by pulling together various decorations from my house and setting them up around the food.
I also have a box of luau decorations in my garage gathered from various parties and church events. I could throw a luau in my sleep.
Well, hang on. That roasting a whole pig for a day or more in a hand dug pit? That would take some effort. But decorating a luau? I could do that in my sleep!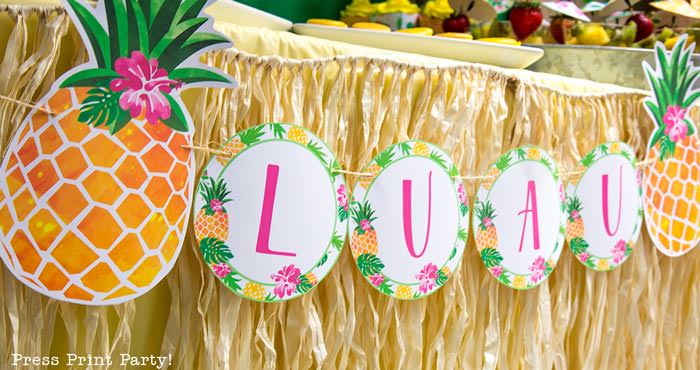 My friend loves bird decorations and could totally throw a "love birds" bridal shower without looking for more than some white balloons.
Walk through your house and catalog what you could use, what themes come to mind?
A shell soap dish from the bathroom can be transformed into a candy dish for a mermaid party.
The globe from your kid's room can be the centerpiece of a travel party.
The cows or chicken decorations in your kitchen would make a great start for a barnyard party (Hmm, speaking to myself here, my kitchen is full of rustic cow stuff).
Think about colors. What colors do you have the most of? Could you create a peach and gray baby shower party?
What colored linens do you already own?
When we had our French party, I put out a call out to my friends for Eiffel tower decorations to borrow. You'd be surprised at how many people have Eiffel towers in their house!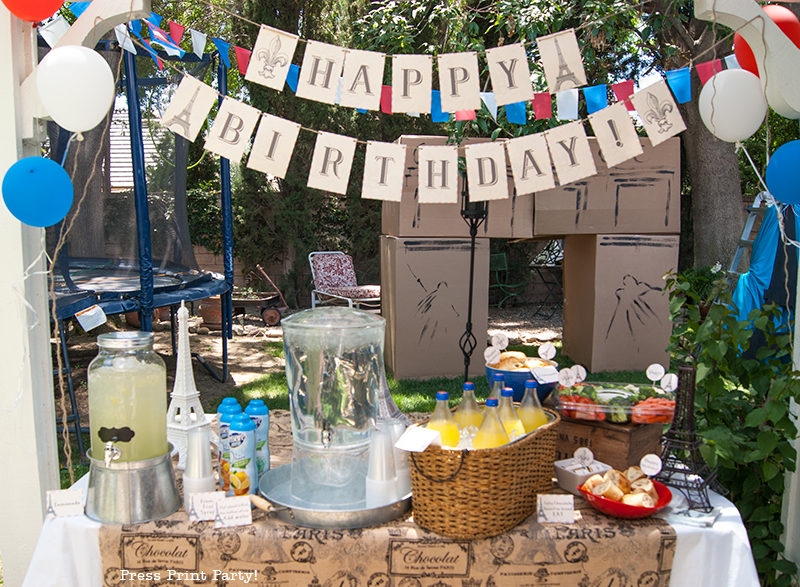 Friends and family members are always willing to let you borrow their stuff. And they're curious to see what magic you can do with it.
---
5- Rock your birthday theme for cheap with a set of party printables
Yes, you've got to have seen this one coming. Right?
But think about it, with a set of party printables in one theme you'll be able to make an invitation, custom banners, food tents, wrap and top cupcakes, wrap water bottles, make favor bags, wrap store-bought mini chocolates, wrap napkins, make party hats, print a party sign, have some party decorations and even send thank you notes all in the same theme.
For cheap!
Think about how much each of these items would cost you at a party store!!
It's a perfect way to decorate on a budget without sacrificing style.
And, you'll have the theme so nailed down that all you need to do is color match the rest of the party decorations.
No more buying expensive paper plates or napkins, even white paper plates from the dollar store will do. Look at how all the unicorn printables make this table pop!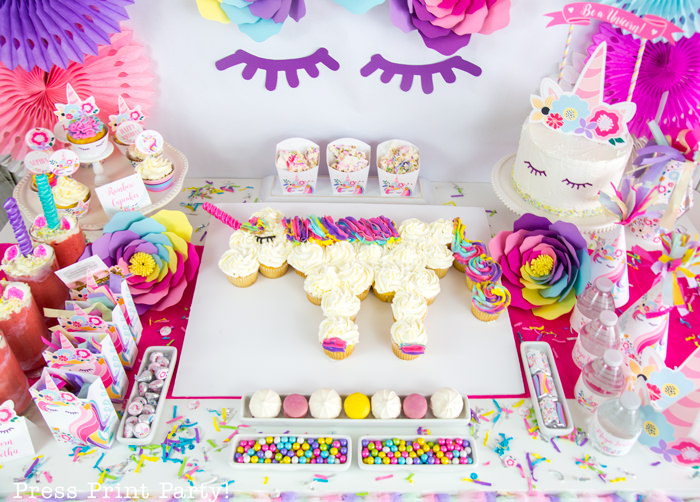 A full set of party printables will help to keep you focused on colors and a theme. If you're not quite convinced go check out the "Are Printables right for you?" post. You'll see all their benefits and how easy they are to use.
---
I hope you liked these money-saving tips and see how planning a party doesn't have to be incredibly expensive.
You can have a fabulous party on a budget where the theme of your party shines.
It will take a little party planning and time to gather or DIY the decorations, but the satisfaction of seeing people marvel at your decorations and enjoy themselves around you is priceless.
For the best party planning tool go check out my Birthday Party Planner. It will guide you throughout the process for the perfect party. I guarantee you'll love it.
For more party on a budget ideas, go check out my party foods money-saving tips, and of course, the 5 things you forgot to clean that might be grossing out your guests.
Tell others about how to party on a budget. Pin it.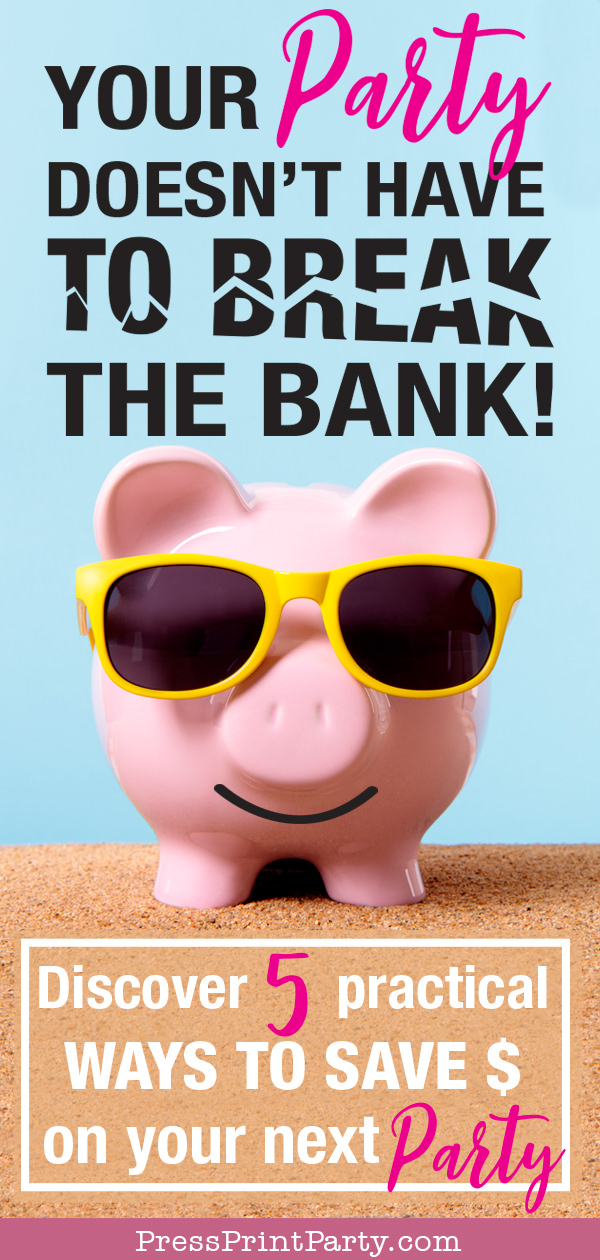 Check out our birthday printables