You love people, you love having them come over, but there's just no way around it. Food for a large crowd is expensive.
You're not an oil tycoon.
You're also not the heir to some crazy, vitamin-infused, neon, glow in the dark, multi-flavored popcorn empire.
Your budget is not unlimited.
What you need is easy party food ideas (and by easy I mean, easy on the budget and does not require a formal culinary education).
The good news is cheap party foods don't need to look cheap.
If you'd like some party on a budget food ideas but don't want to look cheap, I have some great tips for you.
Granted, your food budget will depend greatly on the type of party you are throwing, the number of people, and the kind of people coming to your party. Got picky eaters?
Kids will be cheaper to feed than adults, that's for sure. But sometimes adults are cheaper than teenagers!
Either way, I have some great money-saving ideas that have worked well for me in the past. That way I have money left over for decorations (or maybe a party venue).
So this post is not a list of recipes per se, it's a list of practical tips you can take all the way to the bank. So you end up being a hostess that's just as relaxed as these pineapples.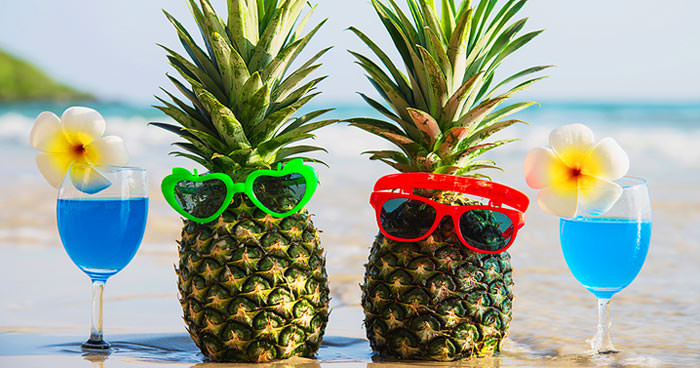 This post may contain affiliate links.
---
Shop the Sales Early
If you have the luxury of time and know what you want to serve, be on the lookout for great sales and coupons at your local grocery stores.
I have a friend who has the astonishing ability to feed 300 people salad, tri-tip, and a side for a dollar a person. And, it's delicious!
Her secret, she says, is buying the meat in bulk when it's on sale, adding a marinade, and freezing it until she needs it. In August, she's already on the lookout for the sales on meat for the church's Christmas dinner.
Anything that can be frozen or has a long shelf life can be purchased in advance.
A little planning goes a long way in offering a decadent meal at a not-even-close-to-decadent price. You don't have to stick to a simple recipe with this money-saving party hack.
---
Don't Serve a Main Meal
Unless you're hosting a dinner party or Thanksgiving or Christmas dinner, you do NOT need to serve a main dish.
I, now, officially and forevermore give you permission to skip it.
No, you don't need tri-tip, pizza, or hamburgers to have a great party, even with adults.
You just don't need to serve a main meal.
My best trick is to plan parties at a specific time of day in between meals, let's say between 2PM and 5PM.
That's really easy for kids parties because they're only looking forward to the cake or another sweet treat anyways.
There's no need to feed the kids expensive, or even cheap pizza, or make hot dogs and hamburgers. It will take time away from the other activities and doesn't accomplish much. They're usually too excited to sit down and eat a full meal anyways.
For adult parties, like a baby shower or bridal shower, you'll need more than sweets. But I have a solution even if your party needs to be during a meal time to achieve a memorable party:
---
Serve only Desserts and Appetizers
Be fancy and call them Hors D'oeuvres. Make them tasty and present them beautifully and they'll be the perfect option for baby and bridal showers or even adult birthday parties.
Guests can mingle around and munch as they go.
Trust me, you can get full on just finger foods and desserts without a proper main course. 
Choose appetizers that are easy and cheap to make. Stay away from cheese and charcuterie boards. Those can get very pricey.
Meatballs, pigs in a blanket, chips and dips, deviled eggs, interestingly cut veggies, little tea sandwiches, are always popular yet inexpensive options. Baked potato bar, anyone?
Presentation is important. Guests will select items based on their eye-appeal. So take some time to arrange your food in a pleasing manner. Put your dip in a hollowed out squash or bell pepper or a loaf of bread. Pull that cool 3 tiered platter out of the garage. Make little individual cups of cut-up veggies or fruit salad.
Here are some additional foods that may be good for your party:
-Potato skins
-Little smokies
-Sweet corn fritters
-Small sandwiches
-Crescent rolls
-Slow cooker dips
-Ice cream
-Mini pizzas
But better yet:
---
Reduce your Party Cost by Asking People to Bring Something
This is a great way to cut back on costs, especially for baby and bridal showers and family reunions. People are always eager to help, especially the family. You'll get more food than you need, a great variety, and a full wallet.
Ask party guests, or each family member or good friend to bring either a dessert or an appetizer. Or if you think you've got one of those categories covered, ask for the other.
It's also the perfect solution for large holiday gatherings like Thanksgiving, Christmas, or the 4th of July. People usually ask what they can bring anyways. Let them help.
---
Prepare a Large Self-Serve Salad
My cabbage salad feeds a crowd and is super inexpensive to make. A whole head of cabbage is less than $1. Salads can be made in bulk and can be elegantly served in little individual cups or plates.
I have loads of salad options for you to choose from that will feed a crowd. These are some of my favorite cheap party food ideas.
---
Stay Away from Expensive Drink Options
You can spend way more than you need to on individual cans of soda.
It's just not worth it.
Kids don't need it and the adults, well, they if they're anything like me, they ought to stay away from sodas even more zealously than the kids.
There's nothing more frustrating to clean up after a party than a dozen or more half full soda cans left lying around.
That's wasted money.
If you really want soda, get some 2-liter bottles and have people pour their own. They'll pour a lot less than grabbing a whole can.
For kids parties, I usually just make my party punch (which has soda in it) and serve water or lemonade. The punch seems like a treat and the water bottles look cute with a printable wrapper from my movie night collection.
Alcohol can also break a budget fast.
It's just expensive.
If you really want an adult beverage but your budget doesn't allow it, consider making sangria. Mix a bottle of red wine, a bottle of fruit juice, and infuse some cut up fruit like oranges and apples into it. It's beautiful and, as far as alcoholic options go, cheap.
For adult parties, I usually serve lemonade, tea, or/and infused water in a big jar.
---
Be Fancy and Serve Infused Water
So very elegant and sooooo very cheap. This is a great party planning hack especially if you have only adults. Kids just don't care about infused water.
The night before the party, fill a big jar with water and drop in cut-up fruit.
Some great options are:
Lemons
Limes
Oranges
Watermelon
Mint
Peaches
Cucumbers (so spa-like!)
Strawberries
Or any combinations thereof. Be creative, you really can't mess up infused water. (No bananas though, that just sounds gross.)
---
Make the Cake Yourself
Specialty cakes can easily run you $150 and up. My friend recently priced one for her birthday and was shocked that the cake she wanted would cost $250.
If you need a cake, make it yourself.
Yes, yourself. You can do this!
Cakes can be made a couple of days in advance and kept in the fridge with no trouble at all.
Try my super moist chocolate cake recipe; it stays moist for a week!
Having a good recipe and good pans that won't stick is the secret to getting results like a baking pro.
Peruse Pinterest or YouTube for decoration ideas for a cake in your theme. You're bound to find a bazillion DIY cakes you can make with step by step instructions.
You'll feel so accomplished!
You can also enlist the help of a more creative friend or even your kids. This can be a great bonding experience and an opportunity to create wonderful memories even if the cake doesn't turn out exactly as you envisioned.
If you don't feel confident, make a practice cake a month ahead.
But if making or decorating a cake is really not your speed I have more options for you:
---
Get a Blank Store-Bought Cake
A simple white or chocolate 2 layer round cake at my local grocery store is around $25. A half sheet cake at Costco is just $19. Get a plain one (I personally find the decorations that they do a bit tacky. Not trying to be cruel, maybe it's just me)
"But it's so plain" you say.
It's so easy to decorate a plain cake and make it look like it comes from a specialty shop. No pipping skills are involved.
First, take it out of its packaging and display it properly on a cake stand.
Then you can top it with:
A printable topper in your theme
Toys (think little dinosaurs, legos, etc.)
Flowers (cut the stems and arrange flowers on your cake)
Sprinkles! (nothing easier than adding sprinkles to a cake to make it look fun)
Candy
Fun candles
Doesn't this cake look amazing with just some flowers and cute painted flamingos from @paintedparade
But really, you don't NEED a cake.
---
Serve Cupcakes Instead
Cupcakes are much easier to make and economical to buy.
If you're making them, it takes very little pipping skill to add some buttercream on top.
They're so easy to wrap and top with a printable topper in your theme.
Stack them up and create a visual layered cake effect.
I'd say, spend the money on a good tall cupcake holder you can use over and over again and not on a specialty cake that will be gone at the end of the day.
This Paris Party didn't need a cake at all. The Eiffel tower cupcake holder was a striking centerpiece.
Cupcakes are also a great filler if you're having a large gathering and can't afford a big cake. Get a smaller cake (see above) and surround it with cupcakes of different flavors. That gives your table more visual appeal and offers your guests more flavor options.
That way, the chocolate AND the vanilla lovers will have their favorite available.
You can also make them look like a cake by putting them together into a cupcake cake like this horse.
---
Serve the Ultimate Filler, Popcorn
Literally, the easiest thing to make and have loads of.
Get yourself a big galvanized tub and fill it with popcorn. No need to buy the super fancy stuff either, microwave popcorn works fine. Set your kids in front of the microwave and let them have at it.
Make sure you provide cups or popcorn boxes so people can serve themselves. Those sweet little hands are cute but they're pretty grubby. You don't 'em in your popcorn.
You can also go a little further and create a popcorn bar with different kinds of popcorns and toppings like nuts and chocolates. It will look super elegant and no-one will care that it didn't cost much.
Look at this elegant yet simple display by Mint Event Designs.
And this rustic popcorn bar from Giggle Living.
---
Make a Snack Mix
A snack mix is another cheap and abundant food that's always a treat and can require minimal effort. Make one with your favorite cereal and toppings. If you don't know where to start, I have many varieties of snack mixes for you, both sweet of savory. Choose one, or both and go for it. 
---
Cut up a Watermelon
Oh yeah, if they're in season watermelon provides a huge bowl of delicious sweet, red goodness for pennies. It's also so refreshing for summer parties.
Bonus: There are a lot of creative ways to cut a watermelon and have it be a major centerpiece of your party. The National Watermelon Board has tons of watermelon carving ideas like this cute hedgehog.
---
Serve Just the Right Amount of Food
So how much food do you need?
For a kids party, all you need is:
a cake or cupcakes,
1-2 specially theme-related treats (themed cookies, cake pops, cupcakes),
2-3 dolled up store-bought or homemade treats (popcorn, cookies, snack mix, mini chocolates, candies, fruit cups),
and something to drink (punch, lemonade, water, fruit juice).
Count a serving of each per kid (or slightly more) and you should be good. Keep in mind that kids usually want to try everything.
For adult parties, caterers calculate about 6-10 appetizers per person for the first hour and 4-6 per person for each hour after that if there is no main meal. For desserts, plan for 2-3 portions per persons. Also, create an even mix of cold and hot appetizers.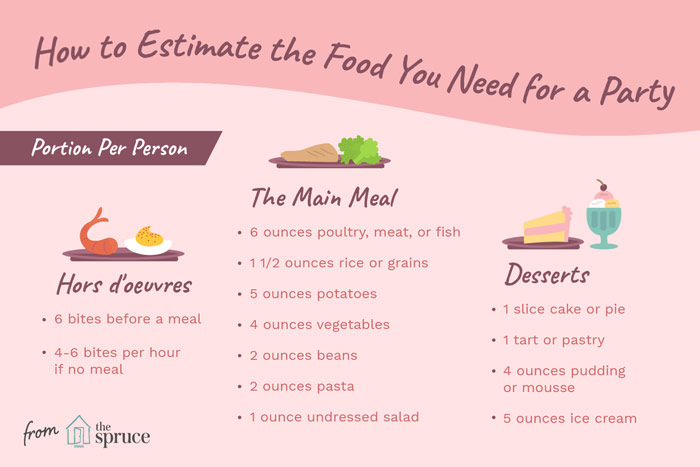 But the last thing you want is to run out of food. That's why having a few things in abundance, like popcorn, snack mix, or a salad, can be helpful.
There is no party "standard". You don't need to drain your bank account to feed a bunch of people.
A little prep, a little thinking, a little creativity, goes a long way in saving you a bunch of money.
But a party is not a party if people don't show up, so learn the secrets to get RSVPs to your event. And if they do show up, you want to make the best impression so check out my 5 things you forgot to clean that may be grossing out your guests. And I also have some great birthday party hacks.
Now that you have some ideas for ways to save money on food, check out my 5 Major Money Saving Tips for Any Party post to learn how to save even more money on your next big event.