Coloring these patriotic coloring pages is a fun way to create holiday decorations with printable banners and posters.
What a great activity for the classroom or quiet time at home.
These printable American flag coloring pages are free for personal, non-commercial use, but I do allow teachers to print them for their classrooms too.
---
Some Fun Facts about the American Flag
I like to add some fun facts about the subject of my coloring pages. You should see the amazing facts about unicorns and dragons I unearthed.
You may just learn something you didn't know about the flag.
The design for the U.S.A flag was adopted on June 14th, 1777 by congress.
Each star represents a state. There are currently 50 white stars on the flag since Hawaii became the 50th state in 1959.
The 13 red and white stripes represent the original 13 colonies.
It is widely believed that the seamstress Betsy Ross sewed the very first flag at the request of George Washington
William Driver, a sailor from Tennessee born in 1803 is credited with nicknaming the American flag "Old Glory."
At first, the colors of the American flag were most likely just inspired by the English flag. But several explanations of the significance of the red, white, and blue colors later surfaced.

Red is said to represent courage, valor, and sacrifice. It is also sometimes said to represent the blood shed by those who have fought to protect our freedom and our country.
Blue is said to represent justice, vigilance, and perseverance.
White is said to represent purity and innocence.

Flag etiquette is a big deal in the United States and there are many rules on how to properly display and fold a flag.
The proper way to retire an old flag is to respectfully burn it. You can also give it to your local American Legion office or Scout troop who will do it for you.
---
10 Coloring Pages of the American Flag
Here are all the different patriotic coloring sheets that you'll find in the American Flag coloring book pdf file.
| | |
| --- | --- |
| | The first American flag coloring page is just a plain flag for you to color and cut out if you want to display it. |
| | |
| --- | --- |
| | Have a "Happy Independence Day" with the outline of the lower 48. |
| | |
| --- | --- |
| | Two flag poles with flags waving in the wind. |
| | |
| --- | --- |
| | Create your own patriotic bunting by printing several of these coloring sheets, cutting out the banners, and hanging them with a string. |
| | |
| --- | --- |
| | No patriotic coloring book would be complete without Uncle Sam. |
| | |
| --- | --- |
| | This lovely bald eagle is being protective of the flag. |
| | |
| --- | --- |
| | Another majestic bald eagle with the U.S.A. flag and firework bursts. |
| | |
| --- | --- |
| | Cute kid celebrating a national holiday. |
| | |
| --- | --- |
| | Happy 4th of July! Color and display as a fun holiday decoration. |
| | |
| --- | --- |
| | This patriotic cat is so cool with his sunglasses and a flag in his mouth. |
---
If you enjoyed these fun American Flags coloring sheets and would like more free printable coloring pages, go check out these posts for more:
Don't forget to pin these free coloring pages of the American flag: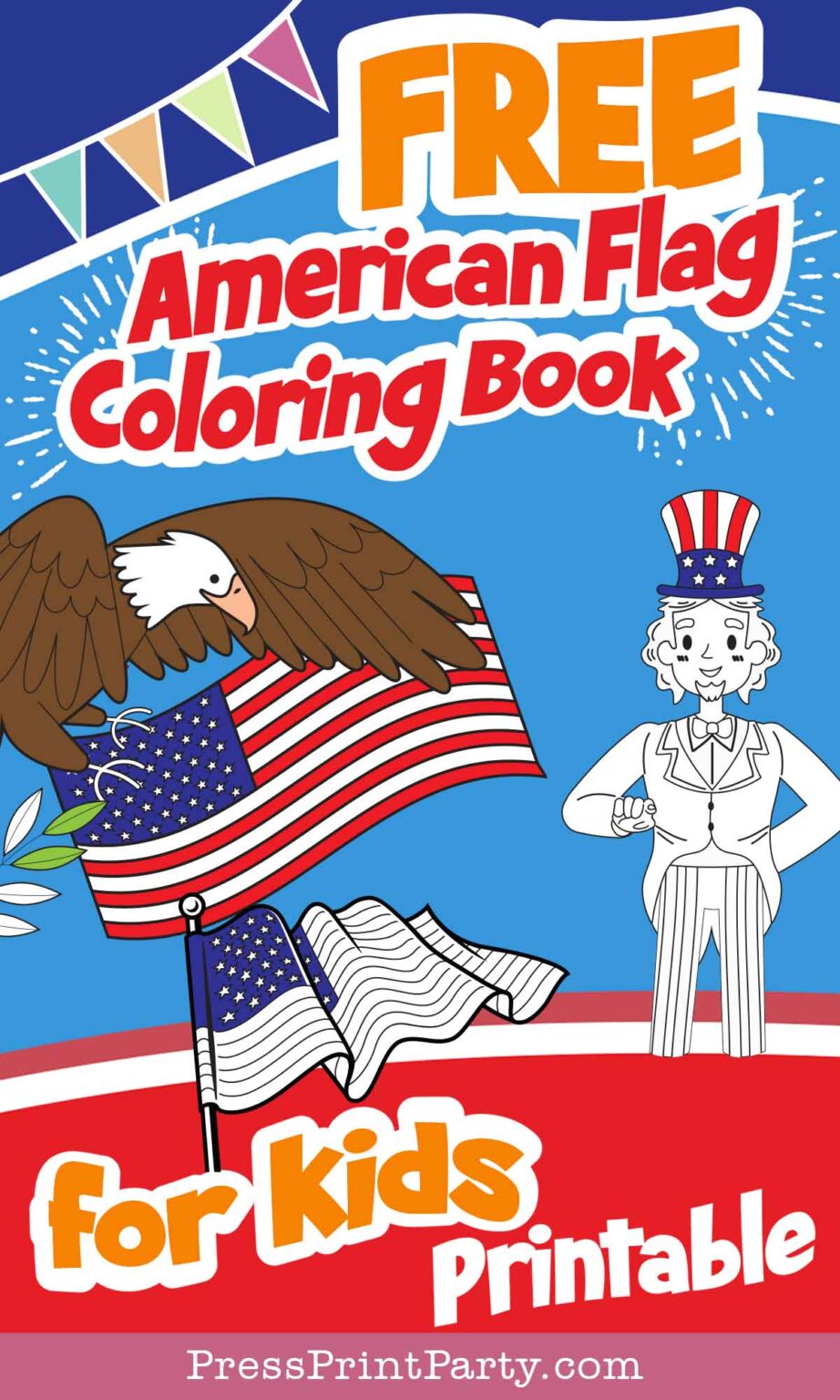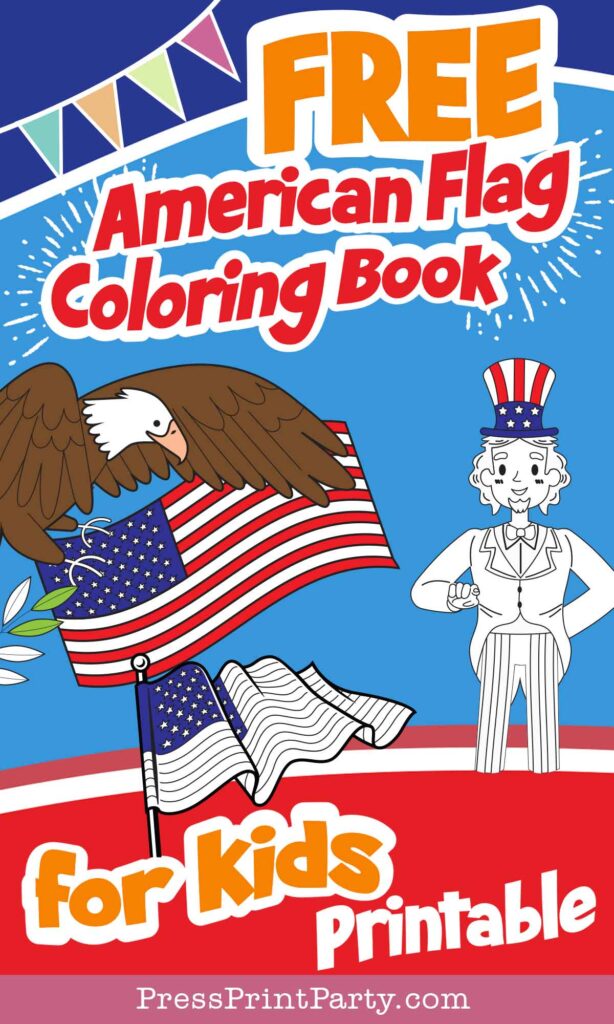 ---
Get Your Freebie:
If you've already subscribed, you can get the password from the bottom of any email I send and go directly to the Free Downloads Library.
Check out our birthday printables