Bring some fun and magic to your Easter morning by creating a bunny trail with these free templates and stencils for printable Easter Bunny footprints.
If you want to fill your kids with excitement and make it look like the Easter Bunny is near, a set of little bunny tracks will do the trick.
Here you'll be able to choose between several sets of footprints, ranging from tiny and accurate to big and cartoony, more the way you'd imagine a giant Easter bunny would walk.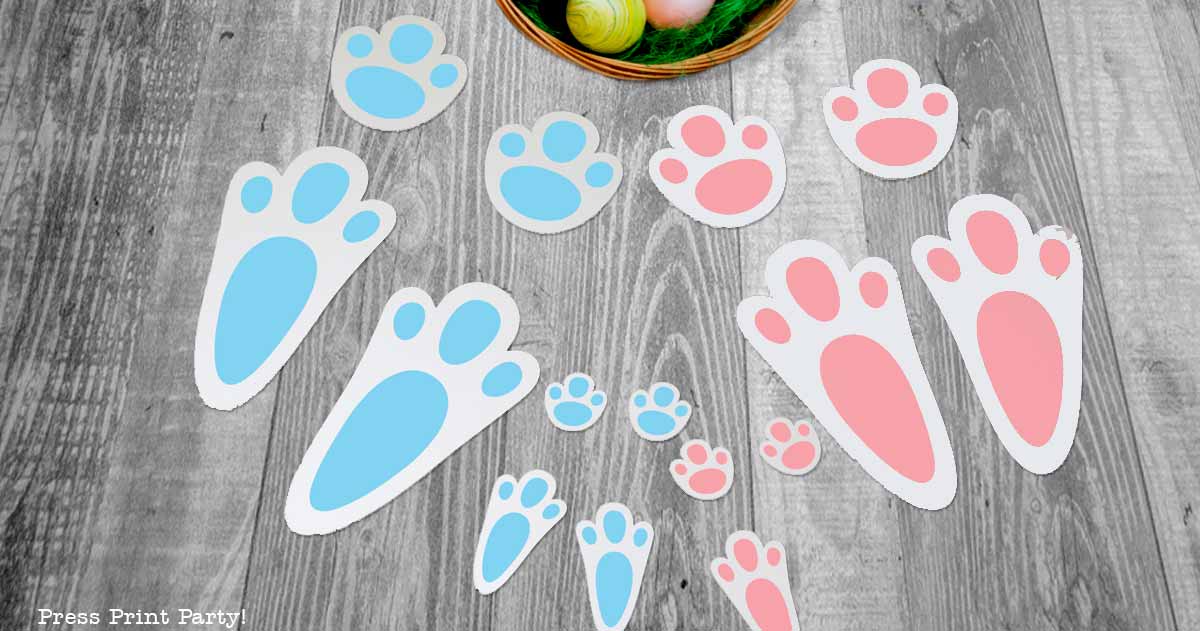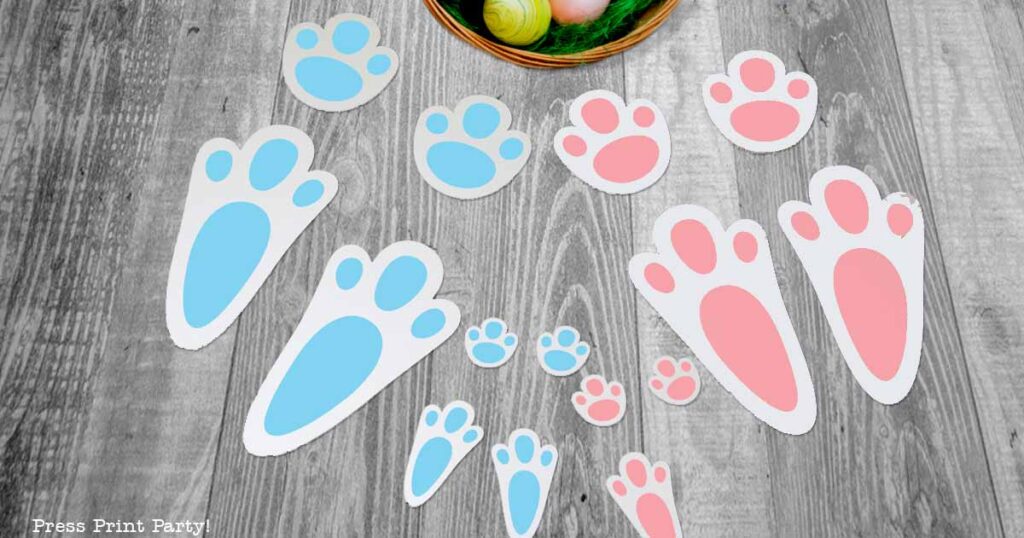 This post may contain affiliate links.
When they were young, my kids thought that going on an Easter egg hunt on Easter morning was the best thing in the world. Even though we made them wait until after church.
They would have loved to wake up to bunny tracks all over the floor leading from the front door to the Easter baskets. And it could become a fun, new tradition in your home.
Whether the tracks take them to a backyard covered with colorful, glitter-sprinkled Easter eggs, or to a basket full of Easter treats, they will be thrilled.
When I decided to create printable bunny tracks, I imagined that the big, round, bubble-shaped tracks that I'd seen in cartoons might be real.
Boy, was I wrong.
Bunny tracks, especially when they're hopping, are very different than you think.
So before we ask "How to make Easter Bunny footprints?", maybe we should ask:
What do Real Bunny Tracks Actually Look Like?
I know what dog or cat tracks look like and I thought that bunny tracks were probably about the same.
Nope.
Rabbits' hind feet are long and almost oval shaped while their front feet are small and round. That alone means that the cartoon idea of bunny tracks is incorrect.
I know, this is what you're thinking cute Easter bunny footprints look like: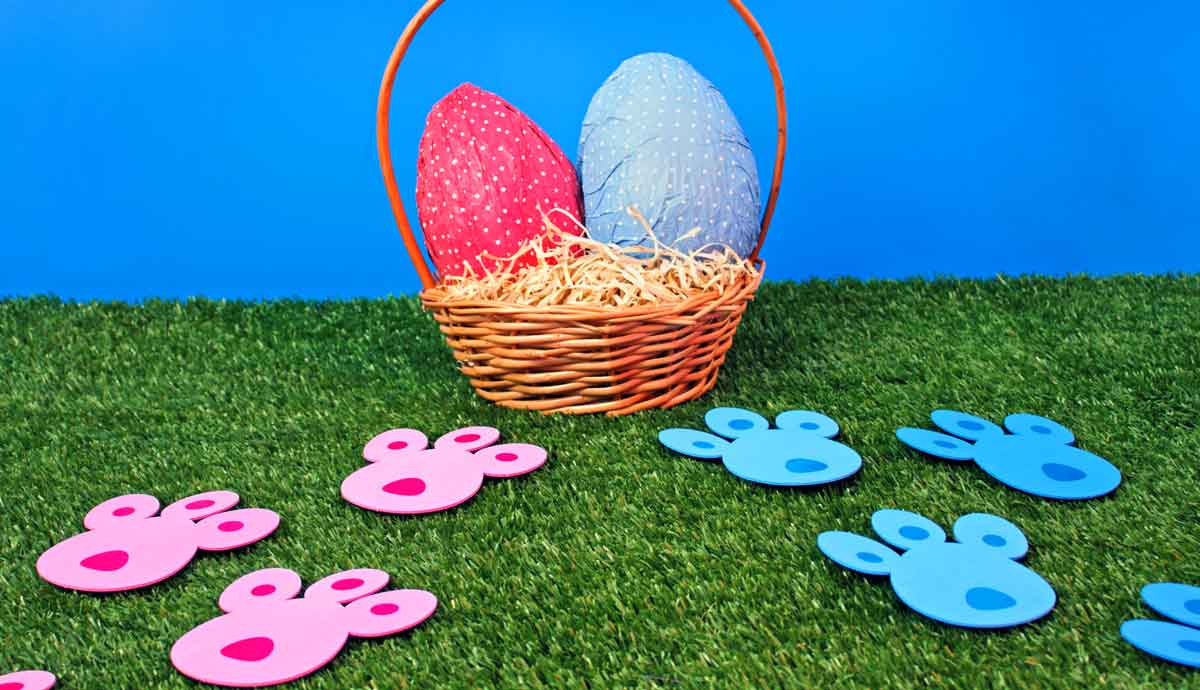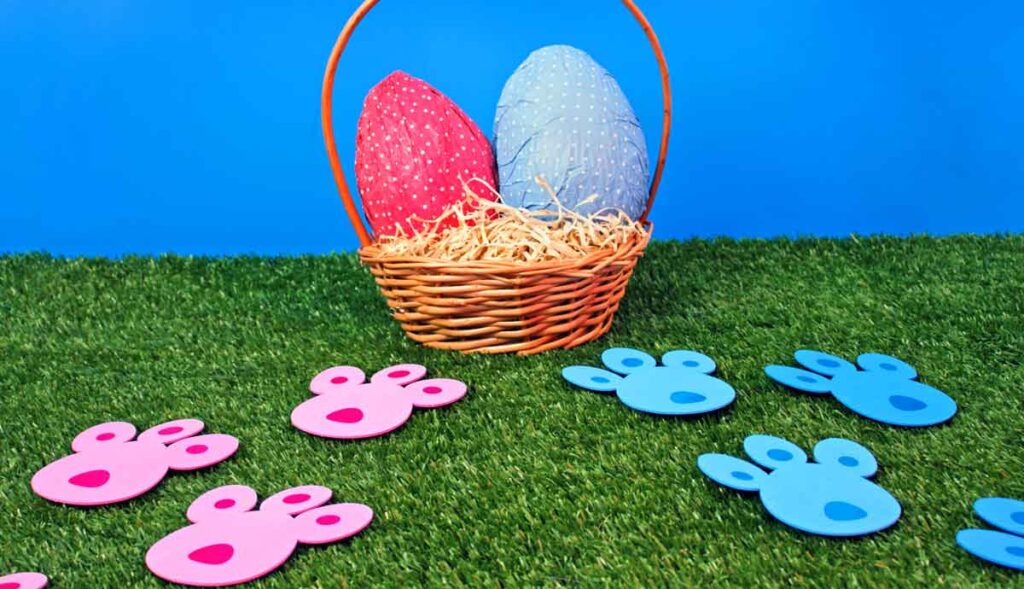 But real bunny tracks actually look more like this: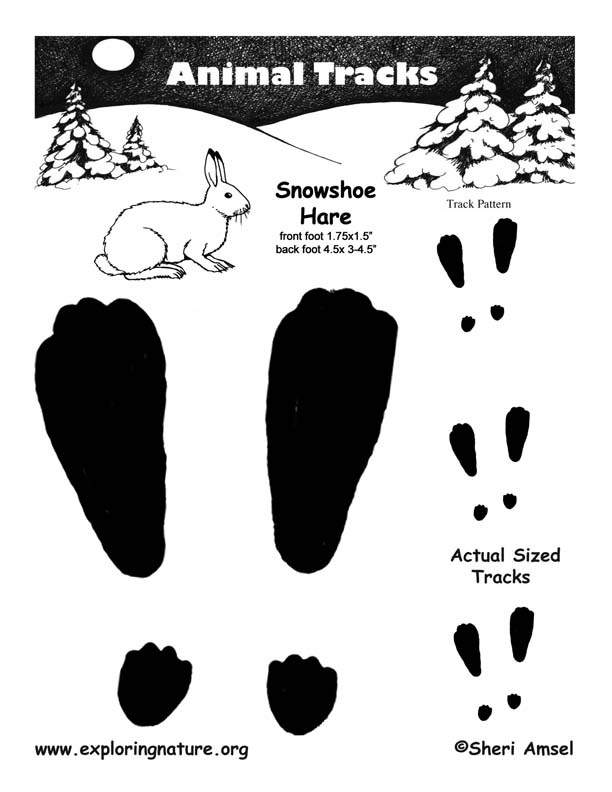 It really surprised me to see that in a single set of tracks, the rear feet are ahead of the front feet. Look at these tracks in the snow.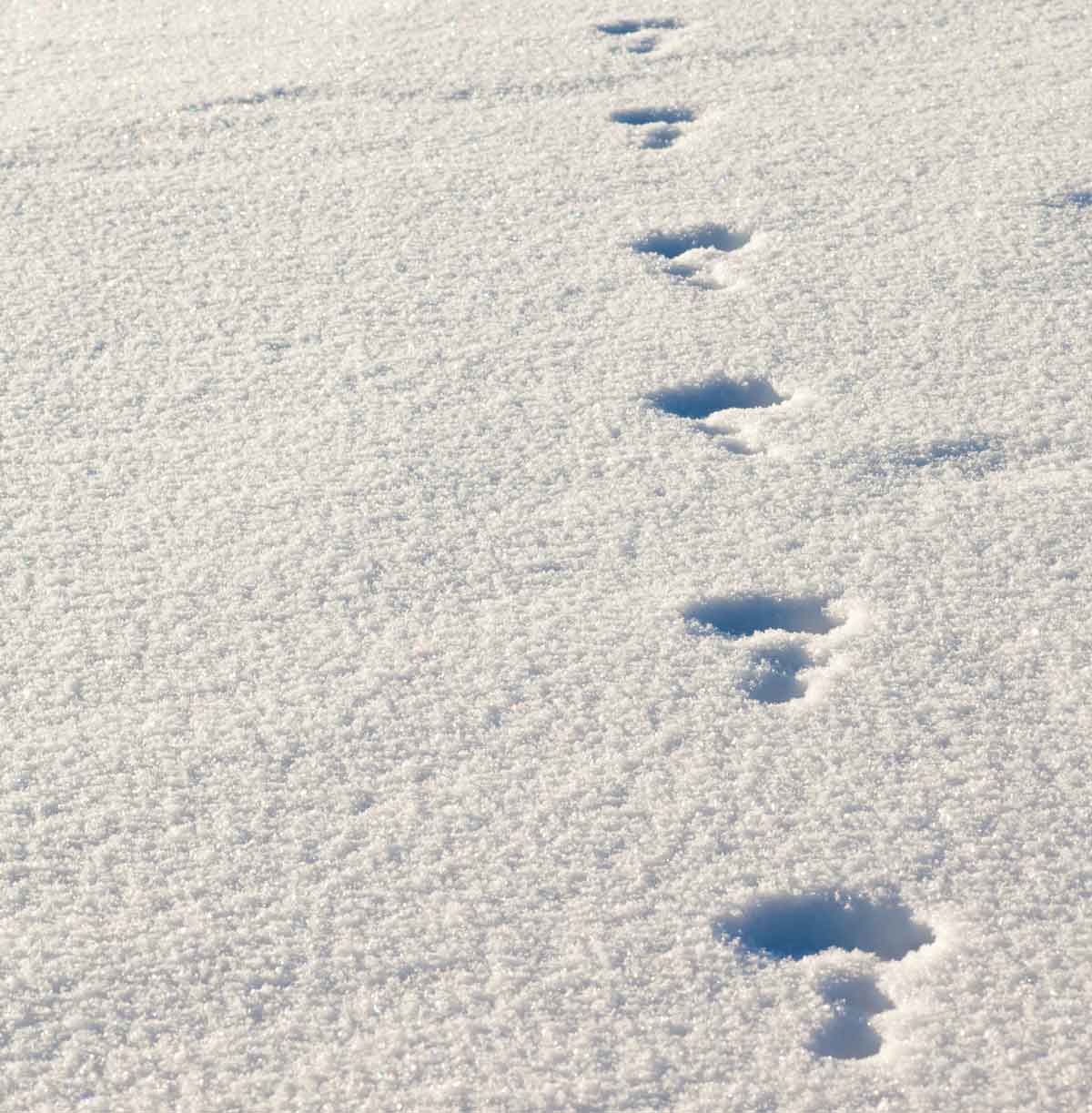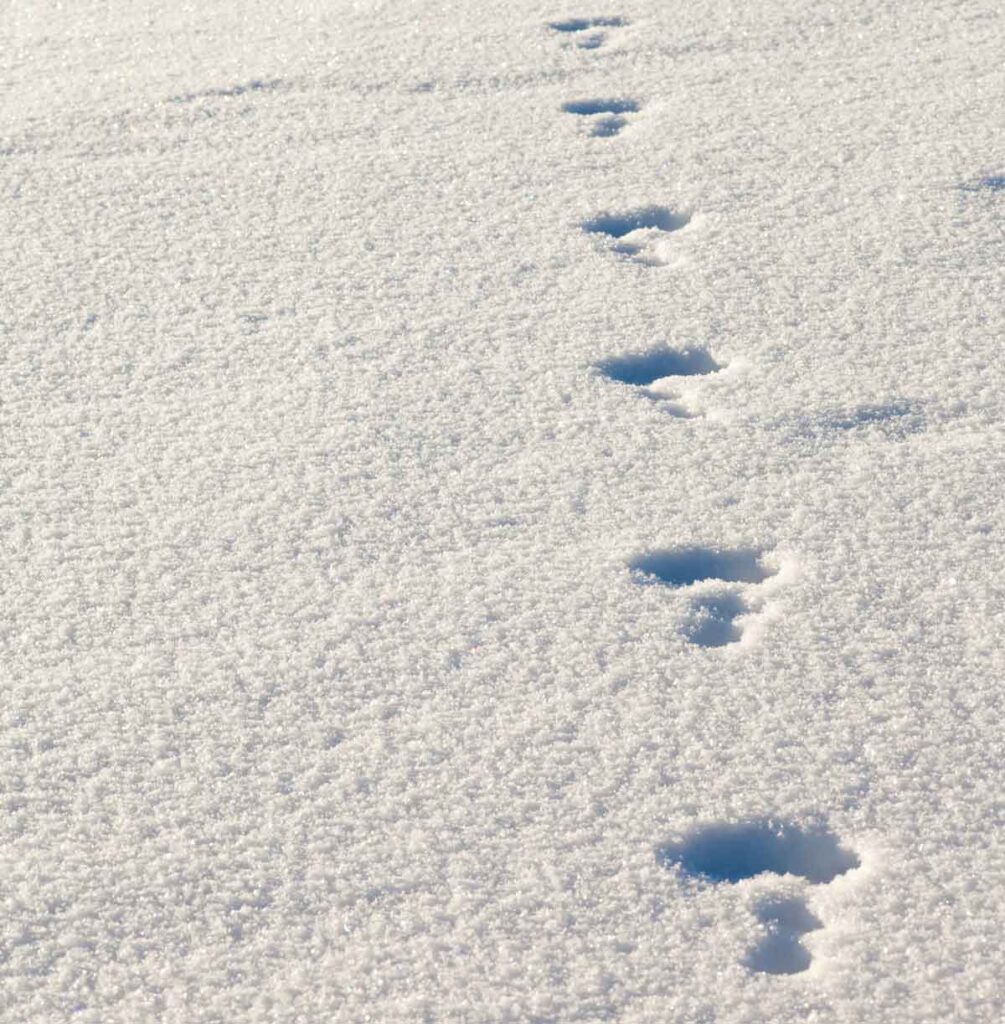 The reason for that is that when they hop, bunnies throw their back legs forward on either side of their front legs.
Look where all the paws are positioned on the photo of this rabbit caught mid-jump. My husband, the Nature show nerd, says it's similar to the way that cheetahs run.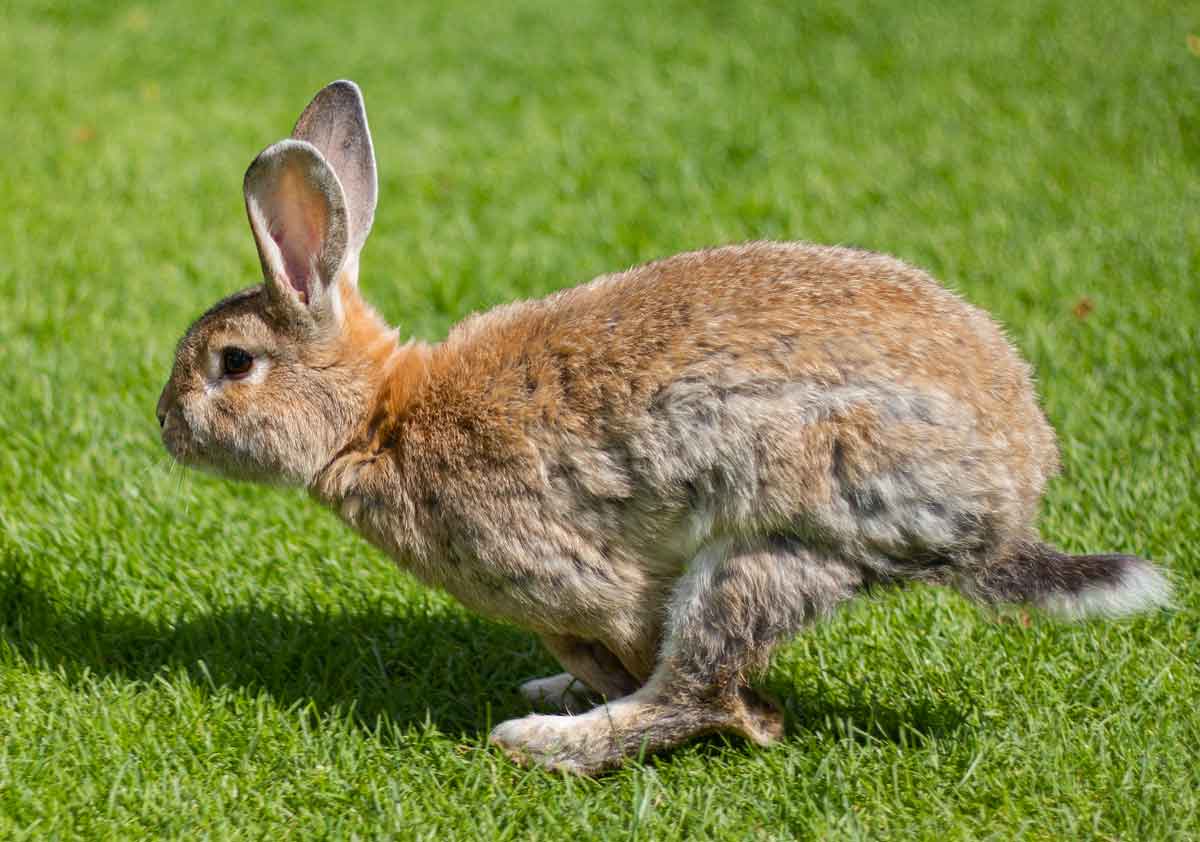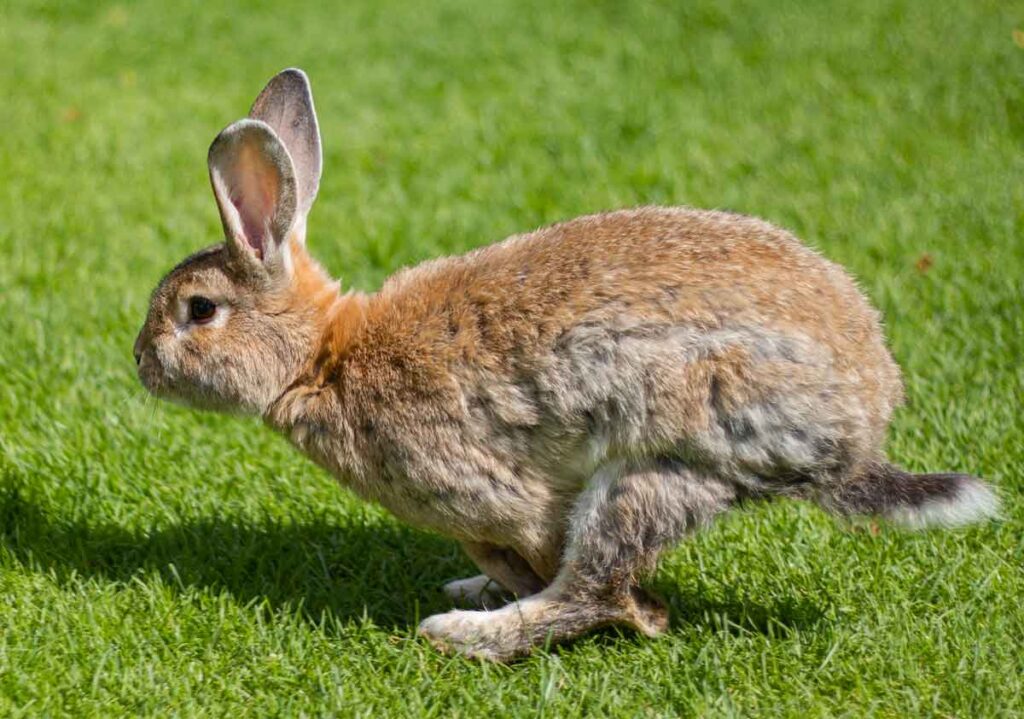 As I researched, I found this short video that explains what cottontail rabbit tracks look like in the snow and why.
More Accurate DIY Easter Bunny Tracks
So now that I knew all this, the homeschooling mom in me just couldn't make another set of inaccurate, fantasy little bunny tracks.
If anything, when your kids ask why the tracks look like they're backwards it can be a great teaching moment.
And if you don't care, I also made the tracks with the rear legs towards the rear, showing the bunny at rest.
You can use either tracks or paws in any way you choose.
Here the bunny tracks lead to the empty basket the kiddos can use for the Easter egg hunt.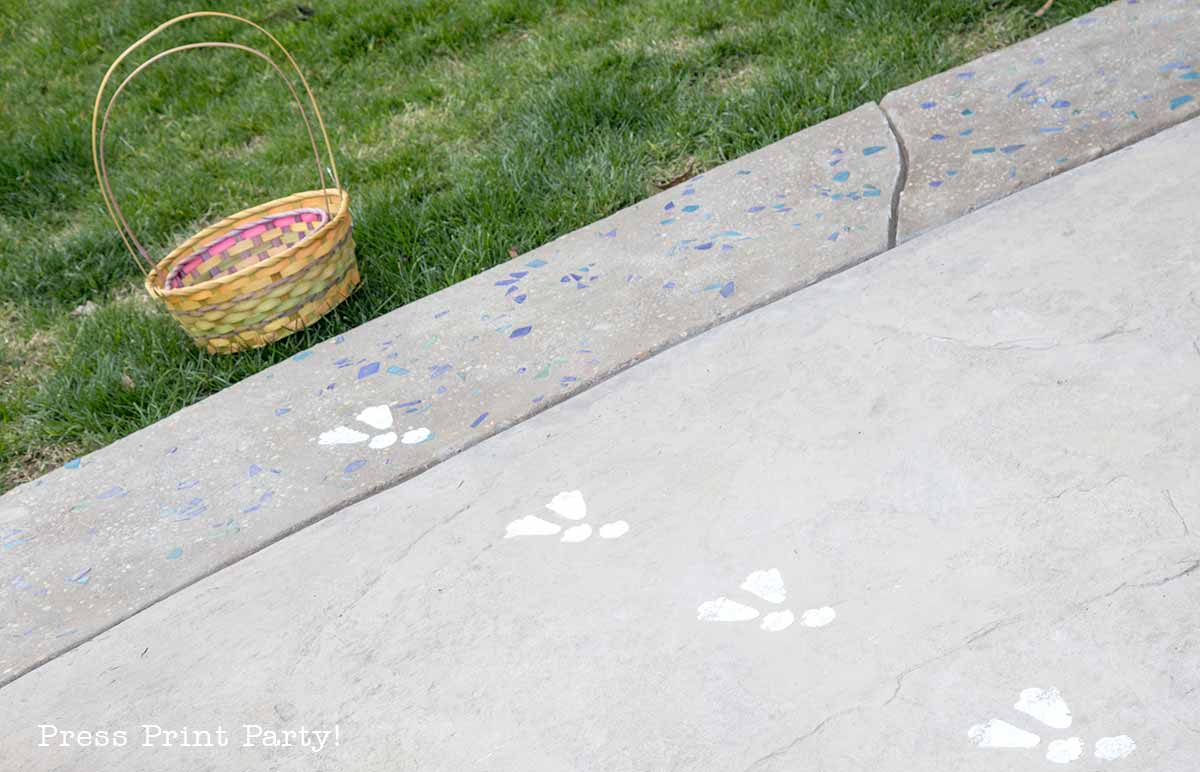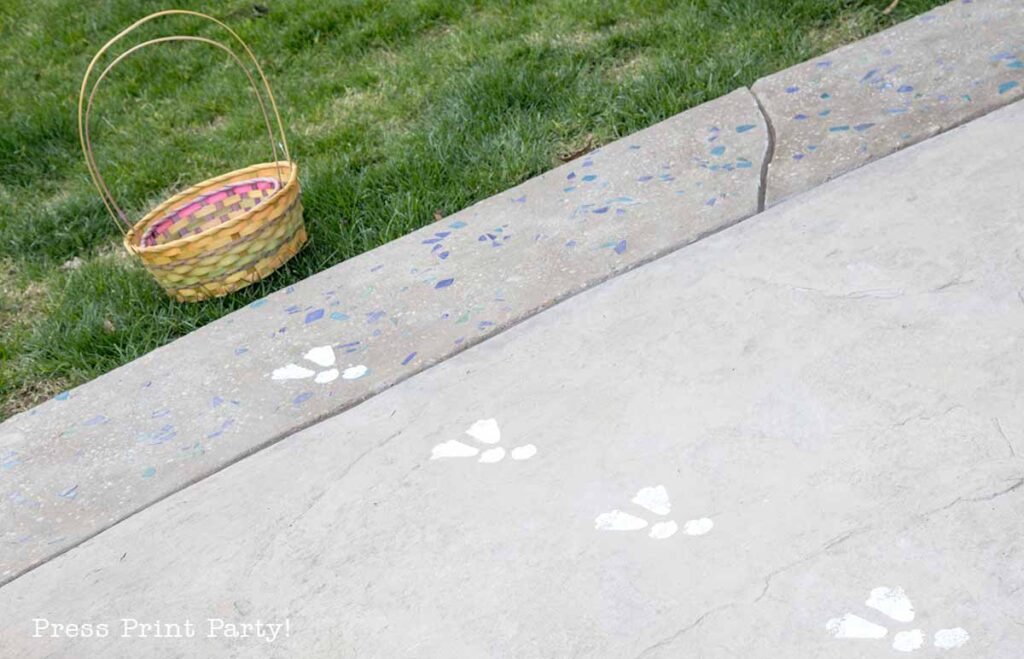 How to use the Printable Easter Bunny Footprints Templates
You'll find 4 sets of printable bunny prints in the PDF file instant download in the free library. Each set of Easter templates is available with paw prints in pink or blue pads (Because why not? They're supposed to be magical footprints after all)
A set of small front paws
A set of small back paws
A set of big front paws
A set of big back paws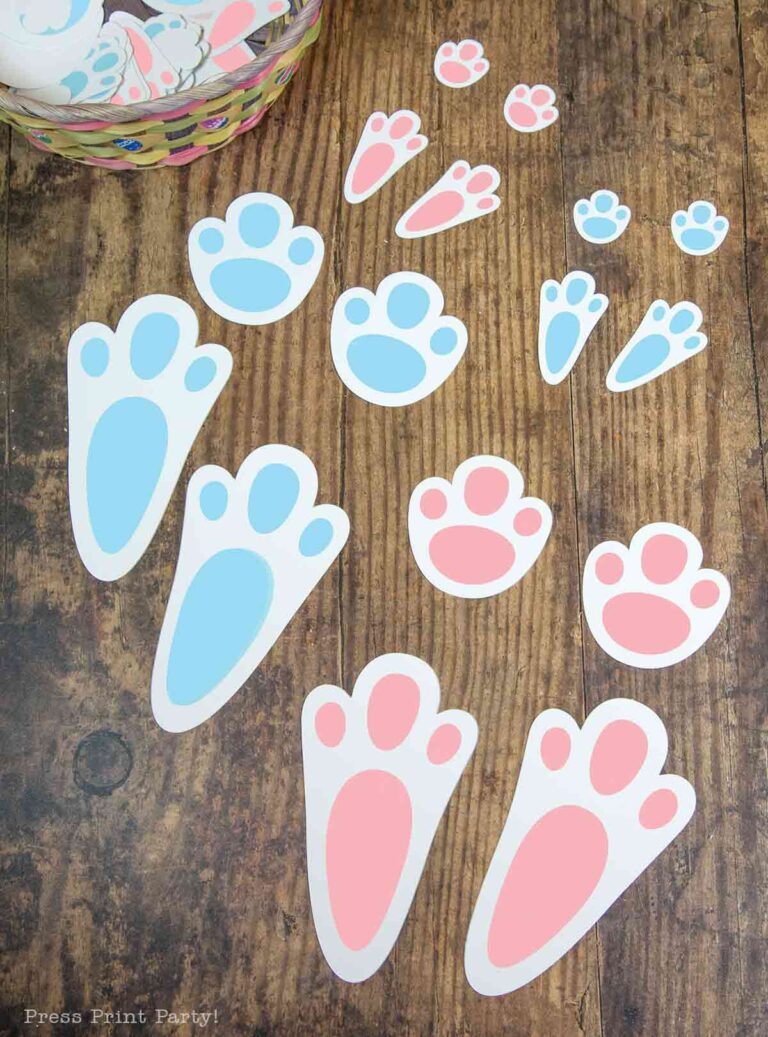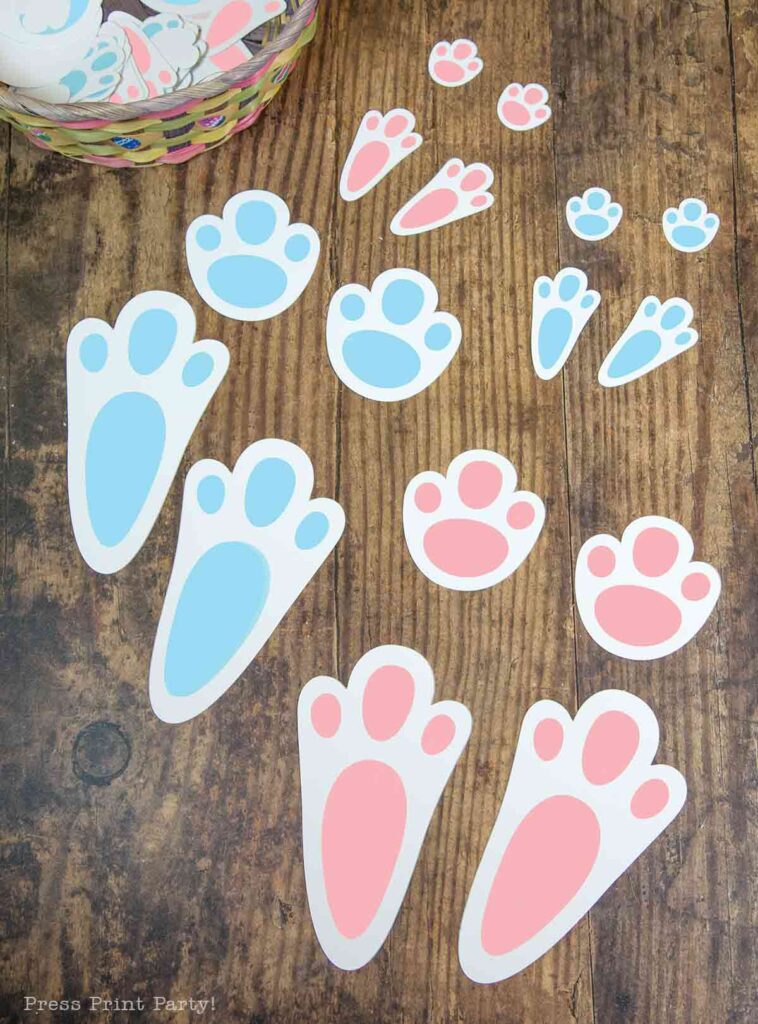 The idea is to print the templates on white cardstock, cut them out with scissors, and lay them out on the floor or grass.
You could also print them on full-sized sticker paper or use glue dots to stick them to the floor.
I also provide each paw separately as an SVG file for you to use on your cutting machine if you wish. Sorry but I don't provide guidance on how to print and cut on your machine, they're all different.
Lay the tracks out in any way you choose.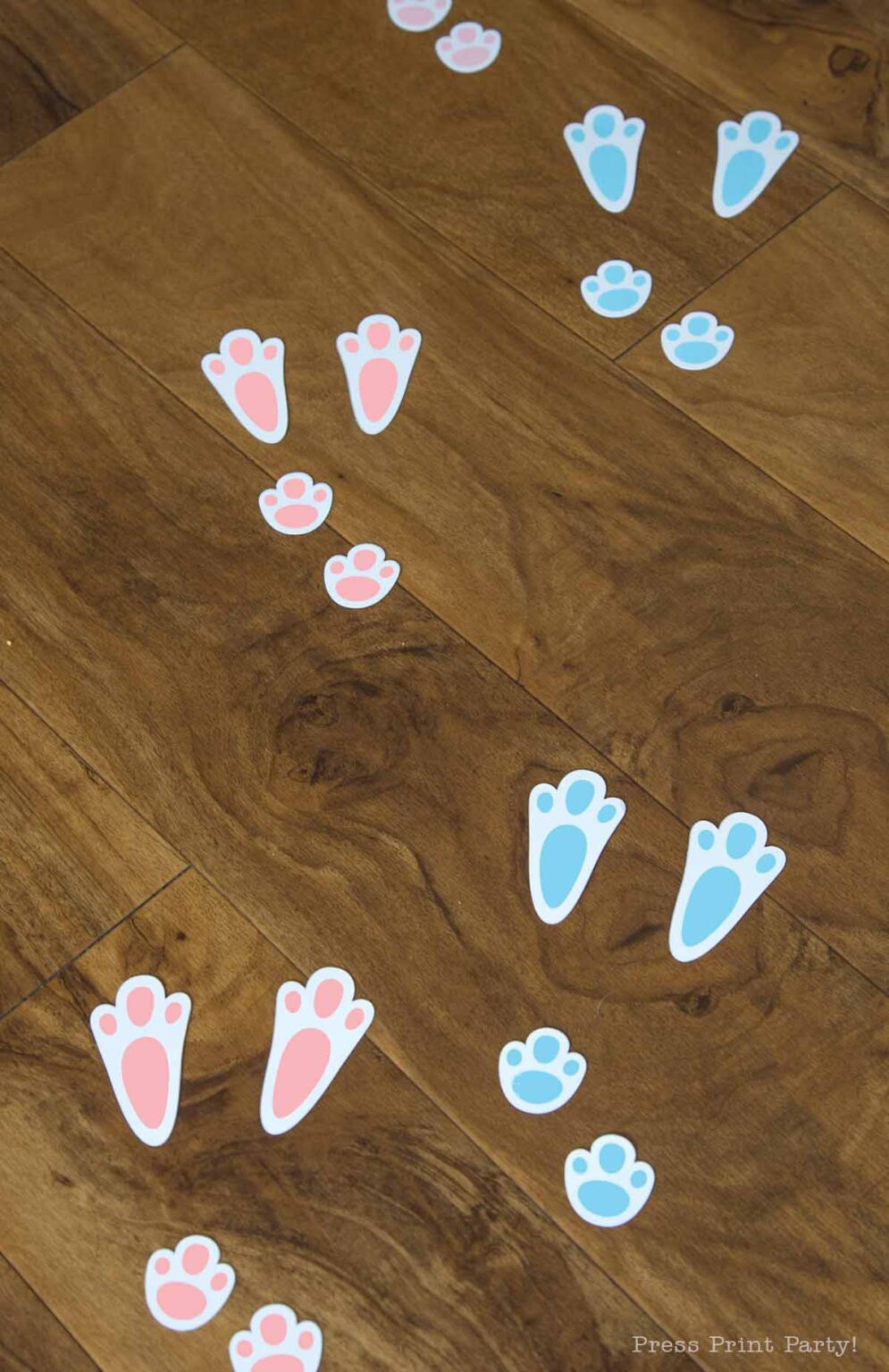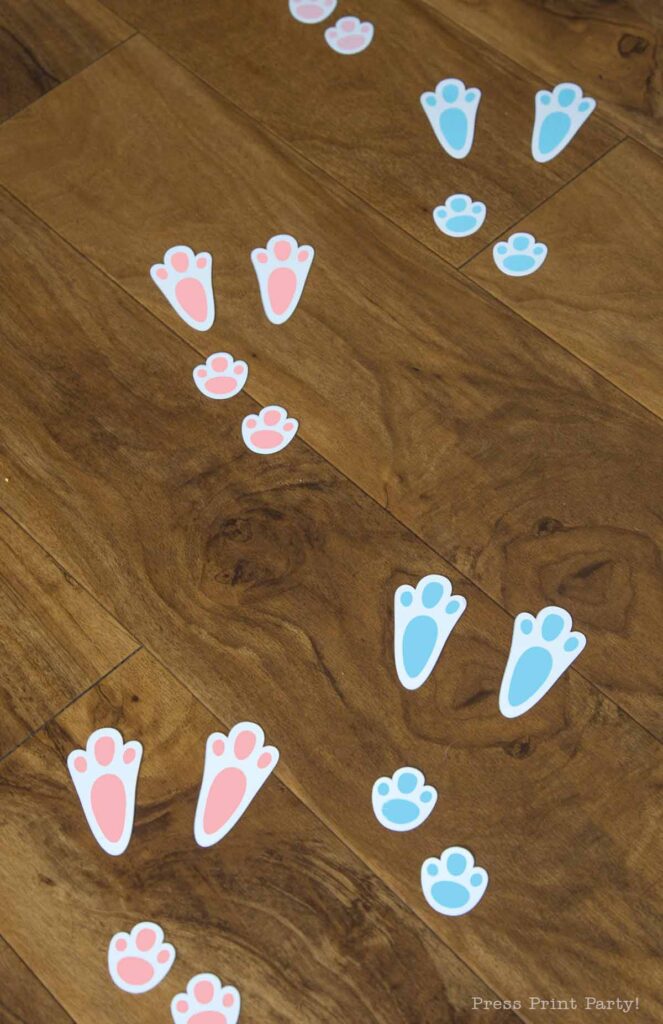 How to use the Easter Bunny Footprint Stencils
I also provide stencils for you to use with whatever white powder you have nearby. I used flour but baby powder or tempera paint and a sponge would work great too.
Just print the free printable template on cardstock and cut out the black paws to use as a stencil.
I also provide an SVG digital file of the stencils for you to cut with your cutting machine if you wish.
In these photos, I used a sifter to give the flour a nice even dusting.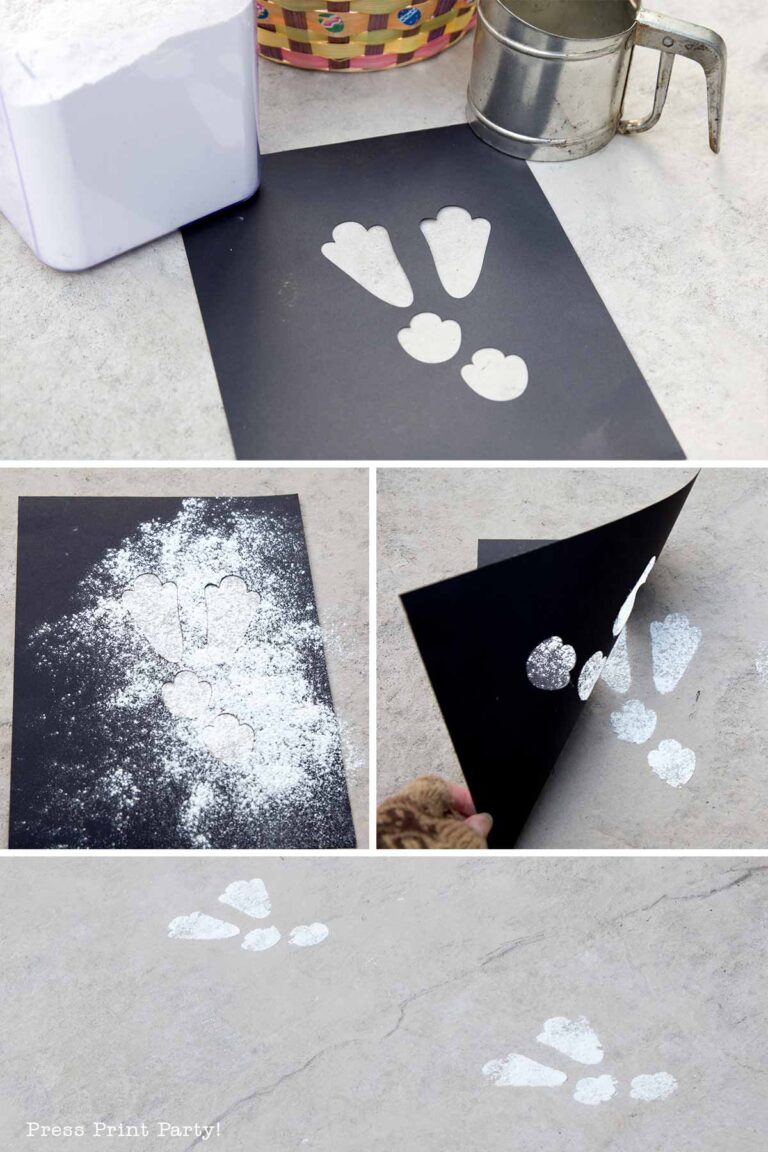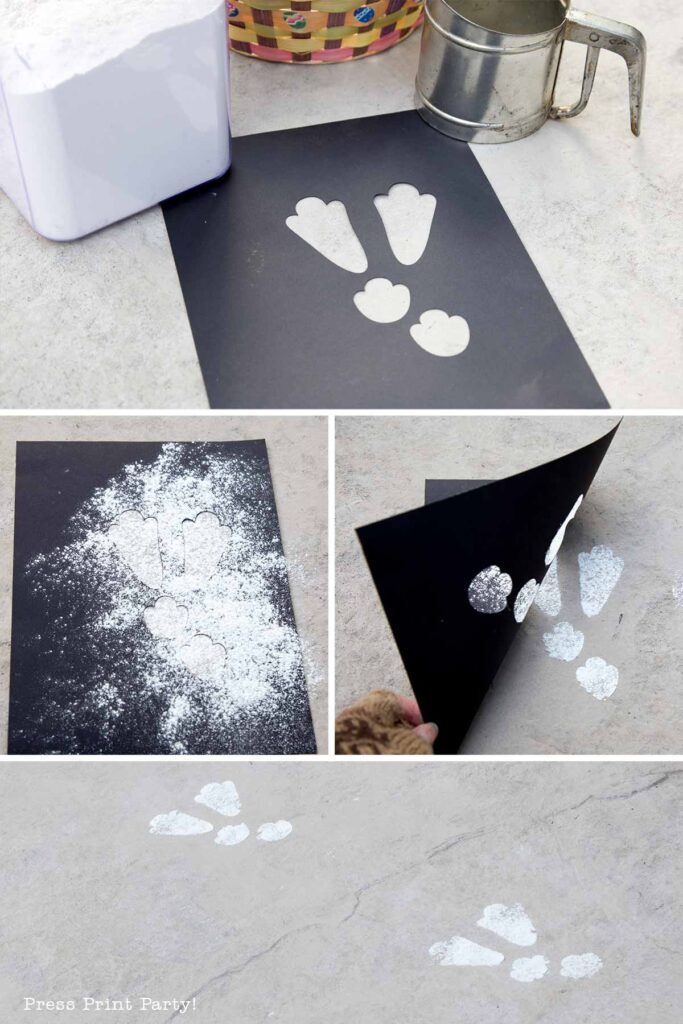 It's best to remove the stencil straight up so you don't spill.
Colored chalks would also give you dozens of festive-colored options.
---
Maybe you learned a little bit about bunny tracks today.
I hope you enjoy the free printables. It will take a little work to make the bunny paths but the smiles on your kiddo's faces will be worth it.
They're sure to create a bunch of happy, cheerful, excited kids and a wonderful Easter morning!
But if all the printing and cutting is not what you want to do you can just order a set of bunny footprints stickers on Amazon and call it a day.
I won't judge.
Feel free to browse around the website for more fun Easter ideas. I love this great list of non-candy Easter egg filler ideas, some free Easter eggs coupons, and tons of cute Easter treat ideas.
Happy Easter!
Don't forget to pin these printable Easter Bunny footprints templates and stencils: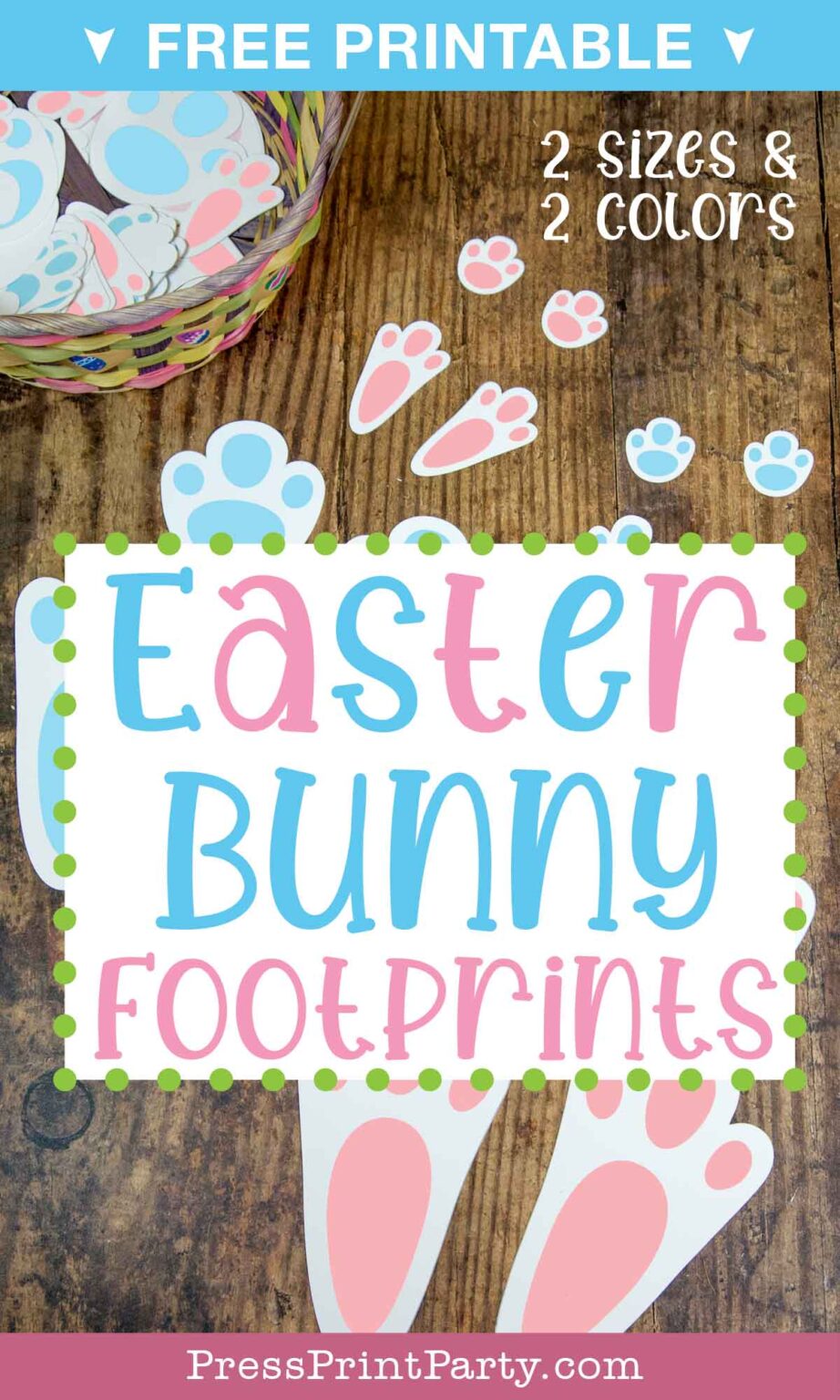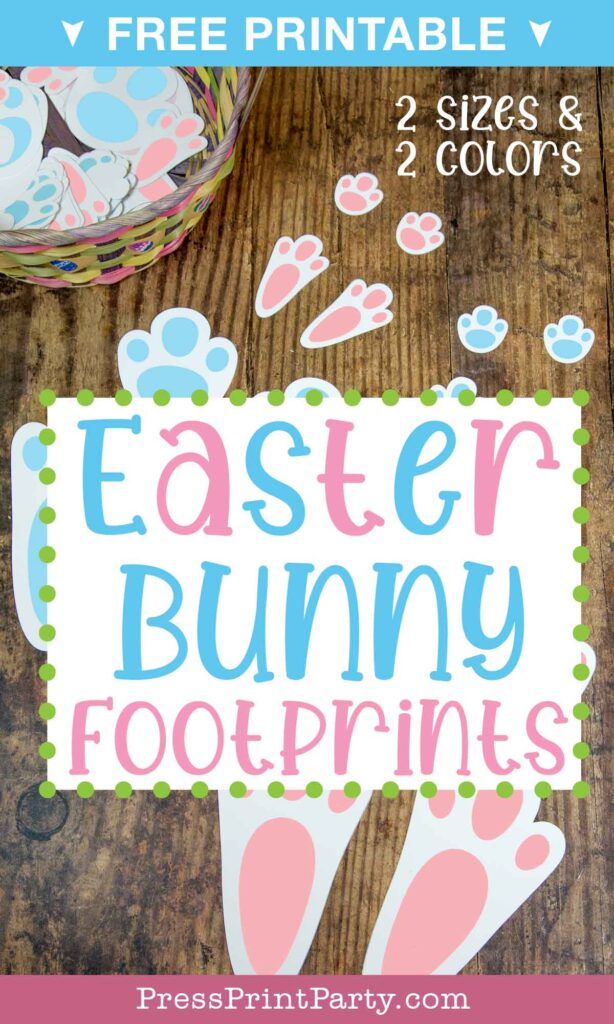 ---
Get Your Freebie:
If you've already subscribed, you can get the password from the bottom of any email I send and go directly to the Free Downloads Library.
Check out our Easter printables