Inject a dose of laughter and cheer into your presents with these printable free funny Christmas tags.
These playful and witty tags are the perfect way to put a smile on the faces of your loved ones before they unwrap their gifts.
Not only do they showcase your fun-loving spirit, but they also set your presents apart from the rest under the tree.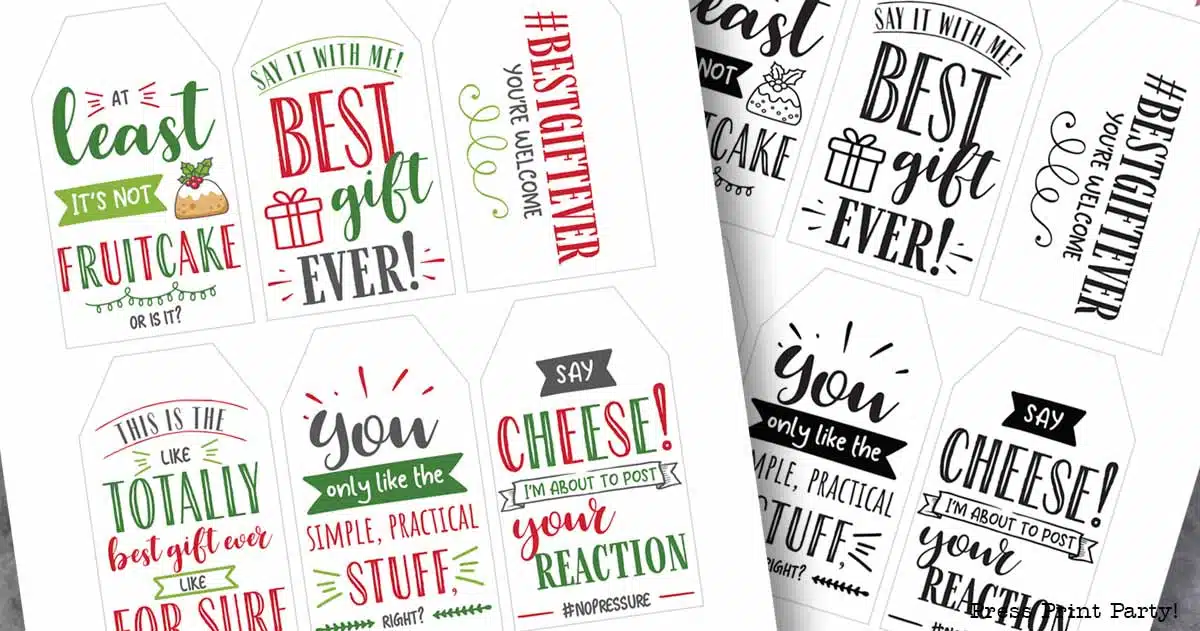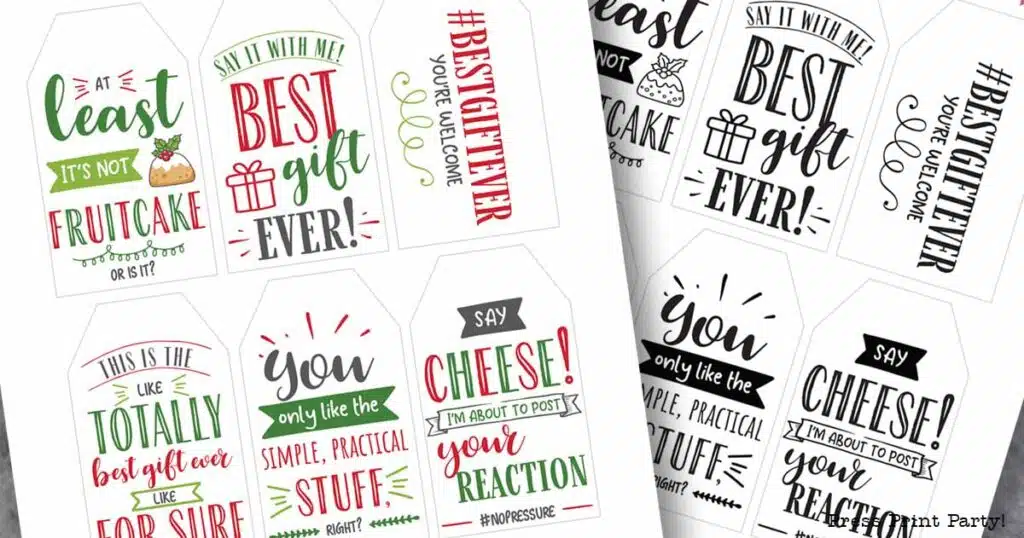 This post may contain affiliate links.
So, get ready to spread some holiday joy and laughter with these amusing and entertaining tags that are sure to become a hit this holiday season!
---
Free Printable Funny Christmas Tags
You'll find 6 funny sayings in both black and white and color in this exclusive digital file.
The gift tags come in a printable PDF available as a free download in the library for my newsletter subscribers and are for personal use only.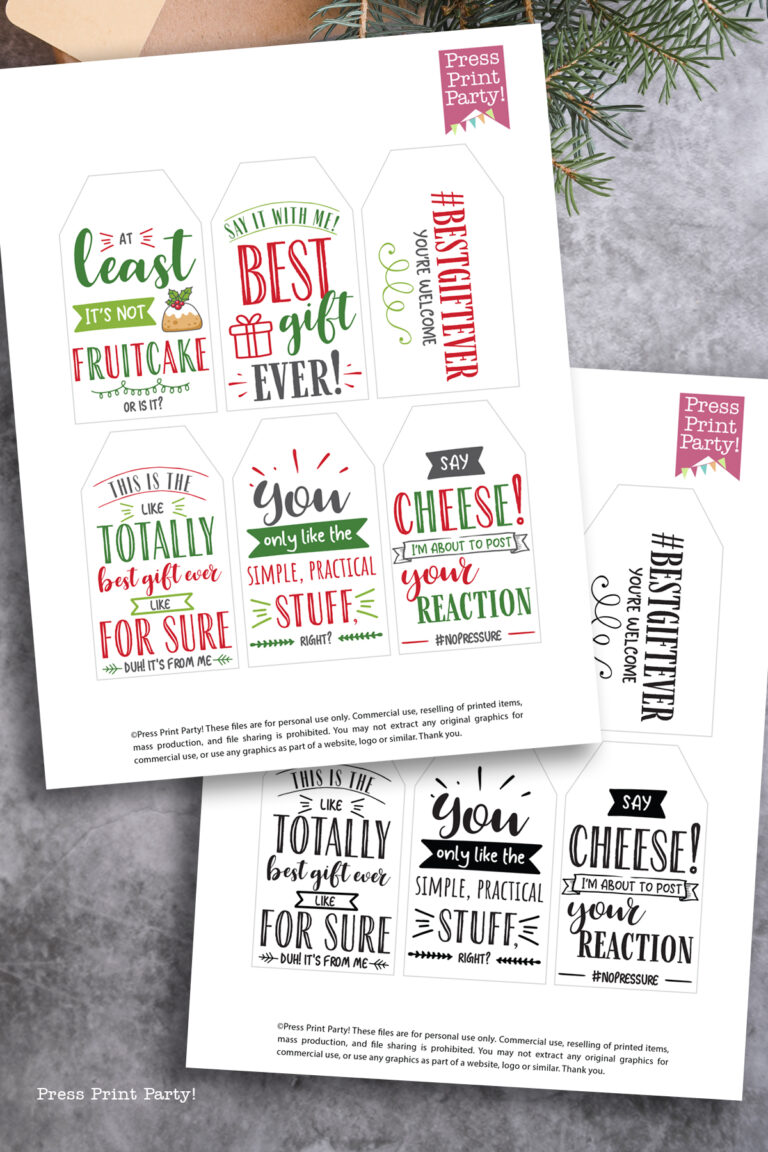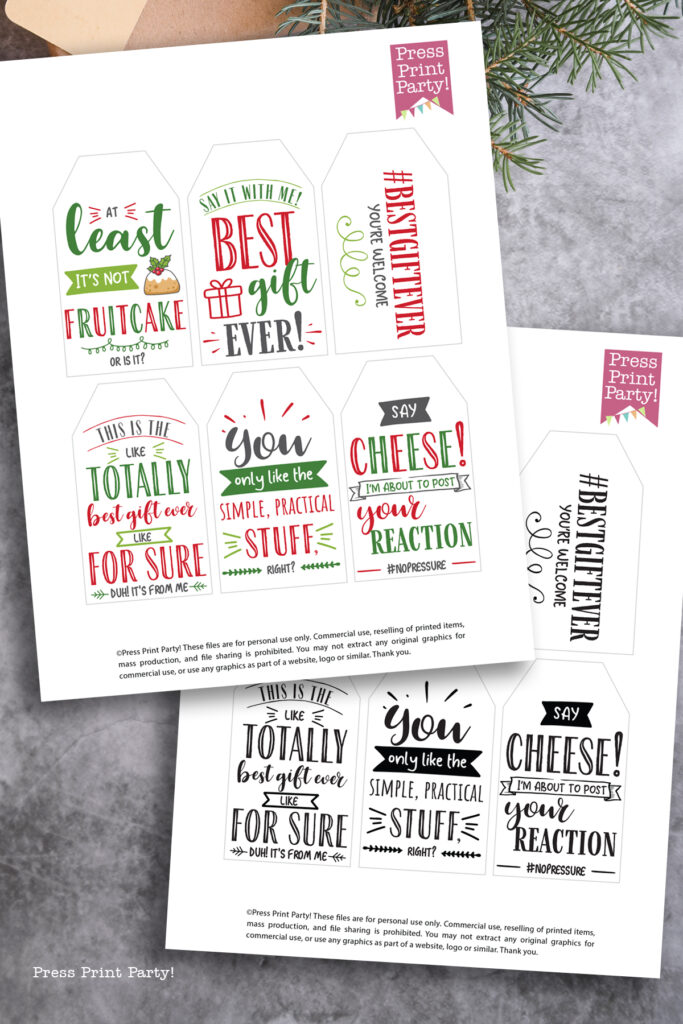 Most of those sayings just came up from things we say in our house. The Valley girl tag is an homage to my daughters who inject a bit too many "likes" in their speech, for sure.
The "say cheese" tag is totally me. I'm like every mom, at the ready with my phone on Christmas morning trying to capture my kid's reaction. I don't think any reaction will ever top the one from the morning we gave them a dog collar as a promise to get a dog. My sweet girls kind of lost their minds. I'm glad I had my camera ready.
The simple practical tag is for my hubby who knows I actually like the simple practical stuff. But it would be a hilarious way to fake the person who always wants glitz and bling.
---
Lots More Hilarious Christmas Tags
I have a ton more funny gift tags in my shop where you'll find 80 more witty sayings you can use for all kinds of occasions.
These honest Christmas gift tags with funny messages are sure to bring a good laugh to everyone with a box under the tree.

Set #1 is my original set with 40 funny Christmas quotes. Although it now contains colored tags, if you've bought this one in the past, you can just buy set #2 which includes an additional 40 fun gift tag sayings.
Both sets and the combination set of funny Christmas tags come with both black and white and colored designs.
One of my customers even sent me a picture of how great they looked under the Christmas tree.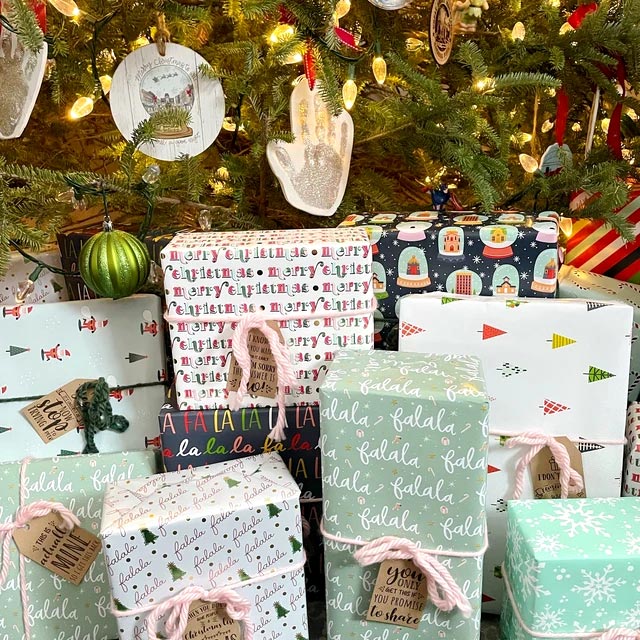 But the fun doesn't end there. If you like the movie Elf (Who doesn't really, It's a Christmas movie classic) then you'll love these 20 famous Elf quote tags too.
---
How to Print and Cut Your Free Christmas Gift Tags
It's best to print the colored designs on white cardstock. They're designed to look great for Christmas with red and green accents.
My favorite cardstock to print on a home printer is this one, but any will do. You can also get it printed at a local print shop.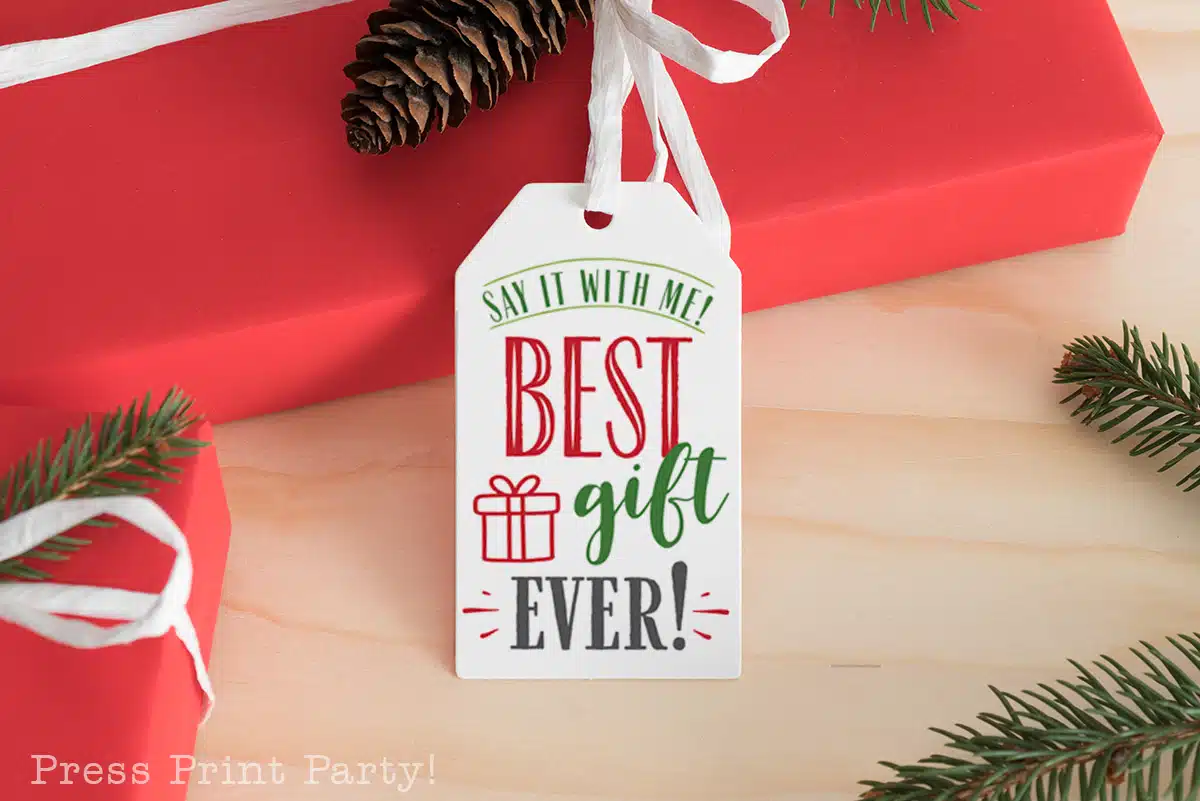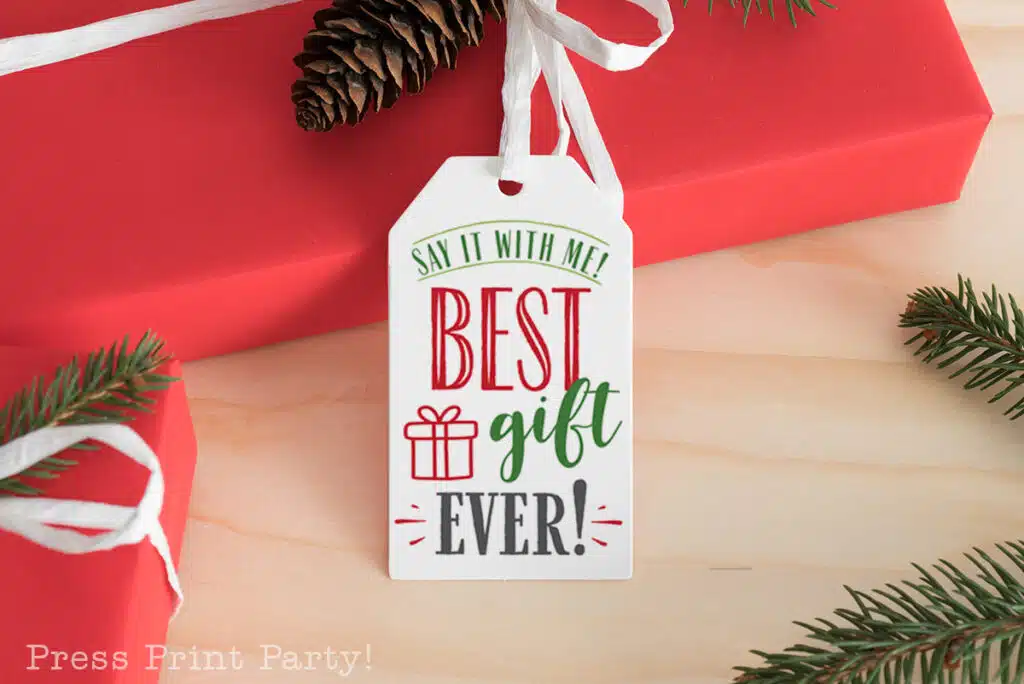 But you can get creative with the black and white designs too. You could print them on Kraft cardstock for a rustic look or even use them for birthday gifts. 
I love the juxtaposition of the elegant rustic look and a snarky comment.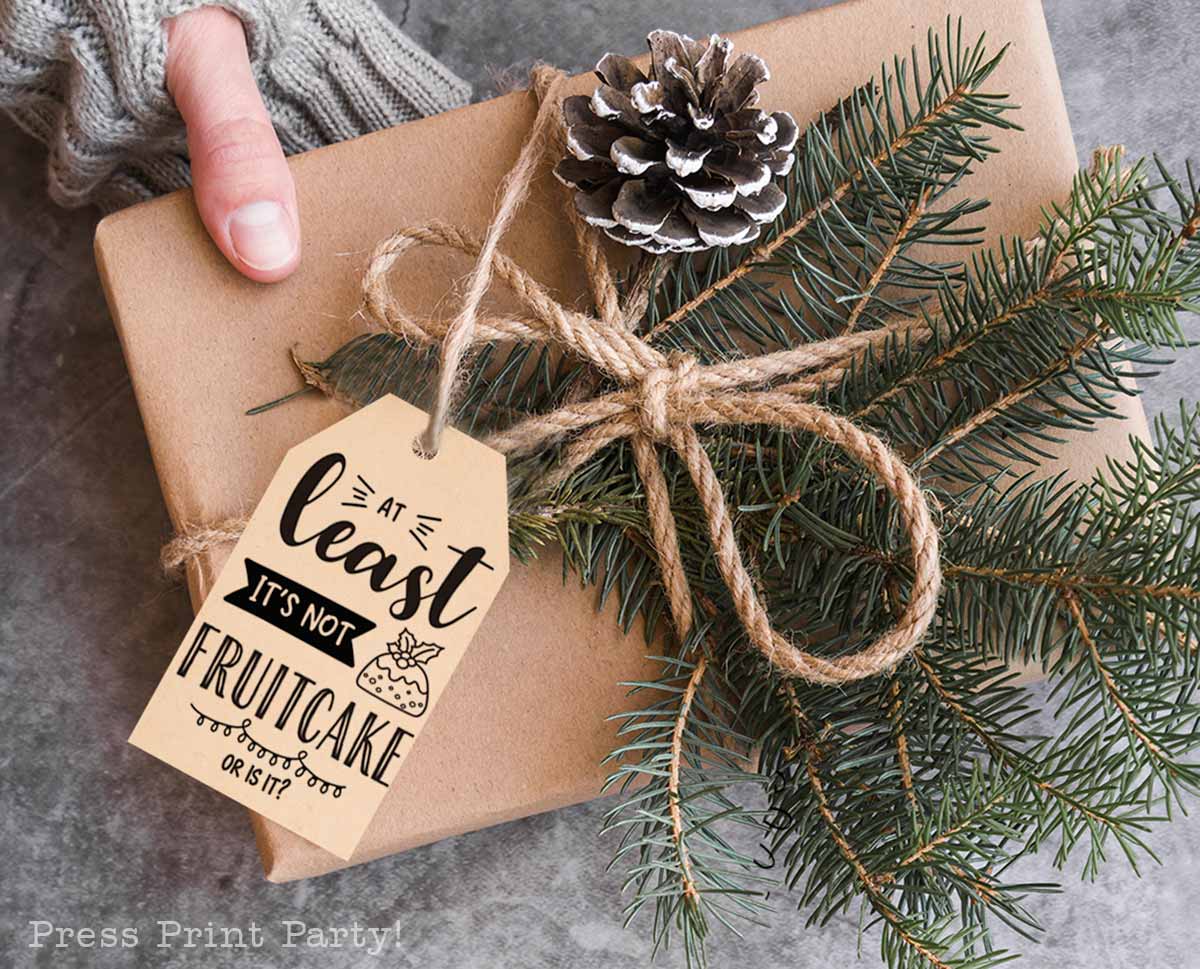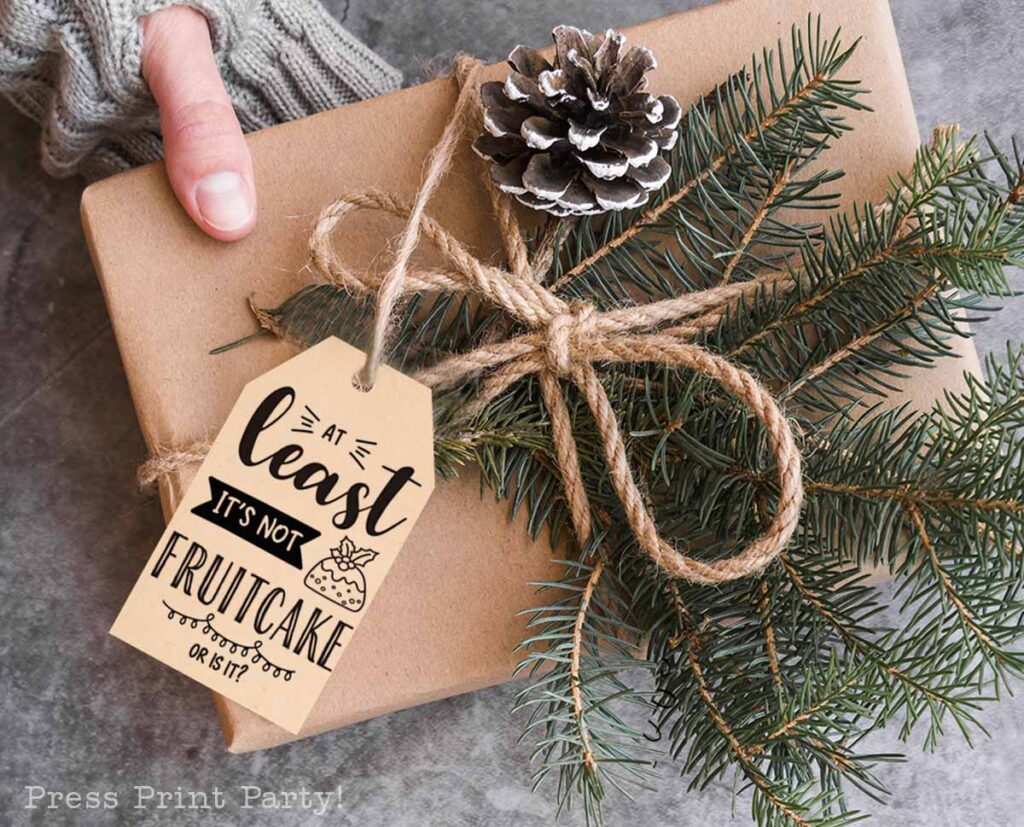 You could also print these free printable Christmas gift tags on any colored cardstock of your choice.
To cut, simply use scissors or better yet, a paper cutter. Then punch a small hole at the top.
If you really want to use your Cricut you may have to convert the file to jpeg first. Look at my FAQs page to see how to do that.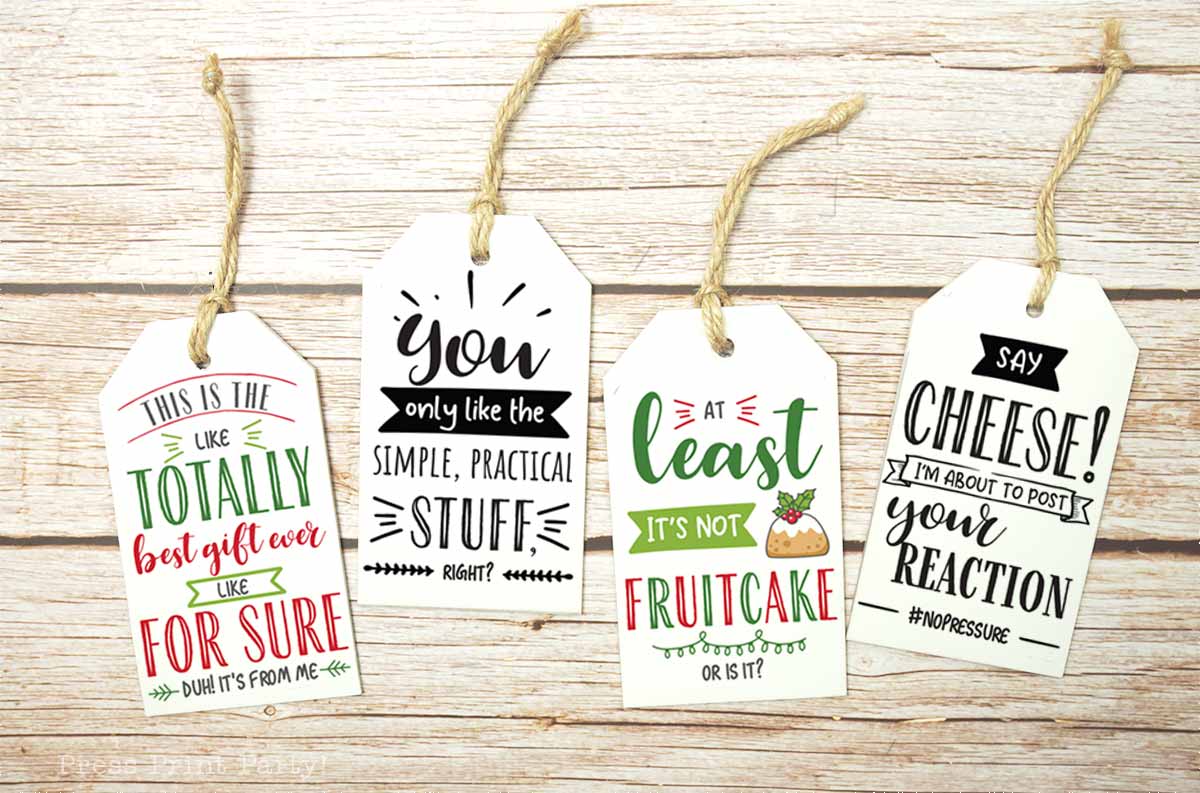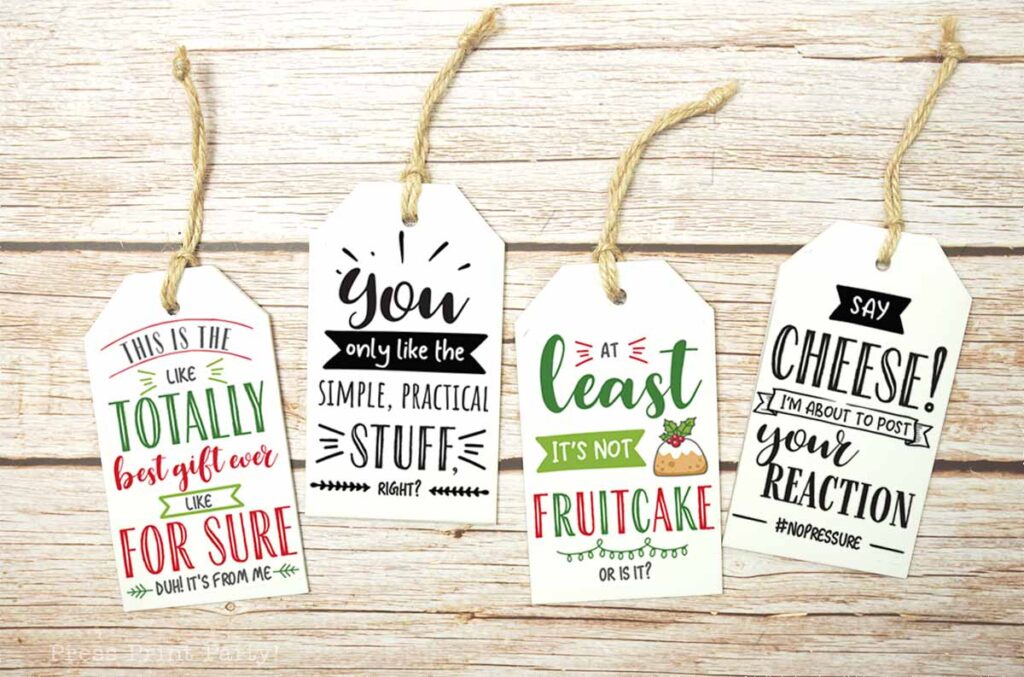 ---
Using funny Christmas tags is like sprinkling some extra holiday cheer on top of your gifts. It adds that special touch of whimsy and laughter that Santa himself would certainly approve of!
Not only do these clever tags bring smiles and giggles to the faces of your loved ones, but they also save you time and money – two precious commodities during this bustling holiday season.
Remember, when it comes to gift-giving, it's not just about what's inside the box, but also the delightful surprises that adorn it!
Also, pop by my Christmas shop and my free printables page and discover an array of festive items, nearly guaranteed to cover all your Christmas printable needs.
Happy gifting, and may your Christmas be filled with laughter and endless joy! Merry Christmas!
Don't miss these other fun Christmas posts:
Don't forget to pin these free printable funny Christmas tags: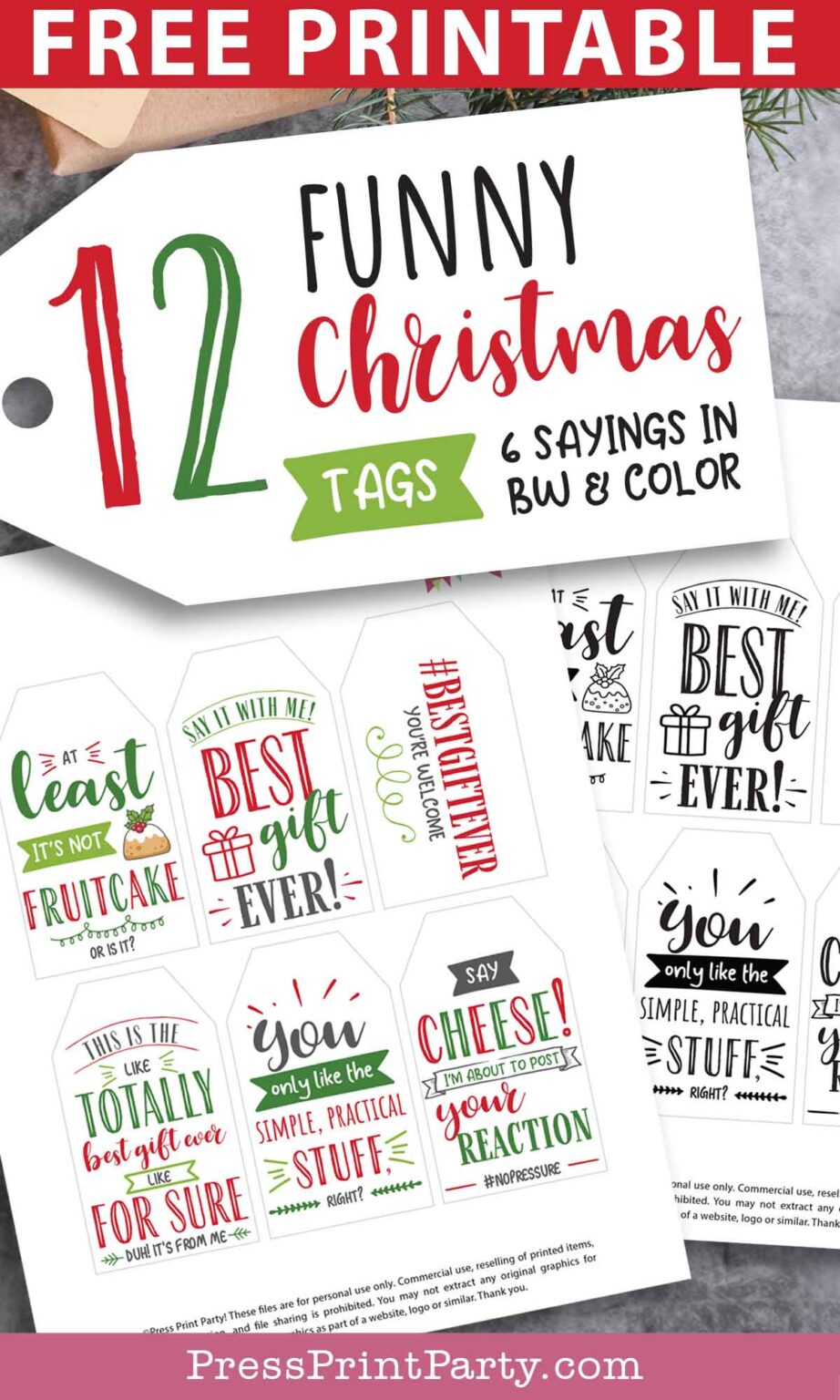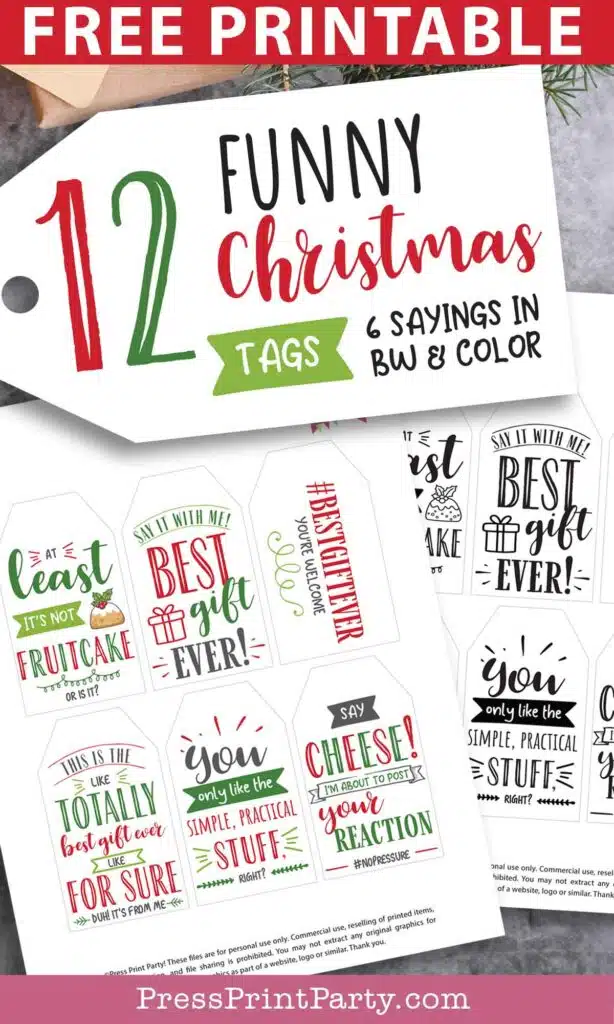 ---
Get Your Freebie:
If you've already subscribed, you can get the password from the bottom of any email I send and go directly to the Free Downloads Library.
Check out our Christmas printables