When it comes to considering recipes for Halloween drinks there are a few strategies you can adopt.
You could find a drink that pairs nicely with your Halloween appetizers, main courses, or Halloween desserts; choose a festive drink that matches the theme you're going for; search by specific alcohols, juices, or sodas; or build a party theme around your drink (cough cough, check out number 20).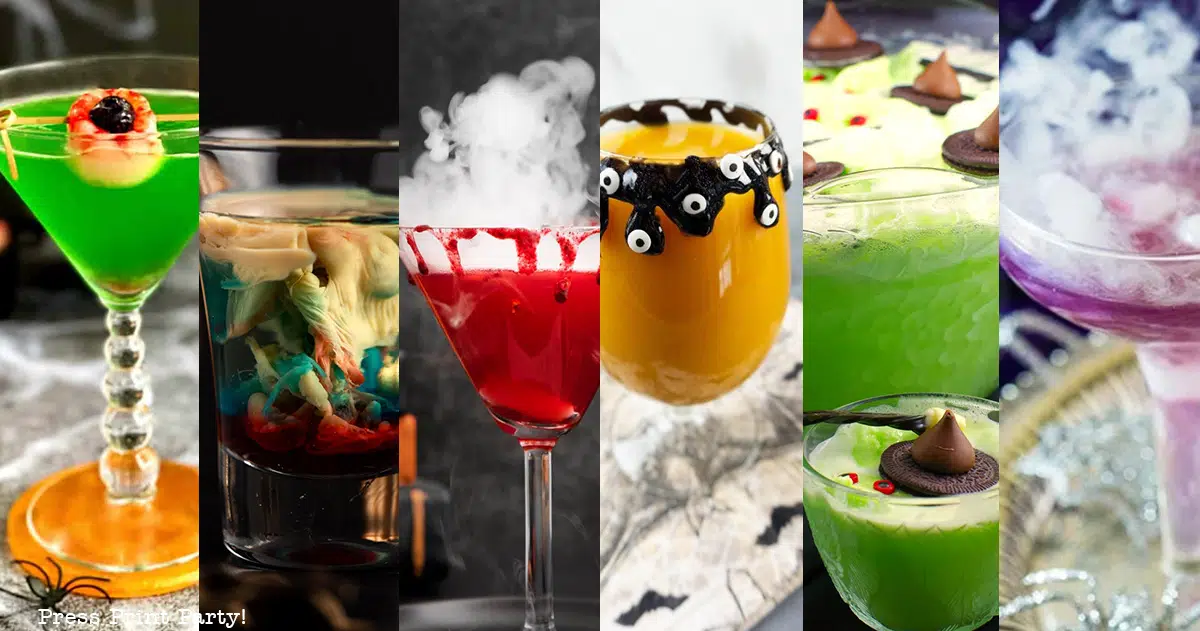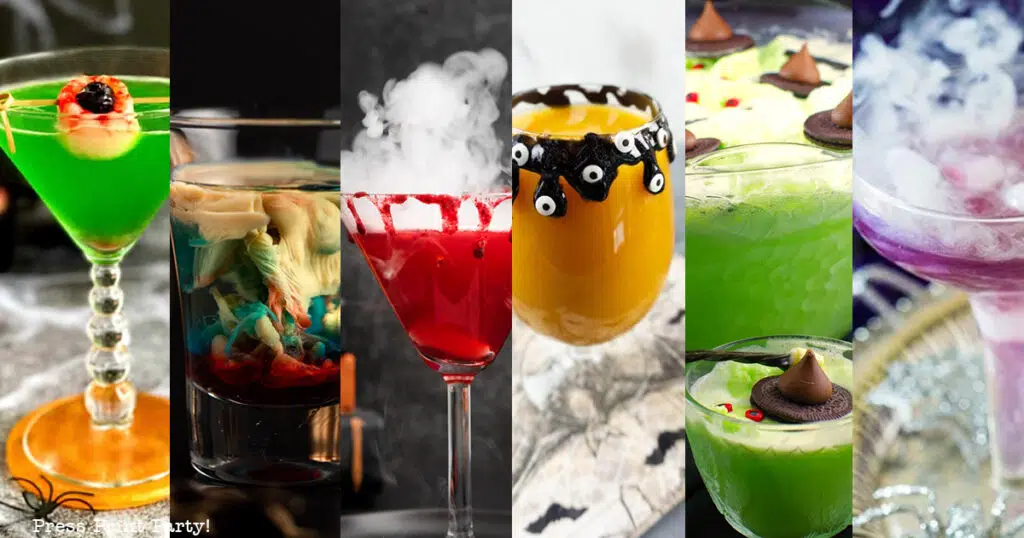 This post may contain affiliate links.
I recommend you consider the number of people you will be serving and the space you have for storing pre-made drinks.
Regardless of what logistics dictate, here you'll find great options for party punch bowls, individual drink recipes, and more.
For your convenience, I've divided this list of Halloween drink recipes between non-alcoholic drinks for kids and adults who are abstaining and alcoholic drinks for adults who are not abstaining.
In addition to finding a delicious recipe, be sure to take note of the way each recipe uses props. Such as beakers, gummy candies, non-surgical syringes, and black light.
With the right props and garnishes, and a little imagination a Christmas drink could pretty easily be transformed into a spooky cocktail.
I also have some great, printable apothecary labels that can take your drinks to the next level! Be sure to check them out.
---
Non-alcoholic Recipes for Halloween Drinks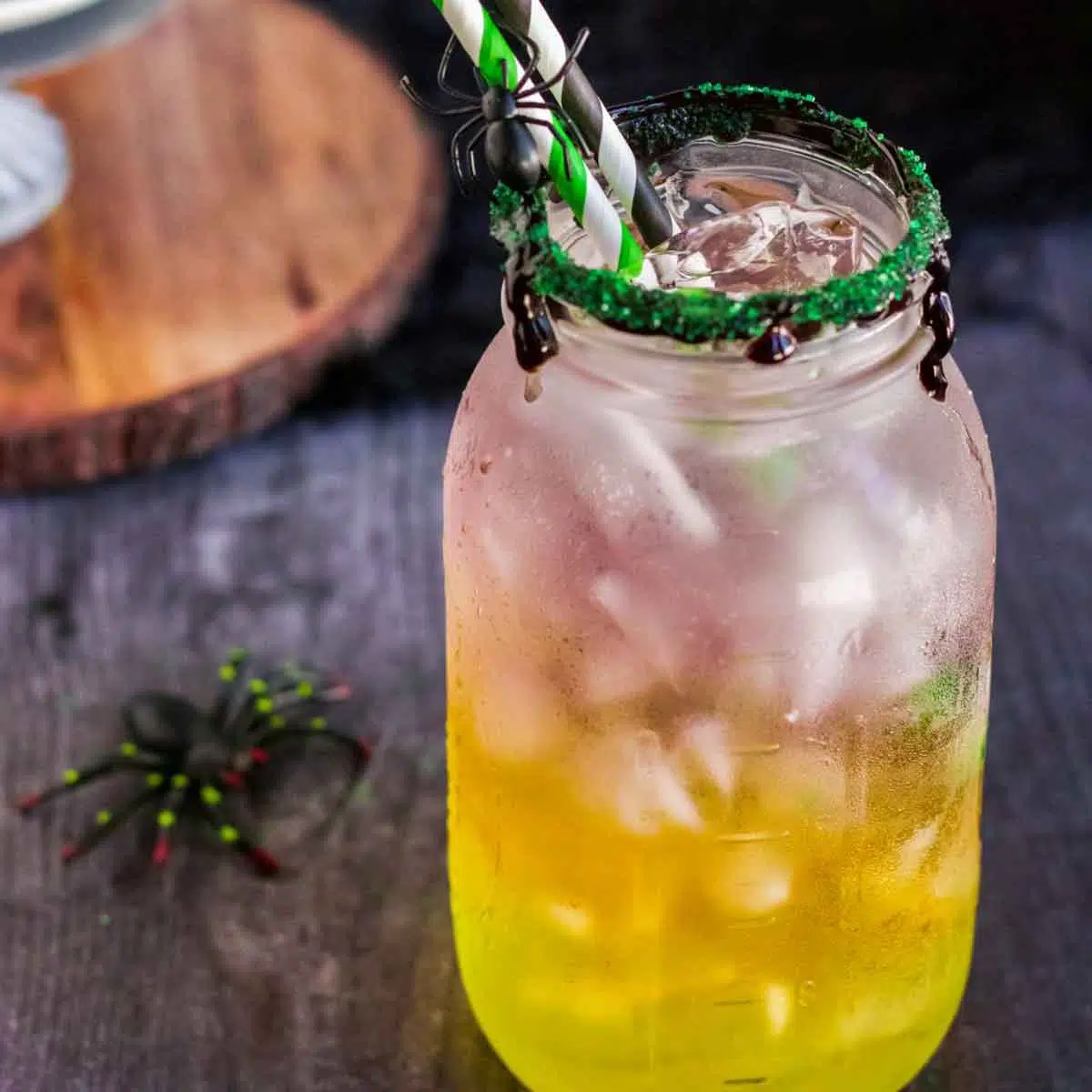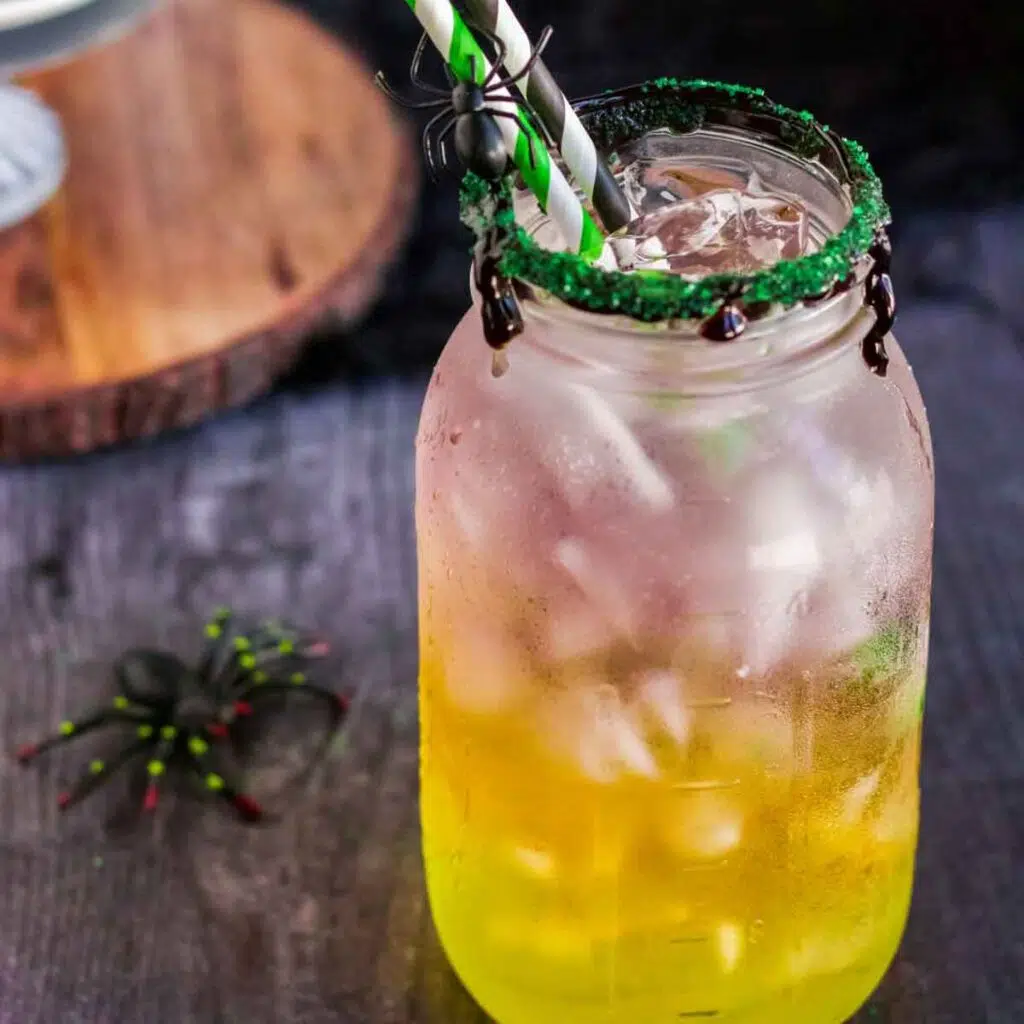 Have you ever wondered how layered drinks are made? 4 Sons R Us shares the secret to making your own Halloween layered drinks with the combination of your choosing. Hint: it has to do with sugar content.
This recipe also offers a great decorating option for the rim of the glass so you can nail your spooky drinks.
Ingredients: Black writing or icing gel, green sprinkles, ice, a yellow or green drink that has about 40 grams of sugar (e.g. Mountain Dew), an orange drink with about 20 grams of sugar (e.g. Powerade), a purple drink with zero grams of sugar (e.g. Sugar-free Wild Purple Smash Hawaiian Punch).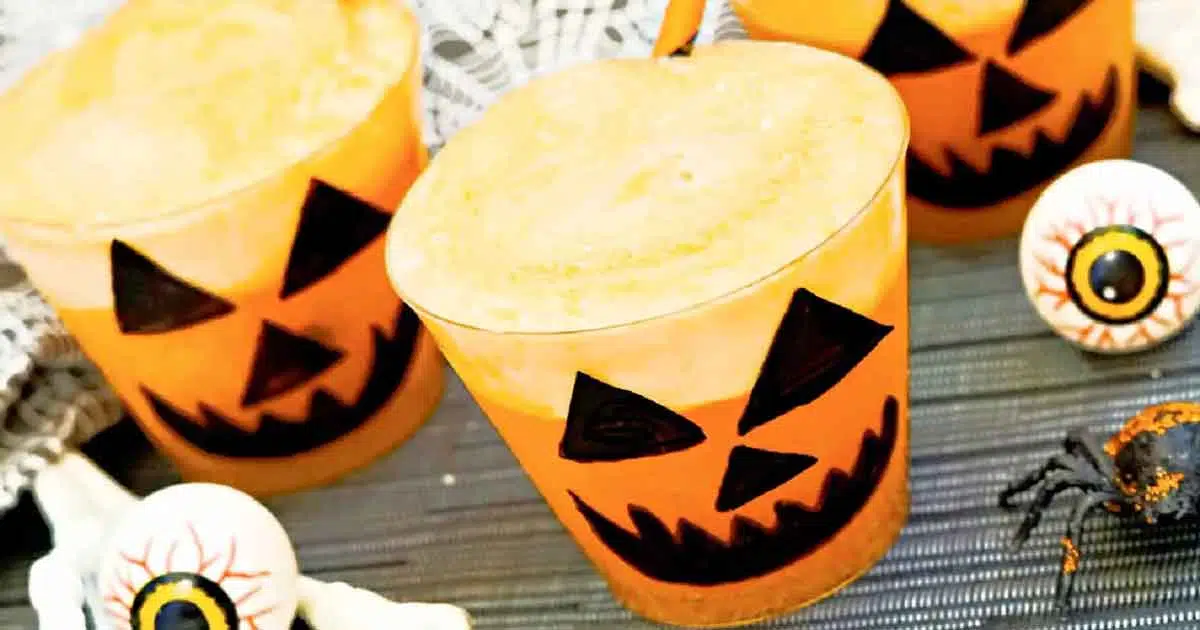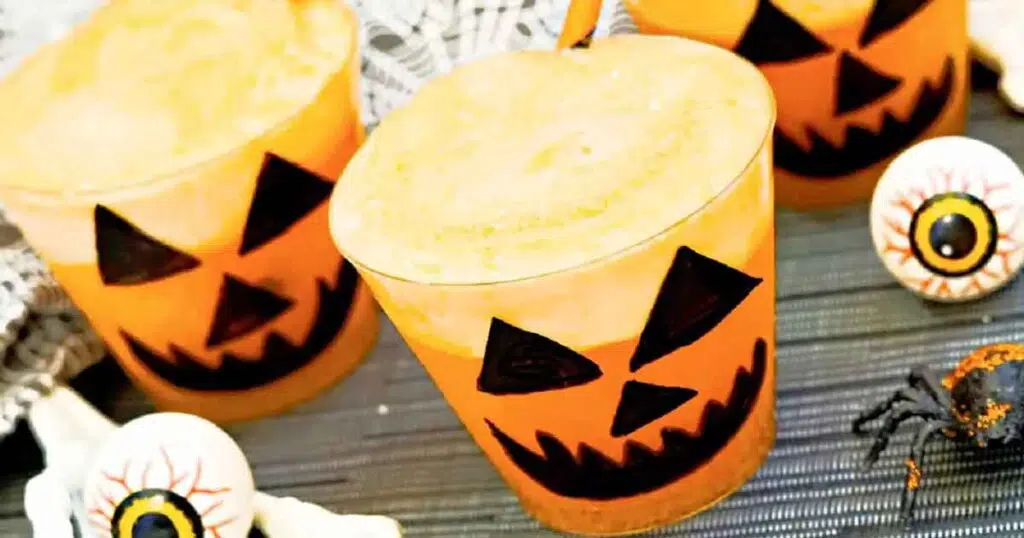 How does a tasty two-ingredient recipe sound for this year's Halloween punch? Country Girl's Life shares this simple recipe and an alcoholic version that both sound great.
Ingredients: Orange sherbert ice cream, orange soda.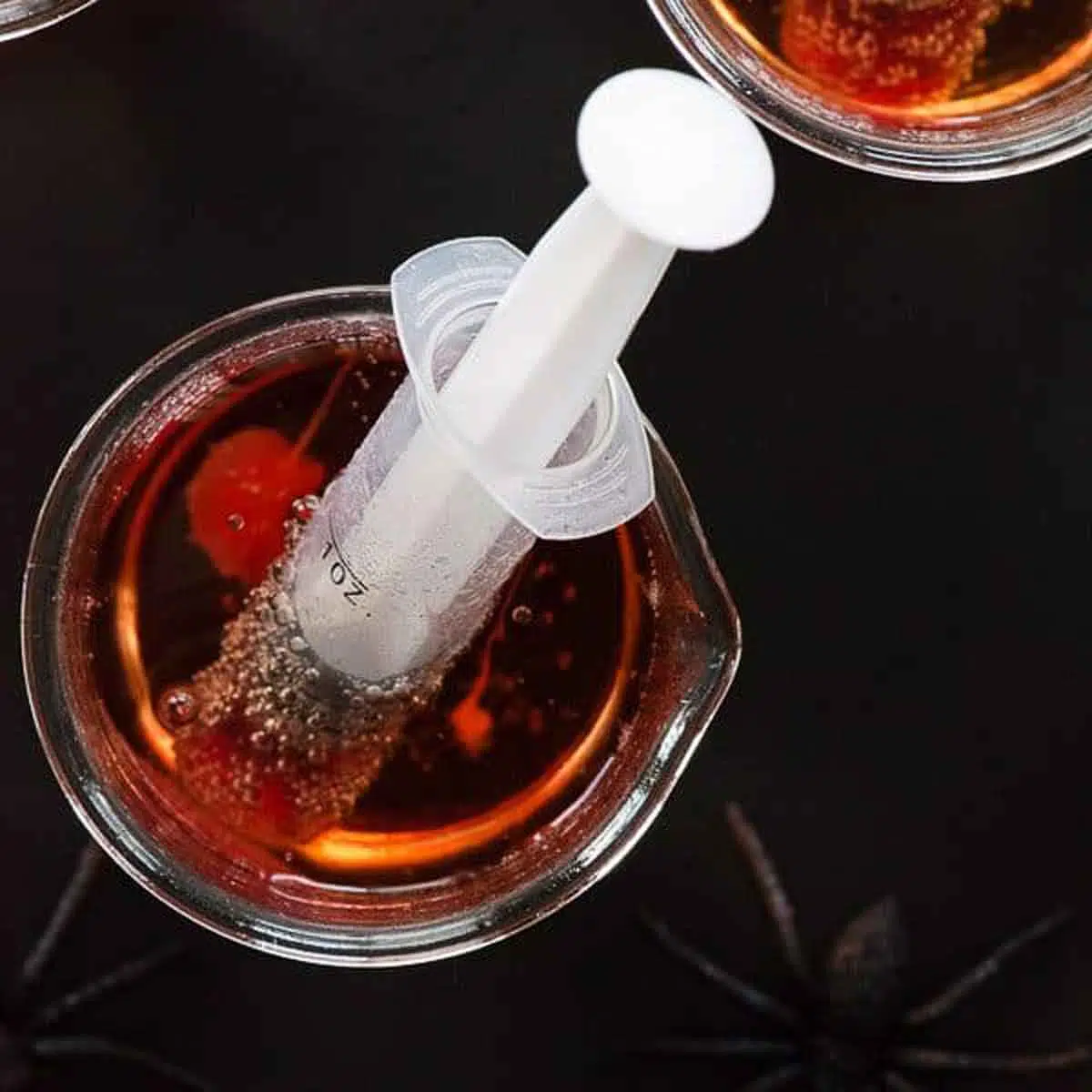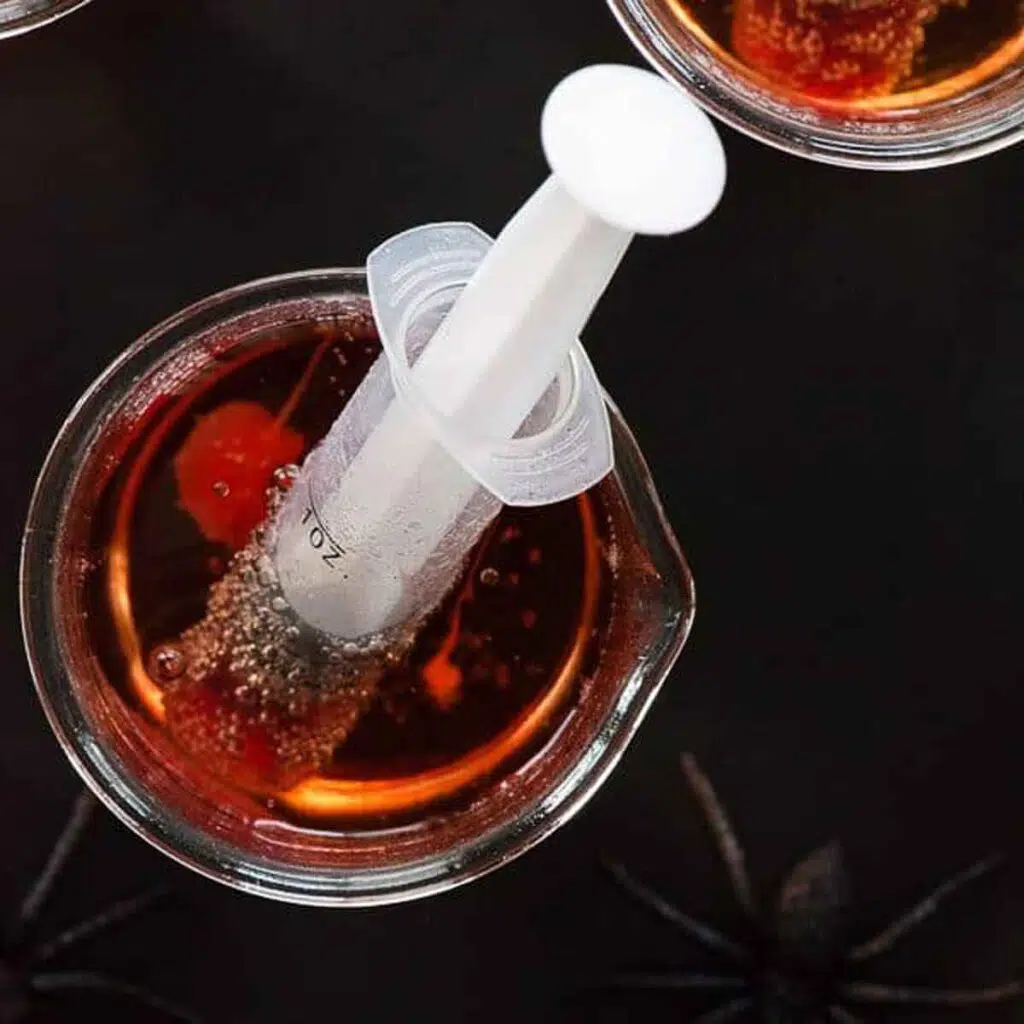 Shirley Temples are always a crowd-pleaser unless you're actually Shirley Temple. Fun fact: Several sources say that the actress who was best known for her launch into stardom as a child found the drink too sweet.
Boulder Locavore says that if your guests have a sweet tooth, you can offer the classic flavor with a spooky twist just by adding some Halloween props.
Ingredients: Ginger ale, grenadine, Maraschino cherries, liqueur shot syringe, beakers.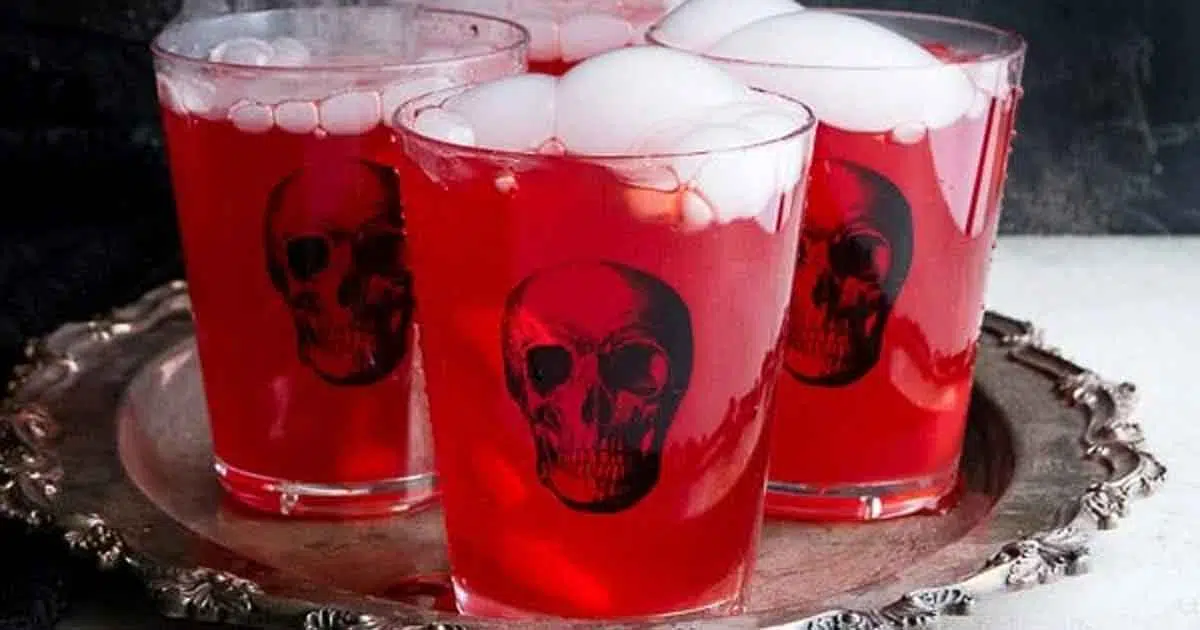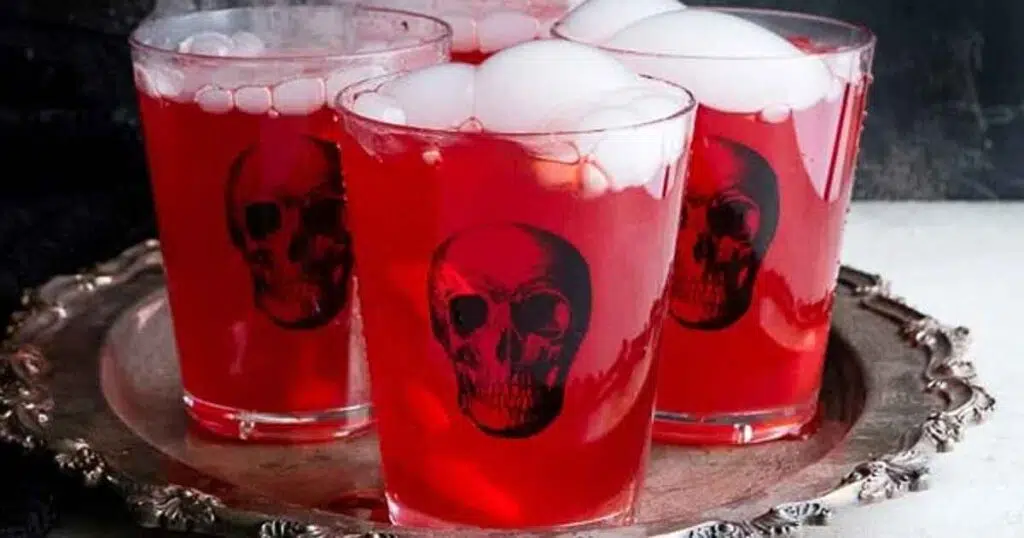 Another recipe put together by Boulder Locavore adds the Halloween scare to fruit punch. This Slow Cooker Vampire Punch offers two key benefits to your Halloween party.
First, you can mix and cook it the day before the party so you can prep the rest of the party details the day of.
Second, it can be served in a punch bowl so you don't need to designate yourself or anyone else to make more individual glasses throughout the evening.
Ingredients: Hawaiian punch (Fruit Juice Red flavor), ginger ale, Red Hot candies.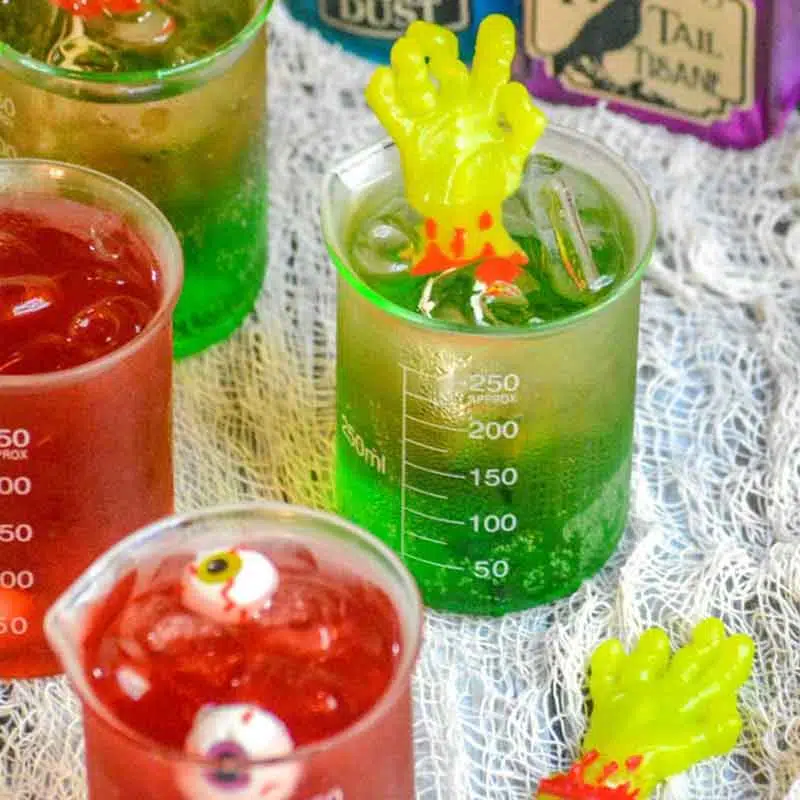 4 Sons R Us offers two drinks for the price of one in this equally yummy and yucky blog. Vampire's Delight and Zombie Juice may not be the Halloween treat adults dream of, but it might be for your kids.
Zombie Juice Ingredients: Lemon-lime soda, water, Torani green apple syrup, cranberry juice, zombie gummy hand stirrers.
Vampire's Delight Ingredients: Lemon-lime soda, cranberry juice, Torani blood orange syrup, gummy eyeballs.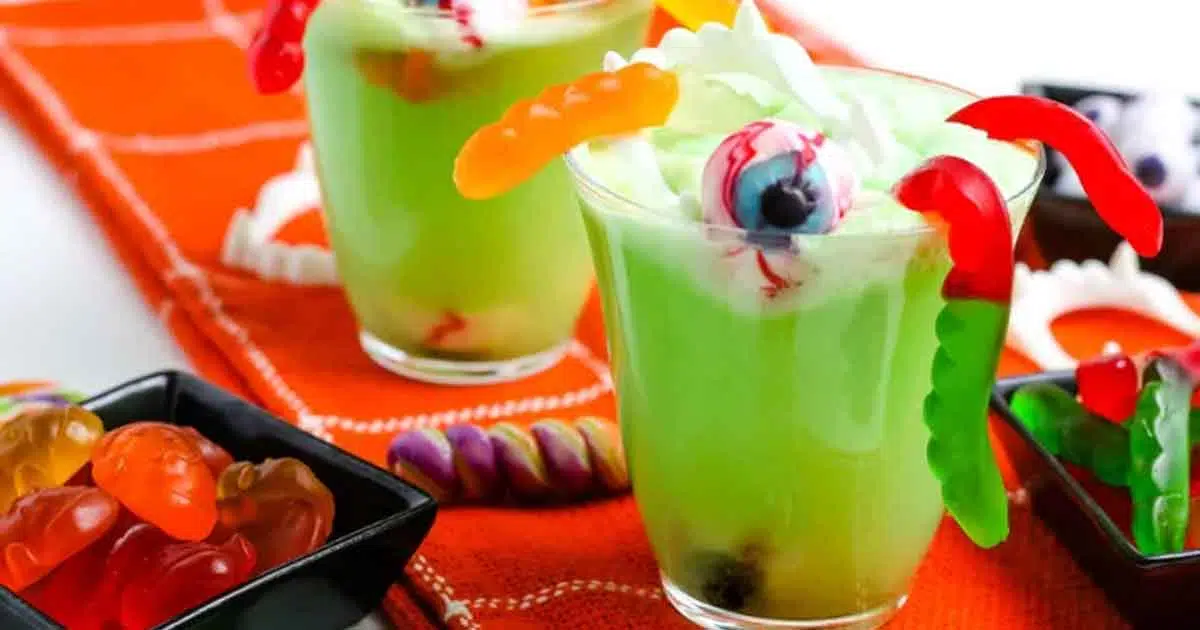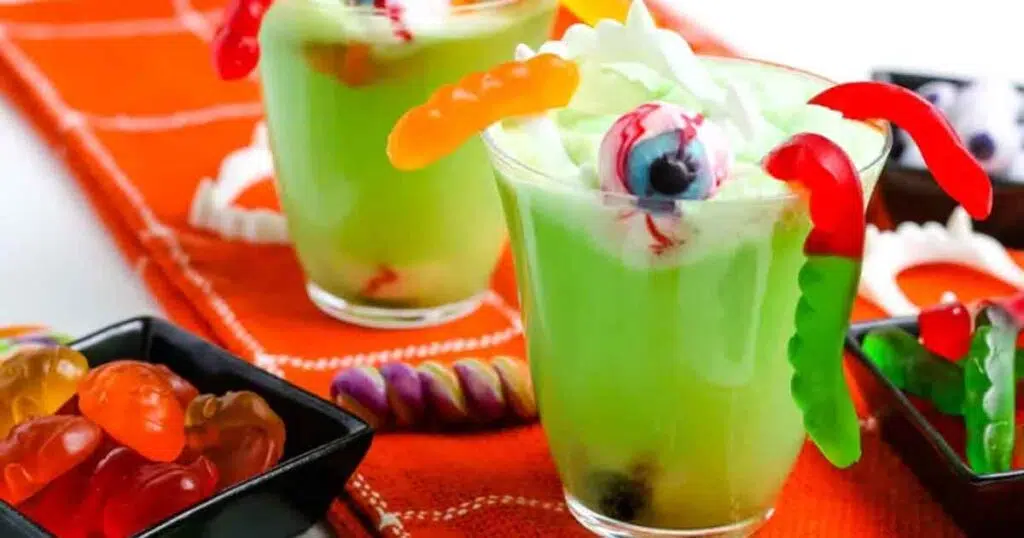 If you're looking for a budget-friendly mocktail to serve at your kid-friendly Halloween party, you've come to the right place.
Easy Budget Recipes shares this fun and gross drink and even breaks down the cost per serving so you can stick to your budget! This blog also offers fun, age-appropriate suggestions for getting your kids involved in building the drinks.
Ingredients: Green Powerade, lemon-lime soda, lime sherbet, Halloween gummy candies.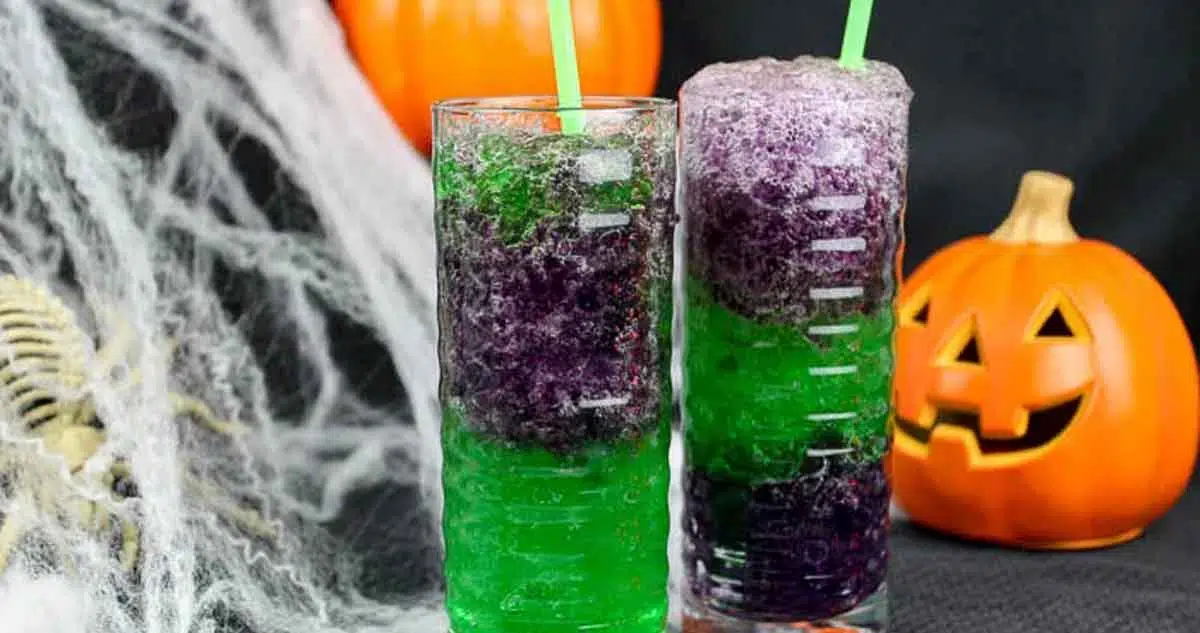 There aren't too many occasions when you would be okay with slurping random gelatinous goo chunks. Halloween is one of them. Your guests will love this truly one-of-a-kind, spooktastic drink from Eat Move Make. It's gross, and that's why it's great.
Ingredients: Lime-flavored JELL-O, grape-flavored JELL-O, boiling water, cold water, ginger ale, or lemon-lime soda.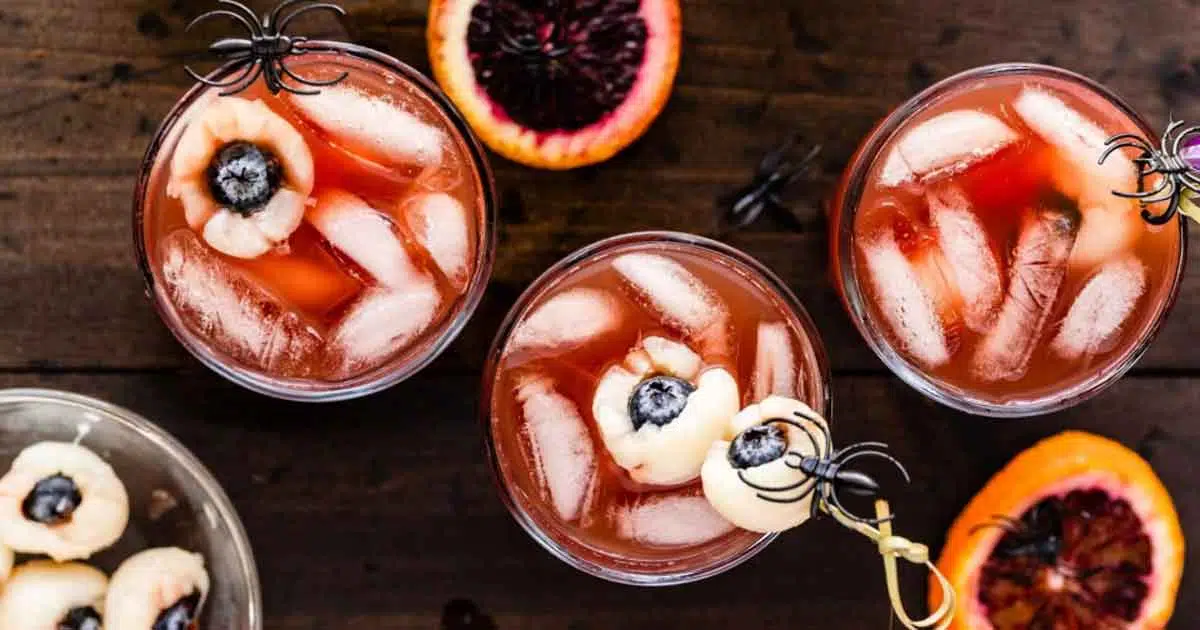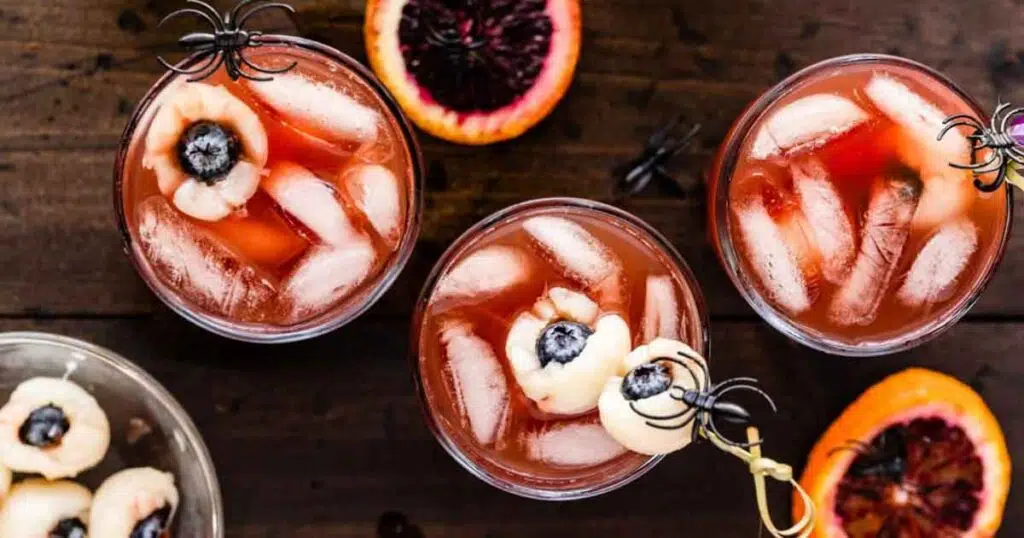 Thanks to Easy Wholesome this is a one-of-a-kind Halloween punch that you won't have any heartburn serving to kids because it's all-natural.
The ingredients are primarily fruit juices, and the eyeballs are made out of lychee fruit and blueberries. You can also make this into a tasty cocktail by using white rum. If you've never had lychee, you've got to try 'em. They're delicious!!
Ingredients: Pineapple juice, blood orange juice, apple juice or sparkling apple cider, lime juice.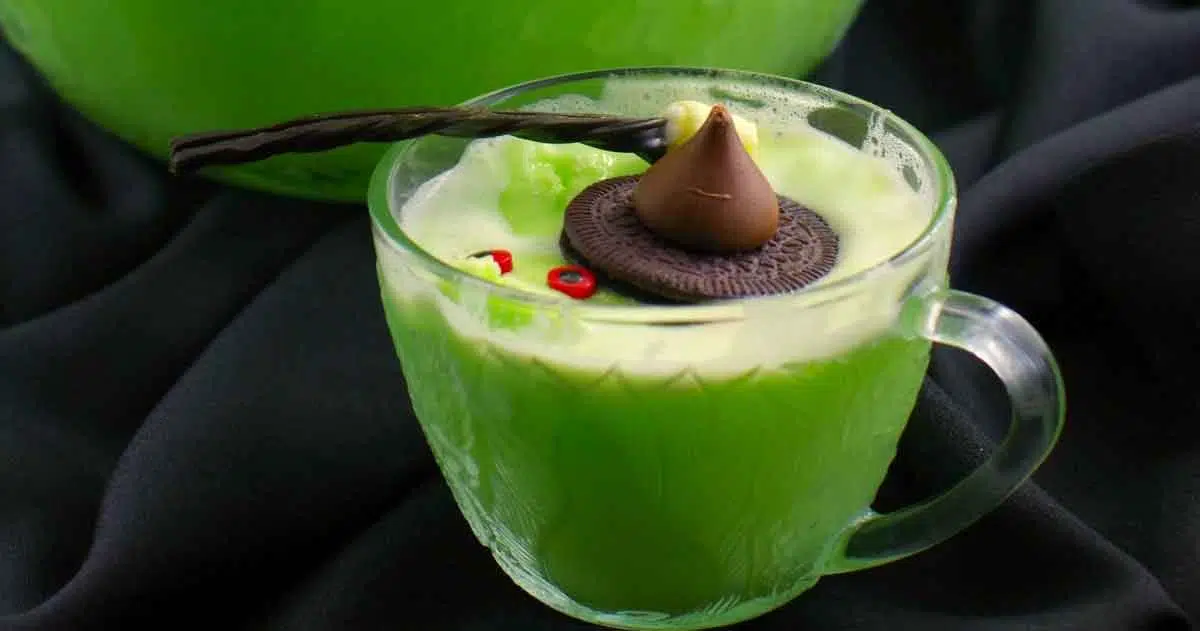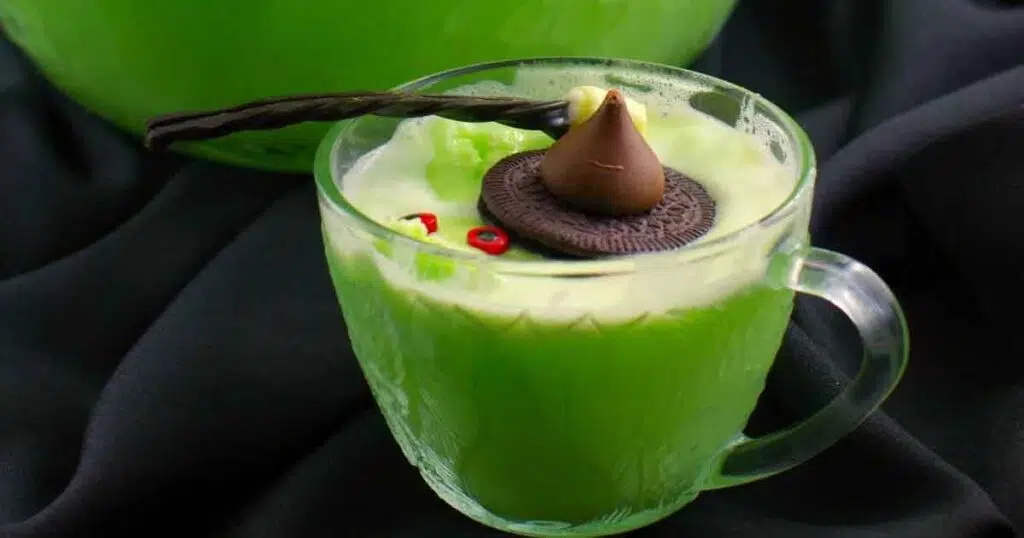 Ding dong, the witch is dead! And Food Meanderings is serving up her remains as a punch. The elements that really make this a novel drink are the edible hats, eyes, and brooms. Kids will go crazy for this punch bowl.
Ingredients: Key-lime sherbert, lemon-lime soda, frozen lemonade concentrate, lemon-lime sparkling water, Hershey's kisses, Oreo Cookies Thins, Royal Icing, mini yellow marshmallows, black licorice, candy eyes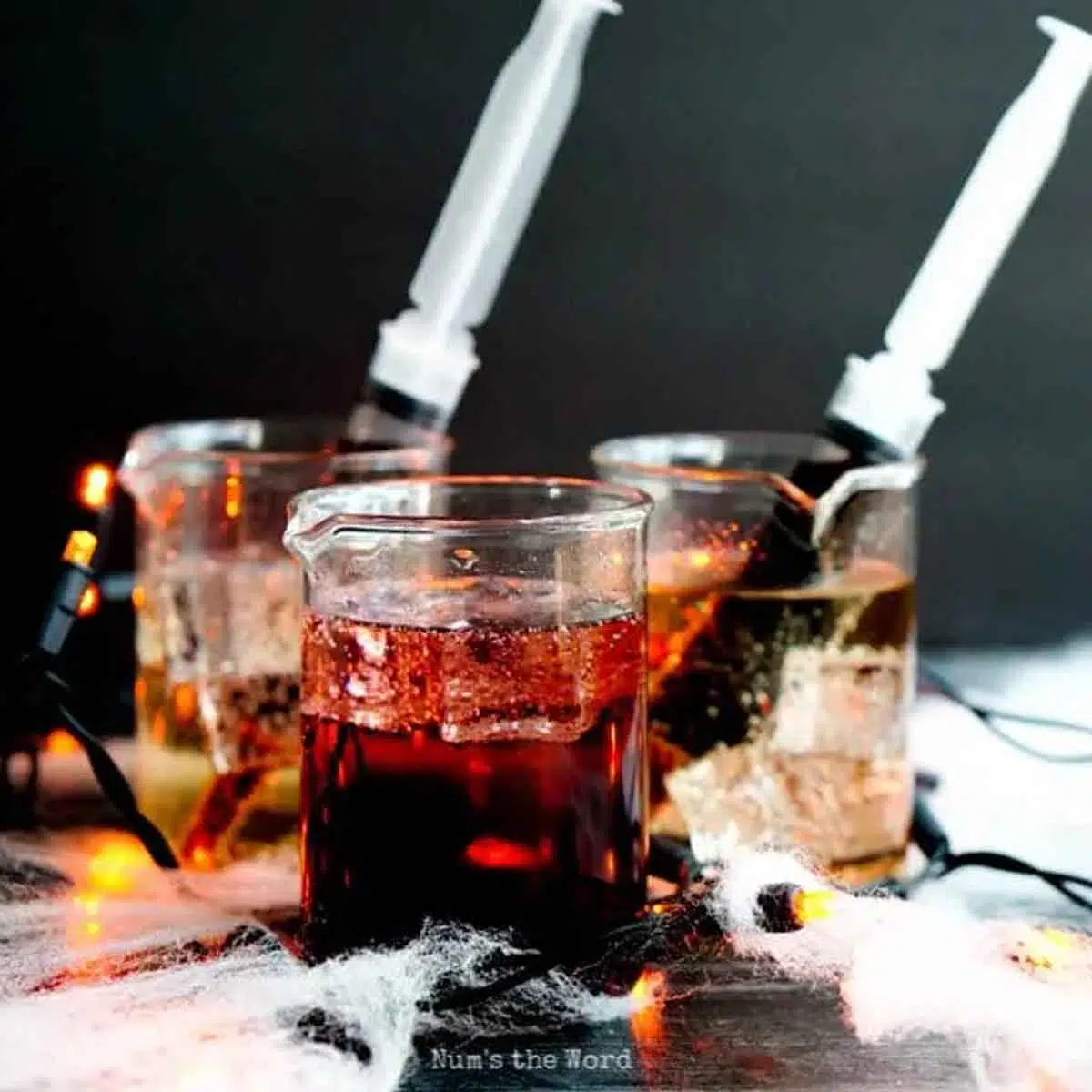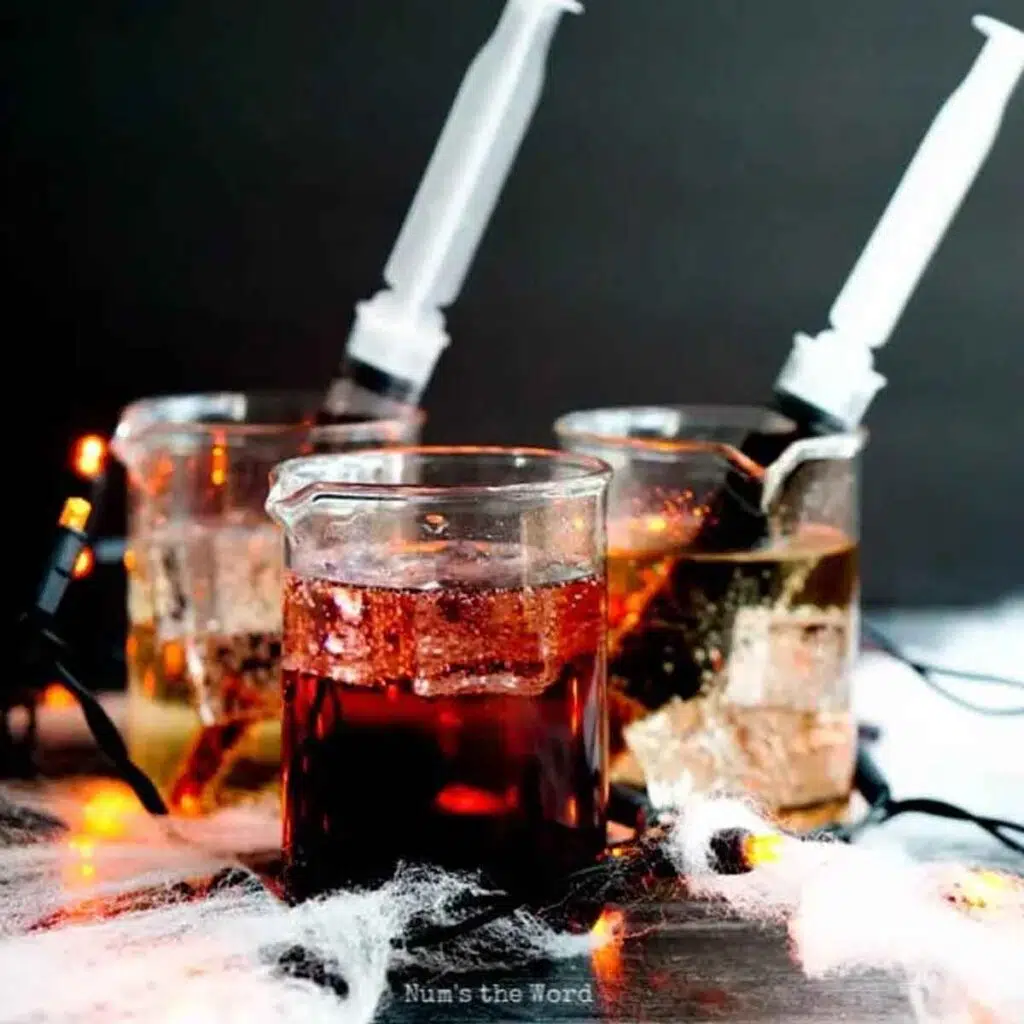 Num's the Word said it best in their blog, "Halloween is such a fun time to play with your food!" This Vampire Kiss mocktail allows each guest to be their own bar-tender, sans the alcohol of course. Num's the Word provides quick and easy steps and a drink that is sure to be a hit with your guests and kids.
Ingredients: Frozen cherry pomegranate juice concentrate, ginger ale, ice cubes, non-surgical syringes, beakers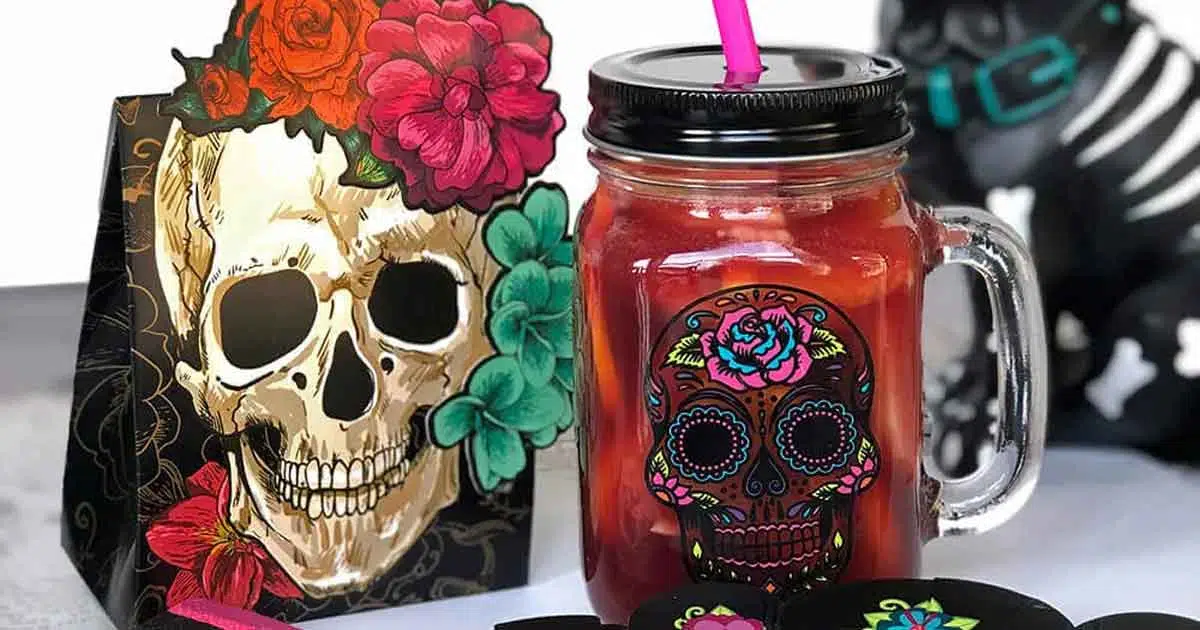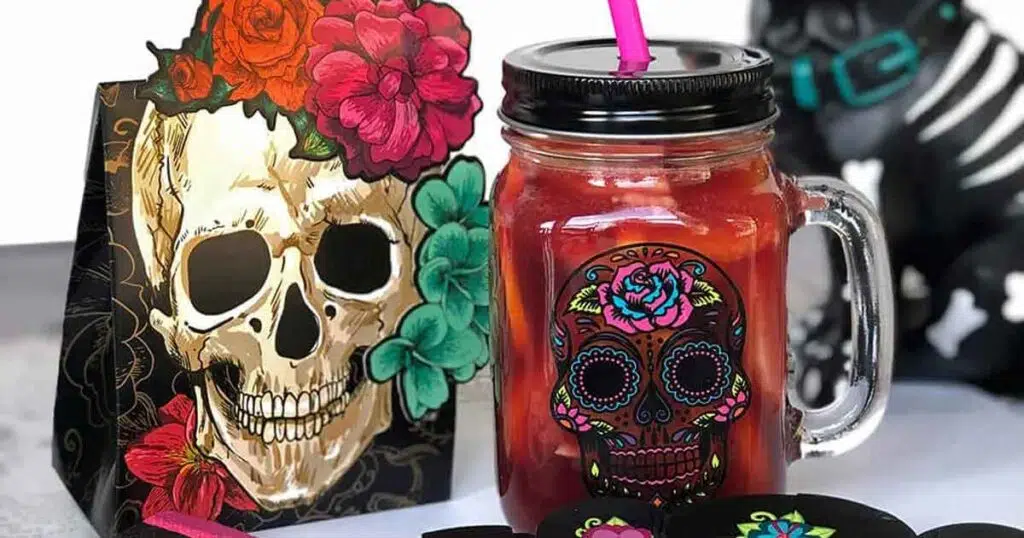 There are so many reasons to love a non-alcoholic sangria. All of the fruit juices and fresh-cut fruit make for a delicious combination. In addition to this recipe, Parties with a Cause shows off some awesome table arrangements for a Dia de Los Muertos celebration.
Ingredients: Red Rooibos tea, pomegranate juice, orange juice, apples, oranges, lemons, raspberries, cinnamon, agave nectar, and sparkling water.
---
Alcoholic Halloween Cocktail Recipes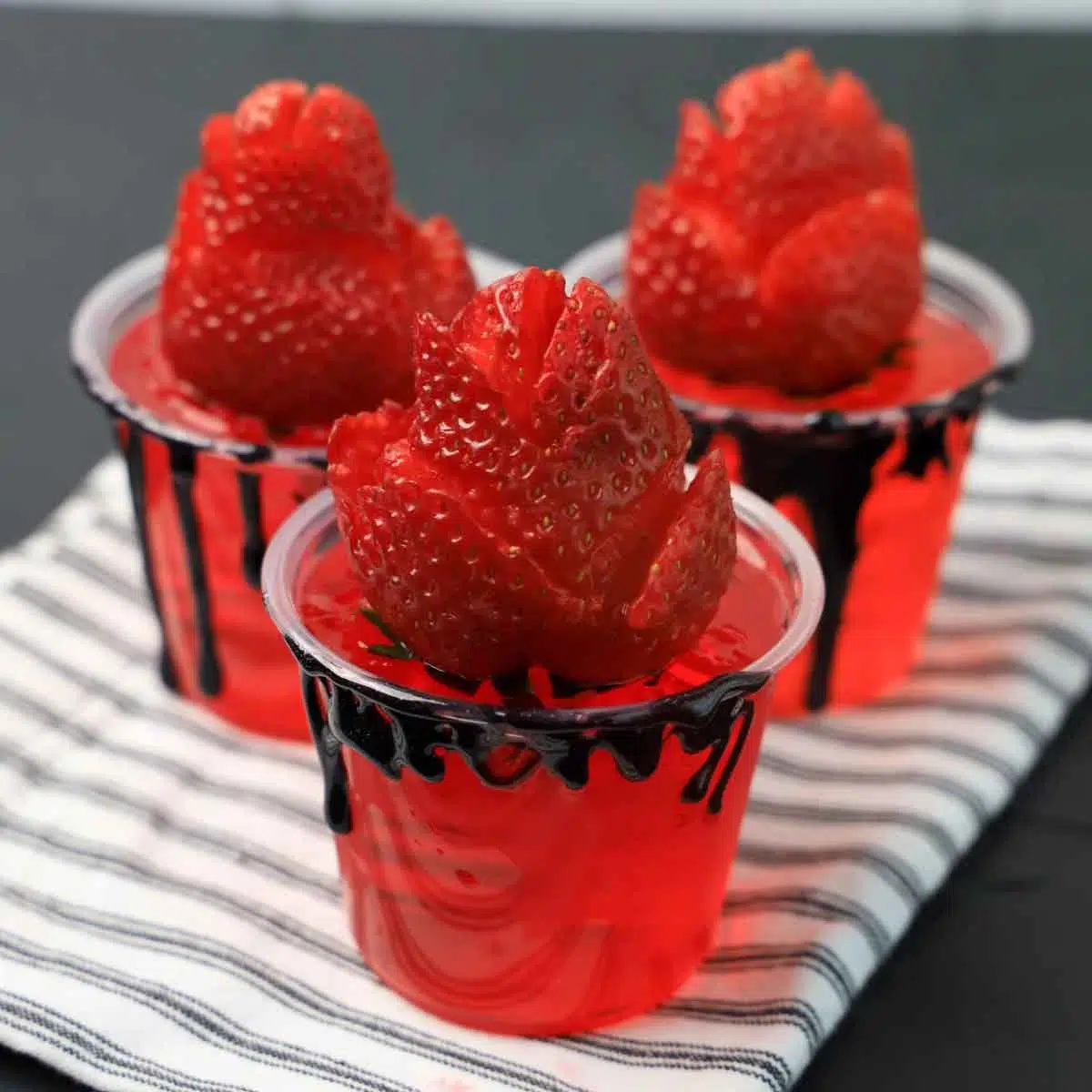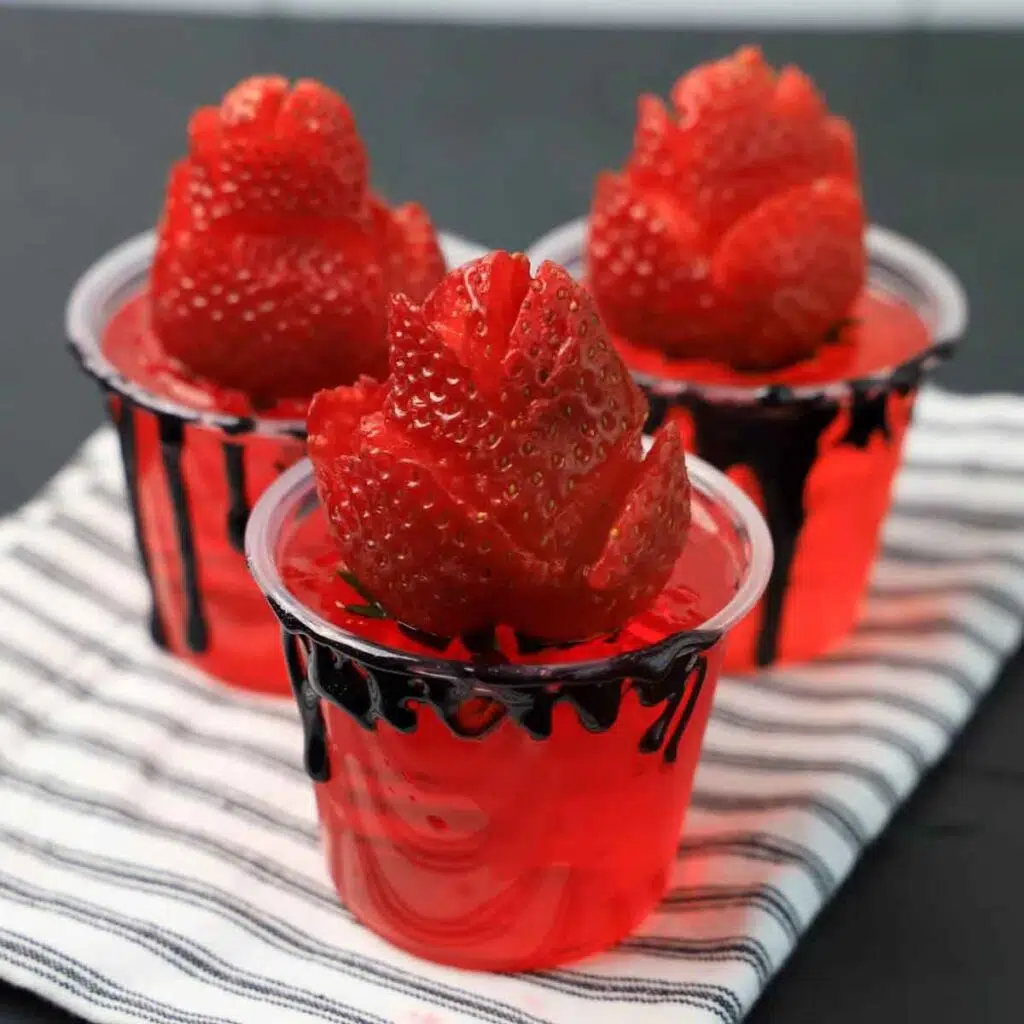 Here's a drink created by Country Girl's Life that Morticia Addams herself would be proud of, although her facial would probably never change. This drink can easily be made as a mocktail or cocktail through the liquid you mix with the JELL-O powder: ½ cup of cold water for a mocktail or ½ cup of rum, vodka, or other hard alcohol for a cocktail.
Ingredients: Box of red JELL-O, strawberries, edible black sparkle gel, alcohol of your choosing, water, wood skewers, or toothpicks.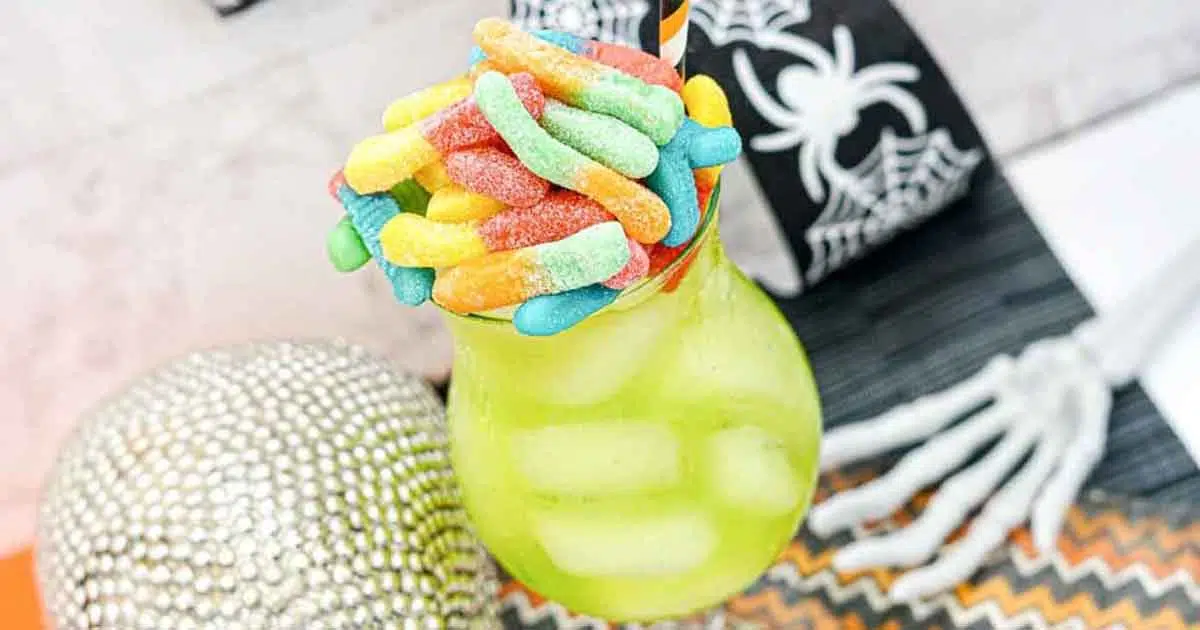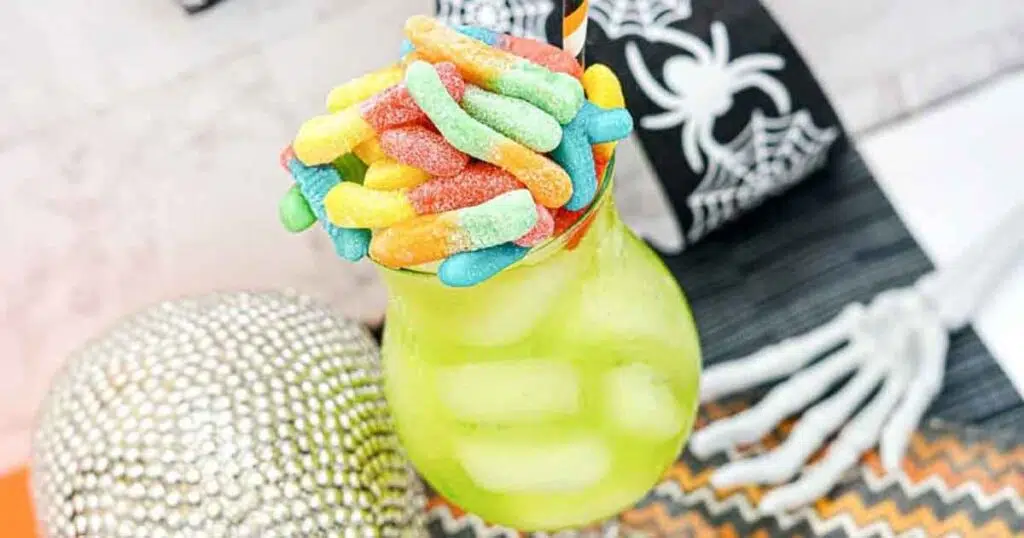 This drink concoction, put together by Brooklyn Active Mama, is full of Halloween tang with a splash of coconut sweetness. I love how fun and playful this drink looks topped with colorful gummy worms. Plus this one takes the trophy for easy Halloween cocktails.
Ingredients: Coconut rum, green Hawaiian punch, gummy worms, ice cubes.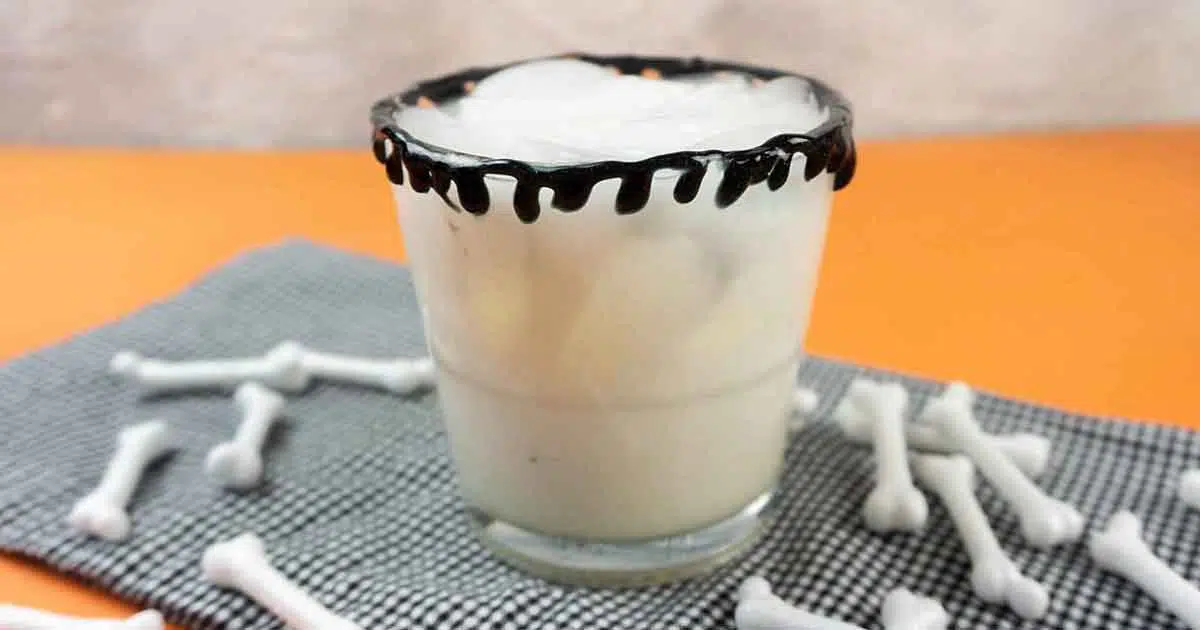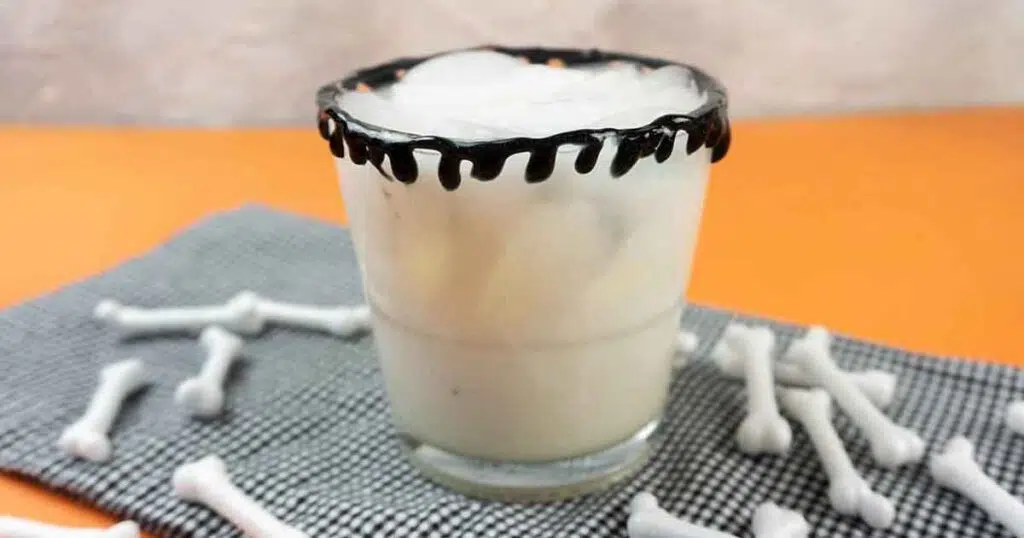 Throwing a Nightmare Before Christmas Halloween party?
Brooklyn Active Mama has done it again. Not only is the white color a departure from the neon cocktails you'll usually find at a Halloween celebration. It's also made of some excitingly tasty ingredients. This is Halloween!
Ingredients: White chocolate liqueur, whipped cream vodka, milk, ice, sparkle black gel icing.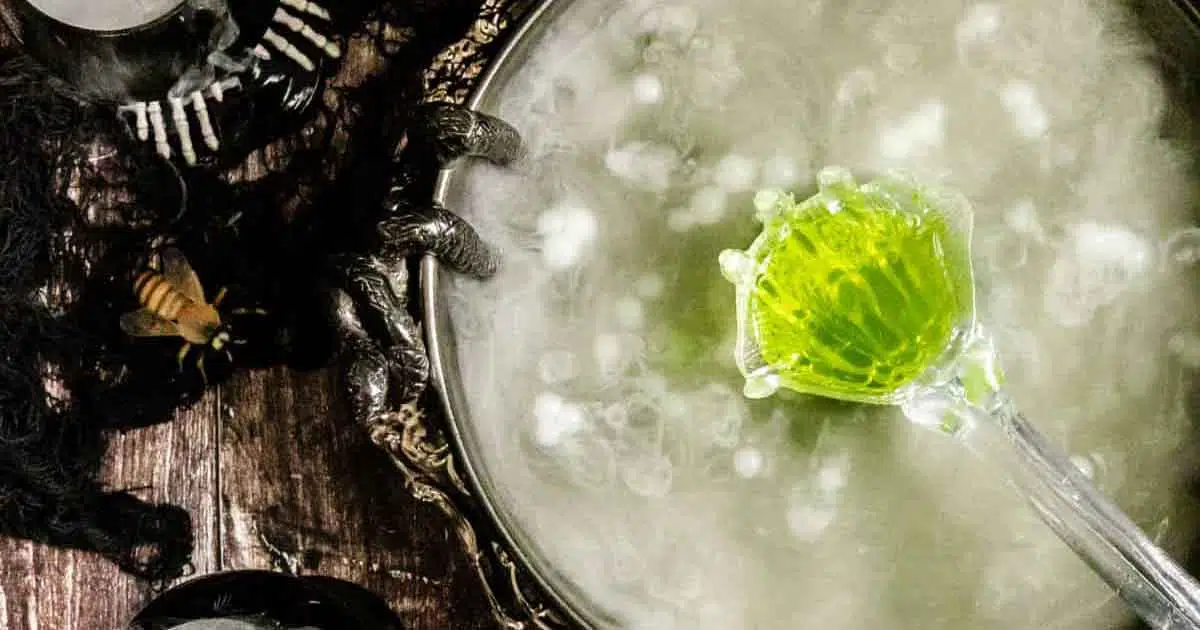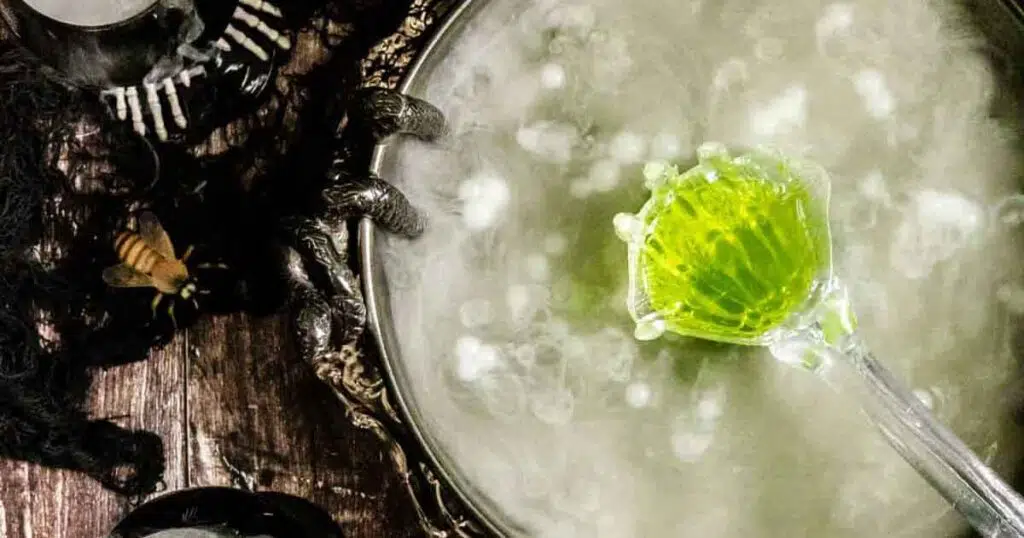 Looking to add a creepy effect to a tasty green drink? Try spooky ice cube molds and dry ice.
Celebrations at Home offers tips for fun and safe ways to use dry ice to make the smoke effect! For example, a small piece of dry ice, about the size of a quarter, will produce a smoky effect for 3-5 minutes.
Ingredients: Melon-flavored liquor, coconut rum, pineapple juice, and club soda.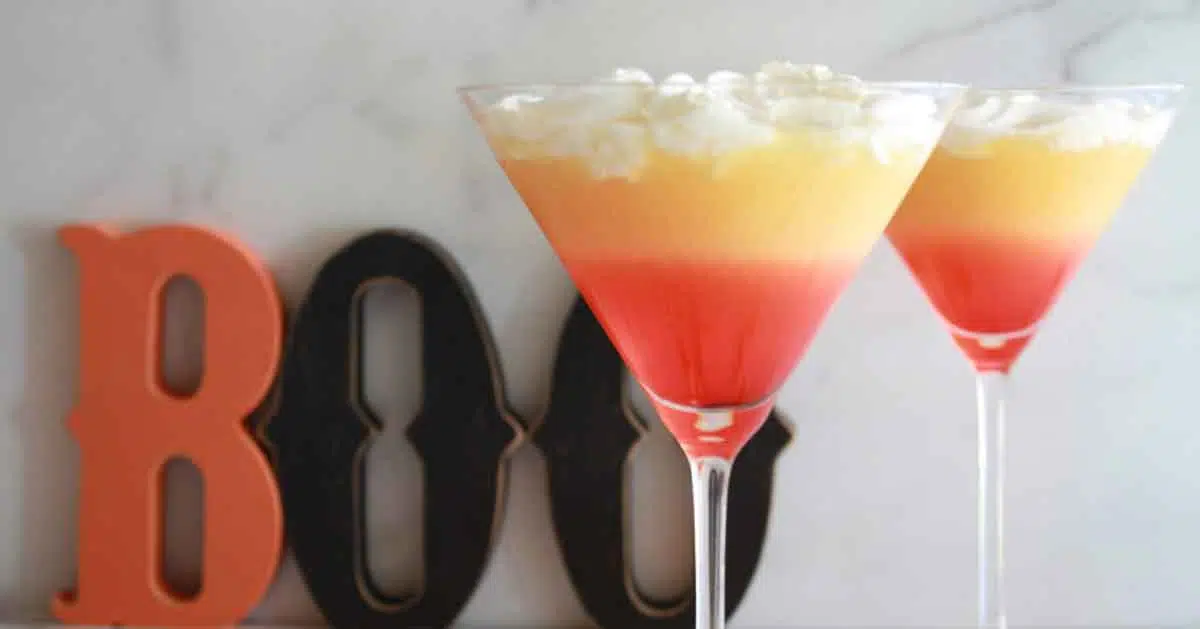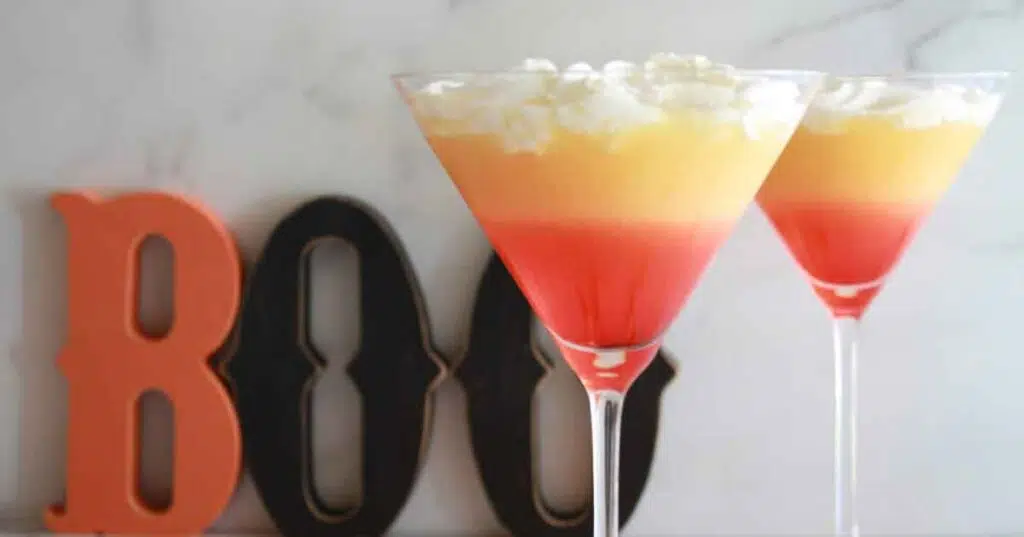 I love the 3 layer look of this Candy Corn inspired martini from The Short Order Cook. The pineapple juice and grenadine combo make it the best Halloween candy cocktail I've ever seen.
Ingredients: Vodka, pineapple juice, grenadine, and whipped cream.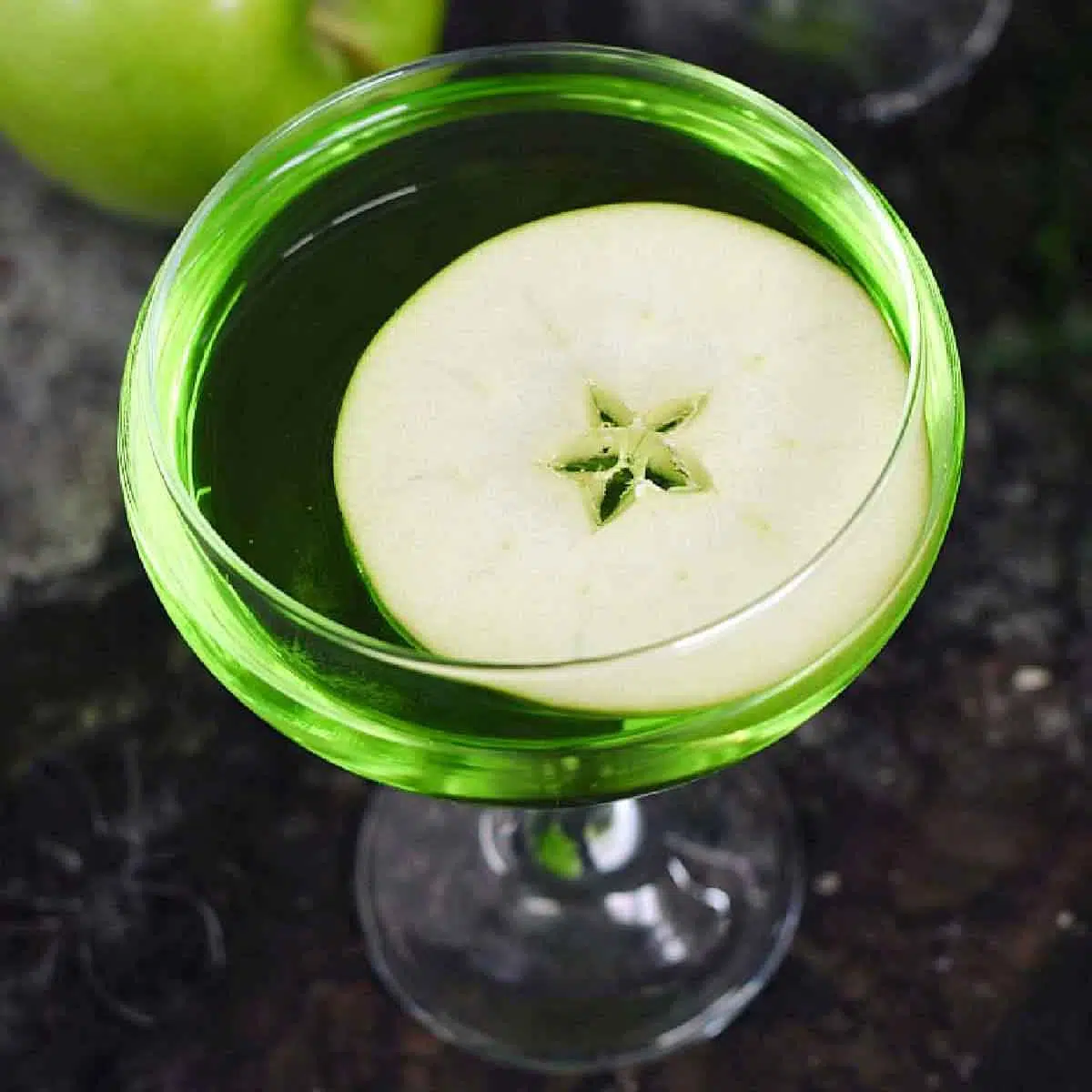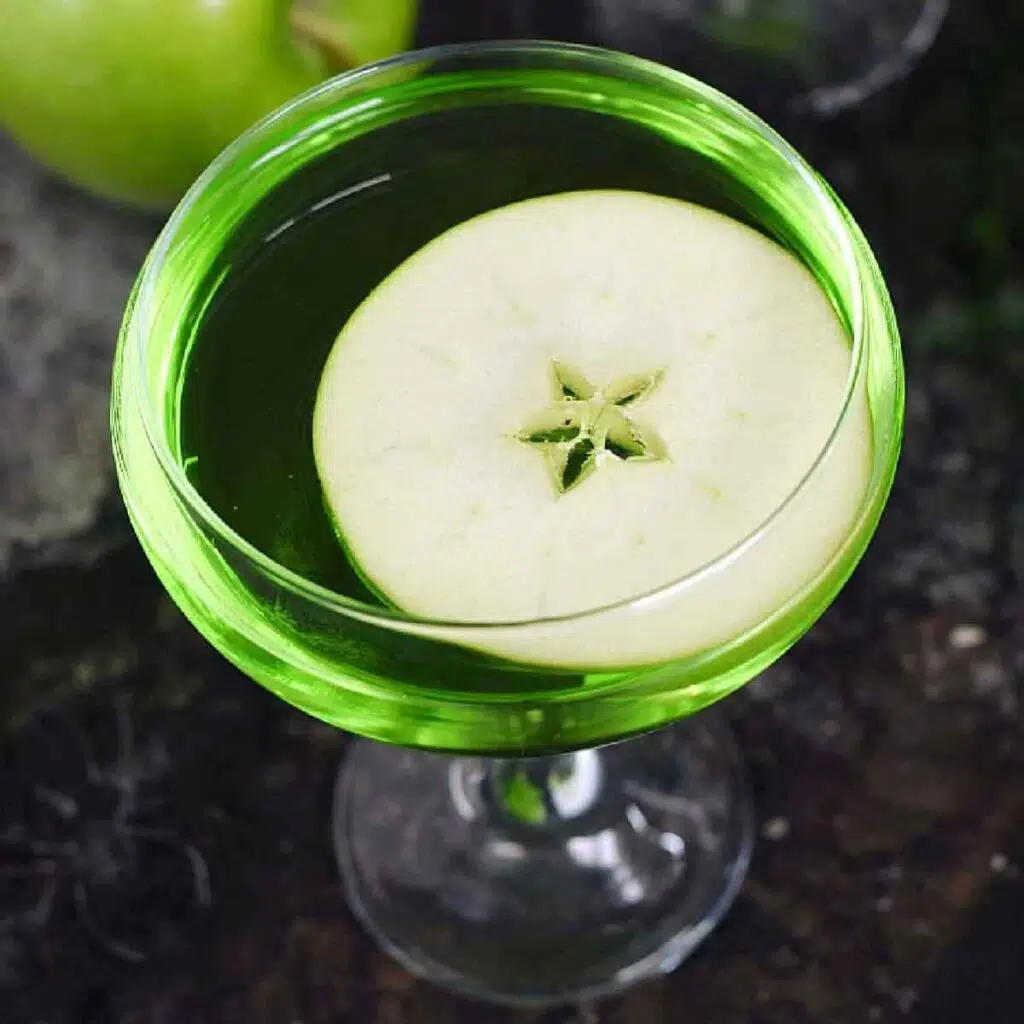 The secret to a great cocktail is a great backstory! Most people are familiar with the Evil Queen's attempt to off the fair and beautiful Snow White. That alone makes a good Halloween tale.
If you're looking for a more twisted ending to Snow White's story, check out the original version by the Brothers Grimm. Warning: you won't be able to think of Snow White the same again. But at least Cooking with Curls gives you something sweet to drink while you do so.
Ingredients: Jones Green Apple Soda, Stoli Salted Karamel Vodka, Pearl Apple Pie Vodka, apple slices.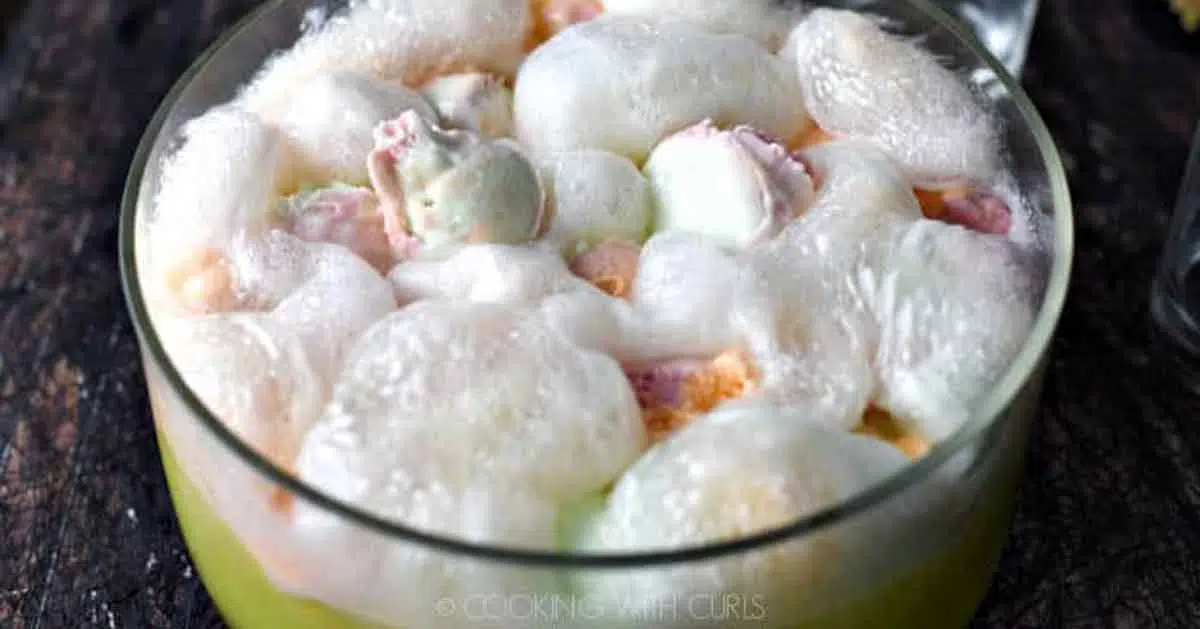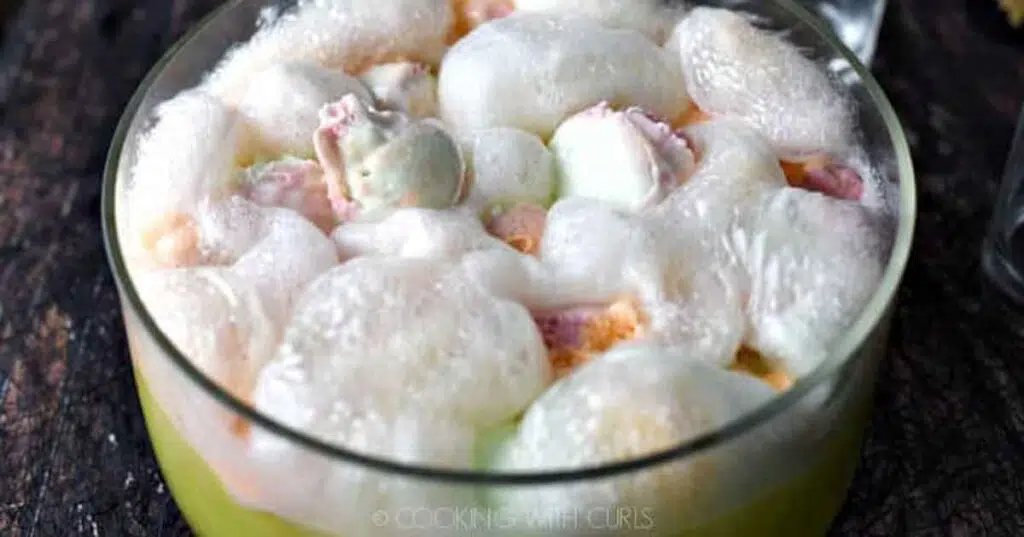 The bad news is this magic potion punch will not turn you into someone else. The good news is Cooking with Curls made this recipe look gross but taste great.
Nevertheless, be sure to at least grimace in honor like Hermione, Ron, and Harry did during their first experience with Polyjuice Potion in The Chamber of Secrets. You can easily turn this into a mocktail for kids to enjoy by leaving out the vodka.
Ingredients: Rainbow or lime sherbet, vodka, lemon-lime soda, lime green food coloring.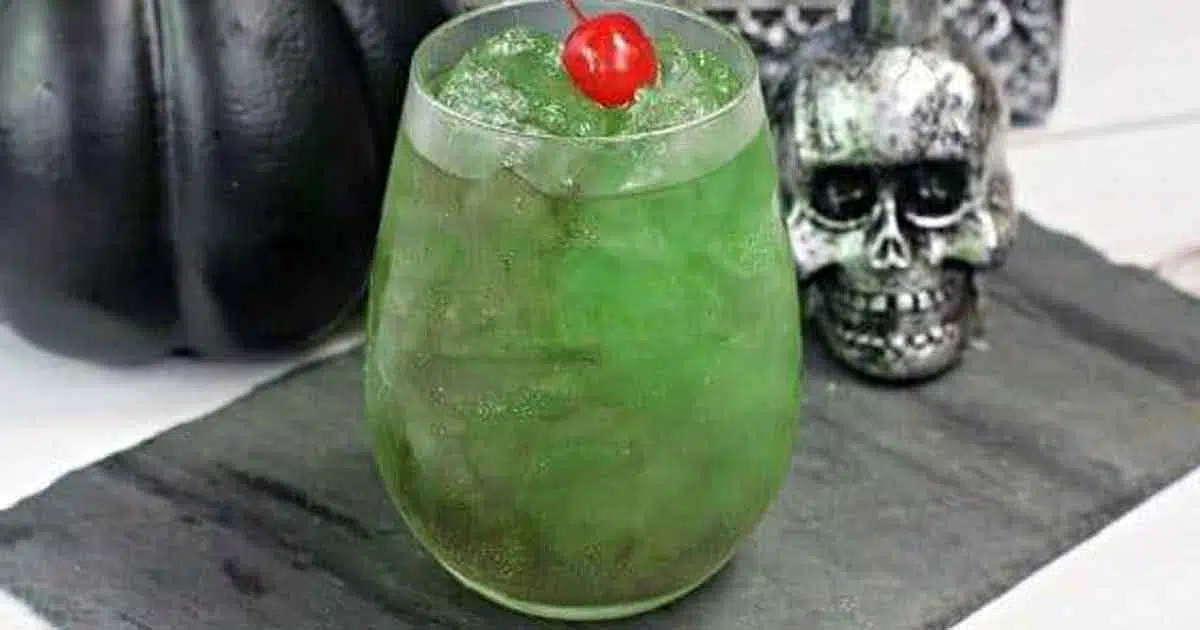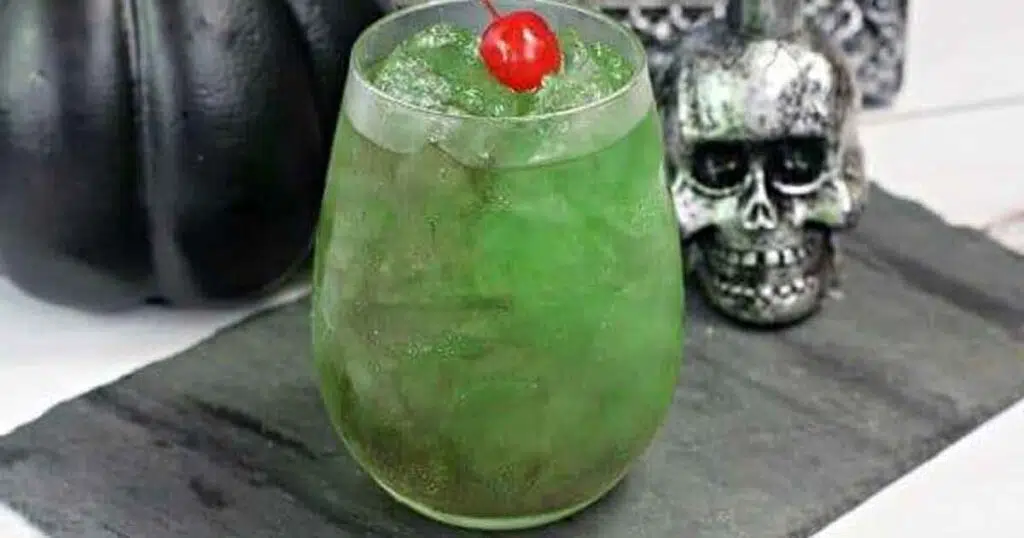 This drink pays tribute to the darker, creepier side of the Hogwartz and the Harry Potter universe. If you're looking for more Harry Potter-inspired beverages, be sure to check out Champagne and Coconuts' collection. You'll find recipes for drinks like butterbeer floats, unicorn blood, and sorting hat shots.
Ingredients: Vodka, Blue Curacao, Midori or other melon liqueur, sweet and sour mix, pineapple juice, silver cake shimmer, Maraschino cherries.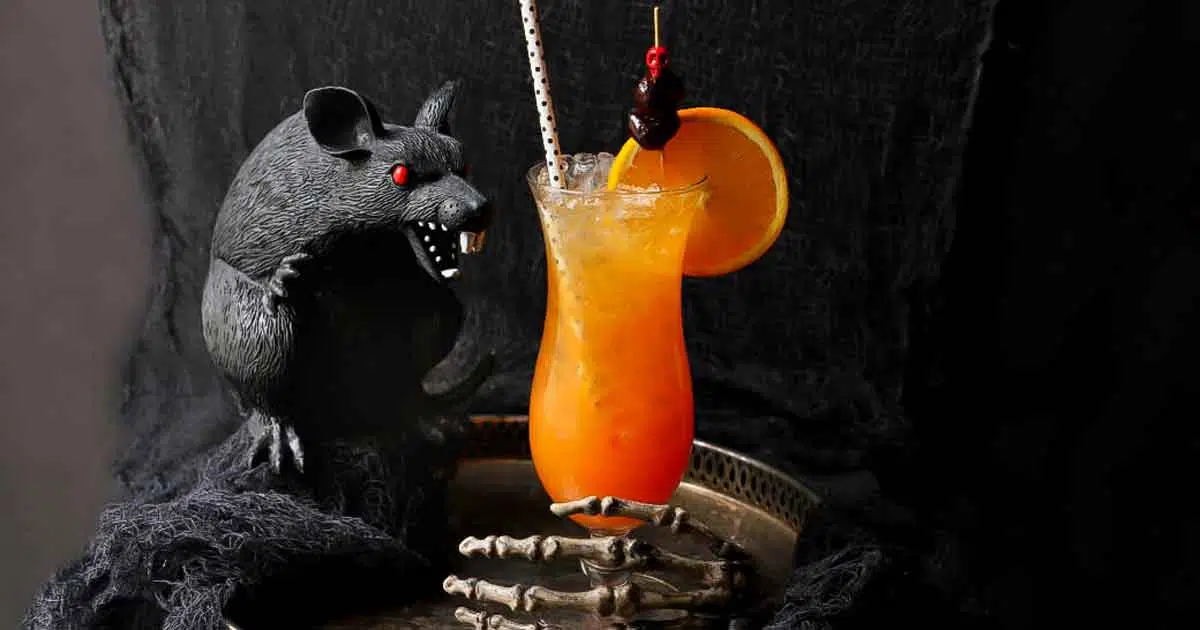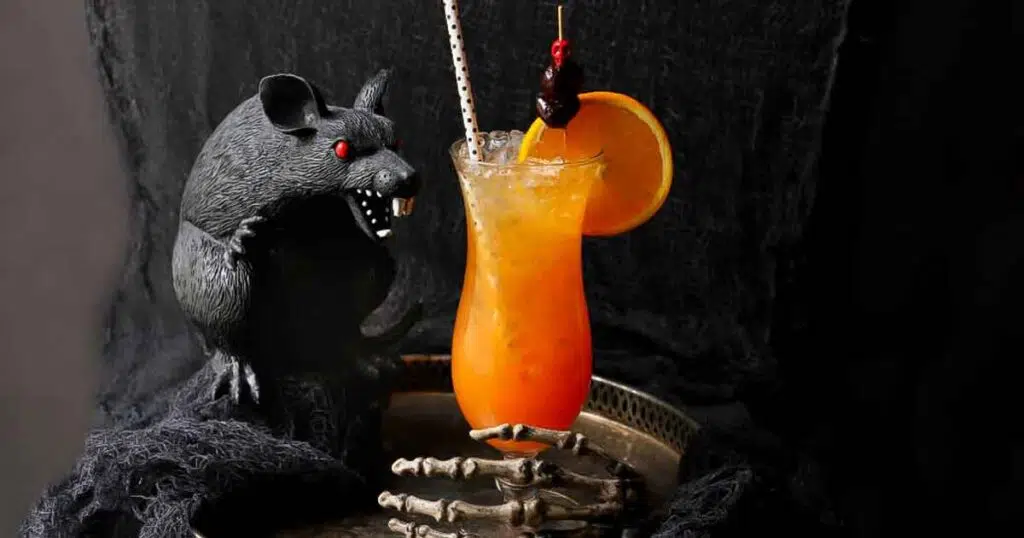 Please take a moment to read Dish N' Kitchen's explanation of the history of Zombie Punch. Once you have, please consider throwing a spooky 1930s Tiki Halloween Party! And if you do, tell me about it!
Ingredients: Appleton Estates Signature Single Estate Rum, El Dorado Demerara Rum, Cointreau, Okanagan Spirits Absinthe Gold, Wray & Nephew Over Proof Rum, fresh lime juice, fresh orange juice, passionfruit pulp, grenadine, Velvet Falernum, Orange bitters.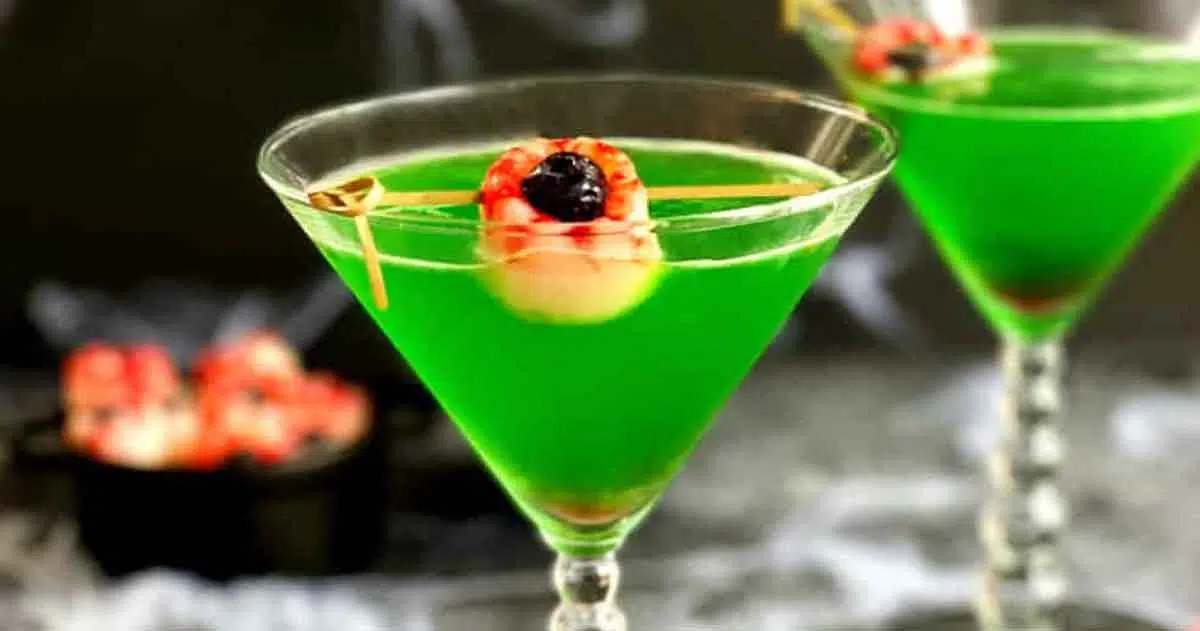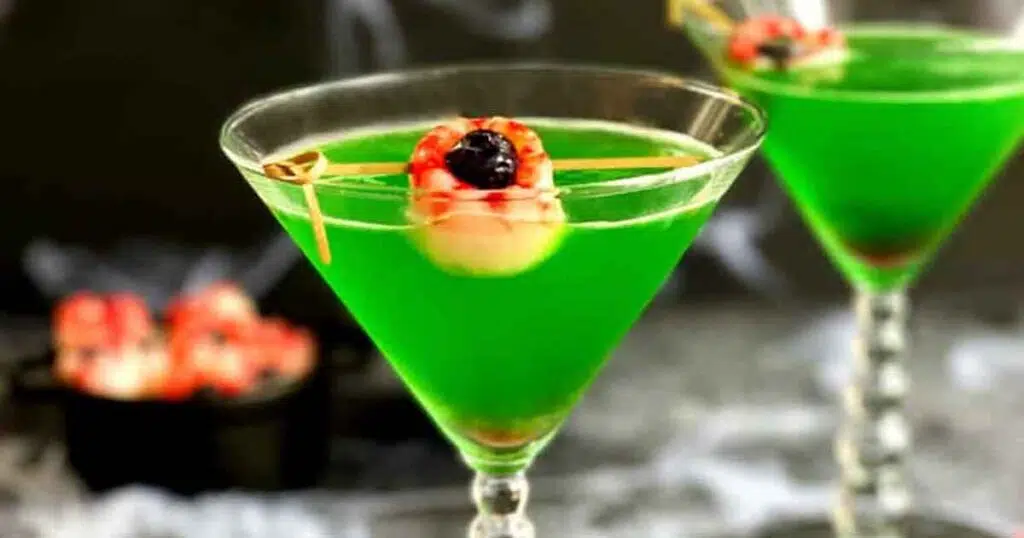 This eyeball martini recipe invites you to harvest (assemble) eyeballs! Mwahahaha! With lychee fruit, blueberries, and red gel food coloring, Emily Fabulous makes you the evil scientist of the party.
Ingredients: Lychee fruit, blueberries, red gel food coloring, Gin, Elderflower liqueur, Fresh lime juice, lychee syrup, green food coloring.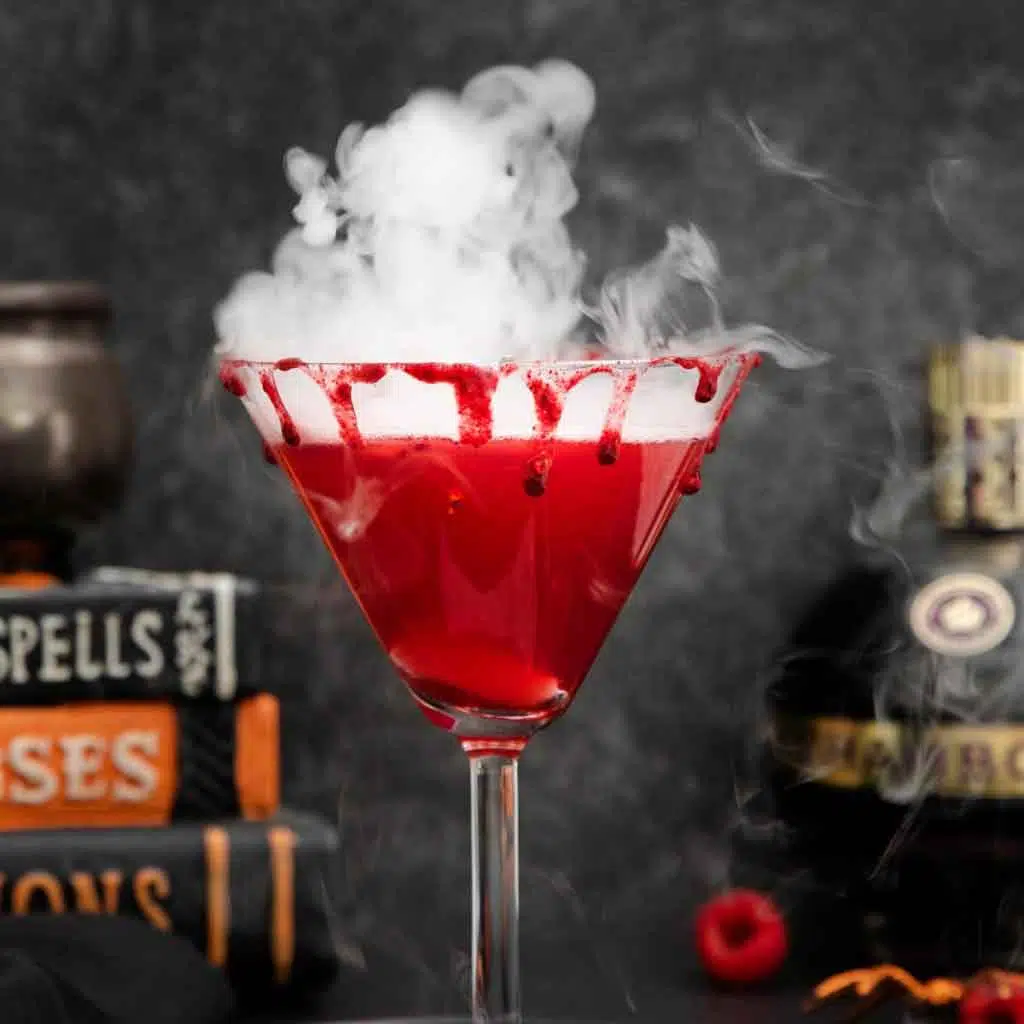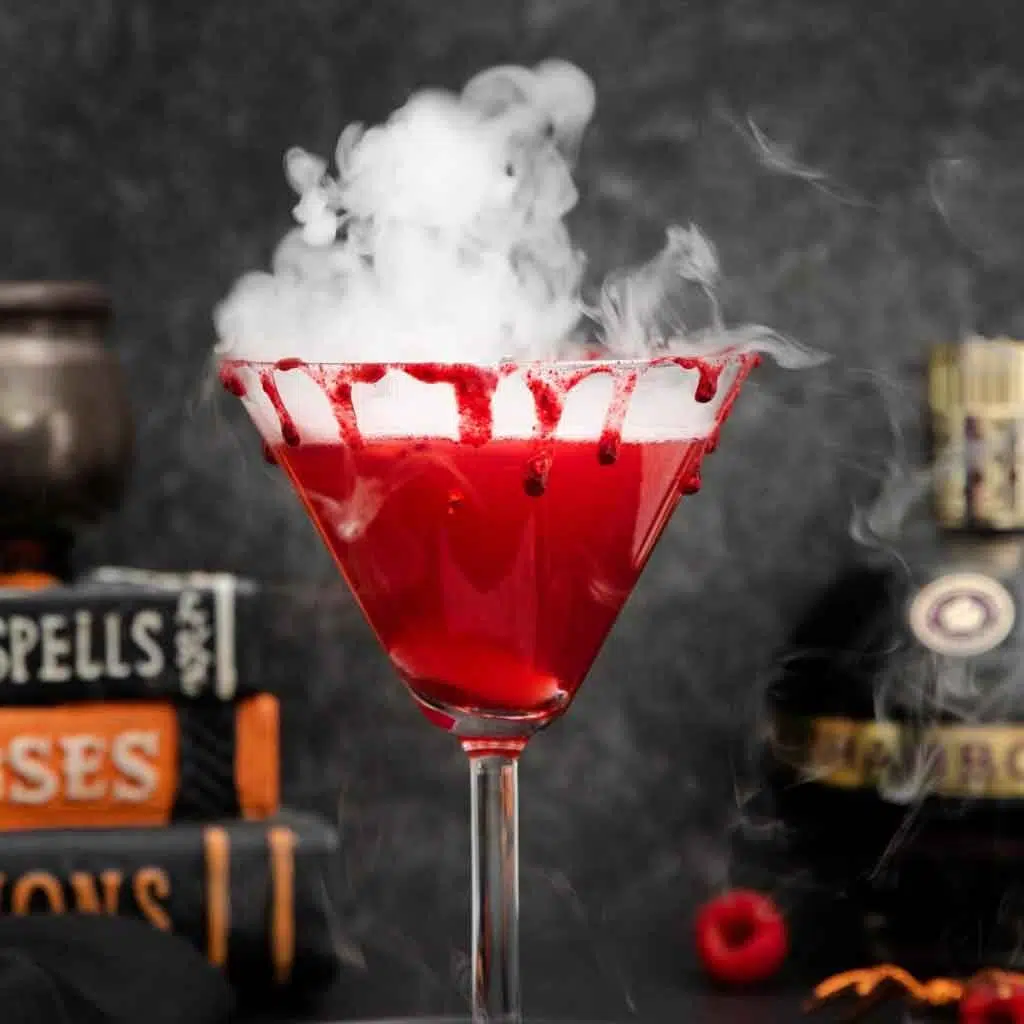 Easy Wholesome has provided another great, all-natural drink option! If you missed it, the Eyeball Punch Mocktail in the non-alcoholic section came from them also. It's great to know there are some healthier alternatives for festive drinks.
Ingredients: Maple syrup, freeze-dried raspberry powder, raspberries, vodka, Chambord, lime juice.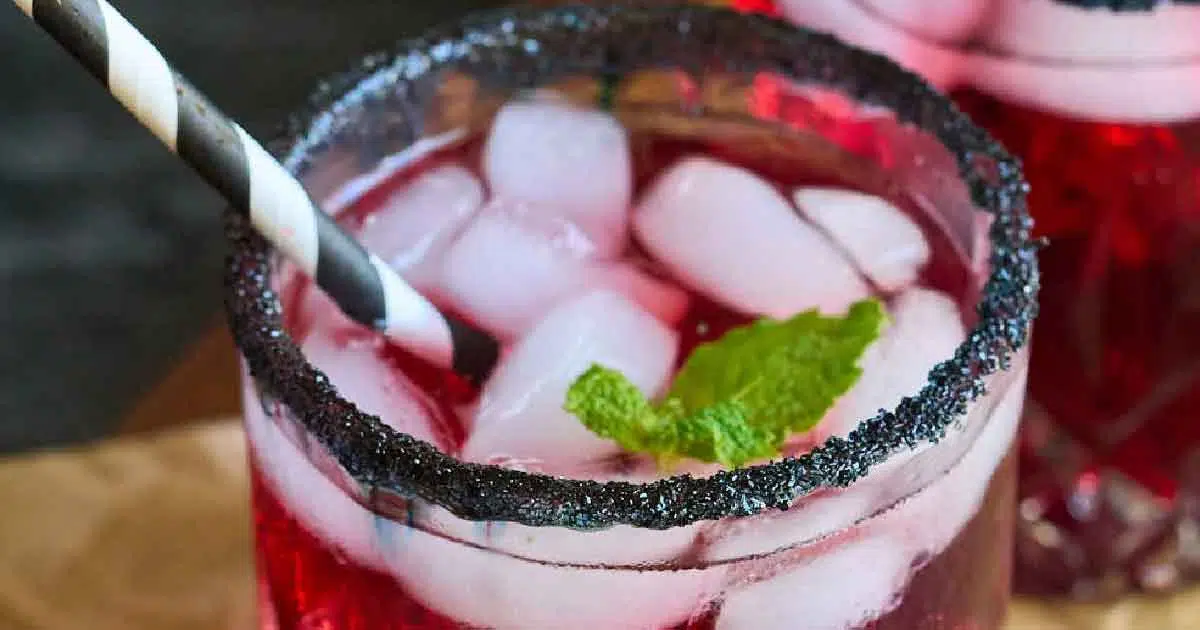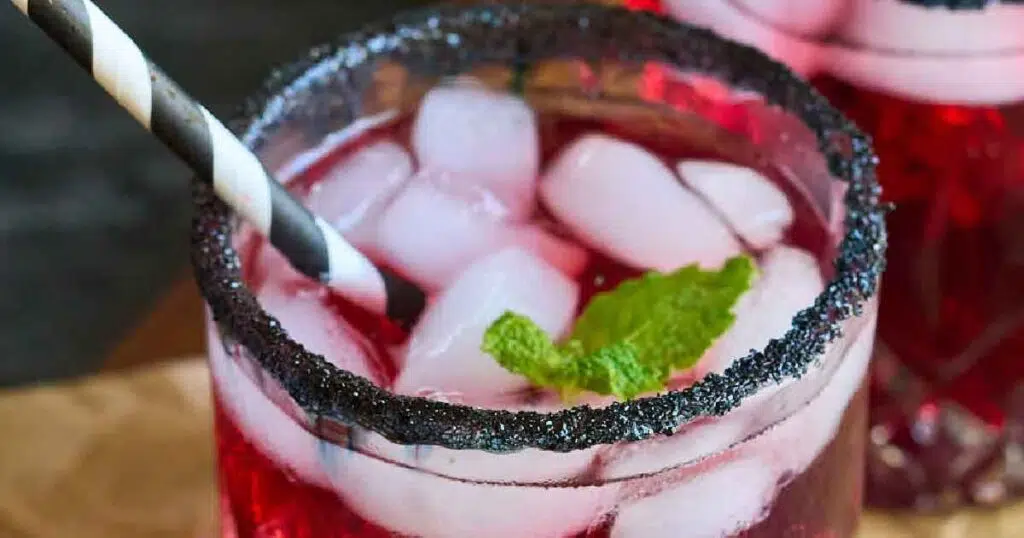 This drink is so tasty it's dangerous – just like its namesake…its namesake being dangerous, not tasty. I do not endorse eating black widows. Moving on. Your adult guests will love how Hearts Content Farmhouse marries a subtle nod to Halloween with a not-so-subtle delicious flavor.
Ingredients: Black sparkling sugar, corn syrup, raspberry vodka, black raspberry liquor, cranberry juice, ginger ale, black plastic spiders, mint leaves.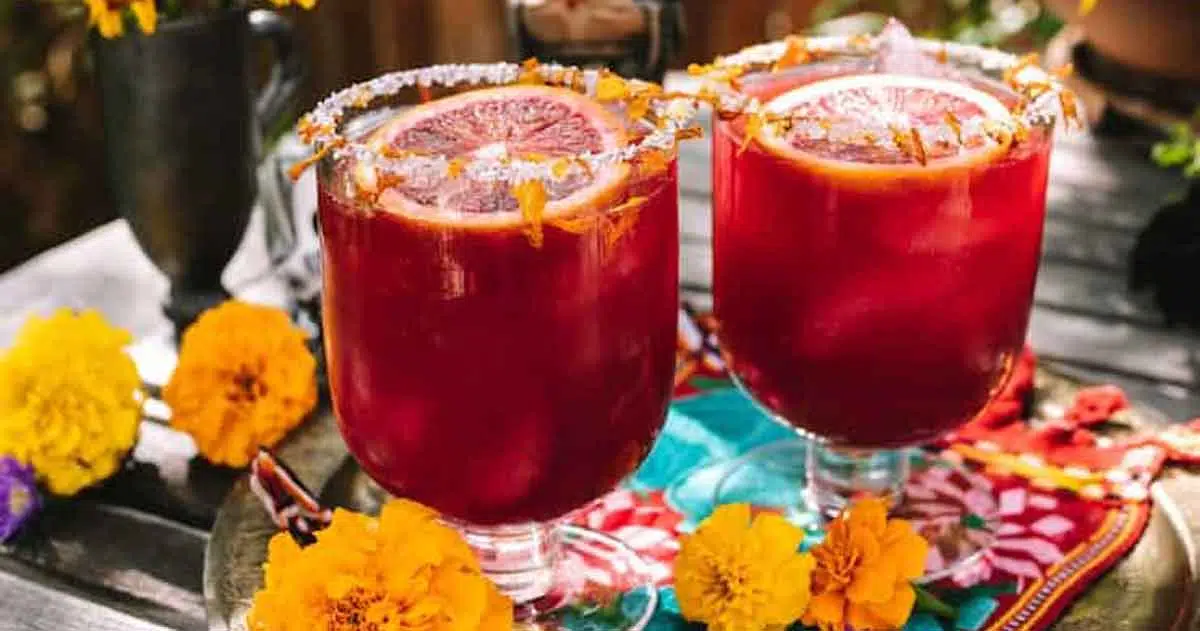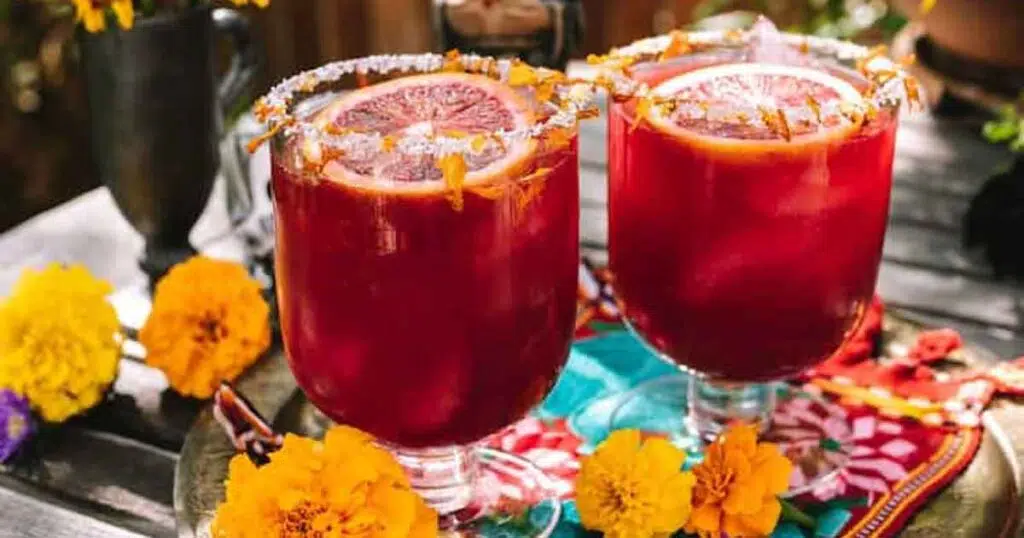 Throwing a Dia de los Muertos party? Don't forget Blood Orange Marigold Margaritas. Muy Bueno Cook Book offers a recipe with the perfect colors and flavors for the occasion.
Ingredients: Blood oranges, limes, Tequila blanco or Marigold Infused Tequila, Triple Sec, ice, salt, marigold flowers.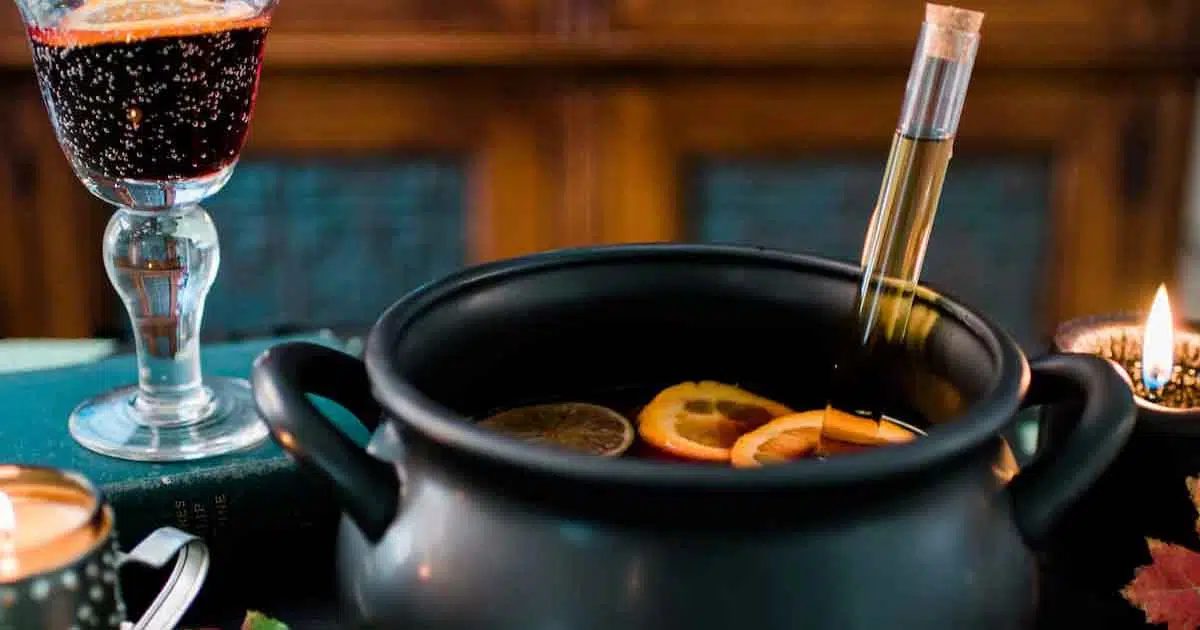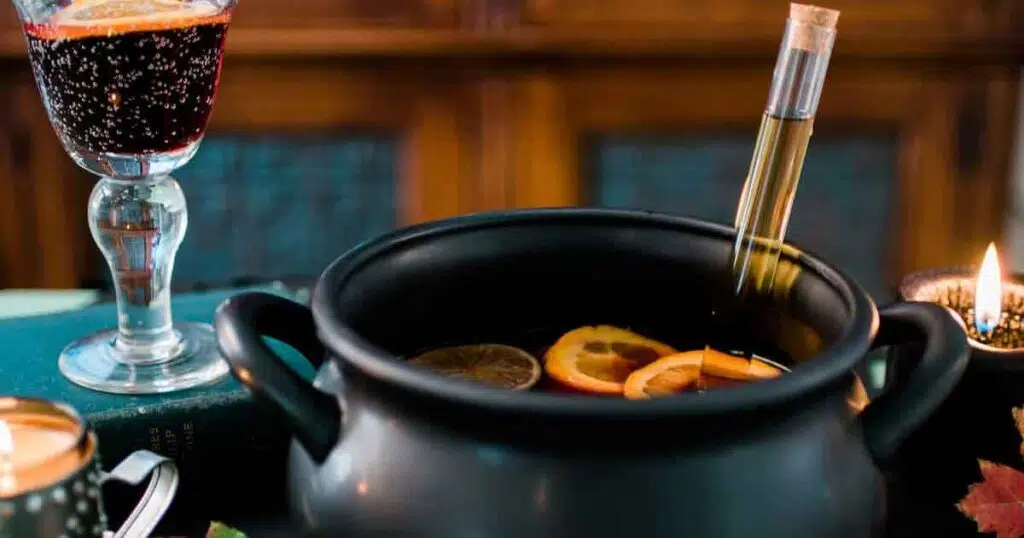 Whether you're serving party guests or treating yourself to a drink while you pass out candy to trick-or-treaters, this recipe from Muy Bueno Cook Book is a winner. It starts with a bottle of red wine. Need I say more?
Ingredients: Red wine, blood oranges, limes, sparkling mineral water, bourbon, dry ice.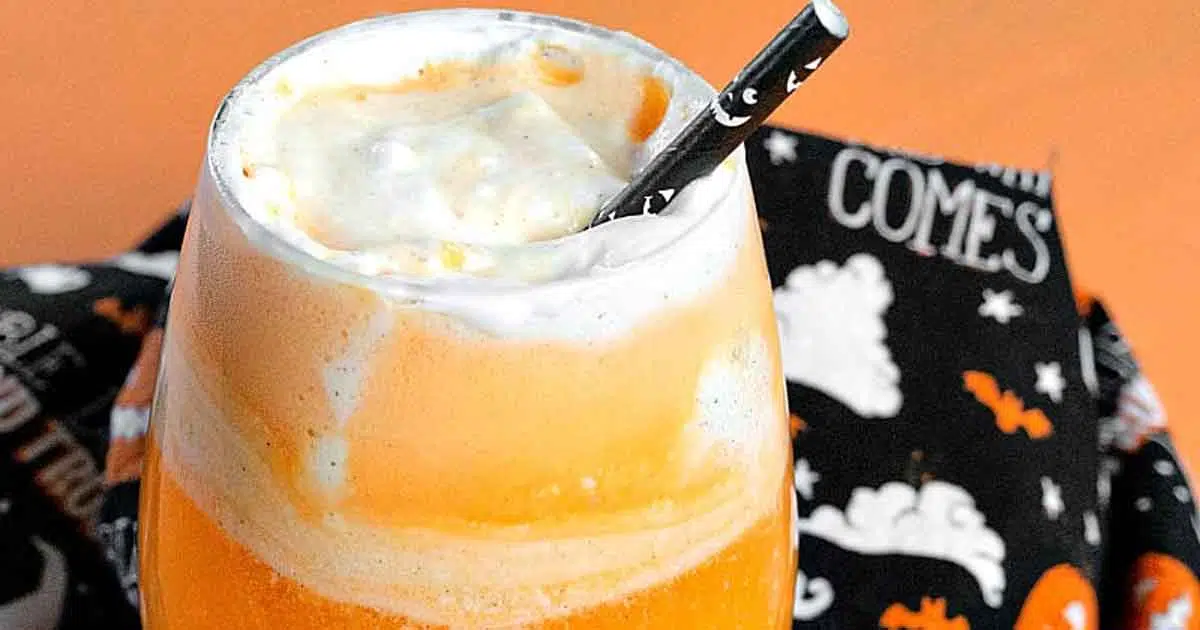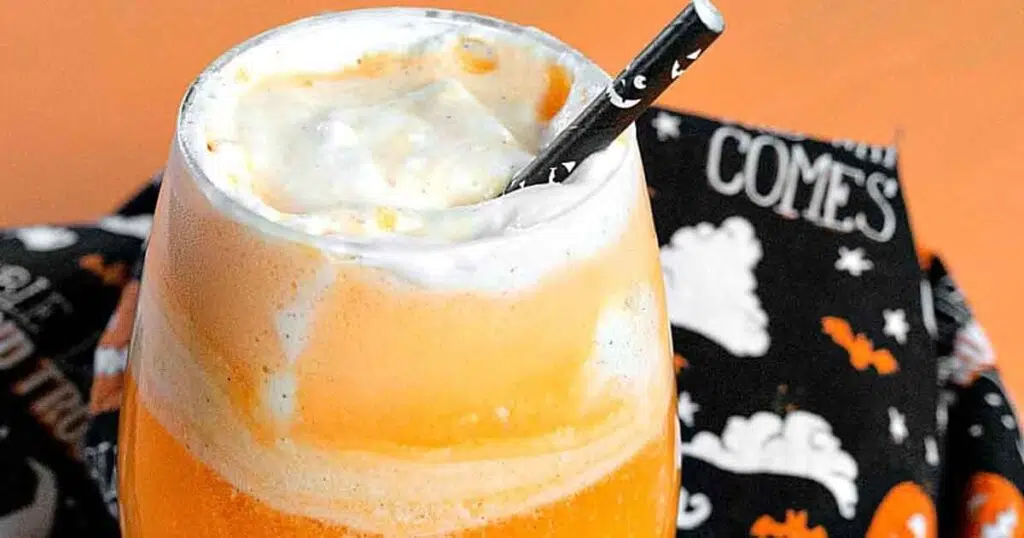 What screams Halloween more than an orange, frothy beverage? This Witches' Brew recipe by Organized 31 combines two top girls-night-out ingredients, wine and ice cream. You're welcome, ladies!
Ingredients: Orange soda, Pinot Grigio, Vanilla Bean ice cream.
27- Black Widow (Rum, Tequila, & Fireball)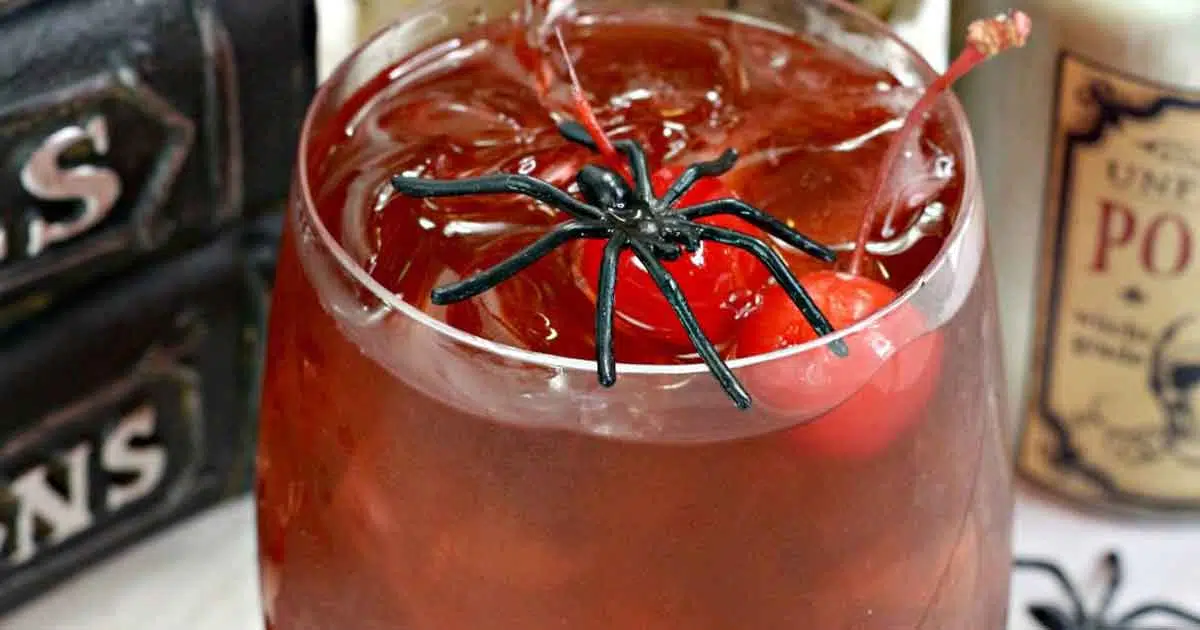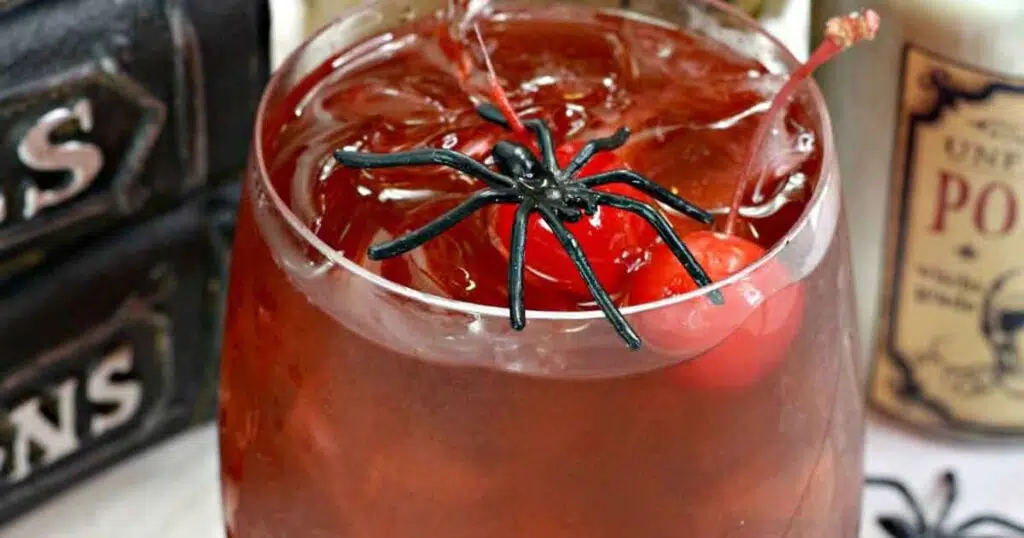 This Black Widow drink, or the widow-maker as I like to call it because it combines three hard liquors, is one your guests will not forget (unless they consume too much of it). But don't blame Our Wabi Sabi Life! The cherry apple juice helps soften the blow. You can play with the ratios to get the perfect drink for you and your party guests.
Ingredients: Spiced rum, tequila, Fireball, cherry apple juice.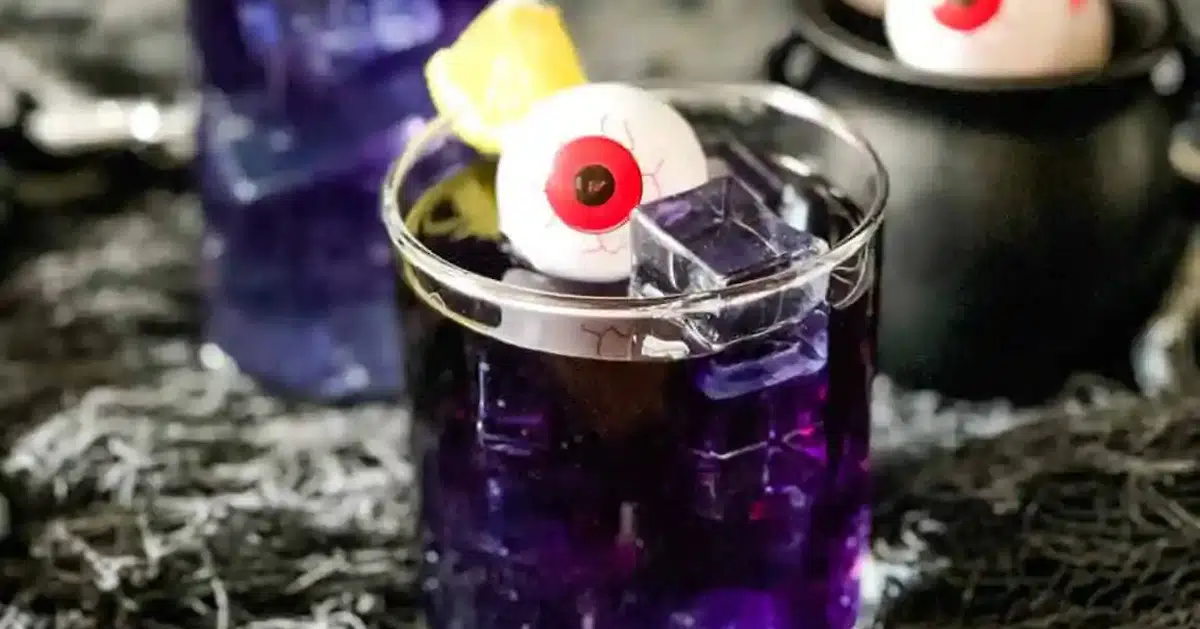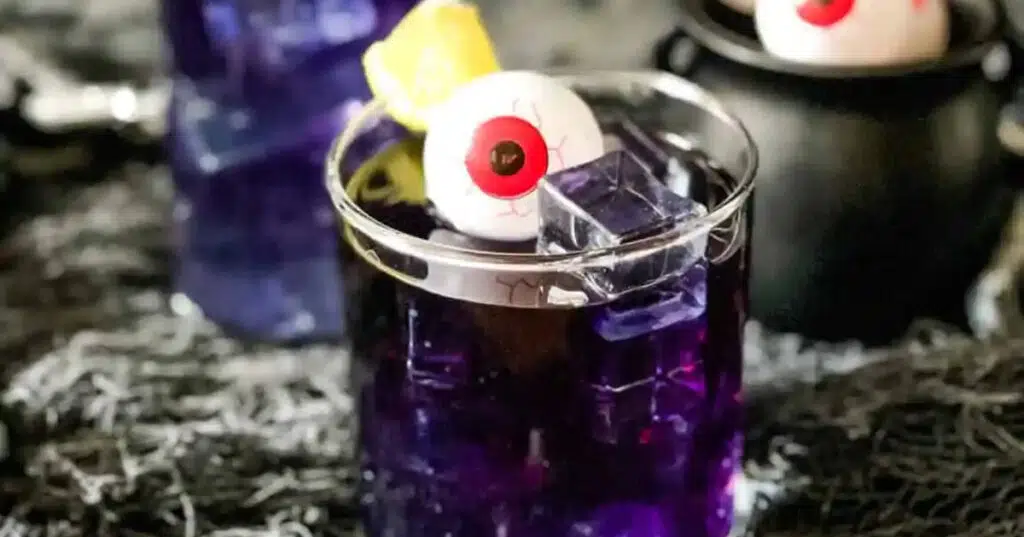 Although I'm not quite sure what a Purple Eater is, the deep purple color of this cocktail from Three Olives Branch definitely gives me plenty of Halloween vibes.
Ingredients: Vodka, blue curacao, lemonade, lemon wedges, gummy or ping-pong eyeballs.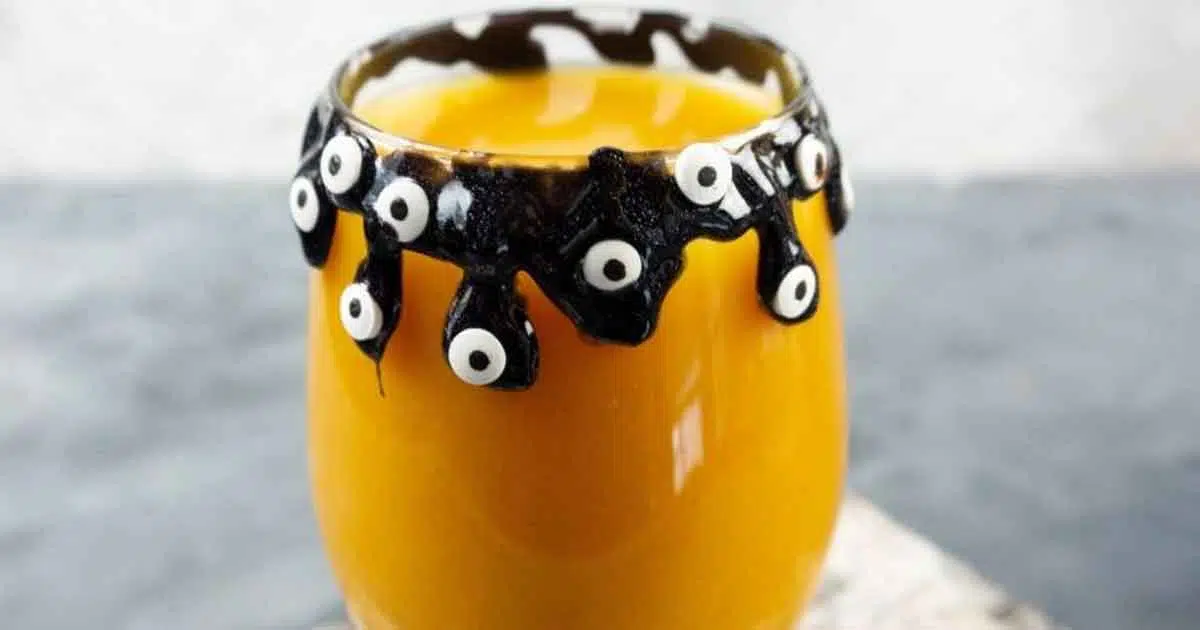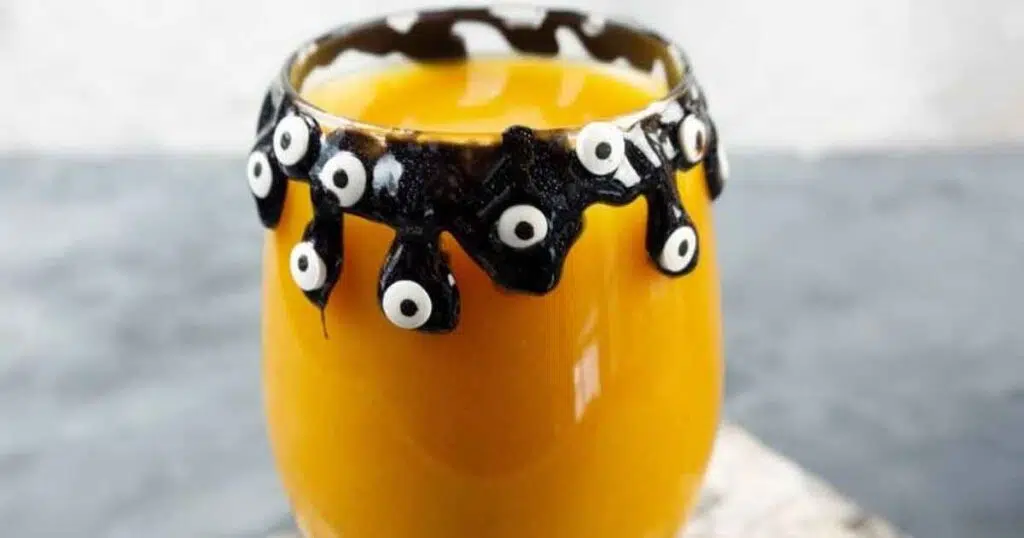 You don't come across many pumpkin cocktails, but doesn't it just make so much sense for this time of the year? This is another recipe from Our Wabi Sabi Life that is easy and fun!
Ingredients: Pumpkin puree, orange juice, pumpkin-flavored vodka, edible black glitter gel, candy eyes.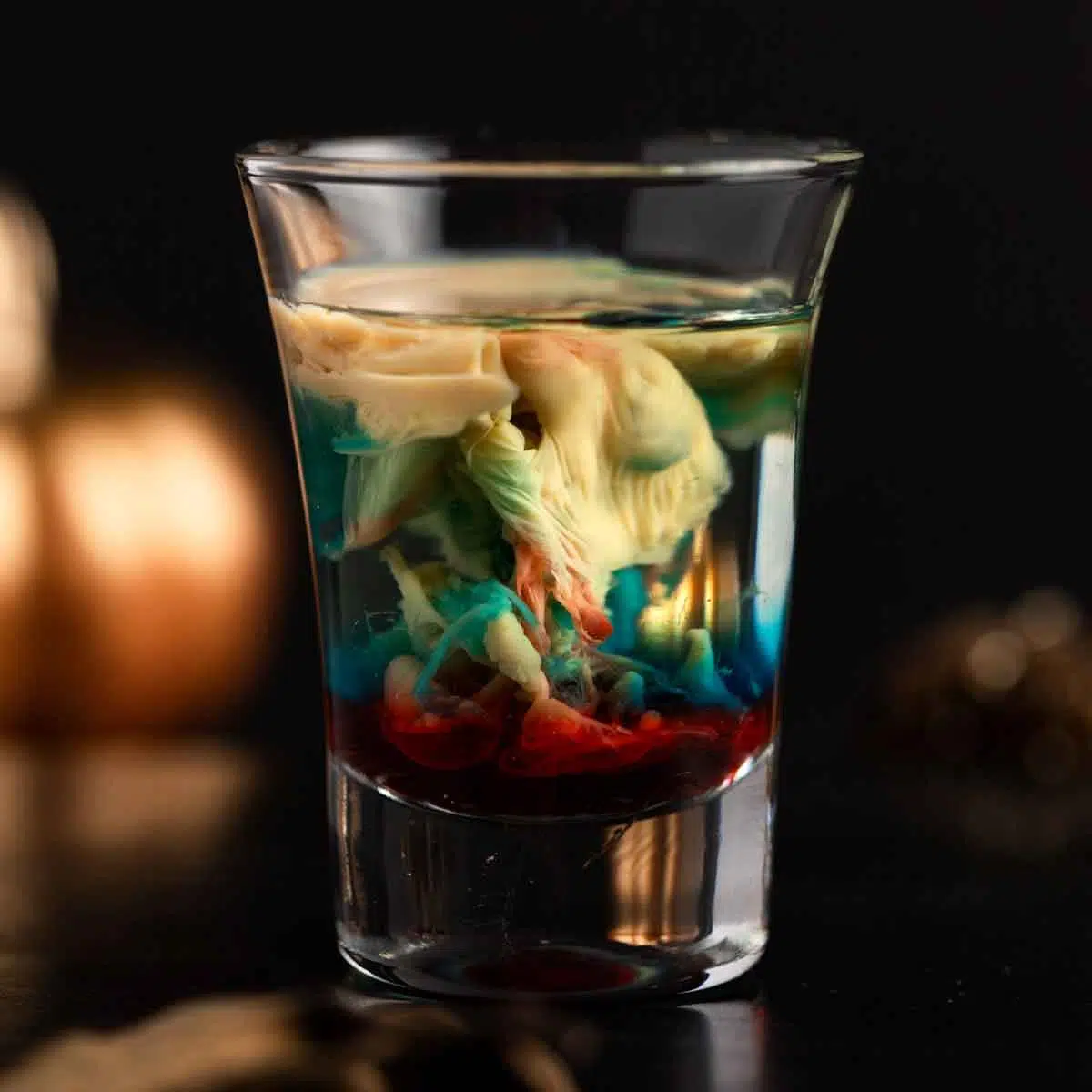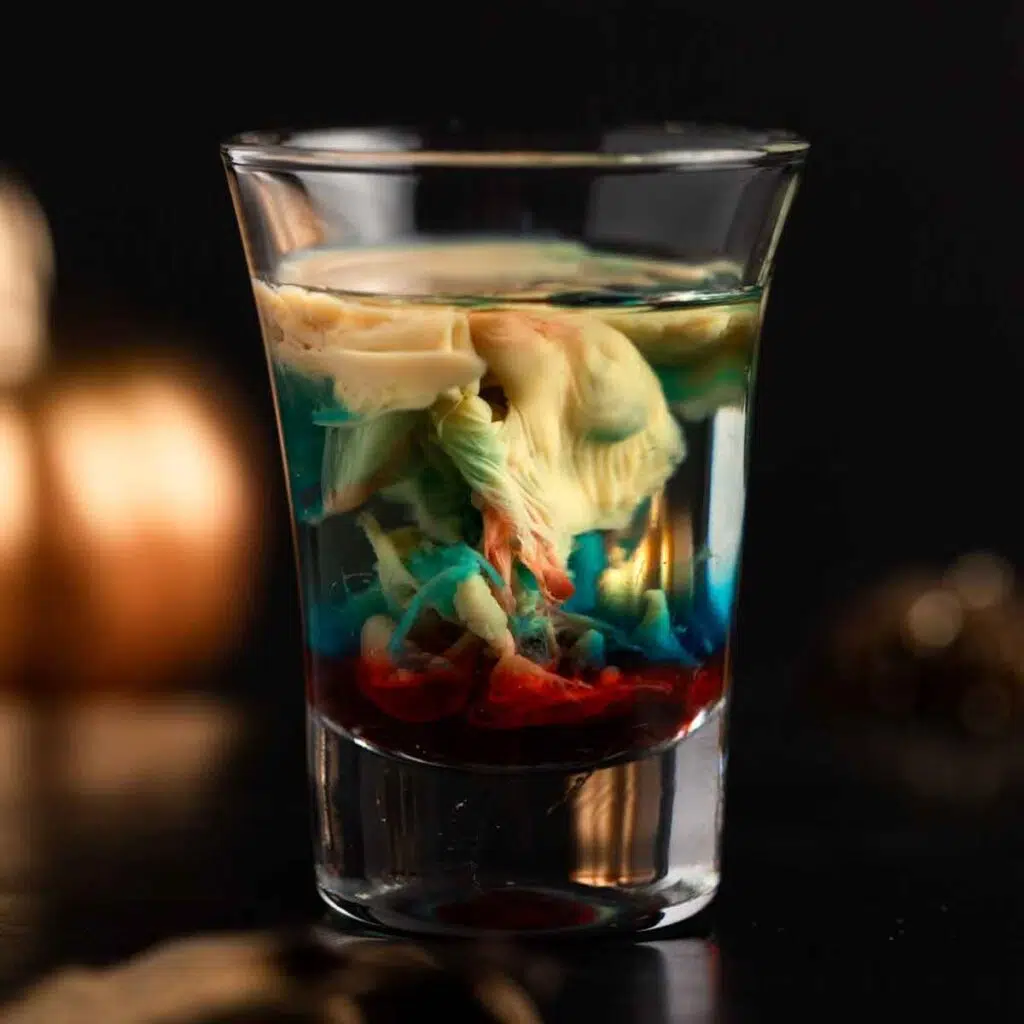 Turn your kitchen into a mad science lab and impress your guests by making these creepy, yet tasty, shots from The Littlest Crumb.
You will need a dropper and a little finesse but the result is spectacular.
Ingredients: Peach Schnapps, Baileys, Blue Curaçao, and grenadine.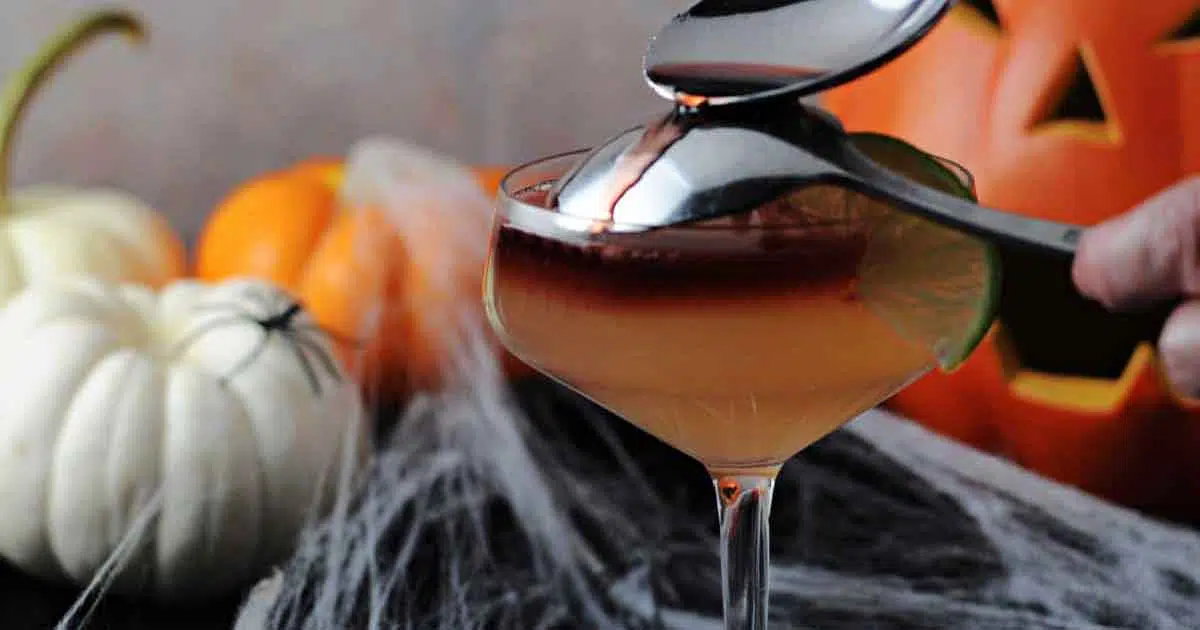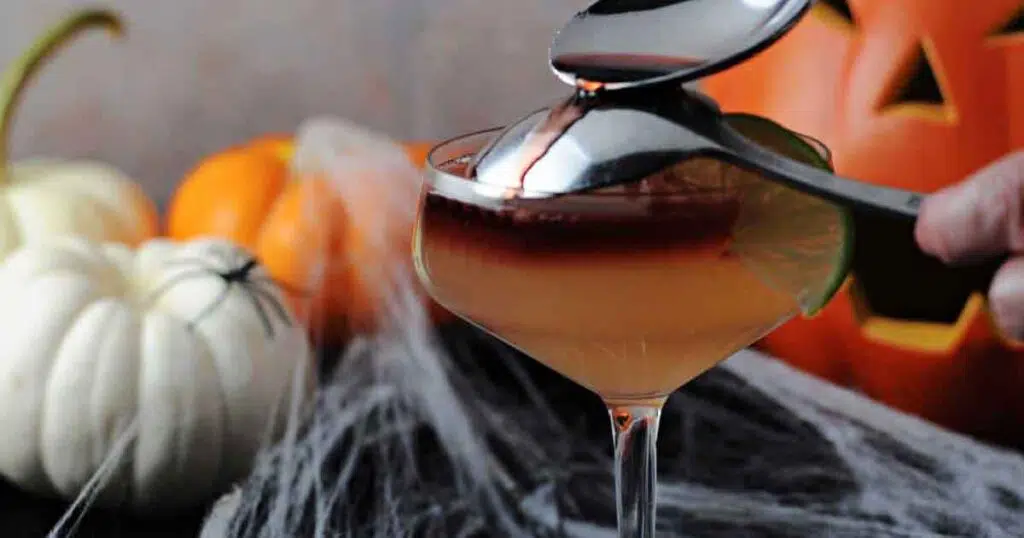 If you're a fan of margaritas, red wine, and having a devilishly good time, check out this recipe by Sula and Spice. The author does not suggest salting the rim for this margarita, but black sugar works if you want to make the drink look extra spooky.
Ingredients: Tequila Silver, Triple Sec, lime juice, simple syrup, ice, lime, red wine.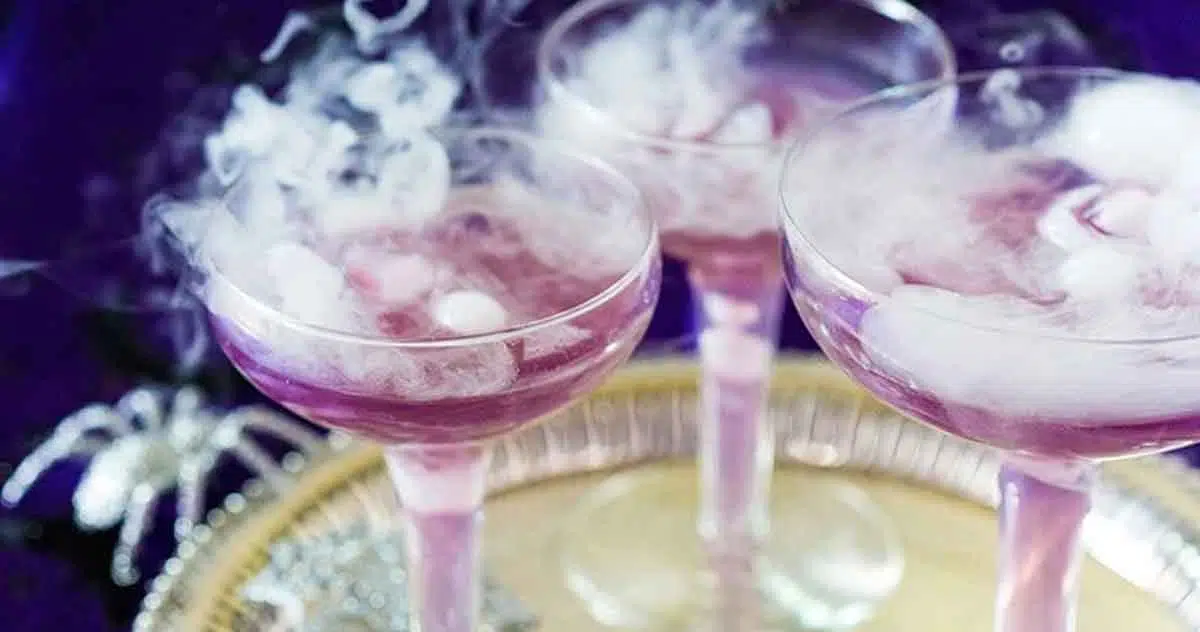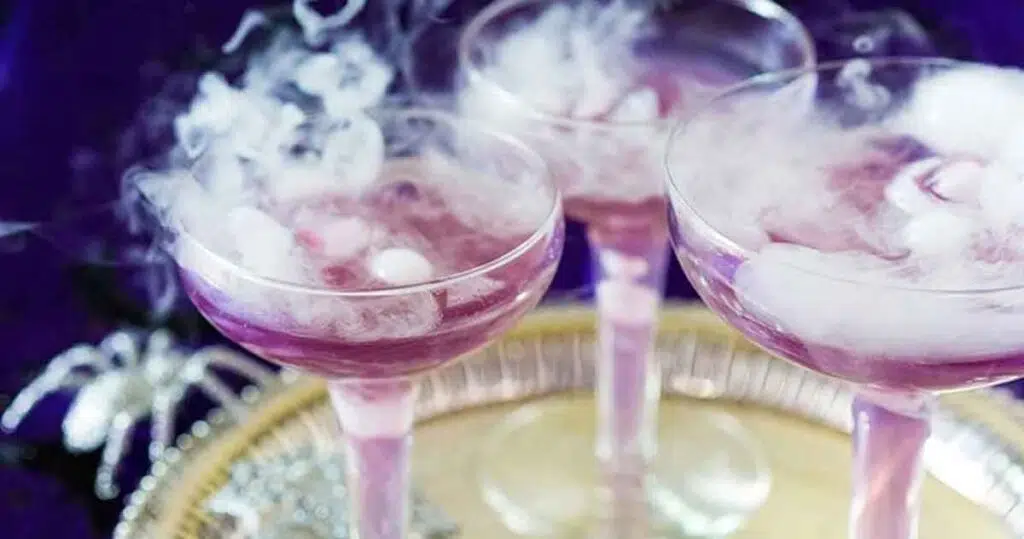 This super simple champagne cocktail from Pizzazzerie is the perfect purple color for a Halloween bridal shower. Drop in a little bit of dry ice and watch them smoke.
Ingredients: Viniq original (purple), champagne, and dry ice.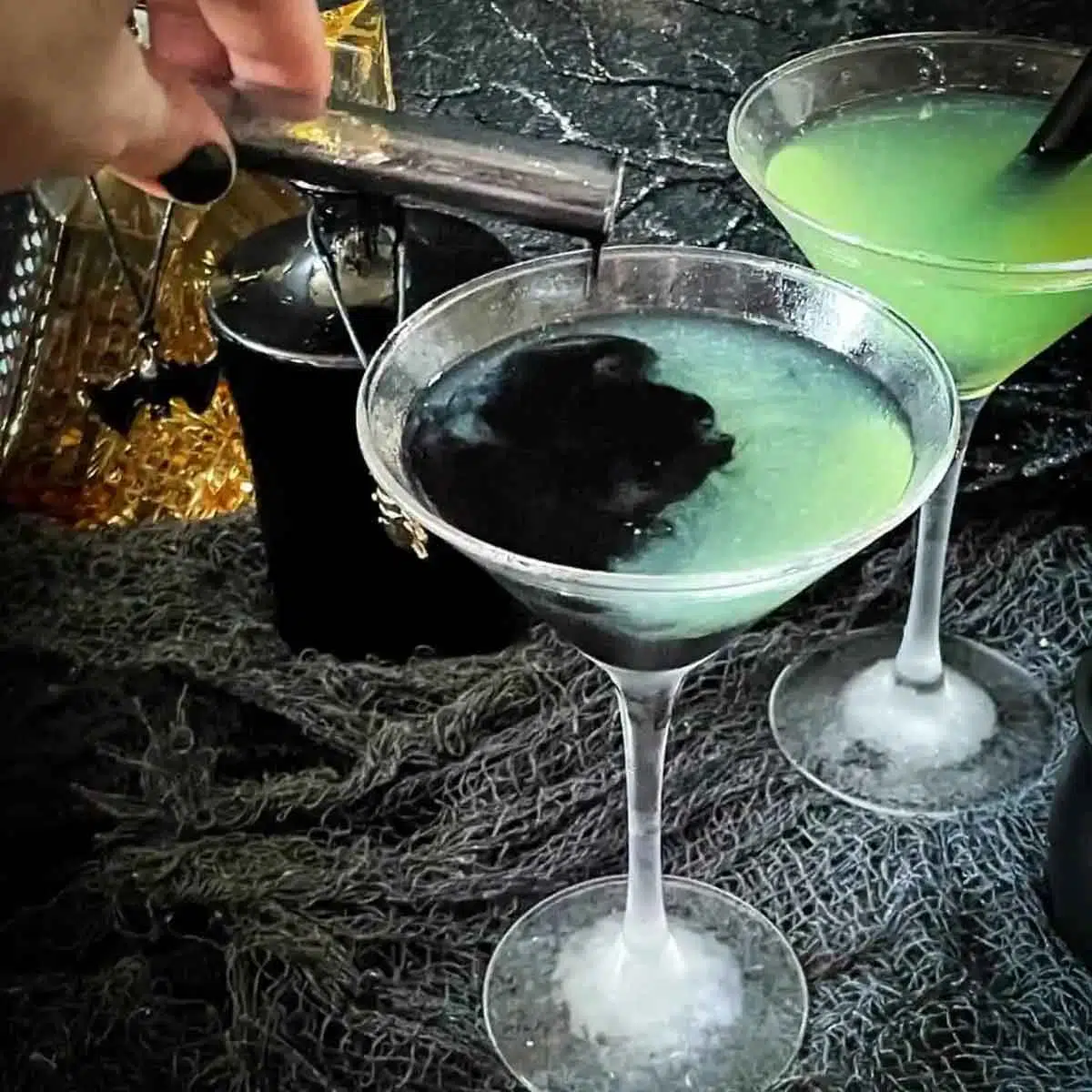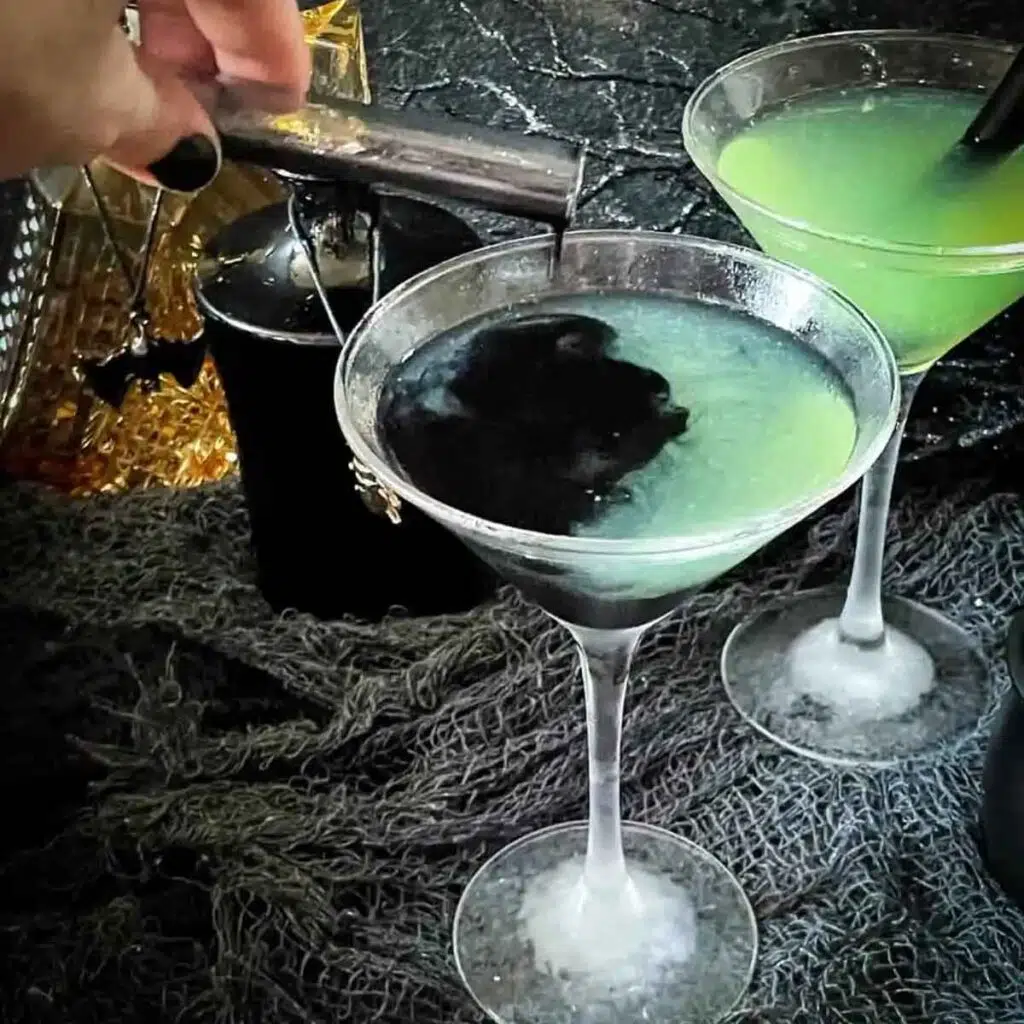 Three Olives Branch adds a mysterious black test tube to each cocktail. If they dare, guests can pour in the liquid themselves, making this bright green apple cocktail into a dark (poisonous?) brew.
Ingredients: Cinnamon Schnapps, black food gel, white rum, apple Schnapps, lime juice, test tube.
---
Did you find a drink or two to try?
I'm sure your party guests will be delighted to try your signature mocktail or cocktail. Let me know in the comments how it goes or if you have a drink that needs to be added to the list!
You can, of course, label your creation and maybe even create a whole Halloween potion bottle apothecary.
Of course, fun Halloween drinks need some fun Halloween appetizers, so go check out my long list of Halloween finger foods.
And to get the kids in the Halloween spirit you can print my free Halloween coloring book today!
Don't forget to pin these fun recipes for Halloween drinks: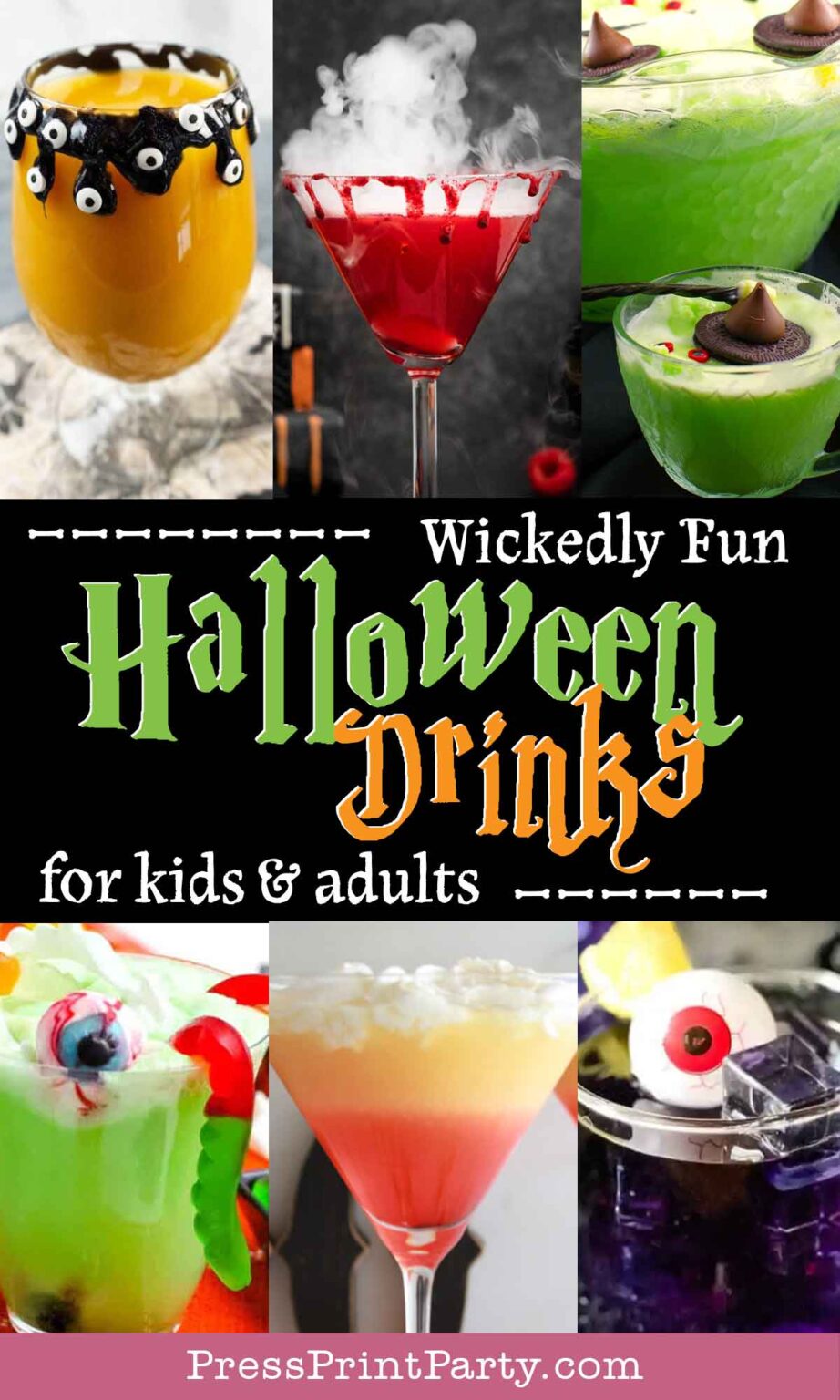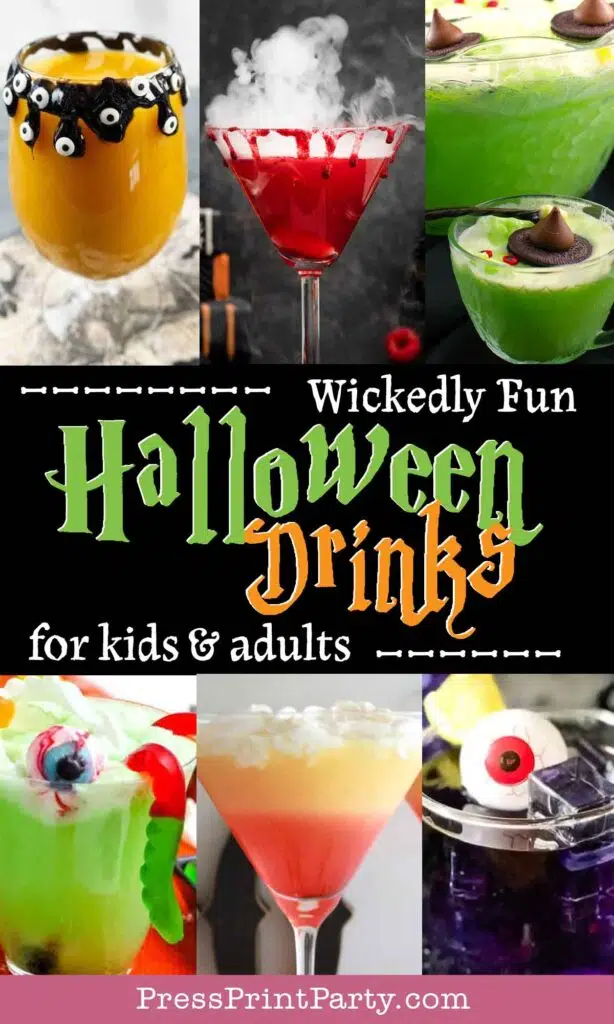 Check out our Halloween printables