If you have kids in elementary school, you may find yourself on the hunt for a fun Valentine to give out at a class party each year.
Although I'm a proponent of non-candy Valentines, once in a while I like to make an exception.
Especially because Ring Pops hold a special place in my heart. My comedian of a husband actually proposed to me with one. No, I didn't slap him, and I did say yes. And yes…. I got a real ring too.
---
A Little Ring Pop History
According to Wikipedia, the original Ring Pop Candy was invented in the late 1970s by Frank Richard, a candy company product engineer, as a way to stop his daughter from sucking her thumb.
I'm not sure I'd want my kid sucking on sugar all day and rotting her teeth. But as an occasional treat candy is always a winner.
Ring Pops had their heyday in the '80s and '90s and are well known to Gen Xers from this commercial in the late '90s.
The original flavors were cherry and grape, but the famous candy has since branched into lots of new flavors. like strawberry, watermelon, blue raspberry, and even twisted flavors like "Cherry Berry".
Ring Pops are still a huge hit today and make adorable valentines, especially when there are cute cards attached.
And a pack of 20 Ring Pops is fairly inexpensive. Which makes them the perfect party favor and Valentines for the whole classroom.
Free Ring Pop Valentines Printable
I wanted to give a little 90's vintage look to my Ring Pop Valentine's printable cards as a bit of an homage to the time of the candy's original release.
This fun printable Valentine tag reads "You're a GEM of a friend!" and "Happy Valentine's Day!" on the front and "To" and "From" spaces on the back for kids to fill out themselves.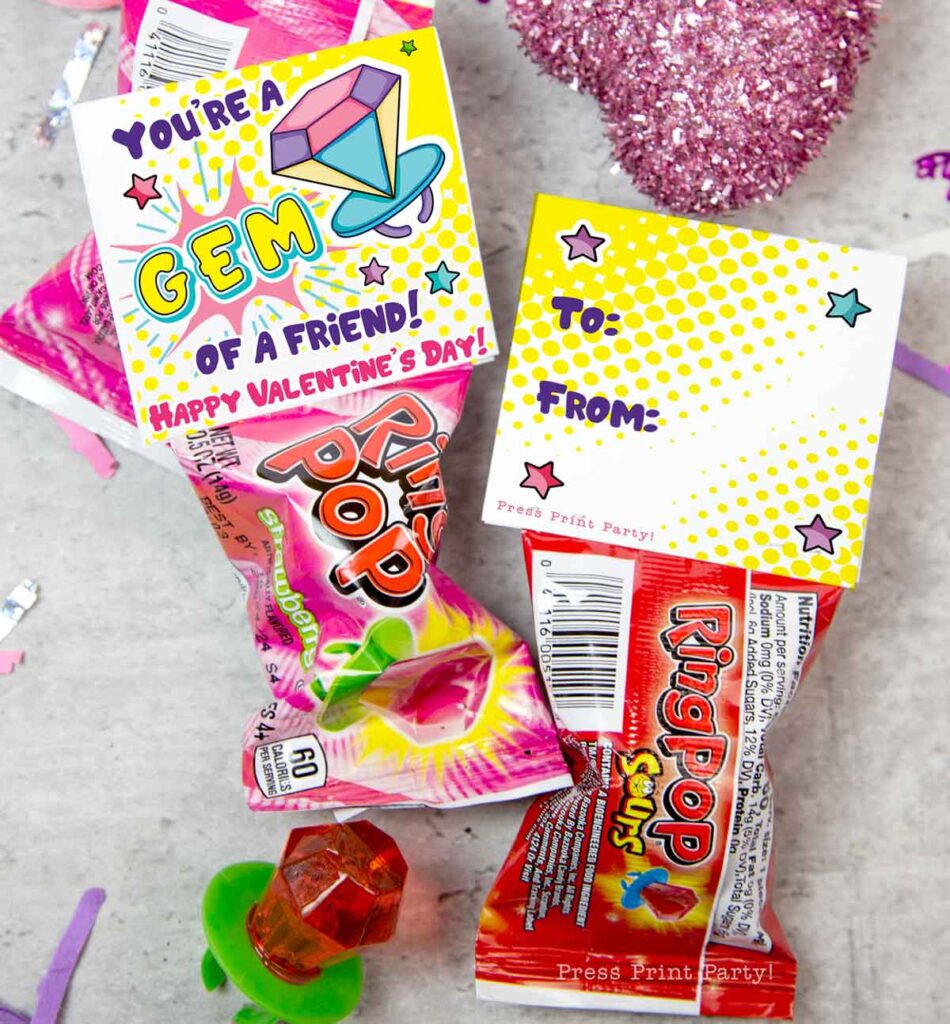 The idea is to fold the tags and staple them as bag toppers on the crimped edge of a single Ring Pop package.
You can get the free printable ring pop valentine when you sign up for my newsletter at the bottom of the post. You'll receive an email with the link and secret password to my entire free library of printables. There you'll find the free Ring Pop Valentine printable tag under the "Valentine" tab.
The file is an instant download pdf for personal use only and will print on letter size paper or cardstock.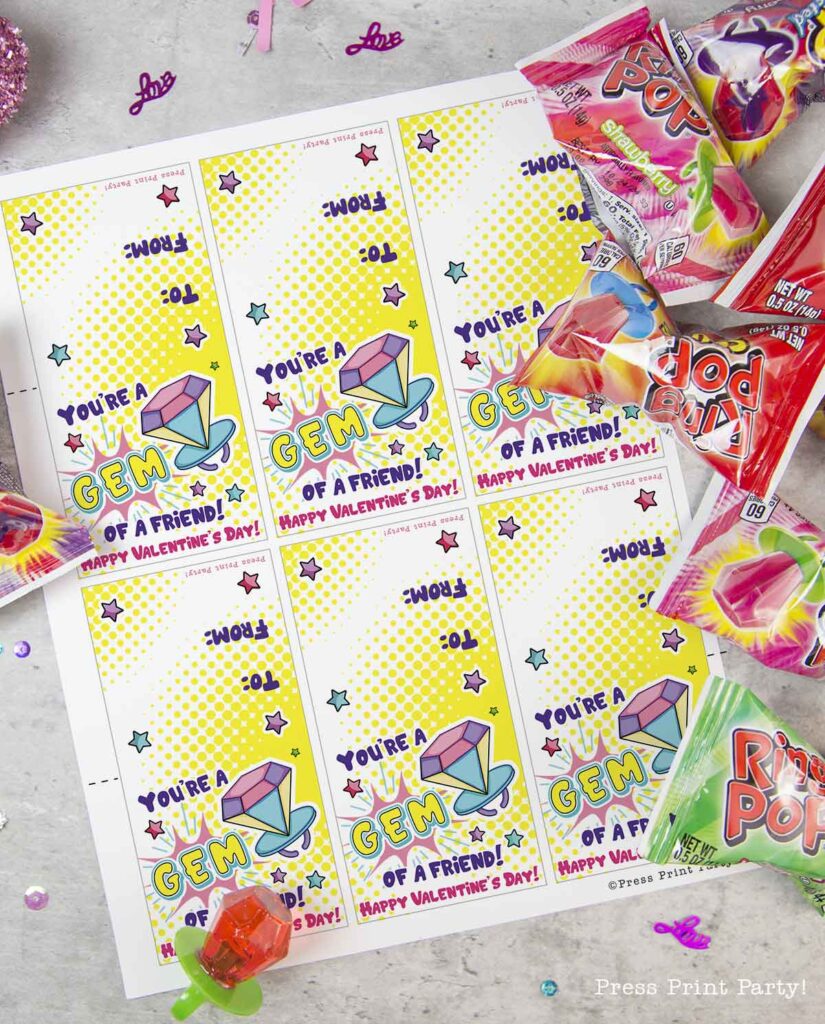 If you'd prefer an editable version in PDF format where you can type in the "To" and "From" fields with your child's name and friend's name, I have the same printable tag in the shop along with a second tag that says "You're a real GEM Valentine!".
In the shop, you'll find lot's more Valentine printable tags and cards for classroom Valentine's Day parties.
More Valentine's Day Cards Ideas
If it's your first time here, you're in for a special treat because have lots more ideas for classroom Valentines with a bunch of free and premium Valentine printables.
---
Don't forget to pin this free Ring Pop Valentines printable card: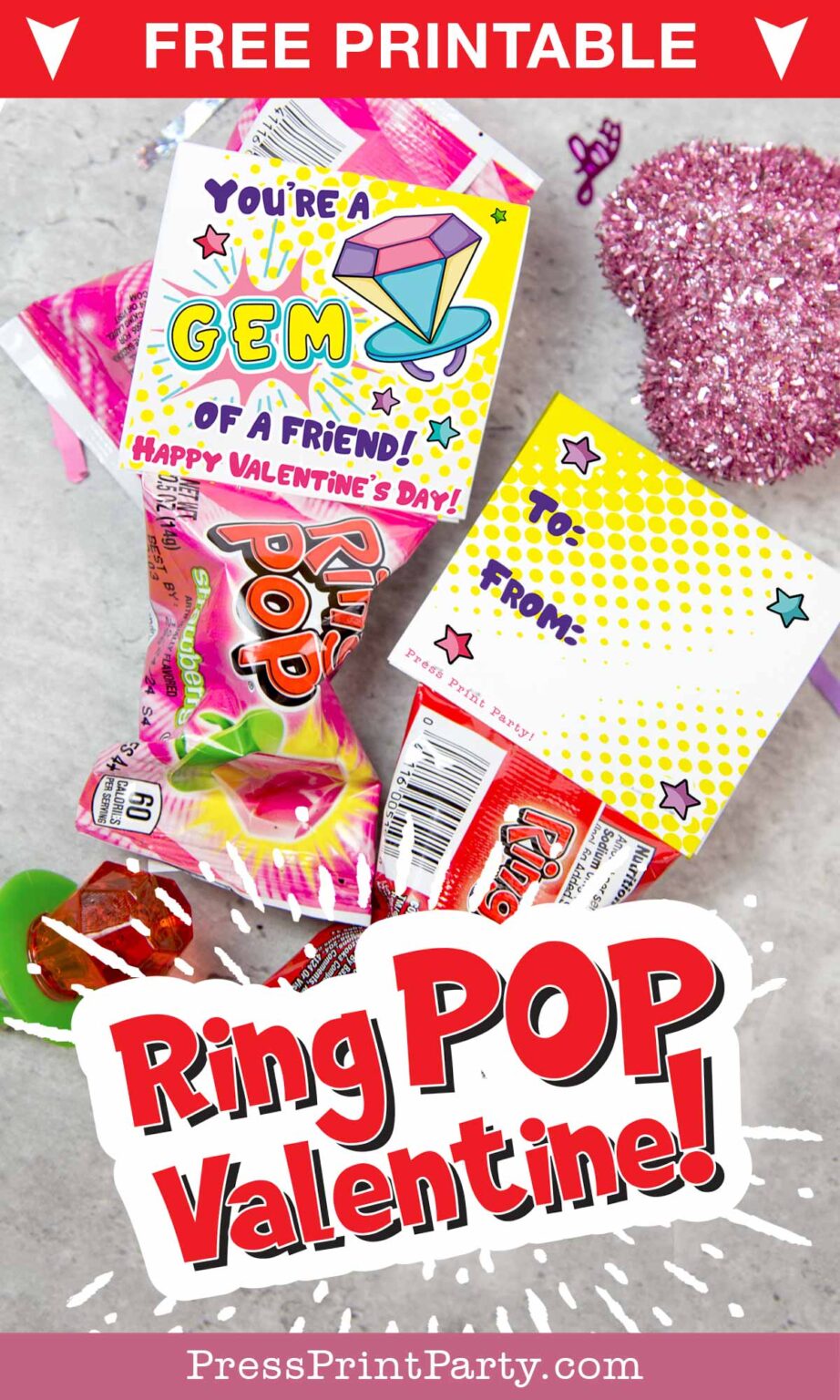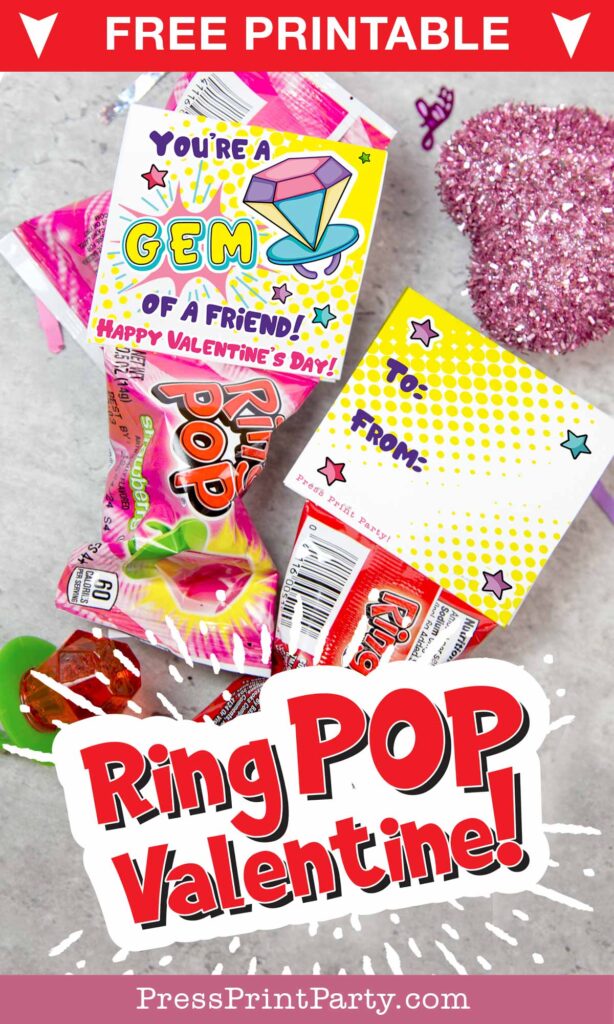 ---
Get Your Freebie:
If you've already subscribed, you can get the password from the bottom of any email I send and go directly to the Free Downloads Library.
Check out our Valentine's printables