I find something nostalgic and romantic about Christmas punch recipes.
I make a big pot of my French Mulled Wine every Christmas and the smell and taste of it can transport me back to some amazing places and memories.
Do you have a favorite holiday drink like that?
Since you are here, maybe you are looking for one.
If you throw an annual Christmas party, I highly recommend adding a festive drink to the menu.
Life is just a little sweeter this time of year. Shouldn't our party drinks match?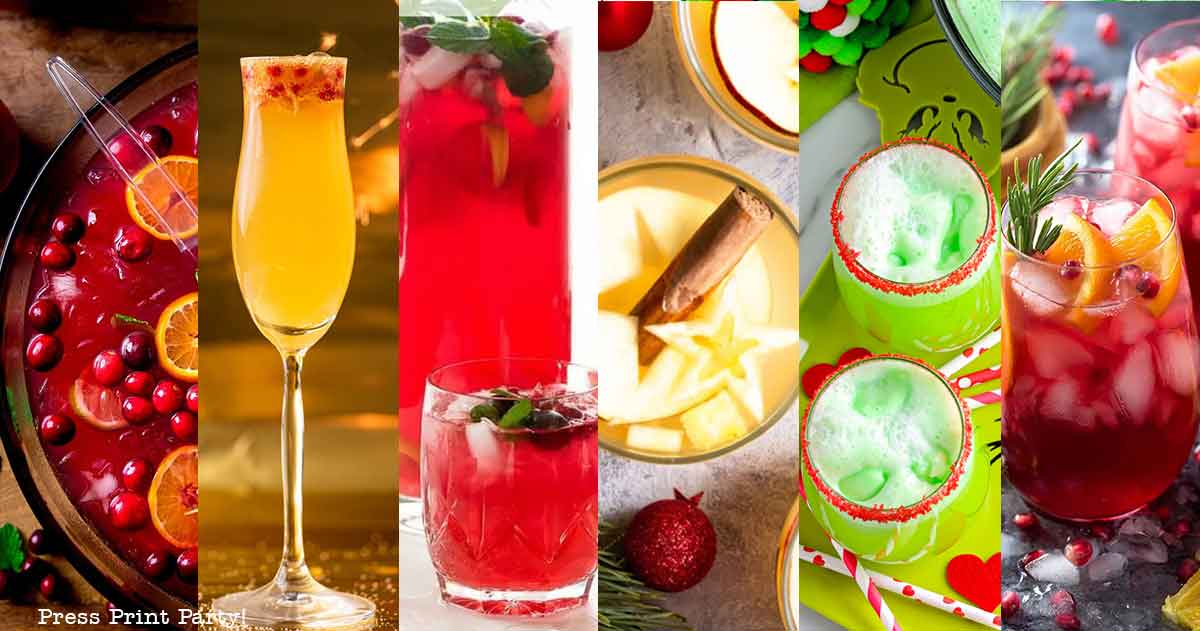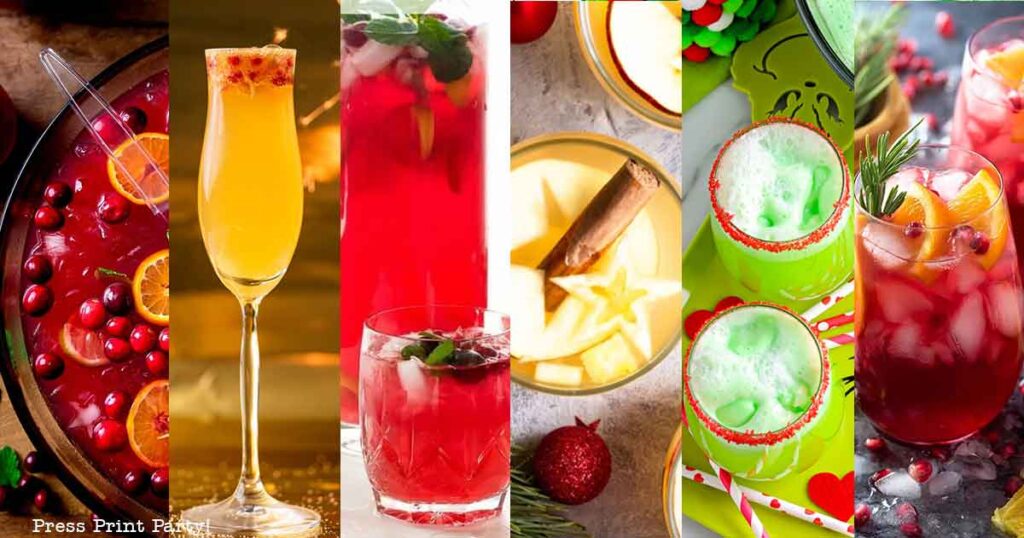 This post may contain affiliate links.
So, I've compiled a great list of holiday punch recipes for you to peruse.
Some of these drinks are best served as a bowl of Christmas punch. Other recipes will produce a small batch of punch perfect for a carafe.
I'm sure you'll find what you need to add a little extra holiday spirit to your next Christmas party.
I've split the recipes between alcoholic punch and non-alcoholic punch. Some of the alcoholic punch options have a non-alcoholic version and vice versa.
You'll notice that several of these recipes also hail from different countries, including France, Puerto Rico, Germany, Mexico, and more.
Be sure to look around and let me know in the comment section if you found one you love or if you have a recipe that should be added to this list of Christmas punch recipes!
---
Alcoholic Christmas Punch Recipes
Welcome to the alcoholic portion of this festive punch recipe compilation. Here you'll find a delicious blend of fruit juices spiked with a wide range of liqueurs.
Several of these recipes do offer mocktail alternatives, so be sure to check them out before jumping to the non-alcoholic section if you want to offer an alcohol-free drink.
Be warned, however, if you introduce Christmas cocktails, it will likely become the expectation that you have them every year. And just like that, you've created a new tradition.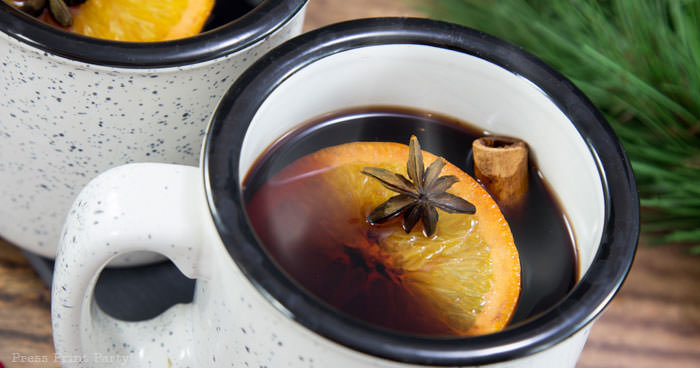 My family and I had this Mulled Wine Recipe while visiting family in France, and now I can't imagine the holiday season without it.
A fringe benefit to this beverage is it makes your home smell amazing, which really sets the mood for our Christmas Eve parties.
Ingredients: Dry red wine, packed brown sugar, lemon, orange, cinnamon stick, star anise, clove, fresh ginger, nutmeg, honey, Armagnac.
---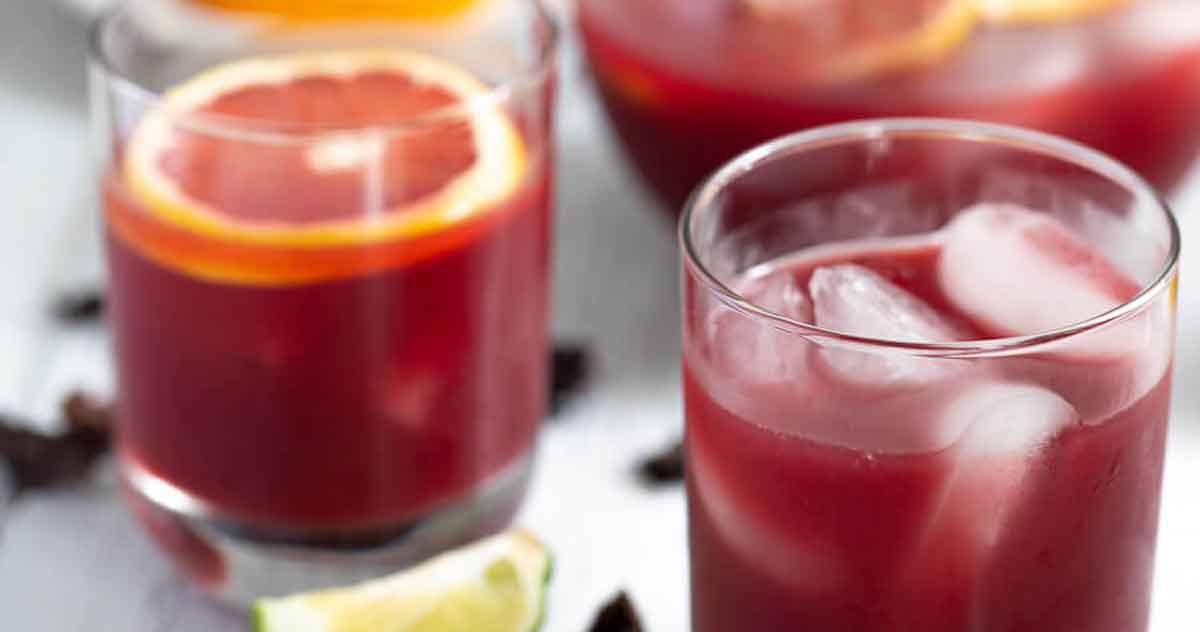 This drink is inspired by Caribbean traditions! The blog, This Bago Girl, was kind enough to share her twist on classic sorrel drinks.
The writer says, "The trick to this sorrel rum punch is using fresh citrus juices. The fresh juices give a great flavor profile and add more depth to the sorrel drink."
Ingredients: Lemon, lime, orange, fresh ginger, white rum, sorrel juice (hibiscus), grenadine, angostura bitters, sugar, clove or cinnamon sticks.
---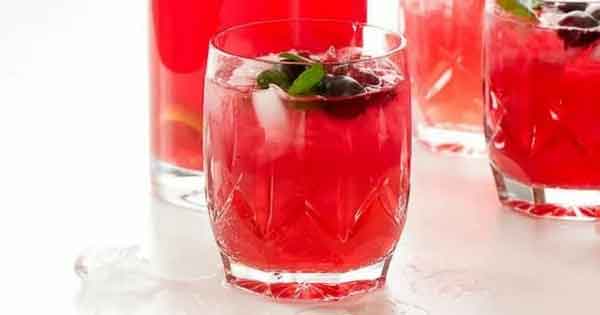 Looking for a refreshing Christmas punch? Boulder Locavore shares this recipe for sparkling cranberry vodka punch.
With some minor alterations, this drink can also be turned into a hot mulled drink.
Ingredients: Cranberry juice cocktail, Cranberry juice cocktail, vodka, lemonade, ginger ale, garnish: sliced citrus fruit, fresh cranberries, mint leaves.
---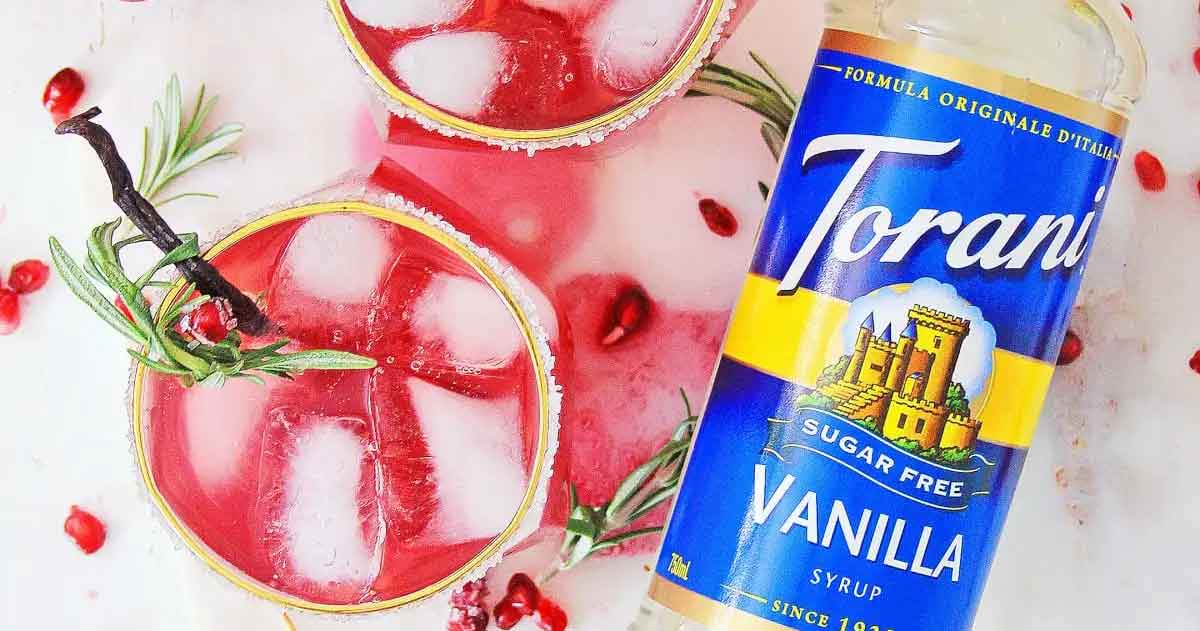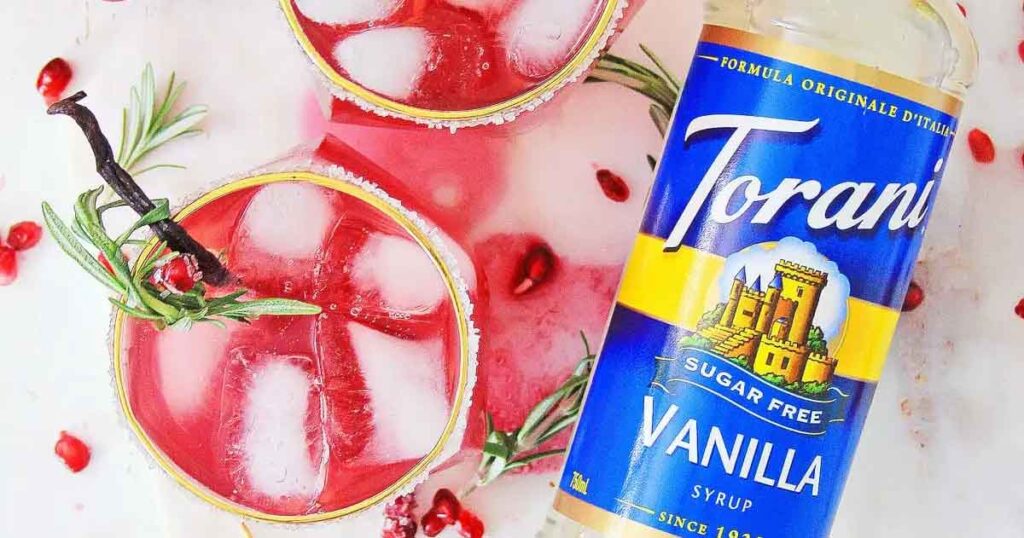 This vanilla pomegranate holiday punch is so visually appealing. With just a few simple ingredients, this makes for an easy punch bowl to refill throughout the evening. This recipe is brought to you by Fun Money Mom.
Ingredients: Pomegranate juice, ginger ale, raspberry vodka, Torani vanilla syrup, garnish: rosemary sprigs, pomegranate seeds, vanilla beans, and coarse white decorating sugar.
---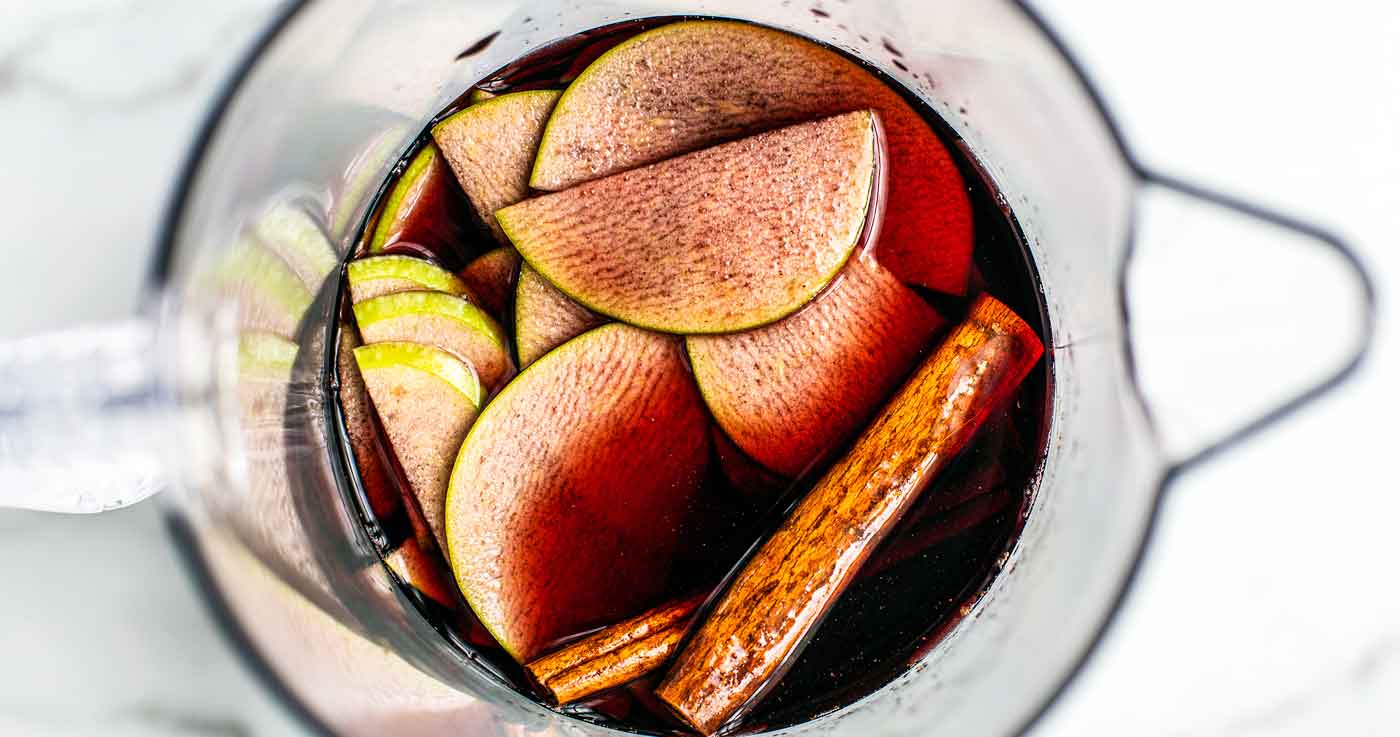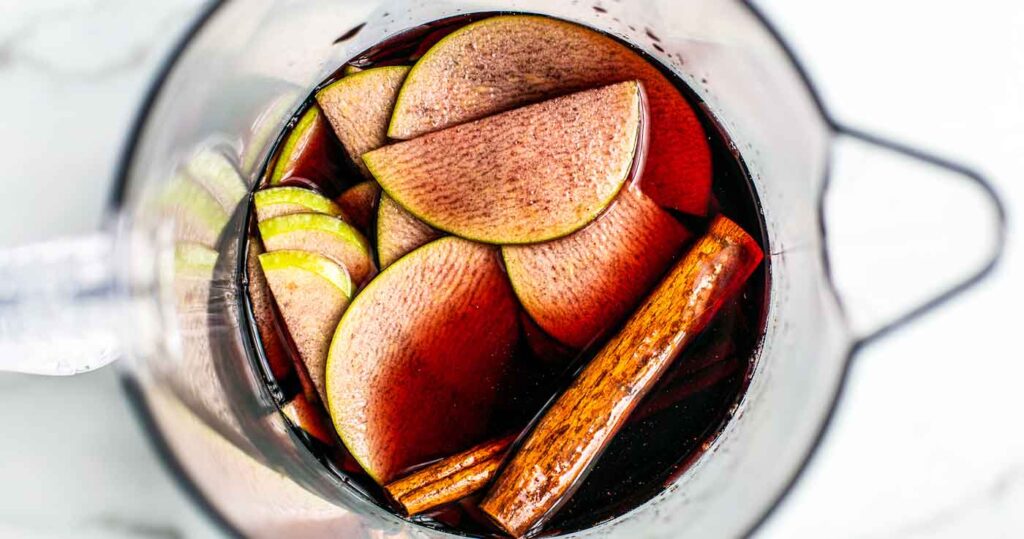 The caramel apple red sangria, found at Killing Thyme, offers a sophisticated look while being so easy to make. If you like your sangria extra sweet, add a sweetener.
Otherwise, the natural sweetness of the fruit is probably enough to have your guests asking for refills.
Ingredients: Red wine, apple cider, caramel-flavored vodka, brandy, granny smith apples, ground cinnamon, cinnamon sticks.
---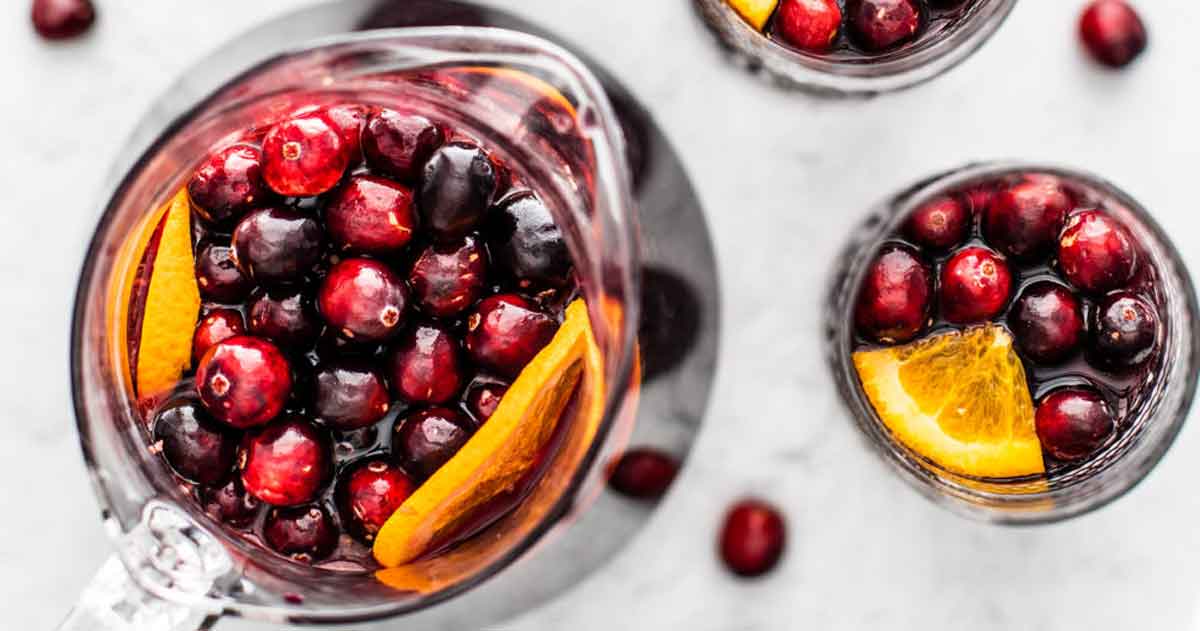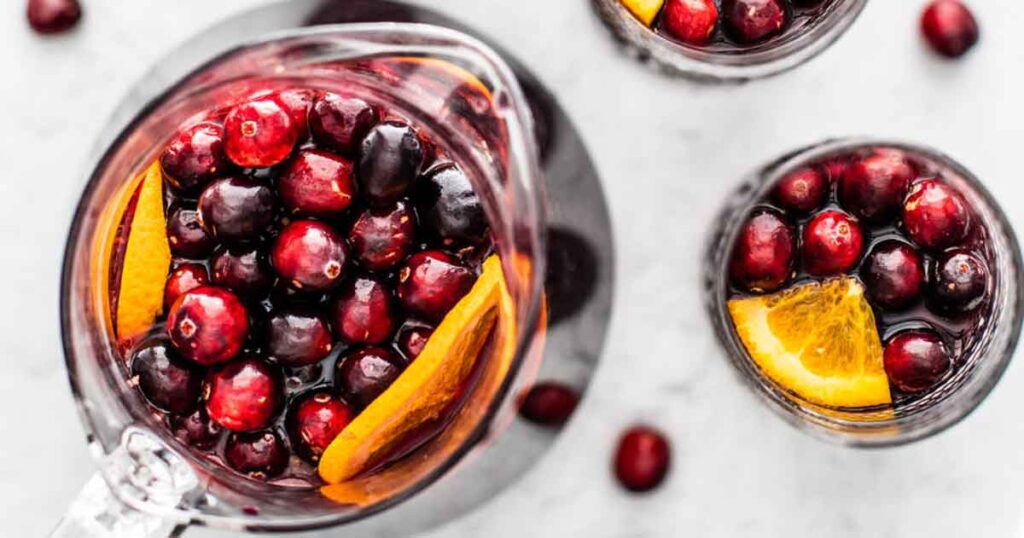 Confession time: this is the second recipe I am sharing from Killing Thyme. I'm sure that breaks some sort of blogging rule, but I couldn't help including them both.
The author had this to say about the recipe, "Fair warning: this is probably my booziest sangria recipe. Whoopsie! But let's be real. The holidays are near; we've got things to celebrate and relatives to tolerate…It's fragrant, bright, and dangerously delicious."
Cheers to that!
Ingredients: Spanish wine, cranberry juice, brandy, triple sec, oranges, fresh cranberries.
---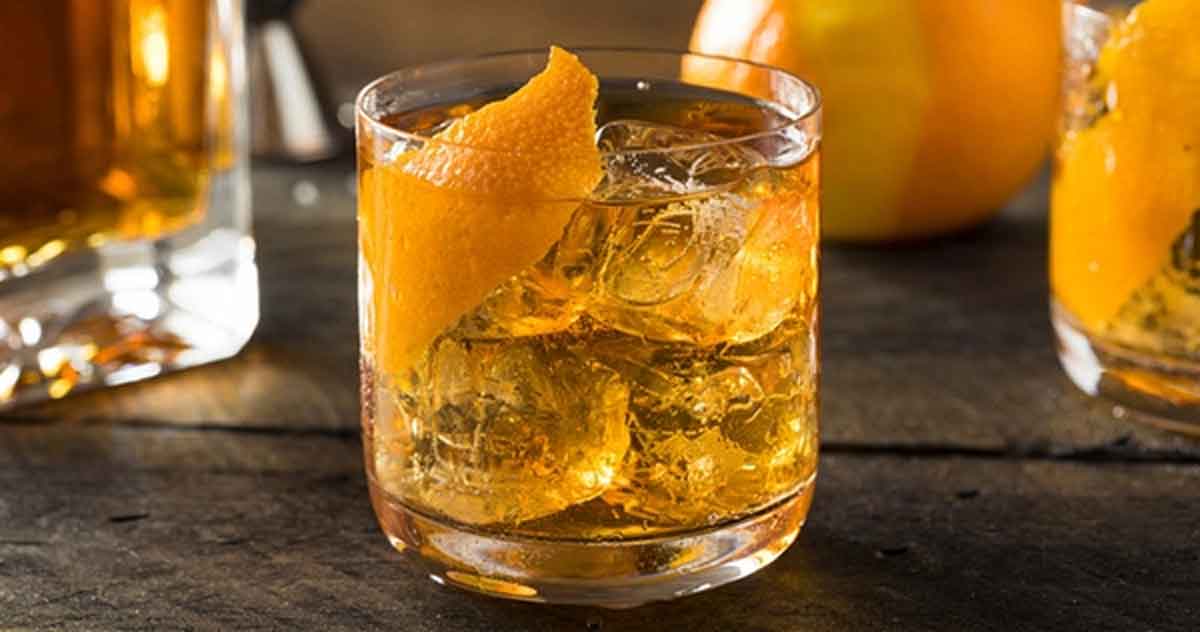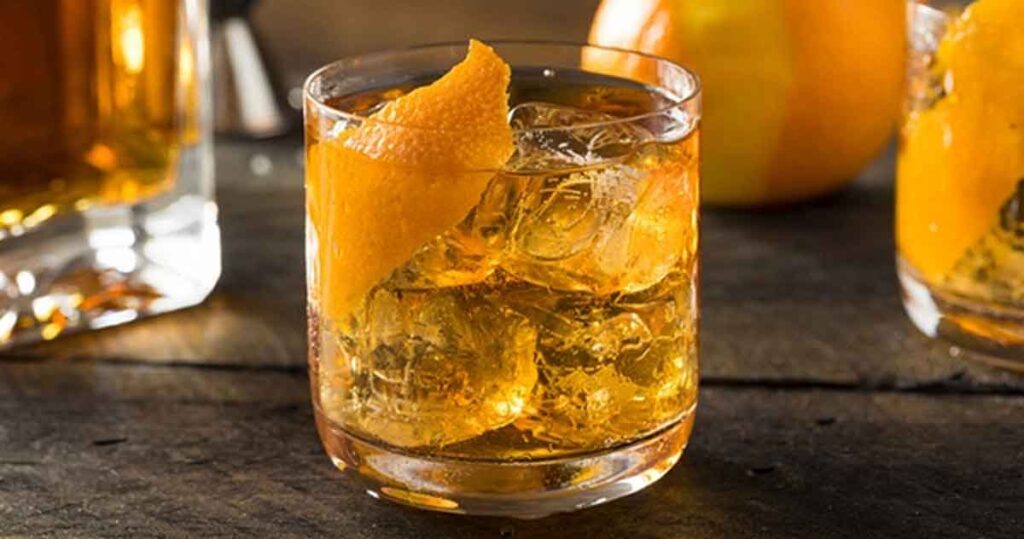 A vintage punchbowl, punch cups, and ladle are not necessary, but they are encouraged for this southern bourbon punch from Prime Women.
I'm not sure what makes trends, like serving your party guests punch, fall in and out of fashion, but this year, punch is trending.
Prime Women shares a pro tip, "an added advantage to a punch-style beverage [is that] you can tweak the alcohol level (and even discreetly serve a non-alcohol version) to suit your crew." In other words, if you find that the party people are getting a little rowdy, just turn down the alcohol level!

Ingredients: Bourbon whiskey, sugar, lemons, orange, green tea, champagne or club soda, nutmeg.
---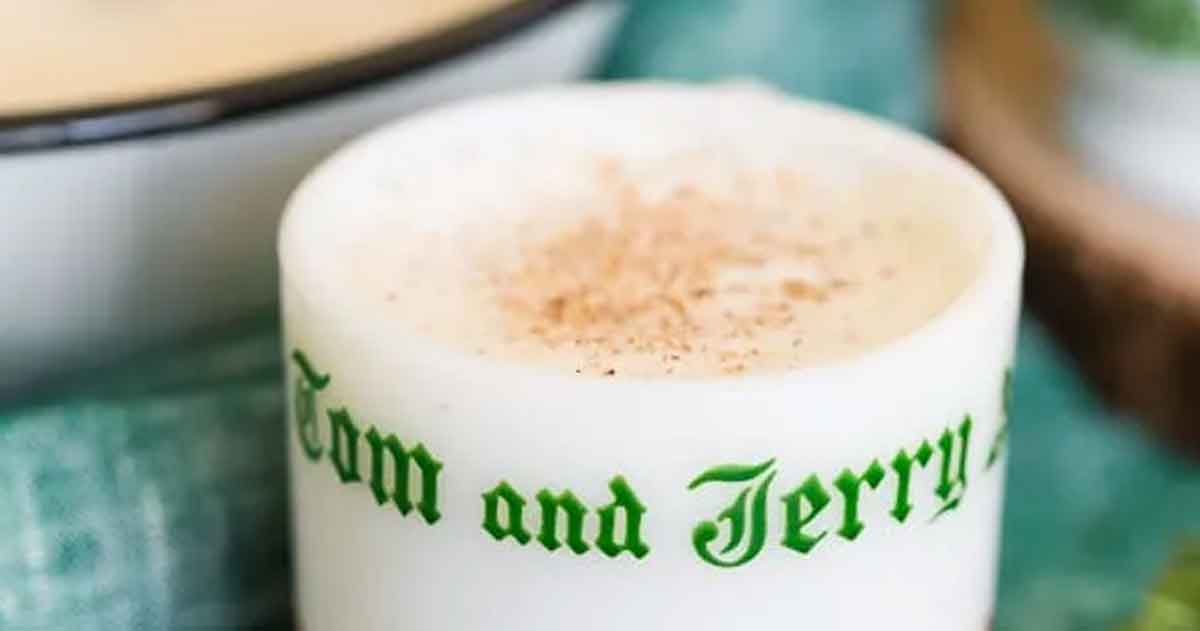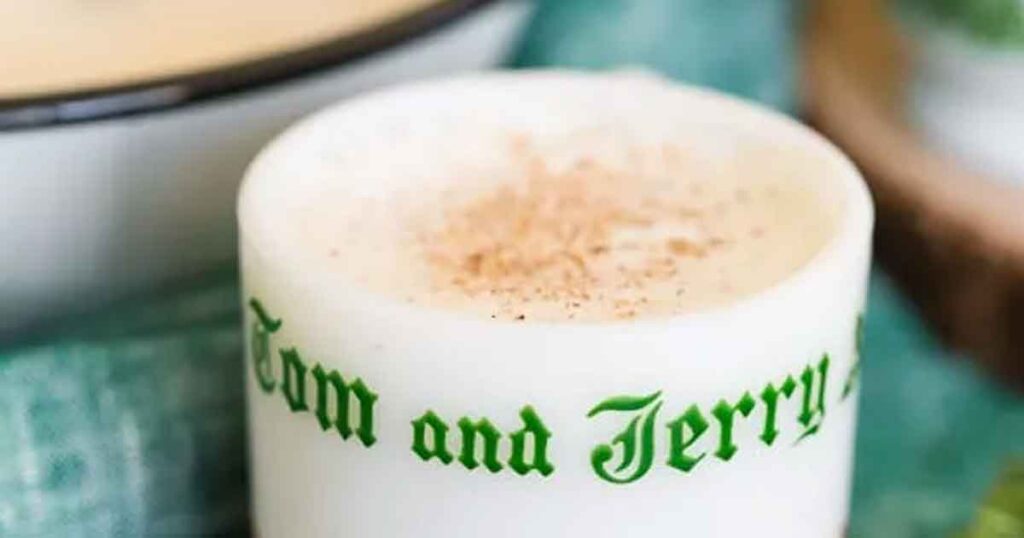 You know you're in for a special holiday treat when a drink can be aptly described as a "batter." This Tom and Jerry Cocktail is a vintage beverage that is getting passed down through the generations.
Nutmeg Nanny got this recipe from her dad. He recalls from his childhood, his own parents going to the bar to enjoy Tom and Jerry's. If you haven't heard of them before, I encourage you to give them a try!
Ingredients: Eggs, vanilla bean paste, cinnamon, allspice, ground cloves, ground nutmeg, cream of tartar, powdered sugar, spiced rum.
---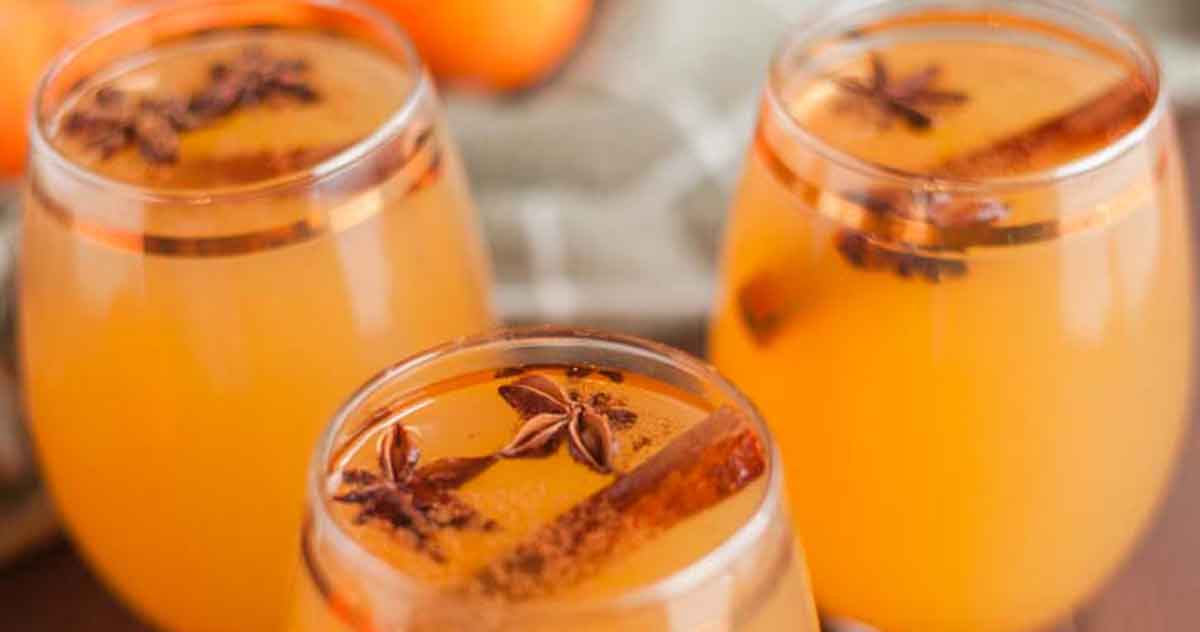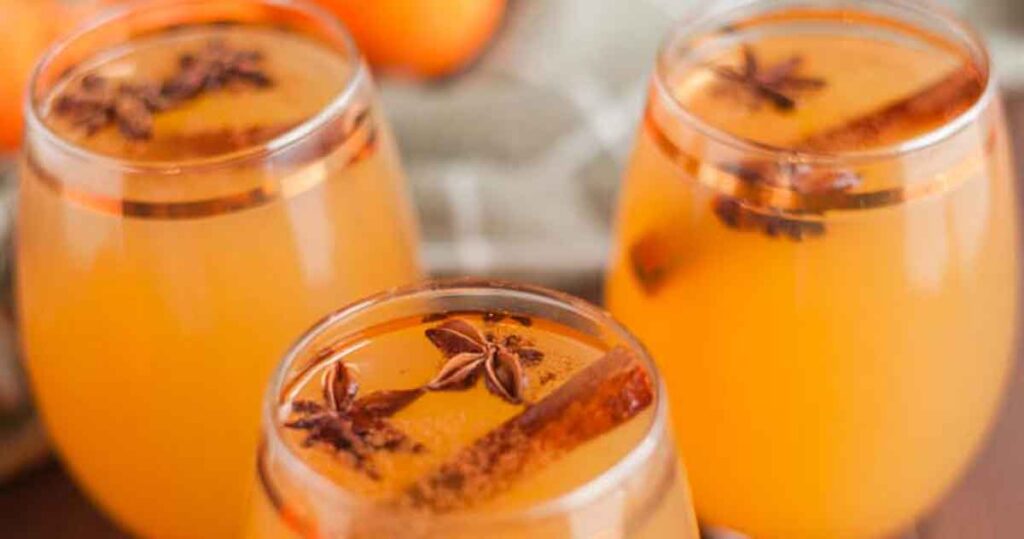 How could I make this apple cider alcoholic? We've all thought it! Likely when the thought came to you, you were staring blankly into a crackling fireplace, and you were just too cozy to get up and do some experimenting.
Thankfully, the Wooden Spoon Effect has done the "hard" work for us and blessed us with a great recipe for boozy apple cider.
Ingredients: Orange, apple cider, cinnamon sticks, star anise, cloves, fresh ginger, sparkling apple cider, brandy, cinnamon.
---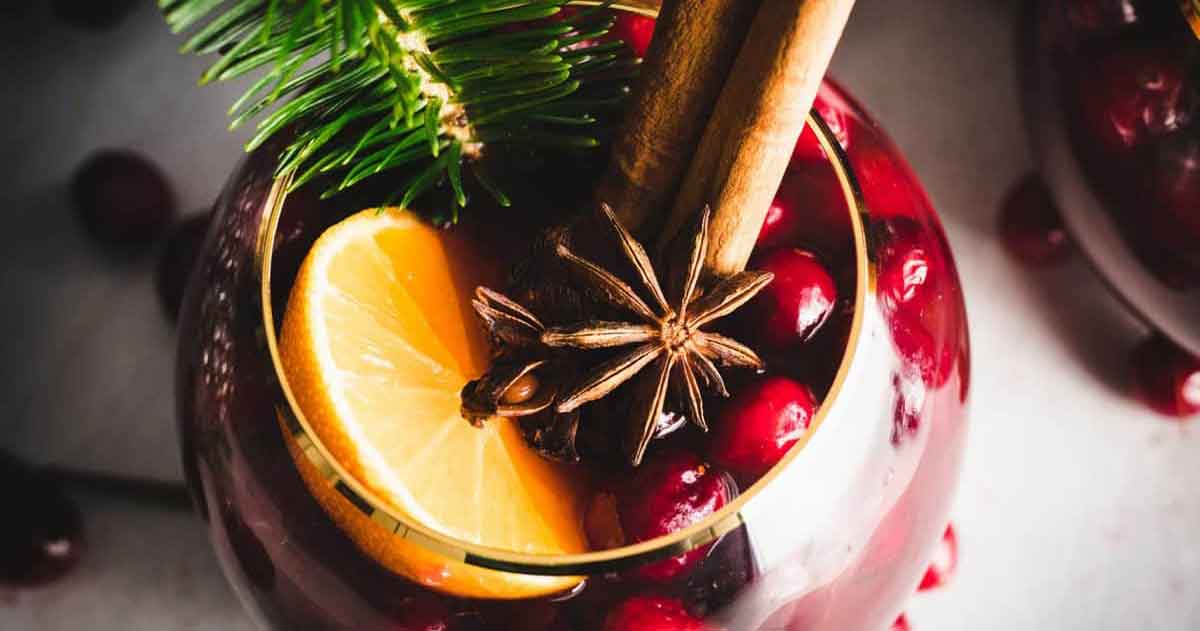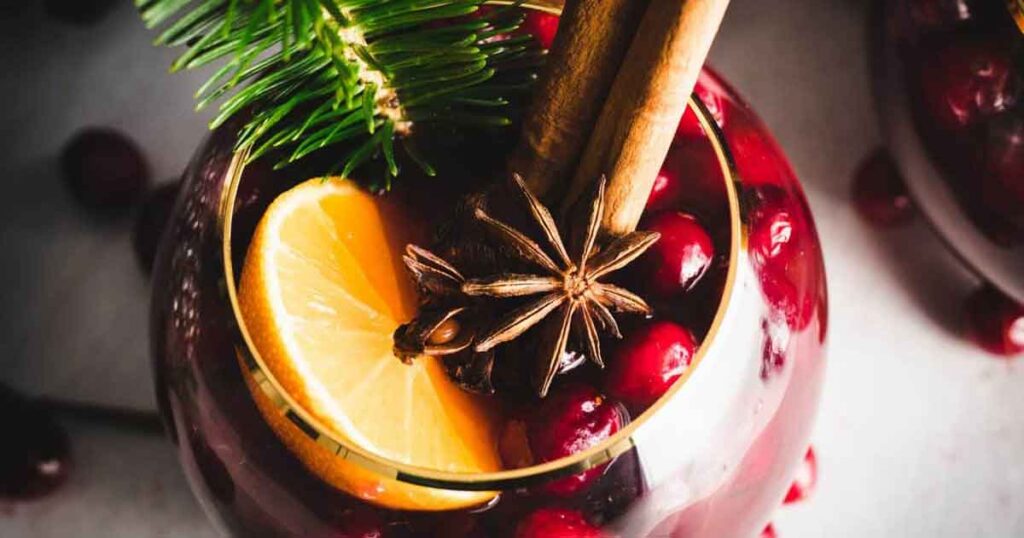 Britney Breaks Bread recommends making this Holly Jolly Christmas Sangria at least 2 days before serving.
The longer it sits, the more time the flavors have to mingle and throw their own little Christmas party.
Ingredients: Mija sangria, canned peaches, sparkling apple cider, orange juice, whiskey bourbon, cranberries, cinnamon sticks, star anise.
---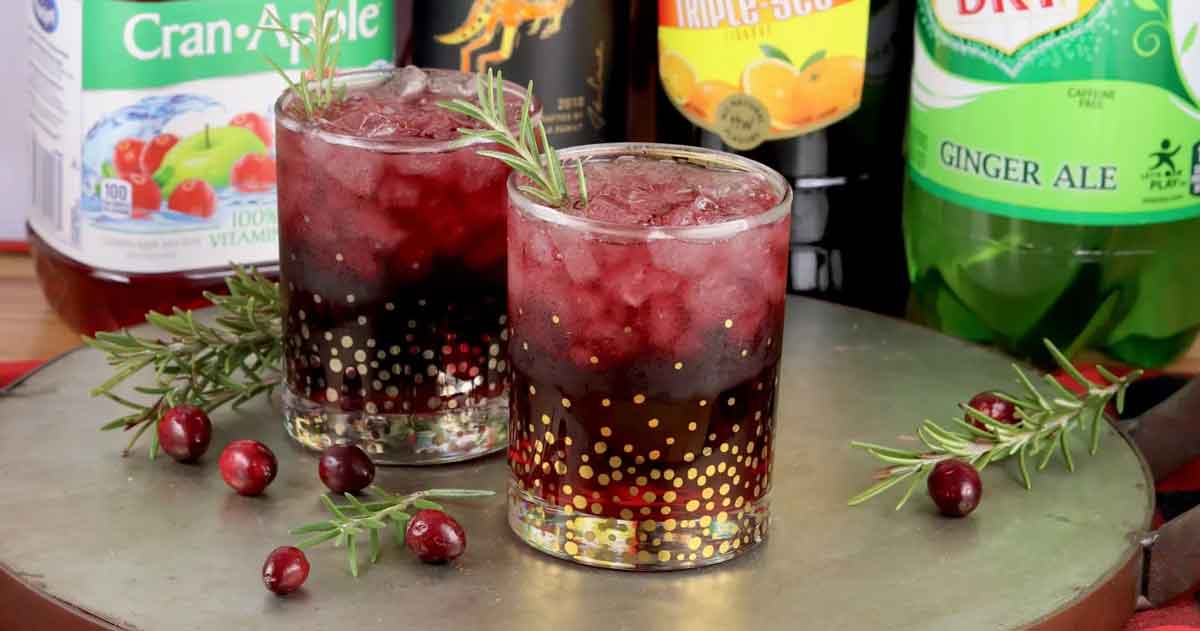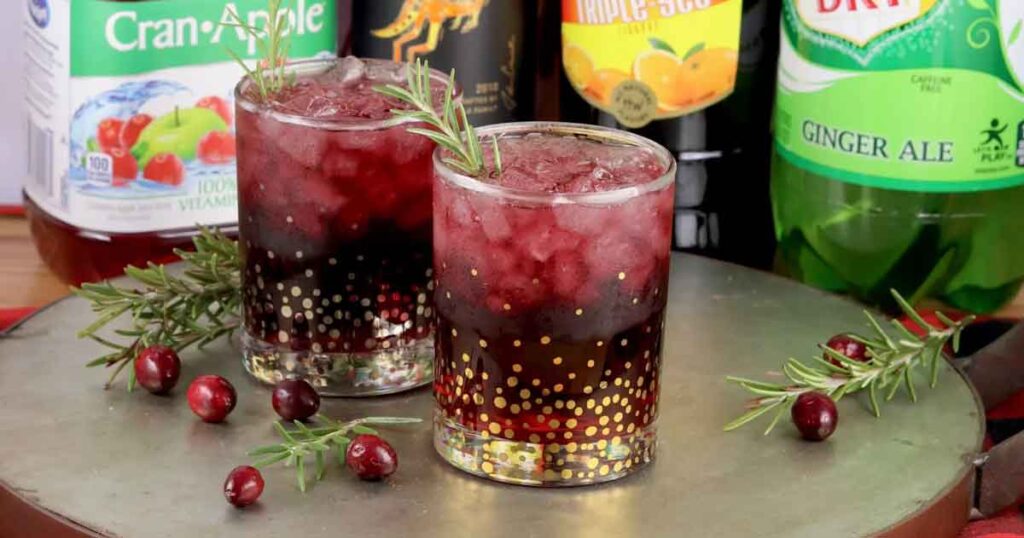 If you're looking for an easy-peasy recipe to serve your holiday party guests, this Christmas punch is a great option for you!
The hardest part of the recipe is remembering to chill the ingredients before mixing them together right before the party. Thank you, Miss In The Kitchen!
Ingredients: Merlot, ginger ale, Cran-apple juice, orange liqueur, rosemary.
---
12- Christmas Punch (Prosecco, Vodka, & Clementine Juice)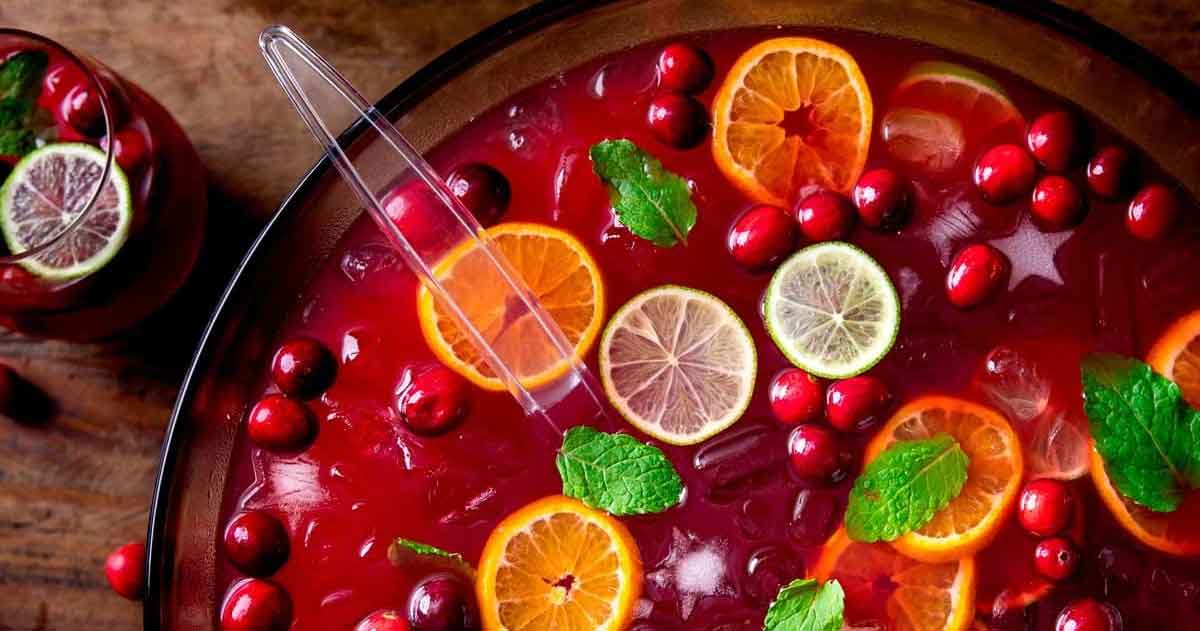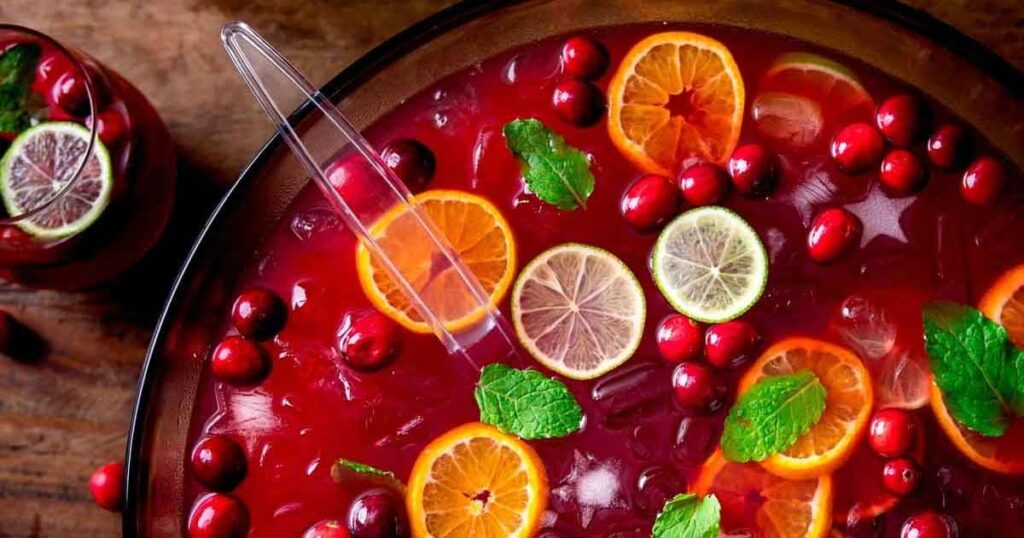 Whether you opt for the alcoholic or non-alcoholic version of this drink, you are guaranteed to get a beautiful, festive bowl of punch.
Like many other Christmas punch recipes, this one includes pomegranate and cranberry juices. However, the surprise ingredient that intrigued me from this recipe from Kitchen Sanctuary was clementine juice.
Sounds delicious!
Ingredients: Ice, cranberry juice, pomegranate juice, clementine juice, clementines, limes, cranberries, pomegranate, Prosecco, vodka, mint leaves.
---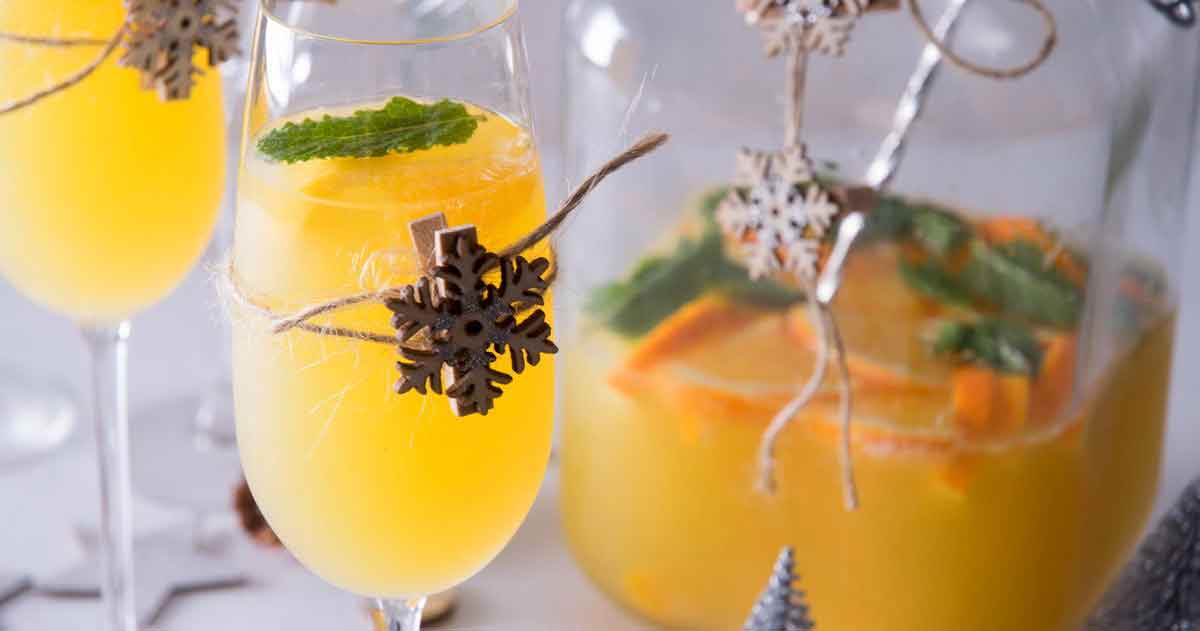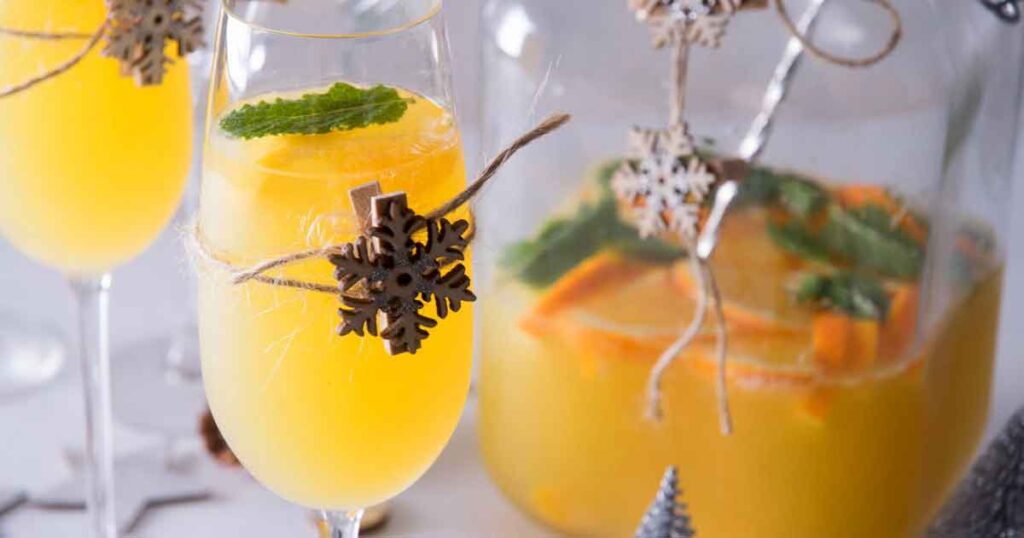 As I said with the previous recipe, you come across a lot of cranberry and pomegranate juices when it comes to holiday drinks, so this peachy recipe from In the Kitch caught my attention.
I can just imagine a glass of this in one hand and a delicious Christmas cookie in the other.
Ingredients: Canned sliced peaches and syrup, orange juice, ginger ale, dry sparkling wine, orange, mint leaves.
---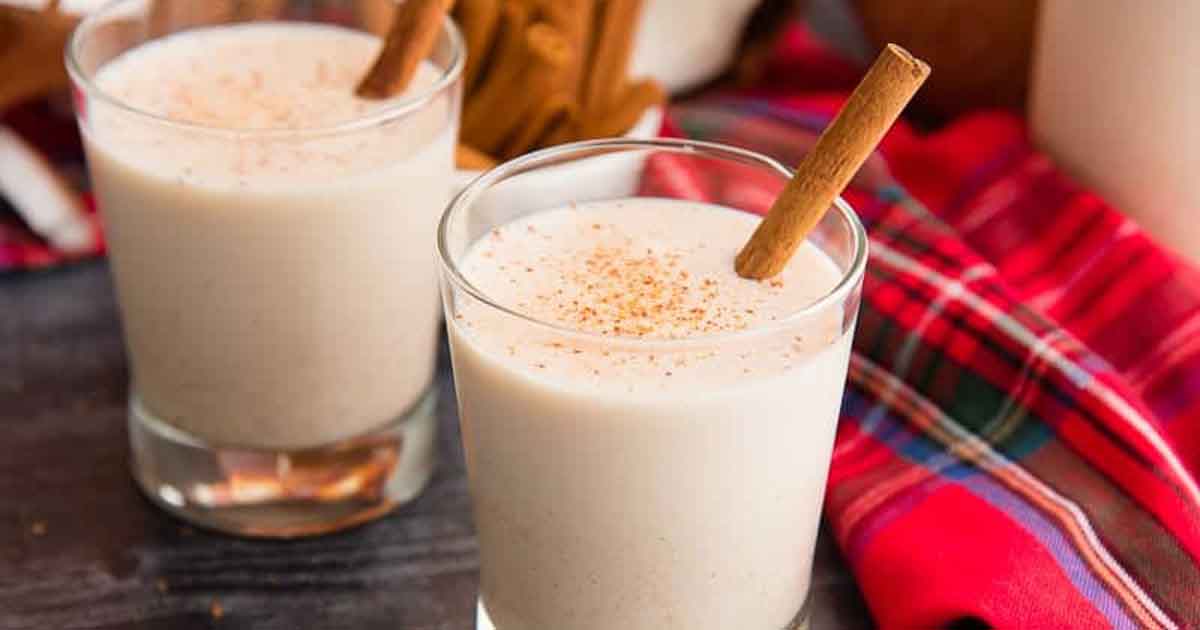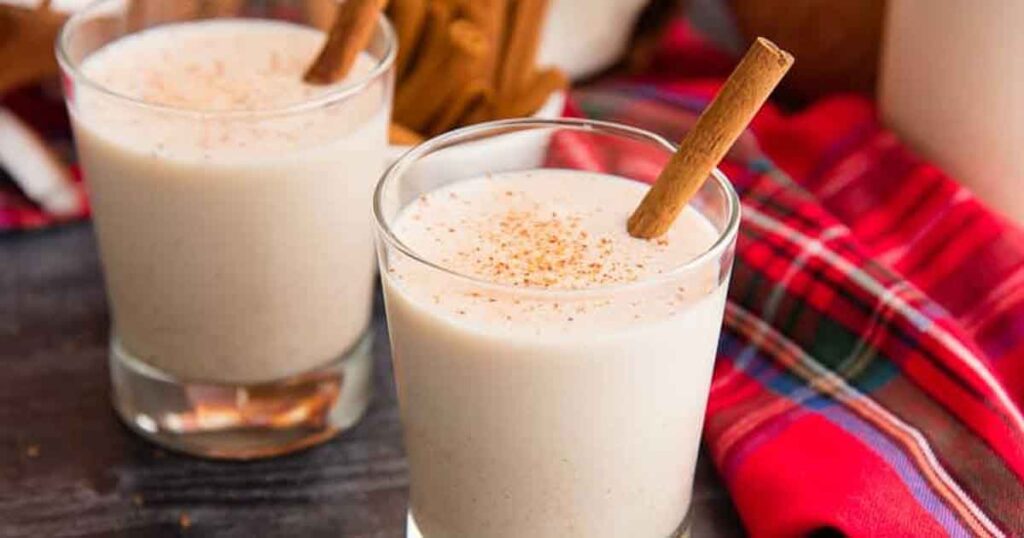 Sense and Edibility offers several versions of Coquito including virgin, vegan, eggnog, and more. This is another recipe that is best prepared at least two days ahead of the party.
Ingredients: Ground cinnamon, ground nutmeg, cream of coconut, sweetened condensed milk, coconut milk, evaporated milk, pure vanilla extract, white rum, gold rum, spiced rum, cinnamon sticks.
---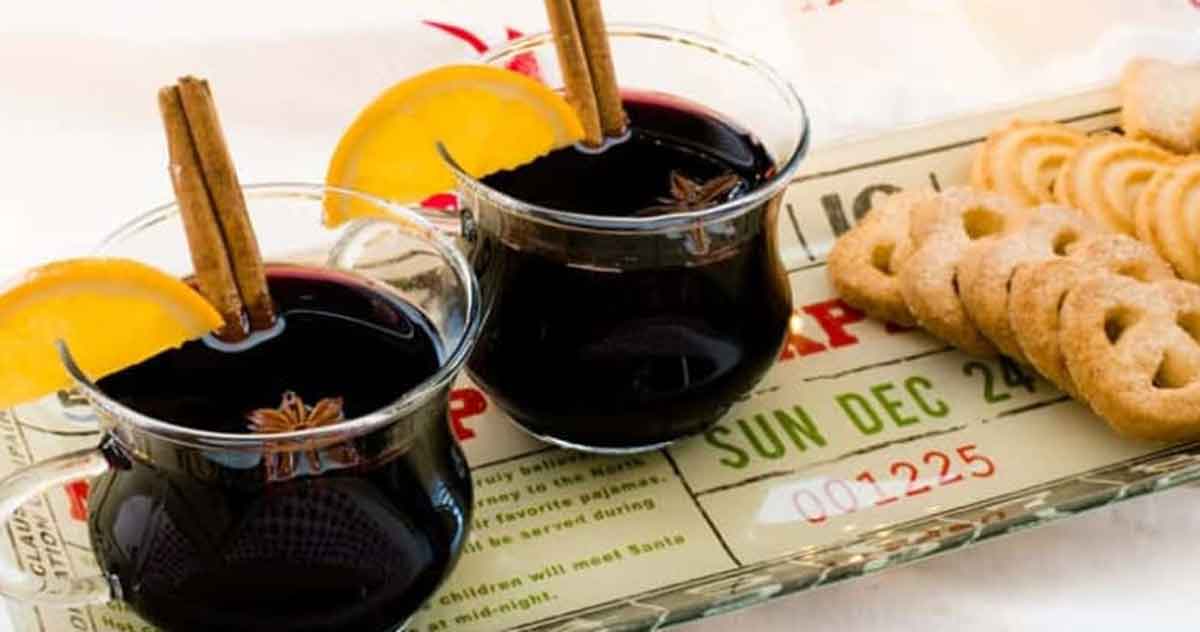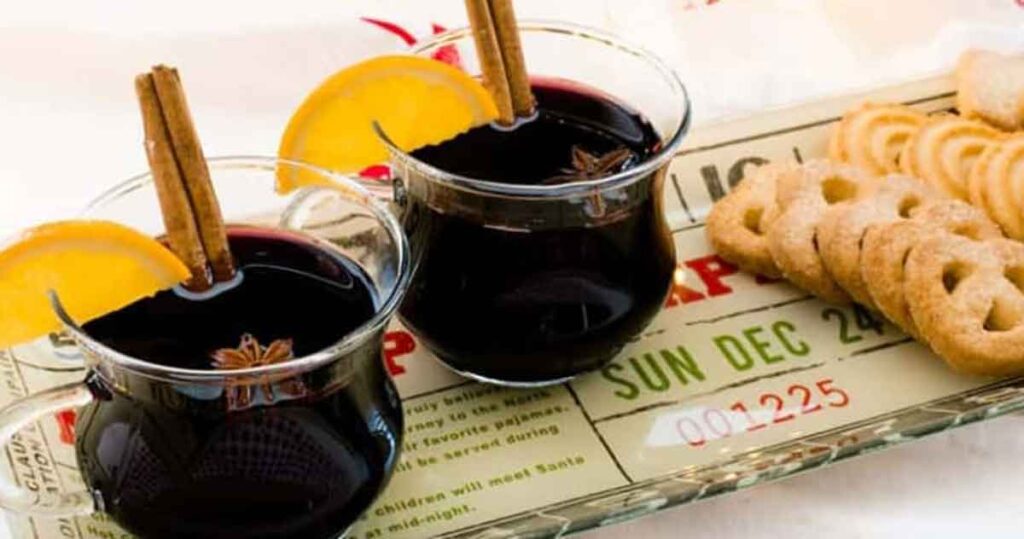 Thank you, Sense and Edibility for another tasty, international Christmas beverage. Glühwein, pronounced GLOO-vine, is a beverage you want in a mug and in your hands on a cold night.
Living in Southern California, I don't often experience exceptionally cold weather, but on the rare occasion that temps drop below 35 degrees, a mulled wine like this one is perfect.
Ingredients: Brown sugar, oranges, ginger, cinnamon sticks, ground nutmeg, whole cloves, star anise, cardamom, allspice berries, vanilla bean or vanilla extract, apple-pear brandy, dry red wine.
---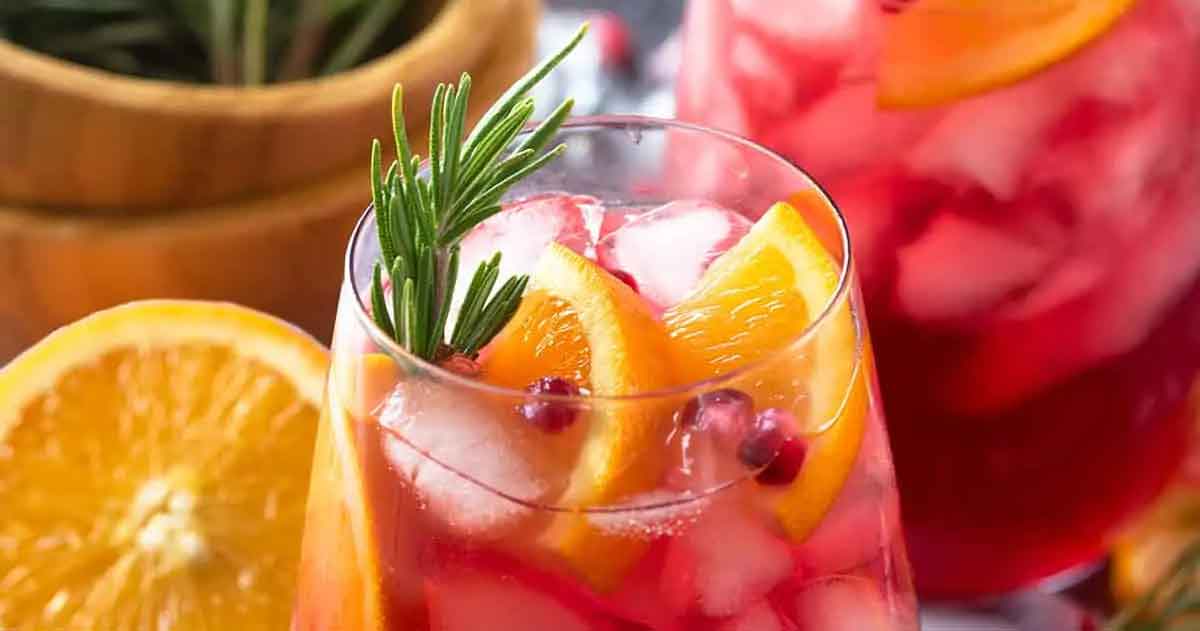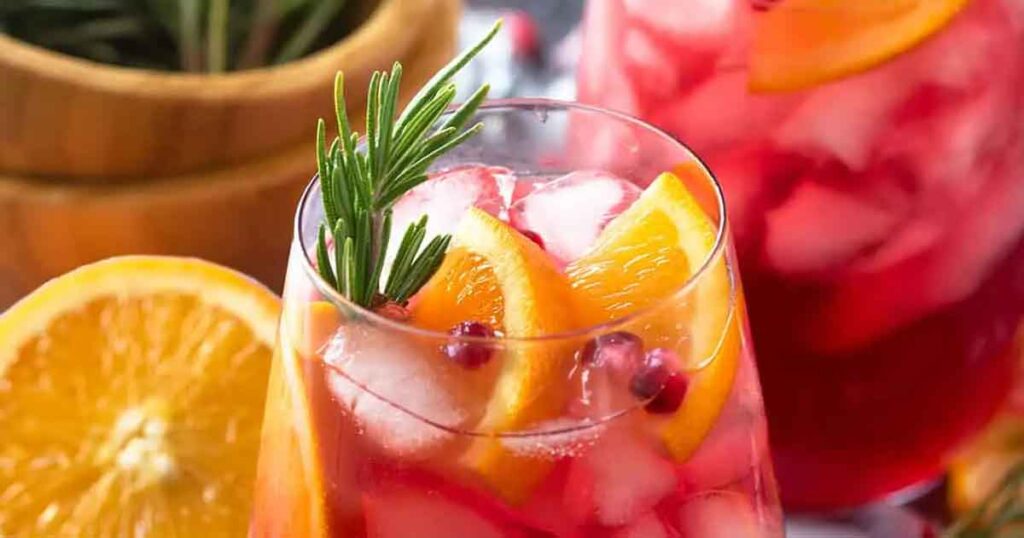 This recipe, provided by Craving Some Creativity, offers a few variations for a classic Christmas punch recipe.
With the provided instructions, in addition to the original Christmas punch, you can put together a non-alcoholic Christmas punch, one with raspberry sherbet (or any flavor you favor), or a Cherry Christmas punch. Check out the blog for instructions!
Ingredients: Pomegranate juice, cranberry juice, vodka, triple sec, ginger ale, simple syrup, garnish: orange, pomegranate seeds, cranberries, rosemary.
---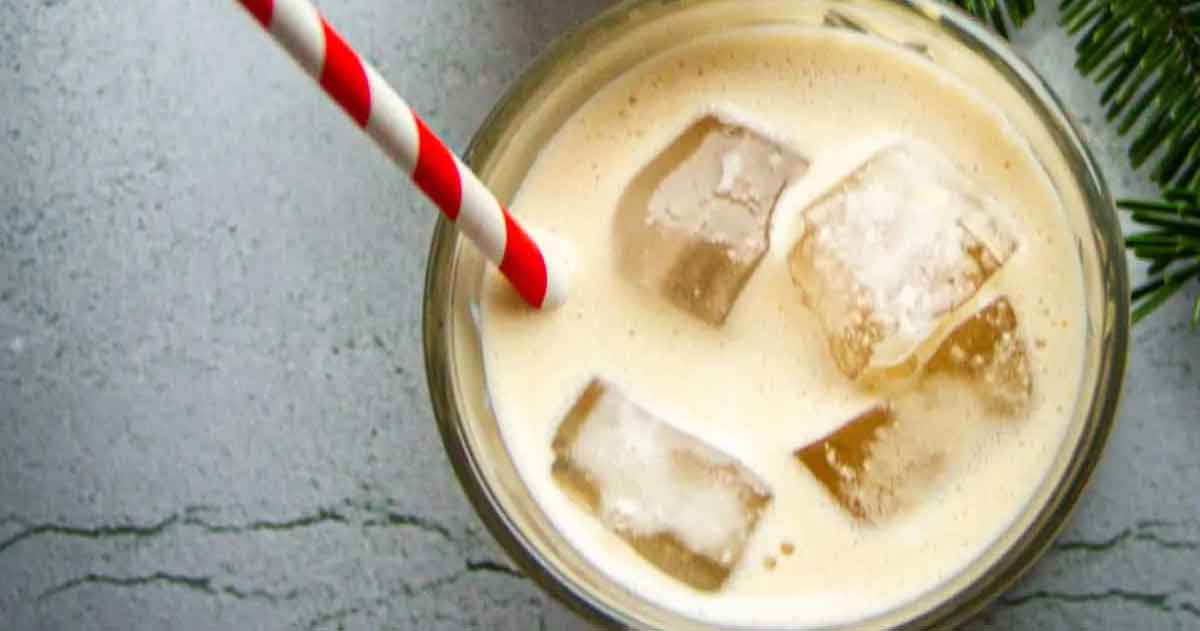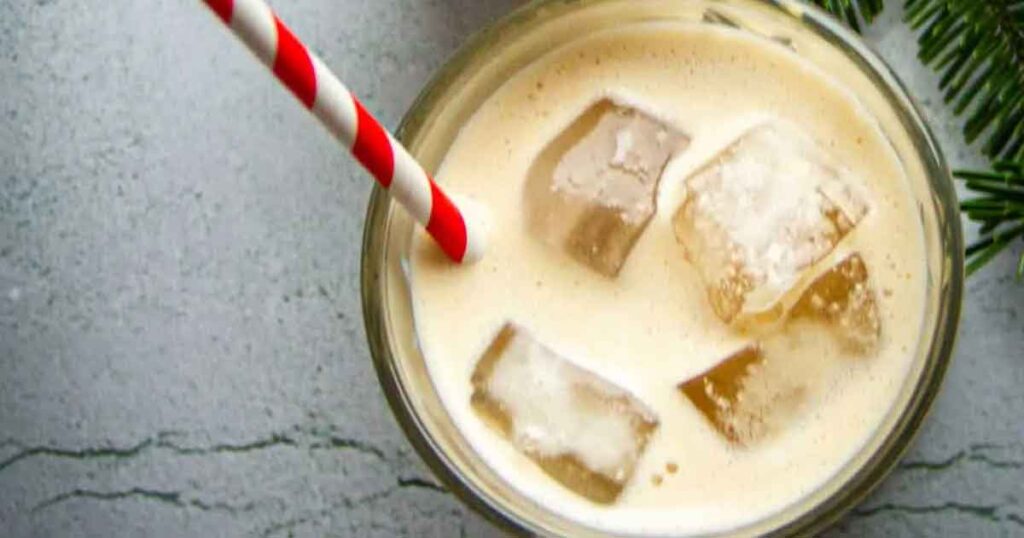 Looking for a lactose-free alternative to traditional eggnog? Check out this recipe from Braised & Deglazed! Oat milk, cashew cream, and xanthan gum serve as replacements for milk and eggs. 
Ingredients: Cashews, oat milk , cinnamon, nutmeg, star anise, brown sugar, clove, vanilla extract, xanthan gum, salt, dark spiced rum.
---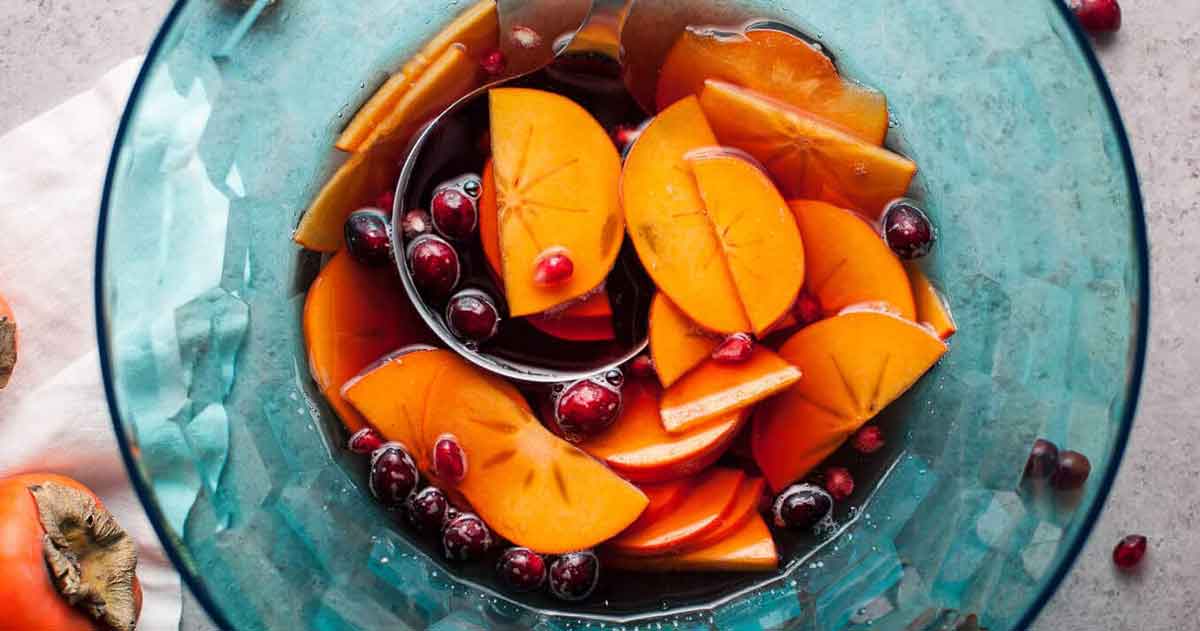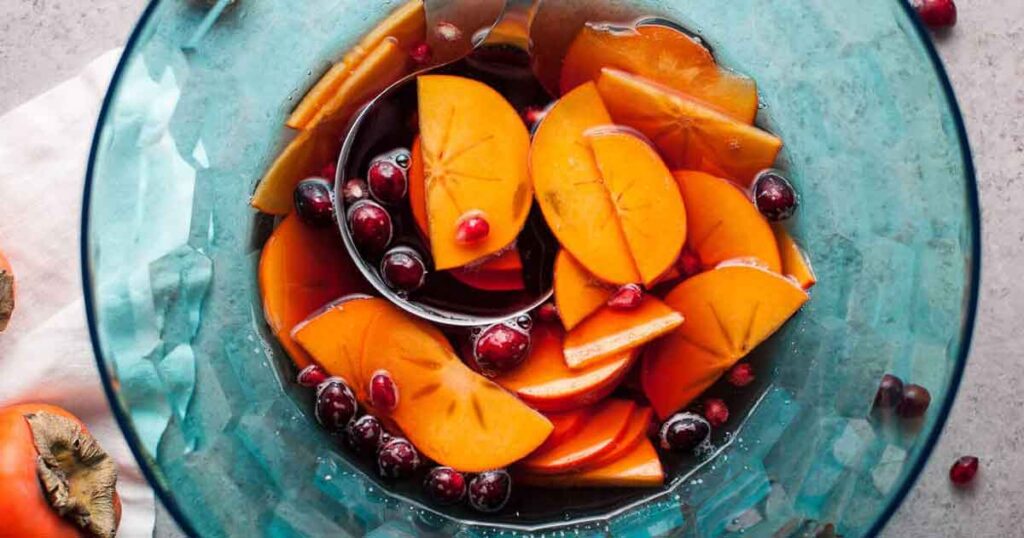 This drink is not too sweet and not too sour. It's just right! Salt and Lavender puts a spotlight on two seasonal fruits: persimmons and pomegranates.
Everyone's favorite dessert wine, Moscato, counteracts the tartness of these fruits for a refreshing and balanced winter sangria.
Ingredients: Persimmons, pomegranate arils, fresh cranberries, pomegranate juice, crème de cassis, Moscato, soda water.
---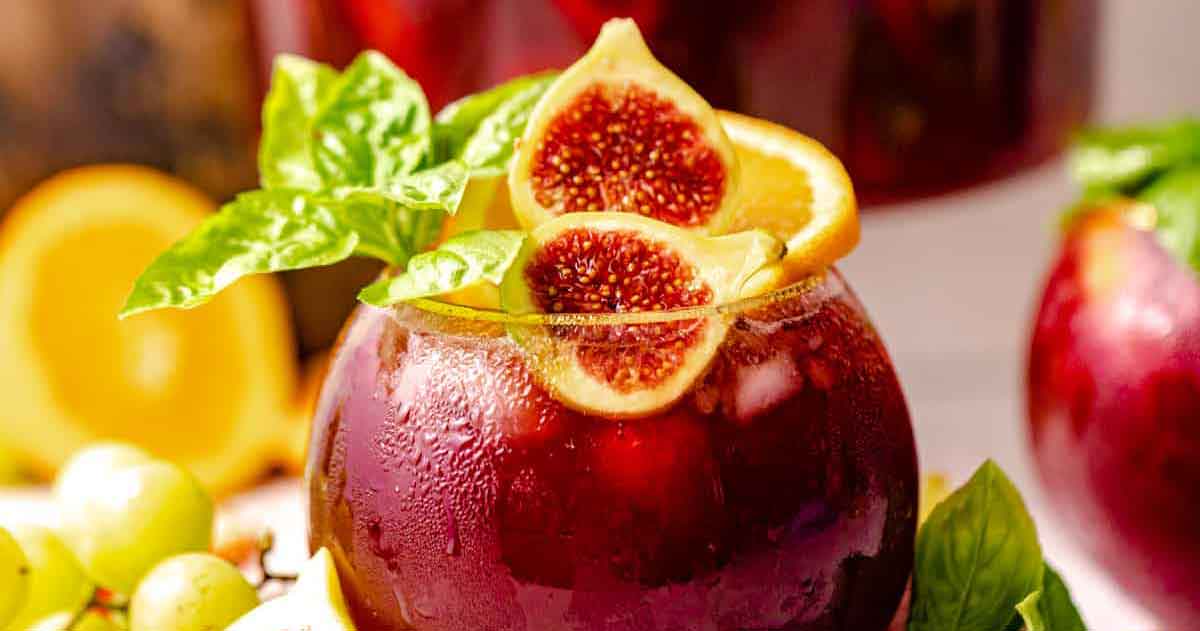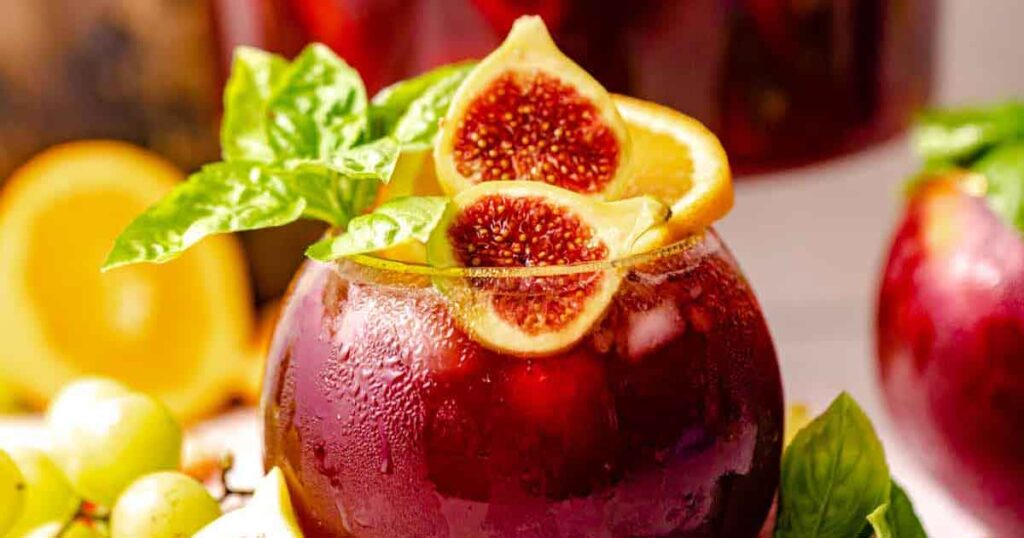 Britney Breaks Bread recommends preparing this bourbon sangria 6-8 hours ahead of time, but if you're running short on time, give it at least 30 minutes to sit.
This recipe is full of ingredients that are bursting with flavor and sure to be a hit at your holiday party. Maybe prepare more than one pitcher just in case.
Ingredients: Bourbon, oranges, fresh figs, grapes, cinnamon sticks, star anise, ginger, ginger beer.
---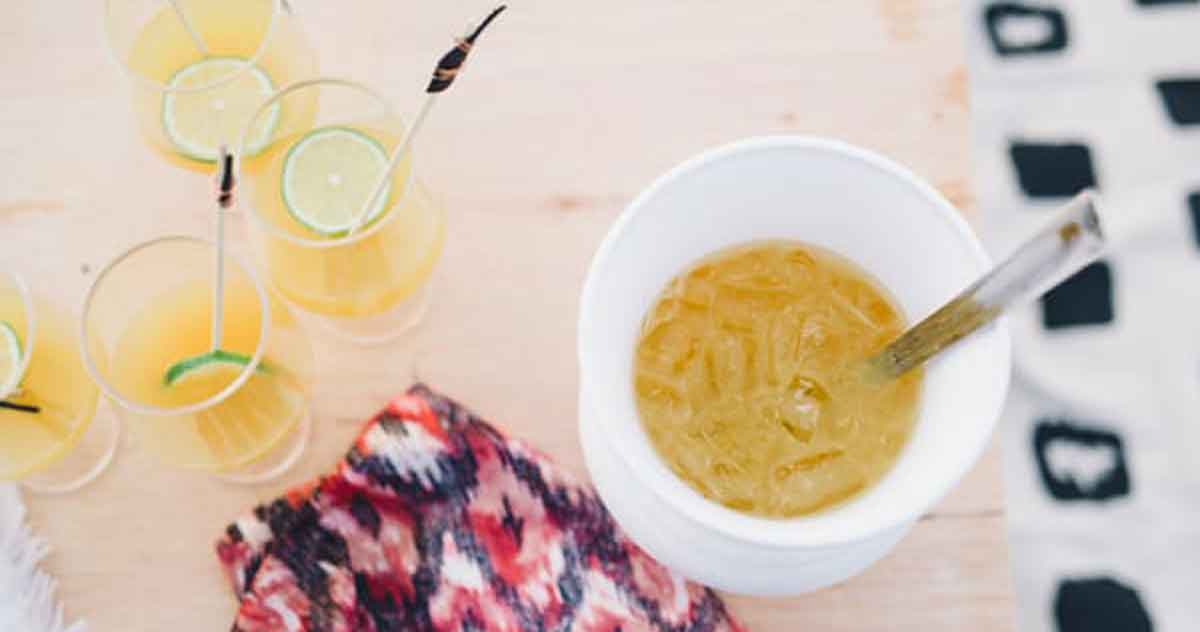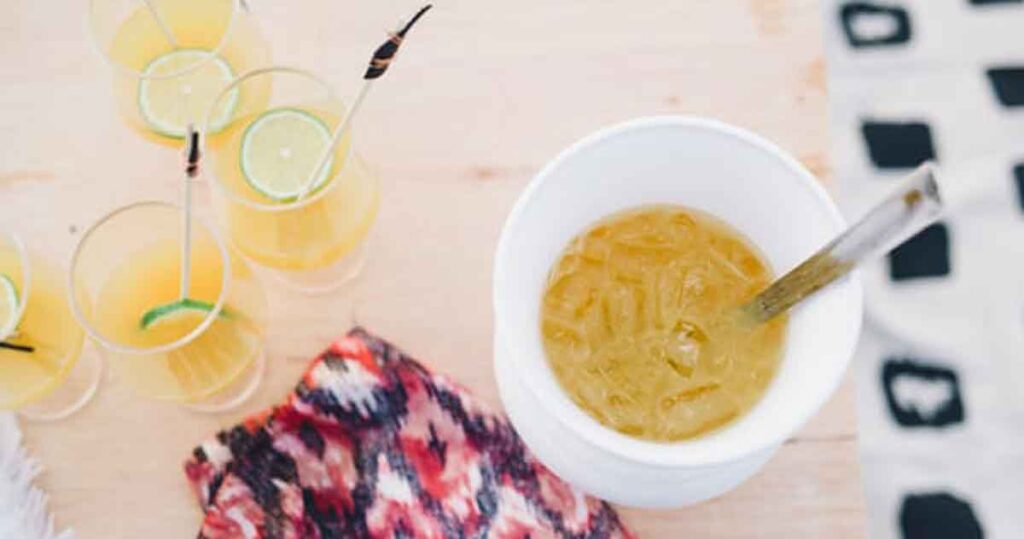 Doesn't it seem like champagne and the end of the year go hand-in-hand?
This champagne punch recipe from Cupcakes & Cutlery adds a little extra reason to celebrate with pineapple juice and frozen orange juice concentrate.
My mouth is watering just writing about it!
Ingredients: Pineapple juice, club soda, frozen orange juice concentrate, champagne, lemon or lime.
---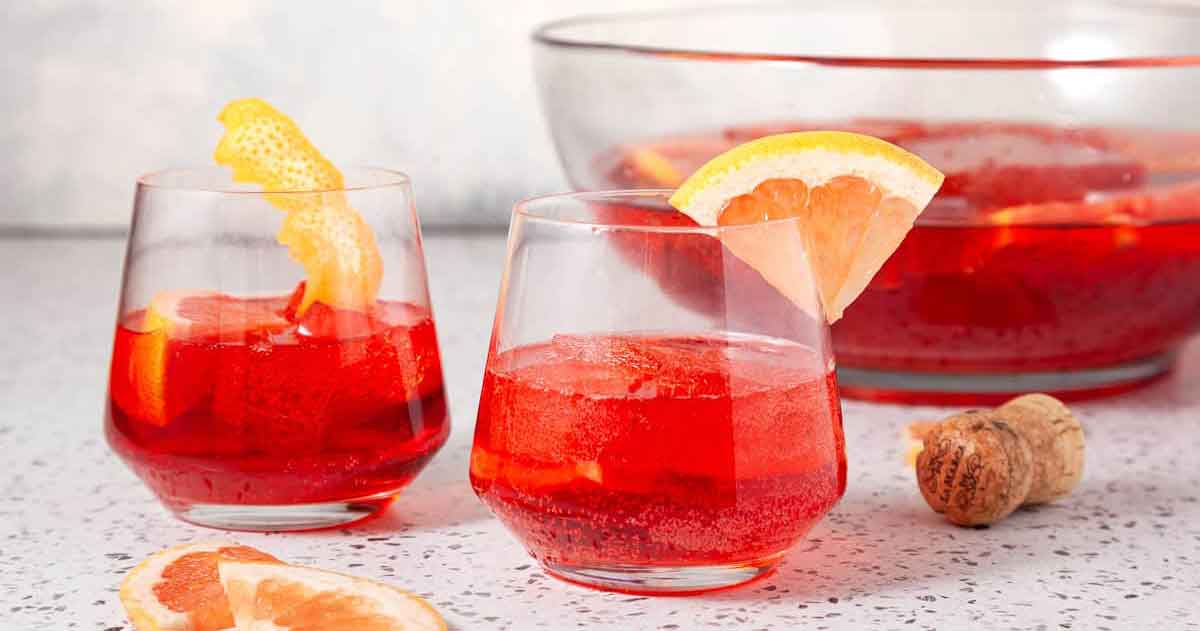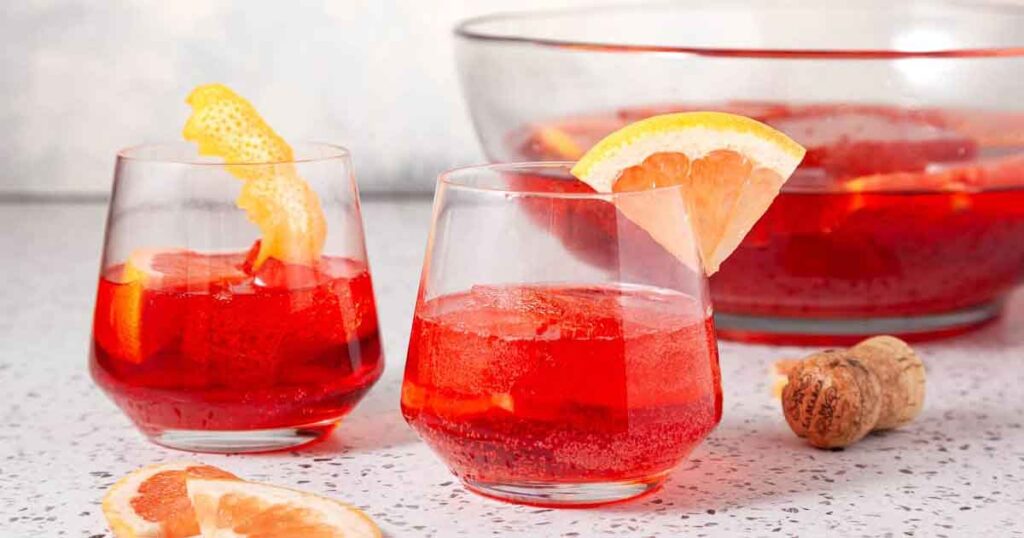 Cup of Zest brings us another simple punch bowl recipe and a twist on the classic, three-ingredient cocktail recipe, Negroni.
It is alleged that Negroni originated in Italy and is usually comprised of just gin, sweet vermouth, and Campari. This recipe lightens up the bitter, aromatic spirits of Negroni with grenadine and sparkling wine.
Ingredients: Sweet Vermouth, grenadine, gin, Campari, sparkling wine, grapefruit.
---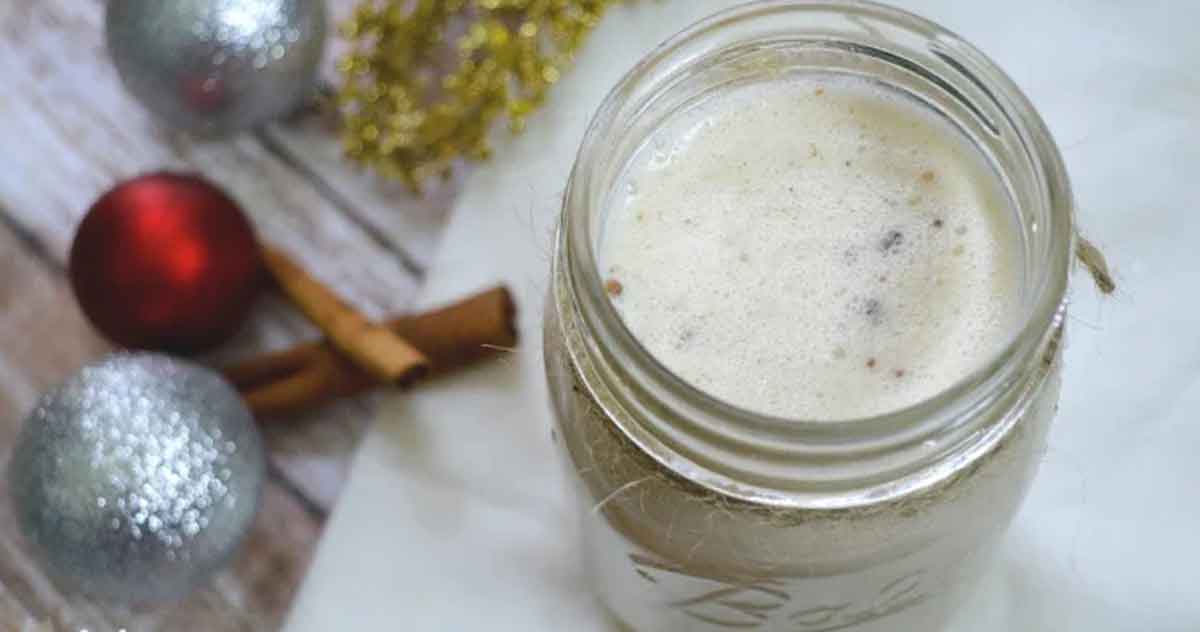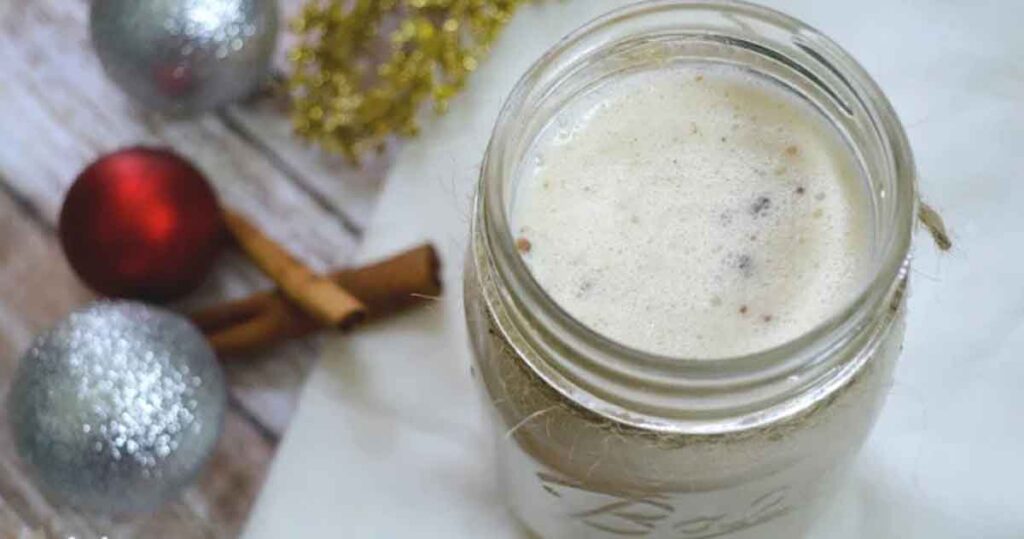 Thrifty Jinxy provides directions for a classic Puerto Rican Christmas drink, Coquito. Just think of it as the Puerto Rican eggnog.
Ingredients: Ground cloves, nutmeg, cinnamon, flavored Bacardi, cream of coconut, can of coconut milk, evaporated milk, can of condensed milk, star anise.
---
Non-alcoholic Christmas Punch Recipes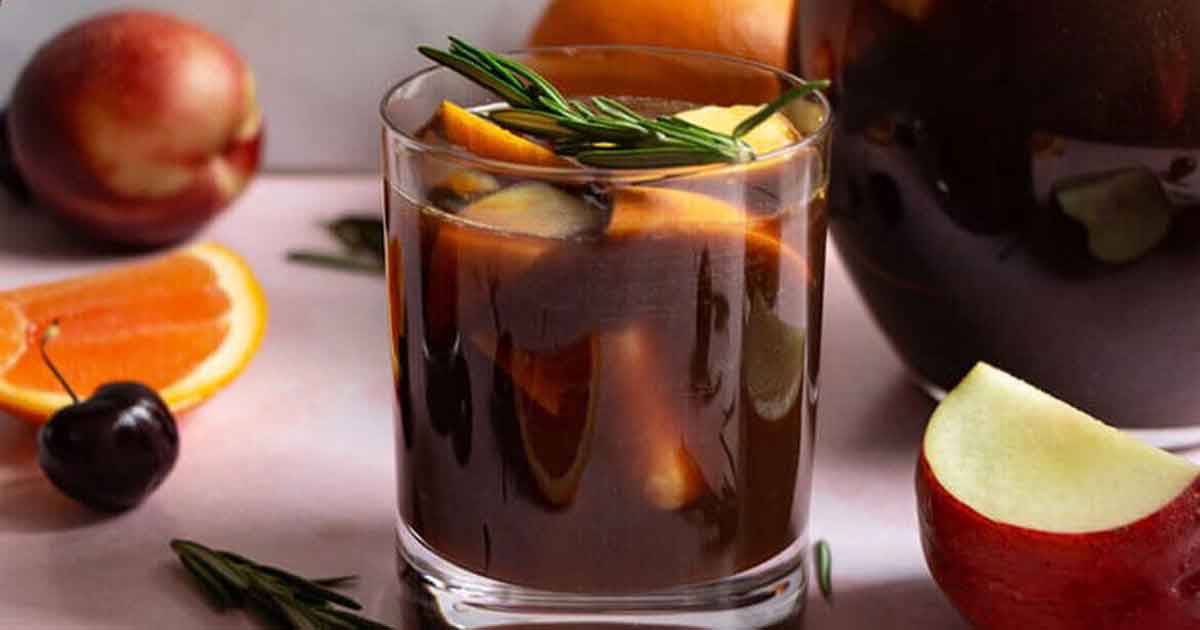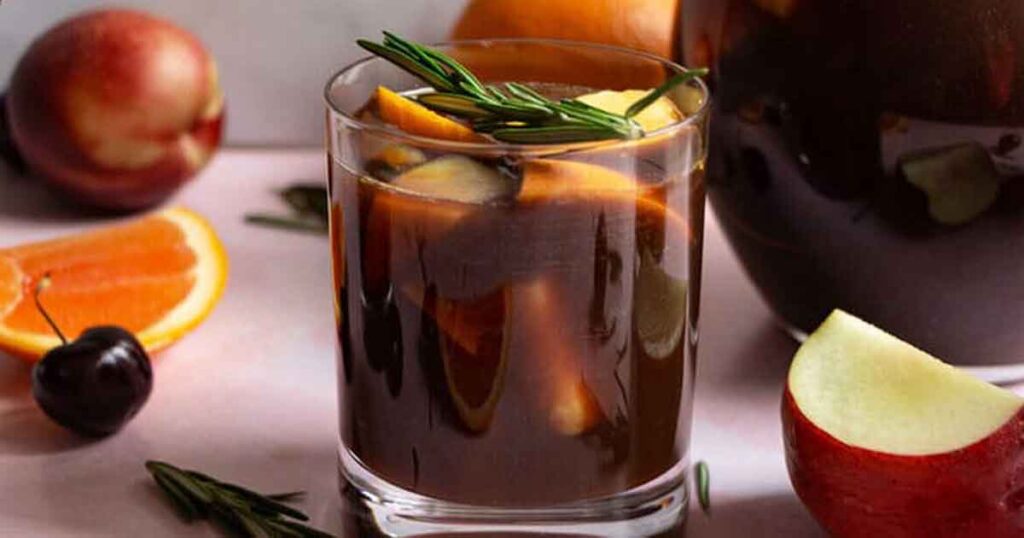 Two words for you: rosemary syrup! Yum!
Don't let the prospect of making your own syrup overwhelm you. Once you try it, you'll never want to spend money on simple syrup again. Plus, if you have leftover syrup, you can use it in lattes or cappuccinos.
Another perk of this recipe is prune juice. Prune juice is high in antioxidants, fiber, and vitamins. That makes this mocktail from Plant Based with Amy healthy!
Ingredients: Bing cherries, pitted, pineapple, white nectarine, Cara cara orange, prune juice, orange juice, sparkling mineral water, rosemary simple syrup, orange bitters, fresh rosemary.
---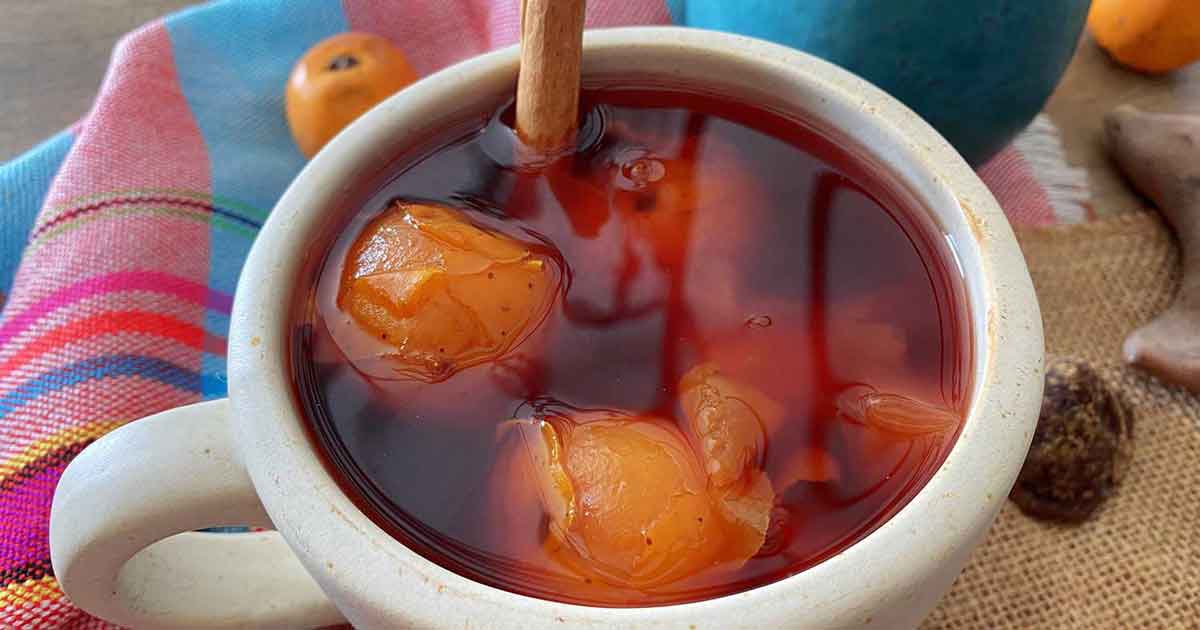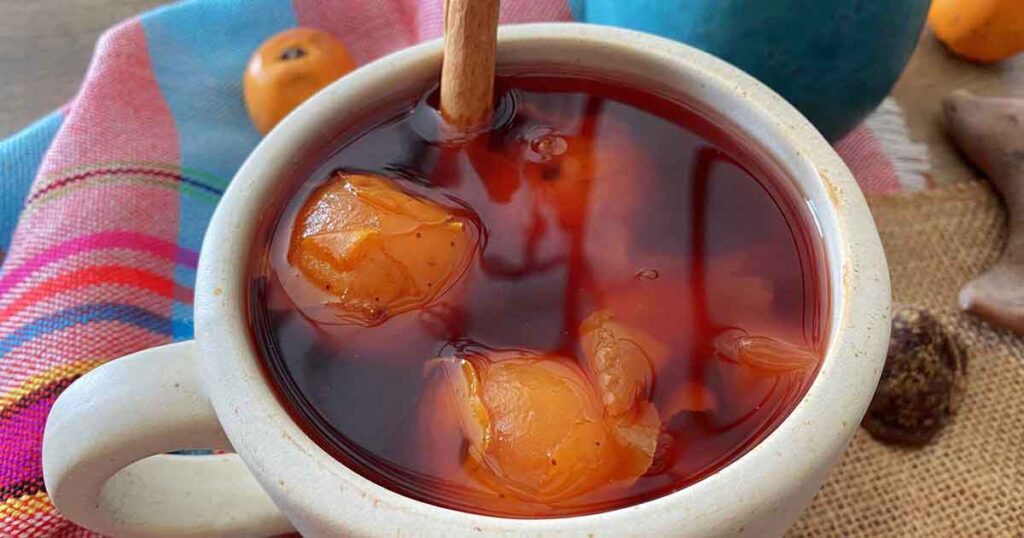 This Instant Pot Mexican Christmas punch recipe from Corrie Cooks would be a wonderful addition to an intimate Christmas dinner or smaller get-together. The blog offers some alternatives if you don't want to buy or can't find the more obscure ingredients on the list.
Don't worry about adding any festive fragrance to your home, by the way. This drink will do it for you!
Ingredients: Guava, prunes, apple, pear, tamarind, Piloncillo cone (brown sugar cone), cinnamon stick, tejocote, raisins, hibiscus flower tea.
---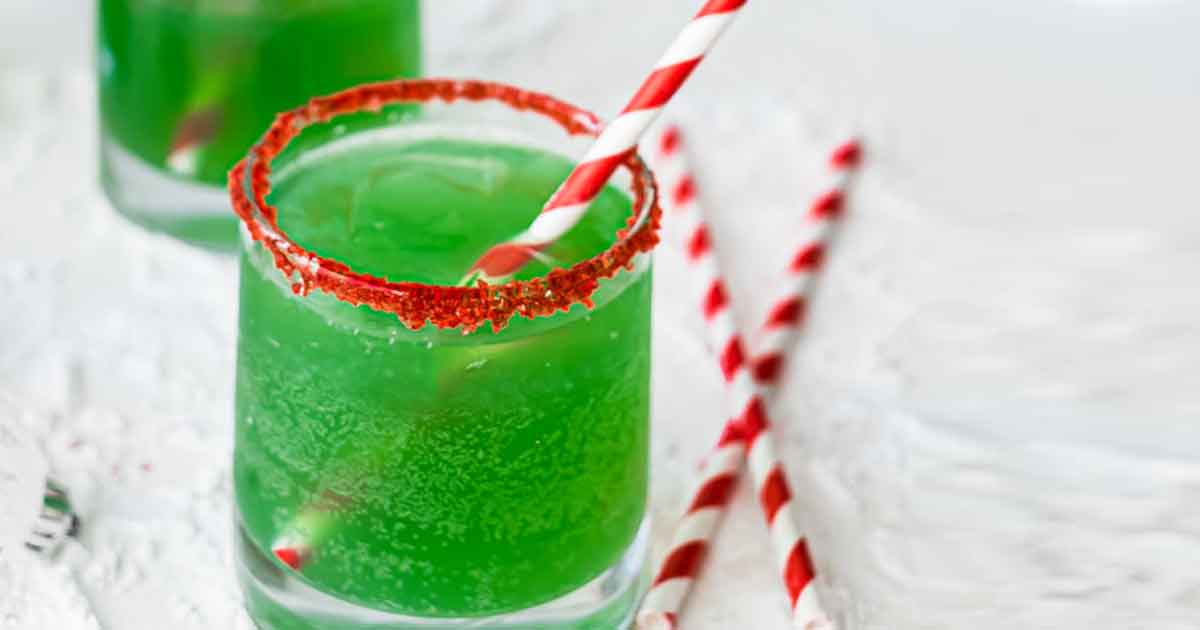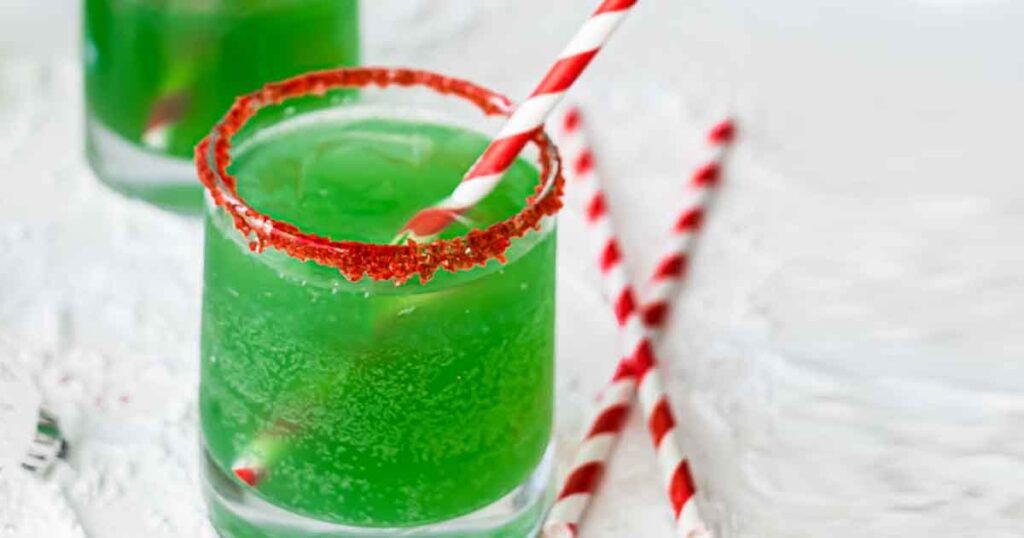 The ingredient that sets this recipe apart from other Grinch punches is green Kool-Aid. It gives it a deeper green color that is more reminiscent of the live-action Grinch with Jim Carrey than other renditions.
Recipes From a Pantry also offers recipes for Grinch-themed cookies, popcorn, and kabobs in case you want to do a Grinch-themed party.
Ingredients: Sprite, frozen lemonade concentrate, pineapple juice, liquid green kool-aid flavoring, red sanding sugar.
---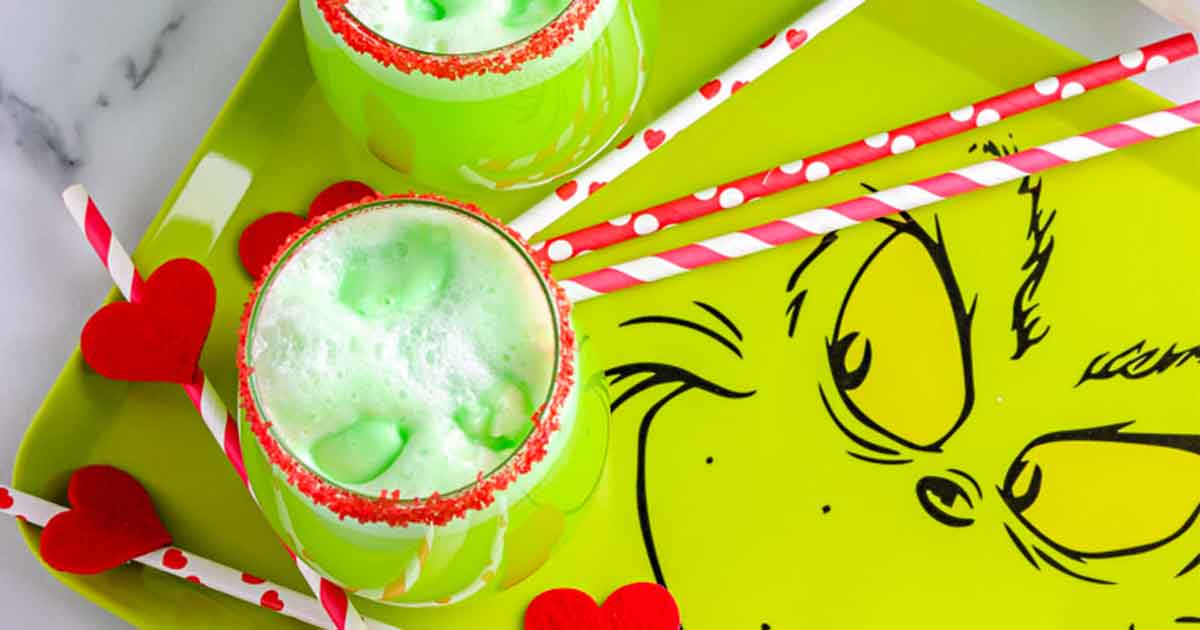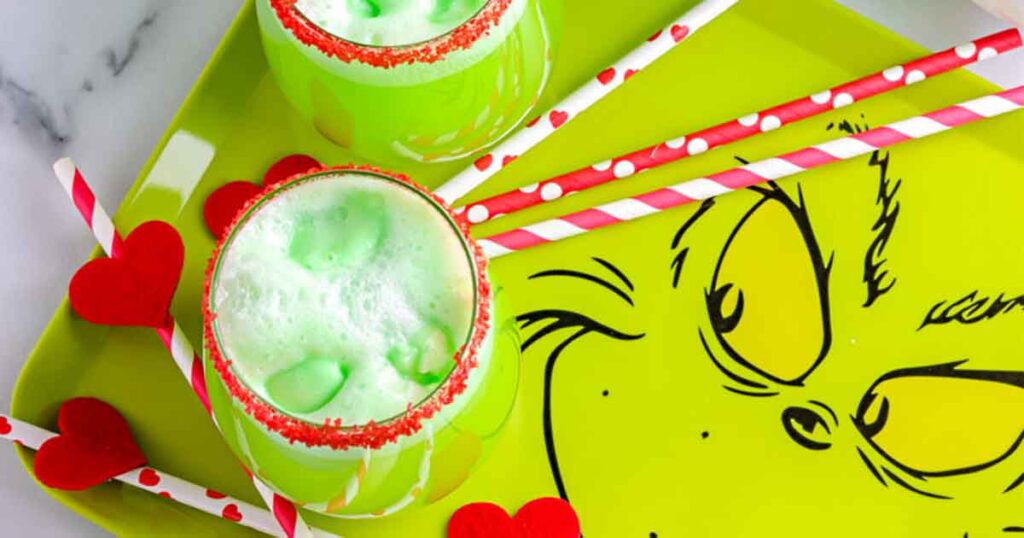 In this recipe from Food Folks and Fun, green Hawaiian punch and lime sherbet team up to give this Grinch drink a shade of green that matches vintage Grinch designs or the 2018 movie, The Grinch.
What shade of green are you going for?
Ingredients: Red sanding sugar, light corn syrup, lime sherbet, pineapple juice, green Hawaiian punch, lemon-lime soda.
---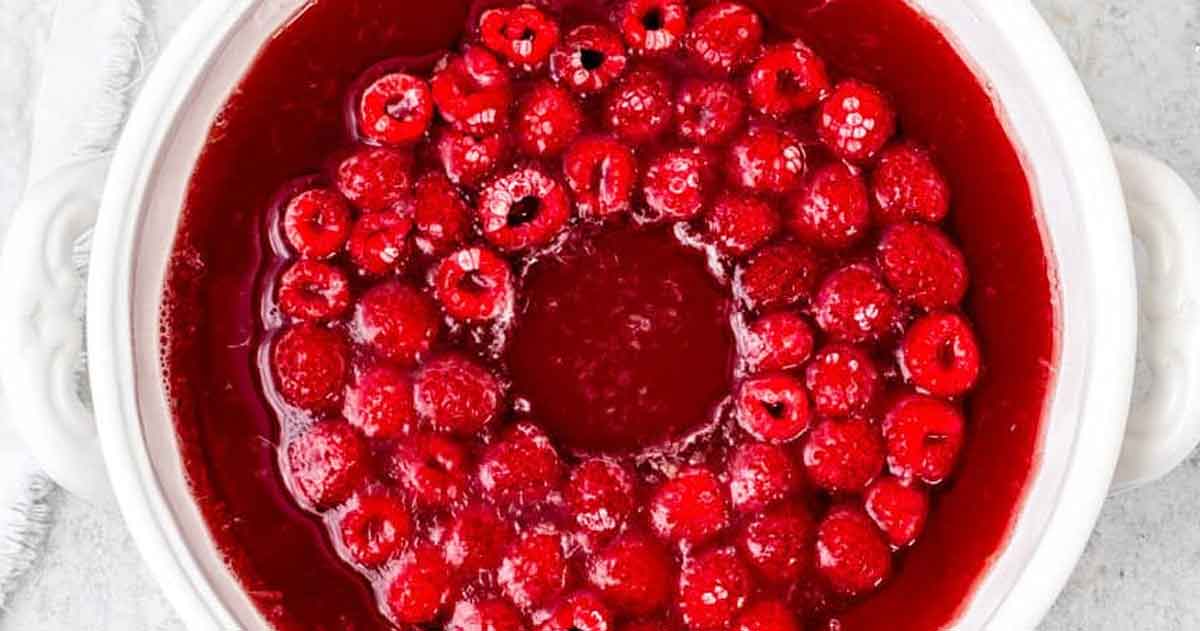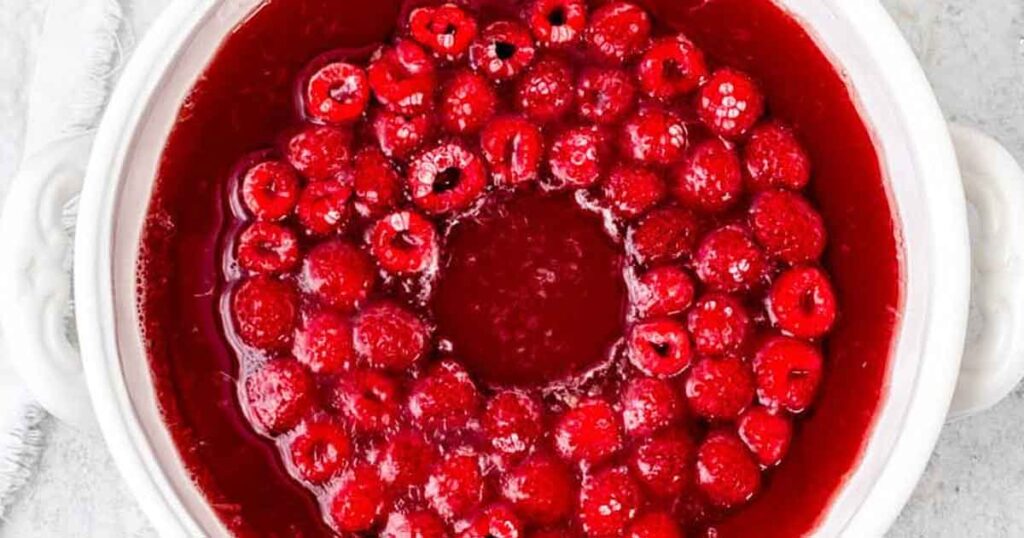 This Christmas punch from Haute & Healthy Living uses five simple ingredients for a tasty drink that doubles as a beautiful centerpiece. What makes this drink so pretty, you might ask?
Fresh raspberries are frozen into a wreath shape and placed in the center of the punch bowl. This recipe makes about 20 servings.
Ingredients: Unsweetened apple juice, raspberries, orange juice concentrate, cranberry cocktail, soda water.
---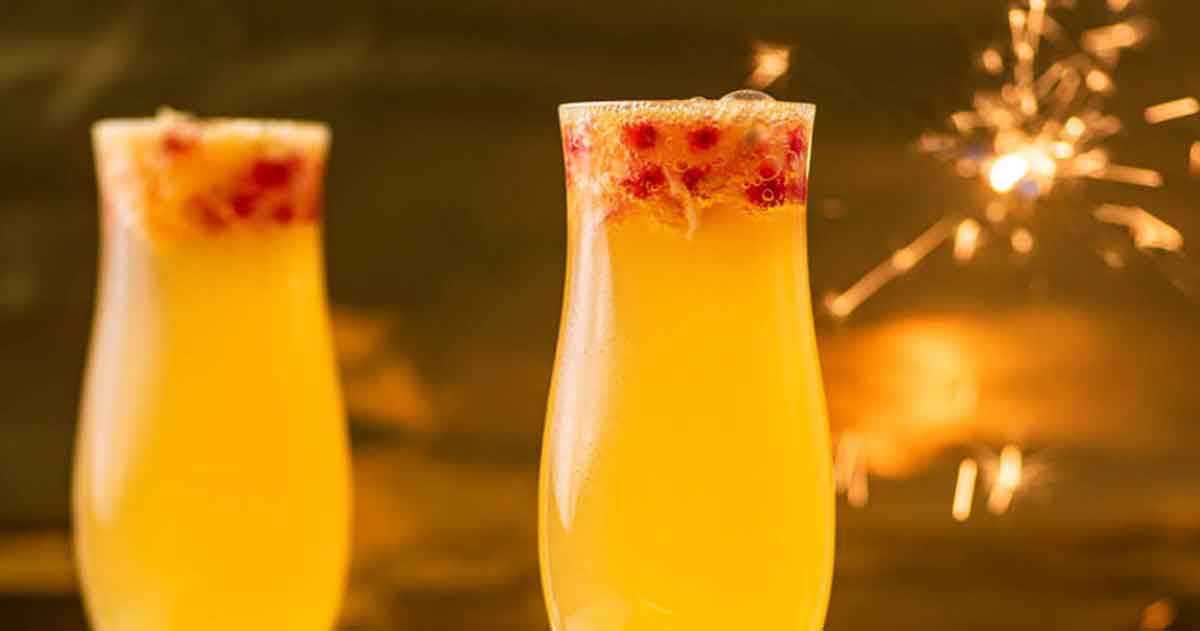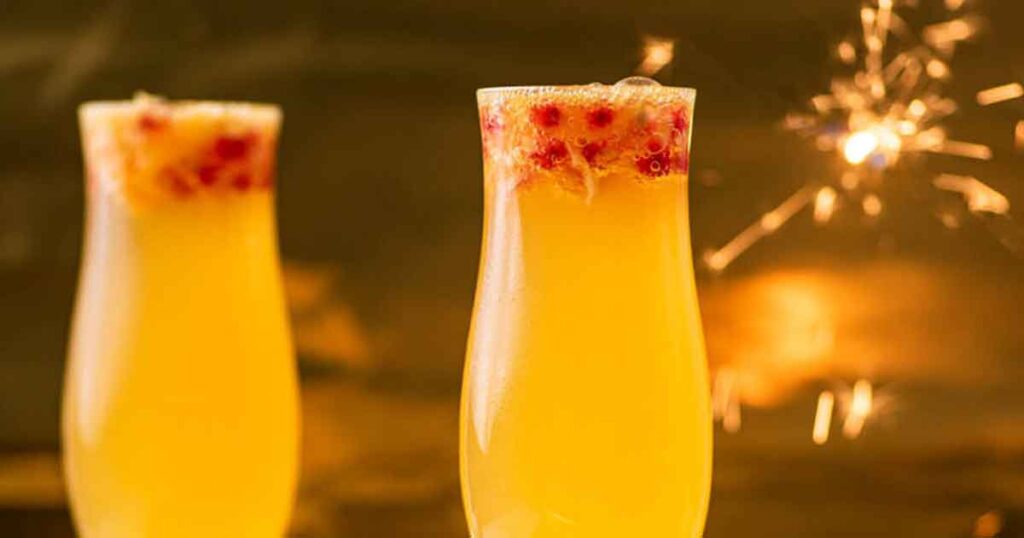 Unless you intend to have a bartender at your holiday get-together, this recipe from Occasionally Eggs is best served at a small dinner because the drink is prepared individually.
The ginger juice is an optional add-on if you need an extra pop of flavor.
Ingredients: Orange juice, ginger juice, pomegranate arils, ginger beer.
---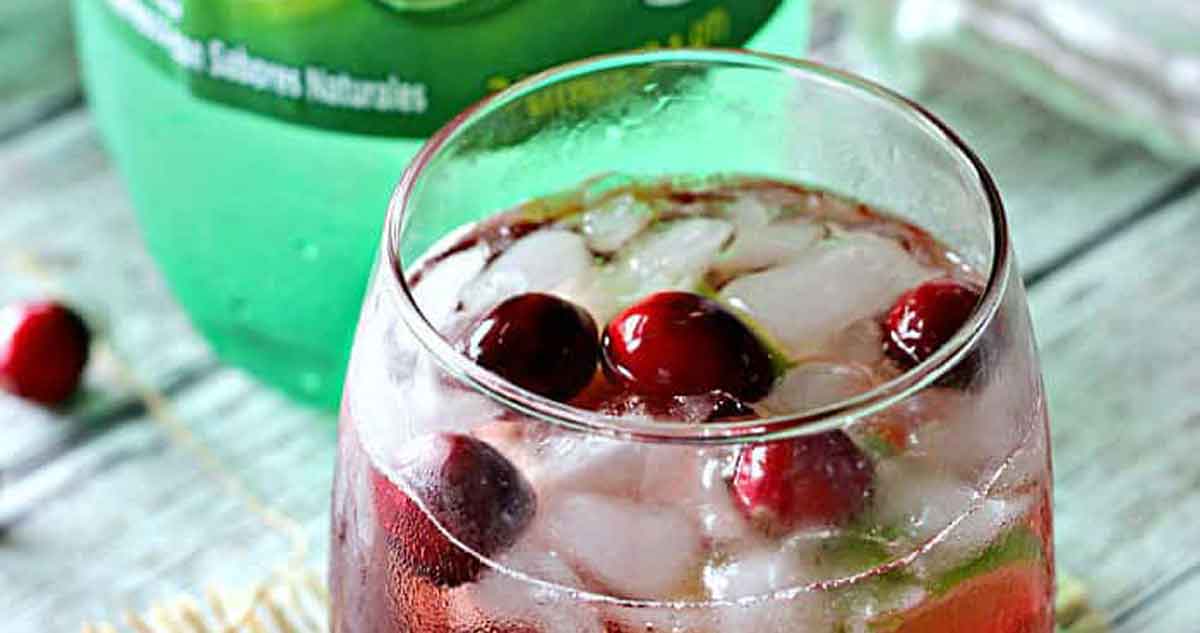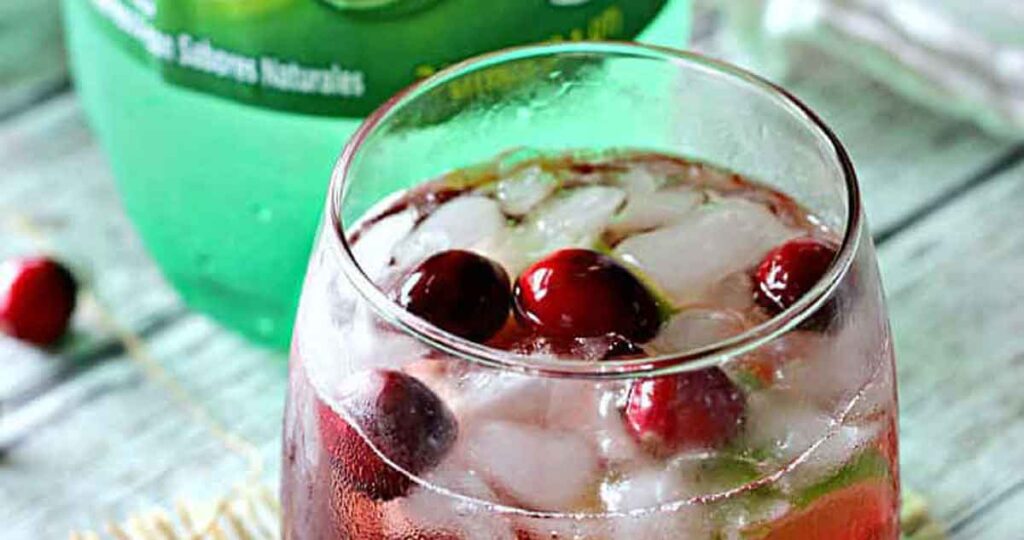 If you're a fan of Sonic's cherry limeades, you can think of this as its cousin who's visiting from the North Pole. Belle of the Kitchen provides a tasty recipe for individual mocktails.
With a little math, this could easily be turned into a punch bowl beverage if you so desired.
Ingredients: Ice, cranberry juice, lime juice, 7Up.
---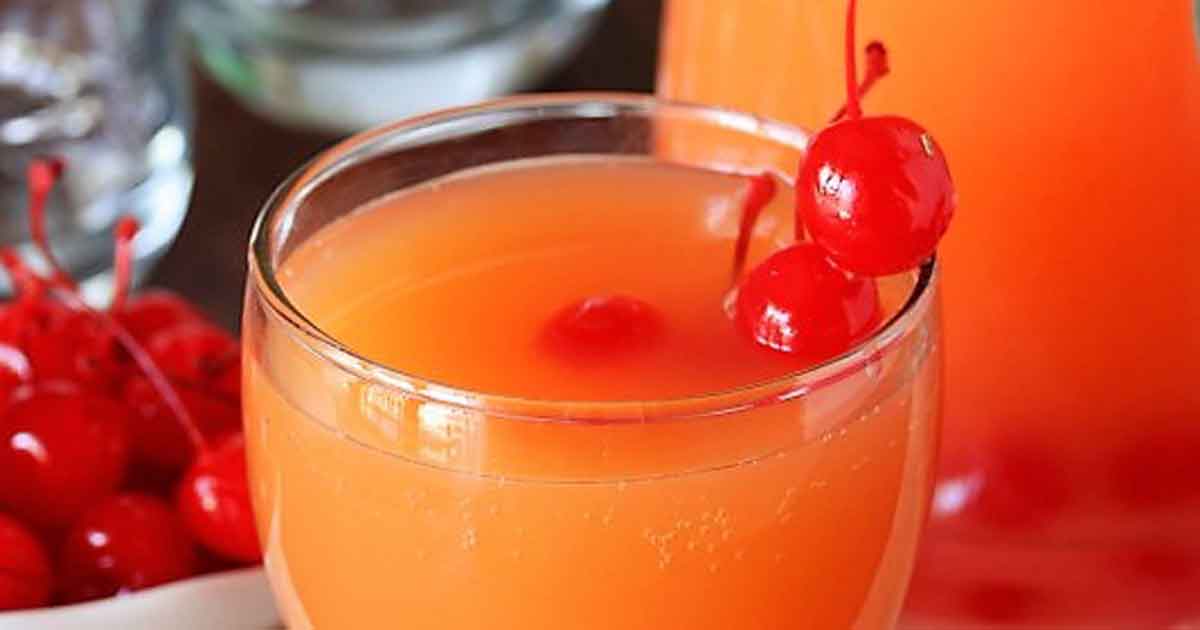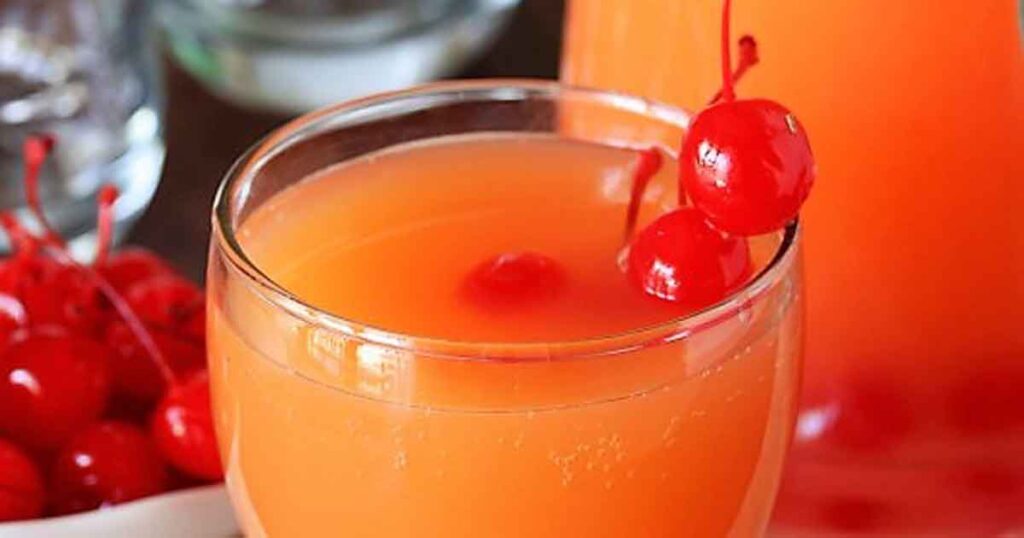 If you like super sweet drinks, this recipe for Grandma's Christmas Punch from The Kitchen is My Playground will be right up your alley!
I just love the color of the drink, especially its contrast against the maraschino cherries.
Ingredients: Sugar, orange juice, can of pineapple juice, maraschino cherries and juice, ginger ale.
---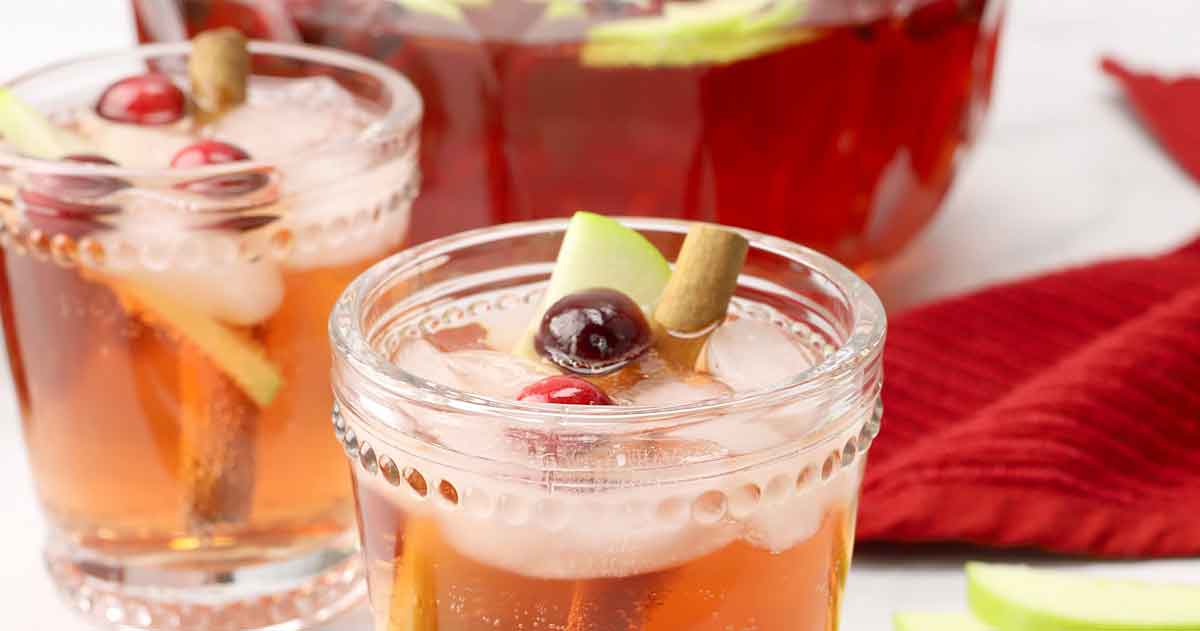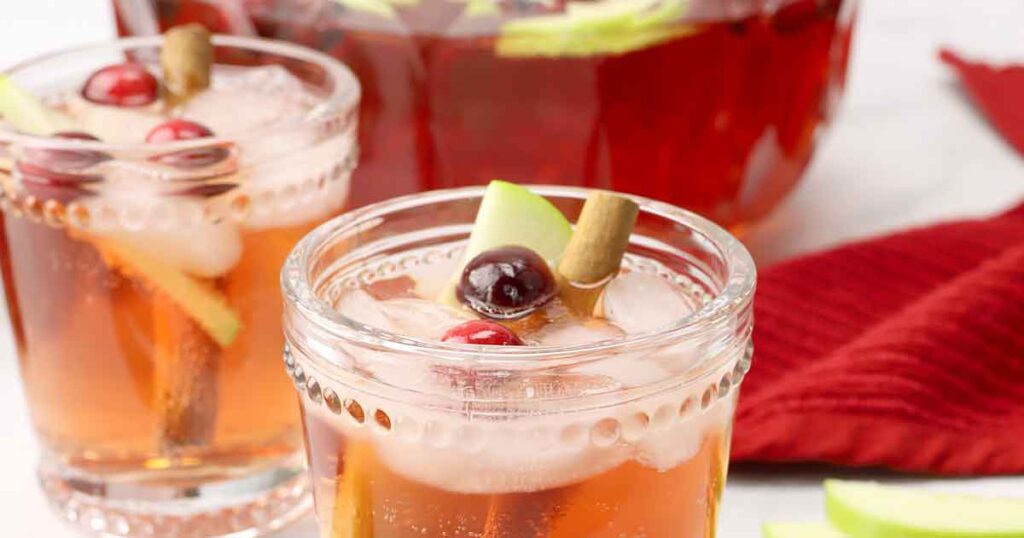 In addition to this spiced Sparkling Chai Christmas Punch, The Toasty Kitchen offers lots of helpful tips from calculating how much punch you will need to ice cube hacks. Enjoy!
Ingredients: Chai tea bags, apple juice, cranberry juice, ginger ale, green apple, cranberries, cinnamon sticks.
---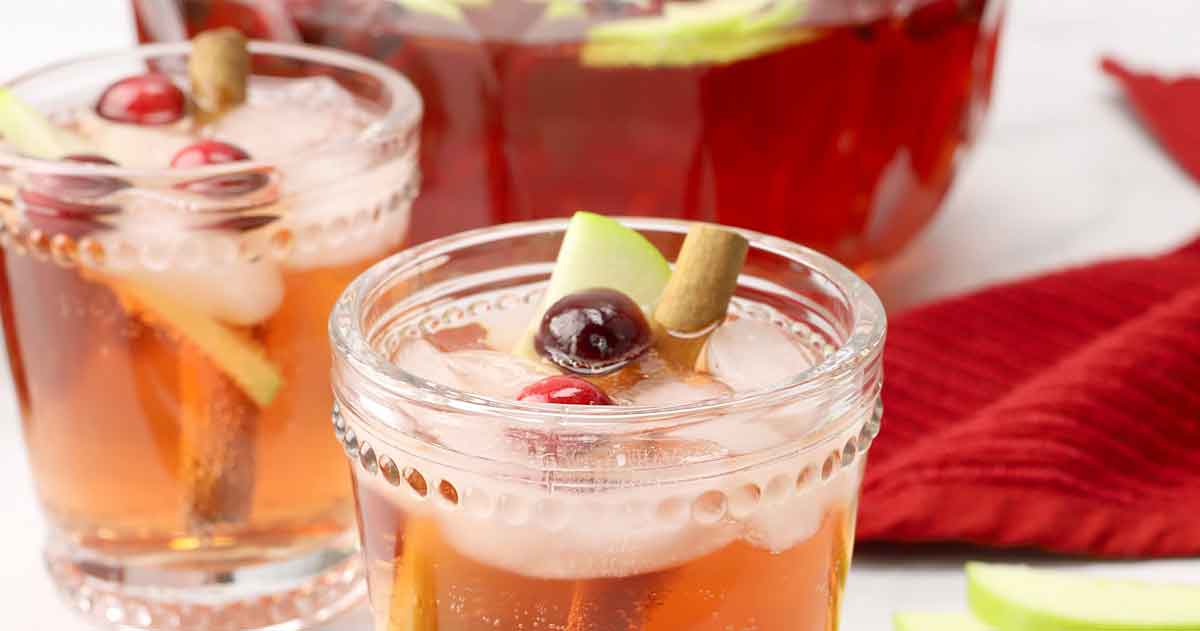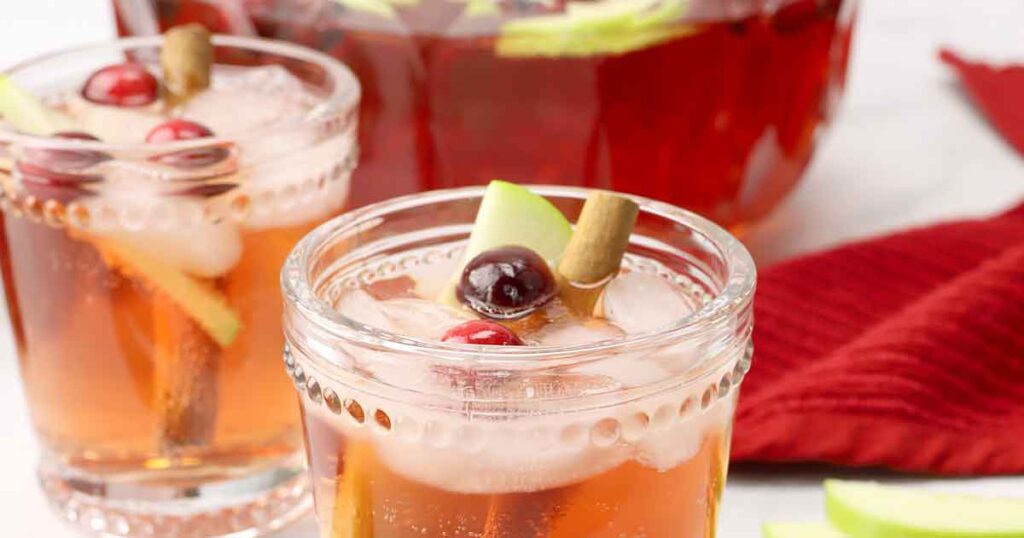 How does a warm, fragrant cup of fruits and spices on a chilly wintery day sound? Ponche de frutas is a traditional drink served throughout Guatemala, Mexico and other Latin American regions around Christmas and New Year's.
A Taste for Travel explains that an important part of the drink, culturally and for flavor and nutrients, is utilizing every edible part of the fruits. This means bowling the skins and rinds.
Ingredients: Pineapple, plantain, apples, dried apples, plums, pear, raisins, sugar, cinnamon stick, Cloves, allspice, nutmeg.
---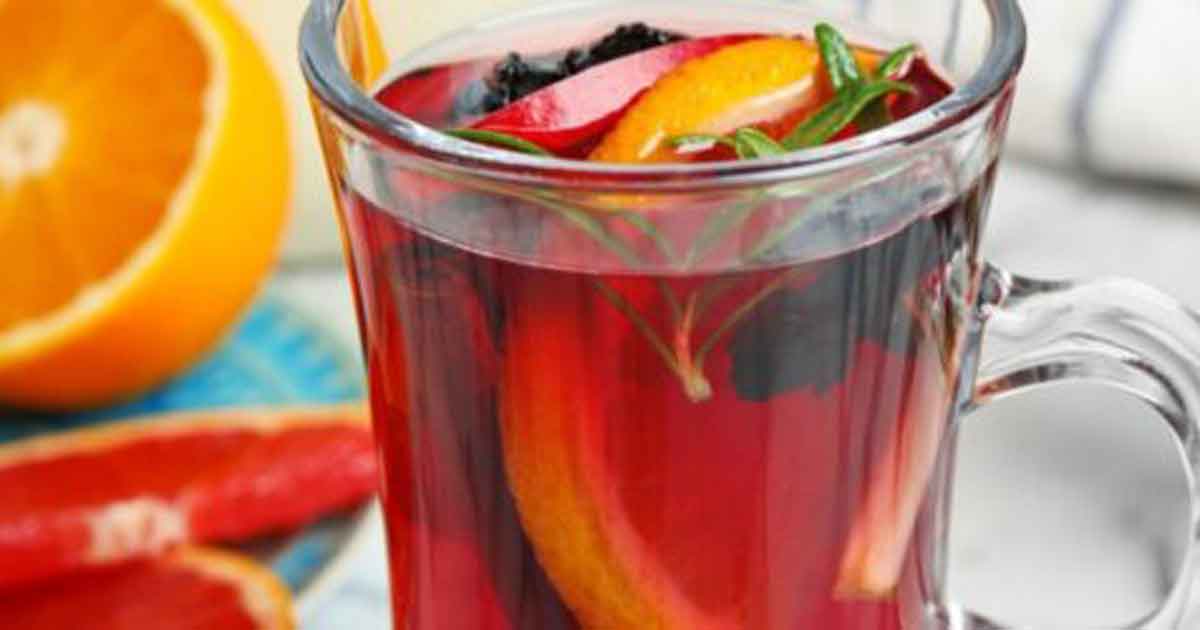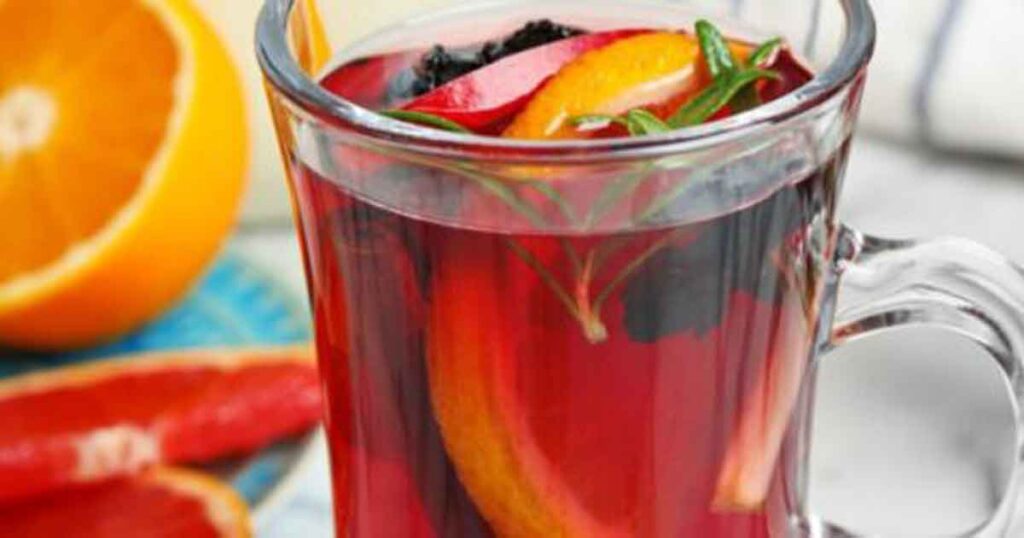 "Here we come a-wassailing upon the leaves so green…" Sound familiar? It's the beginning of the old Christmas carol, "The Wassail Song." I've heard this song and even tried to sing it, but I always thought I was misunderstanding the word "wassail."
Apparently, the word "wassail" was borrowed from Old Norse and Old English phrases that roughly mean "be in good health" or "be fortunate." And "to go wassailing" involves singing and drinking to the health of fruit trees.
Don't worry – even if you aren't feeling like wassailing, you can still enjoy a cup of it. Thank you, Fluxing Well for the recipe. 
Ingredients: Apple cider, orange juice, lemonade, pineapple juice, whole cloves, sugar or honey, oranges.
---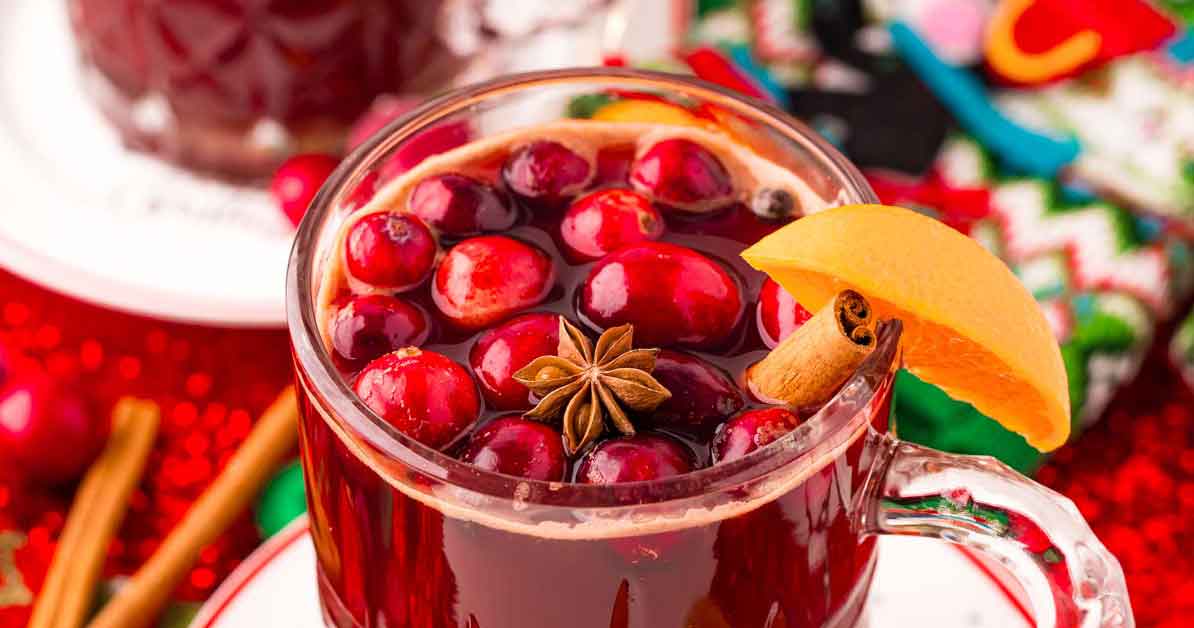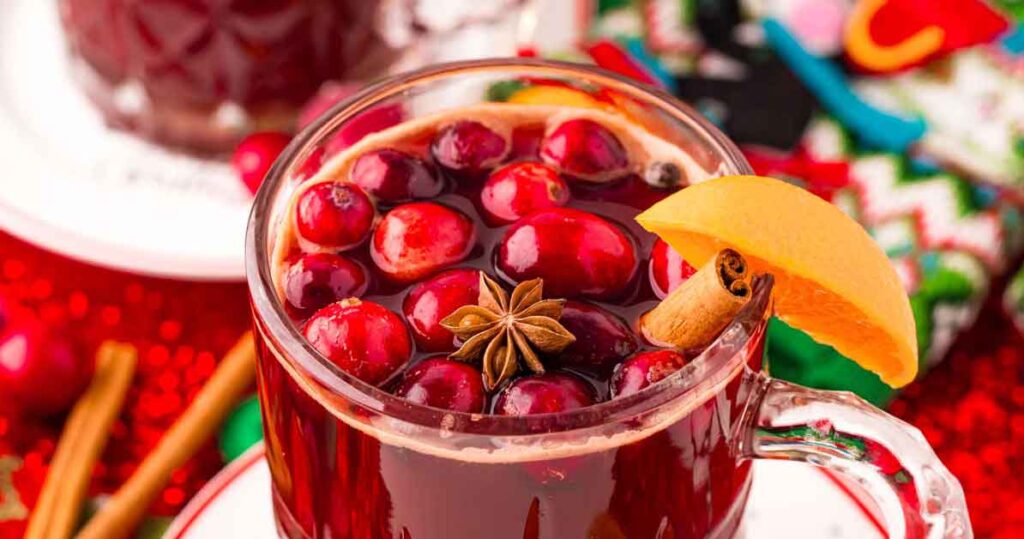 Just imagine strolling through an outdoor Christmas Market in Germany with a cup of Kinderpunsch in your hands.
This recipe, from Sugar and Soul, is ready in about 15 minutes.
Ingredients: Orange juice, apple cider, cherry juice, whole cloves, cinnamon sticks, allspice berries, star anise, berry hibiscus tea, honey or simple syrup.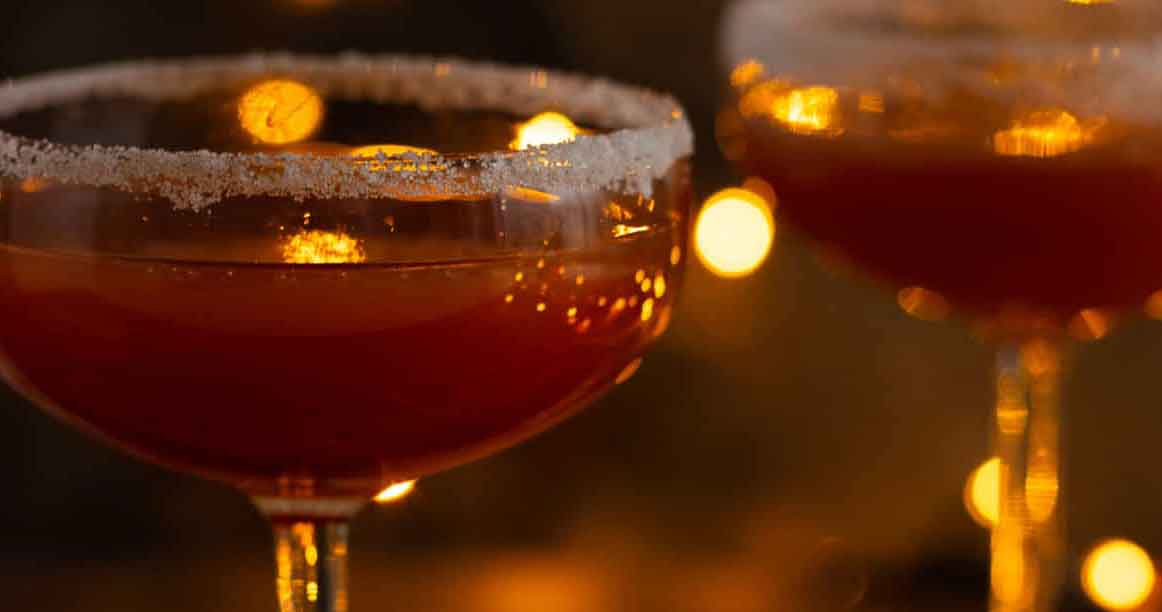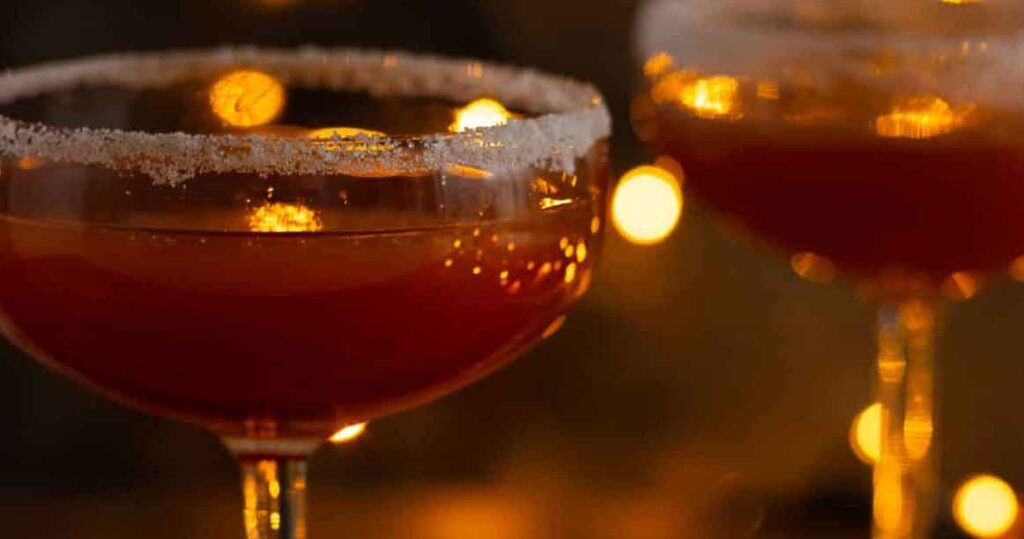 Always Use Butter contributed a super easy mocktail that's made with only two ingredients. You won't have difficulty refilling your punch bowl with this one.
Ingredients: Cranberry juice, red grapefruit juice, grapefruit, margarita salt.
---
Now that you know what to offer your guests to drink, learn how to make a beautiful charcuterie board, a skill you will use again and again.
Ready for more Christmas inspirations? Check out all the printable Christmas products in my shop.
You can also learn 4 ways to package your Christmas gifts, play the hilarious Left Right Christmas Game, and even some fun ways to set up your Elf on the Shelf.
Don't forget to pin these great Christmas punch recipes: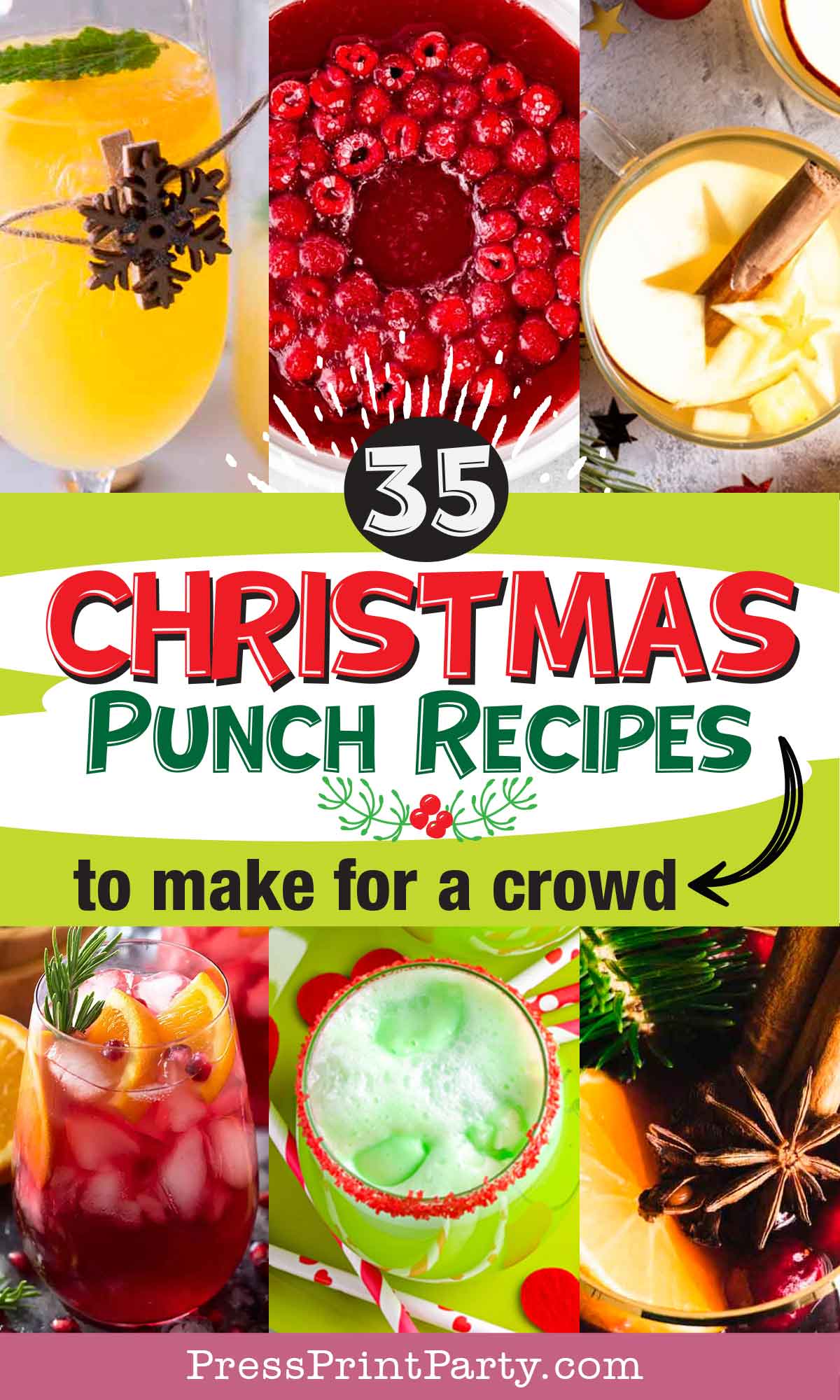 Check out our Christmas printables