Any celebration needs a good party mix for guests to nibble on. You're in luck, I found 19 fantastic sweet Chex Mix recipes for you to try.
Serve them in a big bowl at your next get-together and watch them disappear. Or package them in jars or bags to make great holiday gifts.
This post may contain affiliate links.
We'll concentrate on recipes with Chex mix cereal. There are of course many ways to start a snack mix but today we'll concentrate on the American standard. Rice and corn Chex cereal are gluten-free and make a great option if you know someone with allergies. And no, I'm not sponsored by Chex.
If you're more in a spicy mood check out my Spicy Chex Mix recipe Spicy Chex Mix recipe post too.
Puppy Chow Chex Mix recipes
Puppy chow, muddy buddies, whatever name you give this delicious mix doesn't matter. It's a very sweet mix with butter, chocolate, peanut butter, and powdered sugar. It makes a great snack to give away at Christmas, serve for the Superbowl, a birthday, baby shower or any celebration.
I've collected some of the best muddy buddy recipes all with their own twist.
1- If you've never had muddy buddies before, start here. This
Chocolate Muddy Buddies – Puppy Chow Recipe from Kimspired DIY is the basic real deal. Oh so good!
2- This Muddy Buddy Chex Mix recipe from Two Kids and a Coupon adds cocoa powder for a more decadent chocolaty taste.
3- You'll want these Root Beer Float Muddy Buddies from sheri silver at your next summer party. She combined root beer flavored Chex mix with vanilla flavored Chex mix. A delicious combination sure to please any guest.
4- Another recipe win from sheri silver with these hot cocoa muddy buddies. She mixed 2 separate batches, one white and one chocolate and added mini marshmallows. You've got to check out the post to see how she packaged them, so cute. A perfect pick me up for the cold winter months.
5- What makes this Christmas Puppy Chow snack mix from Salt & Lavender Christmasy? Why, the sprinkles of course!
6- This Cupcake Puppy Chow mix from Sally's Baking addiction is made without cake mix but is guaranteed to look and taste like a Funfetti type cake! I'm totally excited to try!
7- All kinds of yummy goodies are added to make this mix worthy of the name Santa's Reindeer Chow from The Baking ChocolaTess.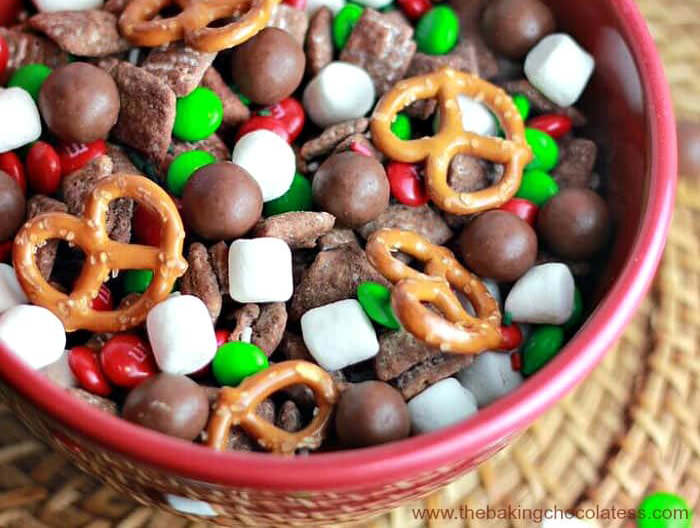 8- For all you allergy sufferers out there, this Grown Up Puppy Chow from Pink Fortitude is the grown up and allergy friendly version of the muddy buddies – gluten free, vegan, peanut free, and no extra sugar. Much easier on the waistline too.
Unique Sweet Chex Mix Recipes To Try
Moving on from the powdered sugar mixes to some more eclectic creations that will make your mouth water.
9- My Organized Chaos throws all she's got at her White Chocolate Christmas Trash Snack Mix. An appetizing mix of m&ms, cheerios, pretzels, Chex, and white chocolate.
10- Pink is any princess party's best friend and the Princess Chex Mix Recipe from Cook Eat Go is full of pink sugar to keep with the theme.
11- Another great reason why a slow cooker is a must-have appliance in the kitchen. You'll be able to make this sweet Honey Glazed Crockpot Chex Mix from In The Kids' Kitchen.
12- I think you can throw cinnamon and sugar on just about any baked goods and it'll turn out delicious! This Cinnamon Sugar Chex Mix from Buns in my Oven makes me think of a crunchy Mexican churro!
13- One lovely Life swears by her Mom's Sweet Christmas Chex for football parties or Christmas gifts. Her snack mix has plenty of coconut and almonds and even adds some graham cereal to sweeten the deal.
14- If you love the nutty crunch of a Pay Day bar, you'll love Layers of Happiness Easy Microwave Pay Day Chex-Mix with plenty of peanuts. Perfect for munching during the football game.
15- Pecans and caramel are my personal crack. I can't wait to try this
Addicting Toffee Chex Mix recipe from Everyday Dishes for my next get together.
16- It's not too often that I find a recipe with an ingredient I knew nothing about. But until I started looking for Chex Mix recipes I had never heard of Furikake. It's a seaweed and sesame rice seasoning. Apparently, it's very popular to add to Chex mix in Hawaii. And yes, this is a sweet mix with a little bit of spice. Crispy Furikake Chex Mix by My lilikoi Kitchen
17- Fritos and sugar, why not? Recipe girl sure makes it work in this sweet Frito Snack Mix.
18- If all those yummy snack mixes seem to be very caloric, it's because they are! No need to stay completely away though, Averie Cook has a yummy Skinny 100-Calorie Chocolate Peanut Butter Snack Mix recipe for us!
19- If following a recipe is not your style, hop on over to Food 52 where they teach you how to Make Snack Mix Without a Recipe, Savory or Sweet and give you the freedom to create your own.
You can also go check out the Chex website for some of their own recipes. But I think it's more fun to see what regular folks have come up with. I love to see all the variations and creativity.
So which one are you going to start with? Let me know in the comments.
Don't lose these delicious recipes, pin it!