Your kiddo turns one, it's getting cool outside, Winter Onederland, naturally!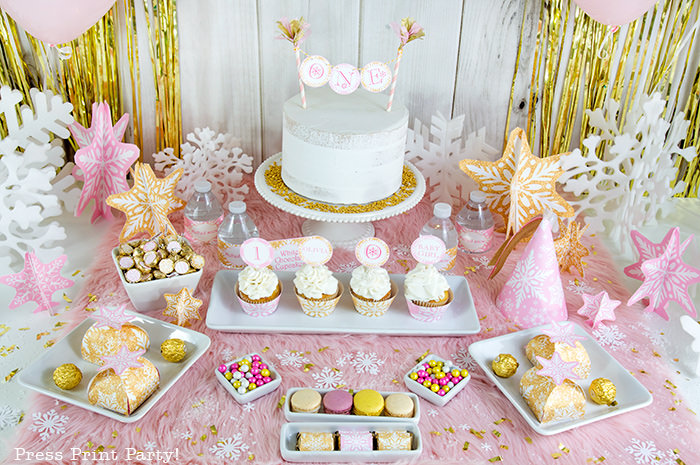 This post may contain affiliate links.
First birthdays are so much fun. You've had this kiddo in your home for a whole year. You've gotten to watch them change and grow. You've seen first steps and heard first words and sometimes you still can't believe that this sweet, wonderful, unique, little person came from you.
But themes for a first birthday parties can be tough. Your little one can't explain what they'd like. The whole thing about firsts is they're new! Some of the stuff in the party store is cool but isn't really unique. It's a special birthday. What do you do?
Well, for those little angels who were born in the winter or love the snow, how about a Winter ONE-derland?
It's a terrific way to celebrate the frost and cold from the deliciously comfortable interior of your own home.
I love this theme because It's a wonderfully unique festive celebration of bold golds and soft pinks.
Discover how to get this amazing look.
Easy Onederland Printables
My printable set includes a customizable banner, cupcake toppers and wrappers, 3D snowflakes, an editable cake topper, Hershey's kiss labels, food labels, and much more. Everything that you'll need to create the most festive table around and to commemorate your little one's big day.
You'll be able to decorate your table with an array of faux gold and pink 3D snowflakes. They look amazing among some white 3D dollar store foam snowflakes.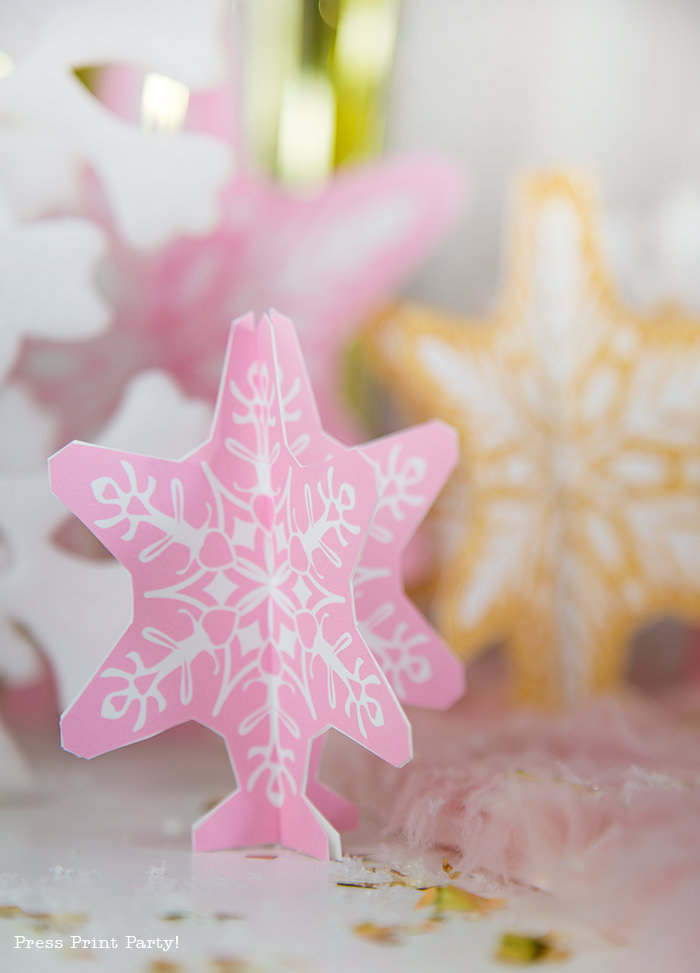 Bring on more golden fun with place cards and cupcakes with customizable toppers.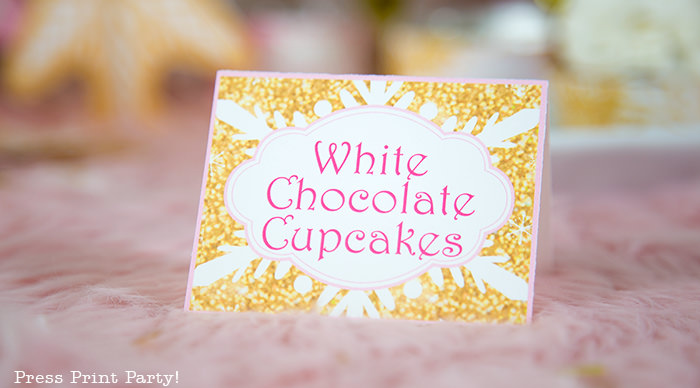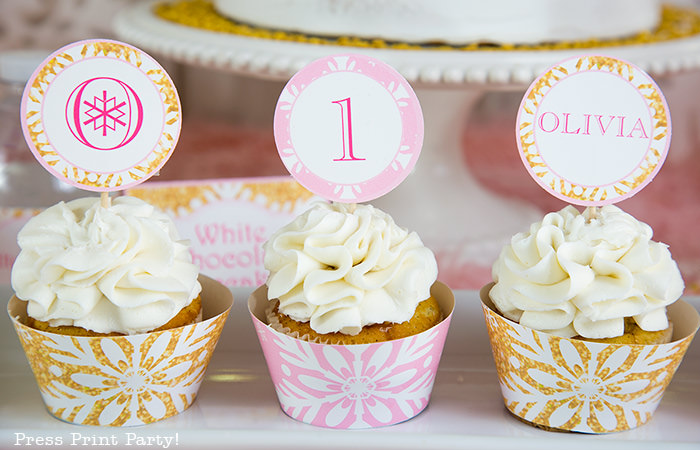 Don't forget to give your guests a treat to take home. These snowflake boxes are easy to assemble and can hold lots of chocolate.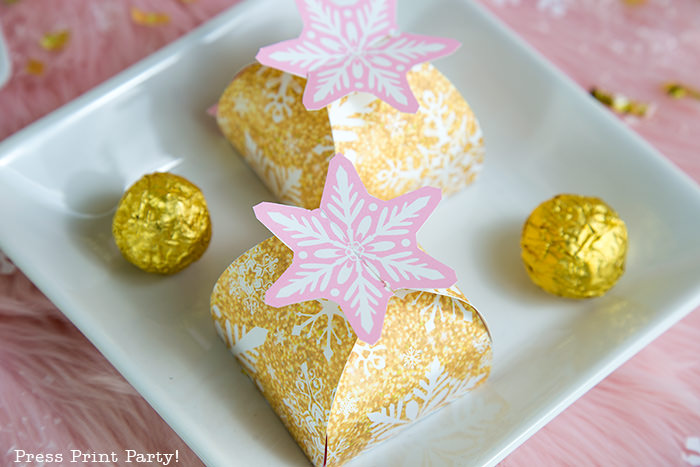 I discovered that the almond Hersey's kisses have a gold wrapper! Perfect for the little labels included in the set.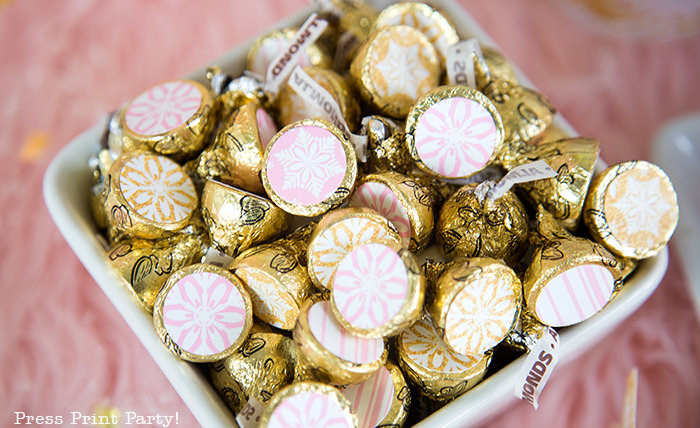 I also wrapped mini chocolates to match the theme.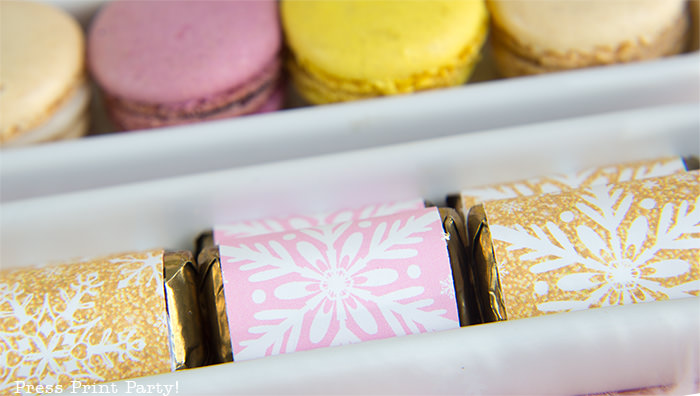 This Onederland cake topper was so easy to make with mini tassels and a pink straw cut in half. I inserted a wooden BBQ skewer in the straw and hot glued the tassels to the top. I then attached the mini banner made of 2″ cupcake toppers with a little string.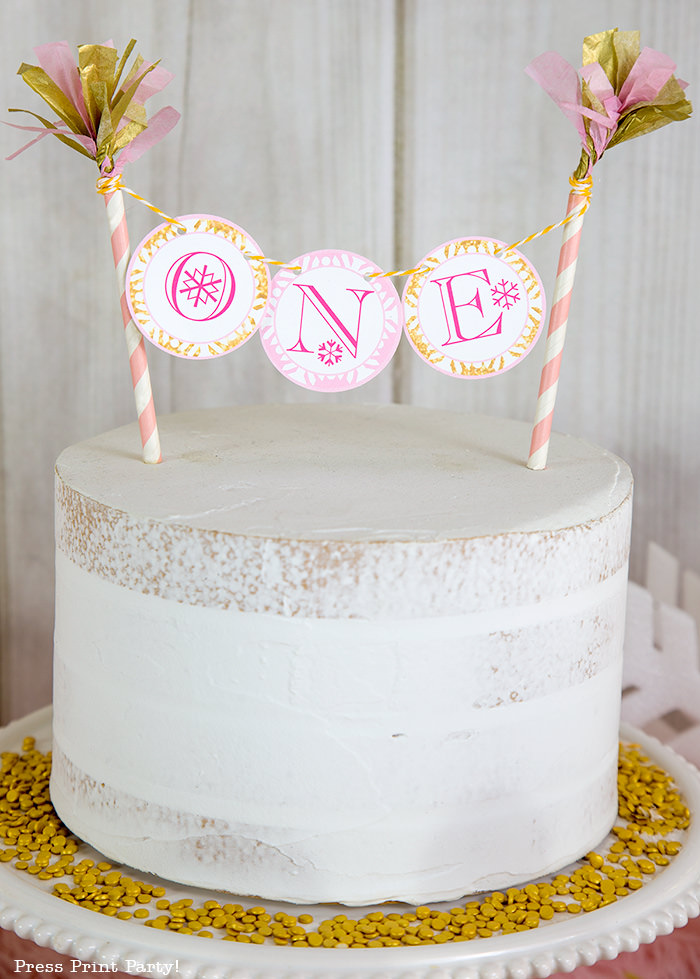 And of course, a special hat for your baby for all those cherished pictures you'll take!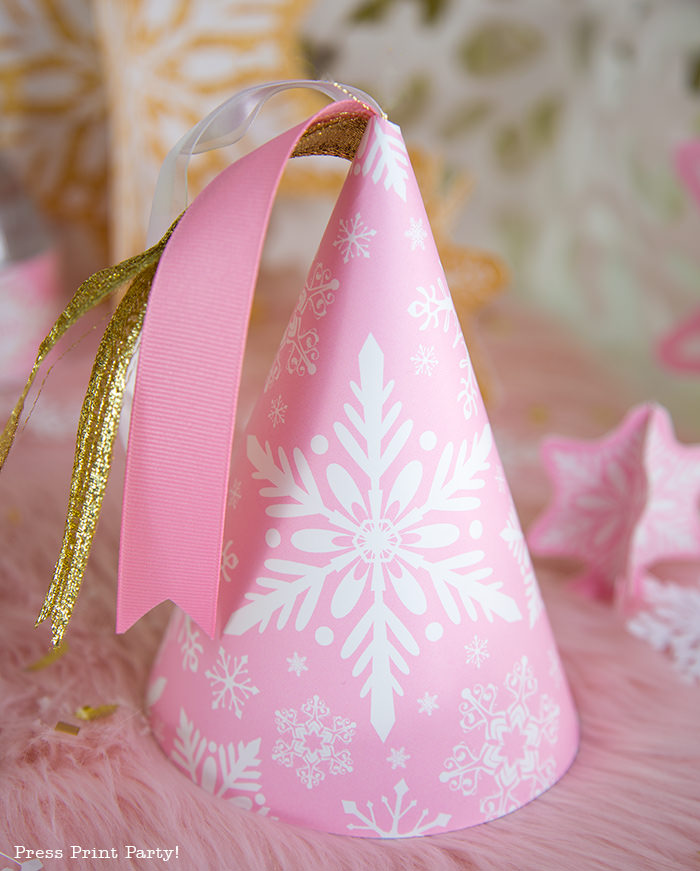 More Decorating for Your Winter ONEderland
I wanted to continue the soft pinks and bring some contrast to the white tablecloth, so the pink fur runner was just the thing. I got 1 yard at Hobby Lobby with a coupon. It really emphasized the softness of the theme.
The fringed curtain really brings that golden shine to the party. They are really affordable and I've used mine over and over again. It's perfect to re-use as a backdrop for a photo booth.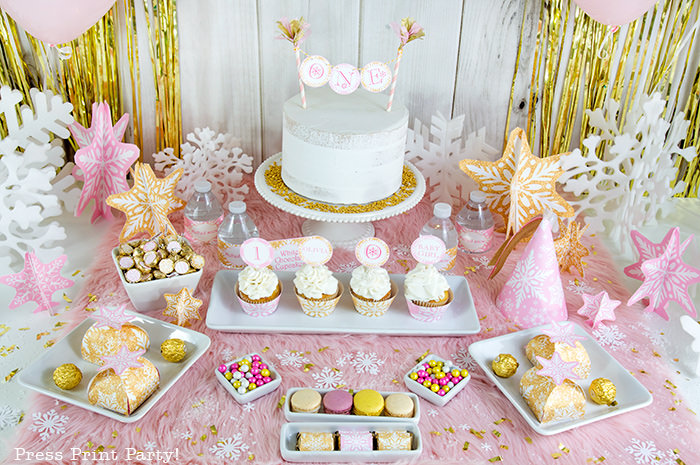 Balloons are so inexpensive and a must for any party. I scored on some golden confetti balloons. They looked amazing with the pink and gold balloons. The "ONE" mylar letters are a lot of fun and I couldn't' resist using them.
I also made some snowflake confetti with a couple of my favorite paper punchers. I use those all the time around the holidays.

Think outside the box! The winter theme isn't restricted to winter birthdays. Did you go for an uncommon name? Is your little one a "Frosty", a "Snowflake" or a "Rudolph"? Then this theme is perfect!
Are you sweltering under July heat and desperately dreaming of cool weather with the crunch of fresh snow and a steaming mug hot chocolate? Then crank up the air conditioner, put on your flannel and create your own personal, ignore-the-real-weather, winter landscape.
Don't forget to pin it: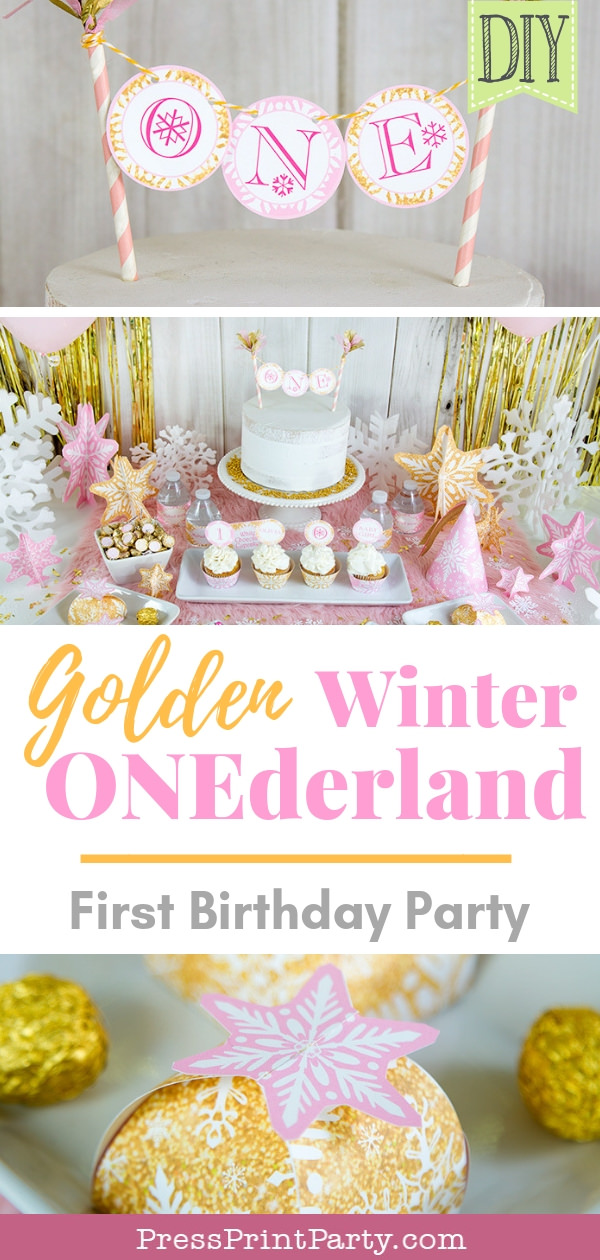 Check our ONEderland printables!