These printable baby shower games are all fairly simple and easy to plan and most can be played virtually as well. Just print as many as you need and you're on your way to an amazing, laughter-filled baby shower. You can also email the file to your guests and have them print it and play for a virtual baby shower you can do over Zoom. All you need is their email address.
Sometimes you just don't have the kind of guests who want to play the embarrassing, over-the-top baby shower games. You need something more subdued.
Your guests will love the more civilized approach and will have loads of fun with these terrific printable baby shower games. They're perfect to foster conversations and keep your guests entertained.
These printable baby shower games also come in an array of designs, which means there's always a template that will match your theme perfectly. And they cut out a lot of work for the hostess. For most of these games, you just need sheets of paper for printing and prizes, like gift cards.
If you're having a virtual baby shower, you can print the games beforehand and send them with a physical package to your guests that can include the invitation, a party favor, party games, a return envelope for mom advice cards, and even maybe a party treat or two. Your guests will feel super special and more a part of the big day getting a package in the mail.
1- Baby Shower Mad Libs
My #1 best-selling baby shower advice cards are like no other. They'll get everybody at the party laughing and they'll reassure the mom-to-be with hilarious fill in the blank style advice cards.
Real advice and real tips but plenty of opportunity for screwball answers from the comedians in your group. Guests fill in the blanks with sincere or totally off-the-wall answers and draw the new baby to the best of their abilities. You'll love to see your guests' creativity.
These are NOT your typical, stale new mom advice cards.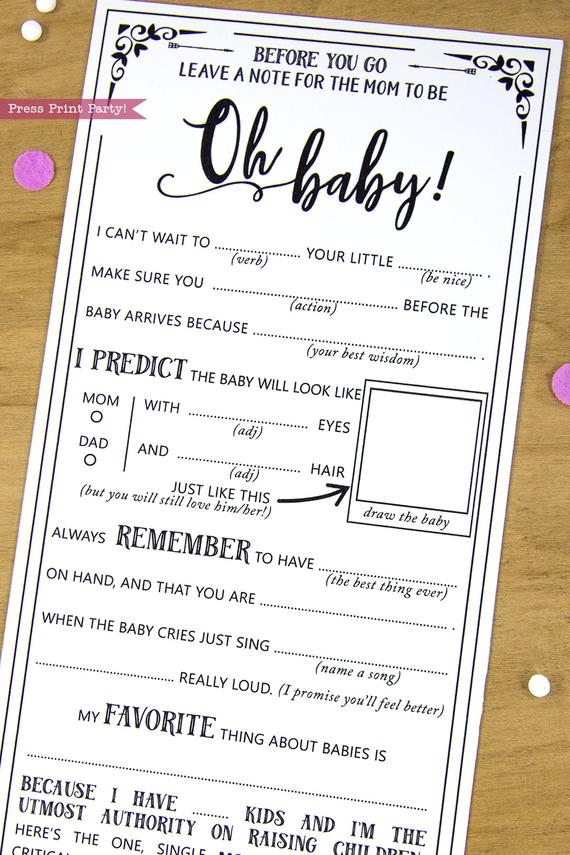 ---
Did you find some great ideas on this list of baby shower games? I hope you now have plenty of printable baby shower games ideas for your perfect baby shower, in person, or virtual.
So which printable baby shower game was your favorite? Let me know in the comments.
Pin it for later: