If you've never had oven cooked corned beef, YOU ARE MISSING OUT! It's better than any of the soggy, steamed or boiled or pressure cooker versions.
It's simple and satisfying and you get all those amazing, tasty crispy little bits.
It's one of our family's favorite parts of St. Patrick's Day so I'm here to encourage you to try this superior yet simple method of enjoying corned beef and cabbage.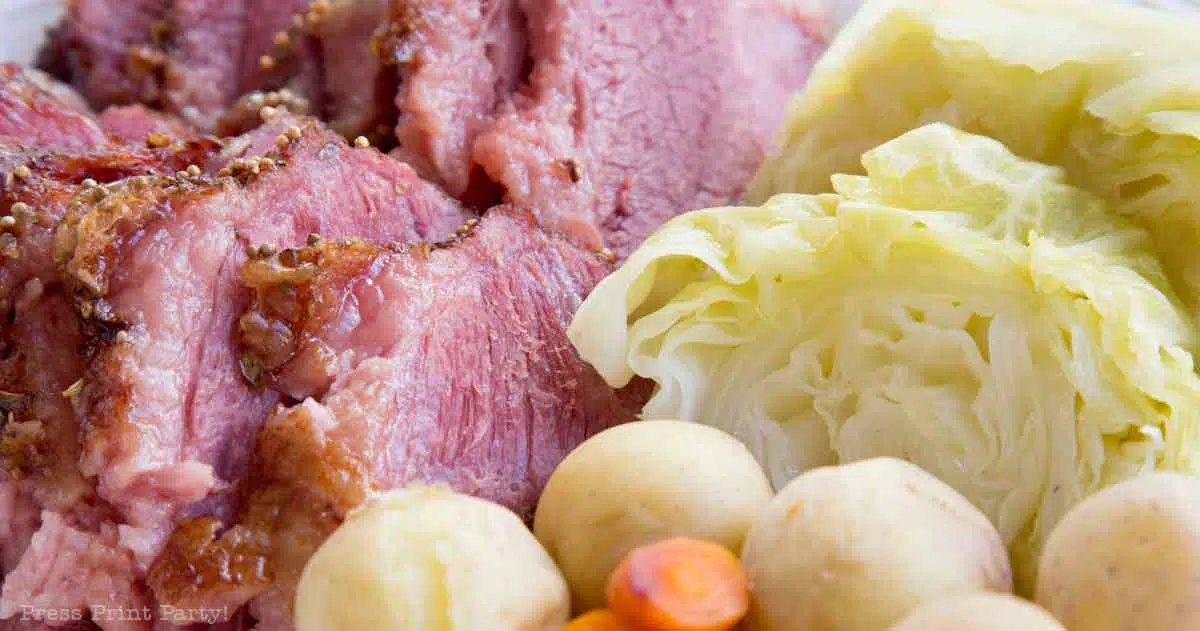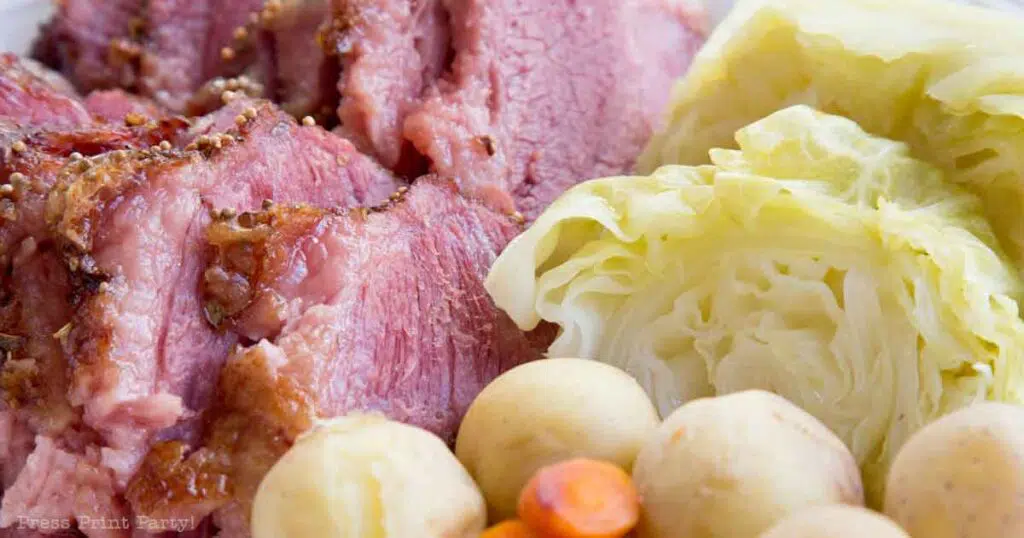 This post may contain affiliate links.
However, if you are trying to cook corned beef and cabbage for the first time, the array of recipes and different cooking methods can be quite confusing.
But my super simple recipe for braised corned beef yields excellent results and happy tummies for the whole family.
So disregard all the recipes you've seen for slow cooker corned beef in a crockpot. It may make the beef fork tender but it loses a lot of its flavors to the broth.
Same with the instant pot or pressure cooker method which will pull all the flavor from any meat. Those are best left for veggies.
True fact:
The BEST tasting parts of corned beef brisket are the crispy bits!!!
And you only get that by roasting it in the oven. And that, my friends, is super easy.
You can always jump to the recipe but if this is your first time cooking corned beef and cabbage you may want to read all my tips below.
Jump to Oven Cooked Corned Beef and Cabbage Recipe
---
But what is corned beef?
Corned beef is made by soaking a beef brisket in special salt brine in an airtight container in the fridge for 5 to 7 days.
It's a curing process and you're basically pickling the meat.
When you buy it at the grocery store, that pickling is already done for you.
I haven't tried making homemade corned beef myself but the Food Network has an easy method on how to make corned beef from scratch that may be worth trying.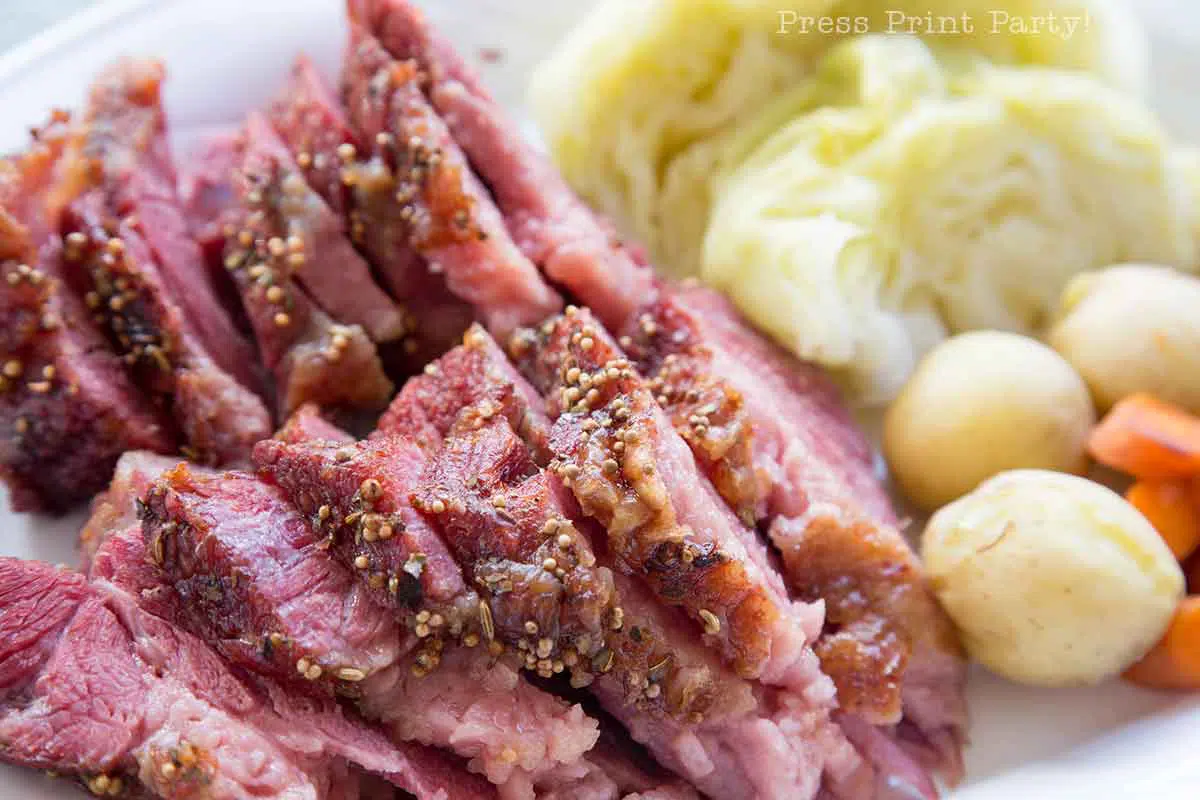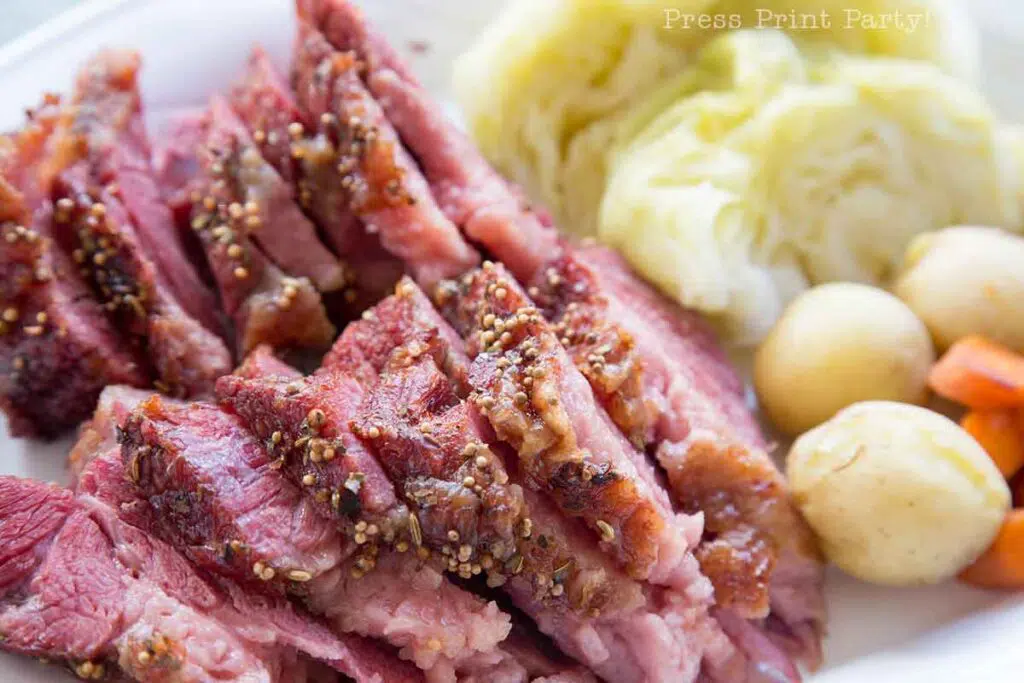 ---
Which Corned Beef Cut to choose
You'll find two types of cuts of meat for corned beef at the grocery store.
Flat cut and point cut.
The flat cut has more meat and less fat and the point cut has more fat and is cheaper per pound.
Personally, I prefer the point cut for oven roasting, mostly because it has the most fat and more flavor.
It's also easier on my pocketbook.
But either cut is fine. Get what you find.
If you buy a whole brisket around Saint Patrick's day it will be discounted quite a bit.
If like my family, you love corned beef, I'd encourage you to stock up. Buy a bunch of corned beef briskets and store them in the freezer to enjoy later in the year.
They come in all kinds of sizes. The picture here is of 2 point cuts of different sizes coming out of the oven.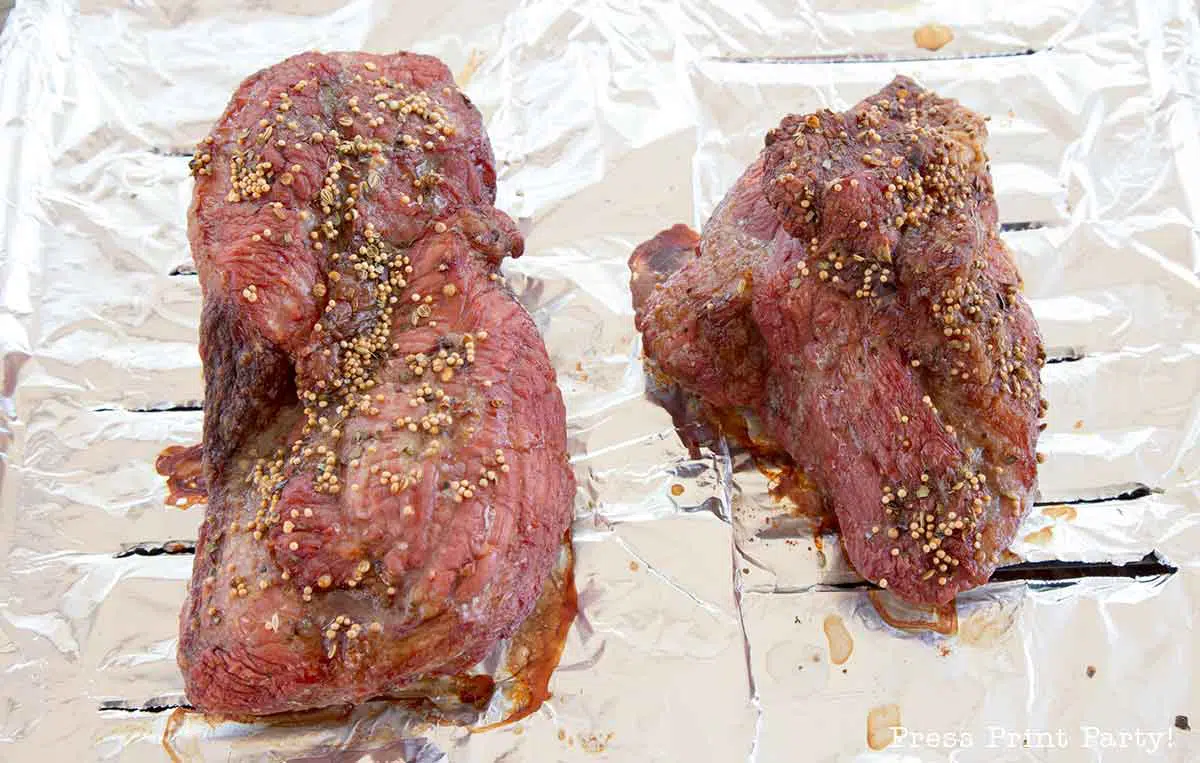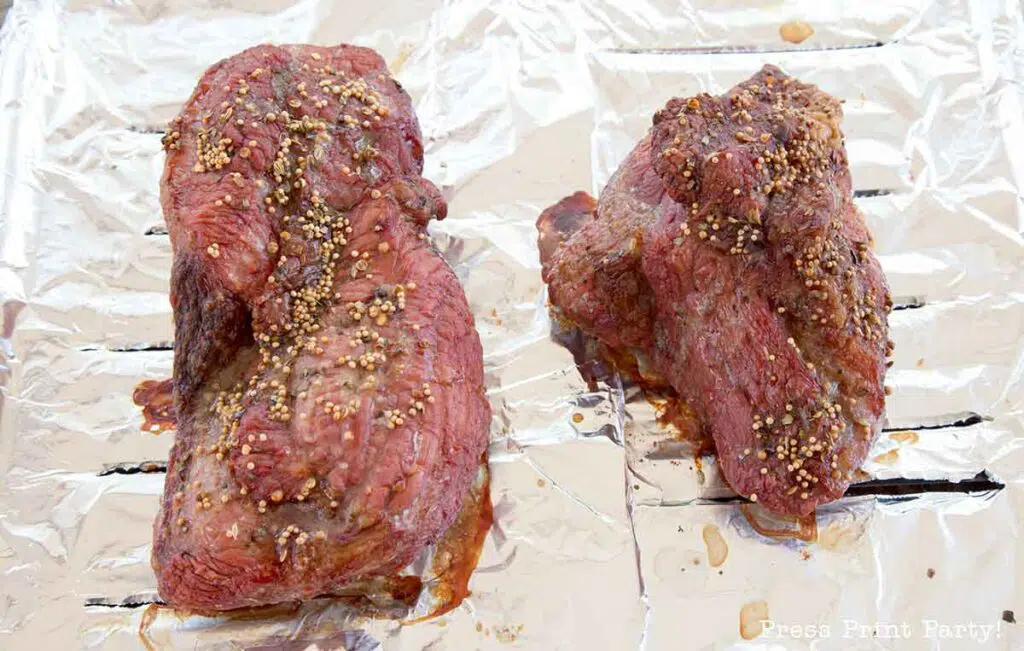 ---
How to cook corned beef in the oven
I will now share my biggest corned beef secret.
The best corned beef recipe I've made was following the package's roasting instructions.
Unfortunately, recipes can differ by package so here's how mine said to do it:
Preheat oven to 300º F
Prepare your pan
It's best to use a pan with a rack. You need the juices to drain.
Your turkey roasting pan will work great for this. Although you don't need a super large roasting pan.
I use my oven pan and cover it with a large piece of heavy duty aluminum foil and cut slits into it so the juices flow down into the pan below.
If you don't have a rack don't worry, just cook it in a shallow pan. Just know your brisket won't have as many crispy parts.
Prepare your brisket
Remove the brisket from the package and drain the remaining fluids.
Then place your brisket fatty side up on the pan.
Sprinkle the contents of the spice packet on top of the brisket.
Cook your brisket
Roast in the 300 degree oven (uncovered) 1 hour for each pound.
The cooking time will vary depending on your cut of meat.
Once cooked, take the pan out of the oven and let the meat stand 15 minutes before slicing. That way the beef juices will remain in the meat when you slice, ensuring a tender brisket.
Transfer to a cutting board and slice your brisket across the grain.
Yes, that's it.
I know this is a simple recipe but your corned beef brisket doesn't need anything else and will end up with plenty of yummy crispy bits while the inside will be tender and juicy.
Oven cooked corned beef is the best!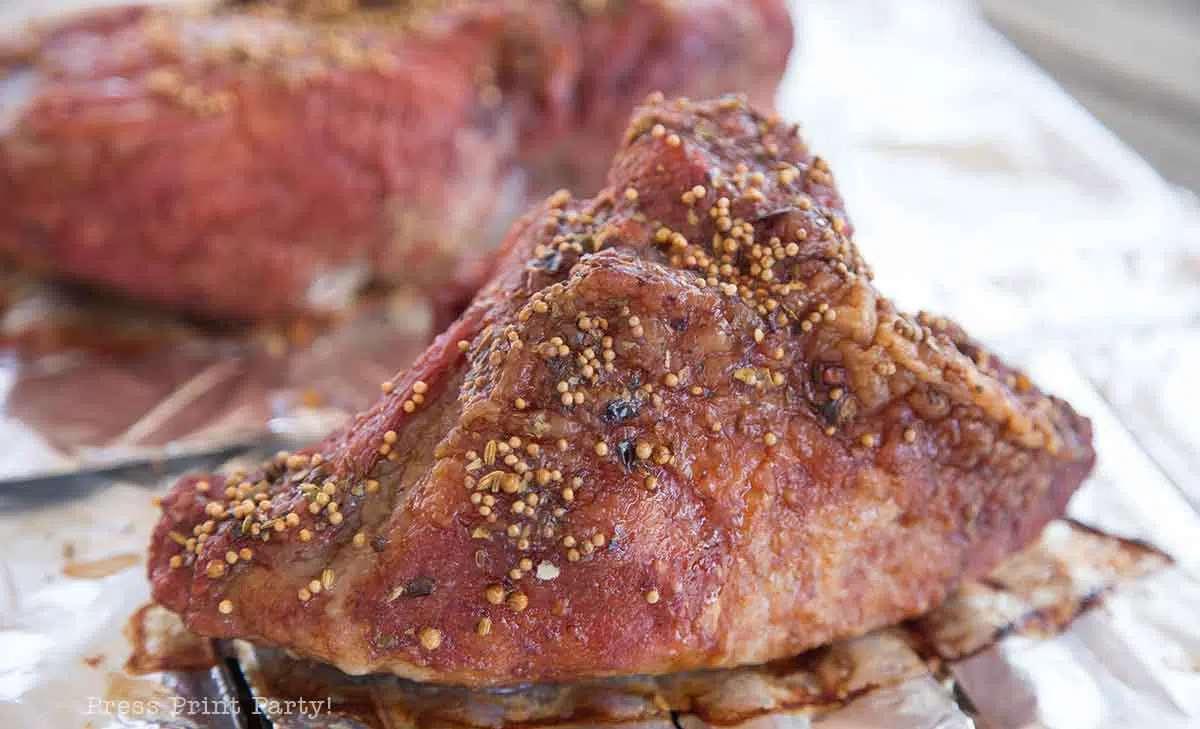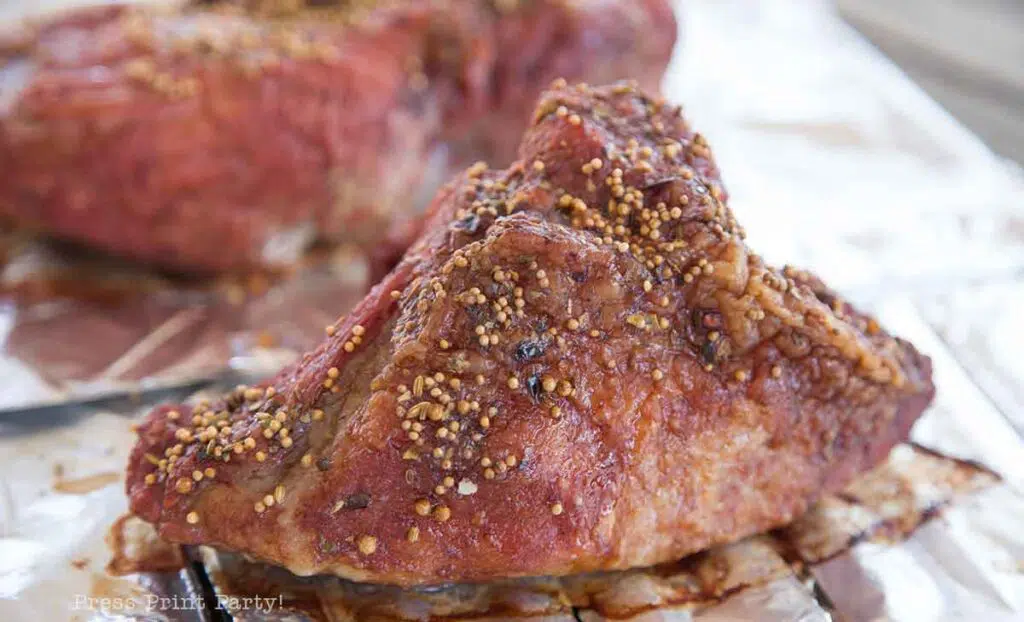 Since you're roasting your corned beef at low temperature for a long time, you'll need to plan ahead. I can guarantee that the whole house will smell wonderful and the aroma will drive you crazy all day.
I always cook two briskets at a time. That way we always have leftovers for corned beef sandwiches the next day.
I try to choose two beef briskets that are about the same weight. That way I don't have to get one out of the oven first.
---
Prepare your Cabbage and Veggies
In the classic recipe, Corned Beef is eaten with steamed cabbage wedges, carrots, and potatoes.
I find the fastest and best way to steam them is in a pressure cooker.
Just fill the bottom of the pressure cooker with cold water, place the steam basket above the water and fill it with cut russet potatoes or whole small yellow or red potatoes, then carrots cut in big chunks, and a half a head of cabbage cut in 4 wedges at the top.
I end up putting it all together and setting the timer for 3 minutes once the pressure cooker starts releasing the pressure.
Yes, I am aware that all these veggies have different cooking times for the pressure cooker and you're welcome to cook them all separately of course.
I just don't have that kind of patience.
My pressure cooker has enough space for veggies for about 4 people and it always turns out great.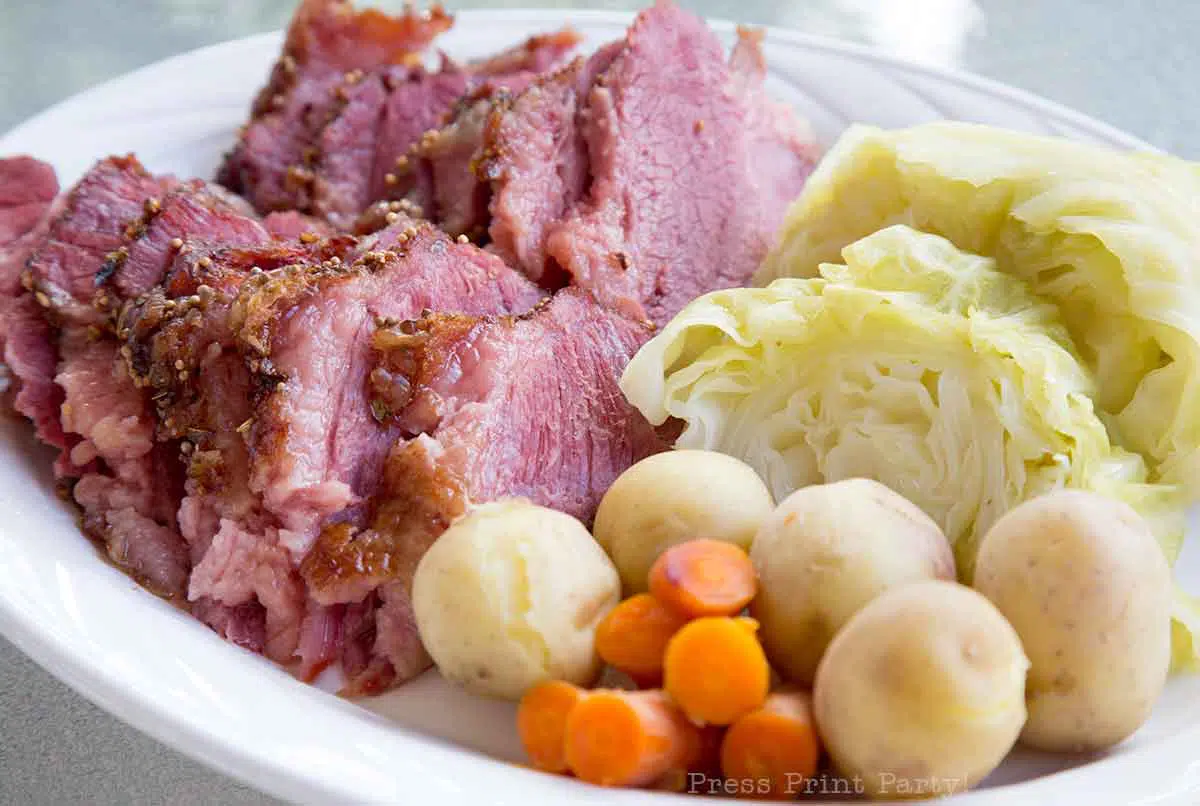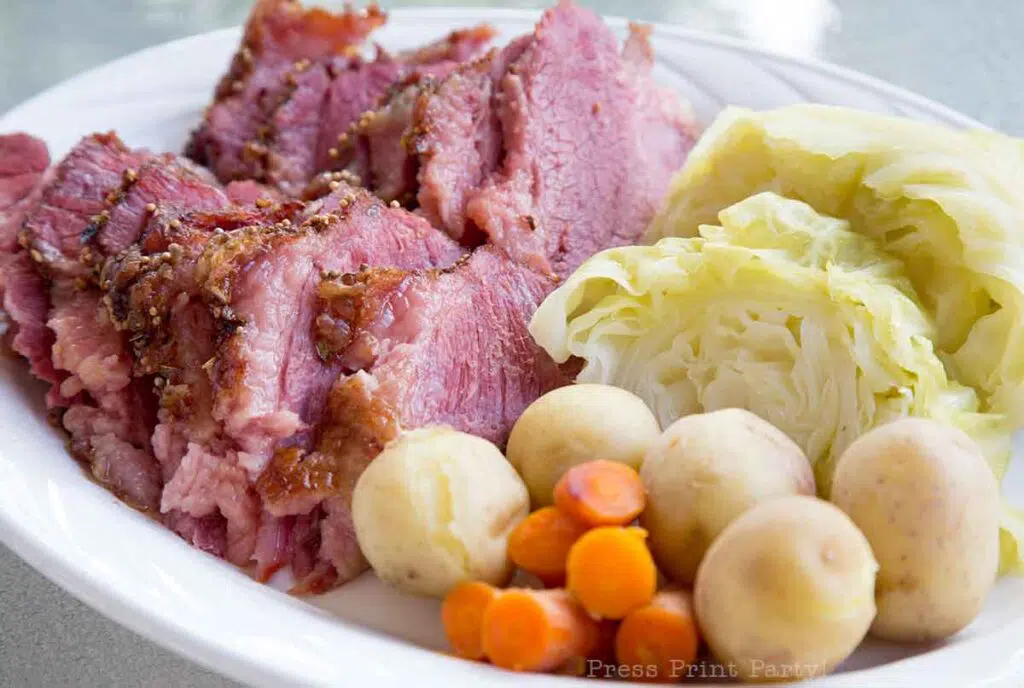 Veggies can also be steamed in the microwave or your Instapot. I would not recommend boiling your veggies for this dish.
Of course, you can use your preferred method of cooking cabbage, carrots, and potatoes.
They'd be delicious oven-roasted also. Just place your cut-up veggies on a rimmed baking sheet and drizzle a little olive oil or butter as well as salt and pepper and place on the bottom oven rack during the last hour of the brisket cooking.
---
How to enjoy your corned beef and cabbage.
We enjoy our corned beef and cabbage with an array of condiments.
On the table, you may want to have:
Butter
Salt
Pepper
Horseradish
Dijon Mustard (or your favorite mustard- Honey mustard is also great)
Balsamic Vinegar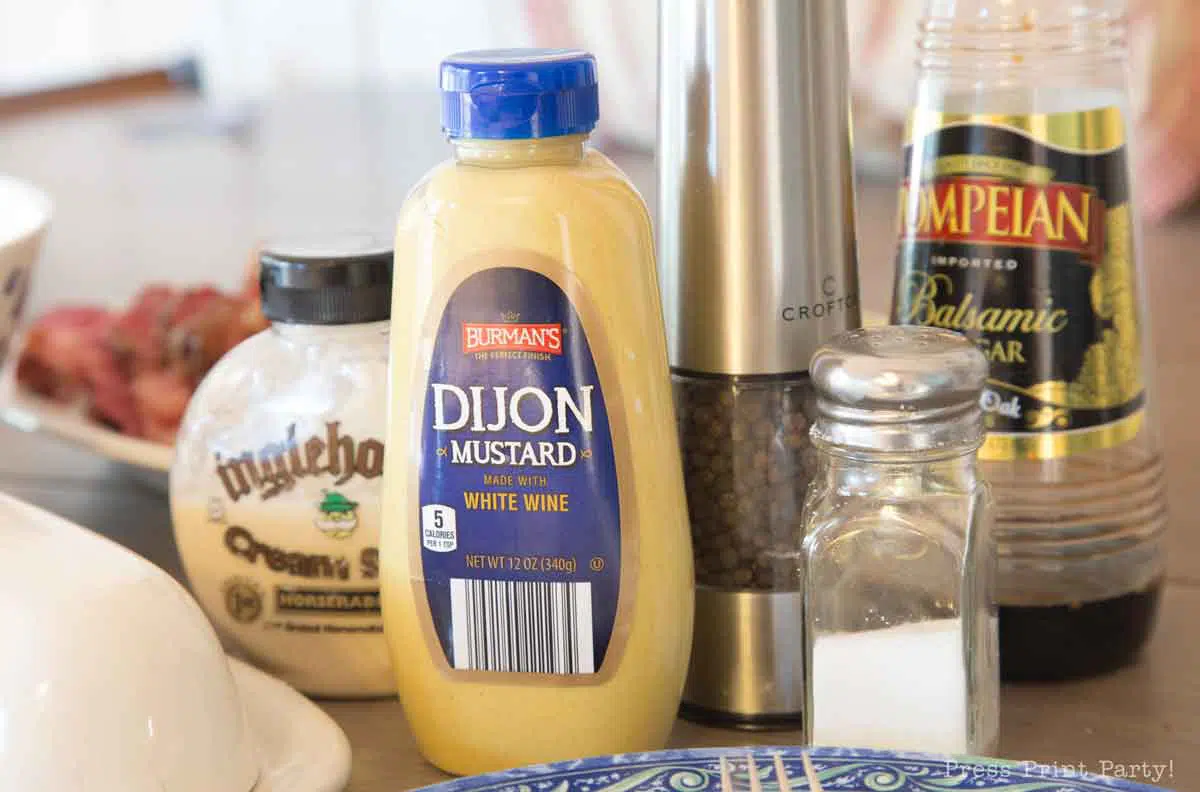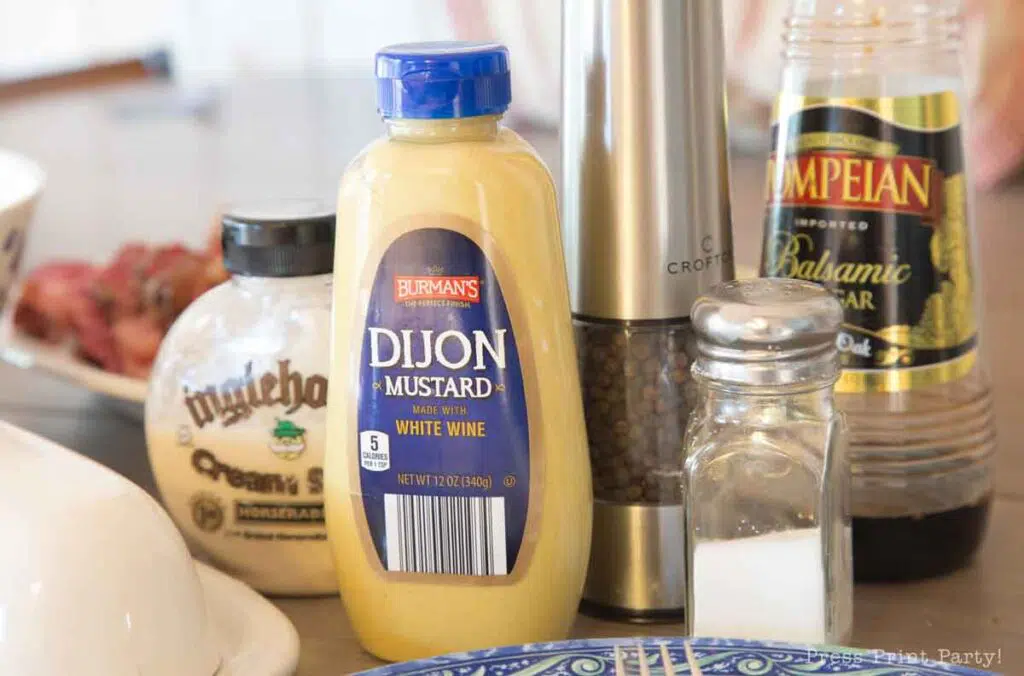 We love salt, pepper, butter, horseradish, and dijon mustard for the meat and potatoes and drizzles of balsamic vinegar, salt and pepper for the cabbage and carrots.
---
What's in the corned beef spice blend?
The seasoning packet will vary from brand to brand but typically includes a mix of coriander, dill seed, mustard seeds, allspice, bay leaves, cloves, black pepper, cinnamon, and star anise
You can make your own flavor packet to add to the top of your brisket. I found this recipe from Hilda's Kitchen that very closely resembles the spice packet recipe if you want to make more.
---
Corned beef and cabbage is one of my family's favorite meals. Around March I buy enough briskets on sale to make a corned beef dinner every 2-3 months.
To round up this Irish meal you could also make an easy Irish soda bread and serve some Guinness.
My favorite way to eat leftover meat the next day is to get some rye bread and a jar of sauerkraut and make some delicious Reuben sandwiches with a bit of mayo and dijon mustard.
You can also spruce up your St. Patrick's day decorations with some free printable shamrock decorations and photo booth props.
I also have some free rainbow coloring book pages for the kids to enjoy.
Enjoy your celebration!
Oven Cooked Corned Beef with Steamed Cabbage and Veggies
Ingredients
1

3-4 lbs Corned Beef Brisket – Point Cut

½

head of cabbage

6-8

baby yellow potatoes

3-4

carrots
Instructions
Oven Roast the Brisket
Preheat your oven to 300°.

Remove the brisket from the package and drain the remaining fluids.

Place your brisket fat side up on a roasting rack above a shallow pan.

Sprinkle the contents of the spice packet on top of the brisket.

Roast in the 300-degree oven (uncovered) 1 hour for each pound
Steam Your Veggies
Cut the cabbage in wedges.

Cut the carrots in big chunks. (About ½-1 inch)

Cut the potatoes in big chunks if they are big. If small, leave intact.

Steam the veggies with the method of your choice.

In the pressure cooker you can place the potatoes, carrots, and cabbage wedges in that order in the steam basket. Cook for 3 minutes once the pressure releases.
Recipe Notes
Serve the corned beef and cabbage with horseradish, mustard, salt and pepper. You may want offer balsamic vinegar to drizzle over the veggies.
Don't forget to pin it: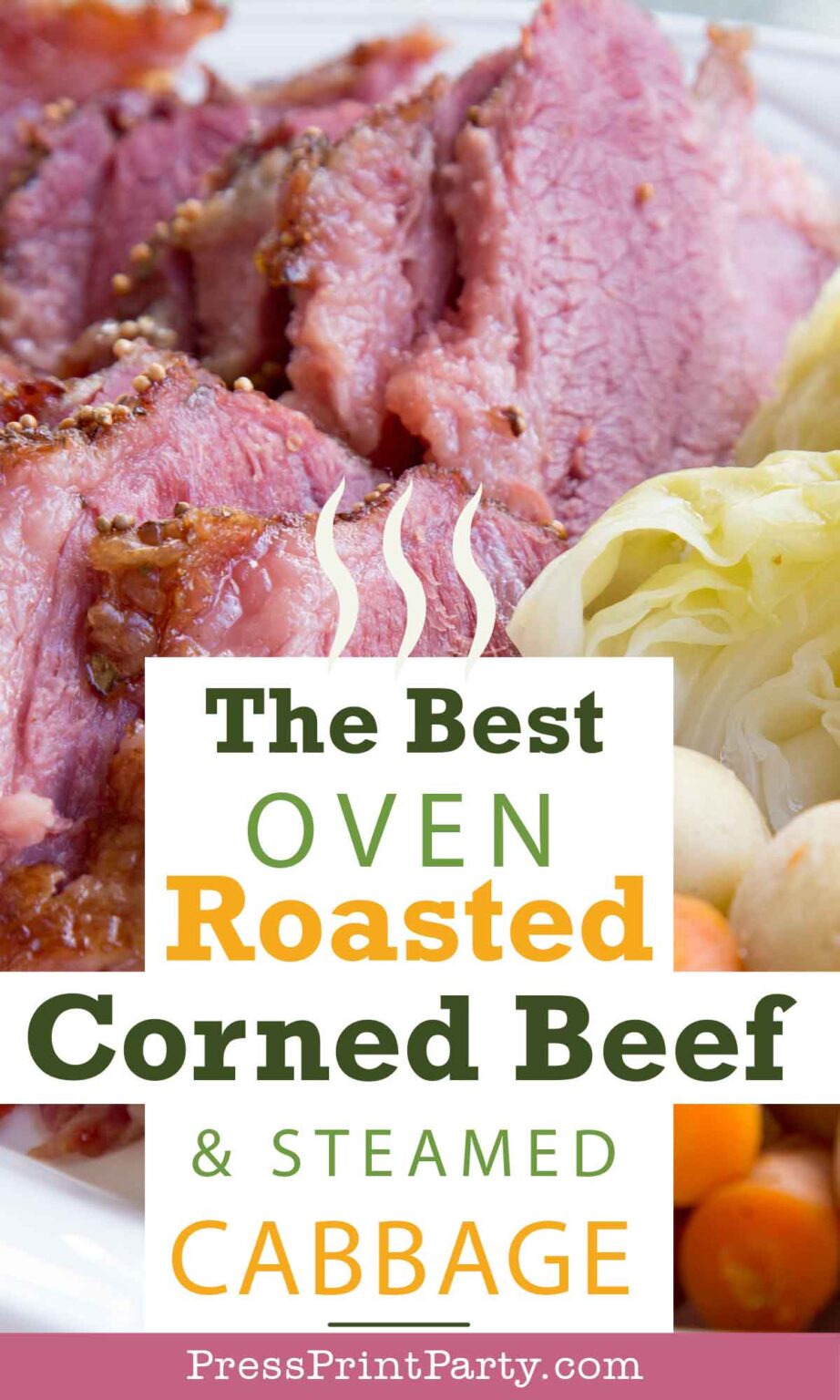 Check out our St Patrick's Day printables