Looking for a simple snowman soup recipe and a bunch of adorable snowman soup printables to go with them? You've come to the right place!
Snowman soup shows what a little creativity and clever packaging can do. It transforms ordinary hot chocolate into an adorable, whimsical concoction that's sure to bring joy and warmth during those chilly winter months.
It's like a hug in a mug!
So get ready to be delighted by this cozy winter treat.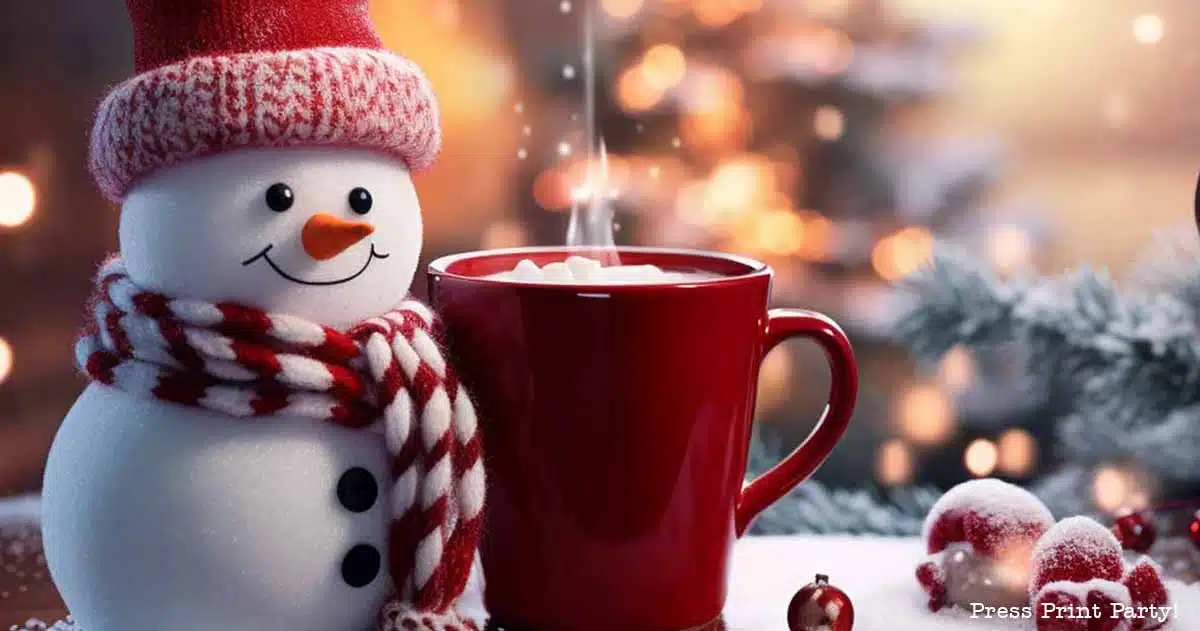 This post may contain affiliate links.
Snowman soup kits are often shared as a gift, particularly to children during the Christmas season. They make perfect gifts from teachers to students both in the classroom or at Sunday school.
---
What is Snowman Soup?
Imagine a mug filled with creamy hot chocolate, topped with marshmallows that resemble melting snowballs, and garnished with a candy cane stirrer.
Packed with rich cocoa, marshmallows, and a hint of peppermint, snowman soup is like a warm hug for your taste buds.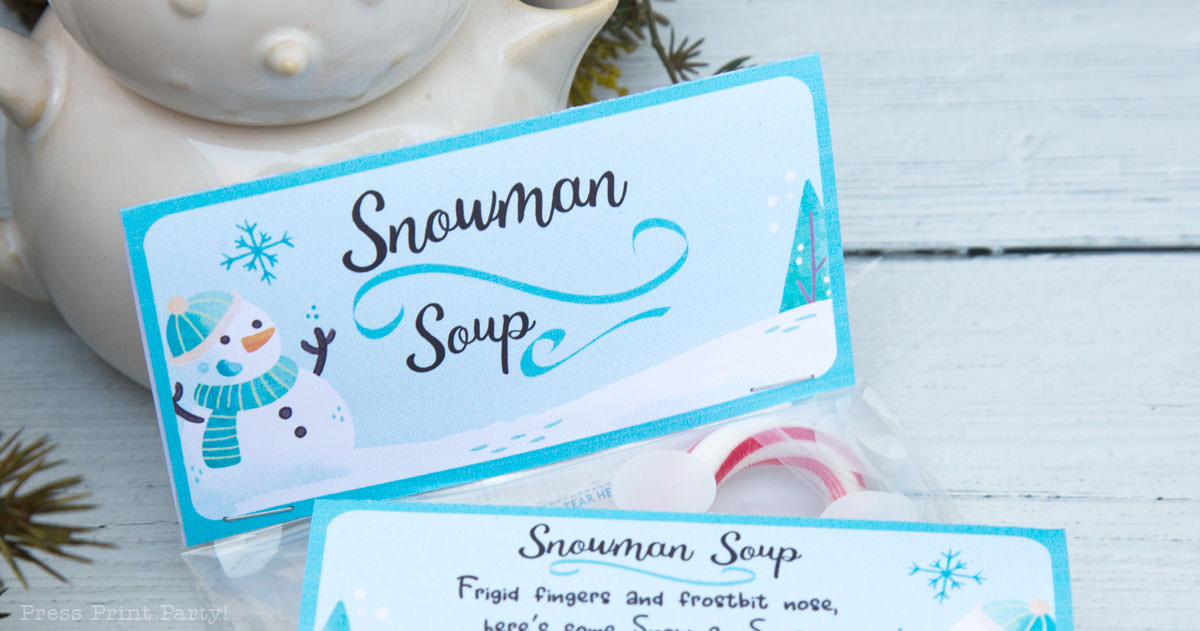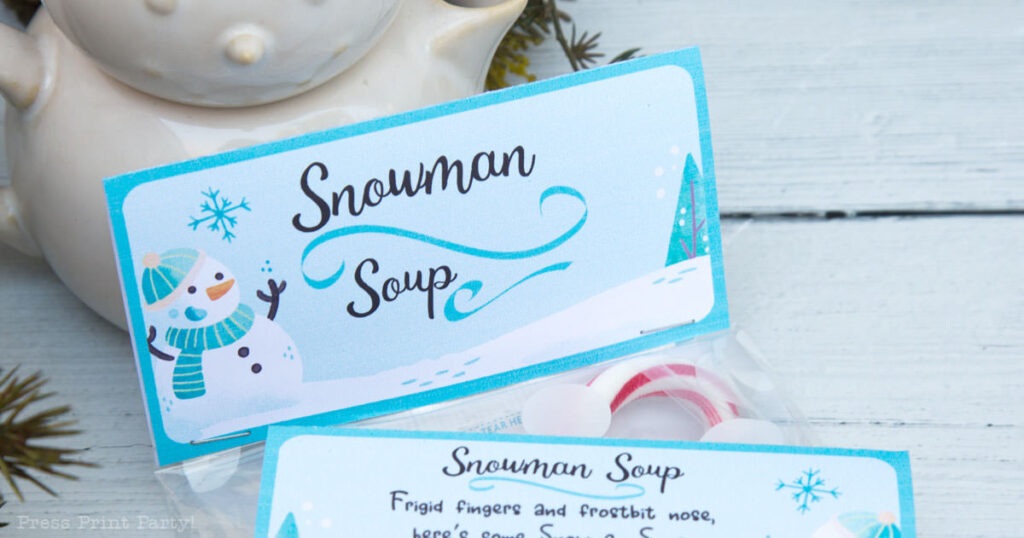 Really, snowman soup is just a way to give out some hot chocolate mix with a little more pizzaz.
---
Snowman Soup as a DIY Holiday Gift
I can't emphasize enough what an easy gift this is if you are looking for edible treats to give a large amount of people.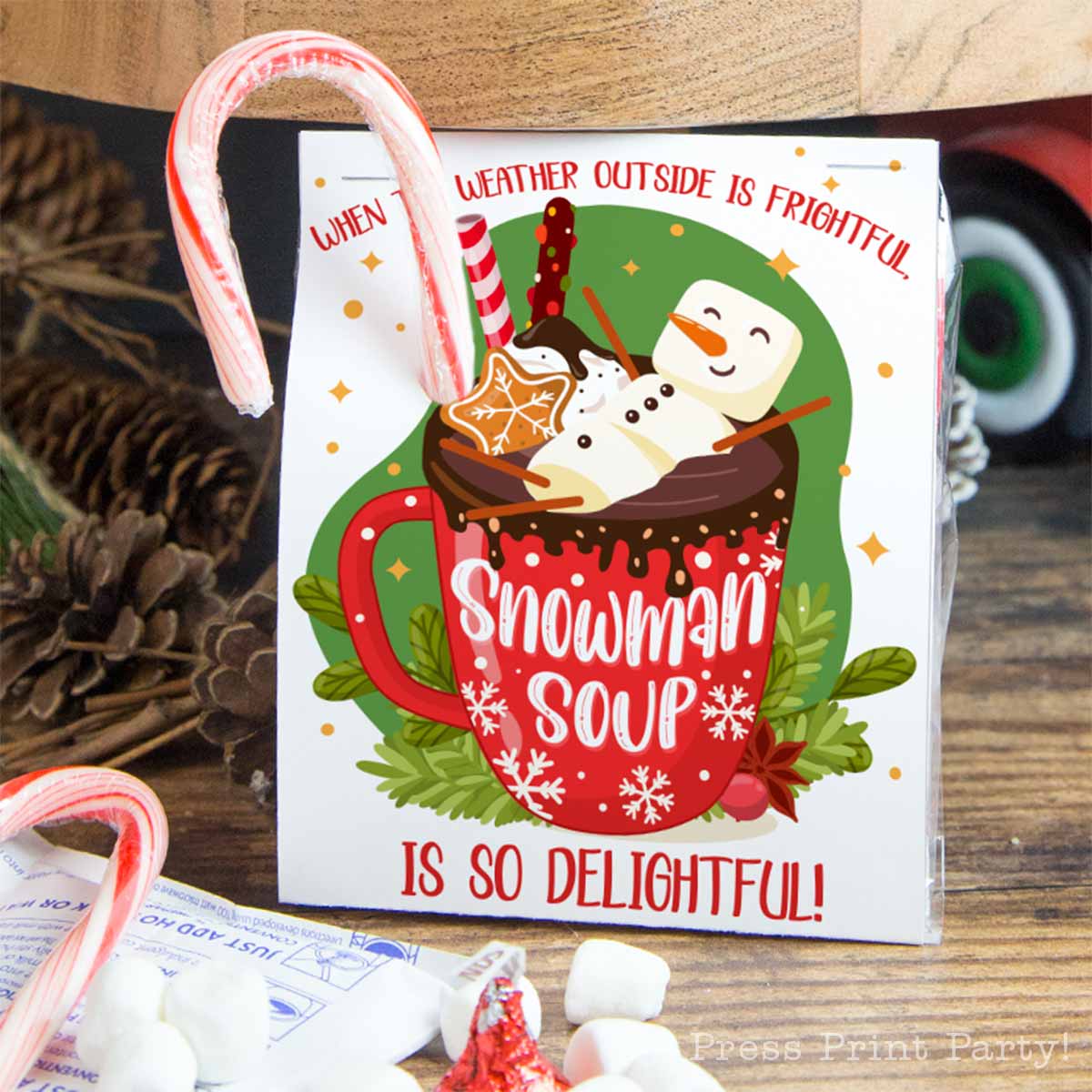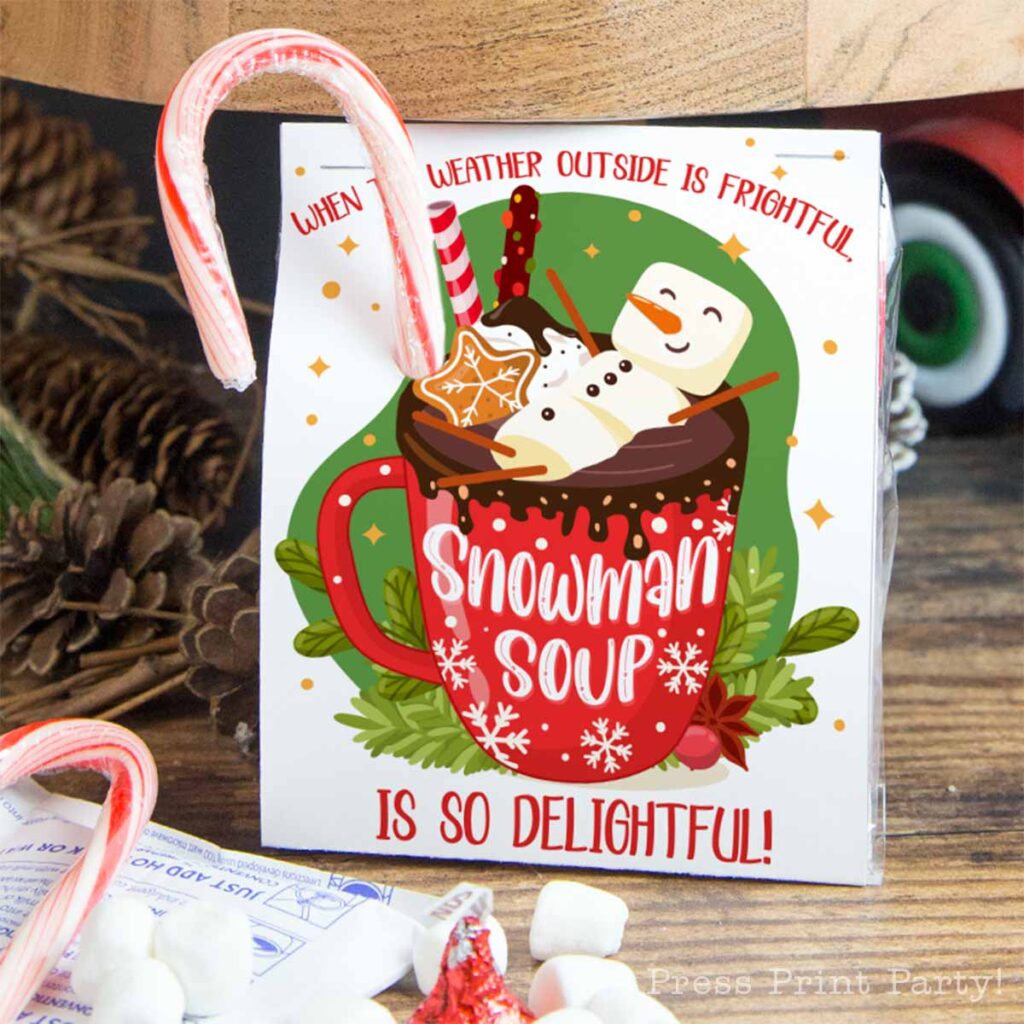 It's an inexpensive yet thoughtful edible gift that people will actually enjoy during the winter holidays.
And the list of potential recipients is almost endless! It's a great gift for neighbors or your kids' teachers on the last day of school before winter break. Give it as a party favor bag for a winter birthday. Use them for great stocking stuffers.
Use some of the more fancy snowman soup customization ideas below and you have a perfect gift for the office. Give to co-workers or employees without breaking the bank.
Everyone should enjoy a steaming mug of chocolate at least once during the cold winter nights.
On a chilly day and in freezing weather, your recipients will be grateful for a little snowman soup.
I guess it's supposed to be a snowman in a kit but honestly, I fail to see how dark brown hot chocolate works in that equation. 😂
---
Basic Snowman Soup Recipe
You only need a few simple ingredients to make a snowman soup kit.
1 packet of hot chocolate mix
3 Chocolate chips for chocolate buttons (optional since you already have kisses)
1 Hershey's Hug or another kiss for the nose
Handful of mini marshmallows
1 small candy cane or full-size Peppermint candy cane
1 cute treat bag topper, tag, or wrap
And that's it! Your recipient just adds hot water or milk and the recipe ingredients and they've got a great little treat.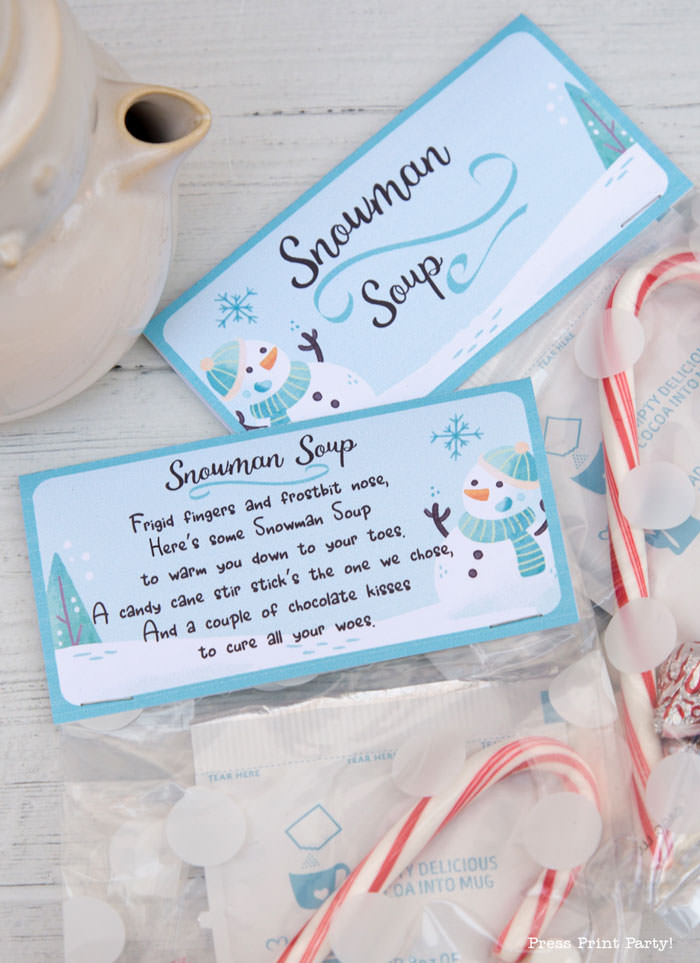 ---
Snowman Soup Recipe Variations and Customization Ideas
Instead of the regular recipe for snowman soup, why not kick it up a notch with these ideas:
Instead of the run-of-the-mill chocolate mix, choose an indulgent dark chocolate mix, exotic Mexican hot chocolate, or a super fancy flavored chocolate mix that your recipients will be unable to resist.
Use a hot chocolate pod for those with a Keurig-style coffee maker.
Or use a hot chocolate spoon instead. You could even use white chocolate.
Add a luxurious salted caramel spoon to your gift bag or one of these handcrafted sea salt caramel candies to slowly melt in the hot chocolate.
Instead of a candy cane, use a fancy candy cane spoon!
Add a rock candy swizzle stick.
Use these fun snowmen unassembled mini marshmallow packs.
Or use regular-sized marshmallows, draw a snowman face on one, and add pretzel sticks to make a snowman
Use some mini zipper bags and add a 1/4 tsp of your own spice concoction with cinnamon, nutmeg, or pumpkin spices.
Add a cinnamon stick.
Add a couple of teaspoons of some real chocolate sprinkles (these ones are the very best!) to another mini resealable bag.
Add a mini gourmet chocolate bar, a mini Stroopwafel cookie, or chocolate poke sticks to enjoy on the side.
For the adults, add a mini Kahlua bottle.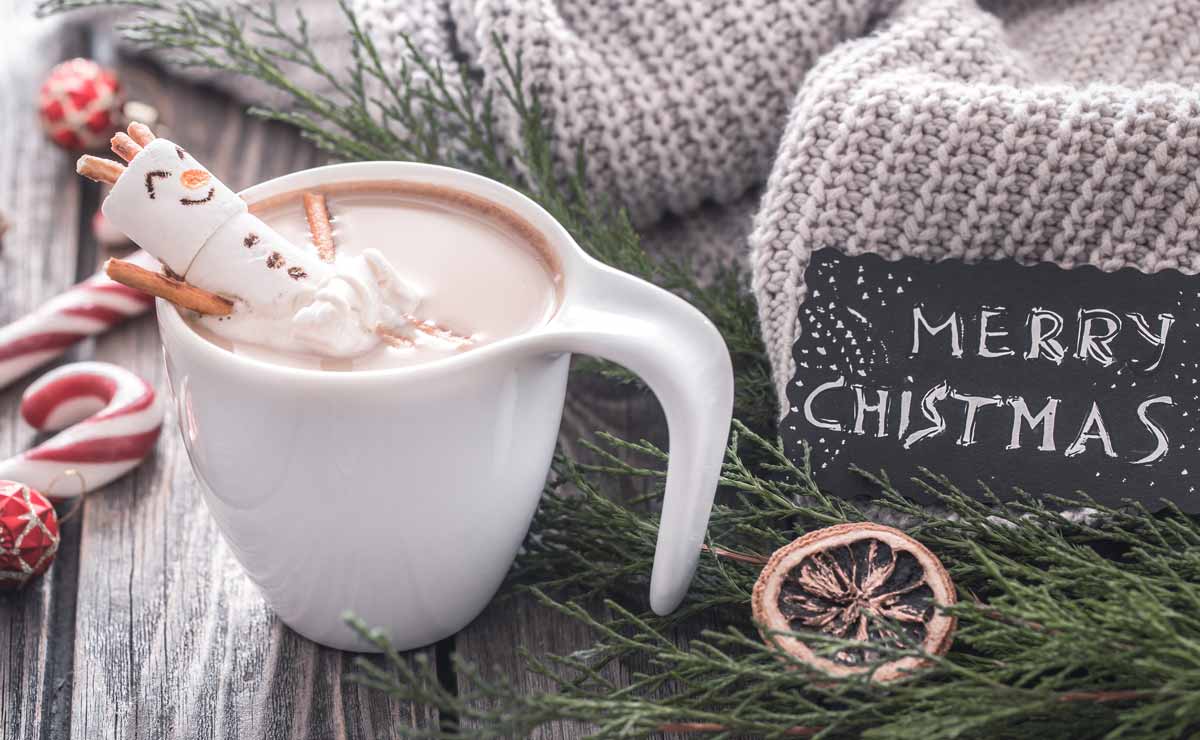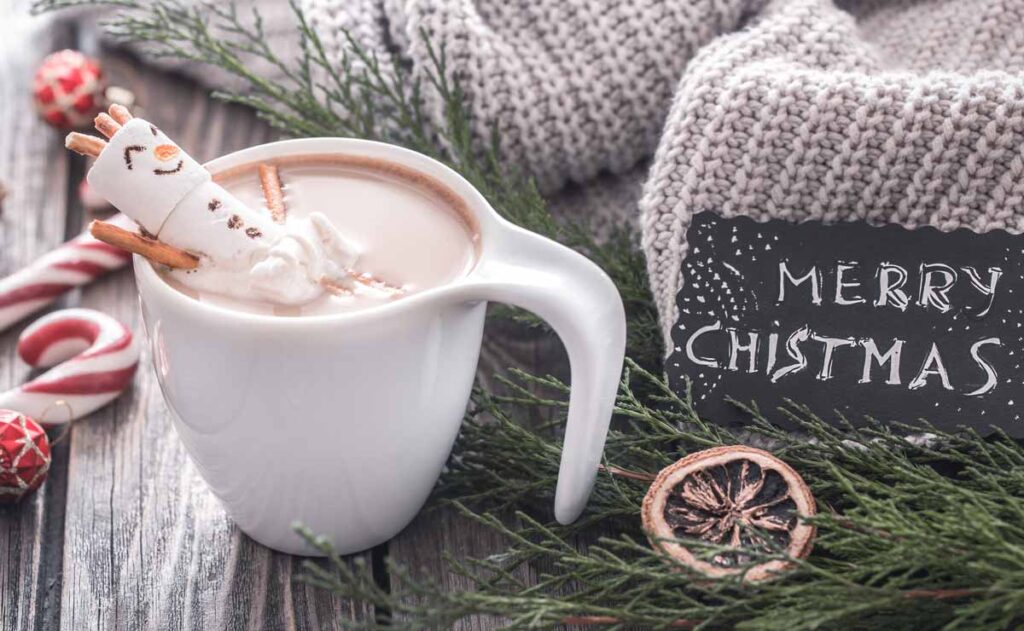 ---
Snowman Soup Packaging and Presentation Ideas
The concept is simple.
Get clear cellophane bags, sandwich bags, cellophane wrap, or cone bags. Fill each one with a hot chocolate packet and some other ingredients to represent your snowman. Add a cute printable treat bag topper, tag or wrap.
If you've got a bunch of mason jars or want to use a gift mug instead, those would also make great treat containers.
Snowman Soup Printable Wraps
Better than just a tag or treat bag topper, this unique printable wrap makes a compact package incredibly easy to hand out. It effortlessly fits into gift bags or stockings or can be handed out as is.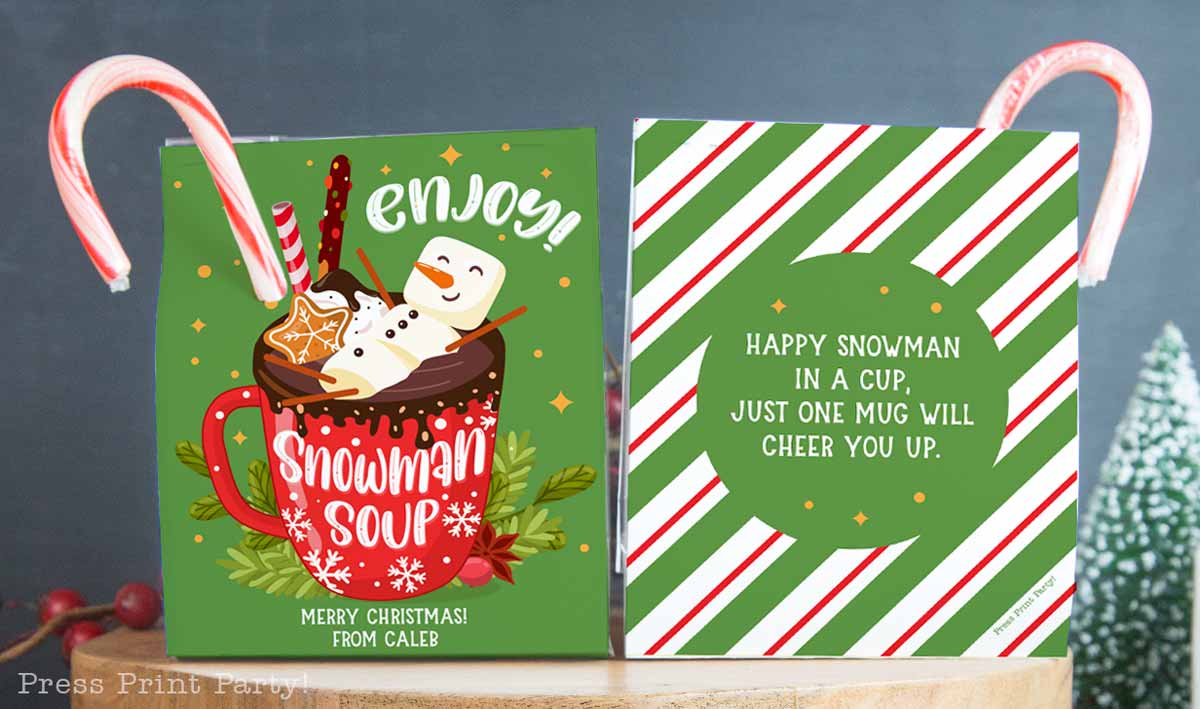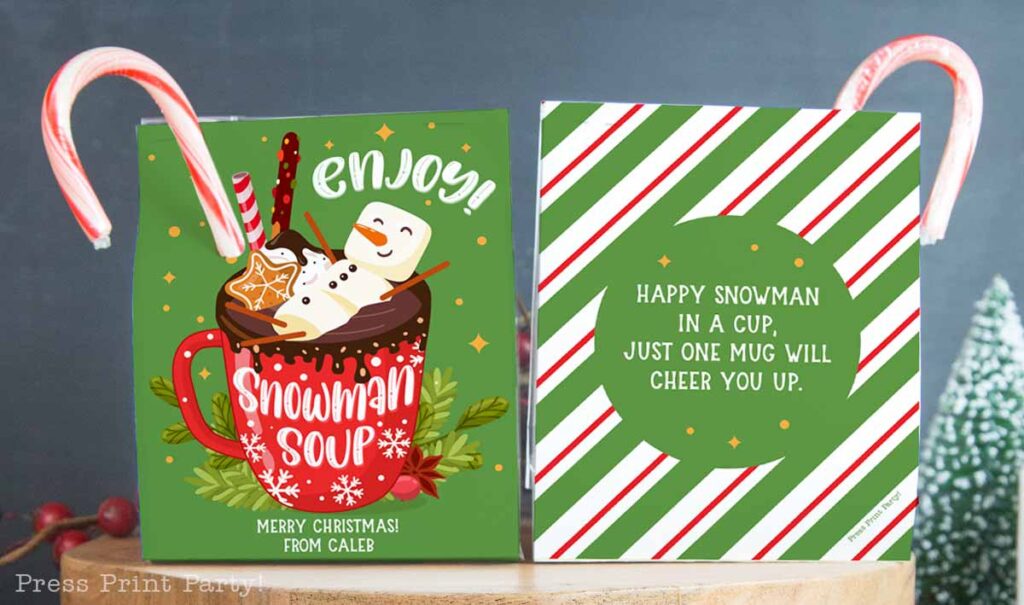 The listing comes with 3 designs and easy instructions describing how to put them together. You'll be able to edit some of the text making it a true custom gift.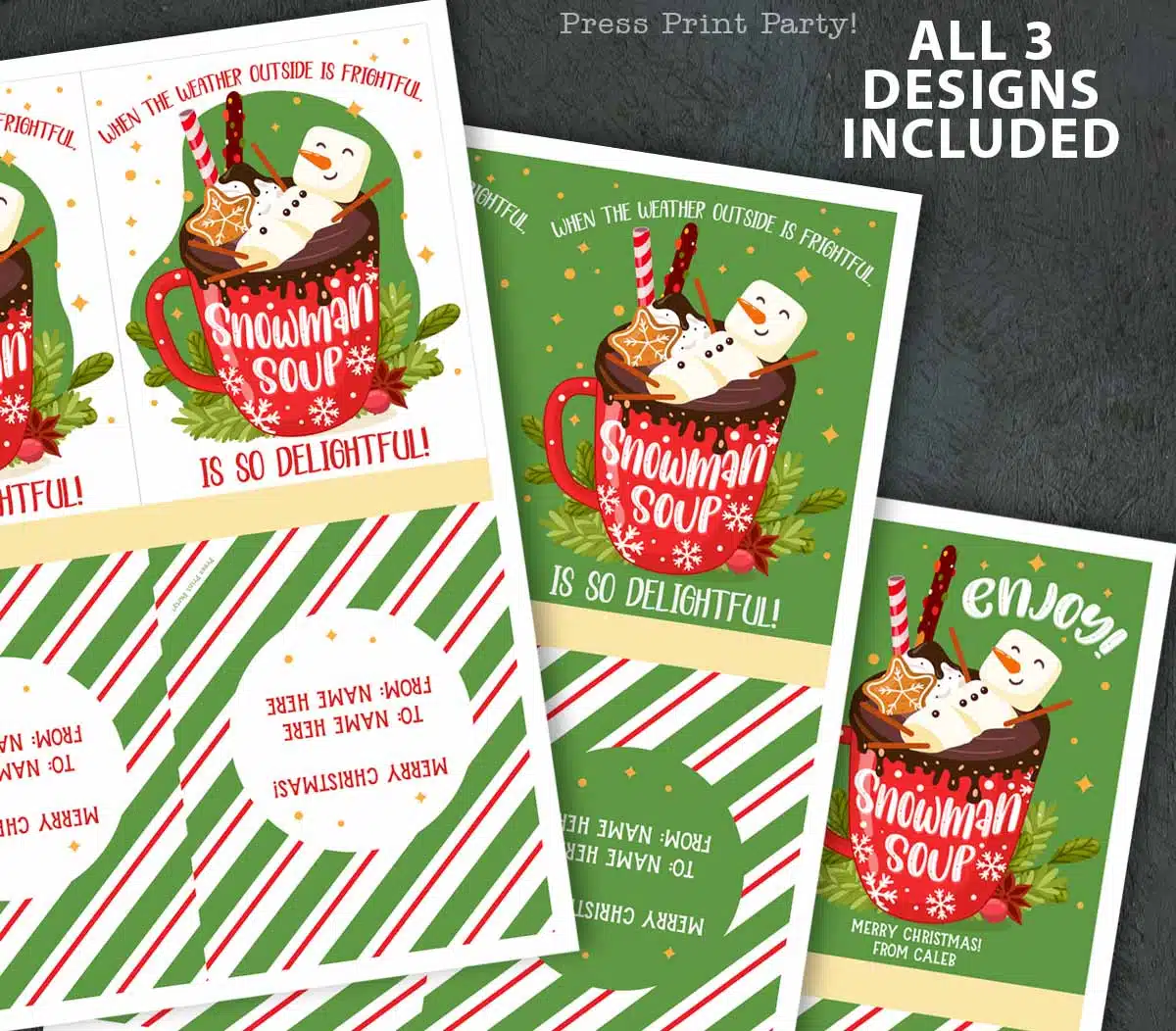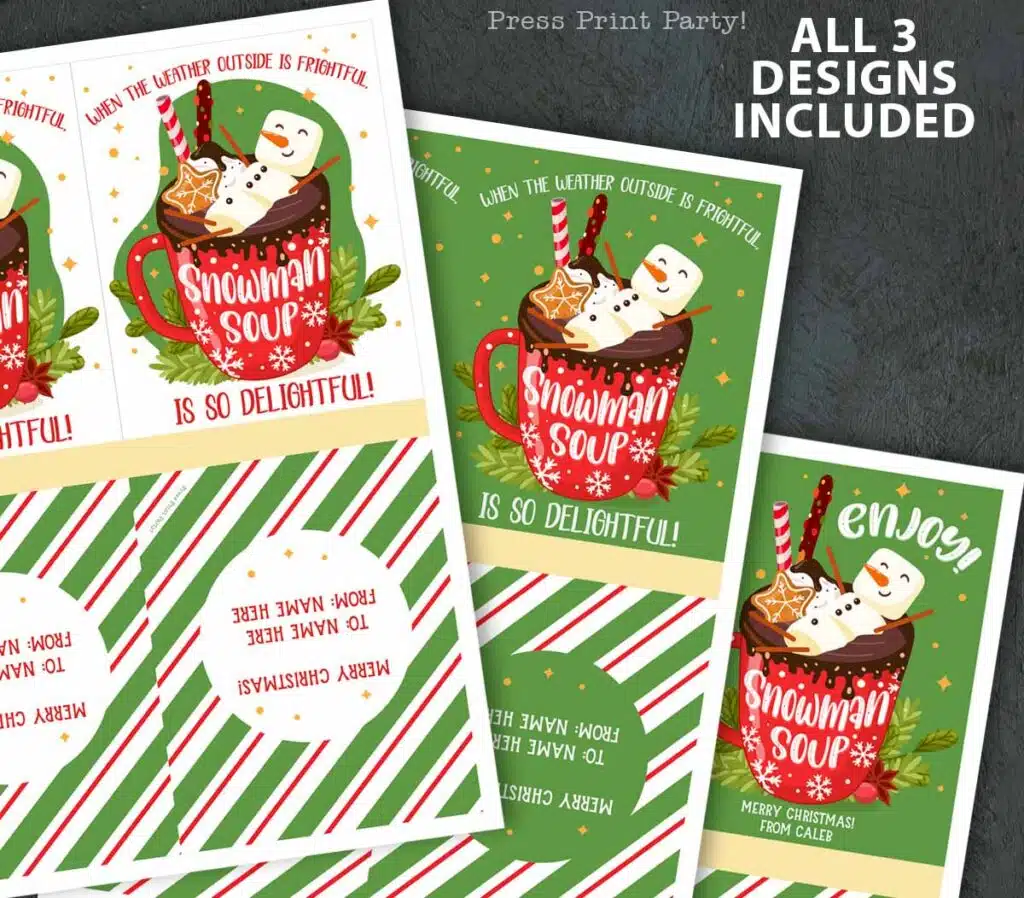 Snowman Soup Printable Toppers
If you prefer the traditional Snowman soup gift bag topper, I have some fun options for you.
Just look at these cute snowmen. They make such a cute label for these snowman soup gifts.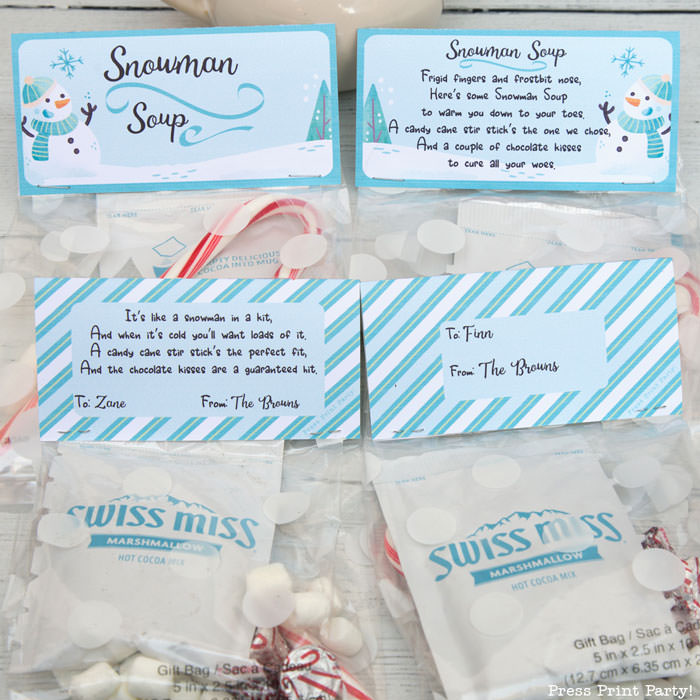 These little, printable snowman soup treat bags are easy to customize, and they make great, fun, inexpensive gifts for all your kids' friends or even the whole family.
So head over to my shop and you'll find these adorable printable toppers. You'll get both designs and poems to choose from, all in the same file.
You'll even be able to edit the "To" and "From" fields and print the PDF file instantly.
Or you can choose this adorable snowman soup treat bag topper, which also has some editable text and comes with a matching tag.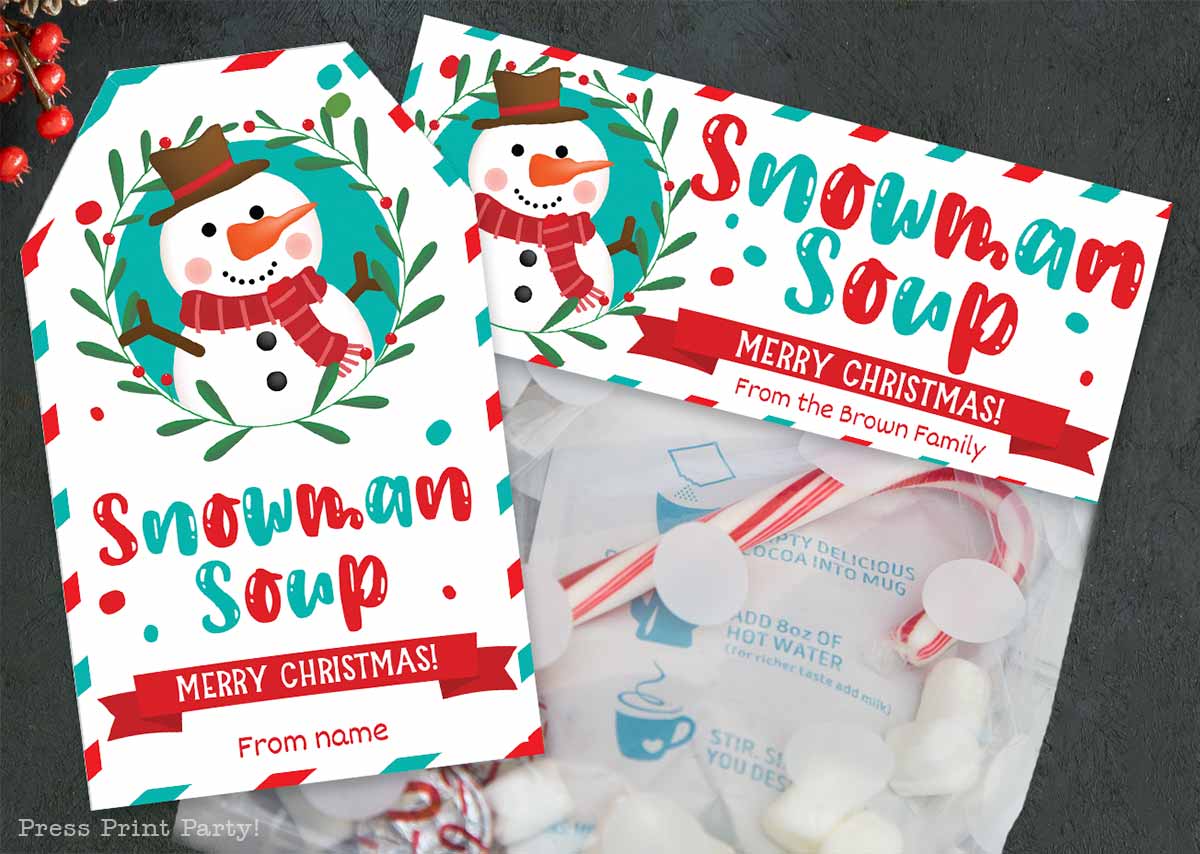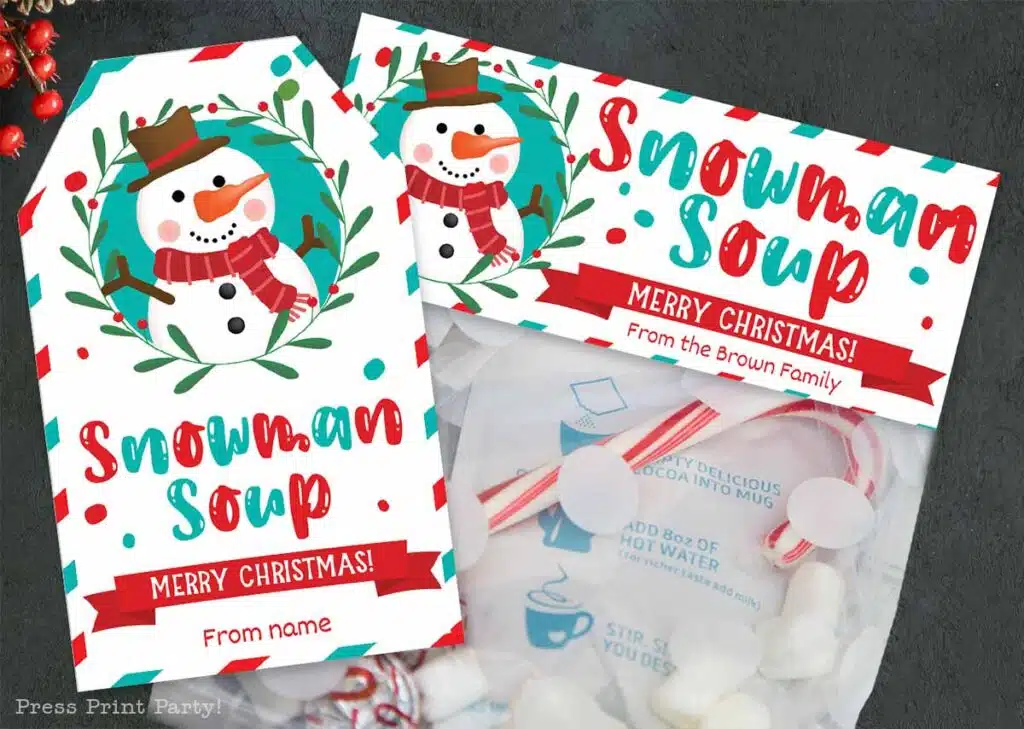 Snowman Soup Gift Tag
If you opt for using a mug or some other container for your snowman soup gifts, attaching a cute tag like the one above will make your gift pop.
---
Snowman Soup Poems
There are a variety of Snowman Soup Poems out there but we wanted to write our own and not plagiarize. If you have young writers at home, this poem may inspire more snowman soup poems!
Of course, a cute poem can be the fun little plus that elevates this simple gift to a new level.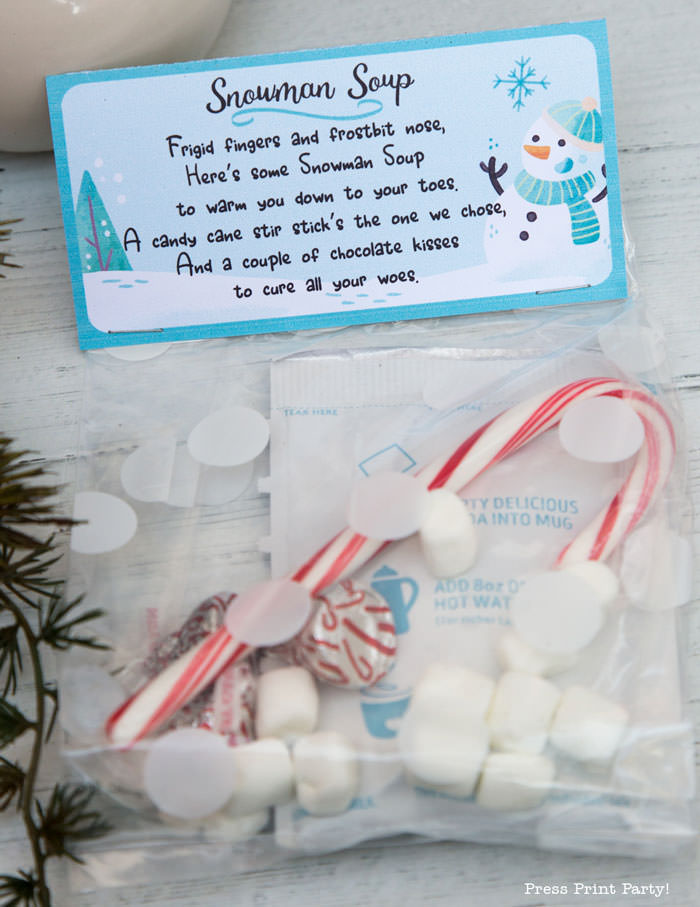 So my husband, who loves to come up with goofy rhymes, got to work right away. Of course, being a boy, the first poem he came up with rhymed soup with poop. But we'll let that slide.
In the end, he came up with 3 cute snowman soup poems, and I added the most widely used one at the end, available in 2 printable toppers, and wrap.
Poem 1:
Frigid fingers and frostbit nose,
Here's some Snowman Soup to warm you down to your toes.
A candy cane stir stick's the one we chose,
And a couple of chocolate kisses to cure all your woes.
Poem 2:
It's like a snowman in a kit,
And when it's cold you'll want loads of it.
A candy cane stir stick's the perfect fit,
And the chocolate kisses are a guaranteed hit.
Poem 3:

Happy Snowman
In a cup,
Just one mug will
Cheer you up.
Poem 4:
When the weather outside is frightful
Snowman soup is so delightful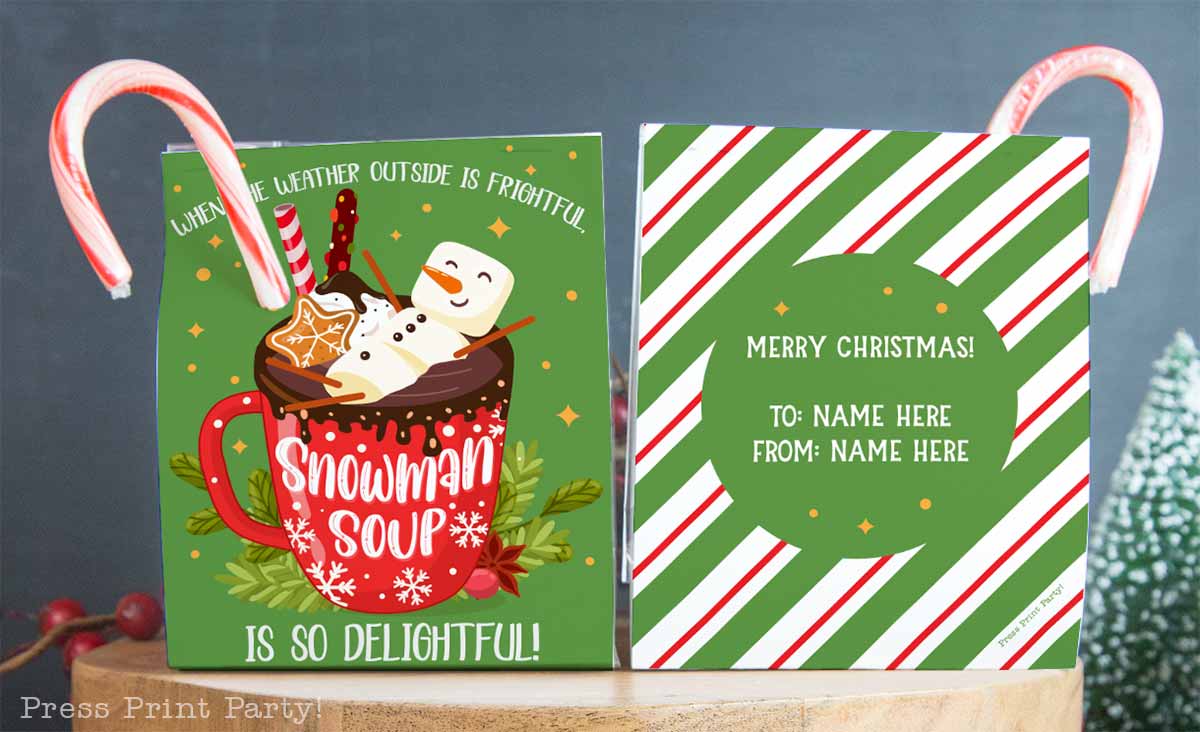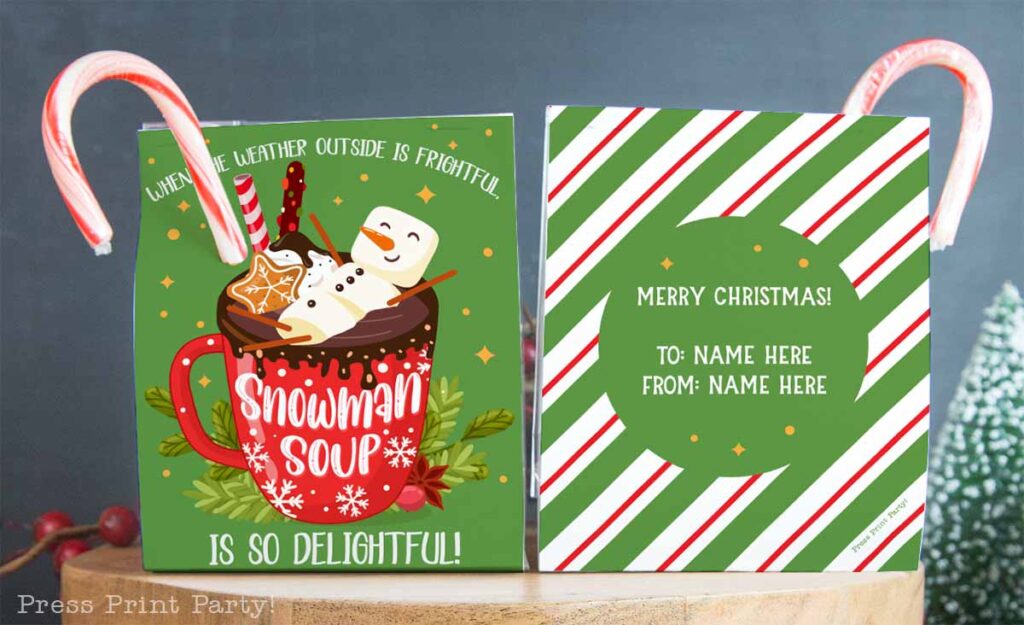 ---
Snowman soup kits make great little gifts. They can be as simple or as fancy as you want to make them.
And what's more, you don't have to worry about making this delicious treat look cute because I have several amazing snowman soup printables that will make it even more adorable.
So get creative, have fun with this wonderful Christmas gift, and watch as your loved ones enjoy their delicious cup of snowman soup mix.
Don't forget to pin these snowman soup recipes and printable ideas: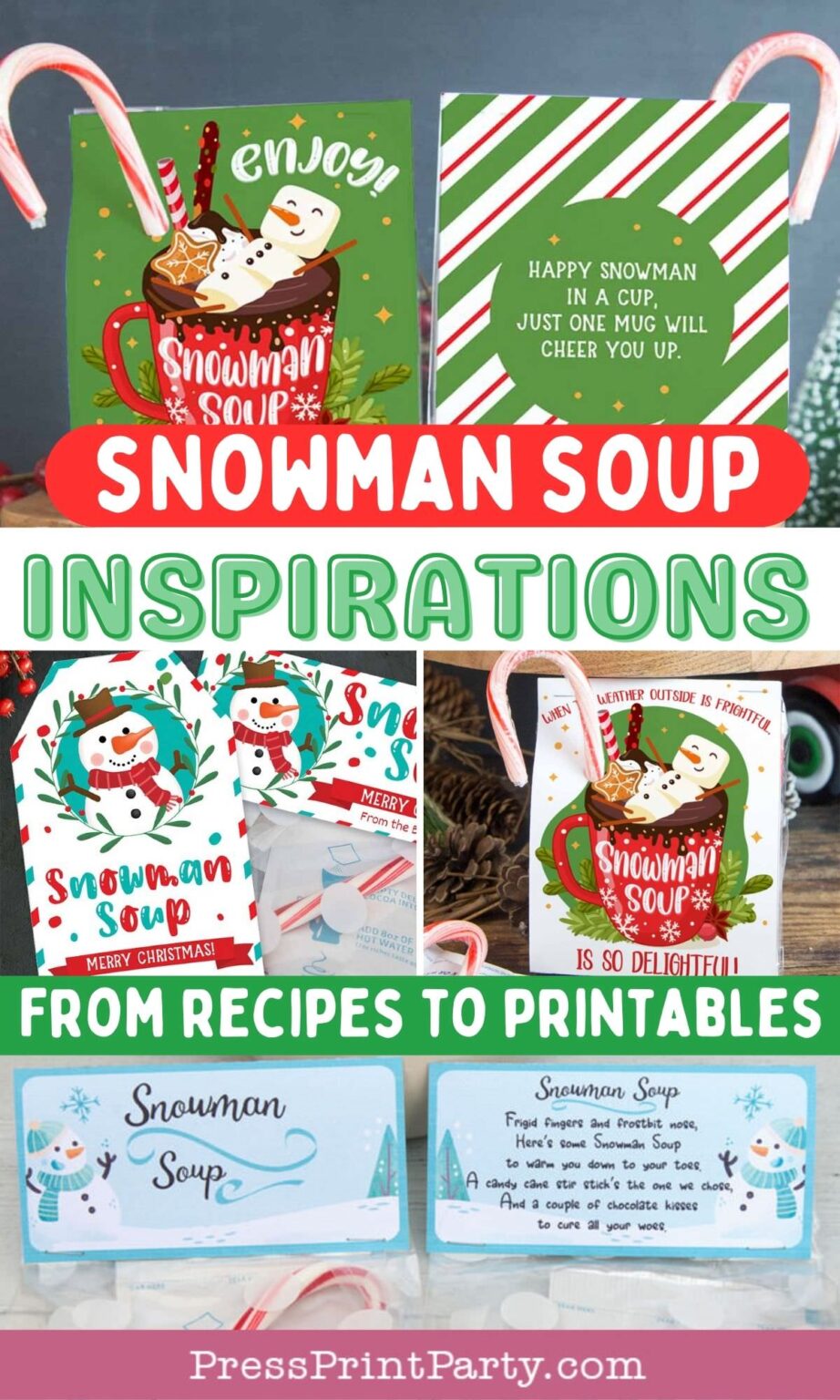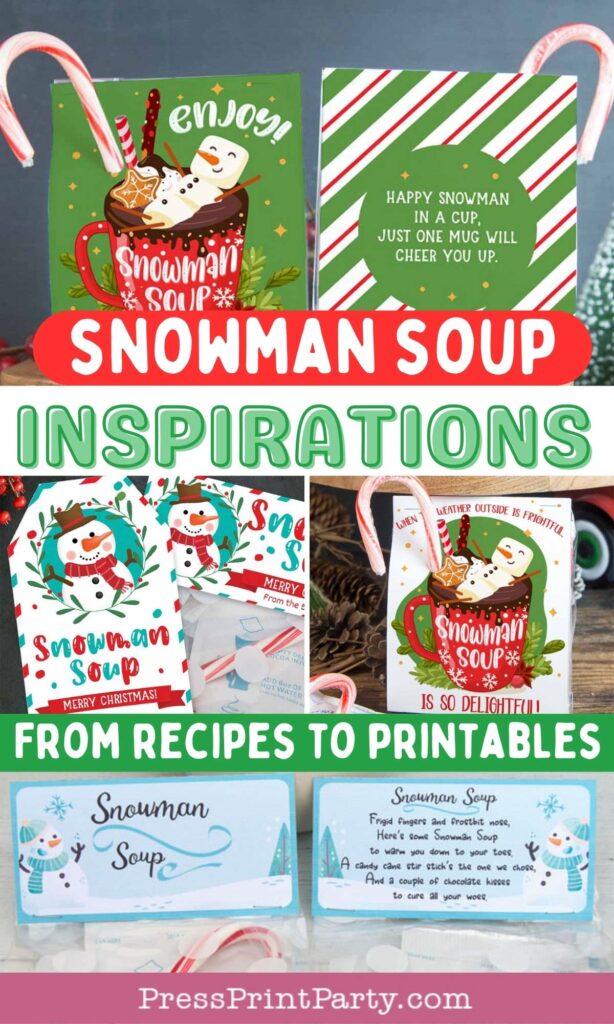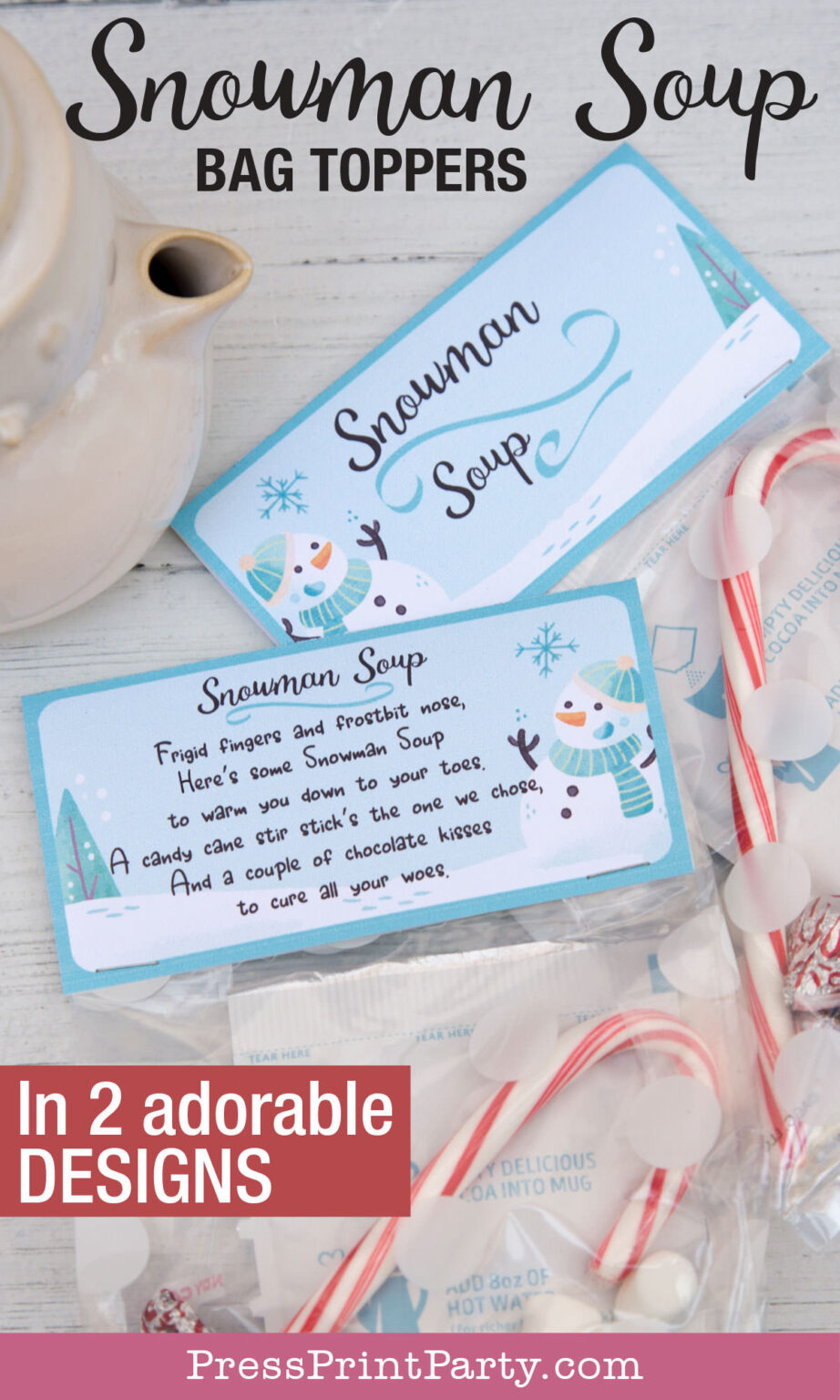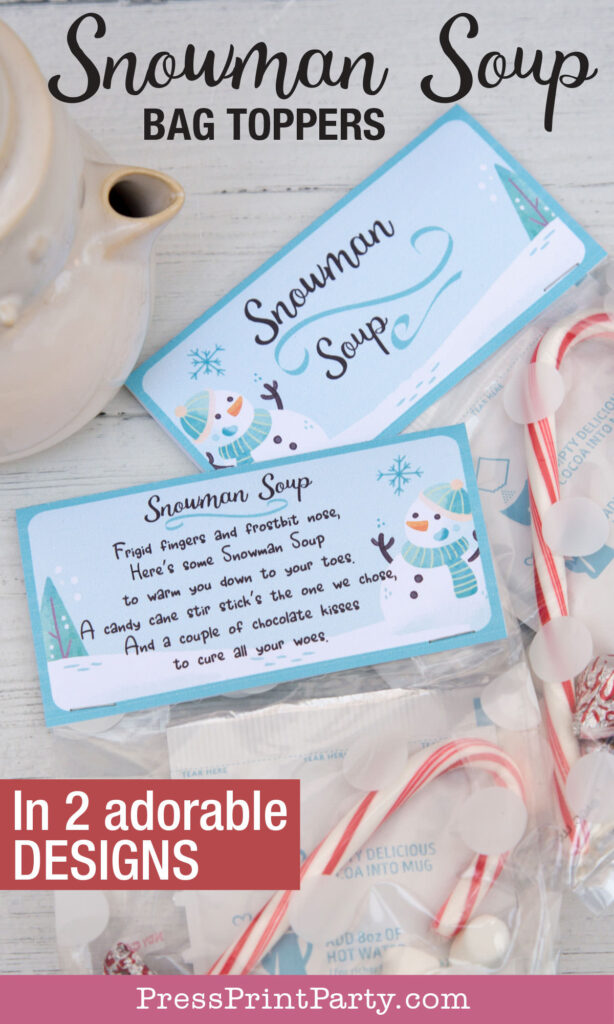 Check out our Christmas printables