Easter is one of those holidays that often tends to involve having lots of family over. A big lunch usually factors in, and if your kids are 18 or younger an Easter-egg hunt is legally required. (At least in our house.) But if a crowd of people is coming over, the house needs to look the part.
These 12 DIY Easter decorating ideas will help get things ready for this springtime holiday.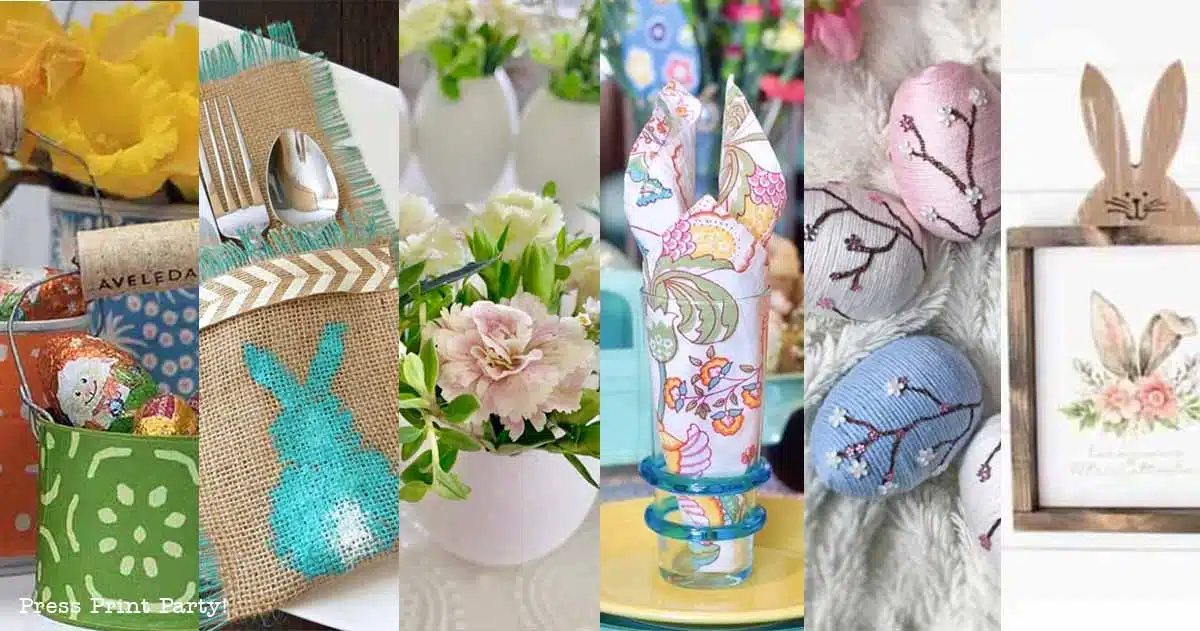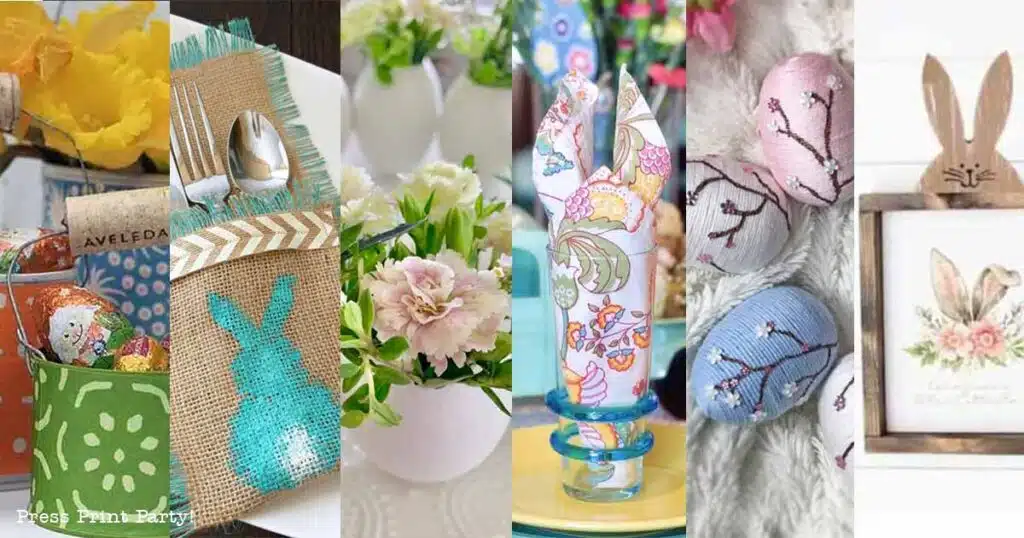 This post may contain affiliate links.
But when to Decorate for Easter?
Unlike Christmas, Easter doesn't fall on the same day each year. In just the last 20 years or so, it's fallen as early as March 23, and as late as April 24. So I say ignore whatever goofy rule you may have heard. Easter comes at a not-entirely-predictable time and sometimes there seems to be no agreement between what the calendar says and what the weather says about the season.
Here in Southern California, we've had such an odd stretch of weather that a friend recently joked that it seems like winter and spring seemed to be in a custody battle over us!
So if winter has been long and dreary and you need a little light and color, put up spring colors and Easter bunnies in February. Or if decorating is priority #837 on your never-ending to-do list put a single dot-to-dot bunny on your door Easter morning and call it good. It's your place. You make the rules!
---
Elegant Easter Decorations
Some people prefer really elegant, classy, pretty decorations. They go for the muted pastels over the bright, clown costume style. The following Easter decorating ideas all fit in perfectly with a higher-end scheme for a slightly more "adult" decor.
FREE Easter Printables by DIY with my Guy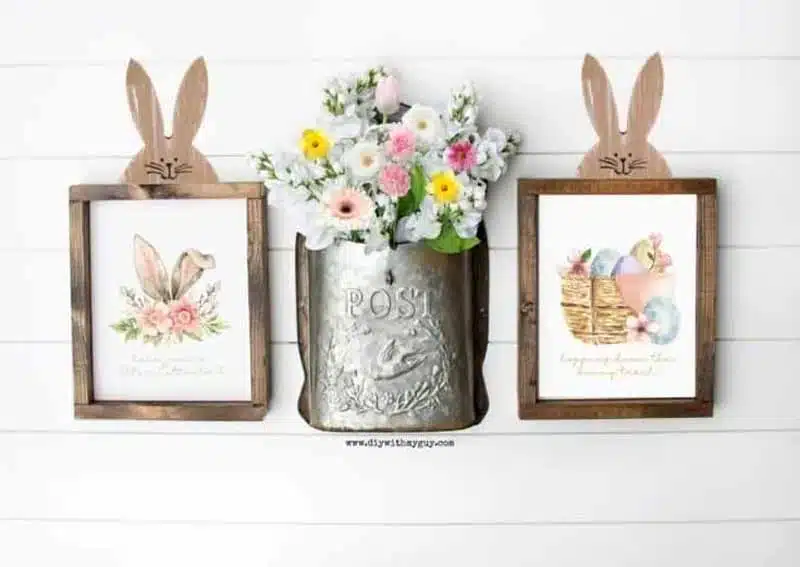 Printables aren't most people's first thought when it comes to decorations. But these beauties are painstakingly created to be suitable for framing. These watercolor-style illustrations with script included are perfect decorations in a rustic frame. Each of the two printables contain the first couple lines of the song "Peter Cottontail."
---
DIY Easter Carrot Decor by Restore Decor & More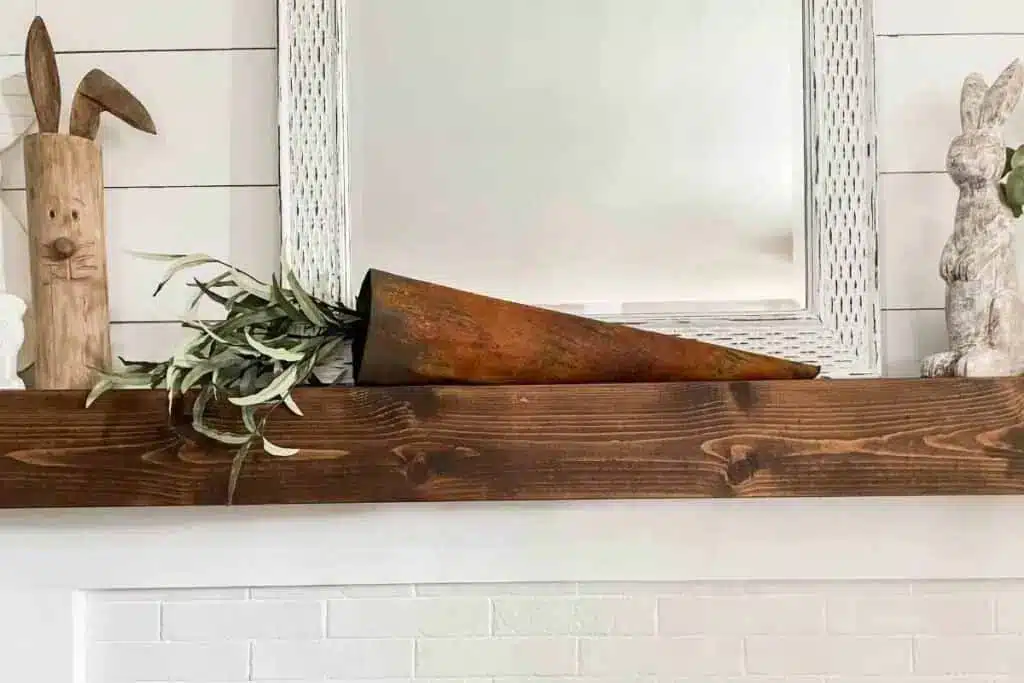 Of course, carrots are an inescapable decor item around Easter. But they don't have to be bright orange cartoonish props. This classy-looking carrot looks like a cone of wood but is actually made of foam and a few other items. It's easy to replicate and your guests will hardly believe that this homemade Easter decoration could still look this high-end.
---
Easter Centerpiece Idea by Celebrated Nest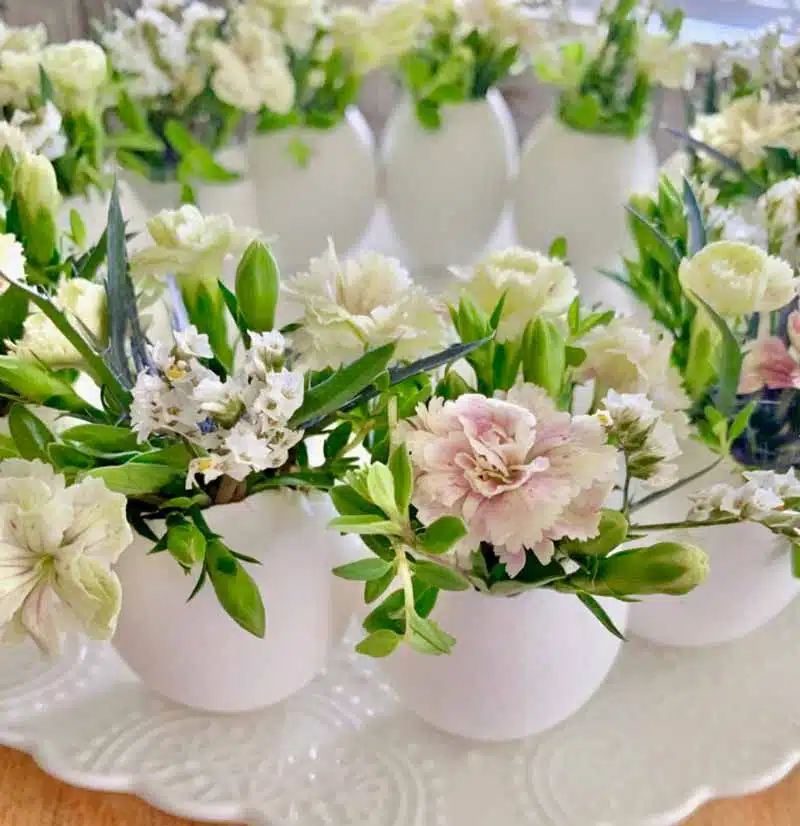 This Easter centerpiece idea is really pretty amazing. It features fresh flowers, which aren't entirely that unique a springtime decor idea. But in order to really bring the Easter theme forward, the vases for the flowers are made of actual eggshells. You'd have to treat them very gently but Easter table decor doesn't get much classier than this.
---
Decorating Easter Eggs With Cherry Blossom Branches by Artsy Pretty Plants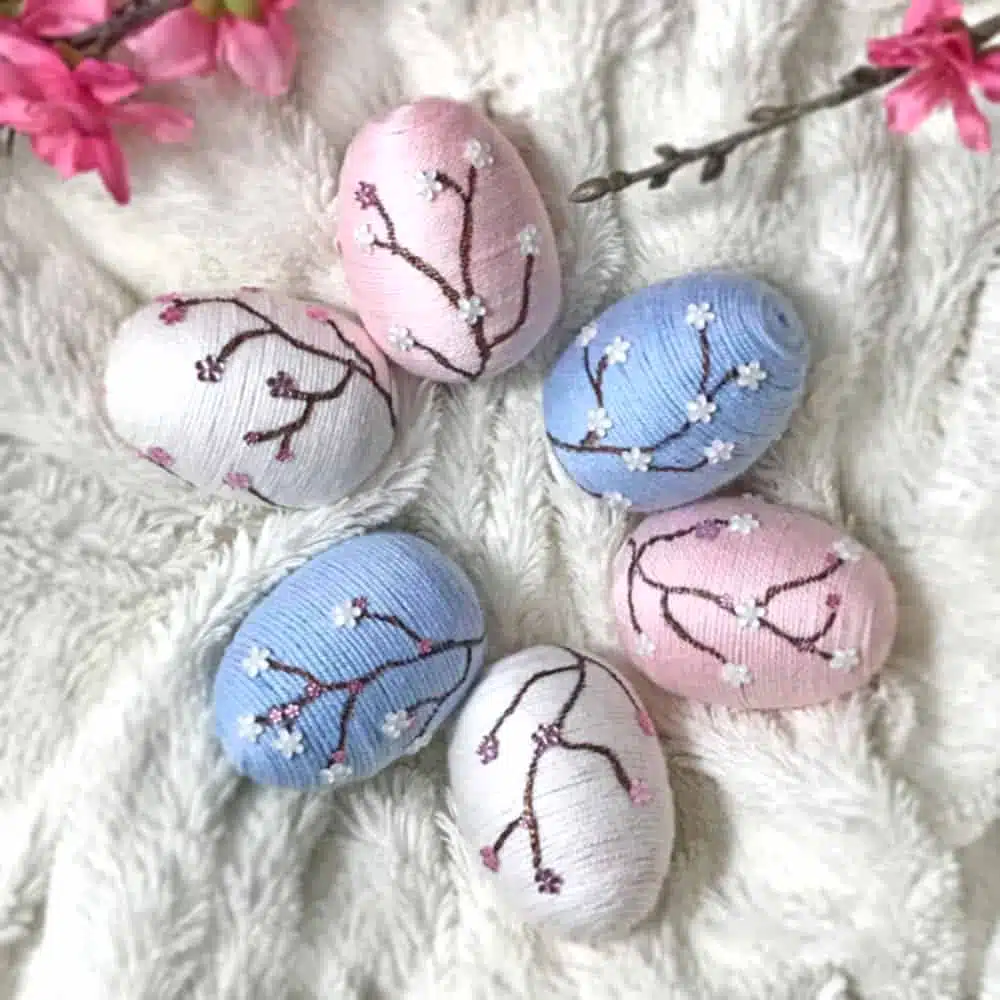 These wrapped-thread eggs do take some work, it's true. But they are so pretty and elegant that all the work will be worthwhile when guests oooh and aaah over a bowl of these. And they really do look harder to make than they actually are. A scattering of these would make for perfect Easter mantel decor.
---
Upcycled Easter Baskets by Pillar Box Blue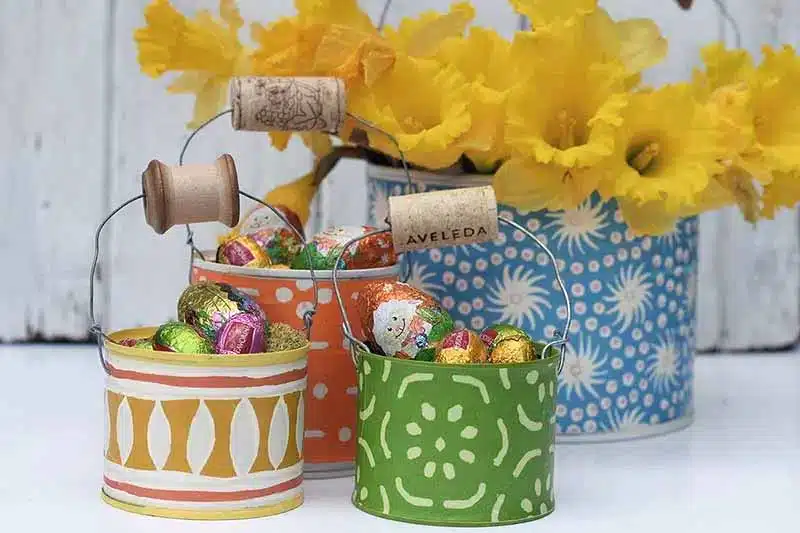 To be honest, these barely even qualify as Easter baskets. They are far too exquisite to let a wild little one wander around with one of them in tow. Finding truly pretty decorative paper and then wrapping cans using the techniques shared here, produces unbelievable results.
---
Cute DIY Easter Decorations
Of course, there's nothing wrong with cutesy decorations. If a lot of kids will be around, they should feel welcomed. And some people just prefer cute. These cute DIY Easter decorations will be a hit at any party that likes keeping things light.
No-Sew DIY Spring Gnomes by Press Print Party!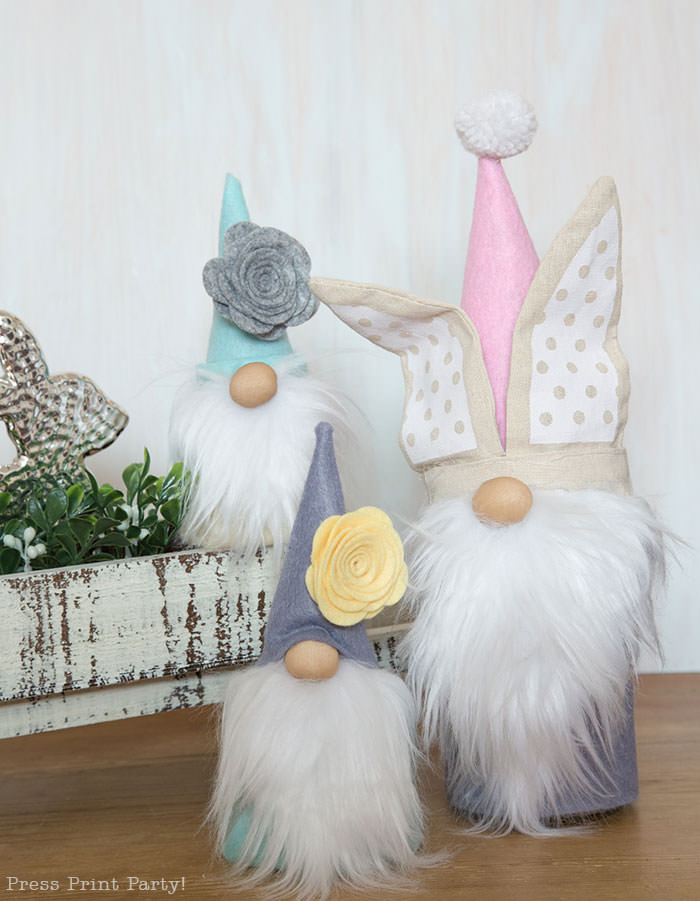 These little spring gnomes veer much more toward the cute side of things. And no-sew options are always a welcome alternative while crafting. And can you really have too many cute decorations? Some ready-made felt flowers finish off these little Easter gnomes with just the right touch.
---
Easter Garland With Eggs & Chicks by Red Ted Art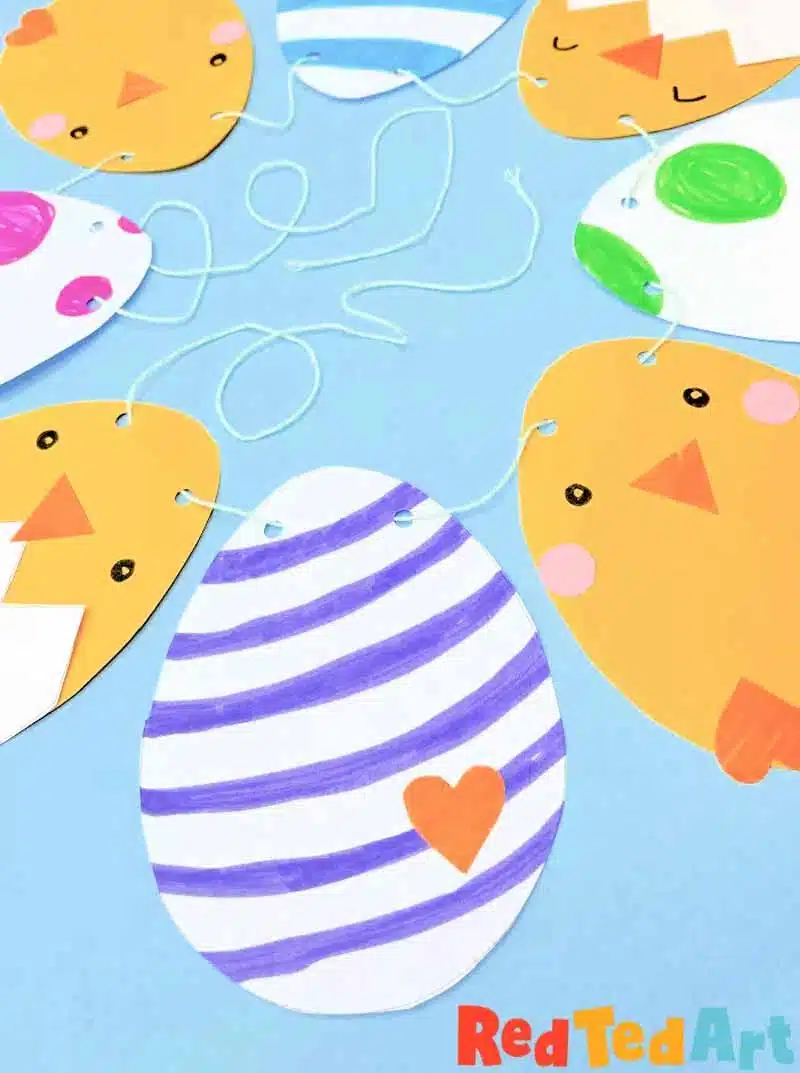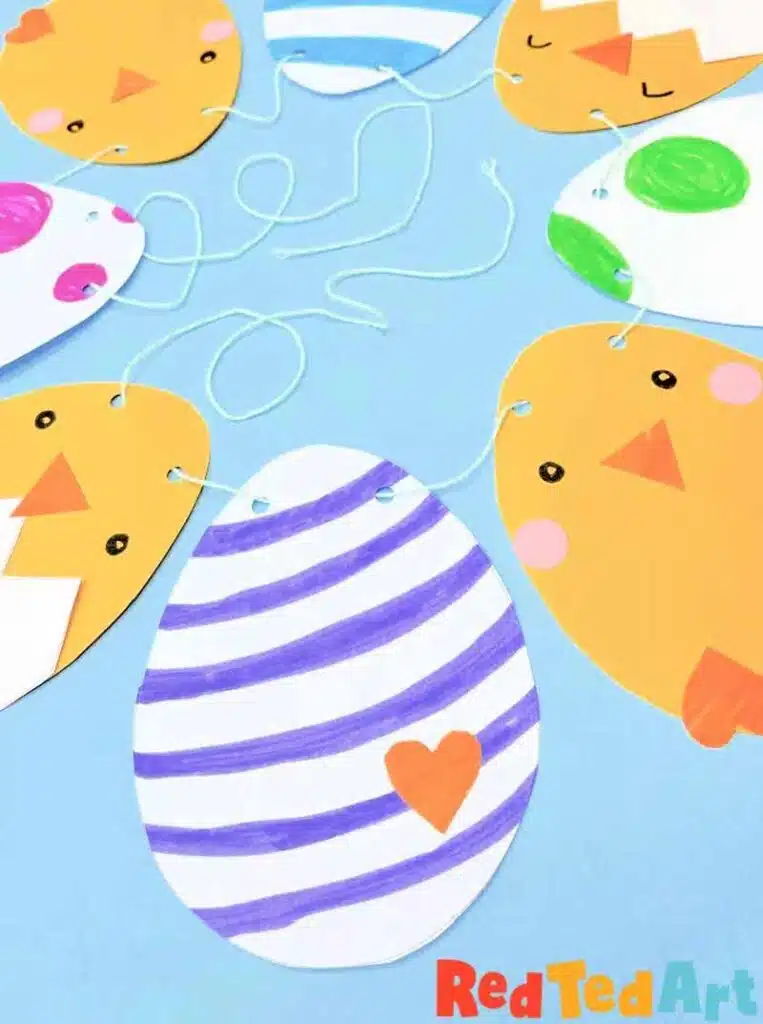 Now, this Easter garland is incredibly cute. It includes instructions, some customization options, and a free printable template as well. The egg and chick garland encourages the Easter spirit and its bright, simple design will make the kids feel welcome too.
---
Cricut Paper Flowers For A Spring Sign by The Best Vinyl Cutters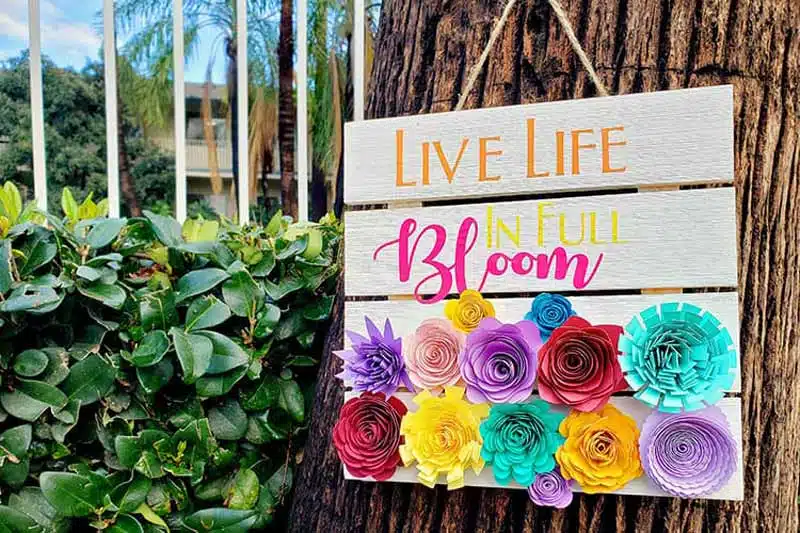 This craft includes a Cricut pattern and instructions for a genuinely adorable spring sign. But the Cricut-cut paper flowers are the real star of the show. With so many shapes and fun colors, they really stand out. They'd be great for indoor decorating or perfect for outdoors on sunny days.
---
Easter Garland by Two Kids and a Coupon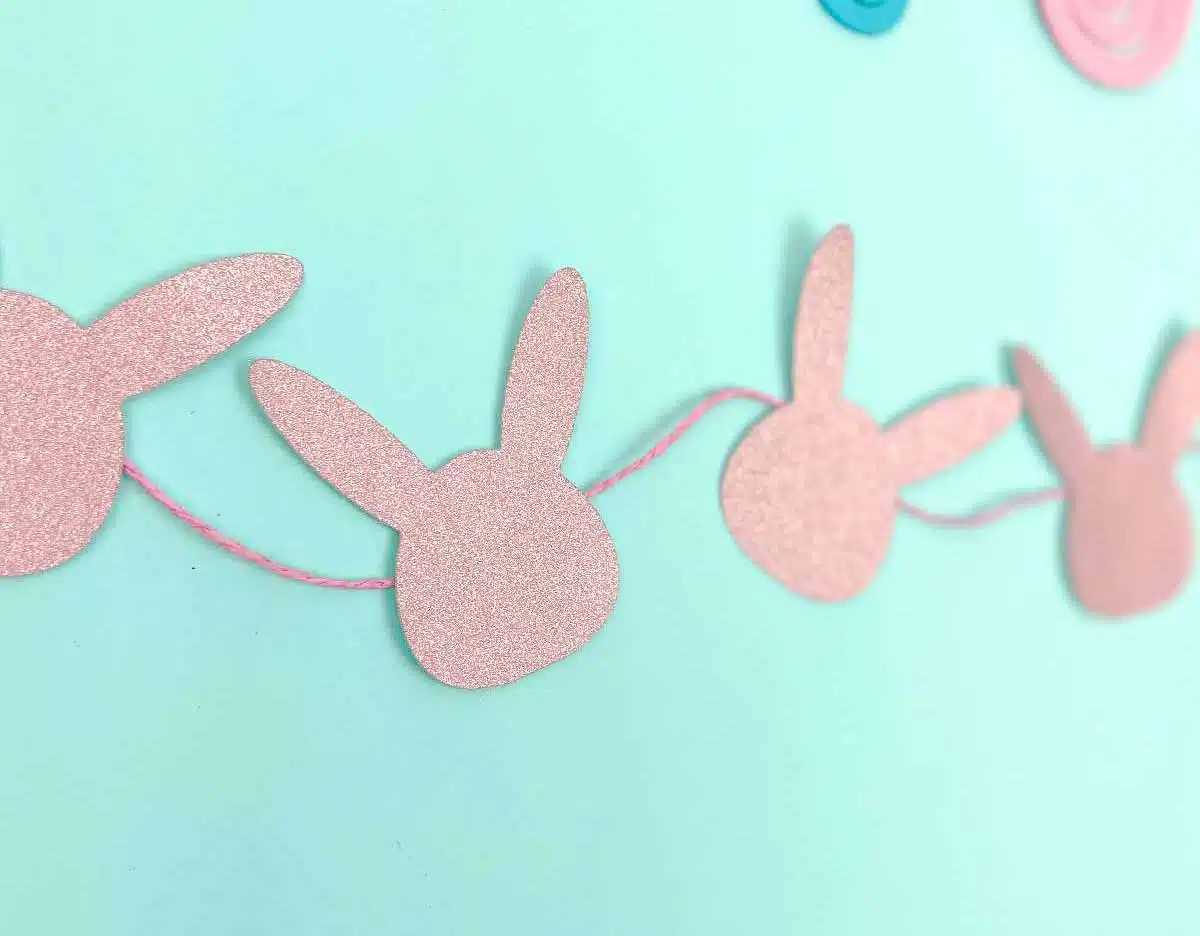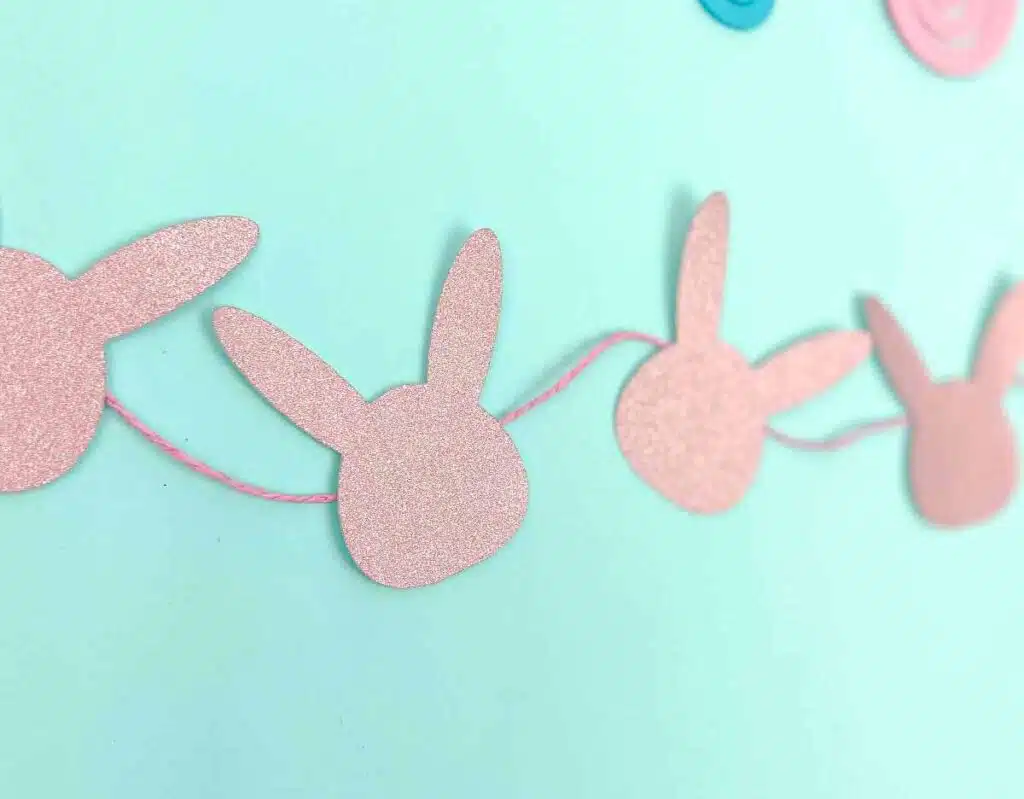 This paper Easter garland comes with a printable template to ensure the little bunnies look as perfect as they possibly can. Using sparkly craft paper really ups the visual impact of this garland, and keeps it easy to make while still getting eye-catching results. Plus, the colors and style of the paper can be changed to fit an overall decor or color scheme as needed.
---
Multipurpose Easter Decorating Ideas
So there are the elegant ones, and the cute ones, but some ride the fence between the two. These could fit into either scheme or hey, just make them their own decorating scheme which doesn't really fall on one side or the other.
What's really great about these is that they can serve as a bridge between the two styles. Have an elegant scheme overall, but want to toss in one or two cute items? Keep them from sticking out like a sore thumb by incorporating some of the decorations in this category to soften the lines between the two styles.
DIY Burlap Utensil Holder by Family Focus Blog
These burlap utensil holders bring a real rustic charm to the table setting. With only a few materials, these DIY Easter decorations can be made at home pretty easily. They do require some light sewing, but they aren't ever going to be put to any heavy-duty use. So, even people who get a rash at the sight of a needle and thread have a good chance to get through this project.
---
How to Fold Bunny Napkins by The Soccer Mom Blog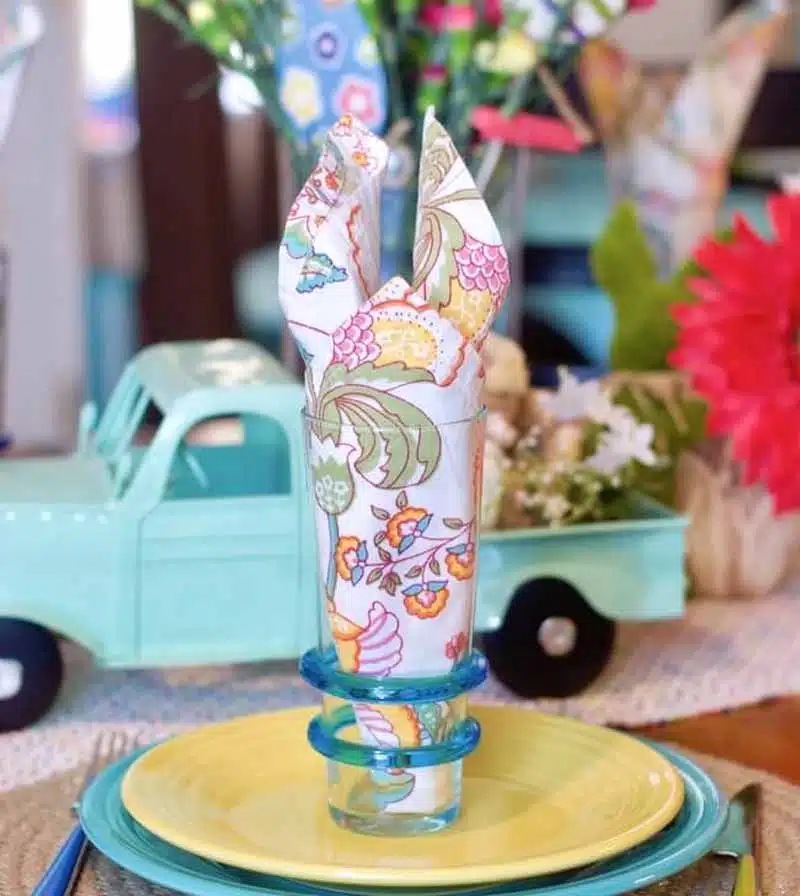 Speaking of cute, these bunny-folded napkins are the perfect intersection of cute and elegant. Take some classy cloth napkins and use this folding technique to end up with cute little bunnies poking out of the drinking glasses.
---
Stuffed Bunny Pattern & Tutorial by Needlepointers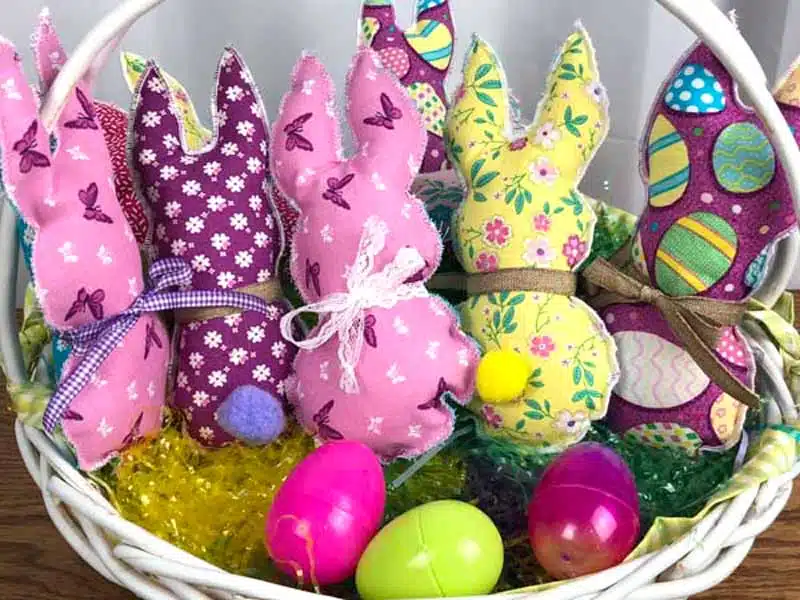 These little stuffed bunnies are a much more elegant craft than one might think. Fabric scraps can be used to create any number of them, and they can be gathered together into a family of adorable little bunnies that can be as bright and colorful or simple and elegant as you'd like. These Easter bunny decorations are truly versatile and can suit almost any decor. Fancy? Get a subtle, restrained floral pattern. Kid-friendly? Bright and colorful. Farmhouse? Denim and burlap. It's all about the fabric choice, in the end.
---
Easter Decorating Tips
Still a little stuck on what to do, even with all these ideas? That's okay.
There are multiple directions to take when decorating for Easter. One tip is to pick an object as a focus item. Then adjust the other decorations to mesh with that focus item without upstaging it.
For example, the eggshell Easter centerpiece is visually quite striking. So set up the eggshell vases, and then choose flowers that match the other decor in the room. This will help tie things together, visually. And easter is the time when we finally have loads of fresh flowers. So here's your chance to use them as generously as you can.
Another idea would be to pair the cherry blossom wrapped eggs and the bunny napkins, choosing flowers and napkins to complement the wrapped eggs, so that everything blends neatly.
One last option for the centerpiece would be to die eggs while they're still raw. Gently break off the top, pour out the egg, and now you have lightly dyed, pretty pastel eggshell vases. This a perfect Easter-themed item to begin your decorating.
These subtle accents are what really make a room's decor work. With just a little forethought, the paper Easter garland above could be created to match your flower choices too.
---
There we are. Whether going for a high-end look or a cute and friendly vibe, there are so many options available for crafting decorations at home. Some are a bit of work, while others are a bit simpler to make. But all of them will beautify your home, and will definitely bring the Easter theme into focus. So pick one or two, and celebrate spring with your beautiful DIY decor.